We kept on walking and decided to walk around that area before heading back to the Norwegian Breakaway. This is by the way the path you take to go to snorkel beach. From what I heard about snorkel beach, it was a good beach. The one complain I heard was that it was very expensive to rent chairs, umbrellas and also the food. Someone told me that snorkeling was also pretty good, I might try it next time. I think the price of admission for the day time is $5.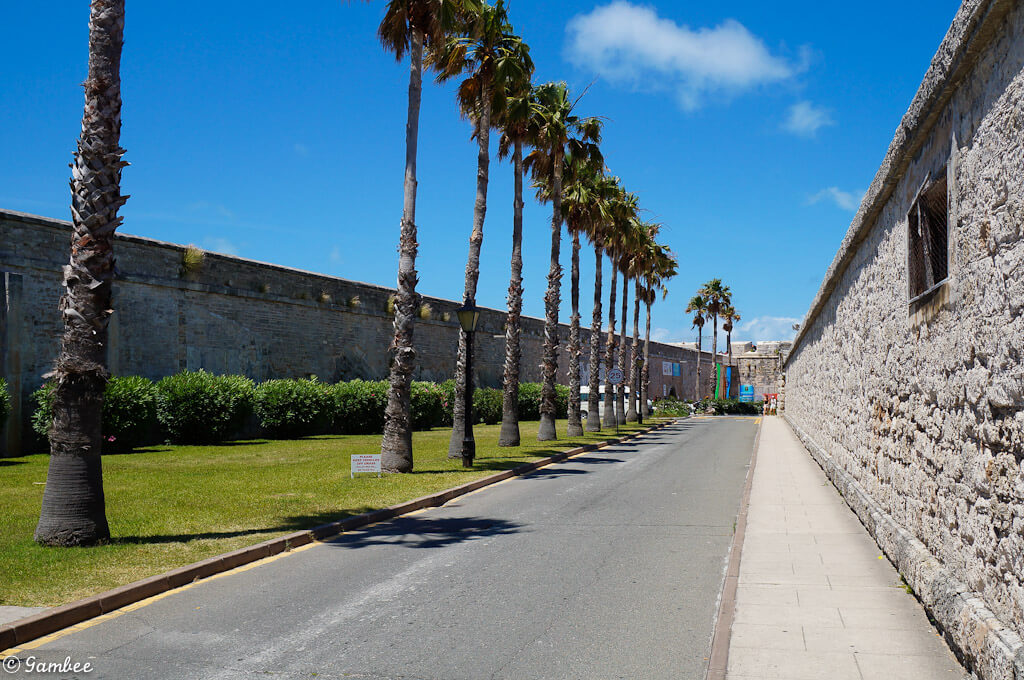 Looking back at the rum factory/glass factory.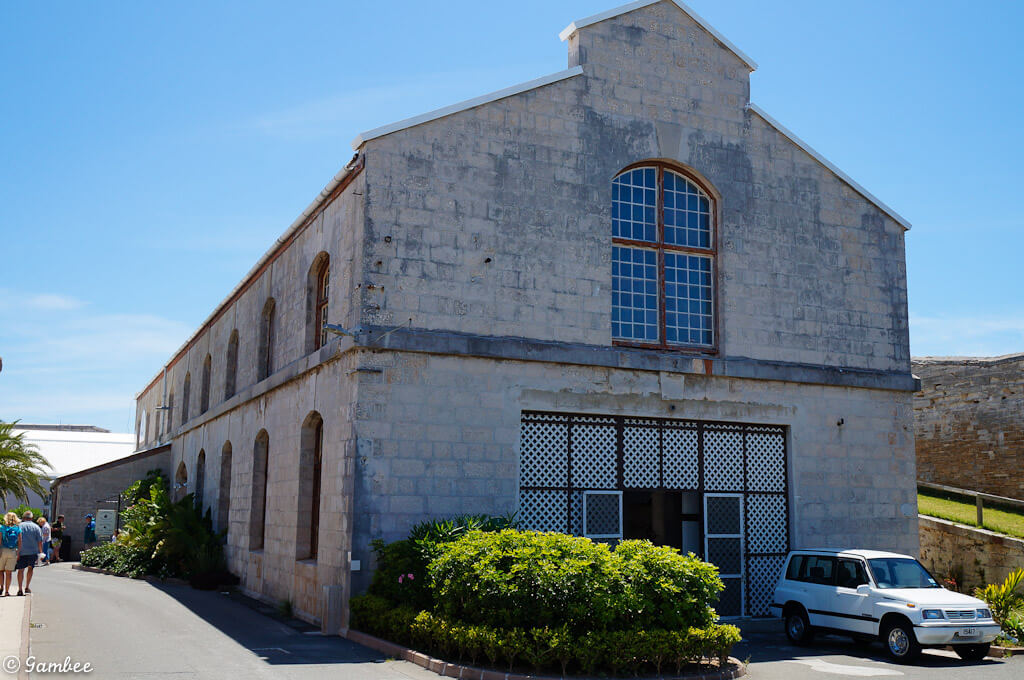 The entrance to snorkel beach,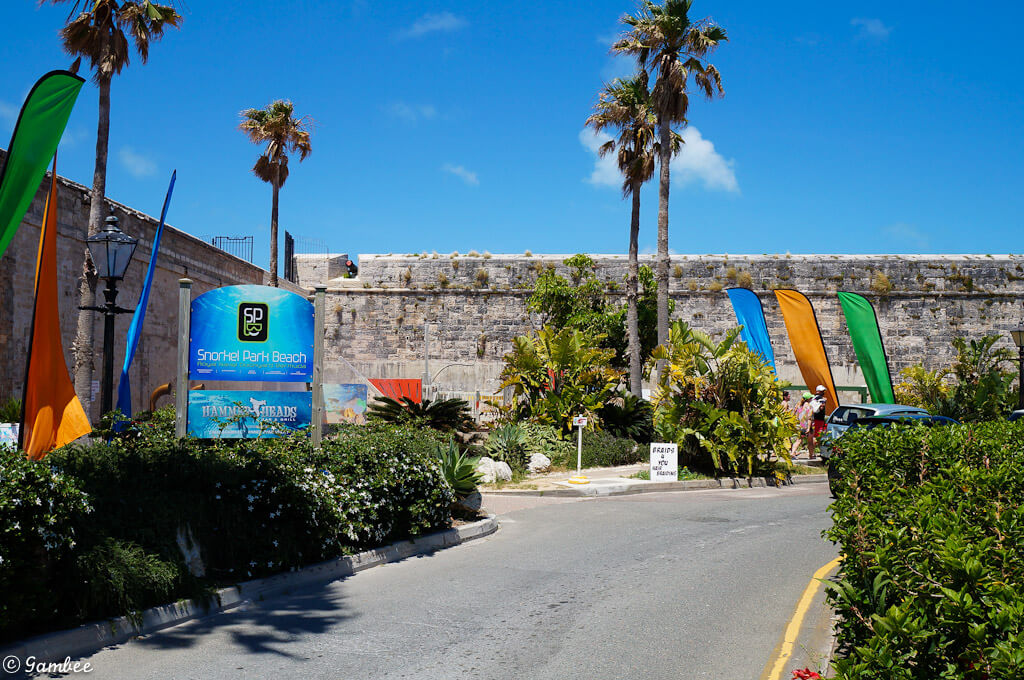 You all know that mom loves these trees.
I heard the mini golf was Amazing!
Snorkel beach.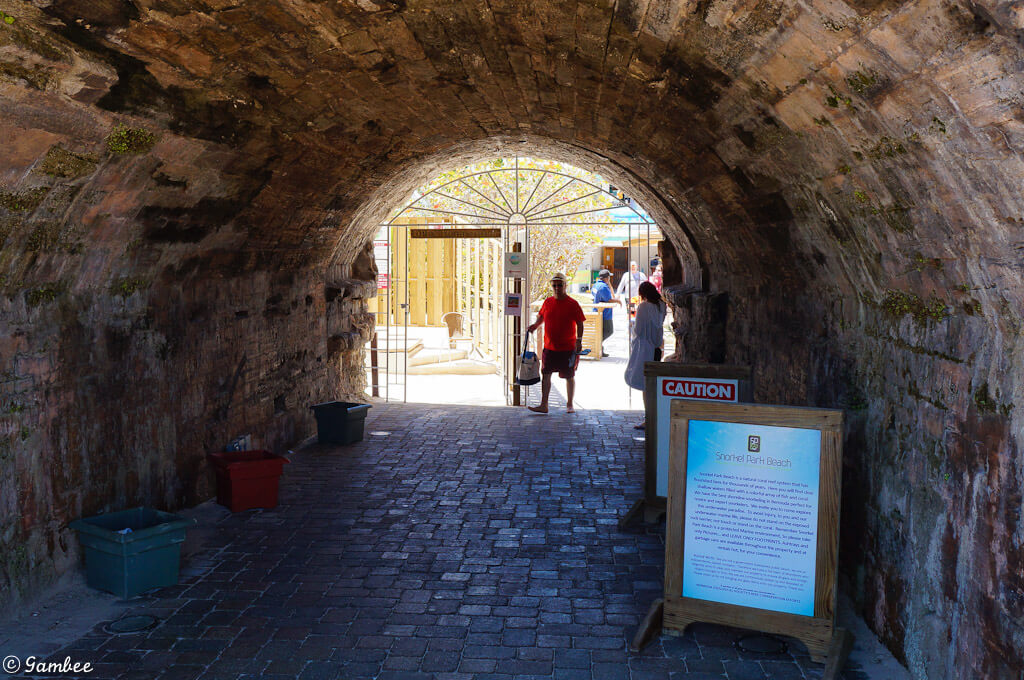 Heading back to the Norwegian Breakaway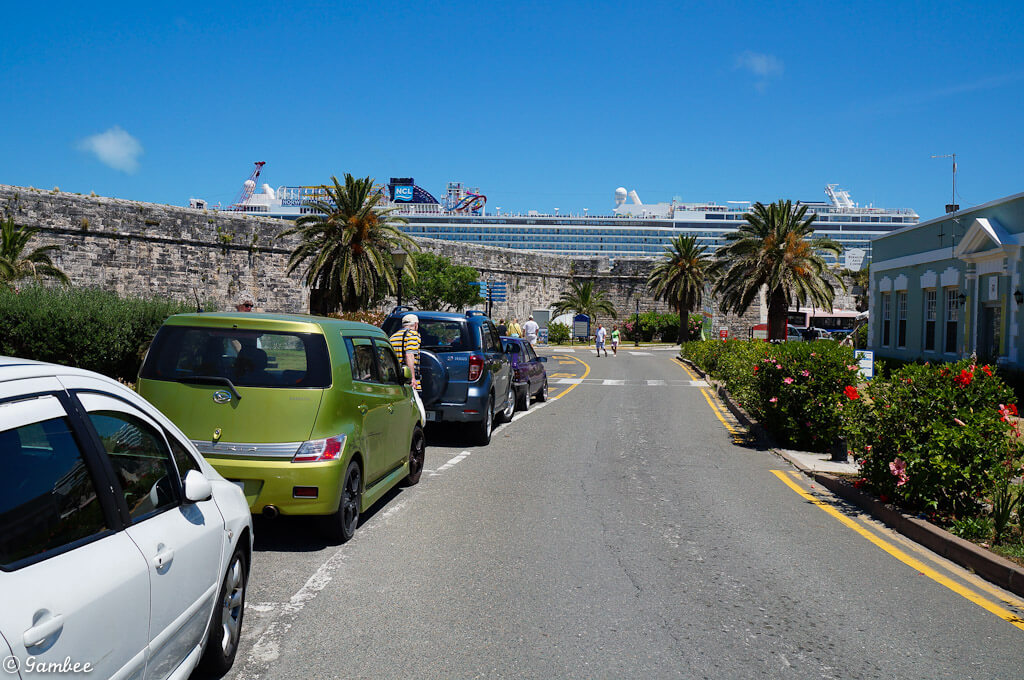 You will find the museum.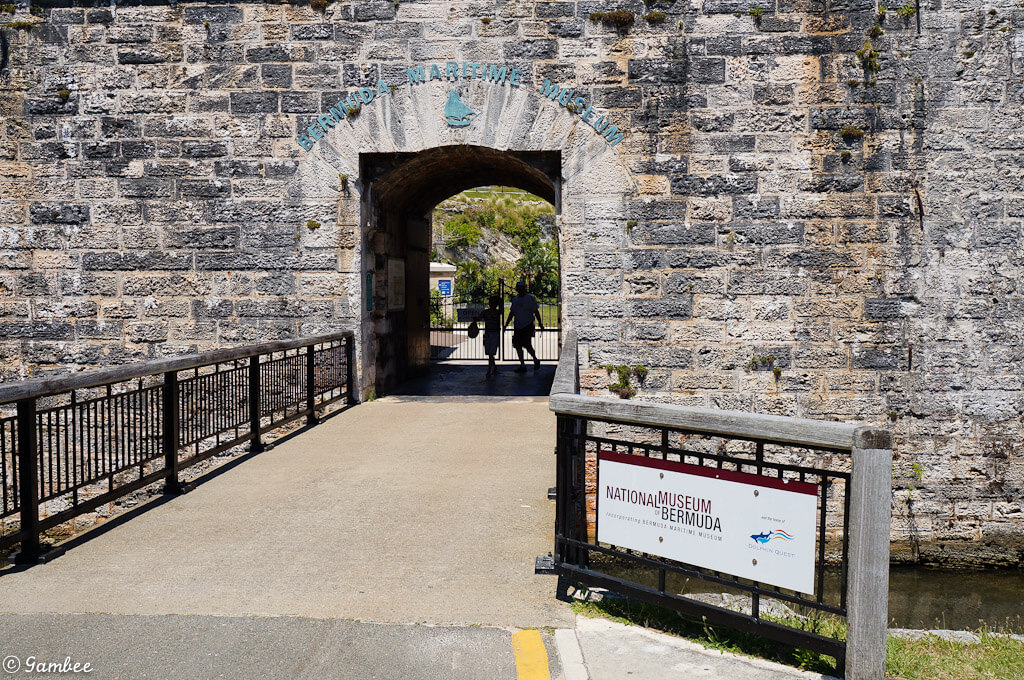 We then stopped and checked the internet one last time before saying good bye to Bermuda.
Here, I want to touch base with Julie our CD, so by now you all know that my experience with her personally was not the best. I mean it was not bad, but I believe that she could of done more for me. Anyway, do you want to know why I say that Julie is possibly the cruise director ever?
Well look at this picture! That is her in the stilts dancing away. Please note that the sun was hot as hell that day, and I bet she was there for a very long time. I have to give it to her, she does a great job. Not only that, but the amount of positive energy that she radiates is just massive. Great job Julie, my fedora goes off to you 
!
And here is the video of her, please you have to watch it.

I know I am horrible at video, but at least you get the idea of what I am trying to express.
I forgot to mention that while I was down by the dockyard I talked to a very nice handicapped lady. We discussed the Norwegian Breakaway for a little bit, and she told me that the ship is very handicap accessible. She was very happy with how easy it was to get around all the different areas of the ship.
We got changed and decide to head up to H2O for a little while before sailaway.
Norwegian Breakaway H2O jacuzzi
After sometime up there in the jacuzzi, we noticed Summit leaving.
Horrible picture, I think I got the sunblock on the lens of the camera.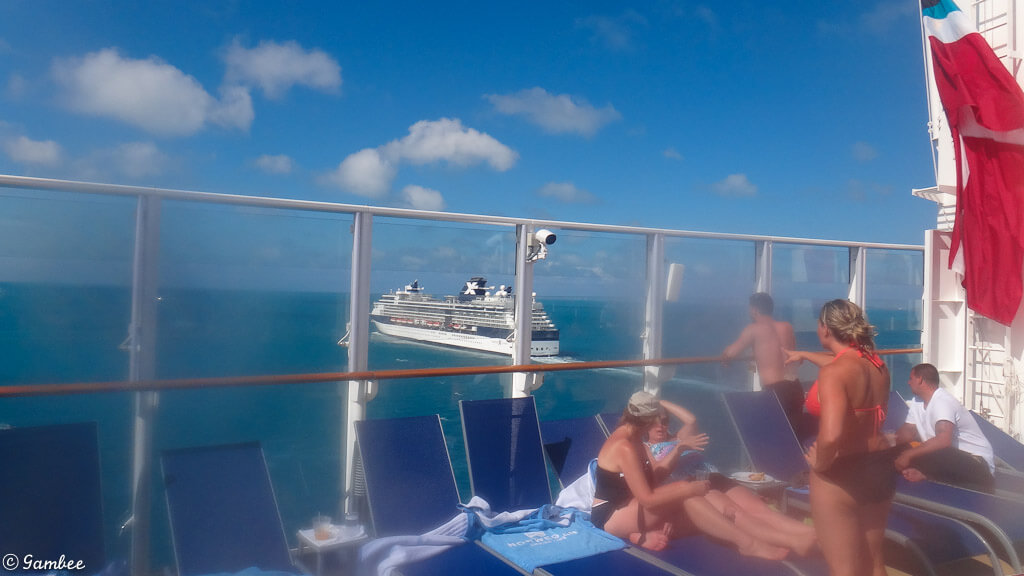 I don't really remember much from that afternoon, it is possible that maybe I had just too much drink 
. But I think we had great time, I do remember telling the folks there that we had to leave because I had dinner plans with friends.
So we headed downstairs and I got changed to head to dinner. Mom told me that she wasn't feeling that great, but honestly I think she was dying to go gamble as soon as we left port. So she told me that she rather stay in the room and relax a little during sail away.
Before leaving I setup my tripod with the other camera to record the sailaway.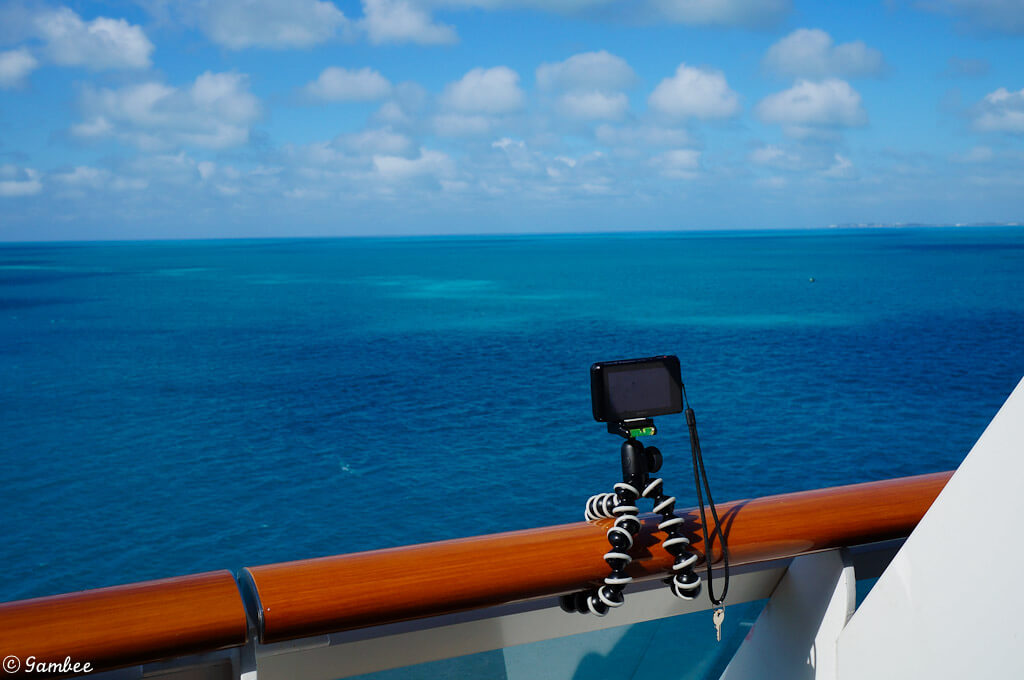 The bad news is that little did I know, the camera had ran out of battery. So no video sorry for that.
I took a few more pictures and then I took off, I think I was running a tad late 
.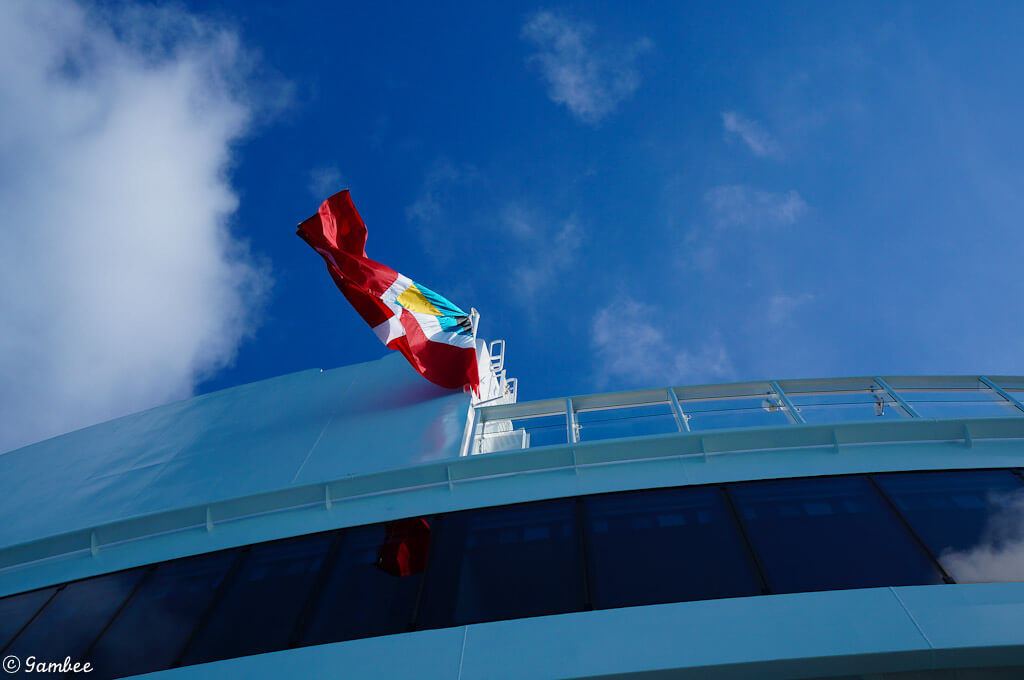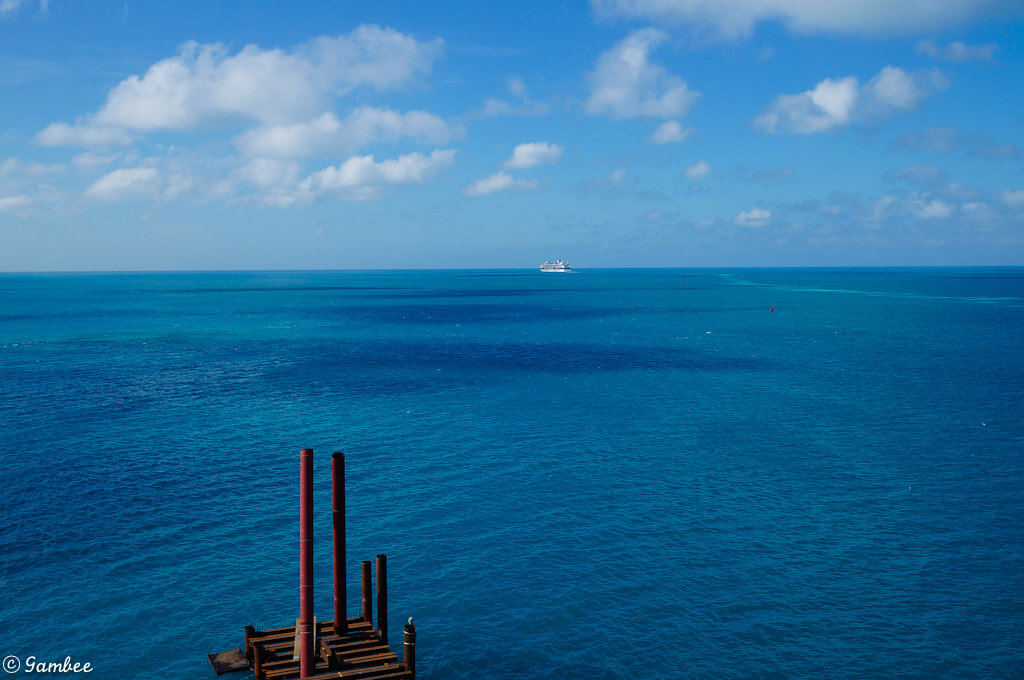 I met with Shaun and his wife in the Norwegian Breakaway La Cucina, they were already waiting for me in a nice table outside. It was great weather to be outside. The one thing that I realized was that I had completely forgotten my sun glasses, and I really needed it them. Good thing that the Norwegian Breakaway turned around and then the sun was not hitting us directly.
We had a great time talking, they are such a nice couple. It is really nice when you get to talk to CC members here for months and then you finally meet.
Soon enough the Norwegian Breakaway started moving and were just enjoying good company with good views.
Service was good, and prompt. No major complains there.
I believe they both got, pasta dishes, but I did not get pictures of them.
For appetizer I got the same beef carpaccio that I got on my first night, it was very good.
I decided to play it safe and get the ribeye. I would dare to say that it was just ok…
For dessert I got the ice-cream with the expresso. That was nice, and I needed that coffee by then.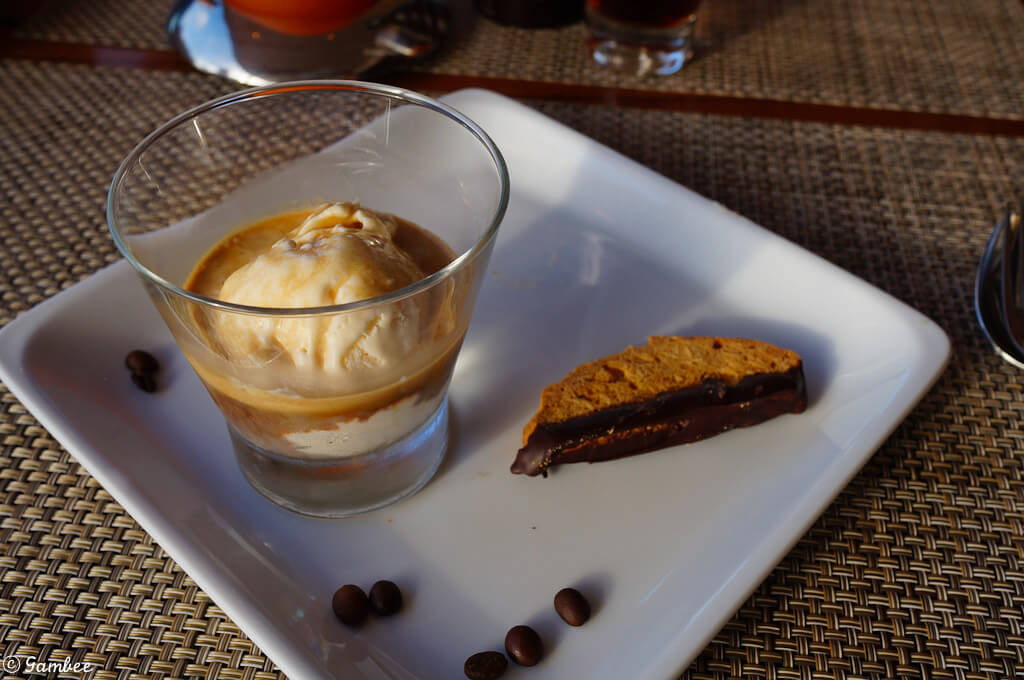 They also brought us an extra tiramisu, it was good.
While we were there I took some pictures of the Pilot getting off Breakaway, and leaving.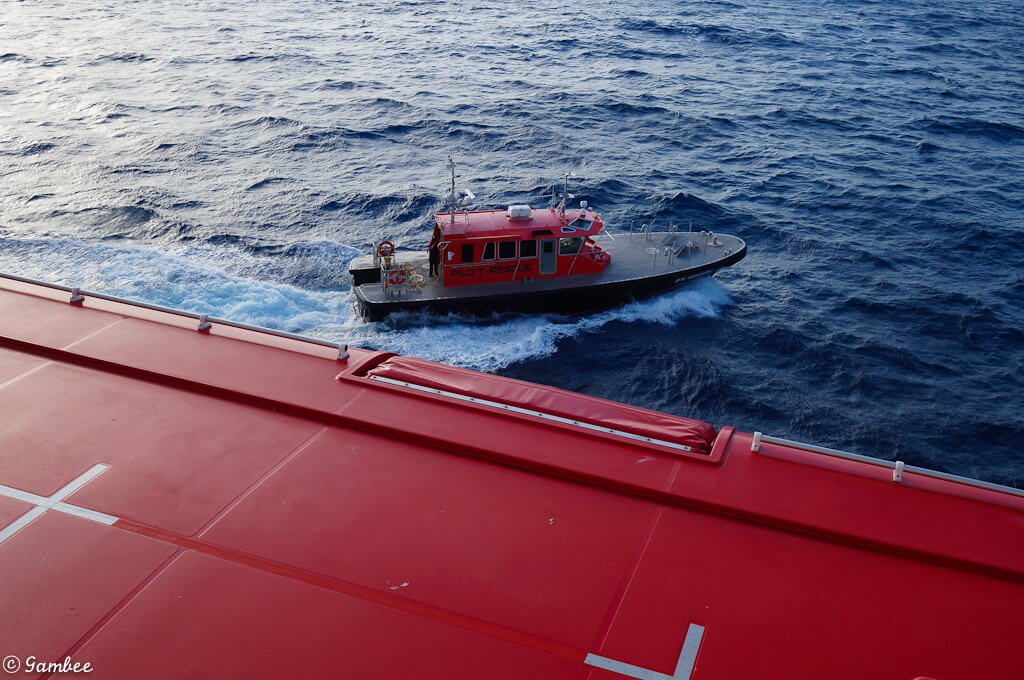 I had a really good dinner with them, it was the perfect way to end a great 3 days in Bermuda. When it came to pay they refused to let me pay, it was the least I could of done after they gave me their wine/Champagne. But I guess they will be here in Florida one day and I will more than happy to take them out for dinner, I hope we have food that is as good as New York's food 
.
Thank you so very much for a wonderful dinner, I really had a great time. I hope we can get to travel again one day. You just never know, this is a small world after all.
I wish I was lucky enough to meet folks like them during all our voyages.
After dinner I found mom upstairs, in the room. I was right btw, she had been in the casino for a little while.
I took a picture of the wake.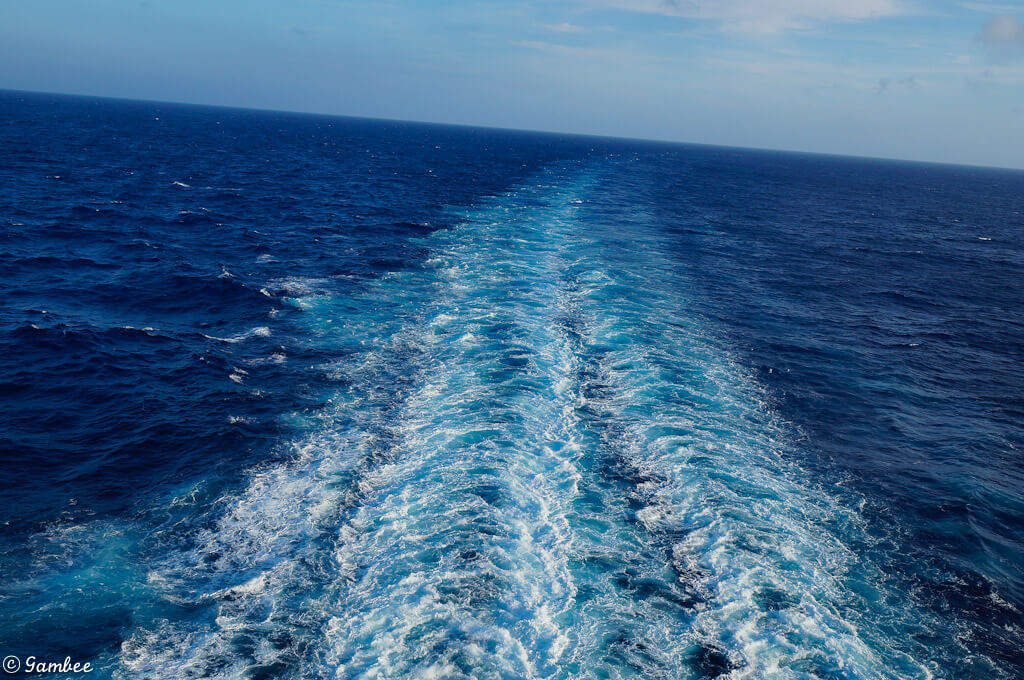 And a short video.
We then went downstairs and saw a counter with all the language tags, this is right next to the customer service counter. We took none, as I had decided that after X lost my bags, I was not going to go through that again. I would be brining my own bags with me. By the way, I highly recommend you bring your own bags with you, on disembarkation, I saw a lot of people that wanted to get off the Norwegian Breakaway, but could not because their tags had not been called yet. We did it so much faster than most people.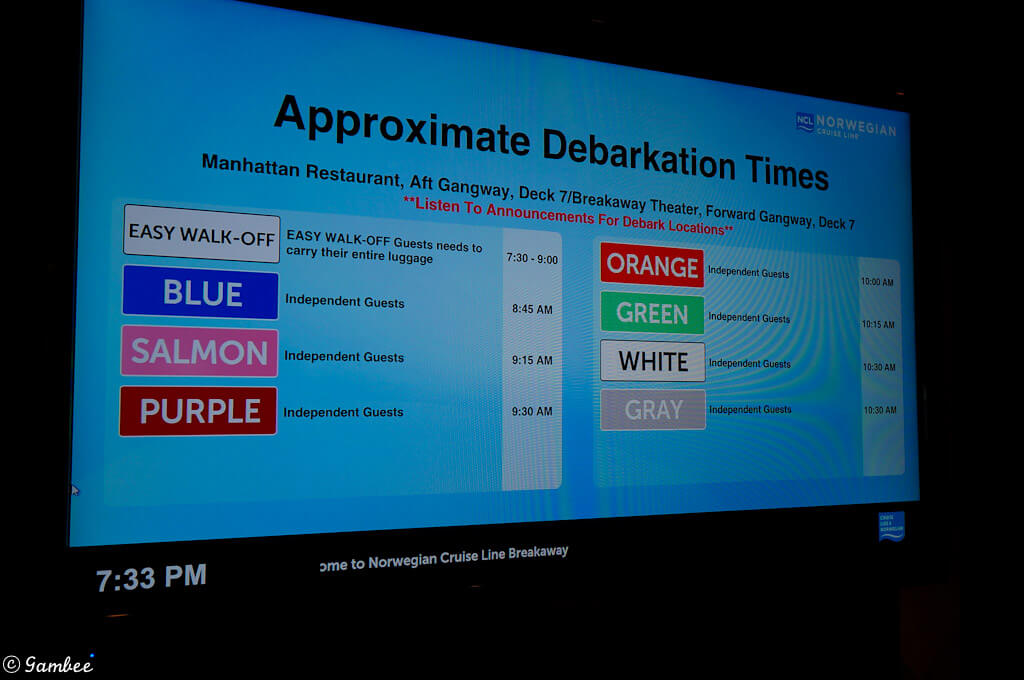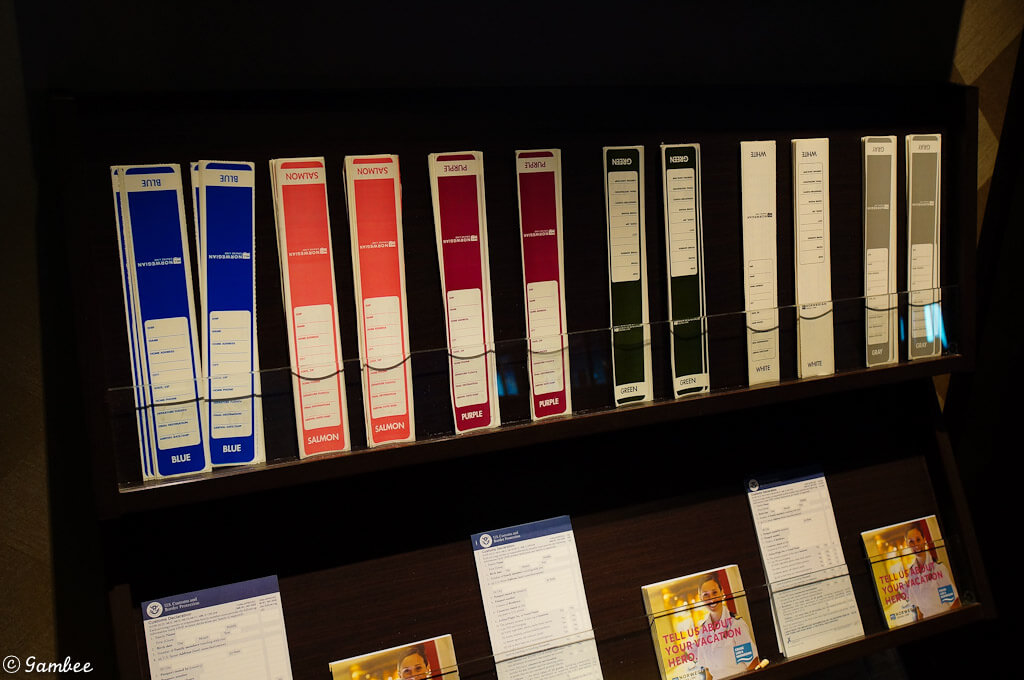 After that we walked towards the atrium cafe and I ordered a lobster tail. Let me tell you, it was SOOOOOOOOOO GOOD!!!!! You have to try one, they are really really good, I have to be honest and say that I was not expecting it to be that good.
We sat there and ate our dessert.
They got Max pictures everywhere in the Norwegian Breakaway.