Ok lets see Qsine aboard the Celebrity Silhouette, I had been looking forward for this restaurant for a long time. As the tech geek that I am this is one experience that I did not feel like missing. Let me try to go through the basics first. You enter the restaurant, and you're given an Ipad, each person gets one. Then you start going through the menu, each person is supposed to add 4-5 items to their list and then the lists are combined by the server,and he decided in what order to bring the items out to you.
The thing about it was that once you select the items the server comes and reads off the ipad and copies the items into his note pad. You never truly get to send the order digitally to the kitchen, another thing that they should consider doing is putting pictures of the items in the Ipad that way you get a better understanding of the items. I mean the entire pint of the ipad is to make the most out of it and to me it seems like Qsine is not using the Ipad at its max. Another thing that I noticed is that the kid in the table next to us must of dropped that ipad about 3 times, before the parents decided to take it away from him. I wonder what the ipad turnaround is, with drink spilling and whatnot.
The service in Qsine was good, the server was very nice, but I think he forgot one of our items and I know he forgot one of the items for the table next to us. But he was extremely energetic and friendly and that is something most look for.
The food in Qsine is for the most part excellent! Very good food and always coming, we enjoyed it very much.
Now for my biggest complain and the reason that I am most likely not to go back. When I pay additional for a specialty restaurant I like to be relaxed and with some distance from other tables. Qsine is too crowded and you're basically eating with the tables next to you, I am not a fan of that.
Celebrity Silhouette Qsine Review
Anyway lets get started,
Here is the ipad
And here is the video of the menu,
Please watch this video, it will help you understand how the menu is.
First we ordered the Lava crab
This item was extremely good, it was like fried thin noodles with crab. ASTOUNDING!
Disco Shrimp, very tasty.
Treseviche, it was very tasty.
Sushi lollipops, they were ok I guess. It also comes with a small tuna salad.
Celebrity Silhouette Qsine Lobster Escargot, Very good. The little cones next to it are bread.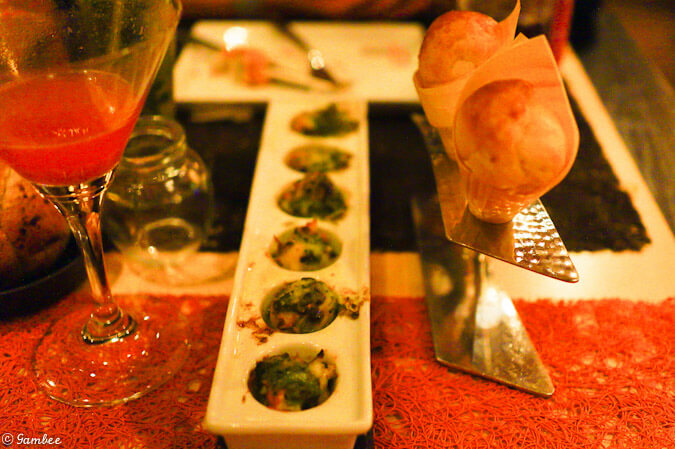 Taco Royale, it was very good and you made your own guacamole.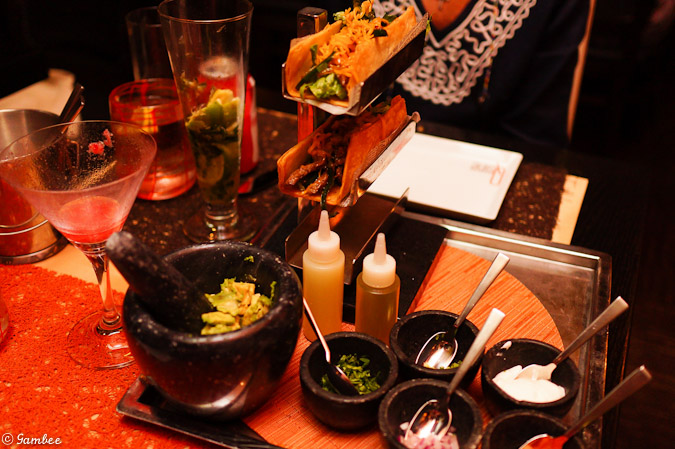 And the Celebrity Silhouette Qsine painters Fillet, Excellent! (it comes with a bunch of sauces to try)
The dessert menu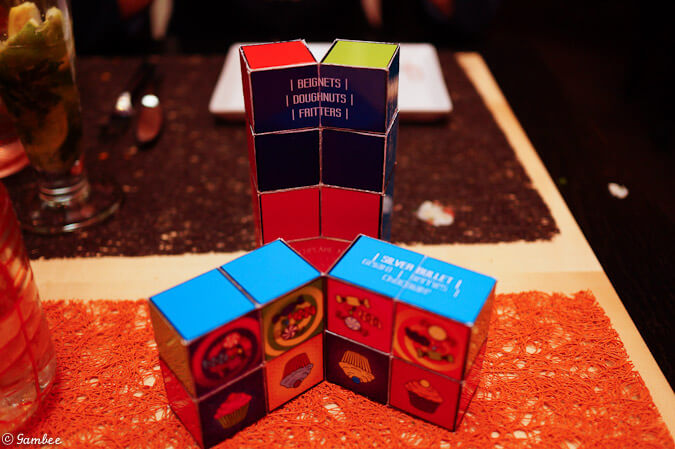 We got the tombstone and the cupcakes, the tombstone was good. But the cupcakes were absolutely HORRIBLE!!!!! The worst cupcake I have tried in my life, I got buttered in because it said Red Velvet, but it was just really dry and really bad. In addition to that, the make your own system does not work very well, the bags break easily, and everything goes in your hands.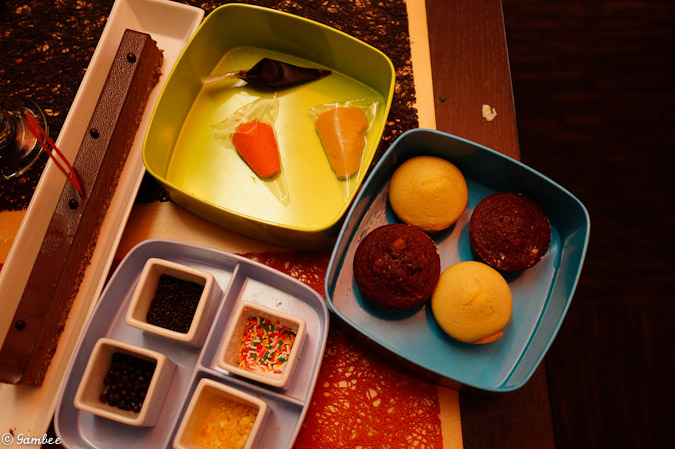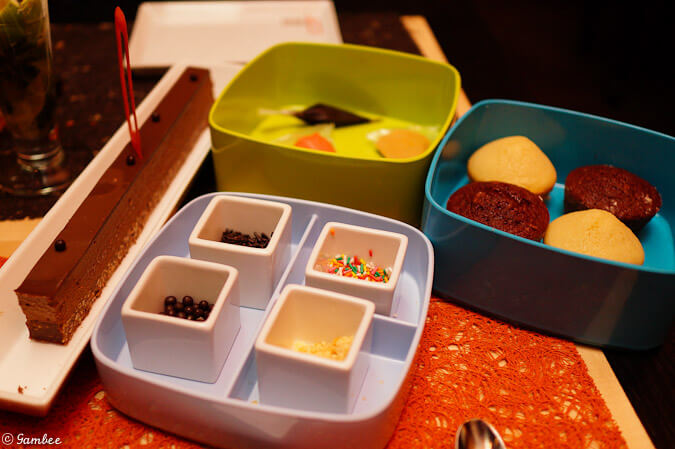 Inadvertently I actually took a picture of the CEO of Celebrity, I had no idea that was him.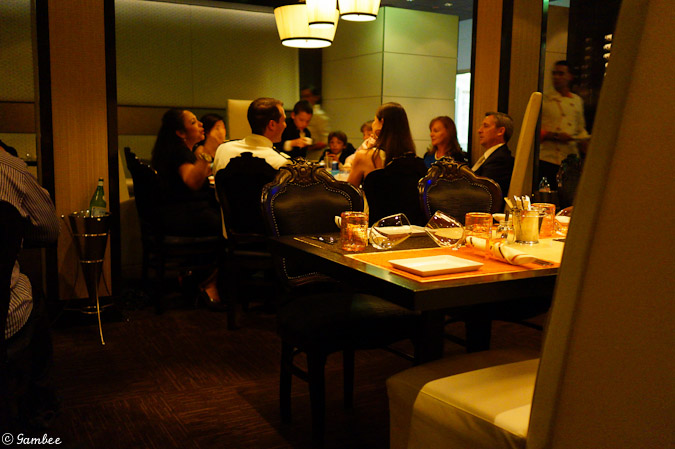 By the way,I was spotted by Kevin (FRMPEI) inside Qsine, he said my mom gave me away, lol. Very nice fellow, I wish I had more time to get acquainted with him. Funny enough the table next to us were also members of cruise critic.
Overall like I said we had a good time and the food was fantastic, but paying an extra $45 to get in to that crowded place is not worth it at all. Now if they removed a few tables out of there and made everything more open and relaxed (like Murano) I would be all in for that.
So some of you have made reference about the dress code. As I stated before I am not a fan of dressing up, that is exactly why I decided to go to specialty restaurants and dress smart casual.
So someone asked if people dress formal also in specialty restaurants.
Well my friends at some point in Qsine my mom goes to me "look around and looked at how everyone was dressed" and then is when I felt a little under dressed.
Yup, most everyone was dressed with full suits and tie, the whole shebang. Now please note I was dressed nice, but in no suit. I really did not care as I was following X protocol by the line and it seemed to bother not one around me. And in my defense at least I was not wearing shorts like the kid next to me
 .
By the way aren't kids not allowed in their specialty venues, I remember reading that somewhere. There were kids in all of our occasions in specialty restaurants, I have no issues with it, simply pointing out. Maybe they are just a little more lenient than their guidebook states.
So after Qsine we headed to Molecular for another round of drinks, honestly I don't recall how they tasted. I think good, but not sure, sorry.
Mr B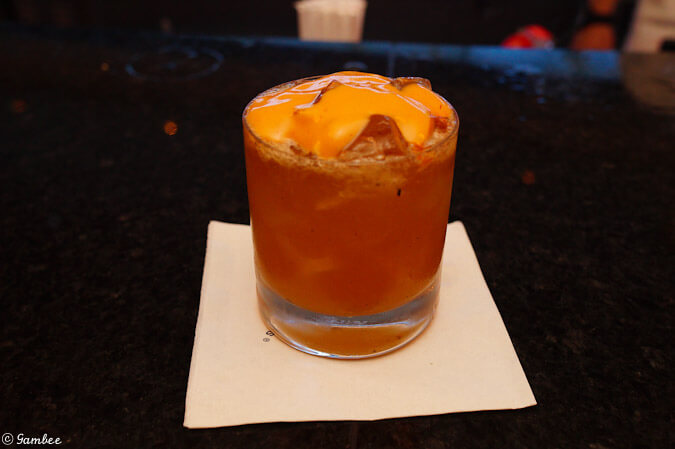 Lucky cat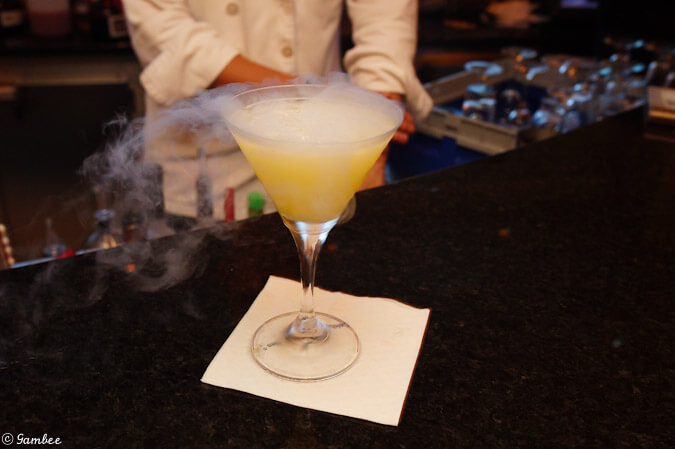 We actually sat there for a long time talking with timlove, we had a great time with them, what a nice couple. It is funny how much they remind me of my bf and I. She loves to cruise as do I and he doesn't just like my bf.
So it just happened that we missed that night show, we wanted to go, but we were having a great time talking so it was all good.
Then we headed up to the room to get my full size tripod so I could go to the top decks and get some night pictures.
Once up there I started snapping away, hope you like them.
It was a nice photo shoot, the weather was finally cooperating!
After that we went down to the Theater to see the "liars club", for those of you not familiar with this, it is simply an event when 1 person is telling the truth and the other two are lying. The audience is supposed to guess which one is telling the truth.
The players were the captain, Lisa and I think the hotel director. It was something that we had seen once already, I think on the NCL Sky and it is always a fun little activity. We enjoyed ourselves.
And here is a video from that activity, actually a fun video. If you have the time you should watch it.
After the show was over we headed down to the martini to grab a couple of banana splits.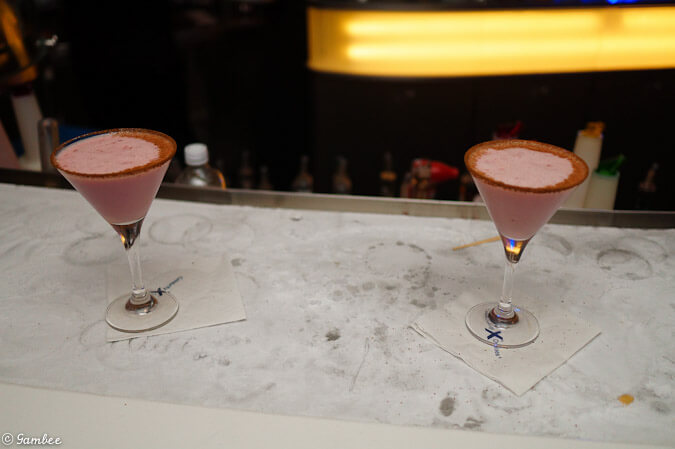 They had a little ice sculpture to ice down your drinks if you liked.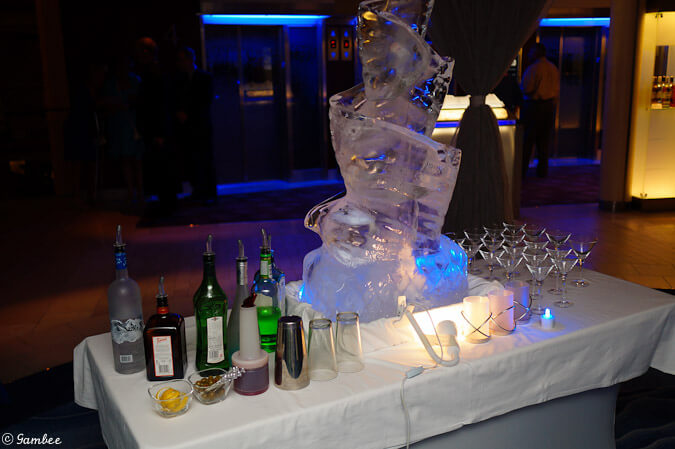 We grabbed our drinks and headed to Celebrity central for the comedy show, we had missed all of the prior performances and I really wanted to get to see one.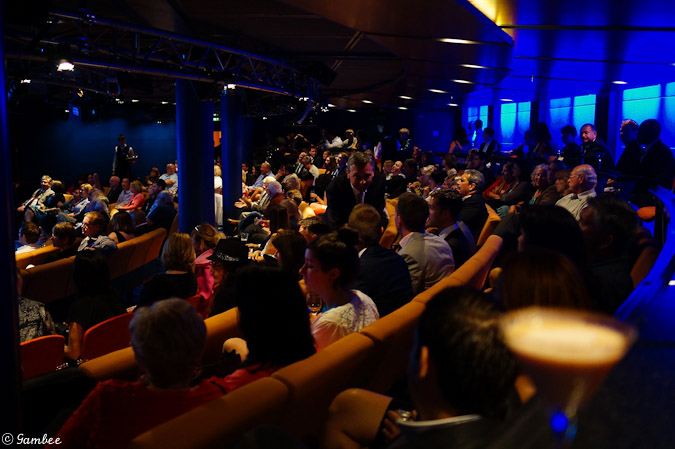 The show was called sin city comedy and it consisted of a Dancer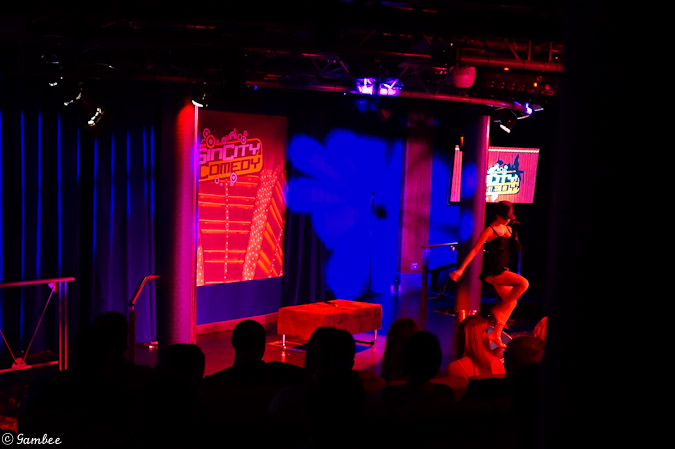 Peny Prince (very vulgar, Amazing comedian)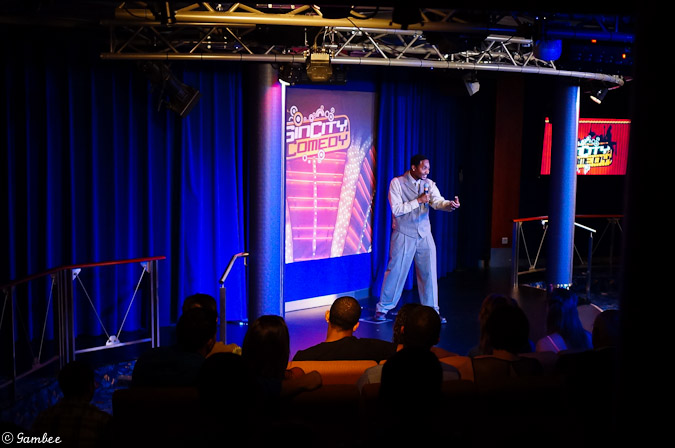 And Pat Godwin (Not my cup of tea…)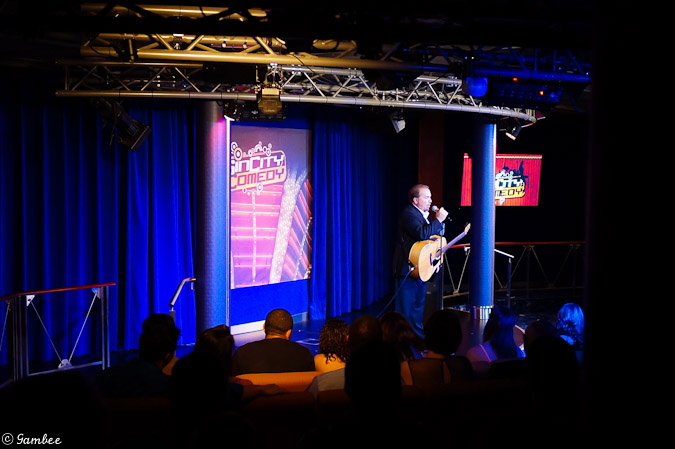 The show was good overall, just wished that Peny had more time on stage and less of Pat, his comedy was just not so great. The dancer came out a couple of times and did  some king of dance. Just a heads up, this show is not clean humor at all, very strong language is used by both comedians.
After the show we headed upstairs and went straight to bed, it had been a long day.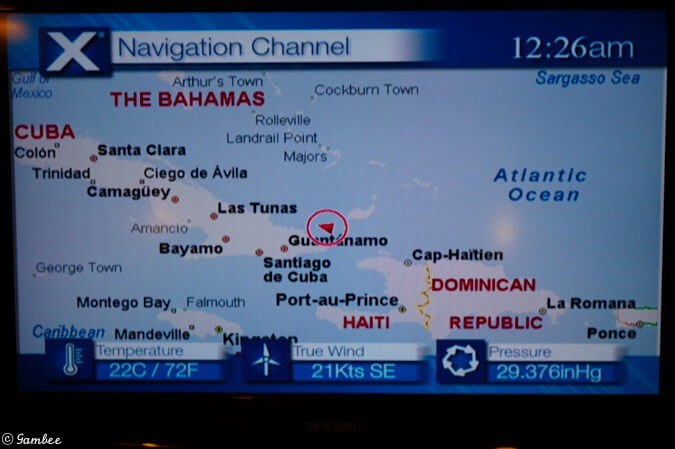 Day 6 Ending.