This chapter 14 will focus on Falmouth Jamaica outside of the gates.
Outside the gates. I have been very apprehensive of going outside the gates in Falmouth Jamaica, initially I was going to go to club nass to use the free wifi, but since I bought the big package on the ship there was no need for it.
The only reason we went outside the gates was for review purposes. Once you exit the Falmouth Jamaica complex you have to cross the street, then there is a small street that you go through with lots of stores/stands on both sides. You will be asked to buy something about every 10-20 seconds in this street. A simple "no thank you" usually gets them to stop, but some keep asking. We were never harassed by masses like other people have experienced in the past. Yet saying no thank you so many times, gets old very very fast. The products they are selling are all the same as inside, maybe much cheaper?
At one time I did worry, one guy much larger than I am approached me and told me nice glasses. I said oh oh, not my glasses :-(. But in the end he just wanted my attention to buy one of his products. As we kept on walking a few of the locals noticed that I wanted to get rid of my coconut, and they pointed me to trash bin. The streets are kept very clean, yet the buildings are in very bad shape. This is definitely a very poor town.
Mom, bf and I all commented that RCCL should be making sure that at least some of the money that is being injected (port fee) is going to at least painting those buildings in the main street. Another part of it should be going to educate the locals to back off a little and let the tourist breath freely. More people would go into town if they were not harassed and in return more money could be injected into the local economy. There should be some sort of education system, to help this town flourish a little.
I fully understand that there are a lot of people living in poverty there, but in the end unloading 6000 people into port can only help them if they allow them to help.
Once off that main streets we made a right and walked towards the main plaza, at that point a man followed us for about 3 minutes offering us a tour, I simply kept saying no thank you. He eventually got it. I took some pictures of the circle and then headed back. On our way back we noticed a little alley and I told my mom to use it to avoid going through that same street again. Now I realize it was not the best idea, but none the less we did it.
After exiting the alley we were in the other side of the market, it was much more calm. There were some ladies in chairs, but none of them harassed us to buy anything. They also had a motorcycle renting spot as well. After that we had enough, I had experienced what I needed for the review, and I was ready to head back to the safety of the ship.
I took a few more pictures and headed towards the gates.
Did I felt safe in Falmouth Jamiaca? not really, but my circumstances are special. I am not sure anyone would truly enjoy going out the gates, there is really nothing to see, other than a very poor town. Maybe if you're looking for a bargain, I am sure you could get some great prices there. One more side note is that there is indeed a large amount of police officers around that area that we walked through. I highly doubt that anyone would try to do something foolish like stealing or such, in my case the police force being there did not add to me feeling secure.
All this pictures are going to be posted in sequence of the path we walked, I failed to take the camera out in the alley.
Outside the gates of Falmouth Jamaica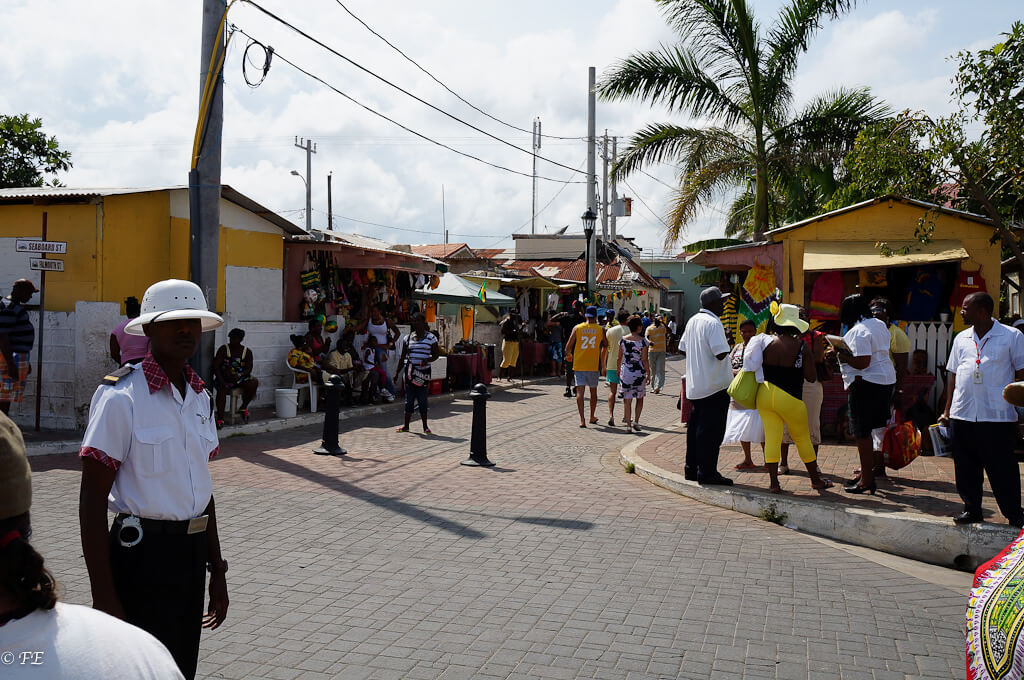 Falmouth Jamaica street vendors are everywhere.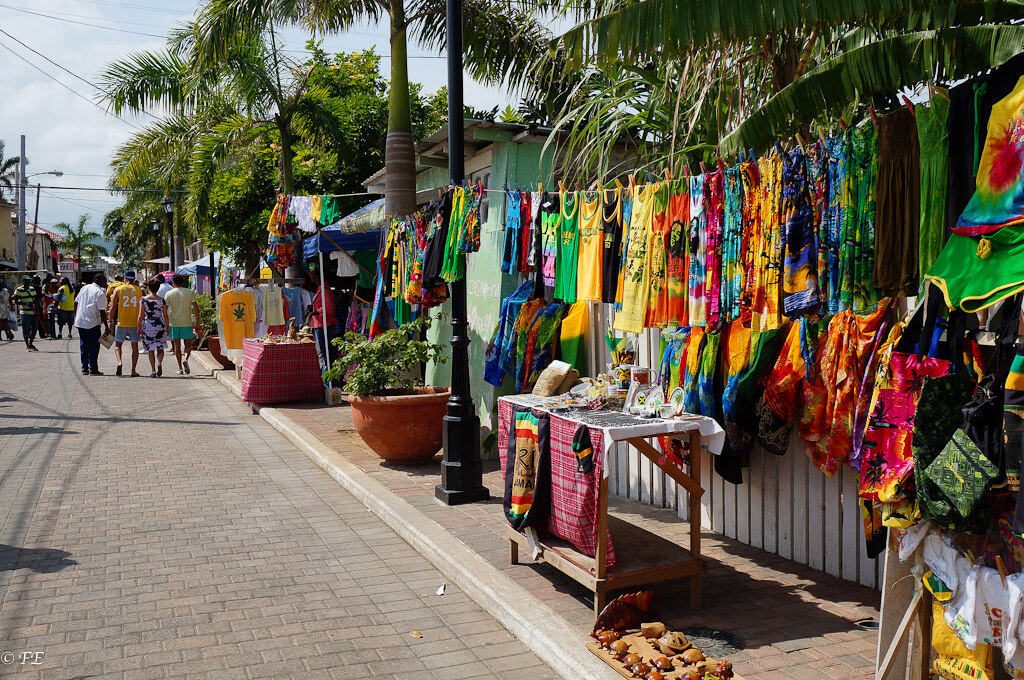 What the Falmouth Jamaica average building looks like….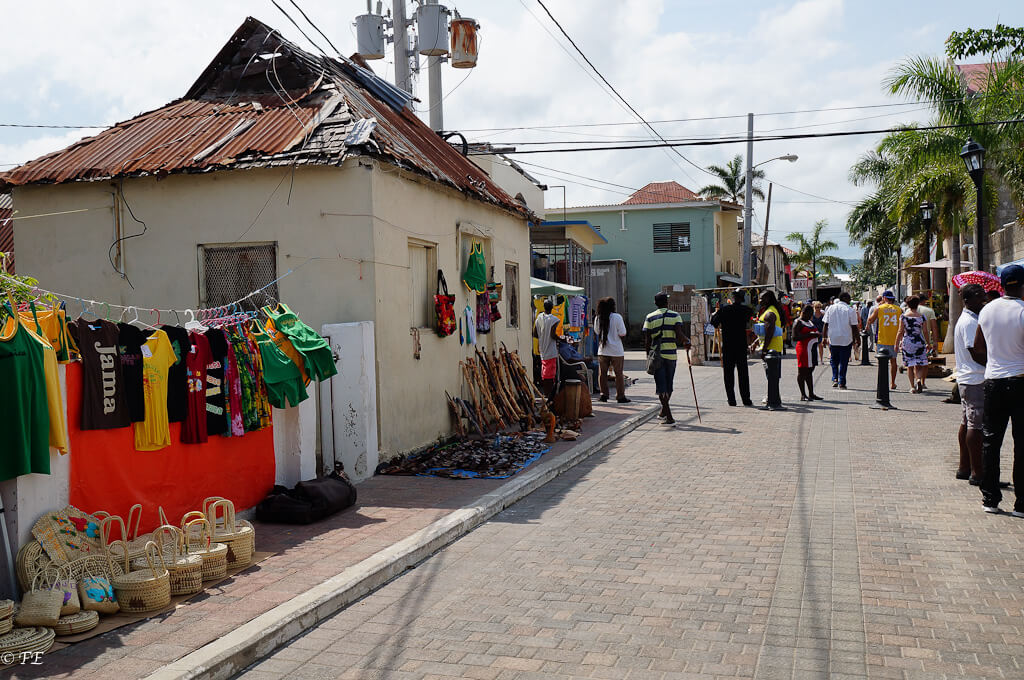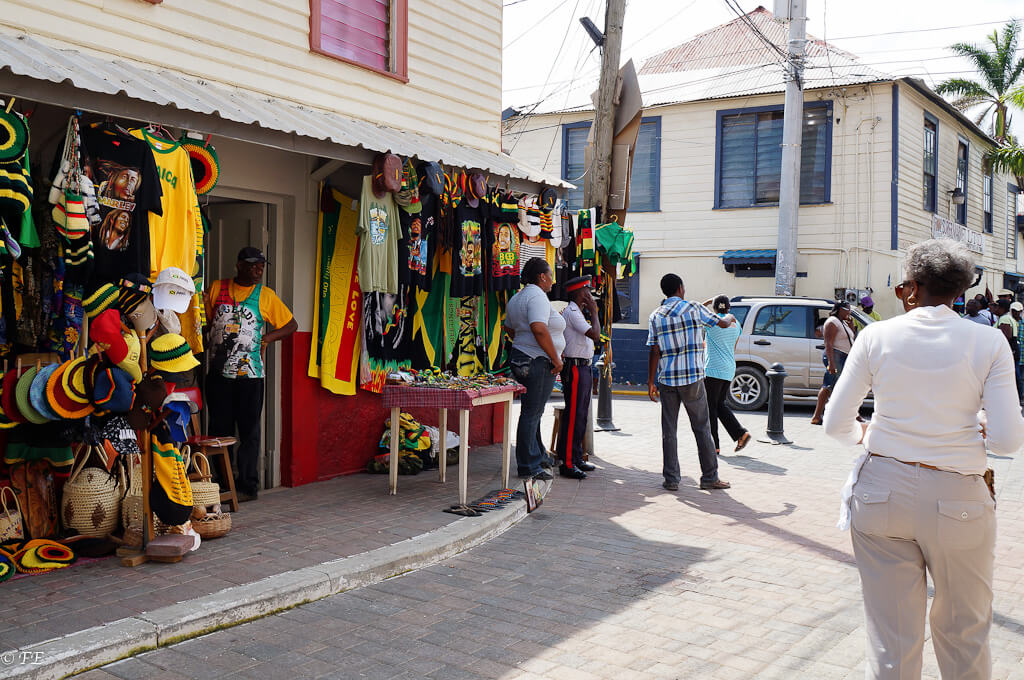 I noticed a lot of security in Falmouth Jamaica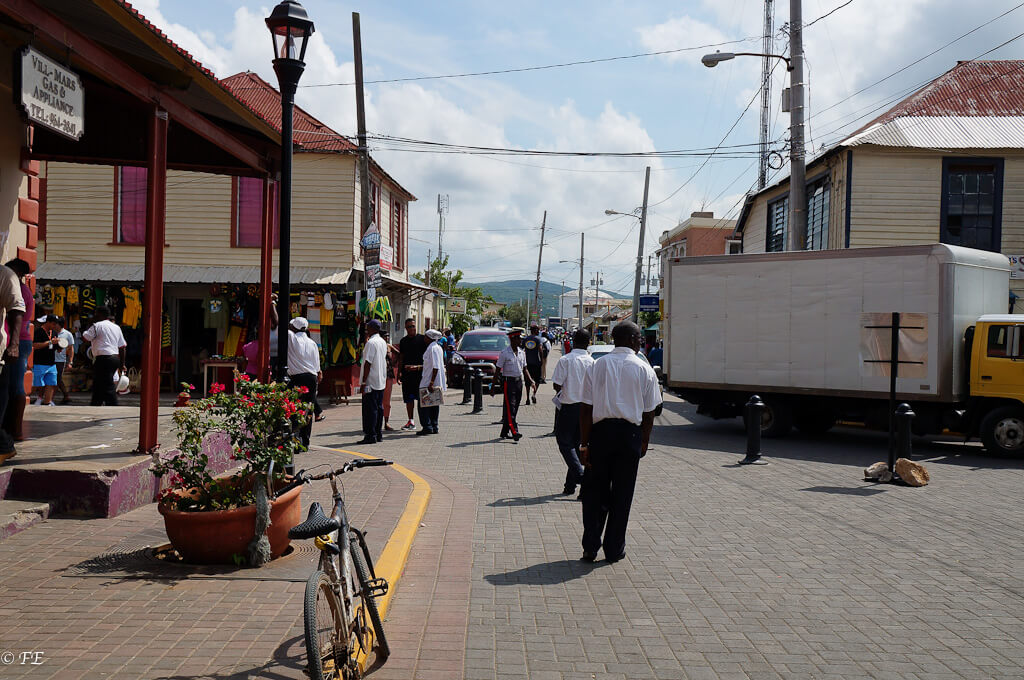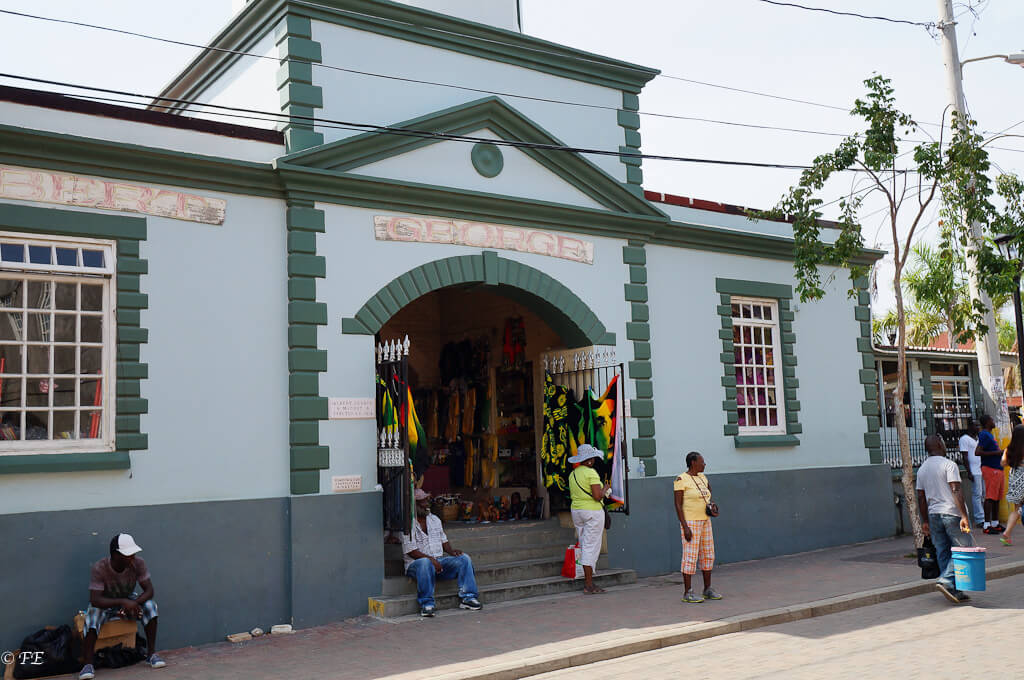 Falmouth Jamaica town square

Falmouth Jamaica main street
After our quick visit to Jamaica we were ready for lunch, so we decided to got upstairs to windjammer.
We were the first people to arrive to that side of the windjammer all the displays were untouched. If I may add this ship had some of the best french fries I have ever had, they were quite tasty. This was also the first time that I had smoke salmon in our cruise.
I had a light lunch, I was feeling pretty fat after looking at some of the pictures 
. I don't think I got a picture of moms plate, but she had ribs, rice and fruit.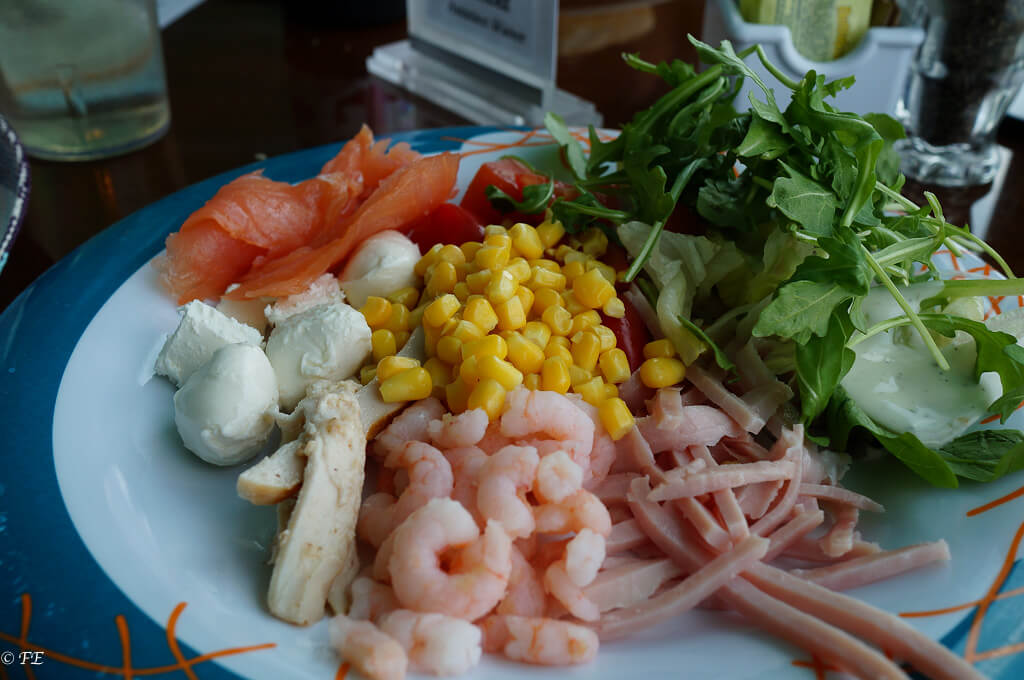 Remember how in Haiti RCCL allowed some of the family members in Labadee, they seem to do the same in Jamaica but this time in the ship. The family was super happy and so was the employee. That is a very nice gesture of RCCL to do for them.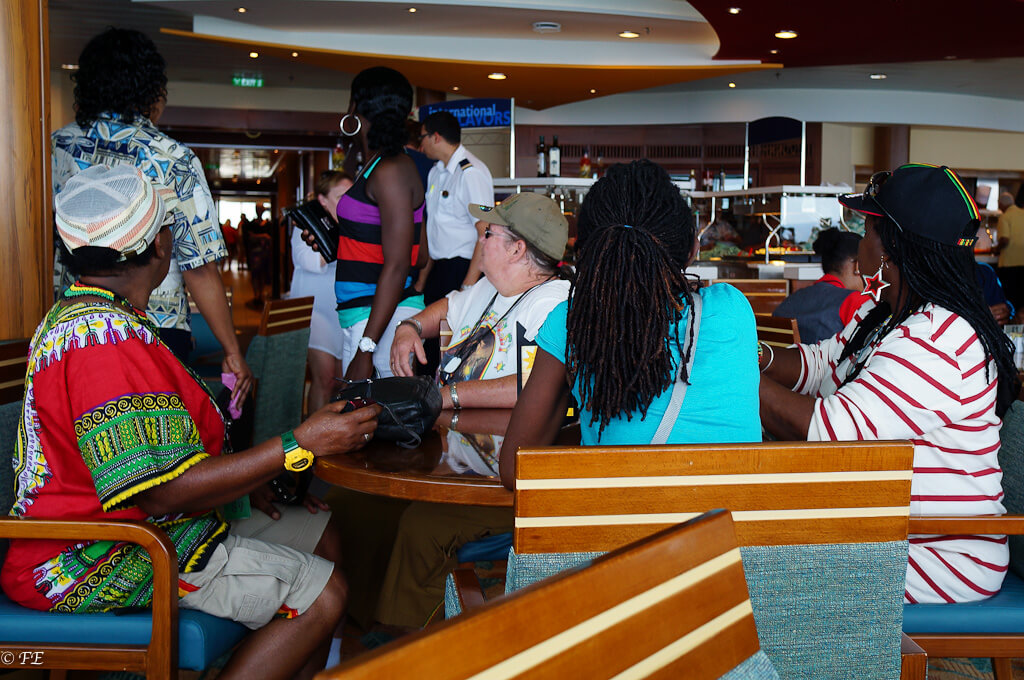 After that we decided to go to the beach pool and enjoy the partially full ship. To our surprise there were no seats available in there, so we headed to the solarium instead., we found plenty of seats there. So we just laid there for about 30 minutes, I quickly noticed that I was getting very hot so I went and tried the solarium pool for the first time. I was very happy to notice that it was a fresh water pool. Then I went back to relax some more, both of us ended up sleeping for 1:30, I usually have a really hard time sleeping with sunlight, but I slept like a baby that day. We actually only woke up because of an announcement.
Plenty of seats in this pool, the beach one was the most popular one.
Falmouth Port
By now you should have a good idea if you want to go outside the gates of Falmouth Jamaica