A few more pictures of the Allure of the Seas pool deck.
There was some Britto influence in the Allure of the Seas pool deck, I don't think I pointed that out already.
I also decided to get a tinny bit of ice cream, I needed something sweet. That is how much I actually got 
, the lady behind my told me to get more lol,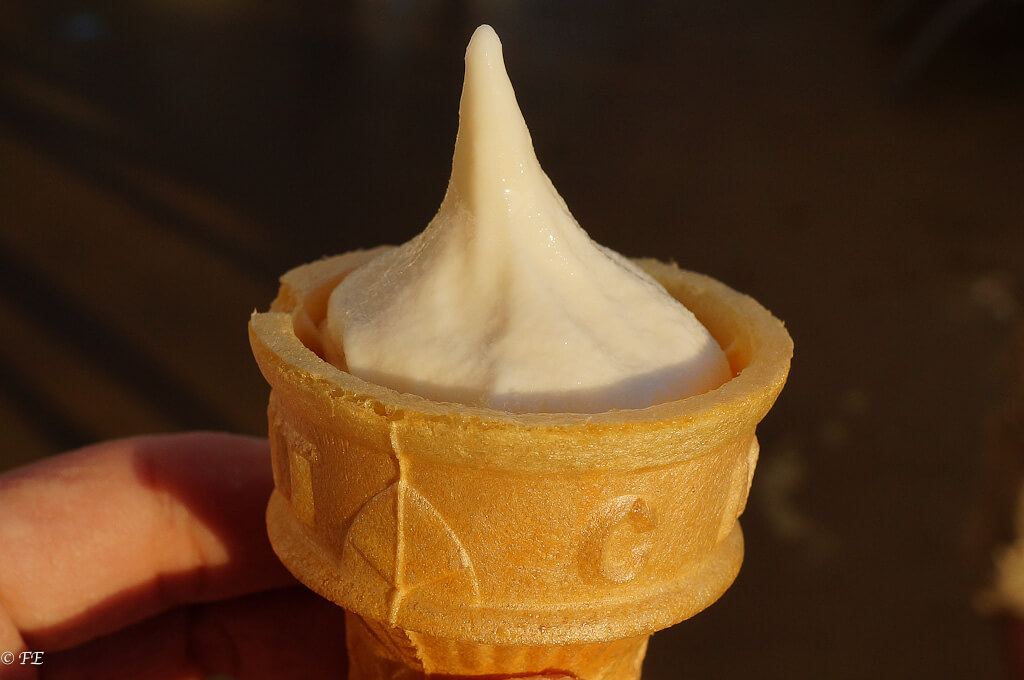 After sometime up in the Jacuzzi we decided to go back downstairs and get ready for our dinner at the Allure of the Seas Chops Grille restaurant, we had reservations at 6:30. I had somehow mistaken the times and that day we missed sail away 
, it was not a big deal but like I said before mom and I had come to LOVE sail away. Next time I will have to be more careful with that, it will never happen again if I can prevent it 
Once we walked into shops we completely loved the atmosphere, it was much more intimate than the MDR. If you can recall we had been eating in the MDR for the past four nights and we needed a change.
I took a picture of the restaurant and some of the menus.
Not my best picture, lighting was minimal and I had to raise the iso to get a clear picture.
Allure of the Seas Chops Grille Review
Right after I took those pictures I looked to my left and I noticed a couple next to us. The guy seemed very annoyed by me taking pictures with flash inside the restaurant. He would not stop looking at us, we were not being rude or loud or anything, he simply did not appreciate me taking pictures.
My bf told me I had to stop for that night, but I knew there was no way I was going to let one grumpy person interrupt my almost perfect record of food pictures. So I simply made note to take the minimum amount of pictures that I could, but still making sure I got everything.
Just as a side note the couple never stopped looking at us that night, it was almost as if we had monkeys on our heads, at some point in time my bf stared the guy down and then he got the gist that we were pretty annoyed by him as well. I am not sure why that bothered him so much.
In any case I did not let this ruin our night at all. Our server for the night was Francisco a very cool and personable guy, the service was impeccable. He made us laugh more than once and mom liked that she could communicate with him in spanish as well. He made our dinner very enjoyable and one to remember.
Thank you Francisco!
I ordered our wine, if I remember correctly I got a bottle of castle rock Cabernet, I guess this was one of the pictures that I did not take :-/
Someone came around and gave us some bread, my mom and my bf quickly dove into it as they always do. I have a strict policy on not to fill up on bread at restaurants, to me its pointless, since there is very good food on the way. In either case they both enjoyed the bread.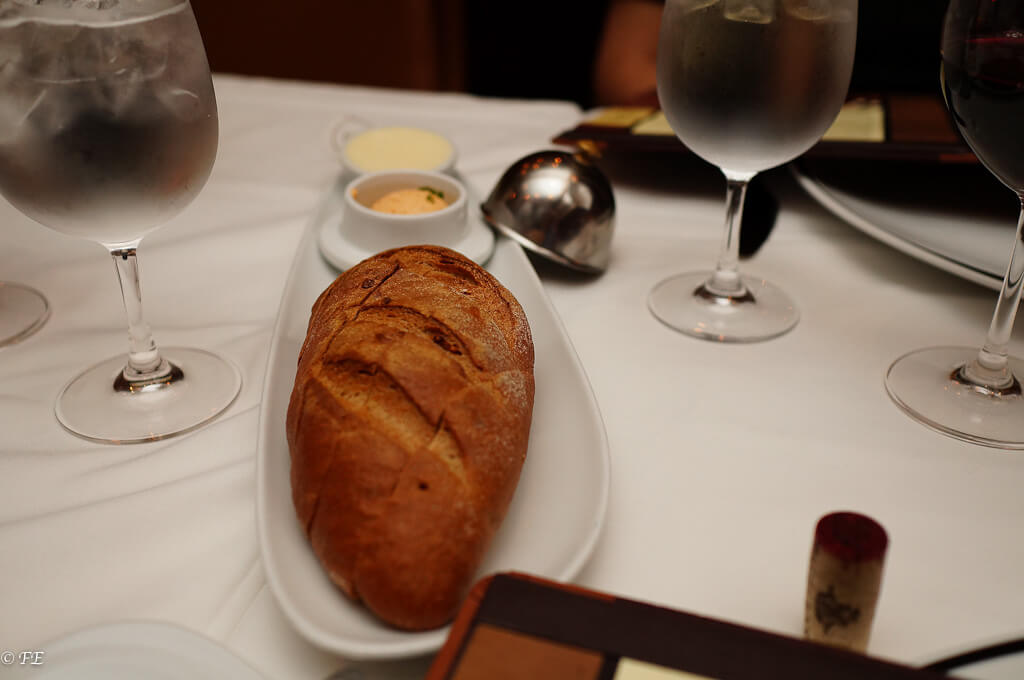 So our fabulous server took our order and poured our wine, I had a big glass to help me relax a little with the guy staring at us. After that first glass I pretty much could care less about him 
. I actually think that the couple frequent chops a lot, most servers knew them and kept asking why they did not seat in their section. They actually seemed like nice people…
I ordered the oyster duet, it was good, I enjoyed it, but in a way I wish I have had something else…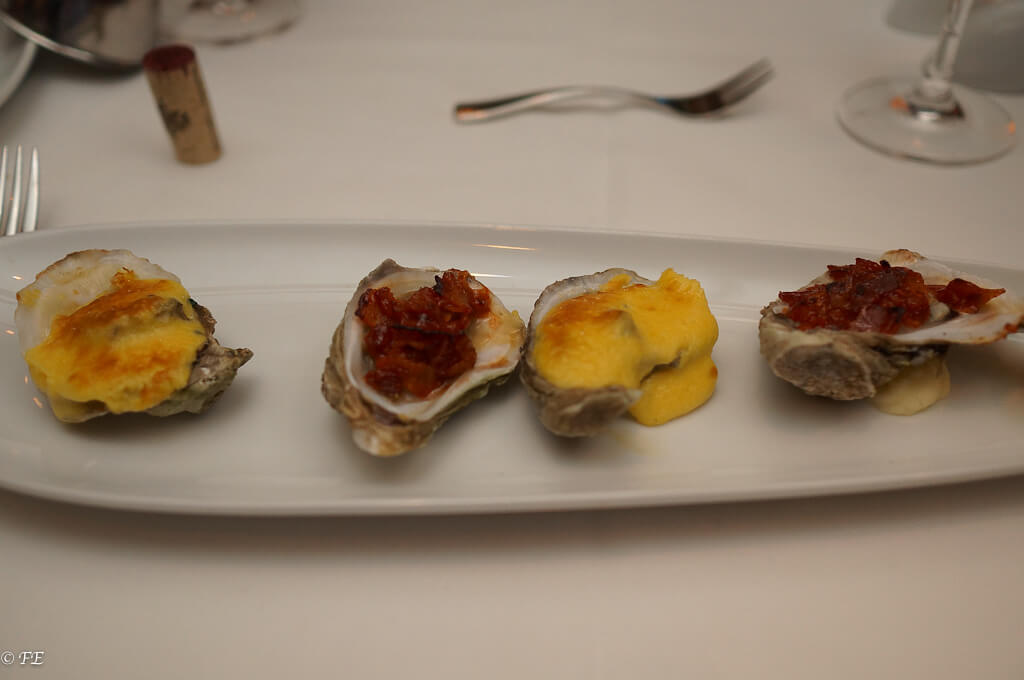 My mom had the , she loved it. It had plenty of mushrooms in it. I will tell you one thing though, it was very very similar to the one in the windjammer. Get something else here.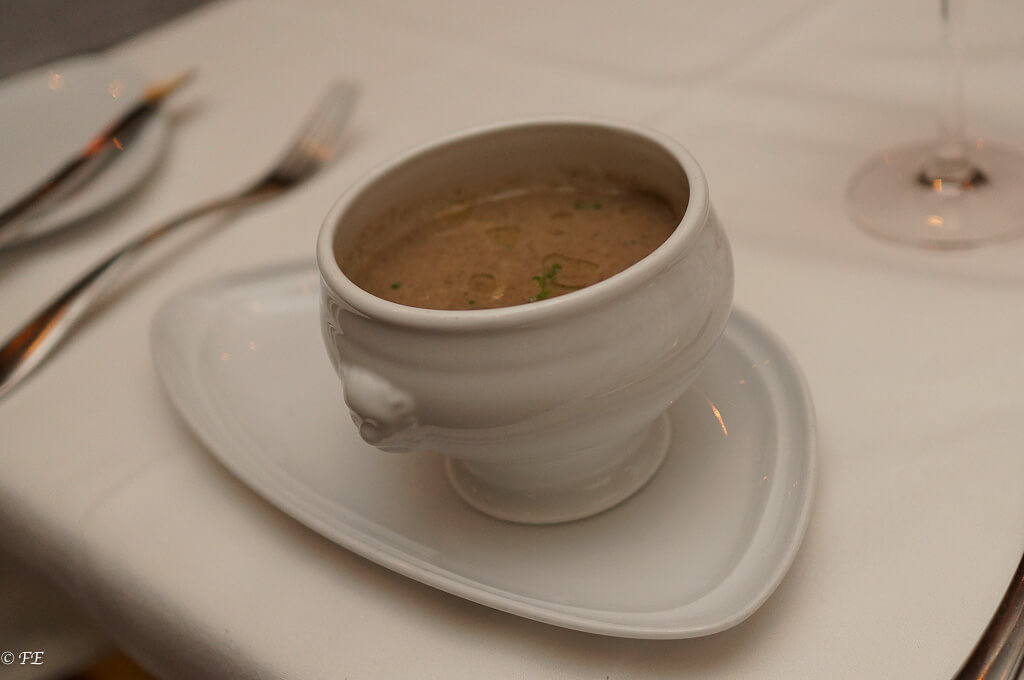 And my bf had the crab cake, at first he was scared because it said that it also had shrimp in it and he doesn't eat shrimp. But he said the shrimp was barely noticeable, it was a very good appetizer. Get it!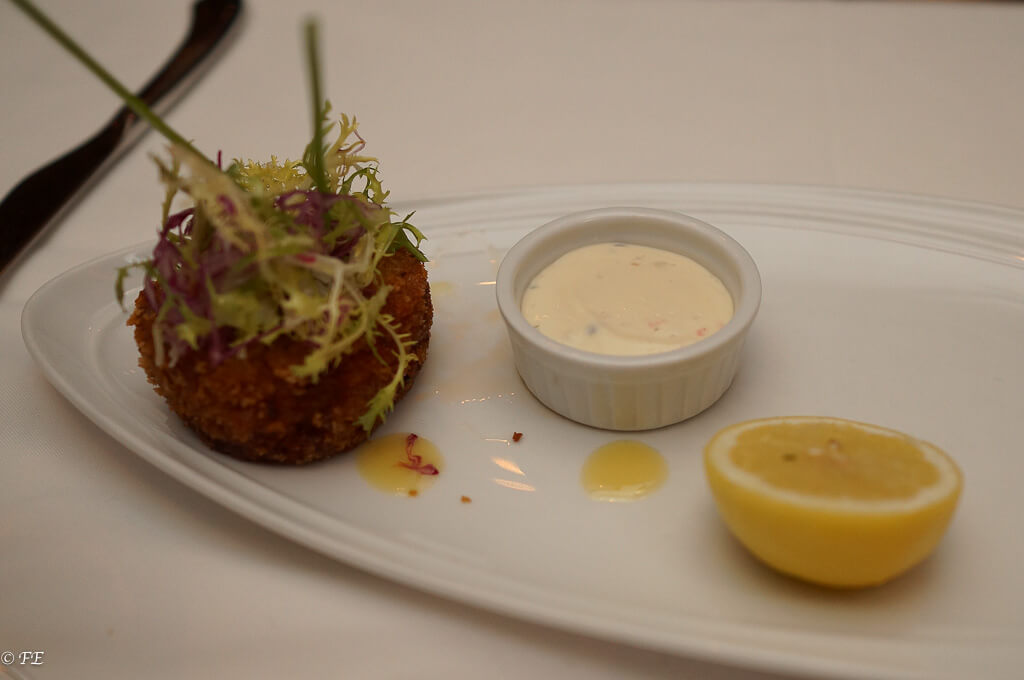 For dinner all 3 of us were going to have the fillet, but I decide to get a fish for the review and share with mom. My mom thought it was a good idea as she likes fish as well. At first I wanted to get the halibut, as I had seen it in the past in pictures and I like how its cooked. But my server said, "well if you want fish I would strongly suggest to get the barramundi, its like an asian seabass" then he explained that the halibut was a little dry. Who was I to say otherwise, I said "deal!", I also love Seabass so that seemed good to me.
The fish was excellent, although nothing like seabass. I enjoyed it very much and the tempura veggies AMAZING.
Mom got her fillet and she claimed it was one of the best piece of meat that she had ever eaten. We shared everything and had food left over at the end. She got chimichurri sauce for her and I got the béarnaise for myself. It was indeed a great cut of meat. She ordered it medium rare.
Left to right, tomato, chimichurri, Fillet and béarnaise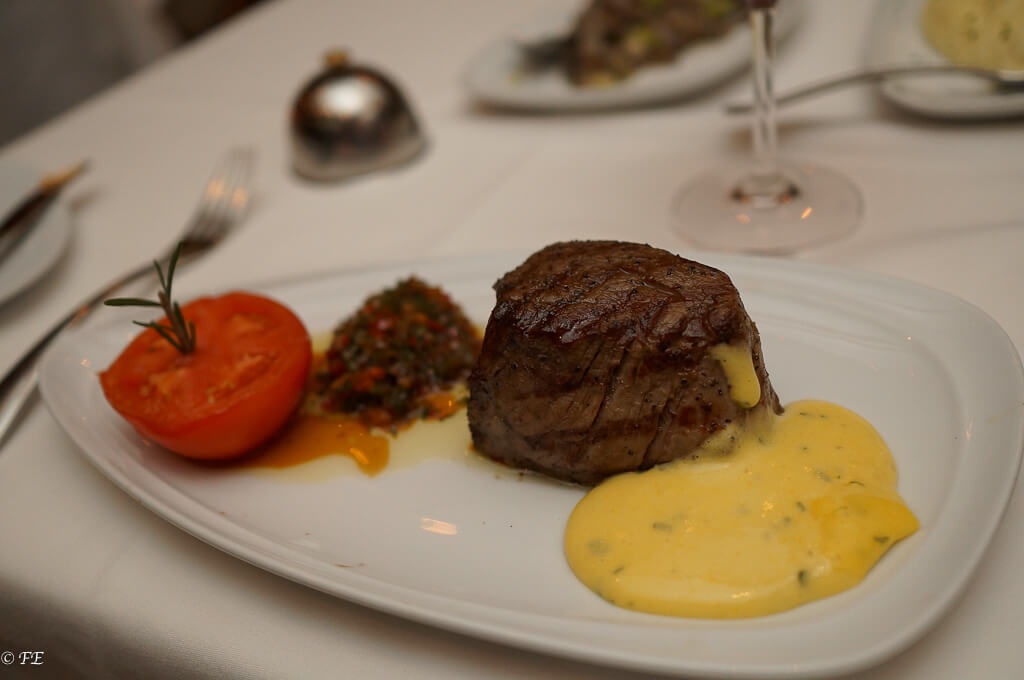 My bf got the steak as well, but he had it butterflied and over cooked, it was funny when we ordered it. he told Francisco, just killed it and make sure its dead. We all had a quick laugh. He also loved his steak and this coming from someone who eats meats once a year, because he simply does not enjoy eating red meat.
In that picture you can also see the roasted potatoes with prosciutto in plate near me, sorry that it is out of focus, they were very tasty.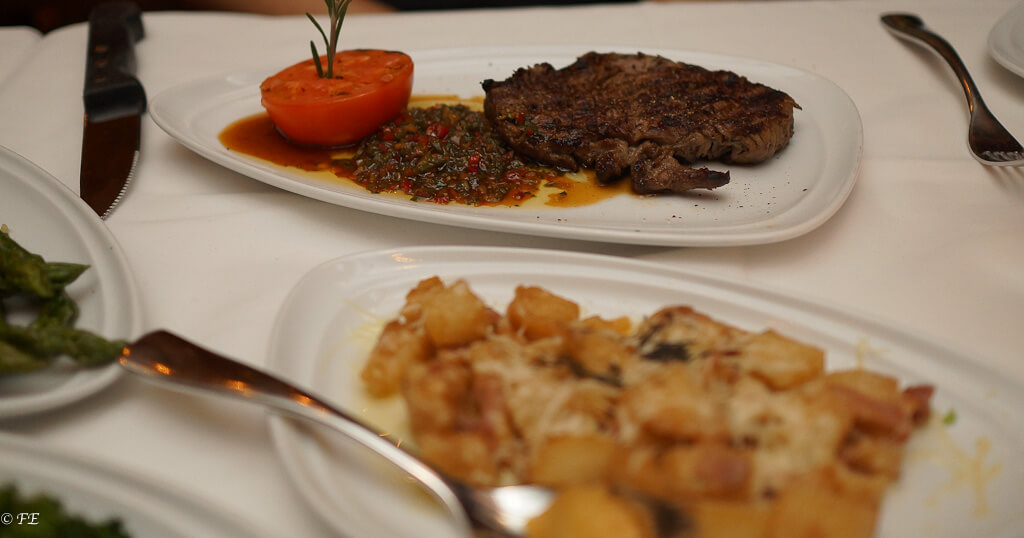 Asparagus and baby broccoli. Both tasty but they rarely got any attention from us, just too much food on the table.
My FAVORITE side were the mushrooms. The mashed potatoes were pretty good as well.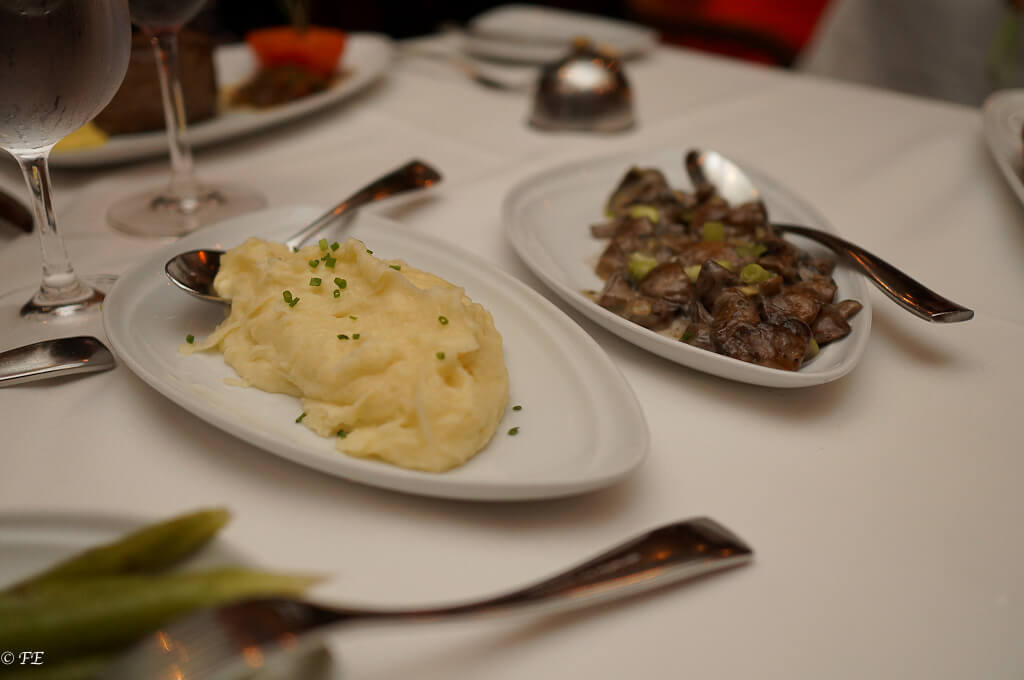 All our food was JUST PERFECT, this was by far the best dinner on board lady Allure, we were stuffed.
AND there was more to come, I know what you're thinking FATTIES, LOL
Mom got the mud pie, honestly I did not care for it much. It was like a heavy mousse cake, she said it was good, but only had a few bites.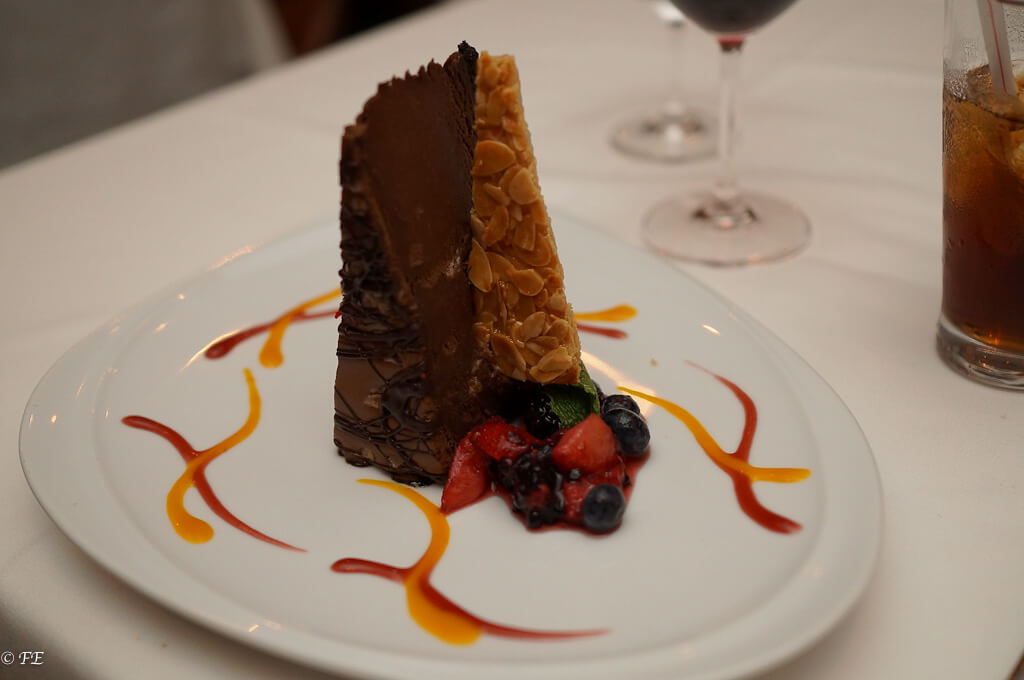 I had the passion berry duo, it was good, but nothing to cheer about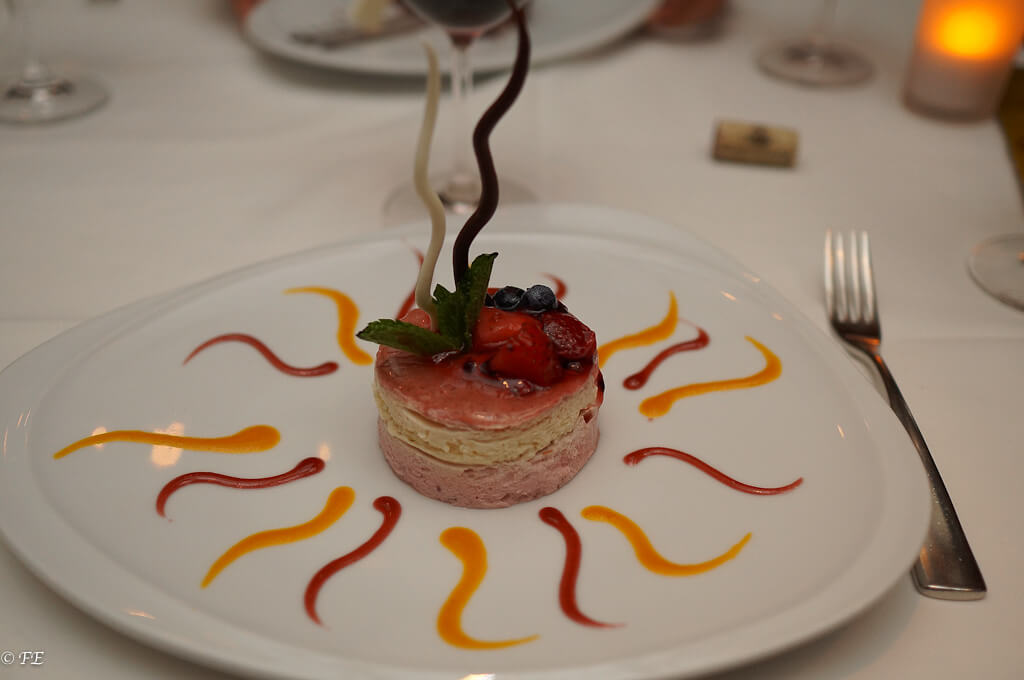 And by far the very best dessert in the house is that amazing red velvet cake, it was HUGE!!!. It was soooo moist and fresh, just excellent. My bf eat it all, I took a few bites.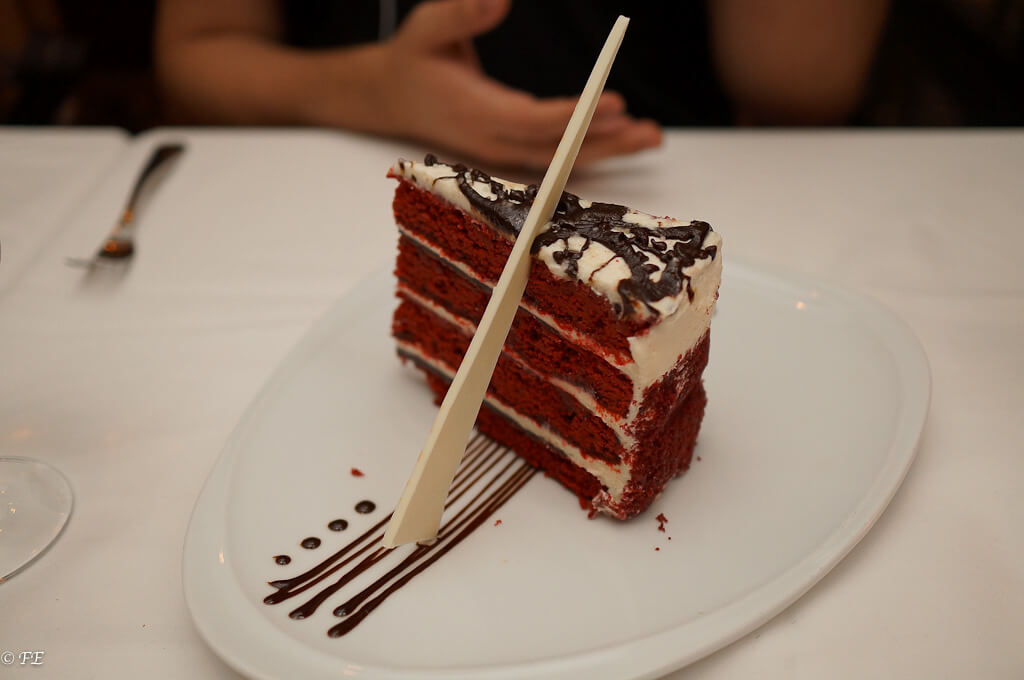 We finished our meal, tipped him and left. I took this last picture on the way out
Overall it was great, and the funny thing is that neither of us really enjoy steak house kind of restaurants. The average age in the restaurant had to be around 50, I don't believe I saw one kid in there, most of the crowd was mature.
I was very happy with it all, but I was even more excited of what we still had to try the Allure of the Seas 150 restaurant as our last dinning venue the next day, it was going to be the big finale to our cruise!
After that we walked through the Allure of the Seas promenade and I tried taking pictures of things that I had not done before, our cruise was coming to an end and I wanted to make sure I got all I could.
I can't really recall this, but from the look of these pictures I believe the roof changes colors.
It looked really cool at night!!!
Then we stepped into one the RCCL stores, we had yet to stop there. It is crazy how much there is to do in that ship, there is just not enough time. Here is the Allure of the Seas model ship price.
How cool is that waterfall?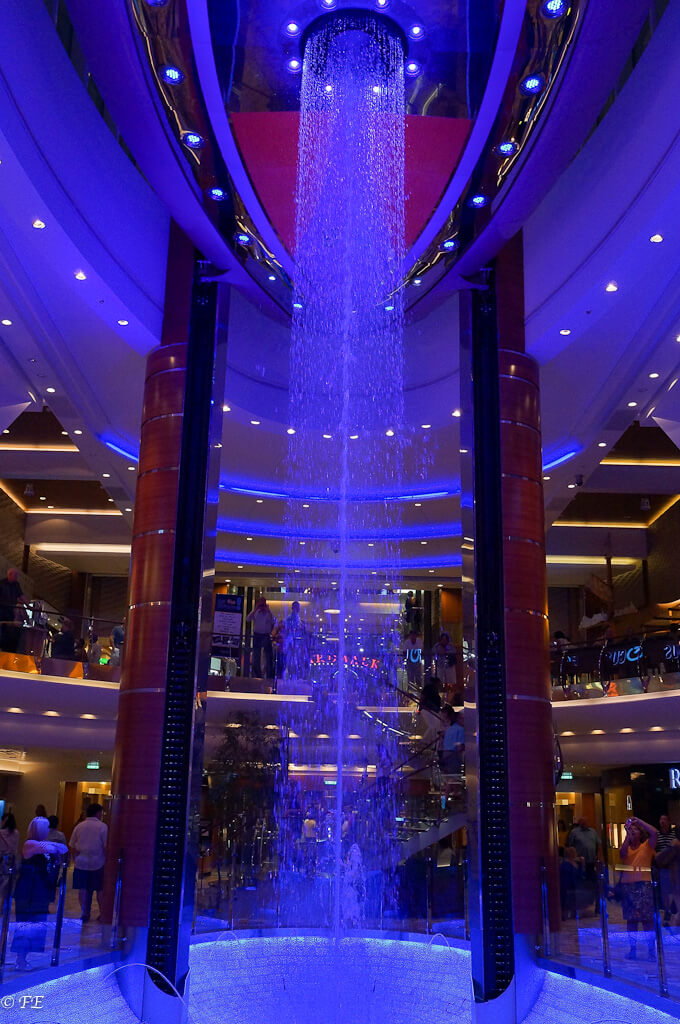 Then we decide to go to the Allure of the Seas Viking Crown lounge before calling it a night
There was the same crowd as always, just the way we like it. This was the first time that my bf came with us, he seemed to like the venue.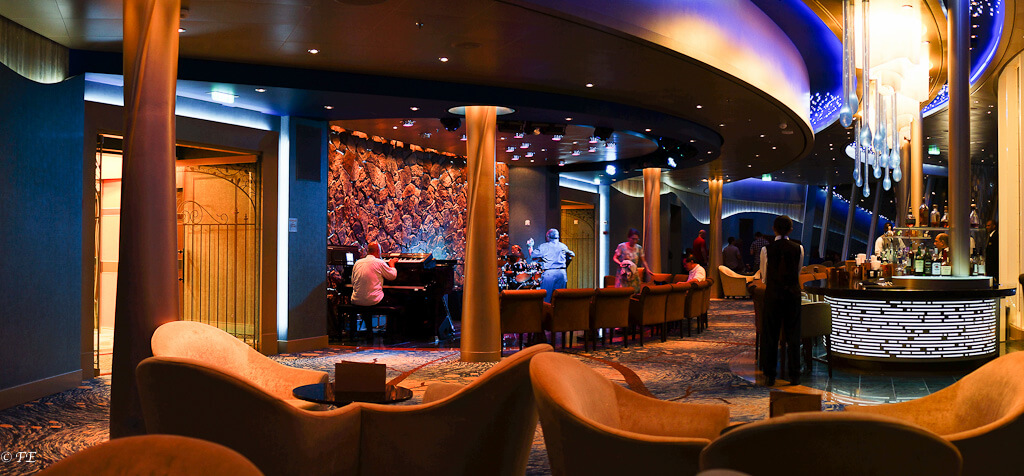 Bf had a peach bellini.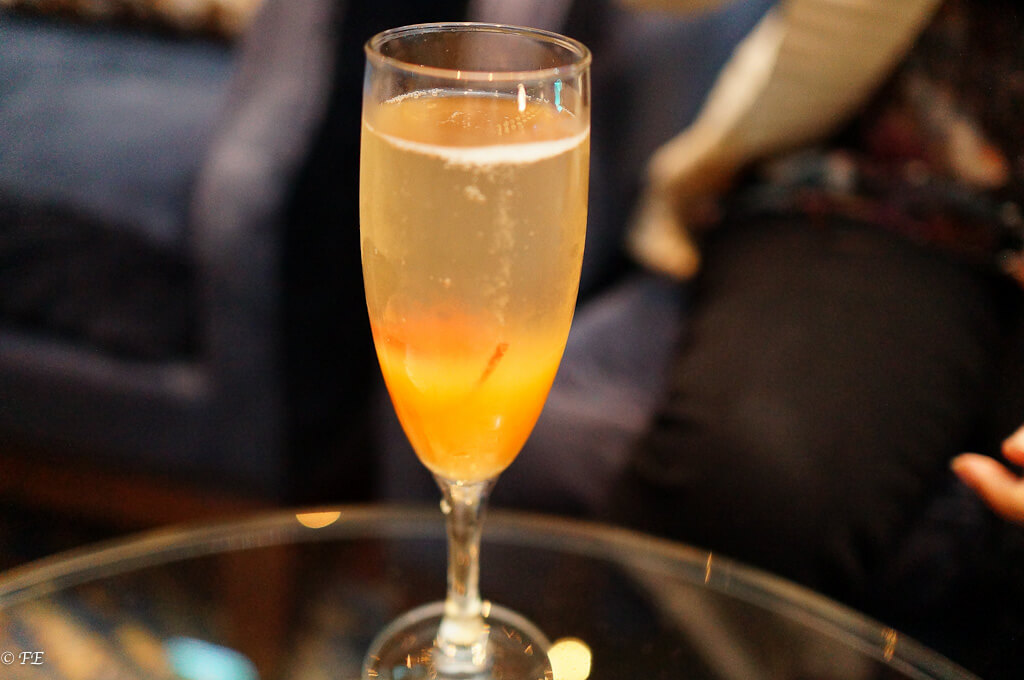 My usual, nothing has changed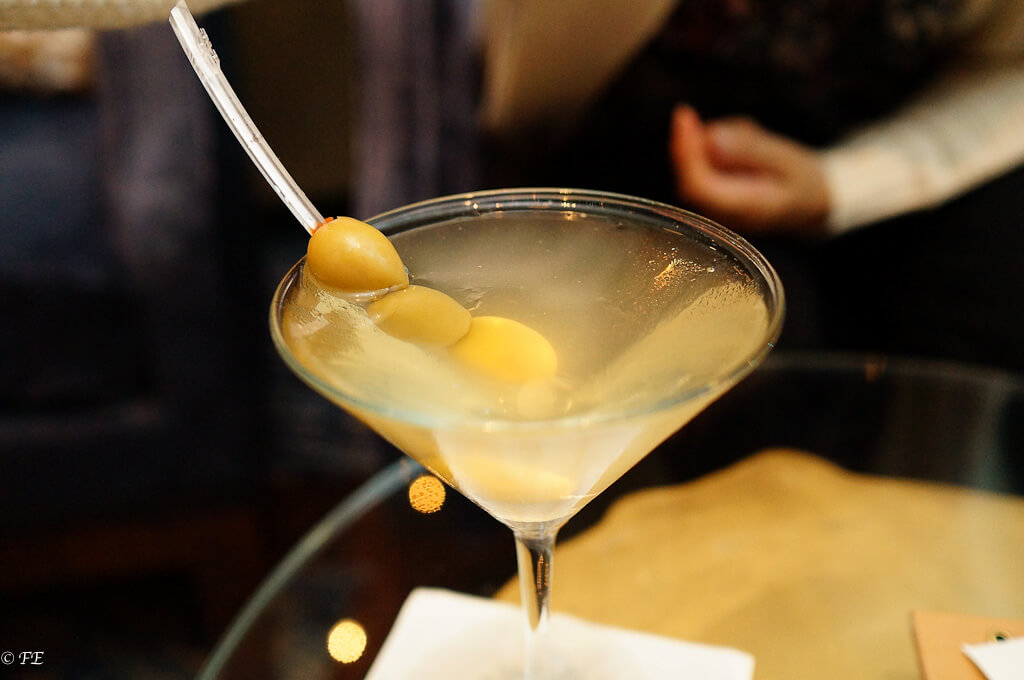 I took a short video of some light water movement in the pool;
Then we headed to the room to relax for a little while, before going to bed.
The first thing that I noticed was MONKEY!!!!!!!!!! So cool. Of course the first thing that I tried to do was to take a picture of me with him and I behead him, lol. It was hilarious, bf tried fixing him while mom and went to the balcony.
Once outside we noticed one of the NCL ships in the distance traveling with us.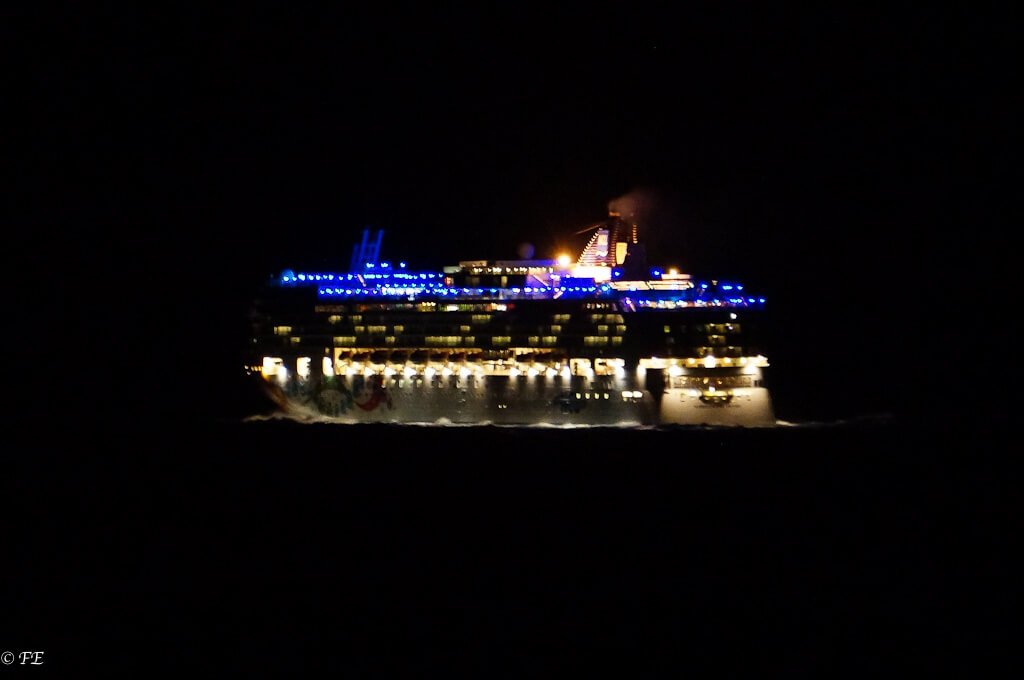 We sat there, I finished my drink, we enjoyed the music and just relaxed for a little. Mom checked the map and speeds. We were traveling at 18.2 knots and 42 knots head winds. We also talked about how there might be a software glitch in the elevator system, at first I thought that I was not pressing the buttons, but as the trip went by I noticed other people complaining about it too. The elevators will sometimes skip your stop, it is a little odd, but nothing that will kill you.
It had been another great day aboard lady allure and we were just grateful that we were able to be cruising in her. We should of steeped out to the promenade part, but both mom and I were just exhausted, so we just went to bed early.
Day 6 End