I snapped a few pictures outside from our Norwegian Breakaway balcony.
Did I mention I want to learn to sail? I know I did, but I think it's my new obsession.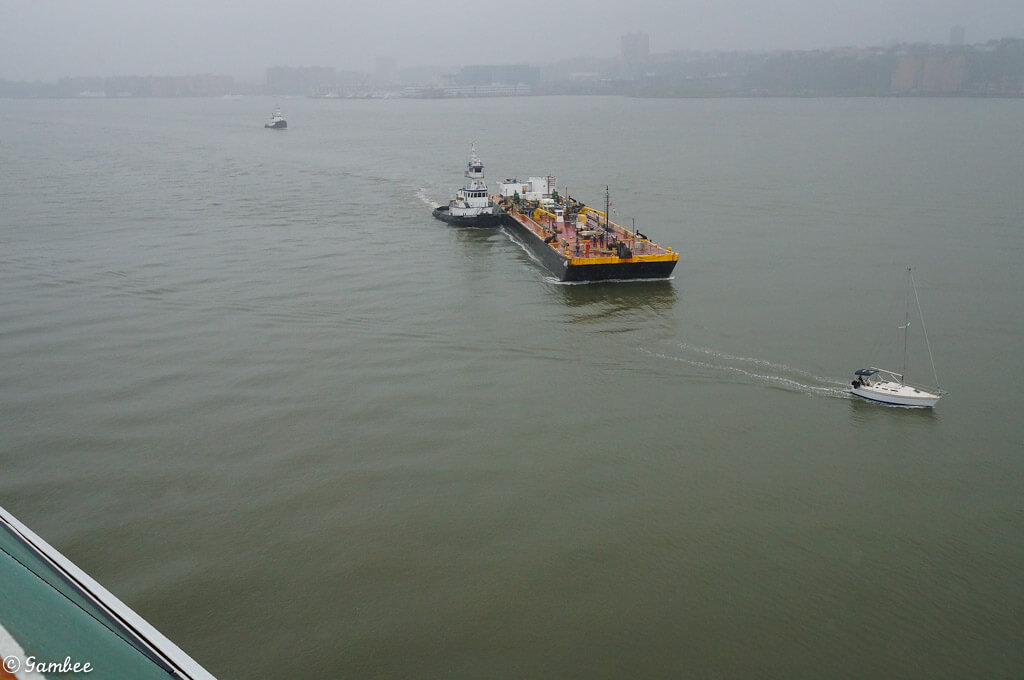 Ohhhhh, I just realized that was our refueling barge. lol, Silly Gambee…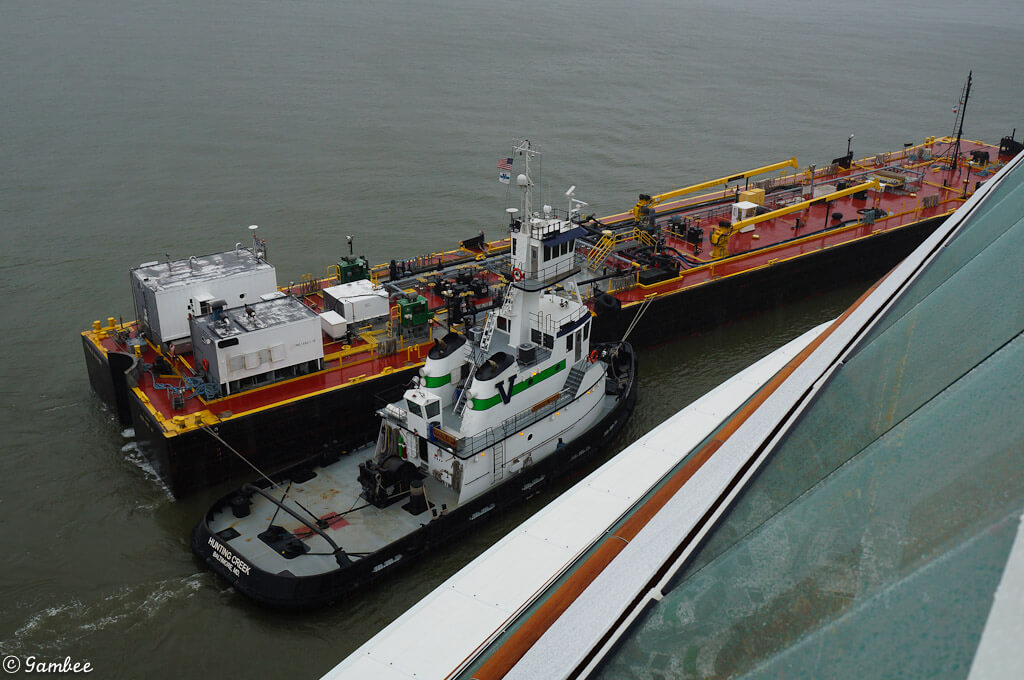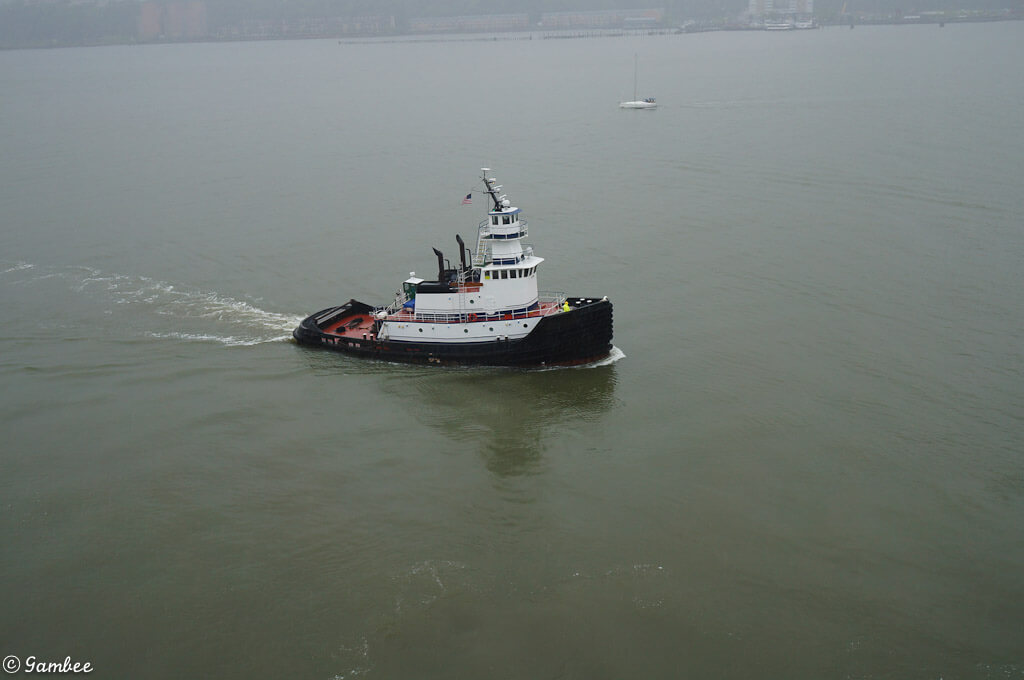 And please don't blast me for this but I took a pic of the balcony next to us.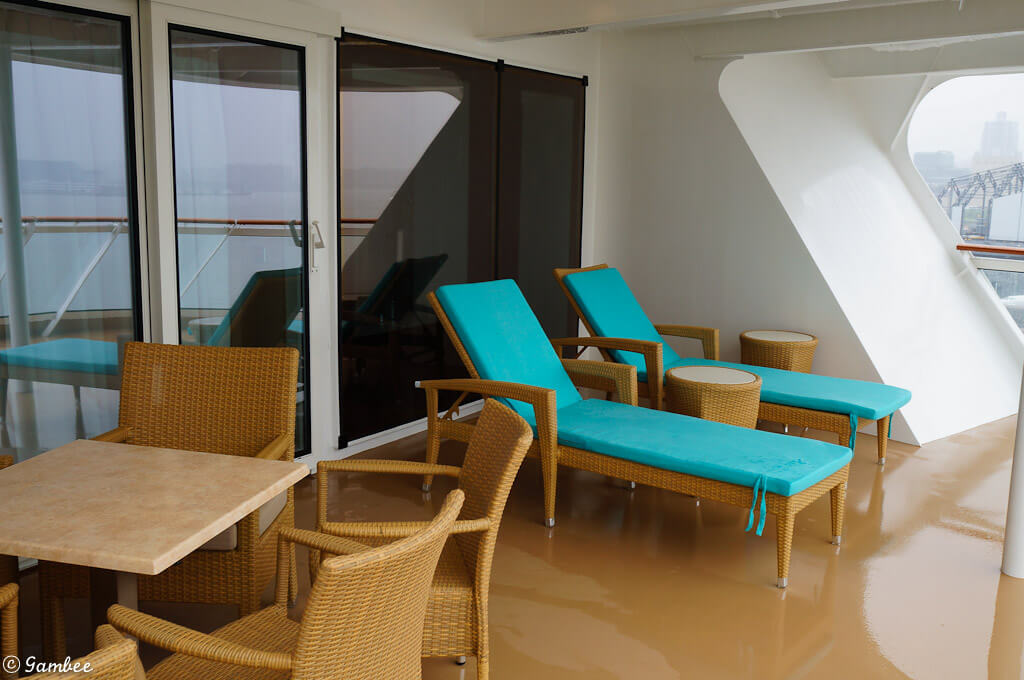 Yes that is an S6 balcony, crazy right?
The devisers don't go all the way and you can actually look right into the balcony without turning your head outside of the Norwegian Breakaway. I will get into that later on as that is a little bit of a privacy issue for the S6 travelers.
By the way little did I know that my neighbor was a CC member, but I never got to talk to him. Well we did cross hellos a few times. He had the most well behaved children on board! I felt them only on the last day, and that was only for a few minutes. I had very good neighbors on both sides, if anything I was the bad one 
.
There was a couple with loud children on deck 14, but I only felt them on day one. But all around nice people, I was very lucky.
I wont go into to the room details just yet, but I will state a few things.
Tinny safe, horrible, wont fit your ipad.
No need to worry about the light issue, all the rooms had dummy cards in them.
Although the room steward did pull it out at times. I think it was during port days, you can always ask them not to pull the cards.
So after our adrenaline had lowered down a little we decided to venture out into the Norwegian Breakaway. First we went to the kid area to get some pictures for fellow CC members.
The kid areas on the Norwegian Breakaway are on the smaller side, but very nicely decorated. I was very impressed by them. There was also plenty of staff answering questions and signing up kids to their programs. By the way the programs are not limited to this area, they also do ship wide adventures, I saw them one night for a few minutes in H2O hunting for pirates.
This is the area for the younger ones.
The bathrooms were very cute. Everything was mini size.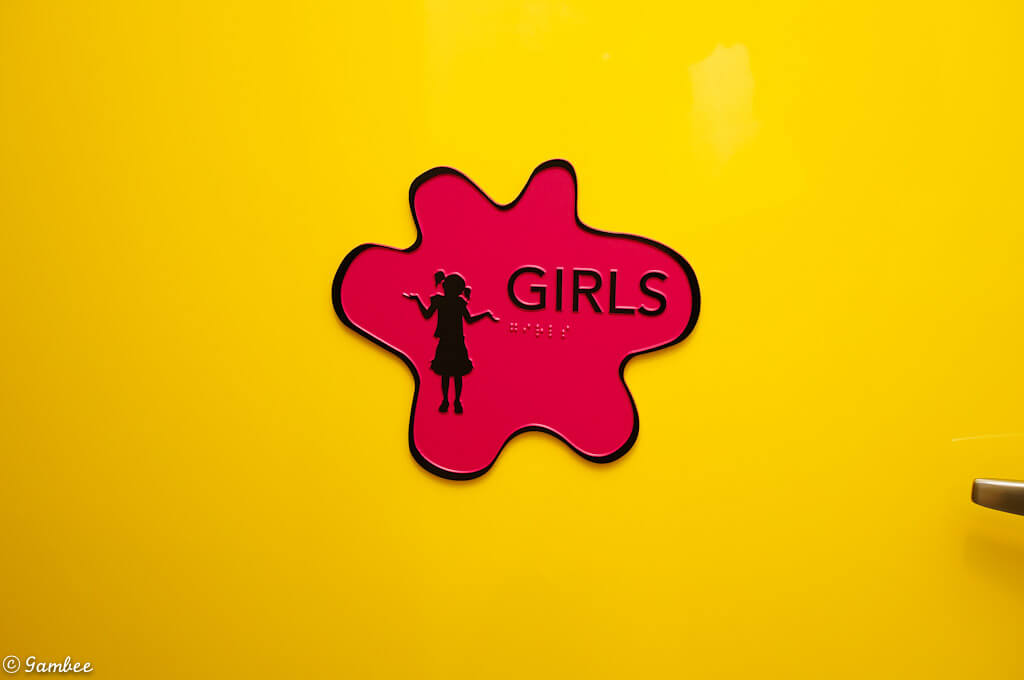 Then you head upstairs to older kids area.
Now on to the Spa, lets take a little time here talk about the Spa. During my planning that main thing I was very worried about, was that there were not enough tubs for everyone on board the Norwegian Breakaway and that is why I was seriously contemplating on getting the passes for the spa. I am very happy that I did not spend this extra money on the spa. While the spa is absolutely amazing, it is just to much money for us at $200 per person. And in addition to that it is all the way in the front of the Norwegian Breakaway and we were aft, so the trek to get there to make it worth it was just too much.
The funny thing that you will notice along the review is that NCL kept raising prices on a lot of things as the time went by. The spa on Epic is $146, or maybe they increased as well? who knows, in any case $200 is simply too much for us. We even gave it thought of getting the day pass for the last day on port. Apparently those are somewhat easy to get if you go early in the morning, but keep in mind that is only for port days.
I think this is also a good place to post the information about Vibe. By the way getting this info for the Vibe Club in customer service was the worst experience I have ever had dealing with customer service in a ship. In short words he was just rude and condescending, he rolled his eyes and treated me like a child. Mom and I were stunned by his reaction. I guess I can go more into details of it later, but NCL really needs to have a better screening process for who they put in customer service. Out of all our experiences with costumer service only one had a resolution. And all of you who know me from the other reviews know that I am very easy to deal with and treat the staff with lots of respect. Working in the service industry I have learned that it is extremely important to treat everyone with respect. Trust me when I say that I am not exaggerating. NCL has a problem and it needs to be addressed. So yeah more on that later. 
But like I said lets leave this for another time. On with the tour. Oh Posh (equivalent of Vibe in Epic) is $59 for the week, but then again there are no tubs. So yeah….
Norwegian Breakaway Vibe Beach Club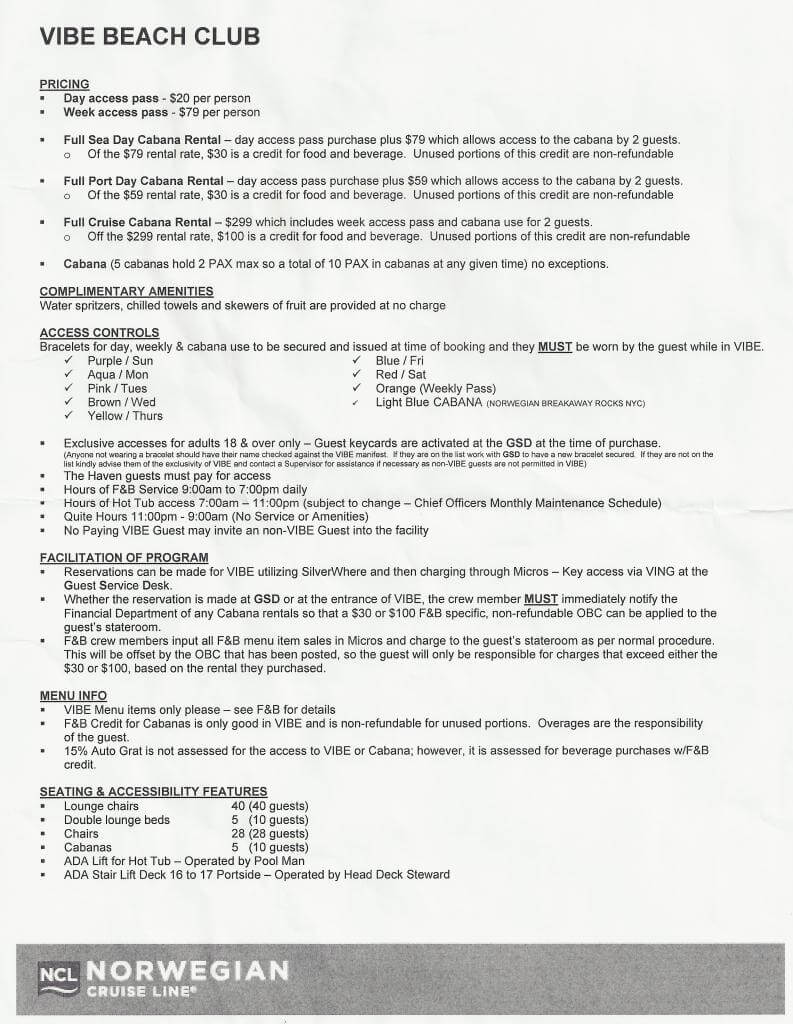 Anyway enough of my blabbering.
Here is the Gym and the Spa.
And here is the actual Spa,
I talked from a couple who had access to it and said it was worth it. I guess it all depends on your budget.
Oh, by the way when you enter this area there is a smell of chlorine and it feels very humid and hot. I guess it should be perfect for winter sailings out of NY.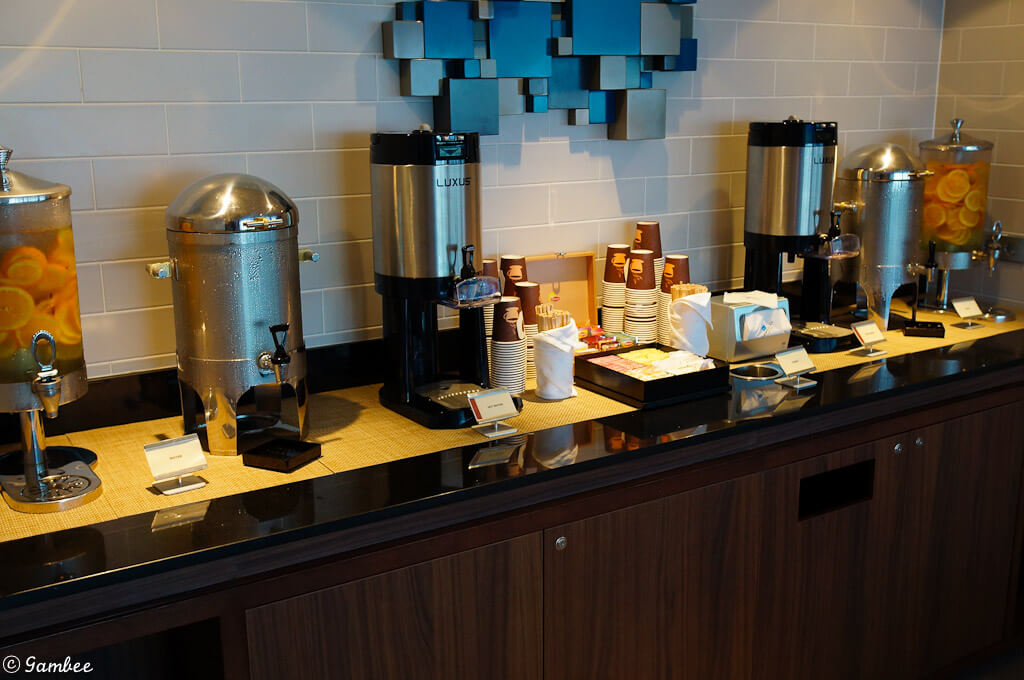 Nice, huh? Reminds me of the Free Solarium on the Silli.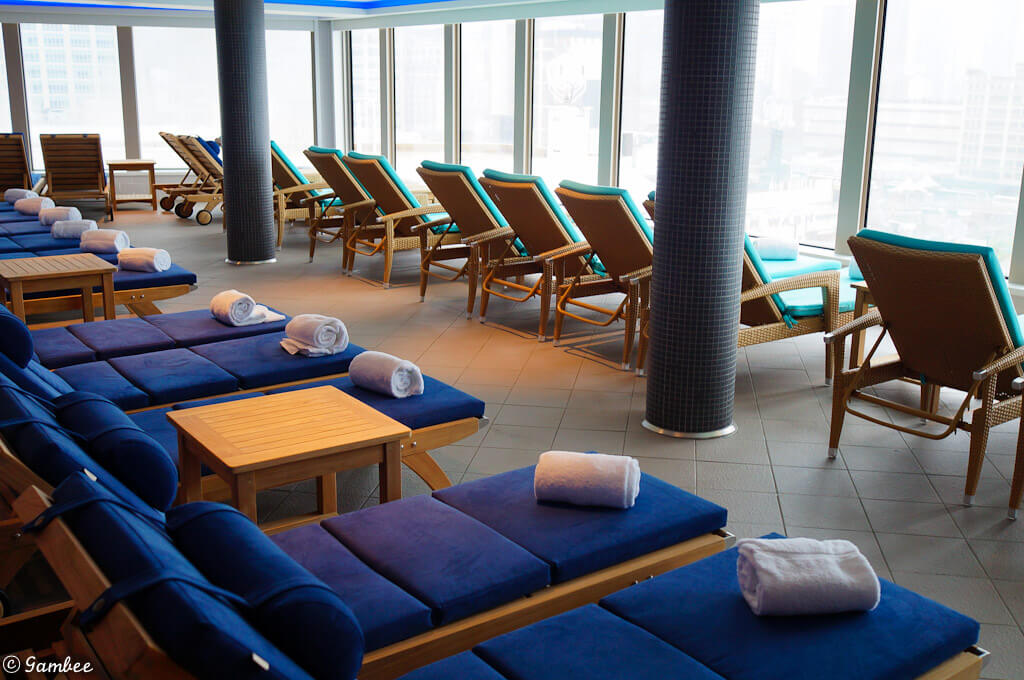 Jacuzzi rather small.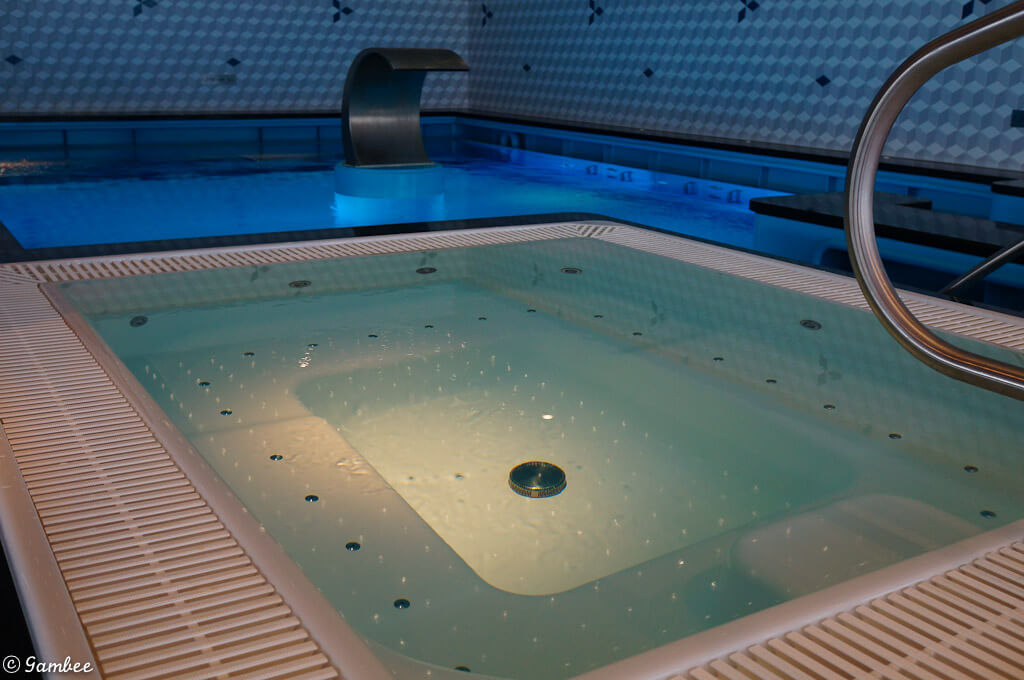 The pool had a nice temperature.
Nice view! I can only imagine the movement of this area on our last sea day 
So for those wondering, I think it was turned off. I did taste the rooks,(don't look at me like that, curiosity killed the cat 
) and they were salty. I spoke to a couple that told me that you could really feel the salt in the air, and they did feel better after going in. They said they could breath better.