We got seated fairly fast at la Cucina on the Norwegian Breakaway, and service was good, nothing major to complain about. At some point during dinner a Norwegian Breakaway photographer came to take our pictures, I am not a fan of this, but I always cooperate. That happened a few times during the cruise, but not more than in our Allure cruise. I have yet to purchase a picture in a cruise, usually I can yield the same results for free. They bring you some oils to dip the bread in. One of them was very tasty, I think it was the one to the left. 
The restaurant was pretty empty.
I ordered beef carpaccio. I enjoyed it.
Mom's fried calamari was pretty tasty as well.
Lobster fettuccini, it was cooked al Dente perfectly. Unfortunately, the lobster was way over cooked.
Mom ordered the risotto. It had an incredible amount of a very strong cheese in it. It made it taste very weird. And the main issue was that it made my mom very sick after she went to bed. Not sure what it was, but I would not recommend this to anyone! And you guys know how much I love cheese. This dish was horrible.
Mom got chocolate tart, it was ok I guess. Too rich for my taste.
And I had the pannacotta, it was very good.
Overall La Cucina is my least favorite restaurant, I don't think Ill ever go there again. I did visit this venue again with Shaun, and it was a slightly better experience, but still subpar compared to other venues aboard the Norwegian Breakaway. Good Italian food is easy to find in south Florida, this felt more like an Olive Garden… A few other people that I talked to felt a similar way about it. After dinner we went to burn the floor, I took these pics prior the show started.
Obviously I did not take pictures of the show. Not much to say here, you all know that I am not one for shows and much less one that involves dancing. I actually walked out about 10 minutes after it started, my mom went back again later on during the week, but she also walked out. The overall feeling about the show is mixed, some people love it, and some hated it. I will say that the dancers are very talented and very very hot, but that is pretty much it for me. I guess if dancing shows are your thing then you're in luck
 . Ok lets talk about the Iphone Iconcierge app, it is really amazing you can do so much in it. The real problem is that half of the time the app was down, but when it worked it was really impressive. You can make reservations, book shows and check on your account. You can also communicate with others aboard the Norwegian Breakaway for $8 total per device, I think. Very neat app, once they get it fully running it will make cruising so much easier. I am not sure why other cruise lines have not done this yet, very nice app. So after we got out of burn the floor, we decided to go to guest services to ask a few questions for my fellow CC members. This when I realized that I did not want to deal with guest services at all. Let me try to explain what happened. I approached the counter and asked him if I could ask a few questions. He goes, "Fine" and slightly rolled his eyes. At that point I looked at my mom, and we both looked puzzled. It was then that I decided that I was going to ask one question and get out of there before I got frustrated. I asked him if he could tell me the closing hours of Vibe, then he turns and tells me "We are sold out", I told him I did not ask you that, I just want to know the hours. He then said wait a minute, after a few seconds he gave me a printout with the info of Vibe. I was really frustrated, he was so rude, I could not believe that they had someone like that in the counter. No smiles or anything, rarely any visual contact with his face. I grabbed the paper and left, I decided to find the answers to my questions later on in another way. I am not sure what happened that night, but that is no way to treat a customer. Shame on you for making me feel like that after I was having such a great time. NCL check your employees attitudes! By the way, this was not the only bad encounter that I had with customer service, I will get into that later. And for the record, I don't think I have ever complained about something like this on my other reviews. Actually I think I only complained once about service in my reviews. I have a very high tolerance for bad service as I am aware of that it takes being in that position. But when you're rude to me, well that is my breaking point. After that we walked by Fire and Ice, she is such a talented singer. She is just great! Don't miss her shows.
Norwegian
Breakaway

Fire and Ice
Looking down to the Atrium. By the way, those tables were either broken or out of service.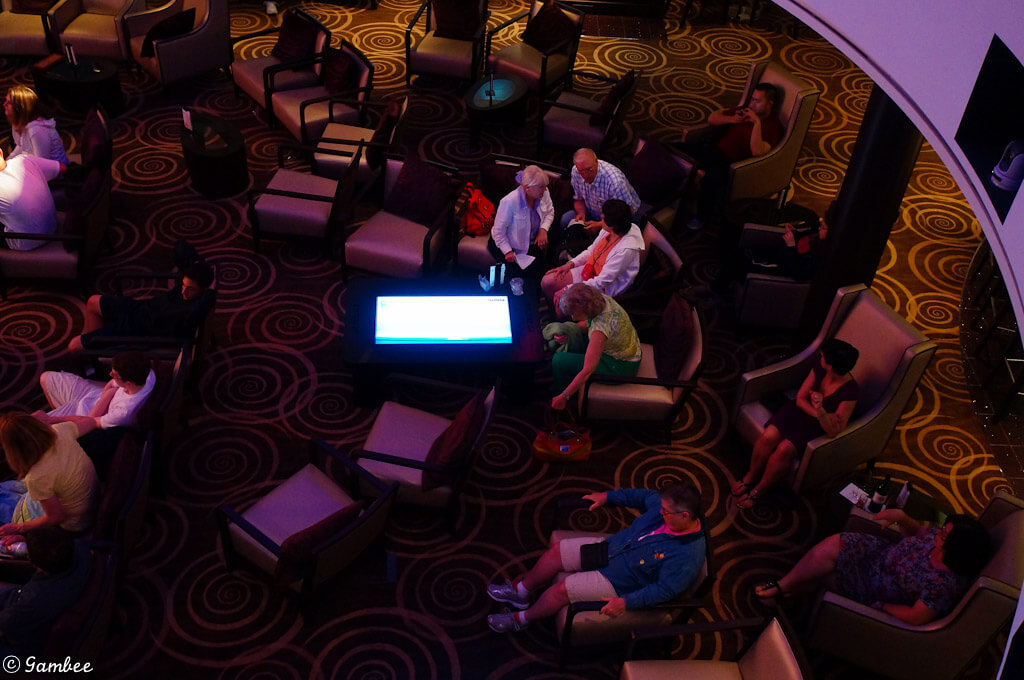 A couple of night shots.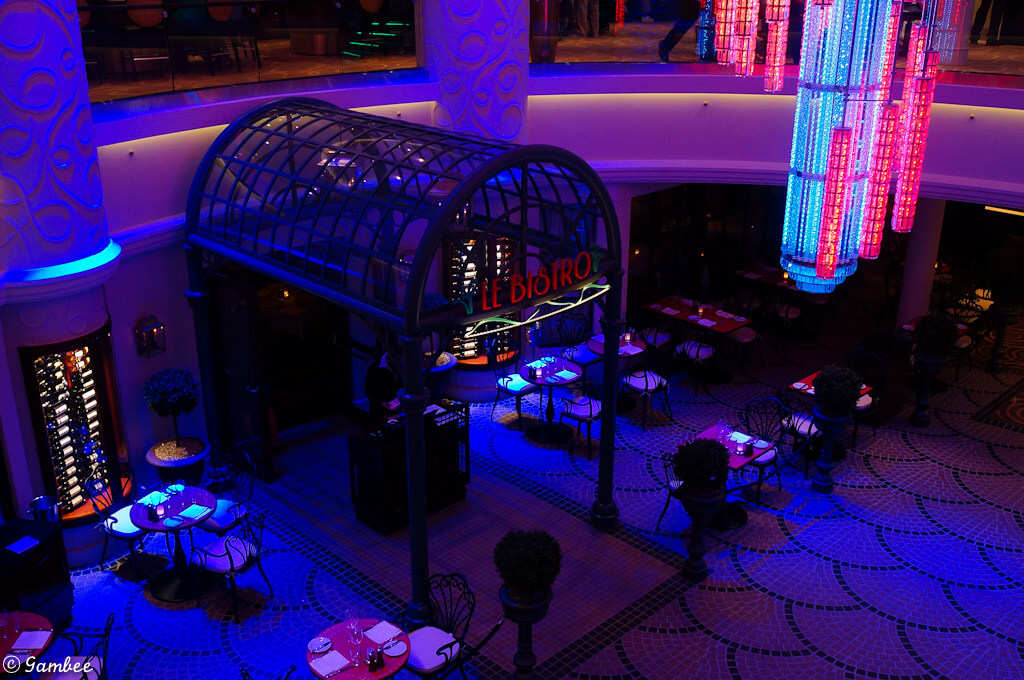 I believe I already said to be careful on those stairs.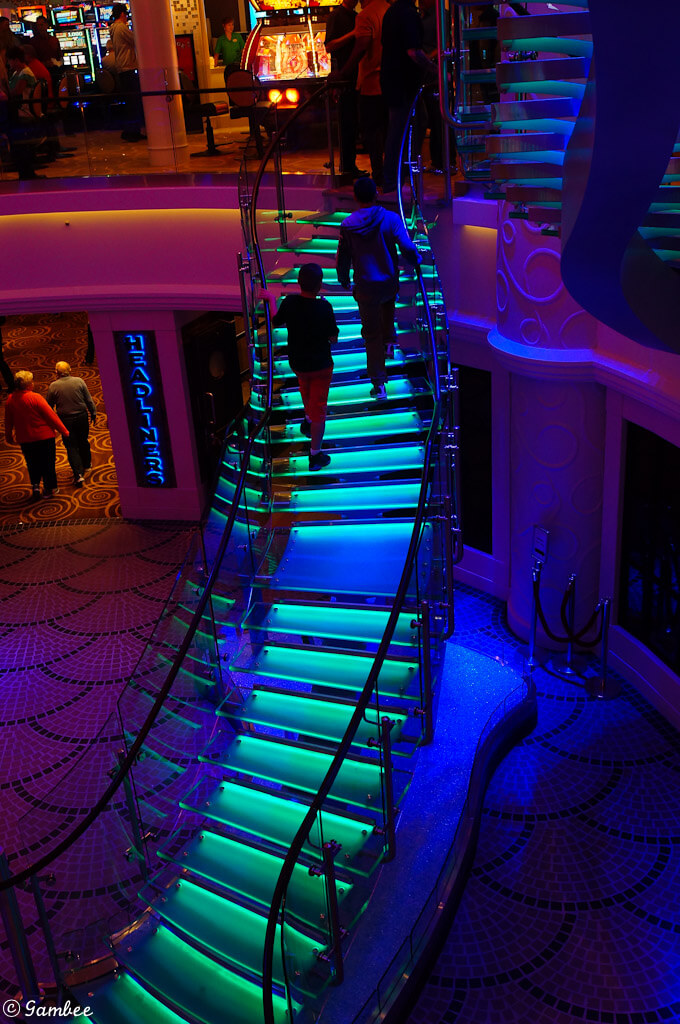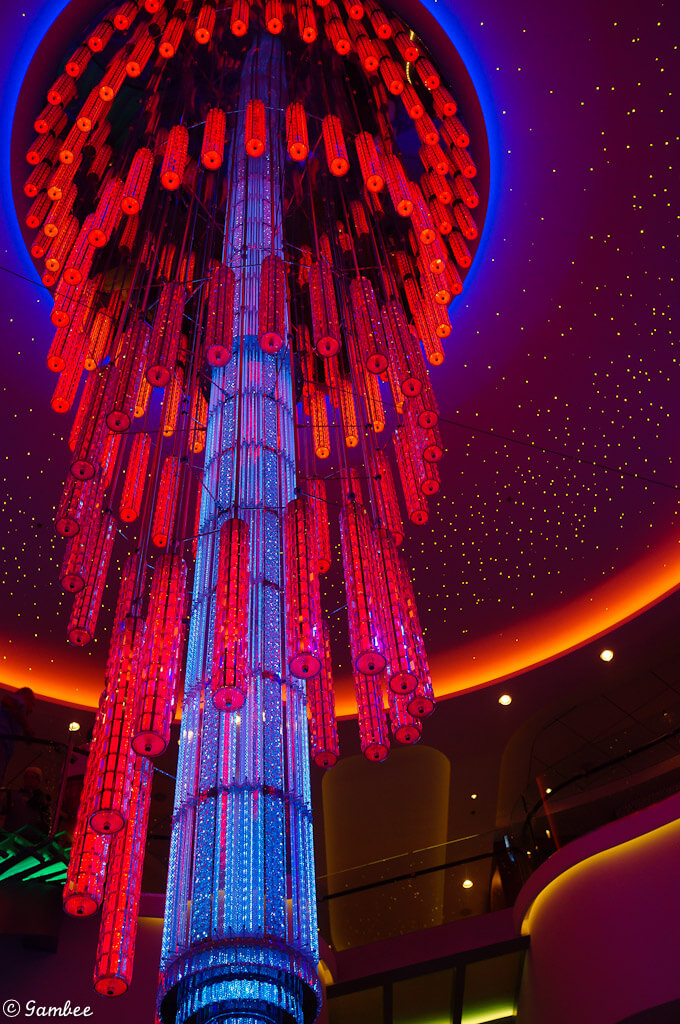 How awesome is this shot?!?!?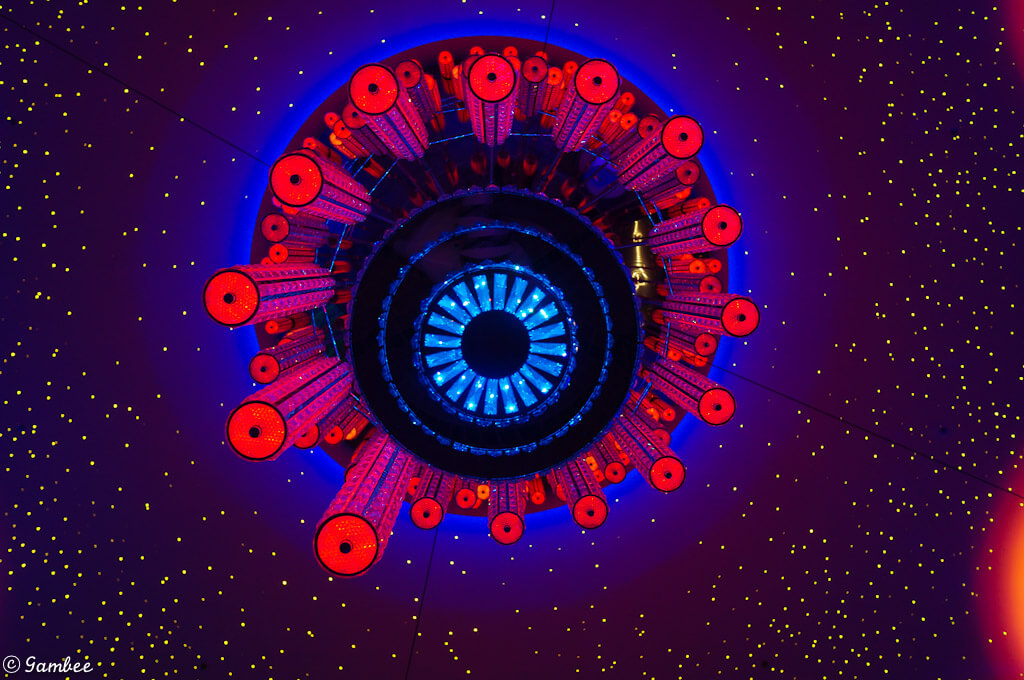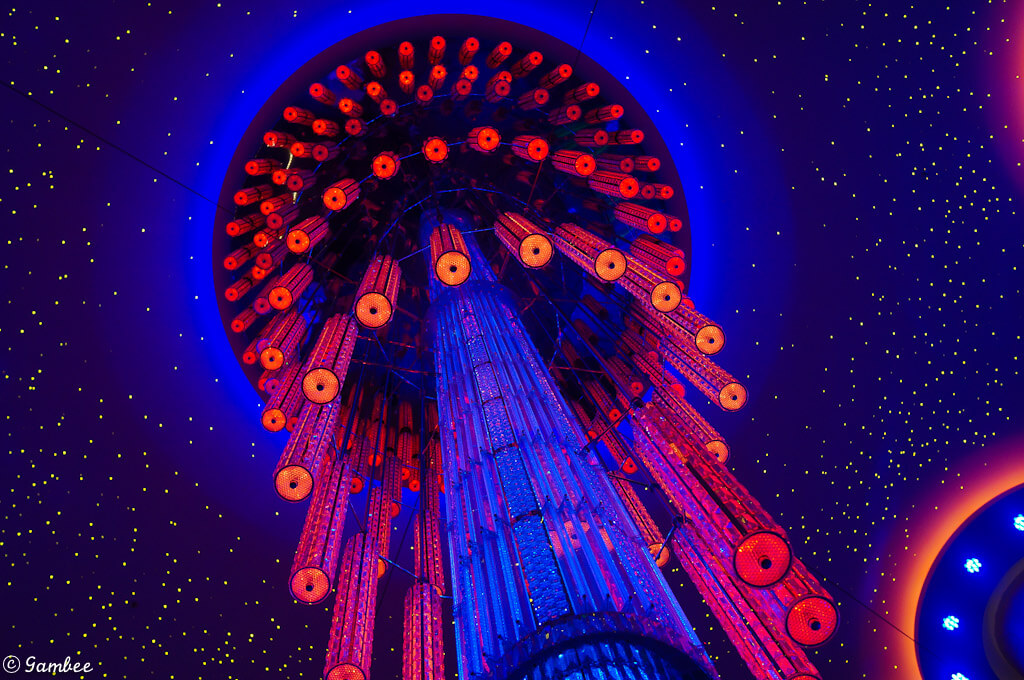 This place is so cute.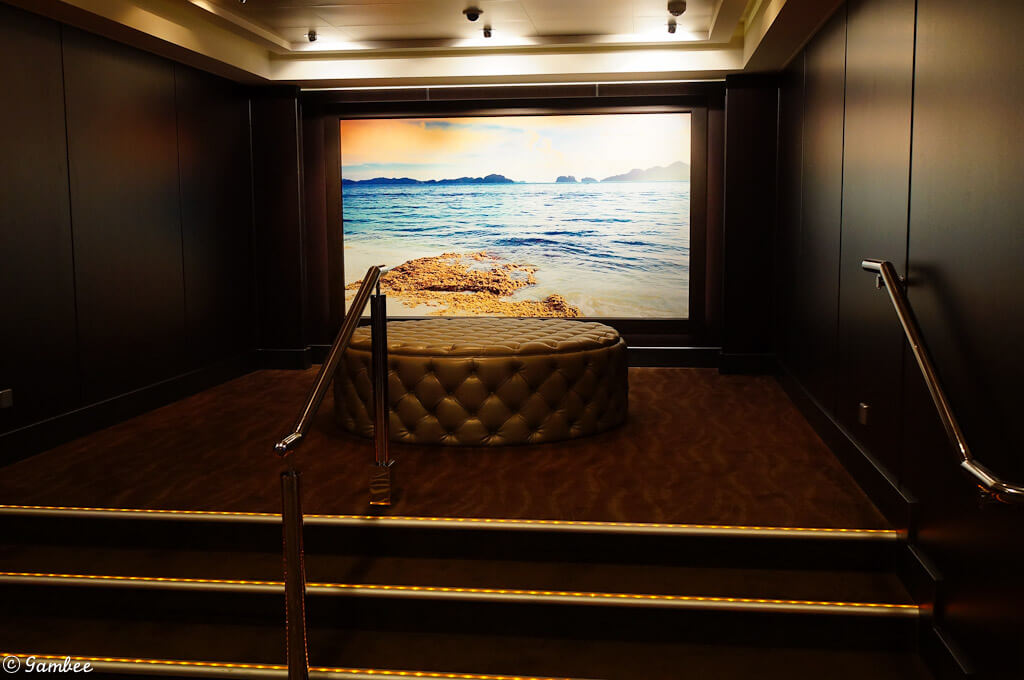 Then we stopped by Bliss to check out the Karaoke. Personally I think the setup is not that good with all the space in the middle. But mom says that one time she was there, and some people were dancing in the dance floor. I liked the Karaoke in the Allure much better, because there are chairs all over and it feels more personal. A lot of people seem to like Bliss better on Epic, I can't comment on that since I have yet to travel Epic.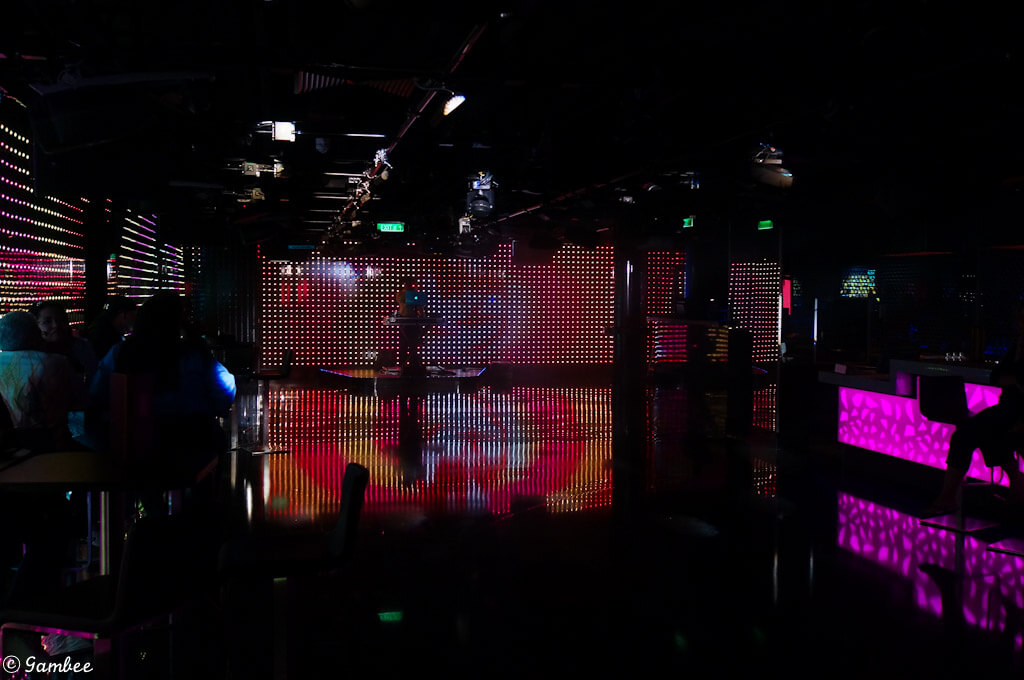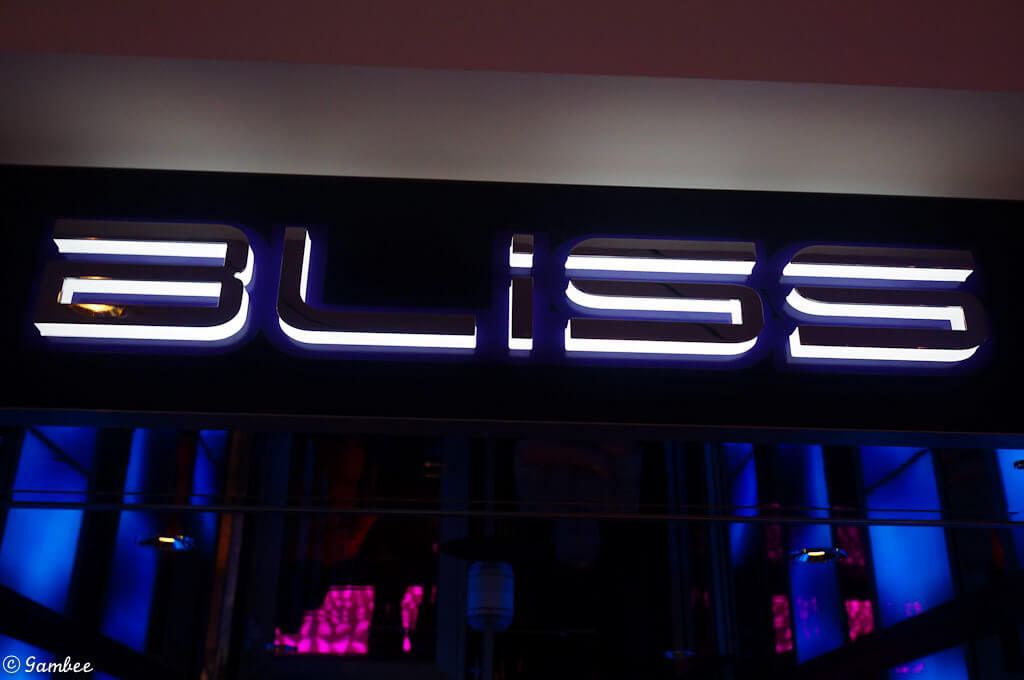 We also stopped by dueling pianos, but the place was packed, so we left.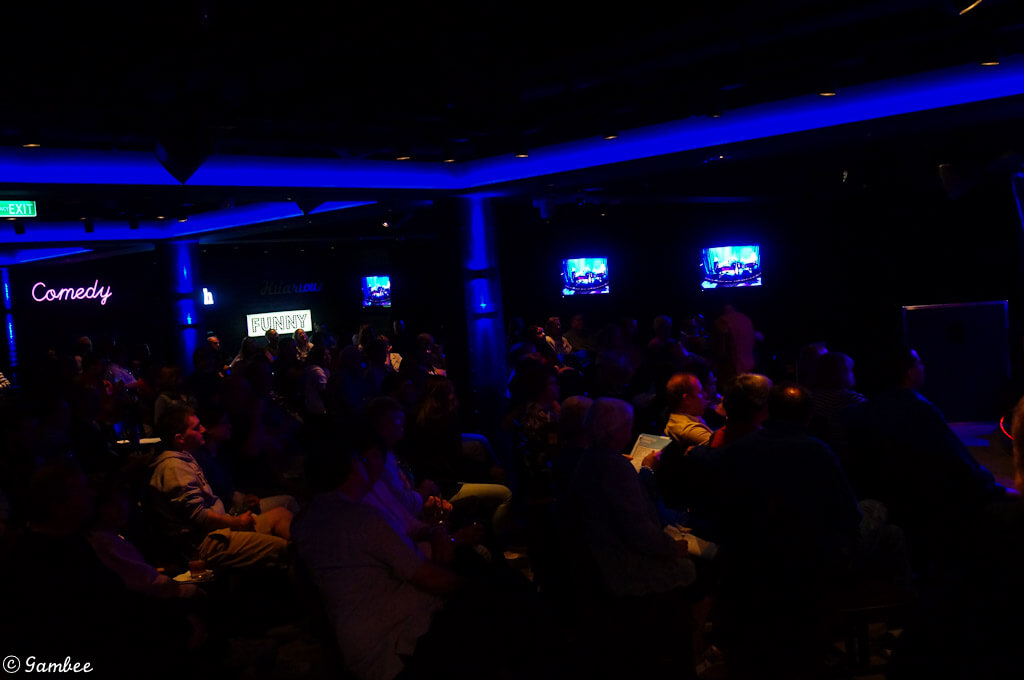 Remember that I told you that you could get Carlo's desserts at the atrium cafe? Well here it is. There hours are much better than his actual bakery.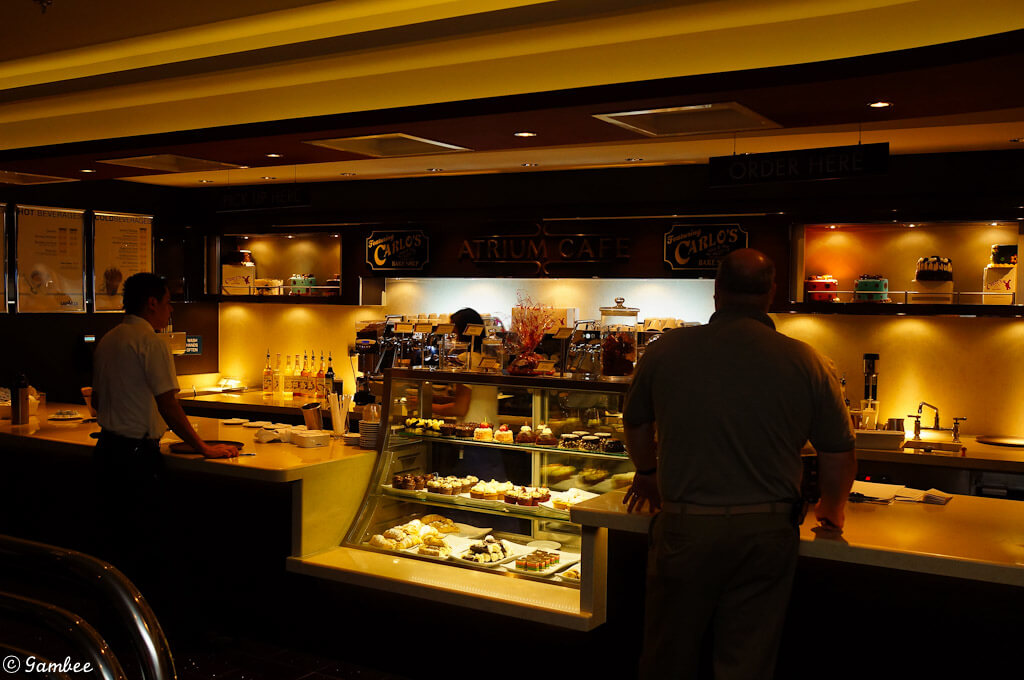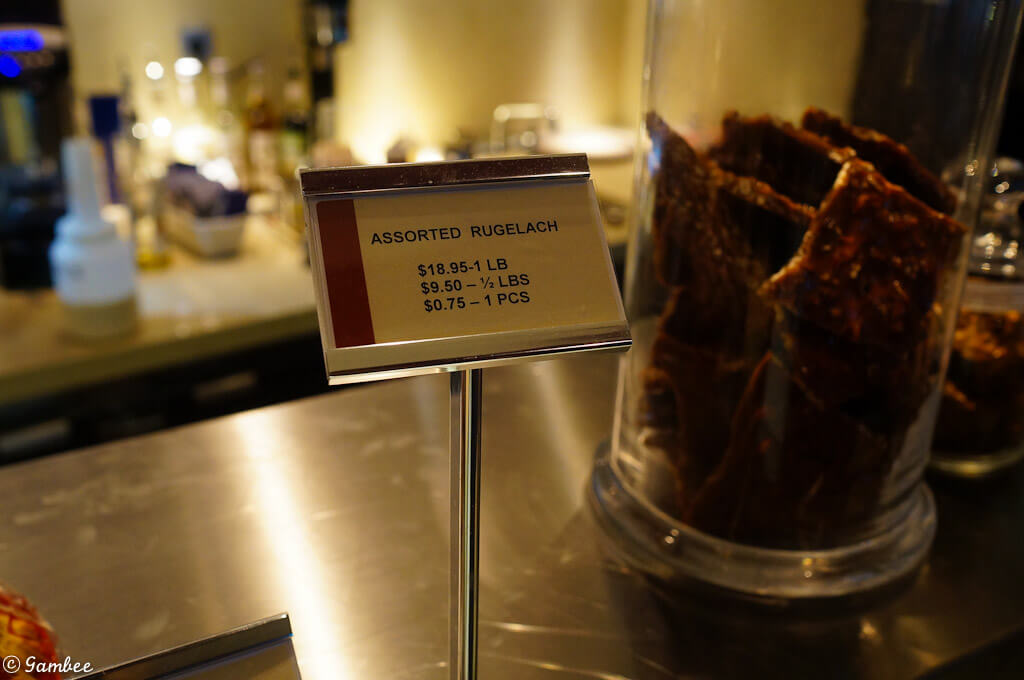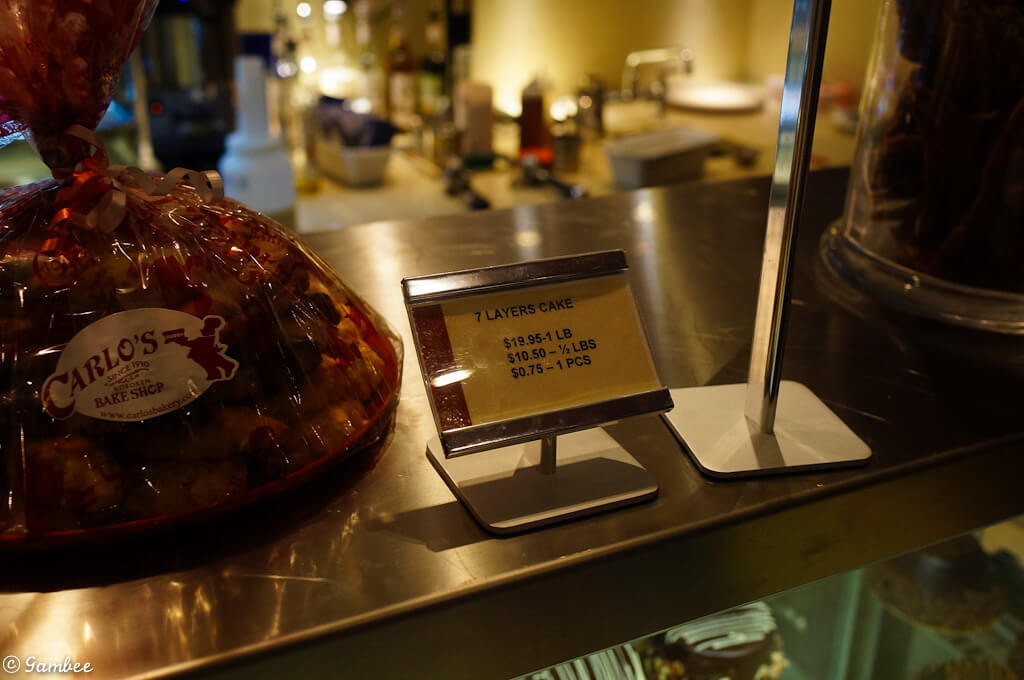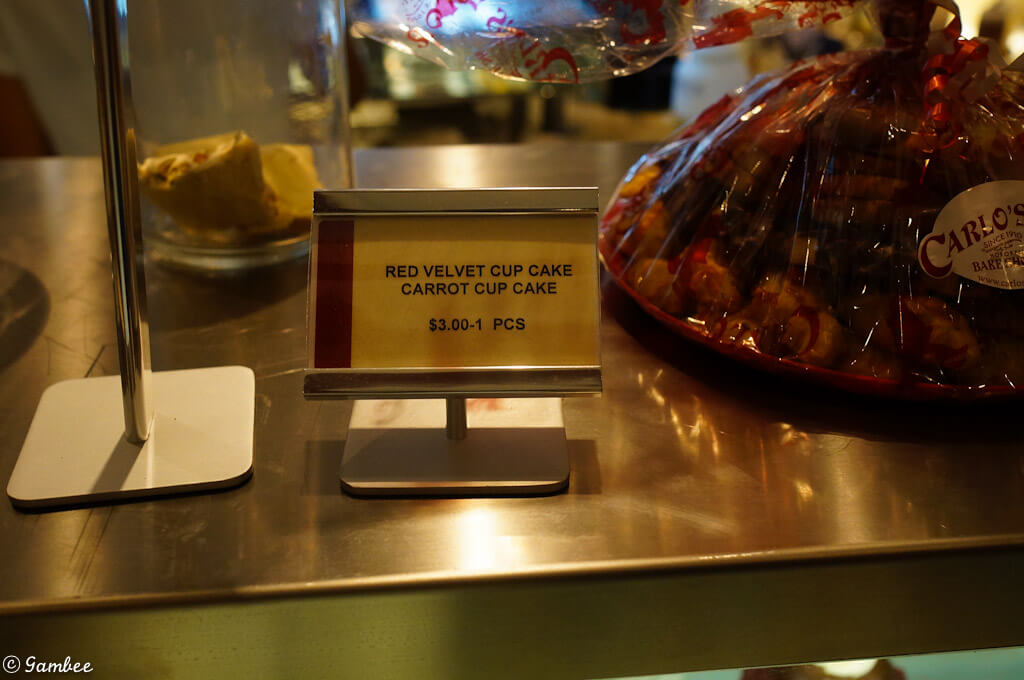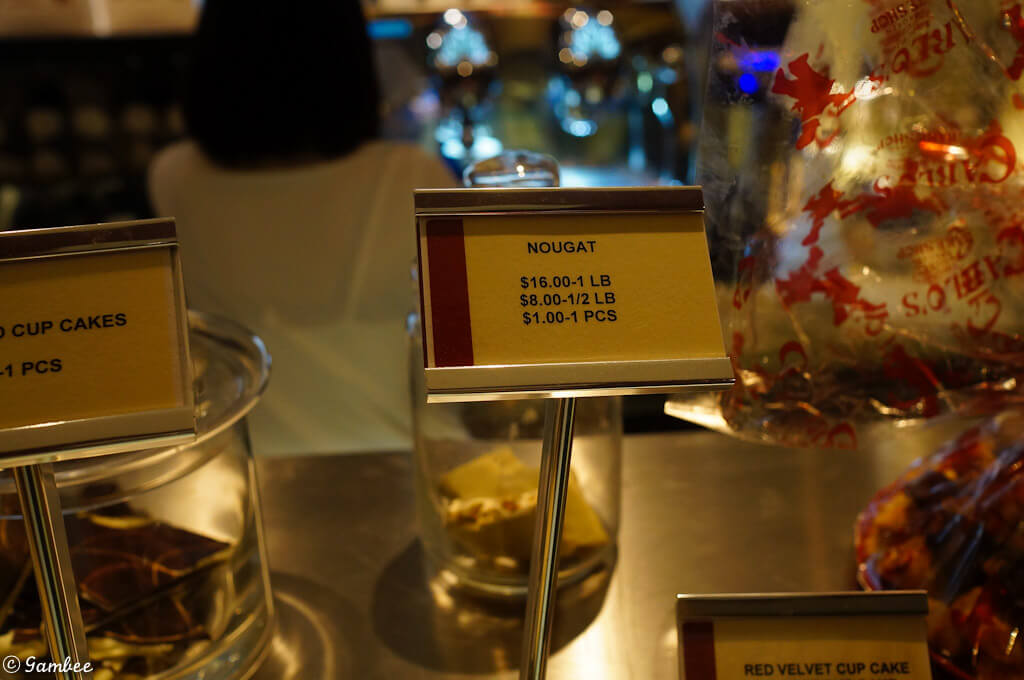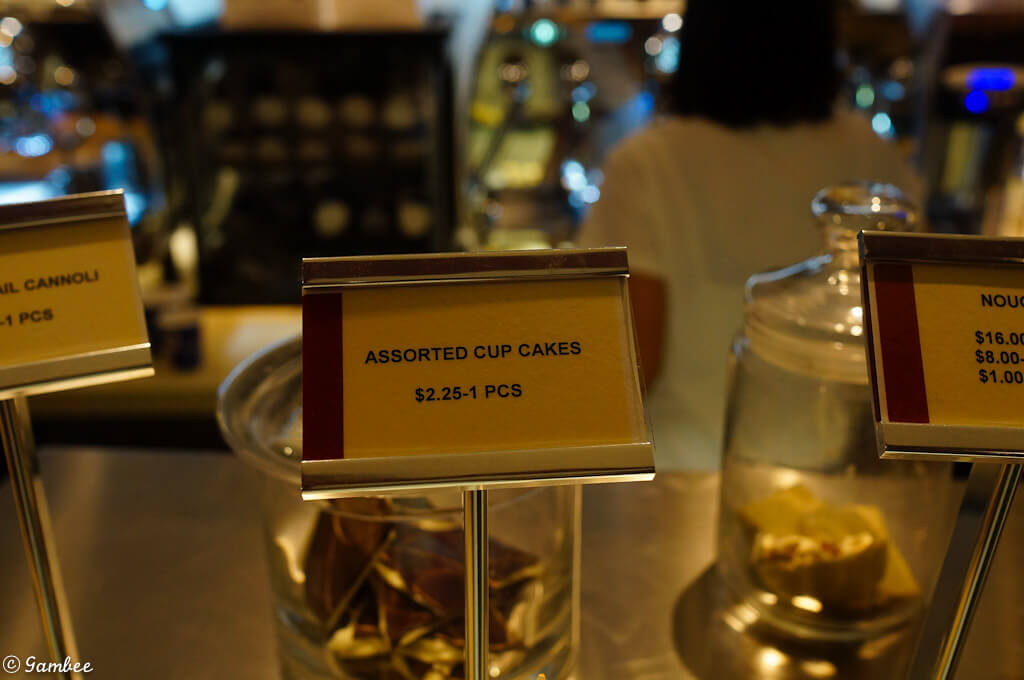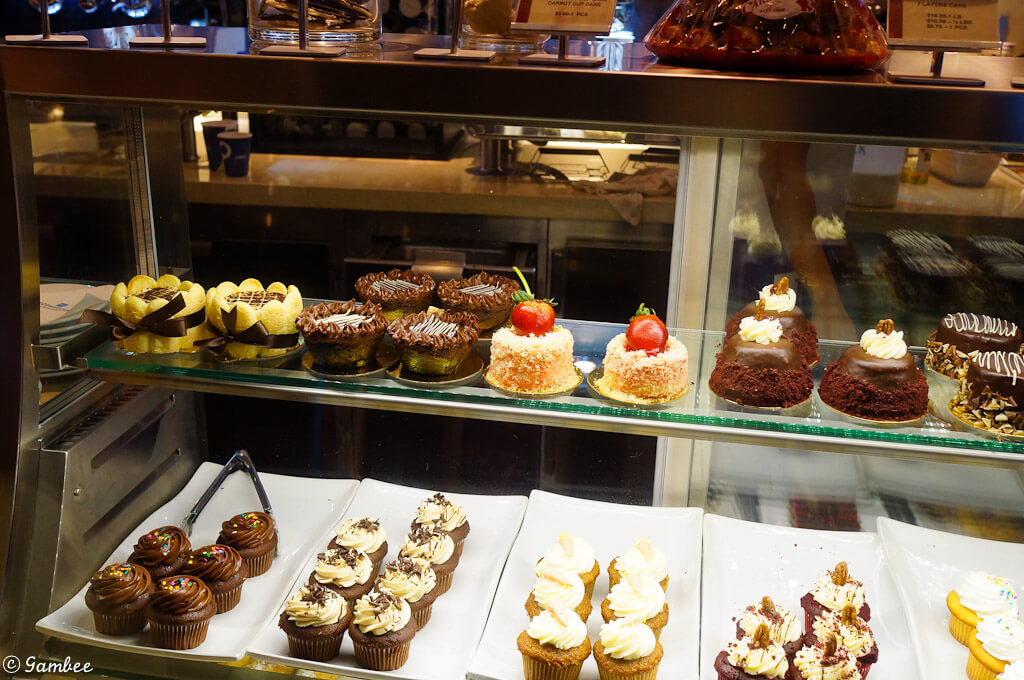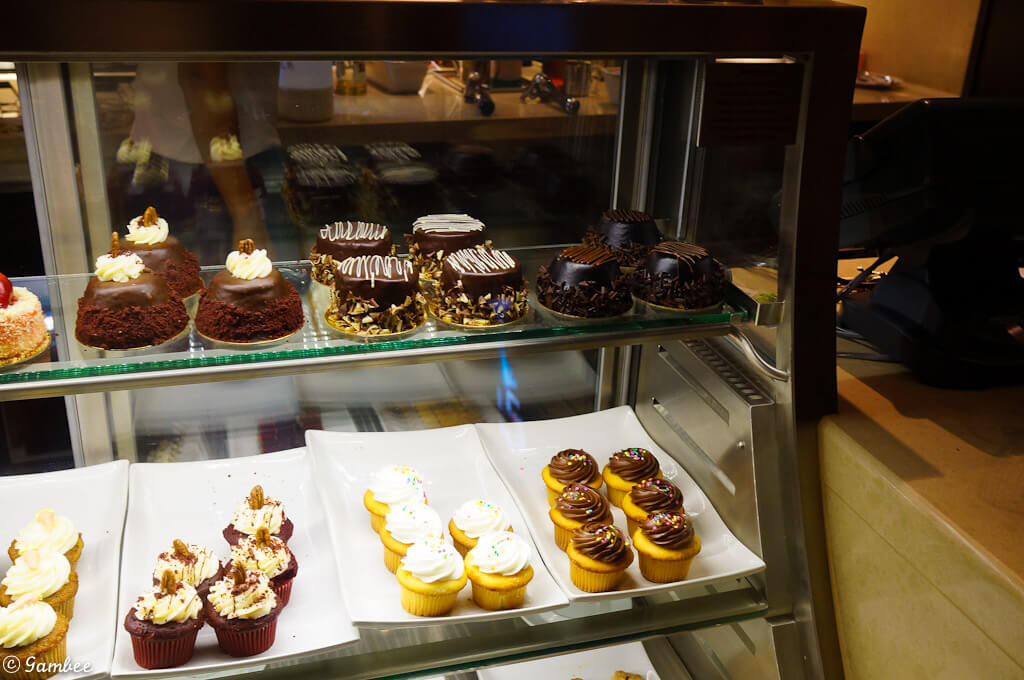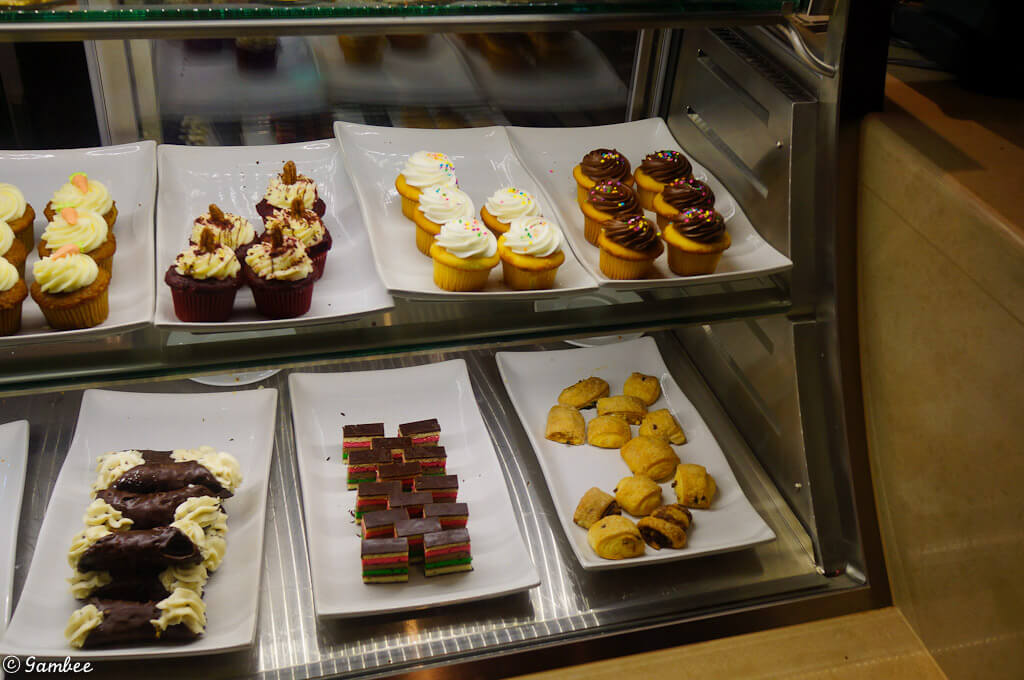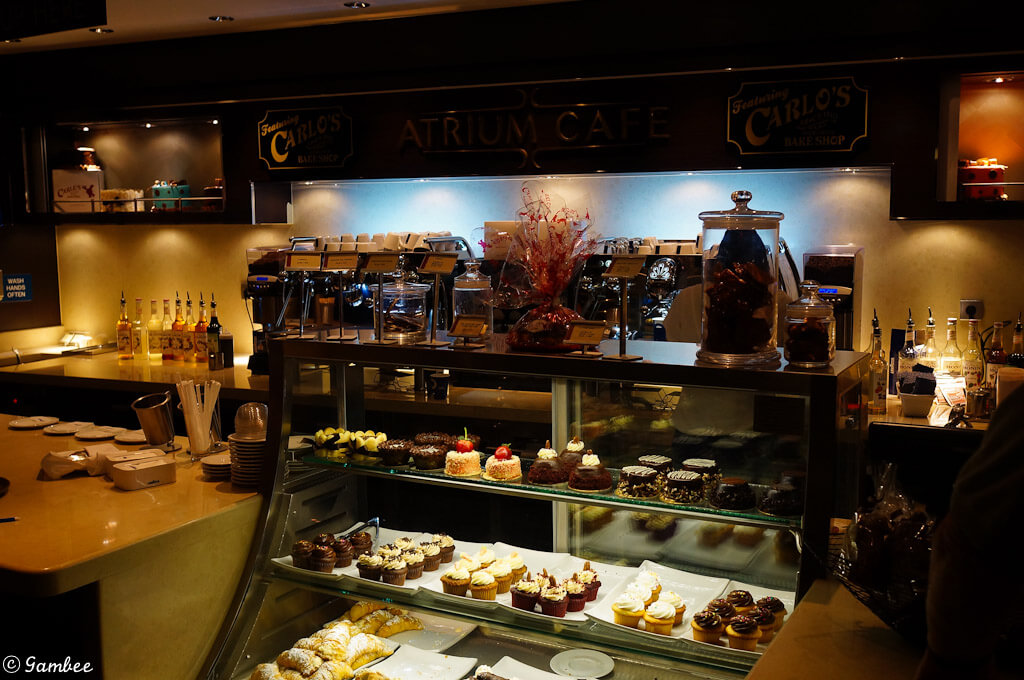 I tried using the wine machine, but for some reason they close them early. I tried several times until an attendant pointed out the machine said closed. Why would them close them? By the way, the one time I used one machine in the buffet area I got charged double.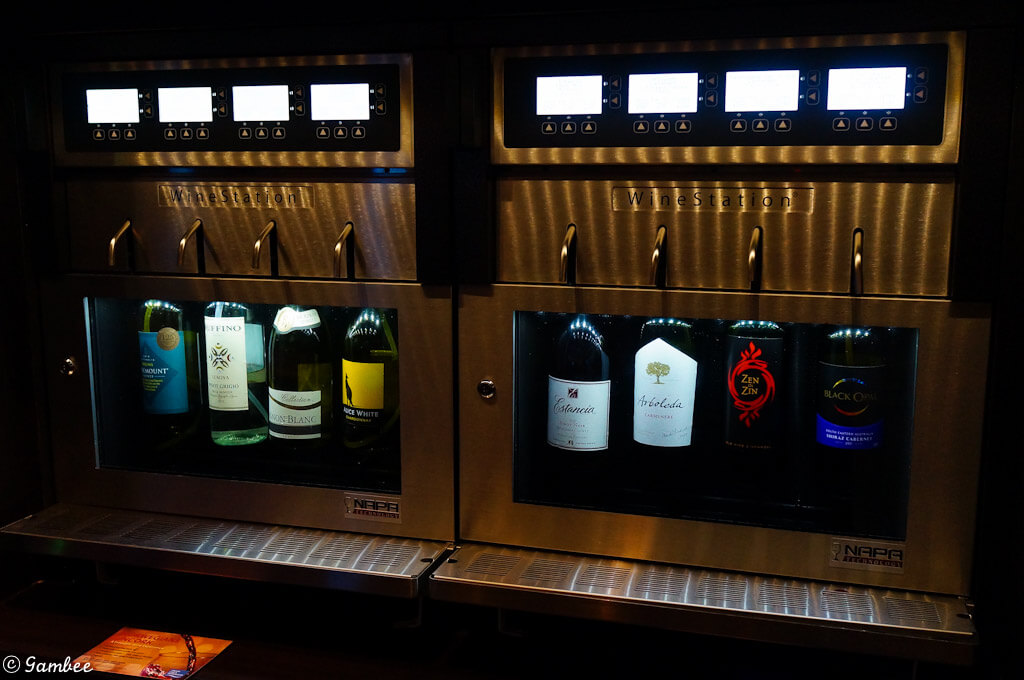 And pictures of the infamous guest service desk.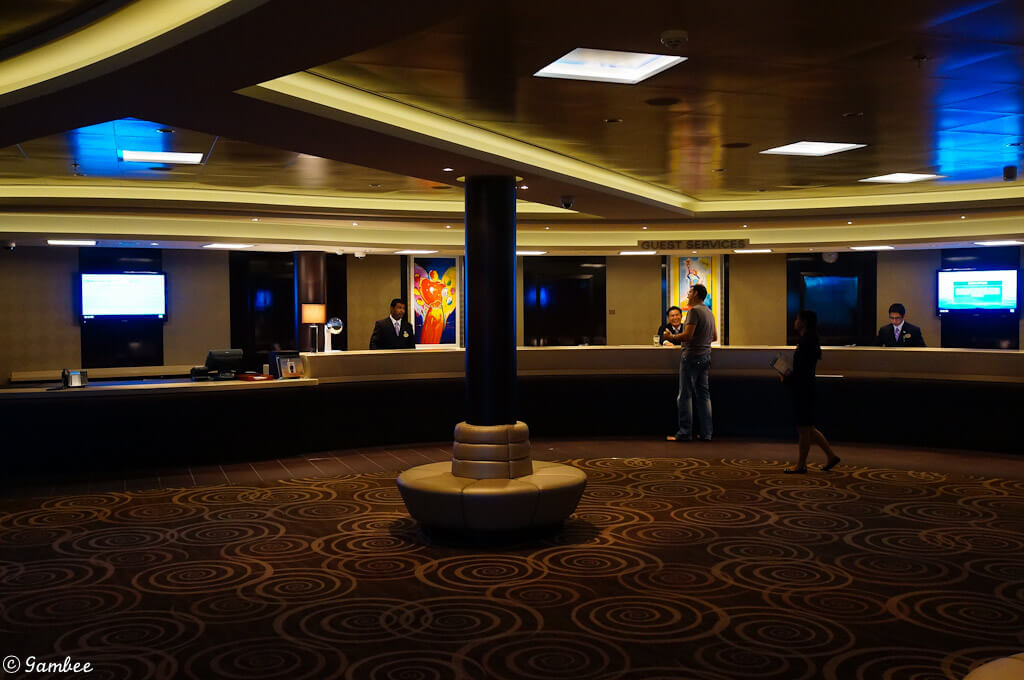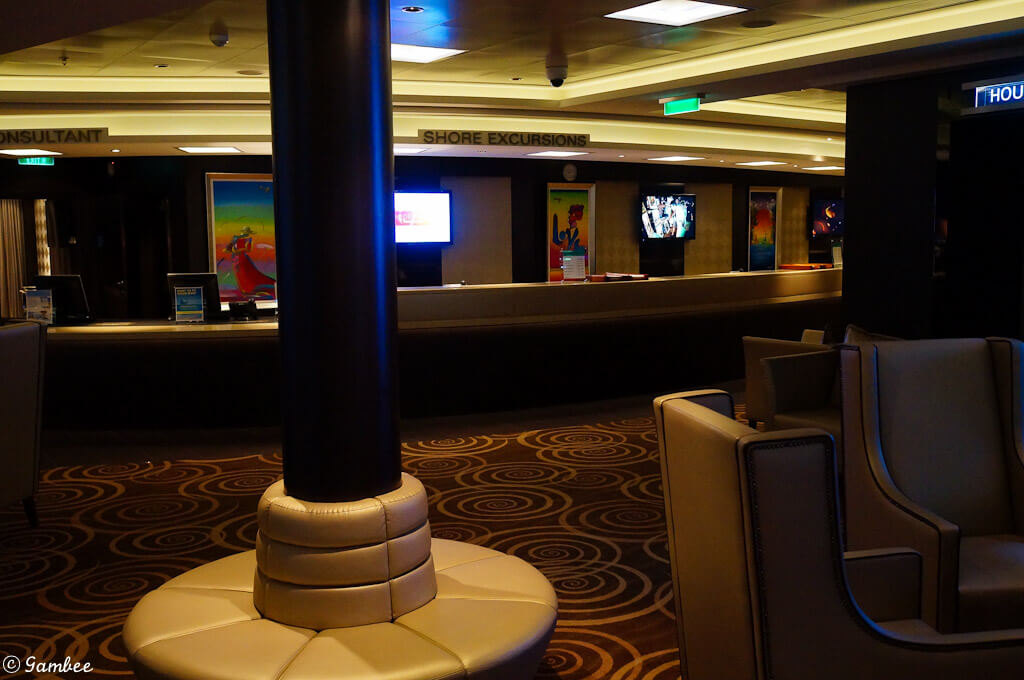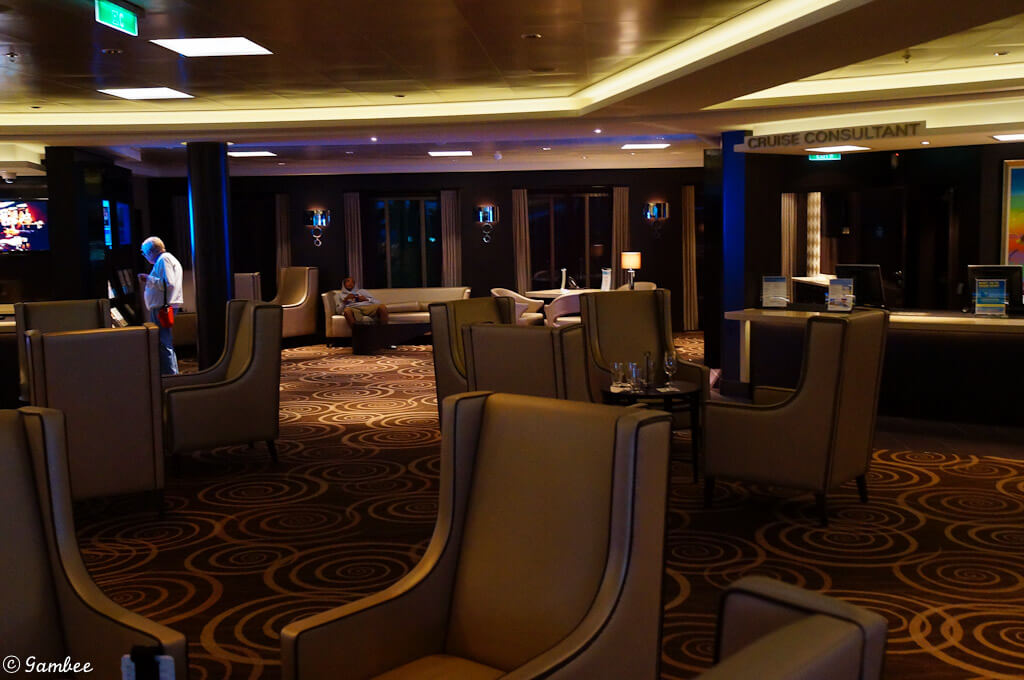 After that, we decided to go to the lido deck and check if there were any people there. It was pretty dead, but the colors just came to live. Very nice at night. All these pics are hand held, I took some better ones later on the cruise.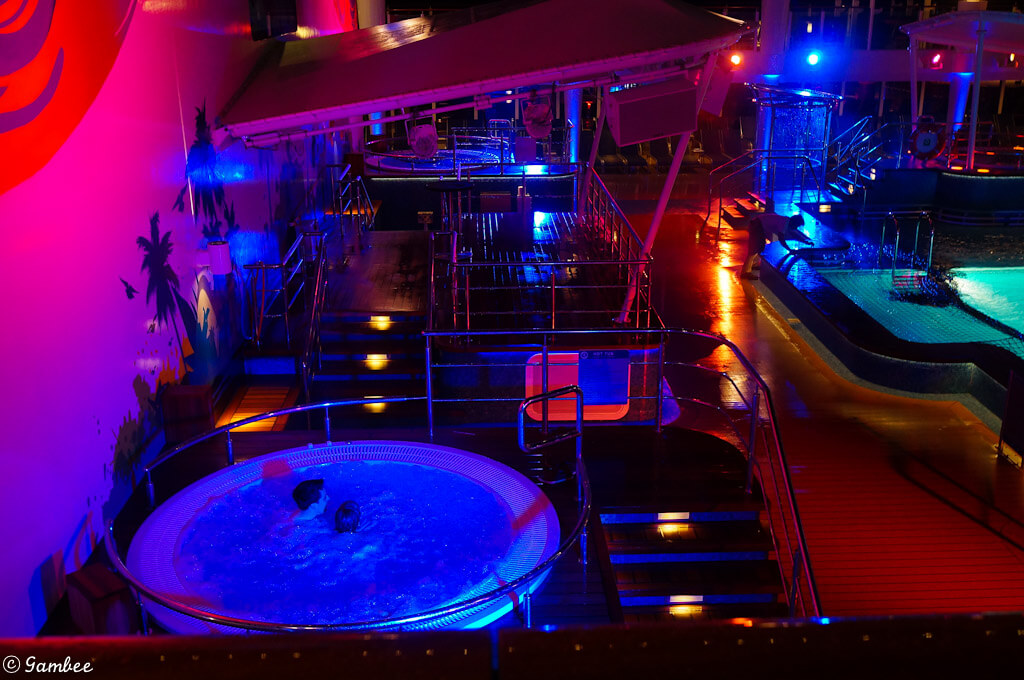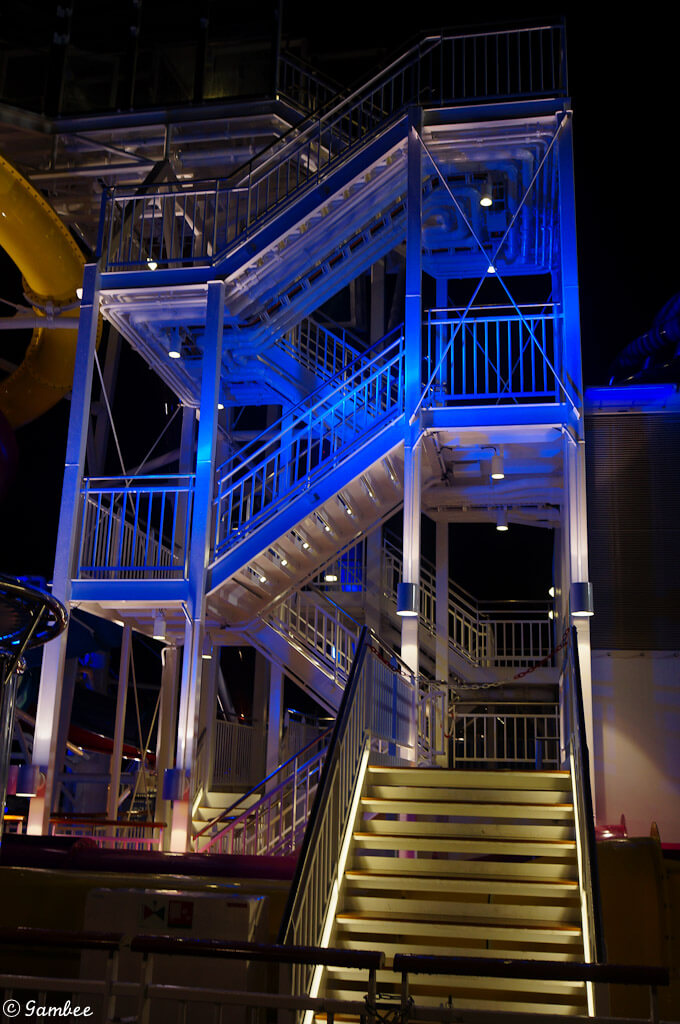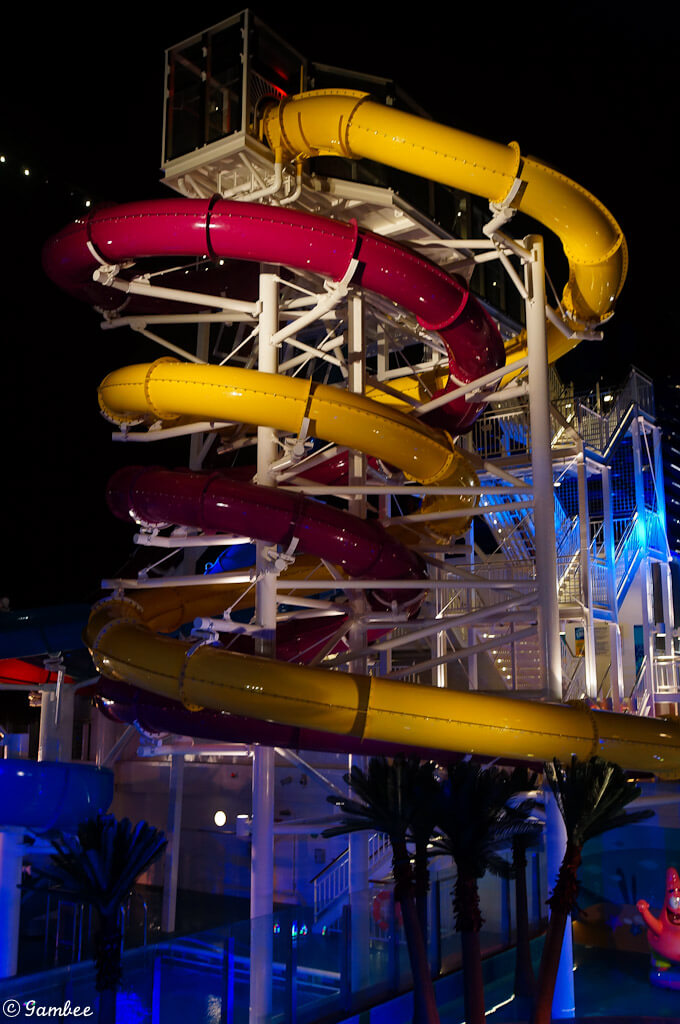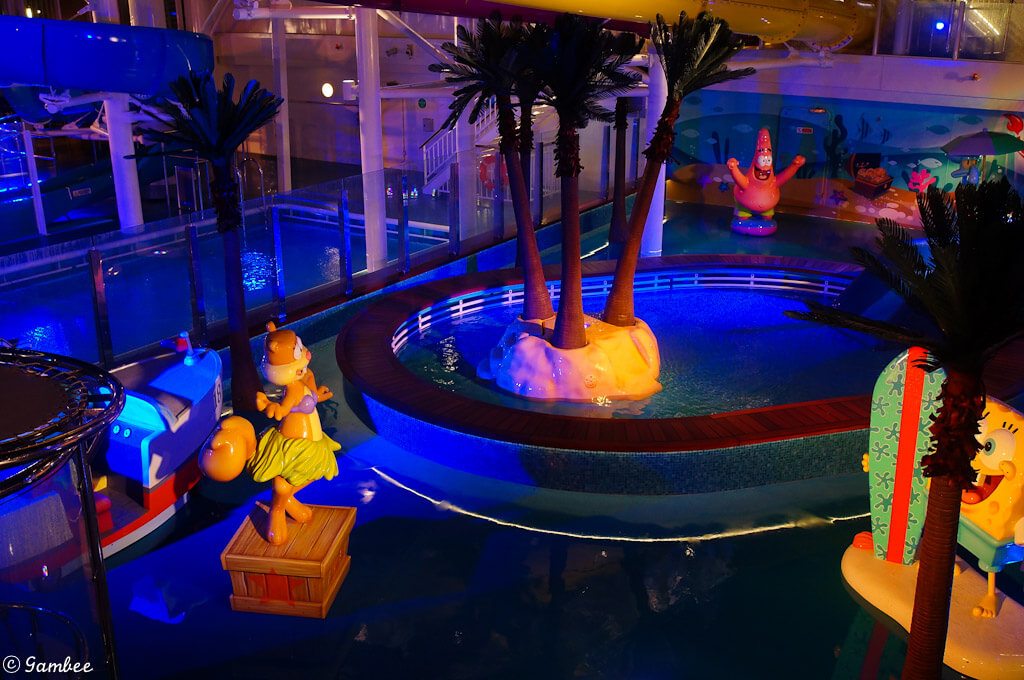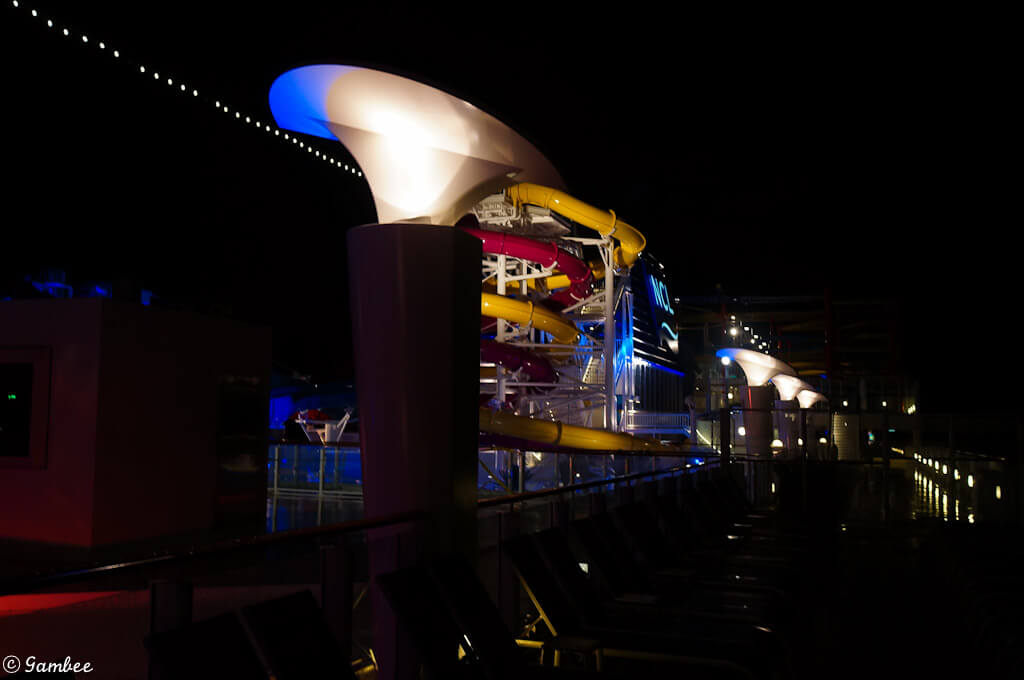 Then we went to the Norwegian Breakaway H2O.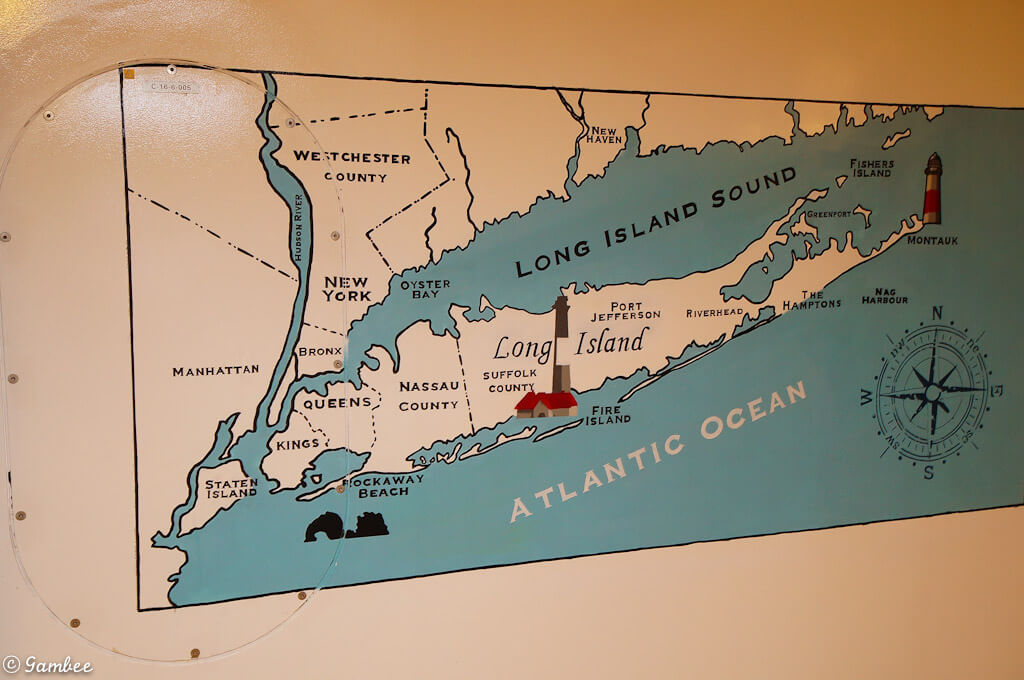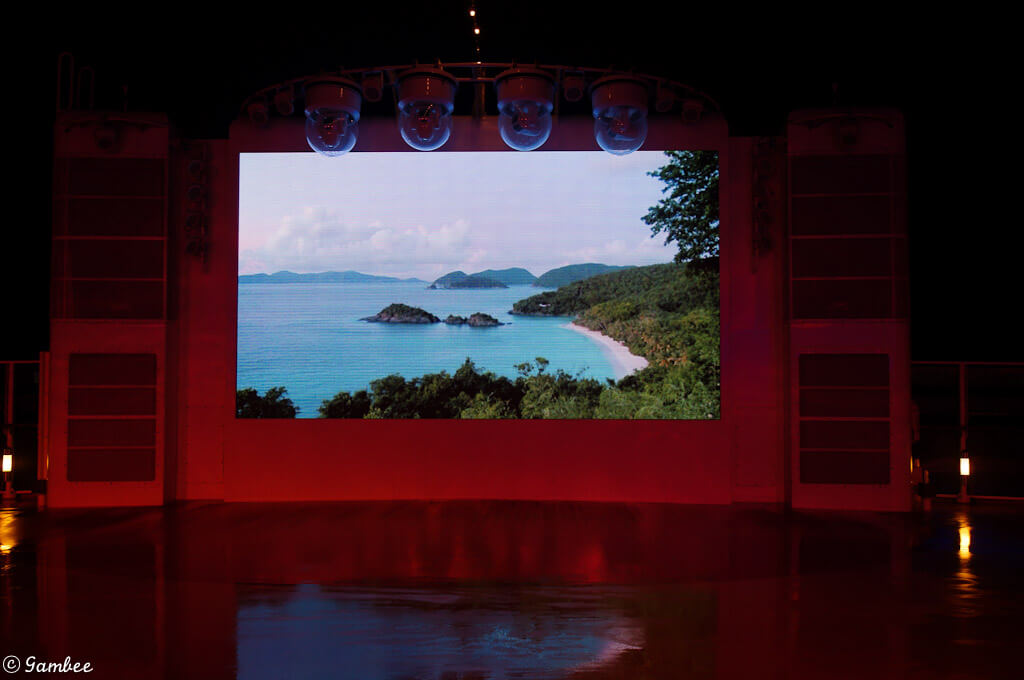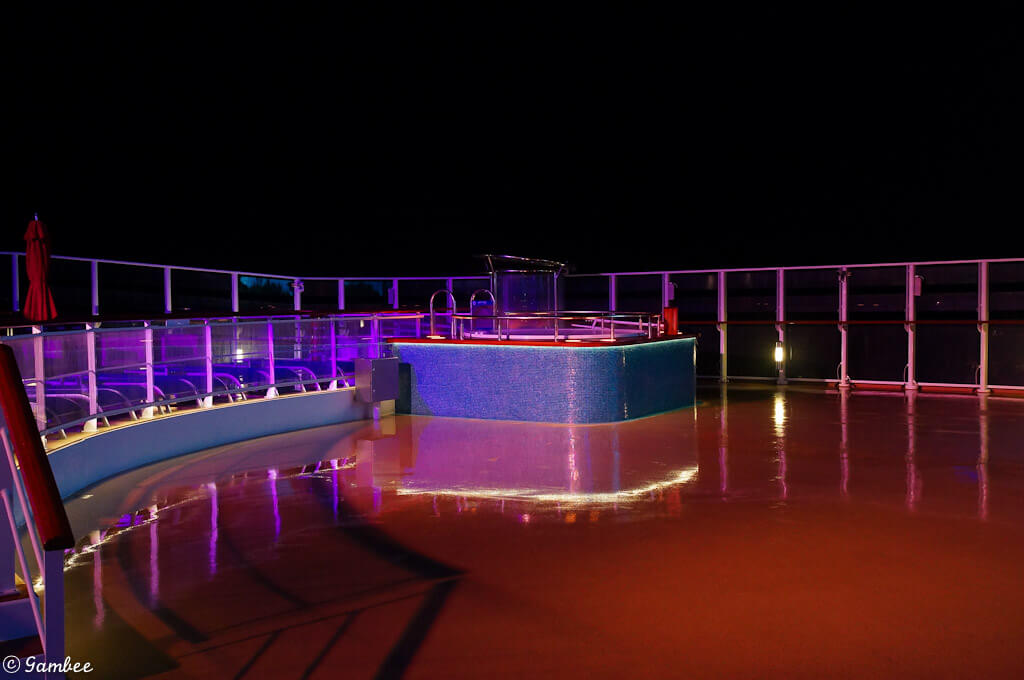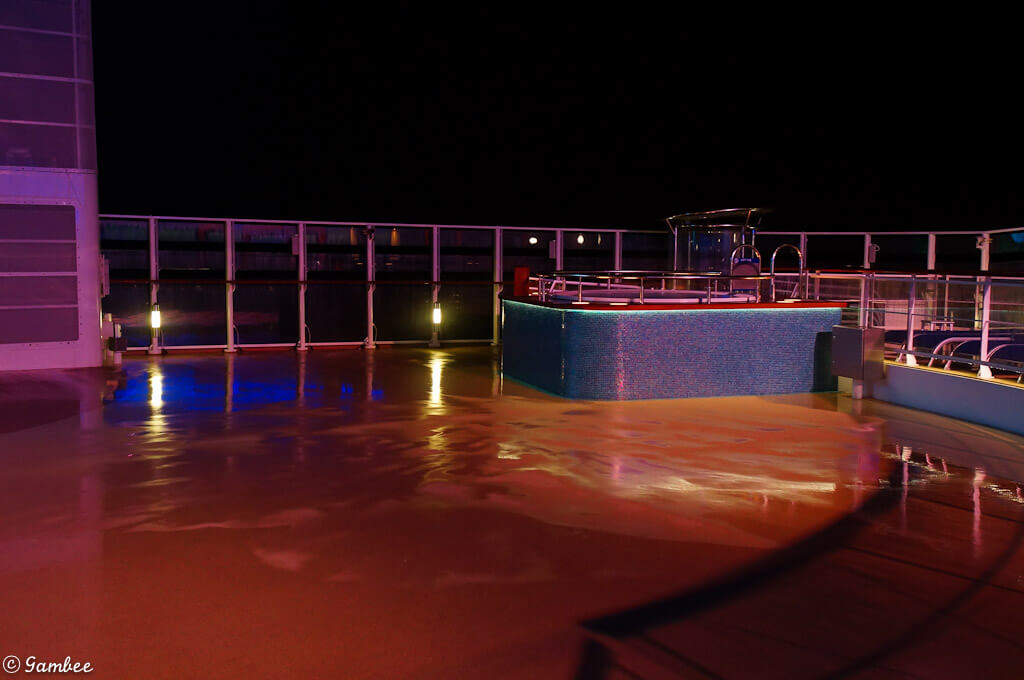 After a quick tour we decided to head back to the room, it was then that we noticed that the heaters in the rooms do not work very well. I am not entirely sure if it is something that they are working out, but they better figure it fast. Because for a ship sailing out of New York, you will definitely need a good heater on those rooms. At some point in time the heater kicked in and I had to get up to adjust it. We relaxed a little and then headed to bed. You might have noticed that there were no videos on this day… Well I deleted them by accident, but no worries I think I got videos for all the days left. Day 1 end.