Ok friends, lets see Falmouth, Jamaica. I need to mention some background here so you can see where I am coming from. I am not sure if you are aware of this, but Jamaica is on of the most homophobic countries in the western hemisphere. There is a large amount of violence against homosexuals, that ranges from verbal to even homicide.
I did not experience any aggression towards me at all, inside or outside the complex in Falmouth Jamaica, but then again I am pretty straight acting. On the other hand, my bf said he was called a few homophobic terms more than once within the boundaries of the RCCL compound and followed around by some of the locals. I don't want to say he is feminine, but I guess he is more noticeably gay than I am. I actually did not wanted him to get off on that port, but he had other plans.
It puzzles me why RCCL decided to build a port for their two flagships in Falmouth Jamaica. The town is poor beyond your imagination and well for us in particular you could say it is dangerous. Most of the excursions Falmouth Jamaica should be purchased from your cruise line to  avoid any issues.
Here are a few of the ship excursions offered by cruise lines in Falmouth Jamaica.
Falmouth Jamaica self guided walking tour. (pictures courtesy of David Walker)
Falmouth Jamaica taxi rates.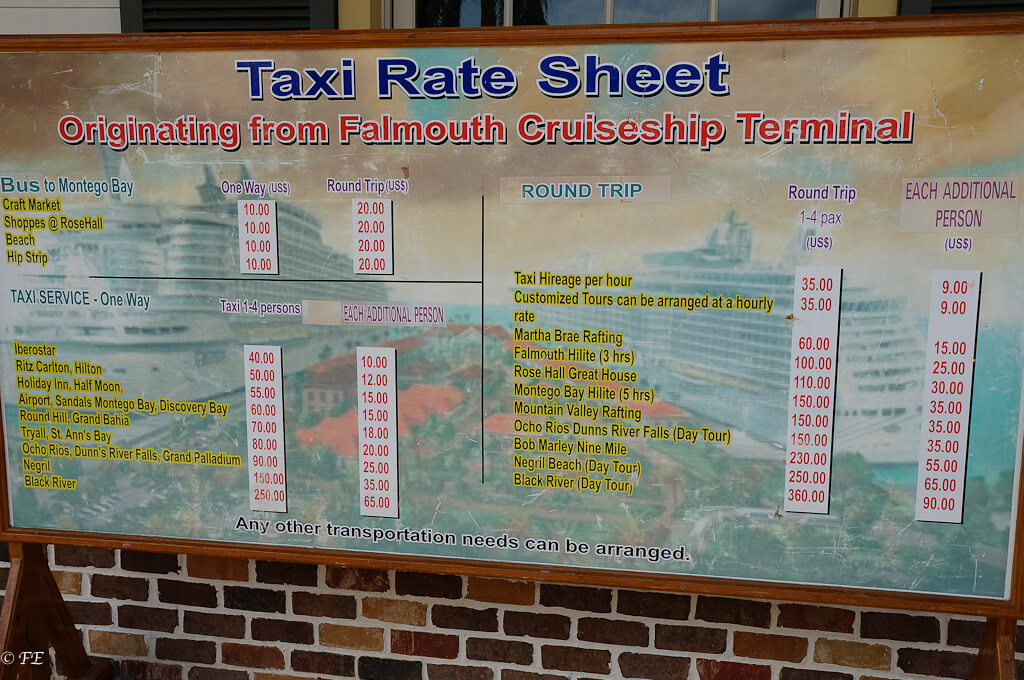 Falmouth Jamaica Short Review
I have now visited Falmouth Jamaica two times, the first time I chose to play it safe and stay near port. The second time I decided to go to the Rose Hall Hilton Hotel. While it was an expensive option for us, it did offer us something different to experience at this port. That said I still think that my least favorite port ever is Falmouth Jamaica, it just way too poor, and not friendly. There is a permanent feeling of not being safe, that just makes this too uncomfortable really enjoy.
I would seriously suggest to you to just book one of the shore excursions that the cruise line offers when visiting this port. The only reason that I even considered doing the Hilton was because of all the good reviews I read from Jamaica for a Day. That is possibly the only other shore excursion that I can recommend at this point.
From my experience both RCCL & X offered some reasonably priced day trips in Falmouth Jamaica, starting from $30 to visit a close by beach. Just be careful with what you book, and understand that the Falmouth Jamaica weather can be unpredictable. Both times that we have been there, it has been predicted to be the total opposite.
The complex itself is very safe, and there are lots of stores to look and shop around. They also opened a Margarita Ville in winter of 2013, I saw it on my Silly cruise. From my experience many chose to just get off the ship and walk around the complex. There is also cheap Internet available for those interested in it.
For those of you willing to venture out of the complex, there is really not much to do in Falmouth Jamaica. Other than maybe being able to get the same items for a lot less $ than inside the complex. Some people have reported going to Club Nazz for some authentic Jamaican food and free Internet, their prices are also very reasonable.
I don't think I would like to visit Falmouth Jamaica, but just never know what the future has destined for you.
To get more information on Falmouth Jamaica port photos Click here(Allure Cruise) or Here(Silhouette Cruise).