After checking our room on the Norwegian Sky and dropping off the luggage, we were ready for some more exploring. After all there was not much to do in the tinny closet that we call a room for the next 3 days :D, lol. We went walking for a little while and decided to check out the main dining room, after all dining is such a important part of a cruise ;). The Norwegian Sky has 2 main dinning rooms, you're free to go to either one of them and at any time you wish. No reservations needed, and there is usually no wait at all. The menus seem to be exactly the same on both restaurants. We always went to the one in the aft of the ship, the view are just gorgeous from back there. I highly suggest you try one out rather than the other one.
You can see house nice the windows are, ask if it's possible to be seated by a window. It is just an amazing experience to sit down and watch the world go by, while you enjoy a delicious dinner aboard this great ship.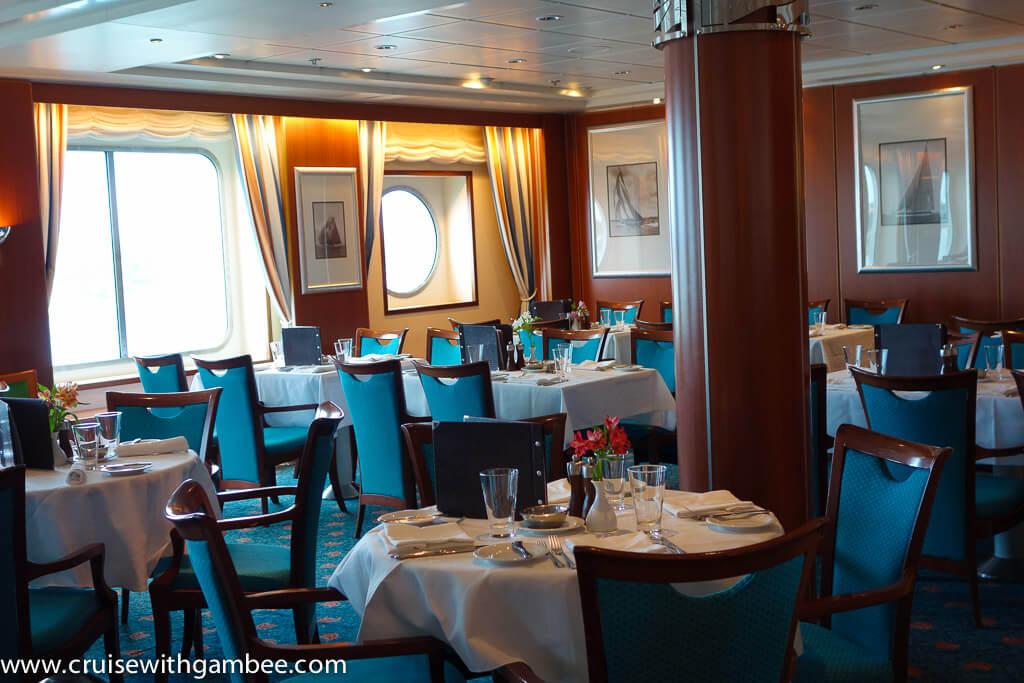 With no real place to go, we decided to go to the lido deck again and people watch for a little while. If my memory serves me right we also got a couple of drinks in the pool bar. Now let me stop here and talk about the bar service on the Norwegian Sky. The ones who know me, know that I am very impartial and objective. I am not out there to destroy any cruise line, with my reviews. However, I will call them when I see them. So here it goes, the bar service on the ship was horrible! Norwegian really has to work on this aspect, the drinks were all watered down, the frozen drinks tasted and felt like they were virgin drinks. Even mom pointed out how weak all the beverages were, and she enjoys weak drinks, so that alone must say a lot. Till this day, when I travel aboard a Norwegian vessel I rather buy their stateroom package rather than go purchasing $9 weak drinks. I wont comment on this any further, but I just wanted to point it out.
You could see more people on the lido deck, everyone was having a great time and getting ready to start their vacation. The weather Gods were also on our side, it was an amazing sunny day in Miami! We were so grateful for this, weather can really have an impact on your cruise vacations, and this one was going great so far.
This bar was our favorite bar of the Norwegian Sky, mainly because it overlooked the pool area and the basketball court 😉 if you know what I mean. The view was great, you could just sit down enjoy your cold drinks, people watch and enjoy the amazing company of one another. Mom was also busy taking pictures and emailing everyone in our family, trust me by then the entire Colombia population knew that my mom and were aboard the Norwegian Sky. Quite funny actually that you think about it, lol.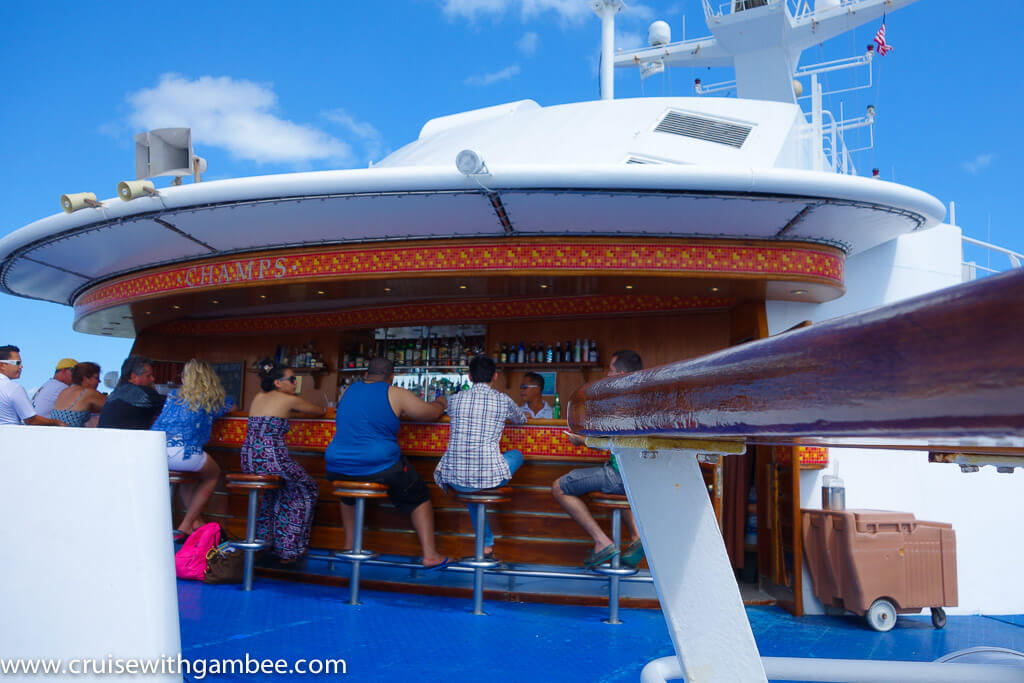 After we finished our drinks we headed down to the casino. I am not a big casino person, and actually I think that in my entire lifetime I have bet less than $100. Just not my thing, you know, how the saying goes, different folks different strokes. Mom on the other hand enjoys gabling a little, I think she mainly enjoys taking pictures gambling to send to her brothers and family back in Colombia, beats me. Anyway, the Casino aboard the Sky is about average, not very large, but decent for that size ship. Something that did strike me was the lack of smoke smell, which is one of the main reason that I despise casinos, I can't stand that smell for more than 10 minutes or so. They must have a very well designed ventilation system to keep that room clear of smoke. The casino was closed since we were still in port, but just walked through it and mom took her pictures to send.
We kept on walking and ended up in the front of the ship in the main theater. They were doing a presentation of the ship, and all the venues aboard. Now that I think about it, this would of been a great presentation to sit and partake since it was our first cruise. But we were simply too pumped to sit down for more than 5 minutes, so I snapped a few pictures and we left the theater.
We headed up stairs and check out the teen and kids area. I think for a ship this size the kids camp was actually well fit and the staff was very friendly. I am not really sure if many people make use of the kids camp on the Norwegian Sky. From my research I have seen that there is a large amount of people who go on the Sky for their first cruise. There was also a large amount of international families, who rarely make use of the kids camp. But either way, I guess I will never know as we only went there once and that was it. They also have a small arcade area, you add funds to your kids card to make sure they don't over budget and you get a nice surprise at the end of the cruise 🙂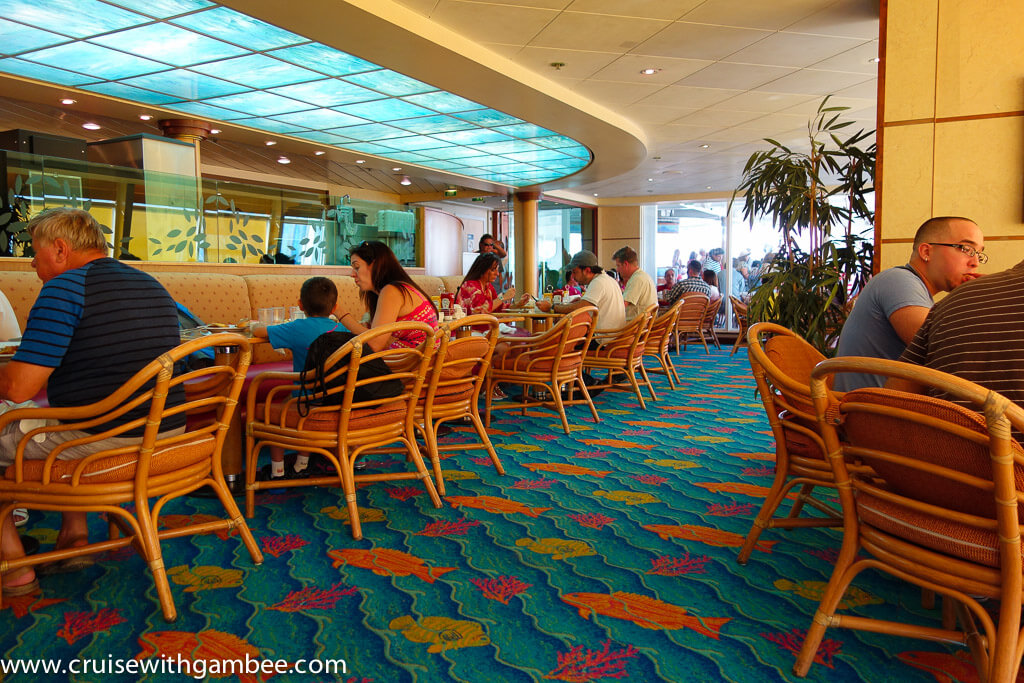 Norwegian Sky Arcade.
The Norwegian sky kids area was actually nicely decorated and very kid like, there was also a nice amount of natural sunlight. Some new ships like the Breakaway class lacks natural light in the kids area, while I don't think that is deal breaker for the kids, I think natural is still better.
It was getting closer to sailaway and we heard the call for muster drill. Muster in the Norwegian Sky is possibly one of my favorite ones, mainly because this is the only muster to date that was done outside. All the other musters are indoors, and there an odd feeling when you're looking in a room and the ship is supposed to be going through an emergency…. Muster was fairly fast, everyone was eager to get ship underway and get the vacation officially started.
After the muster drill was over we made a dash towards the back of the Norwegian Sky by the buffet, I had decided that was possibly the best place to see Miami as we departed. First out was the Majesty of the Seas, the lido was packed with people waiving good bye as they passed by.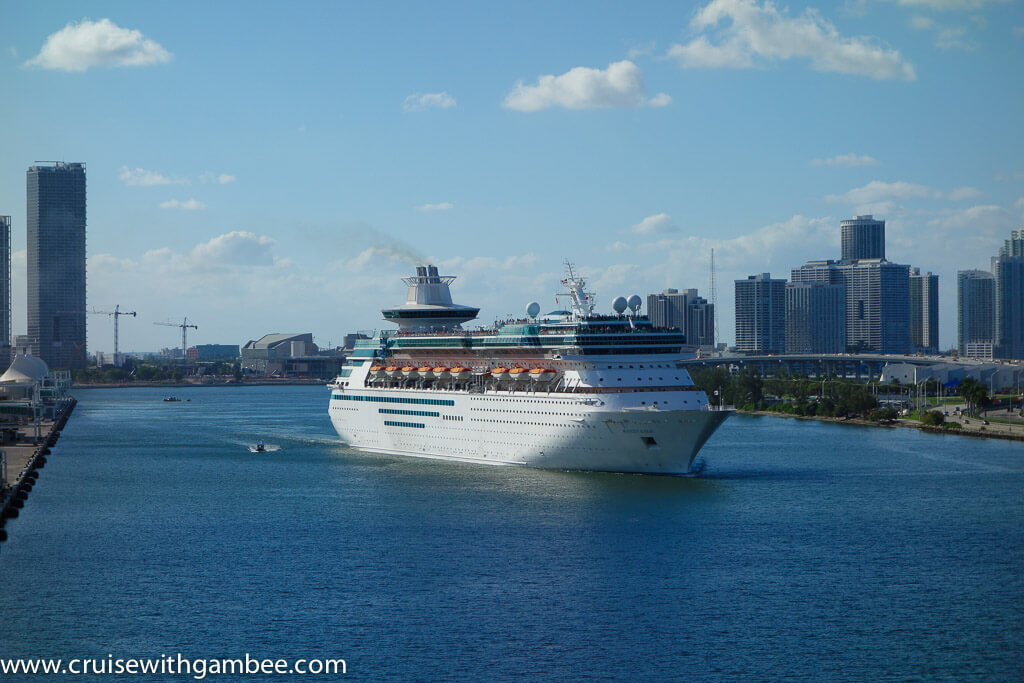 Norwegian Sky Buffet
After we sailed out of Miami we went back to main pool area, there was a party going on there. A lot of people dancing and having a great time. We sat relaxed and enjoyed a few drinks. It was a great feeling to finally be on our way on our first cruise vacation, one that we would never forget. There is something very special about your first cruise, it really captivates your and great memories are made that will last a life time.
More on the Norwegian Sky on the next page,