Continuing with the Norwegian Sky review. We were enjoying the sunset, when I remembered that I have made reservations at Le Bistro. Le Bistro on the Norwegian Sky is a little hidden and you have to go down a side flight of stairs to get there. None the less the view when you get there is just great, the restaurant runs parallel to a lot of large windows and since its on a lower level you really feel connected with the ocean.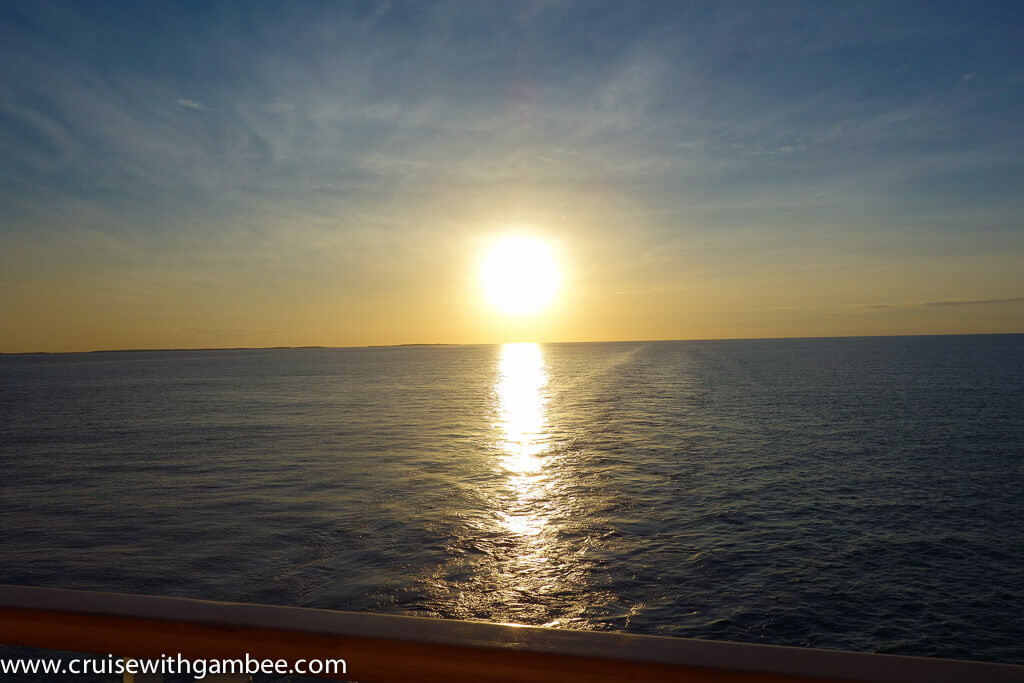 The restaurant was fairly empty when we got there, but after 30 minutes or so it started filling up to a decent amount of tables.
As requested we got sat by a window, and that made mom very happy.
The food on Le Bistro is definitely a step up from the MDR food, now wether you think it is worth it, well that is something rather personal. I guess if I have the disposable income I would consider going again, then again I don't have any plans on going on the Norwegian Sky any time soon. I try not to repeat any vessels, that way my reviews stay varied and I don't get bored.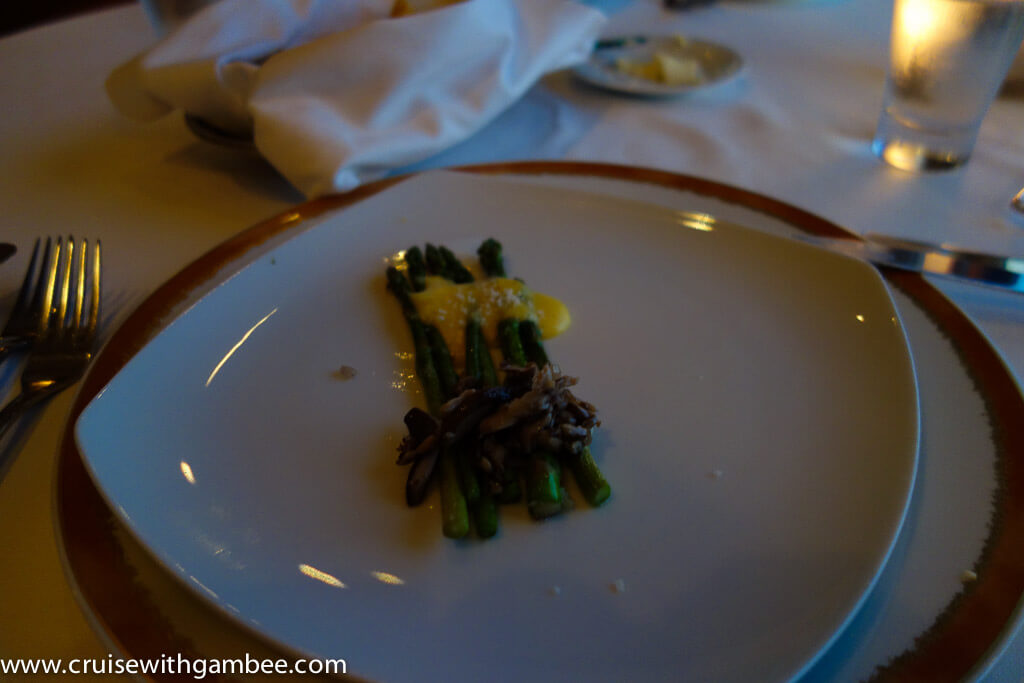 I have to admit that those little cones were loaded with celery, no were in the menu it said they had celery. As you can imagine I am not a fan of celery. They should consider re-writing the menu with more accurate descriptions, to avoid complications as such. Either way it takes a lot for me to return food, I was ask about it, I told her about the issue, but kept my food. The rest of the dinner was very enjoyable and almost had to be asked to be rolled out of there. I really tend to push my limits when I sail, maybe some self control would help :D,lol.
We left the restaurant without a true destination, remember this was our first cruise and we had still to figure out what liked and what we did not like. We also did not know much about the Daily, actually I think I misplaced it early that day so we had no idea of show times and events.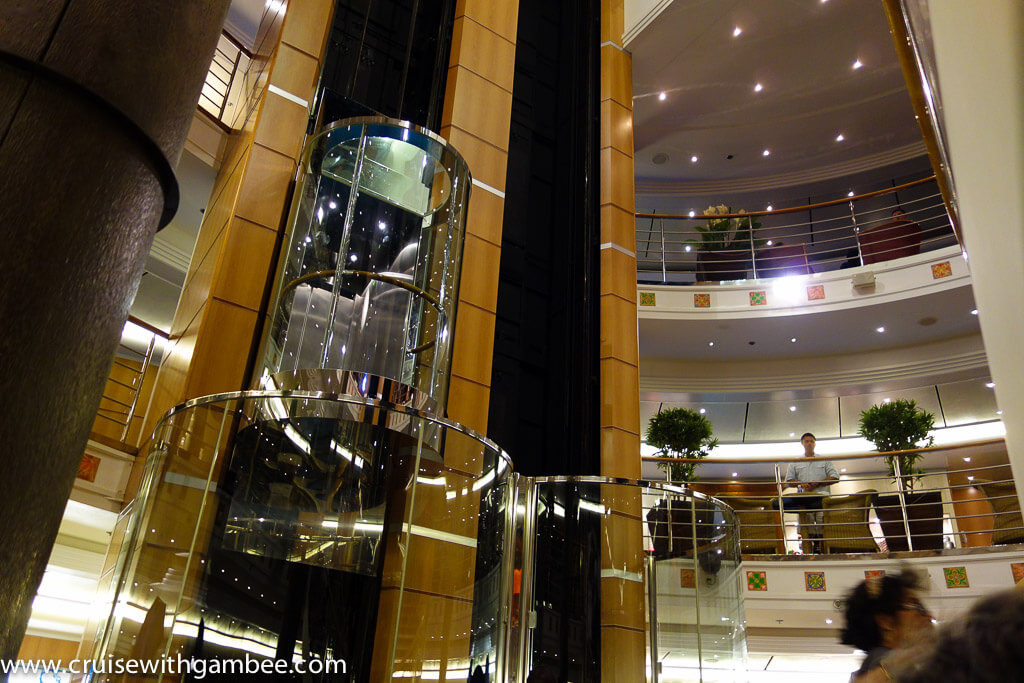 We stumbled across the first love and marriage show, I have to admit that to date the one one the Norwegian Sky is the best one ever. I have to credit that mainly to the size of ship and how personal it gets. The ones like the Allure and Silhouette are done in the main theaters and they are just too big to my personal liking. The one on the Norwegian Breakaway was a total bust since the area cannot even hold a percentage of the people trying to get in. The one on the Norwegian Sky was just perfect. We had a blast!
After that we heard someone talking about the white party on the lido deck so we went up stairs. Our White party on the Norwegian Sky was fairly well attended and some people were dancing on Deck. Mom and I sat on the upper level and watched the couples dance and have a great time. From what I remember we did not last very long there, we were worn out and decided to call it a night after that.
Norwegian Sky in Nassau
We woke up and enjoyed a nice breakfast on the aft buffet just like the day before, the view was amazing with the Allure of the Seas right next to us. After seeing the Allure I told my mom, that is our next ship. And little did we know we would board it 3 months later and start the new cruising addiction :D, lol.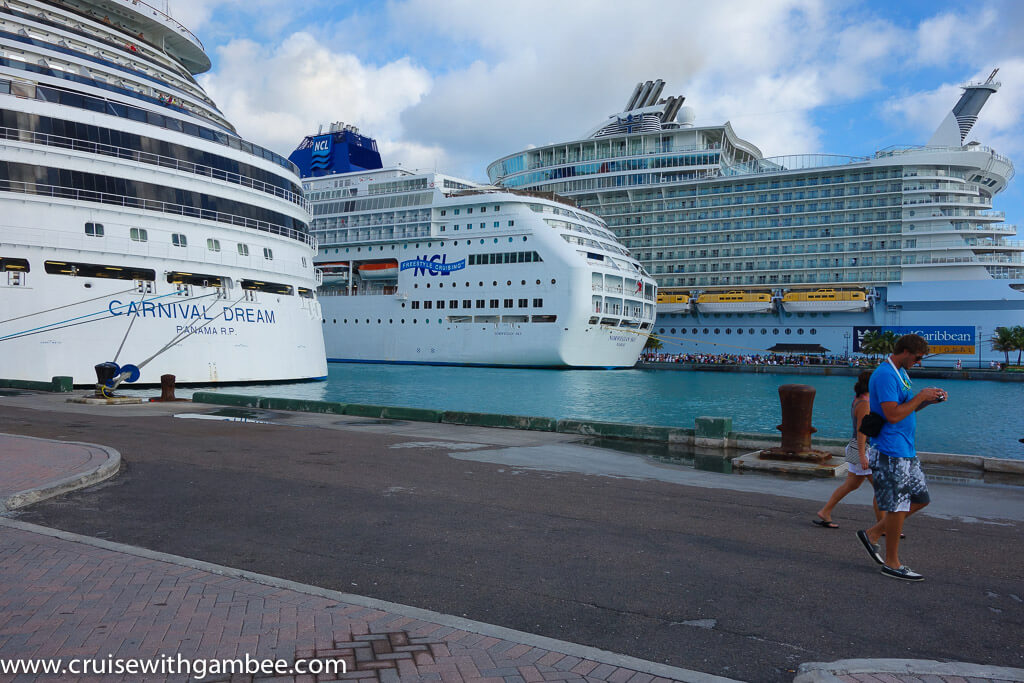 The plans for the day were to head to Atlantis and check it out. I will admit that when we visited the hotel and aquarium they were in awful conditions. From what I was told the hotel had bankrupted and a group of banks took over and they were trying to turns a profit at all cost. Well the cost was too high in my opinion, I failed to take that many pictures, but the aquariums were in terrible conditions. I can only imagine how many specimens they were loosing on a daily basis. The good news that I got from new reports is that it is now better, and in hand of a new group.
After visiting Atlantis we took the shuttle back to the port and mom did some light shopping. I think she got a shirt for my aunt and a little souvenir for our kitchen wall. Nassau port is in desperate disrepair, it puzzles how this can be one of the major ports and be in such poor condition. I usually don't like booking cruises that call port in Nassau, and when I do I tend to stay aboard the ship and relax by the pool. There is just not that much that is appealing to me about this port, although I do want to check out Blue lagoon one day.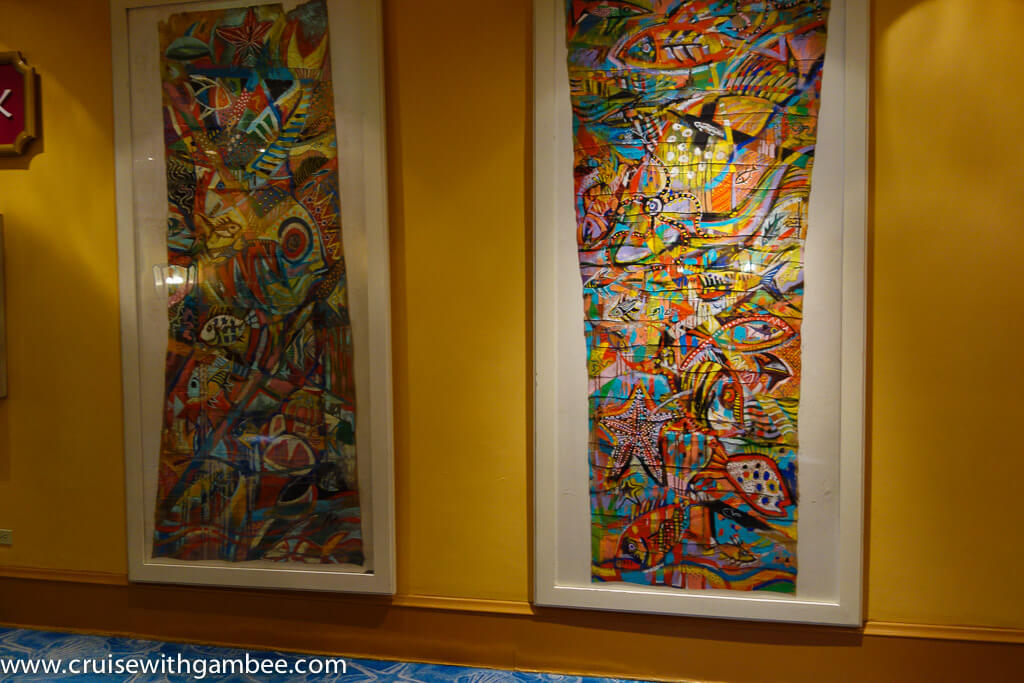 Back on the Norwegian Sky we had lunch, we decided to wait until we boarded to save a few bucks. Again I will say, not the best buffet, but by no means a bad one either. Hey, much better than my selection at home, so I can't complain 😉
We basically relaxed by the Norwegian Sky pool for the rest of day, just a very lazy afternoon. We were the last ones to leave port following the Majesty of the Seas.
Thank you for reading my Norwegian Sky Review