Chapter 1
So those last 3 days before leaving on the Celebrity Silhouette were very hectic to say the least. The morning went on pretty smoothly I finished packing and got ready, and soon enough we were on our way to the port.
When we got to the port it was a little confusing where we needed to get dropped off, that terminal is a big mess and probably the worst I've ever sailed out off. But after we sorted things out it was pretty fast to get to the waiting room, by 11:05 we had our sea pass on hand and waiting to board =)
First close view of  the Celebrity Silhouette
There was a short delay with the disembarkation of the prior Celebrity Silhouette cruise, as I would find out one week from that day, that terminal is a huge mess! Anyhow the wait was not that long about 30 minutes later they started boarding, and it wasn't long before Gambee and mom where aboard the Celebrity Silhouette.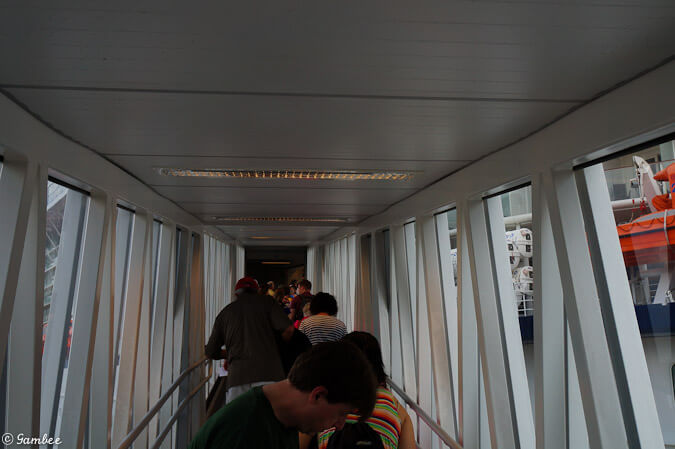 This is the first thing your eyes will see once you board. I will admit that I was rather disappointed with what I saw, I was expecting something really nice like the Atrium, but that was not the case. Nothing horrible, but just pointing it out.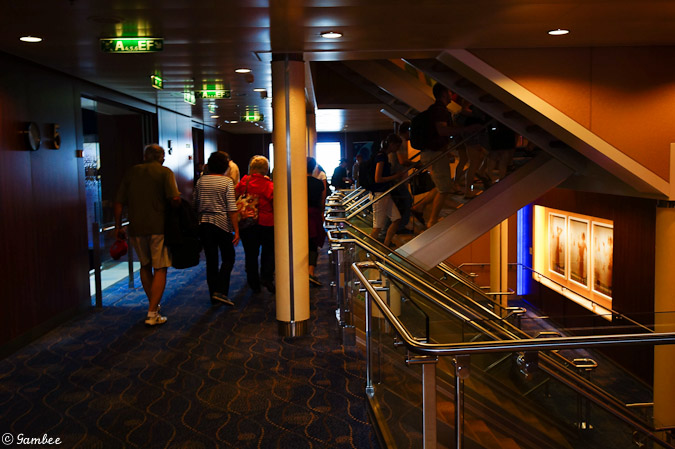 I made a quick dash to Murano to get our reservation for the specialty restaurants setup. I had been reading that as the week goes by it gets harder to get reservations and I had no intentions on dealing with that. It was a fairly smooth process, and I was able to make all the reservations in Murano for all the restaurants. I was pretty happy with that.
On the way to Celebrity Silhouette Murano. (ensemble lounge)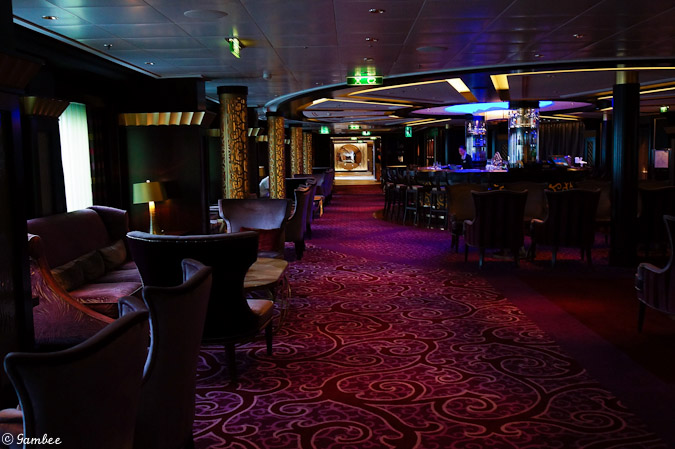 Celebrity Silhouette Murano
After that we rushed to the buffet, it was later in the day and I we had empty tummies.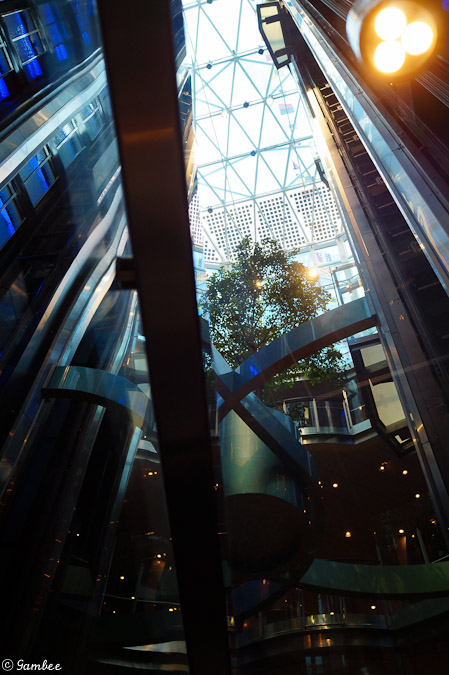 Celebrity Silhouette Oceanview Cafe
I think this is a good time to talk about the Celebrity Silhouette Buffet. Overall I found the food to be excellent and above the other cruises that I have taken. They have a great selection of food, and for the most part it is always kept nice and warm. I also love that they offer sushi, while they are not many selections and the rice was too sweet for my taste.
I absolutely love the location of this venue as well, we usually like dinning outside and we get to enjoy some fresh air while we eat. And with the cooler weather that we had during this voyage we found ourselves eating outside quite often. The fact that it is in the aft of the Celebrity Silhouette is just an added bonus! Gambee loves his aft!
Service was just ok in this area, you're better off going and getting your sodas by yourself, if not you might find yourself finishing your food without anything to drink :/. That said tables are kept clean and ready for new people,and there was also one very special situation with one particular server that saved my culinary vacation (ill explain more on this later).
The ice machine in the aft port side was broken during our entire trip this was little annoying since we found ourselves in the same table every day and you guessed it was near that machine. So eventually I just skipped the ice and had ice tea without ice, not an ideal situation, but I was too lazy to walk around and get it 
.
One thing that did annoy me very much was that they had one particular section of the buffet that serves the pancakes, french toast, waffles, etc (the sweet stuff). Well this section of the buffet is #1 very small and #2 very poorly laid out. Let me see if I can explain, first of all they should have two of this sections, that way they could avoid those nasty lines in there. Second who in their right mind puts the syrups and jellies before the solid food??? So what happens is that people get in line to get their waffles, once they get them then they go back and brake the line so they can get their syrup on top. So now you have people breaking the line and some still trying to get their food and going back and doing that all over again… I am not sure if I make myself clear or not, but in any case a simple rearrangement would solve that problem, my guess is that maybe sometimes the line forms the other way around? But it never did during our cruise. Maybe add syrup on both sides? I don't know, but I am sure they can figure out a solution for that.
Another thing that did disappoint me was the lack of burgers, I am a burger lover, I think I could live entirely out of burgers 
. And the days that they had burgers they put them in the same section of the waffles and the same line situation happened. I never got a burger in the buffet during our trip :/. What I gathered was that some days they have burgers and some days they have Mexican food (I also love Mexican food) so it was not all that bad. But I still wanted to mention it.
Other than those few things, I think the Celebrity Silhouette did a great job with this buffet. I NEVER and I repeat NEVER had to wait more than 1 second for a table. Actually I never had to look to far to get one, but in the end we almost always ended up in our favorite table 
.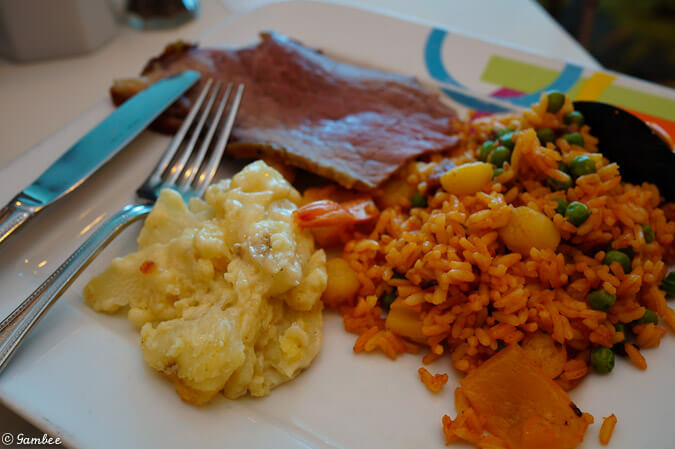 The ice cream was very good and even better it was free on the Celebrity Silhouette!
Rum raisin (our favorite) and Chocolate
While we were eating we started discussing how much the Celebrity Silhouette reminded me of the W hotel, it has a very similar feel with the decor. We ate pretty quick as we were both eager to go and see the ship, I had a few areas to visit before we departed.
This pic is leaving the Celebrity Silhouette buffet.
Then we took the elevator down one floor, I know I know, so bad, but in my defense I forgot that there was no #13 floor 
, silly me. We got off the elevator and started walking towards the Celebrity Silhouette Spa, I wanted to do the spa tour before I forgot.
Very comfy lounges.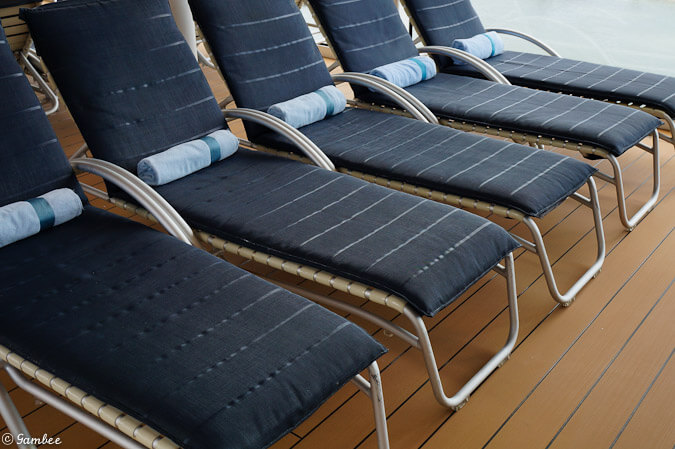 The Main pool area of the Celebrity Silhouette is stunning, so elegant and well designed.
I went to the Celebrity Silhouette pool bar and ordered two drinks. A Mango Rita and a strawberry cilantro margarita.
 More on the Celebrity Silhouette on the next page 🙂