Chapter 7
We kept on walking and noticed The Celebrity Silhouette Porch. Those who know me know that I am not afraid to pay for specialty restaurants, and as a matter of fact I had planned on eating here. But after going through the menu I noticed that nothing really appealed to us, so we decided to pass on it. But overall it looks like a very nice place to relax and have lunch. I am sure that those who love paninis would love it.
After that quick walk we decided to go to the Celebrity Silhouette solarium and enjoy our time there a little.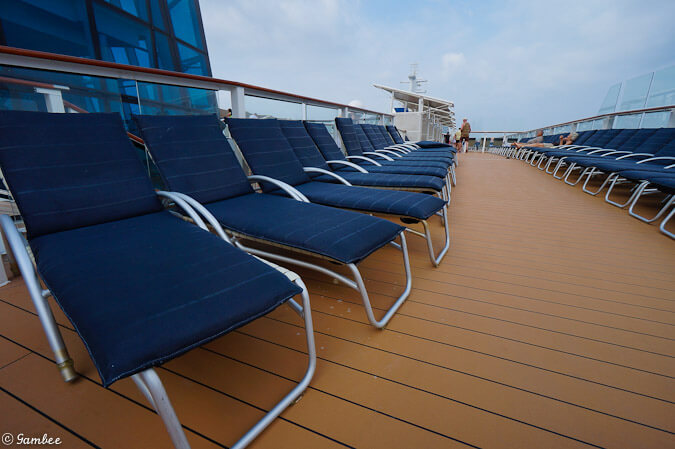 They had aerobics on the pool and pretty nice group showed up.
Celebrity Silhouette Solarium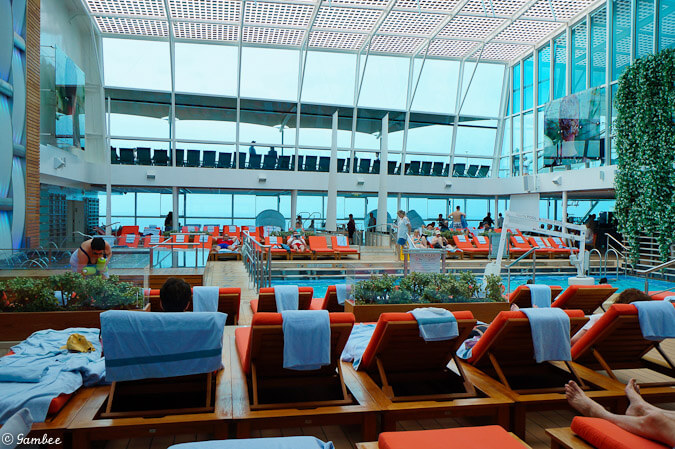 Our favorite spot! It had a nice view of the ocean, and I could keep an eye on my equipment while I was on the tub.
You can always find a spot with ease.
While in the solarium we noticed how the noise leaks in every time the doors open, that actually turned out to be a good thing as sometimes there was a good band playing outside, and I would run out for some good tunes.
I was also worried about maybe too many kids running through that area to get to the main pool area, but that was never an issue (and remember this was a spring break cruise) most kids were aware that this was a non kid area, and they were very polite about it.
A few kids during our voyage did go in the solarium but always with their parent and they were always in absolute silence. I guess they just wanted to relax as much as everyone else.
I really don't know how many hours we spent in the Celebrity Silhouette solarium, it was by far our favorite part of the ship. And what is even better is that every time we went we got the same lounges, it was almost like they were ours. I don't think I ever saw the solarium crowded, not even on our last day which was the only good weather one.
After some time in the solarium we decided to go to the Celebrity Silhouette chains sale, they were holding a sale in front of the casino in the shops. My aunt had asked us to get her the chain with the colored pebbles in it, she had originally bought a set for her self on an Celebrity cruise, but she somehow misplace it and needed them replaced.
Let me tell you something, this is an absolute rip off, we got two and 1/4 inches of this, and it was something like $13, I could not believe it. That is not even real gold, I believe they called it plated gold, but in any case we got what we needed and pay for it.
They also had this huge bottles.
This statue is in front of the Celebrity Silhouette casino, there are actually two of them. They were pretty neat!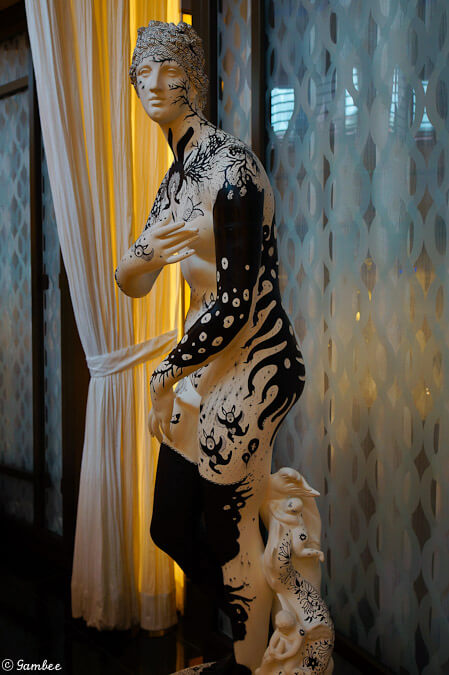 We kept on walking to head up to our room to drop off those links so we would not loose them somewhere.
Celebrity Silhouette Quasar
After we dropped of those links, we went back up to the solarium to get some drinks.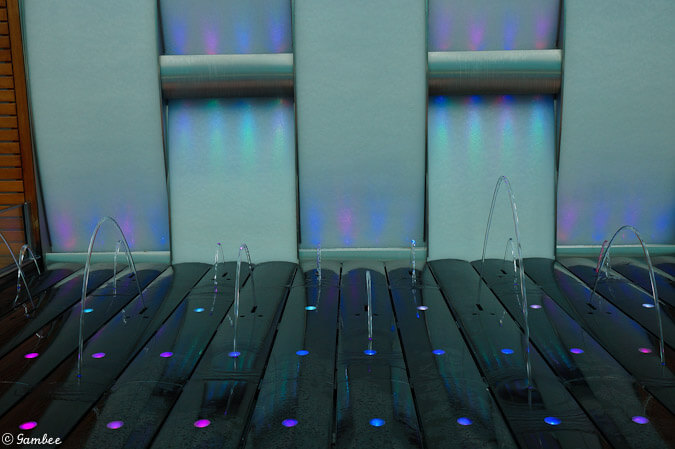 Celebrity Silhouette jacuzzi
When the weather started declining we decided to head just outside of the Solarium to try to get some fresh ocean breeze.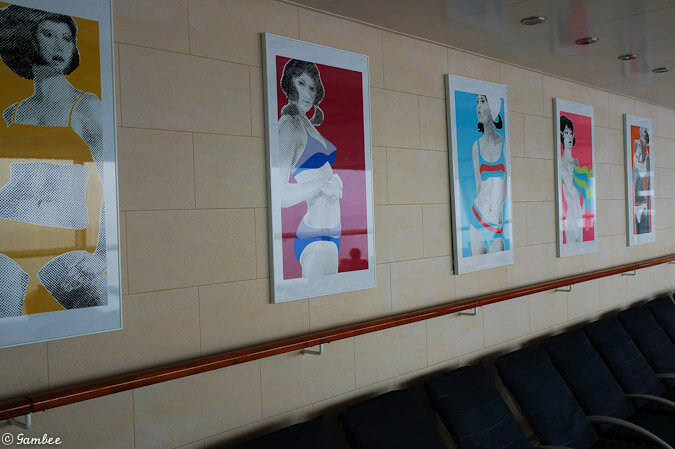 This picture was taken while I was waiting for our drinks. The Celebrity Silhouette pool bar is usually very busy and it is not uncommon to wait 15-20 minutes for service. It really did not bother me that much, I usually find someone and chat with them while I wait.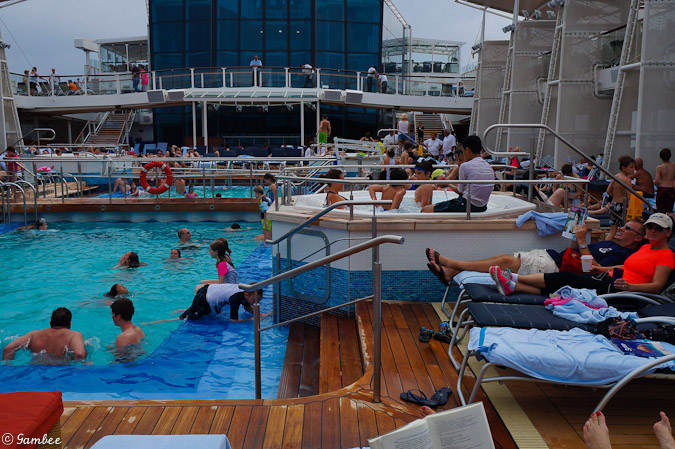 I ordered an Apple Asian and a citrus Mojito, both drinks were pretty good.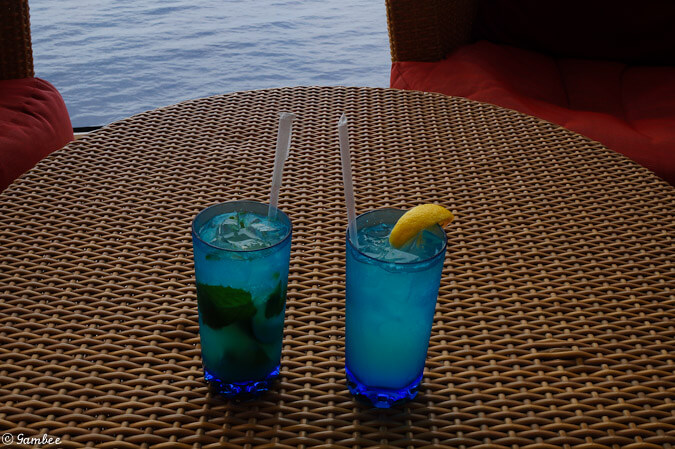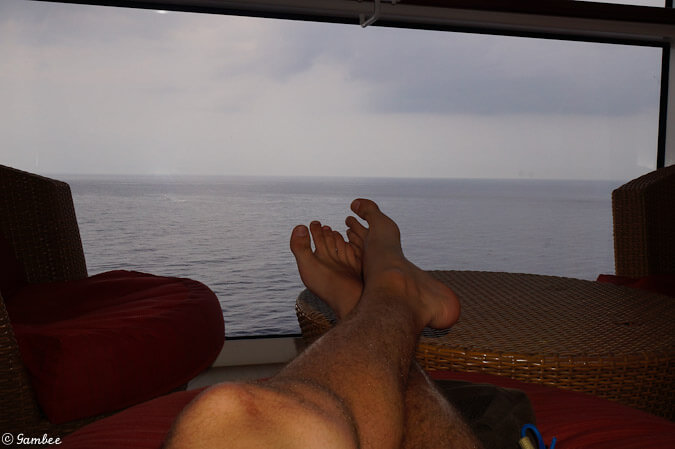 Then it started raining and that my friends was the last time we saw the sun in a longgggggg time.
Here is a short video by the Celebrity Silhouette pool with the rain coming down.
A few minutes later I had finished my drink, and I went get another one.
This time I went for a raspberry lemonade, it was a bit sour for my taste. But the nice thing was that they made it with real raspberries and that alone sold me on the drink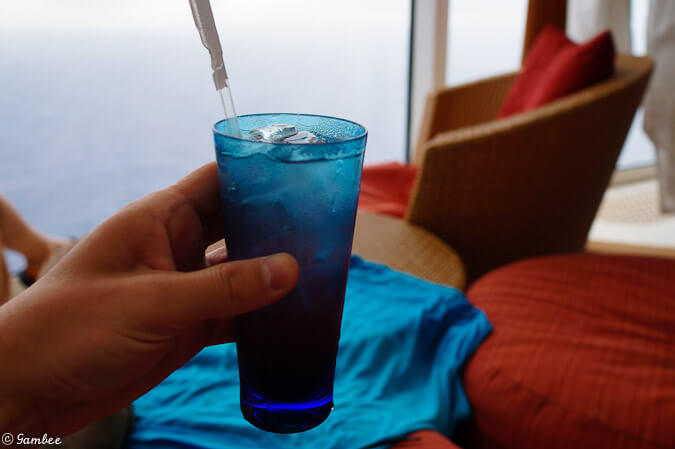 We just sat there and watched the rain come down, most people started leaving to get changed I assume, while others just chilled in the covered areas. It was still pretty warm so it was really nice and cozy if you were dry.
Soon enough we had both finished our drinks, and I went to get two more.
Bloody mary, spicy as hell! And ohhhhhhh so very tasty!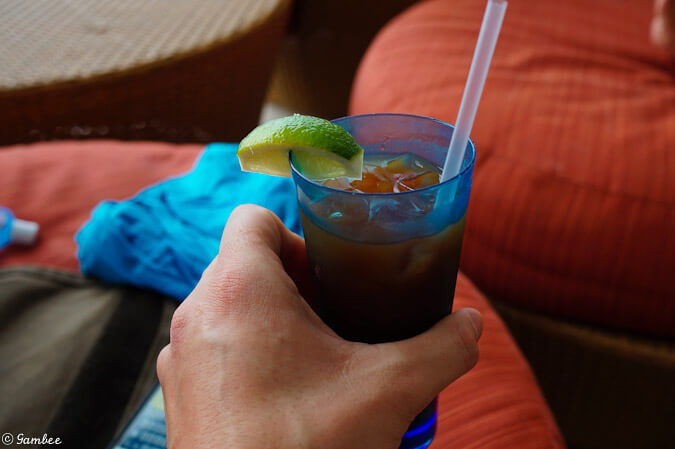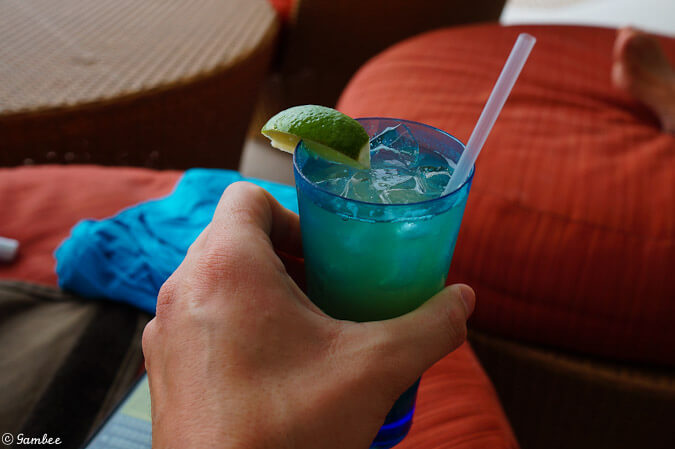 After some time up there we started getting hungry, so we decided to go get changed and look for some food. I did not wanted to go the buffet, I wanted something a little more personal. I had read plenty about the Celebrity Silhouette Bistro on 5, and we decided to give it a try.
Back inside a room I documented location and wind speed. The wind was starting to slowly pick up, and it would not slow down until day 6 of the cruise.
Here is a short video of what the weather looked like.
On the way to the bistro, they had some ping pong event at Celebrity Silhouette quasar. Quasar and celebrity central were a usual place where activities took place. The help a few game shows and art auctions there as well.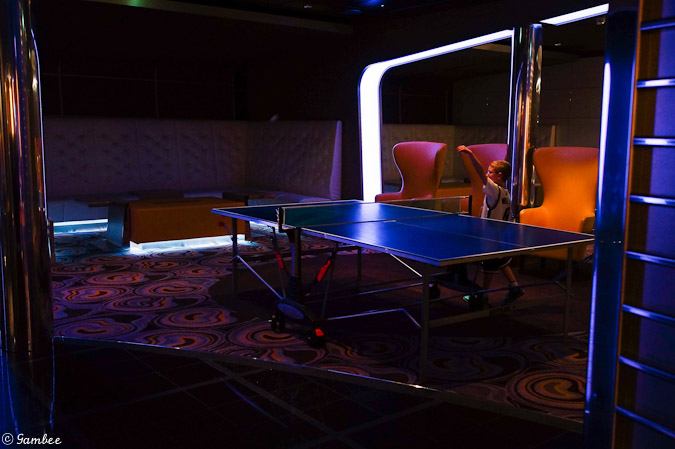 At that time they had some dancing classes going on right outside of quasar in Celebrity Central.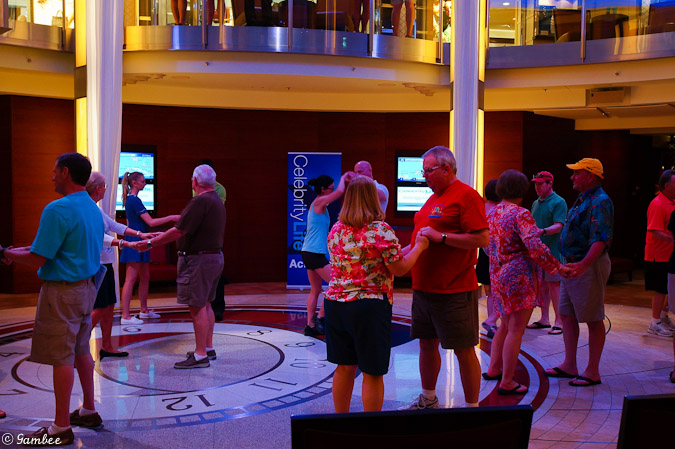 We quickly changed and headed down to Bistro on Five,
We walked by the Celebrity Silhouette casino.
When we got there it looked like the restaurant was about 1/3 full, but some cruisers seemed to be upset. I immediately knew why, they were waiting for their food and from the looks of it seemed to be for a long time.
Either way I waited to be seated, soon enough I was approached by the server and was told that there was a wait. It seemed like they were understaffed, I said ok, how long and he really did not have an answer. We waited there for some time and eventually I left slightly frustrated. I figure that on a sea day they would staff this venue a little better. But I guess it just wasn't meant for us that day.
After that we decided to go to the Celebrity Silhouette MDR, this was the first time we tried the MDR for lunch on any cruise and boy was it an AMAZING experience.
We went in and got sat promptly on a table by the window =), How cool is that, I love sitting by the window.
Mom got the potato soup, which she loved!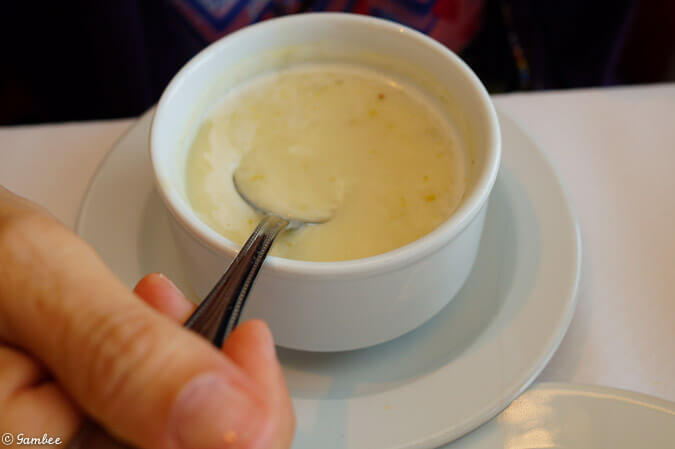 Mistake of the day #2, Gambee ordered mozzarella sticks, for those of you who don't know I lactose intolerant. At the time I did not have the enzymes, but I said WTH, I will be fine. here is the thing sometime if I small amounts I am ok, but if the cheese is heavy… well… you can only imagine. And oh boy, were these tasty things heavy :-/…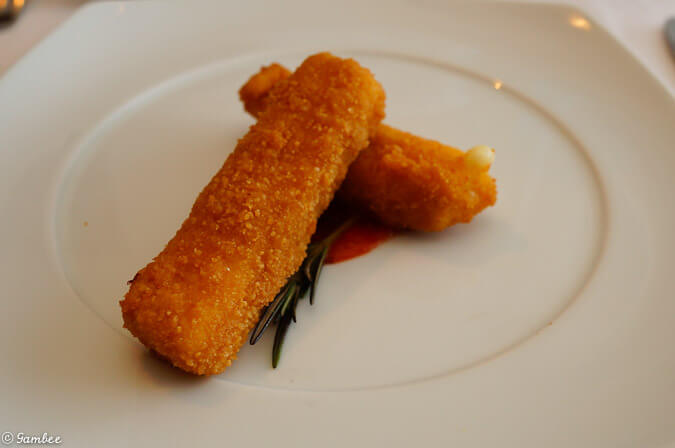 Mom ordered shrimp scampi, it was great sooooo tasty and hot. Mistake #3 I ate some of it, more creme, more lactose intolerance, I think you're getting the idea by now. :-/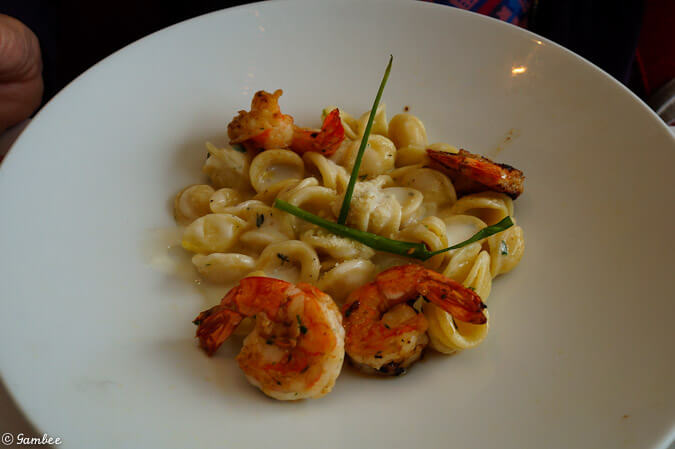 And I got the duck, OMG!!!!!!! IT WAS SOOOOOOO GOOD AND TENDER! It came with some papaya and a vinaigrette. I am usually not crazy about anything with vinegar, but this duck was just incredible. I enjoyed it very very much!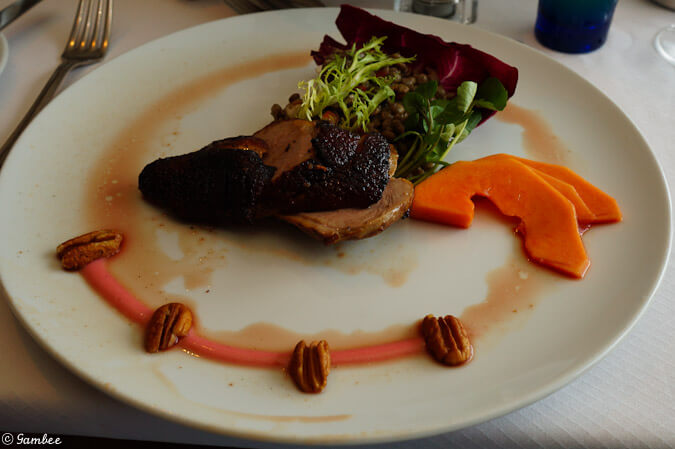 We decided to skip dessert and go to the Gelato.
This is at the Celebrity Silhouette Gelato store
We got two rum raisin small scoops for the cost of $6.90, was it tasty? yes. Was worth it? Hell no, while not the same quality as the free one upstairs, it was just not worth it for 7 bucks. I much rather eat the free one upstairs. I originally wanted to try the Celebrity Silhouette spaghetti Gelato, but they did not have it.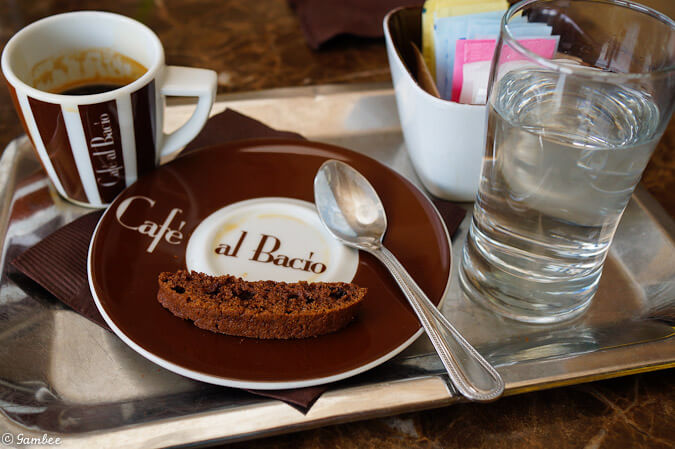 More on the Celebrity Silhouette on the next page 🙂