Chapter 13
Day 4
Lets see Grand Cayman aboard the Celebrity Silhouette. This was the only port on this trip that was an entirely new adventure for us as we had never been there before. We were really excited to get to visit the Grand Cayman, it was actually one of my mom's dreams since she was little. Never in her wildest dreams she thought she could get to visit Grand Cayman, EVER.
During my planing process I was all over the place with Grand Cayman, there were several things that I was specially interested in doing. Among them stingray city, dolphin encounter (prior deciding to do it in Cozumel), turtle farm, Hell's town and visit the city. I actually even gave thought of doing one ship sponsored excursion that included the main 3 the turtle adventure, stingray city and Hell.
In the end we decided to go to the turtle farm and then later on to the cemetery beach to snorkel a little. Two days before sailing I decided to change all of our shore excursions and I was struggling in finding a good excursion. After some research I found out stingraysailing.com was one of the preferred companies. I contacted them and very promptly they replied, they had 2 spaces open, I could not believe it. With 7 ships calling port that and they still had two seats available, I was super excited and gave them the deposit immediately! It is by the way $10pp non refundable unless the ship misses port or the excursion is cancelled.
Well we woke up that morning around 7am, and the first thing I did was check our position and run outside to check the weather.
We stayed in bed a little longer that morning, if I recall correctly I was watching a movie. At some point I also recall deciding that this would be a great day to try out my fish eye lens, you will notice that a lot of the pictures from this day were taken with the fisheye (for the exception of the ones in Grand Cayman and food).
After the movie was over I realized that we had to get going to make sure we got some of the first tender tickets, now I do apologize as I don't really recall at what time they opened the ticket counter. But I do recall that we got there about 10 minutes before they opened, and there ware about 20 people waiting already. The location was held at celebrity central so it was really really close to our cabin. If I remember correctly they give out the tickets about 1 hours prior the first tender leaves.
the peps in front of me
While we were waiting in line the captain came on the speakers and something along the lines like this "I am sure you're aware about the weather, it is not ideal to tender into George Town." Right about then my heart sank, I said "crap". Then he kept on going and said that he was going to attempt to stop in spots bay, "Spots Bay" I have never heard of this place, what was I going to do, what is there to do around that area? A bunch of question came racing through my mind. The good thing is that the captain was at least going to attempt to call port for us.
By the way,the Celebrity Silhouette captain hates missing ports, later on during the Q&A he said that two ships decided to skip spots bay before us because it was too much to have 3 ships there (two of then where already there) so the other two decided to move on. He made the decision to at least try for us, and he was successful =).
Anyway we waited and as soon it was time for the tickets to be given, Lisa our Celebrity Silhouette cruise director came in the speaker and explained that complimentary buses would take us to the George Town. I was really happy about that. We got our tender ticket, we were in group number 2, funny I thought that we would be in group number 1, but nope.
After that we decided to go upstairs to get some breakfast.
Celebrity Silhouette Mast Grill
Celebrity Silhouette Breakfast Buffet
Once up there we noticed that one Royal Caribbean ships had managed to stop in George Town, our ship kept on moving. By the way,it would take an additional 30 minutes to get to spots bay.
Soon enough we saw the other two ships in Spots bay, an MSC ship and a Disney Ship. Apparently a Holland America ship and another Royal Caribbean ship decided to skip port. That was a great thing because that opened up a spot for us in spots bay!
I got online and after a long line I managed to get a few of sweet breakfast items. They were all super yummy!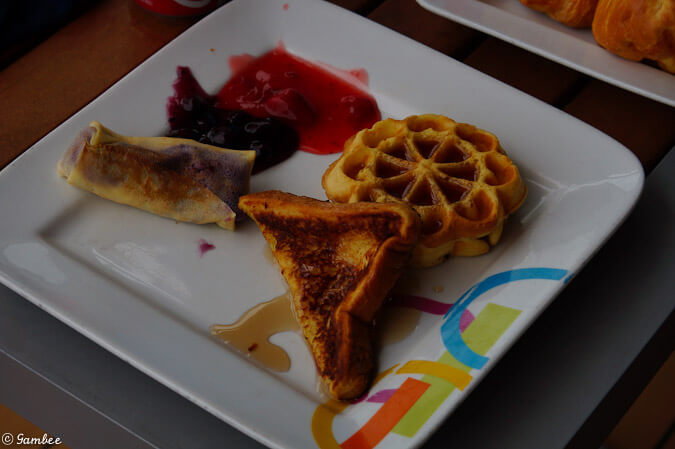 Then we decided to leave and go closer to the Celebrity Silhouette Grand foyer as they would start calling the groups for the tender process.
on the way out
Mom waited by a table at the Celebrity Silhouette Al Bacio while I went and got some coffee and I also had to run to the room and get my wallet I had forgotten it!! I can only imagine getting into town and realizing that I left all my money aboard the ship, OMG I would had died…. It was a good thing I remembered.
Celebrity Silhouette Cellar Masters
Celebrity Silhouette Casino
More on the Celebrity Silhouette on the next page,