Chapter 16, continuing with my Celebrity Silhouette story.
Soon enough it was for sail away this one was probably the most bland one from any port. I also think that my mom went to mass during that time, but I might be mixing days, I am not sure.
Soon after we decided to go for another round of drinks in the Celebrity Silhouette martini bar.
We ordered a flirtini and a skinny martini.
We grabbed our drinks and headed to the Celebrity Silhouette Lawn Club Grill for dinner, we had reservations there, and we were eager to try it out.
Much discussion comes when talking about the Lawn Club Grill, most people seem to like the food and the environment, but overall feel that it is overpriced. Granted ours came with the Celebrity Silhouette dining package so my cost was a little lower than the original cost. My honest opinion is rather dull, aside from the service I would not call anything in this venue amazing. The location of the venue is great, but on windy days like hours it can get a little chilly. The Lawn Club Grill is very energetic and the metro d, comes over the speakerphone and gets everyone pumped and excited very often.
The venue is nice and open aired, however I found the table to be too close to each other to really enjoy our dinner. There is a salad bar and that is also the same bar that you go to put the toppings on your flat bread.
The Celebrity Silhouette Lawn Club Grill menu is rather limited as this is a grill, honestly nothing really called my name that day. Please note that you can order pretty much as much as you want to order.
Our server Anne from Romania pretty much made our night, what an outstanding server and not to mention intelligent. Her attitude was great, but at the same time professional, I asked her if she could make sure that we got out of there in an hour. I explained my situation at the Tuscan Grill and she said that it would happen here. By the way her spanish sounded almost perfect, incredible, she's been practicing for the past two years.
Celebrity Silhouette Lawn Club Grill
We ordered the margarita flatbread, it was good but huge. A lot of it went to waste 
.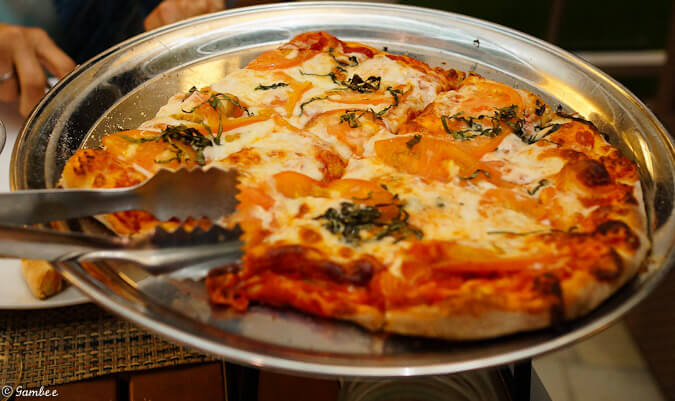 here is the fillet, seafood skewer and one lamb chop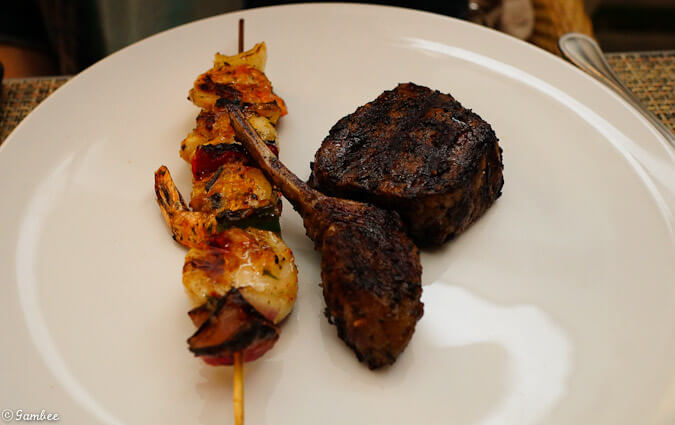 Ribeye, veggies skewer and lamb chop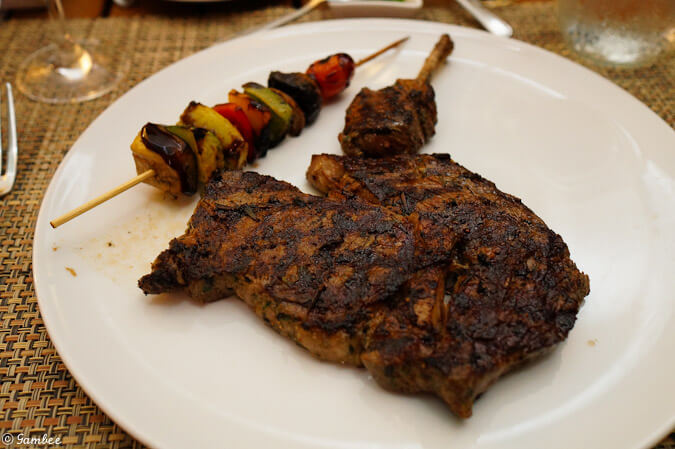 Lobster mac and cheese, AMAZING!!!!, but light on the lobster.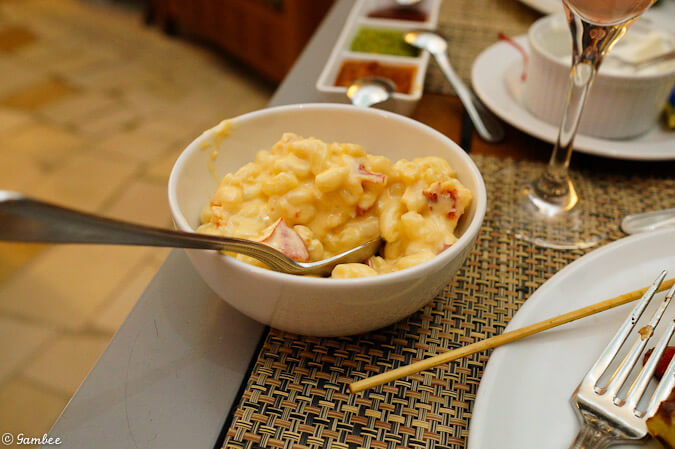 The food at the Celebrity Silhouette Lawn Club Grill was ok I guess, nothing really stands out, or at least did to me and certainly not for that price. The ambience was however really cool during the entire time we were there.
Now let me tell you a little story, at one point mom had to go to the bathroom and she did, the one by the lawn towards the aft. I just waited for her, after some time had passed I started thinking what is taking her so long. Soon enough our waitress stopped by and questioned the whereabouts of my mom, I told her, and she suggested I go and check. When I got there I found out that the electric door in the ladies bathroom had locked itself and would not open. My mom was stuck in there 
, I tried to open the door but no go. As I was leaving to look for help another lady came in the room and she stayed with my mom. She needed to use the bathroom really badly.
My immediate course of action was to go to the sunset bar, but there was no one there, so then I went to talk to Anne. She took faster than I could finish telling her, what a gal, she was really something. When we got there between my mom and the lady they had managed to open the door open. Then the other lady went in, Anne stayed around the area to ensure she would not be stuck in there.
Apparently that door tends to malfunction, not a good thing. Mom was not worried, I tend to get very nervous when things like this happen. This is very first time EVER that I have left my camera and all the gear unattended, not a good thing. Fortunately all was well, and nothing unfortunate happened.
Then we settled down for dessert, she insisted we tried the warm cookie.
It is soooooo good, you can not imagine how tasty it is. GET IT!!!!! I wonder if I could buy one even I am not dinning there.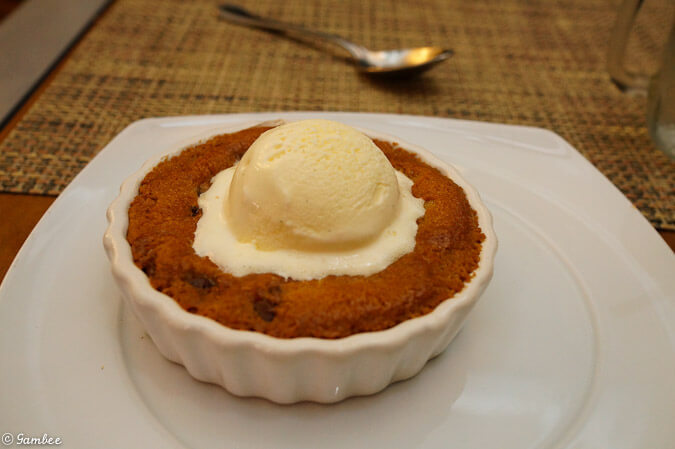 Let is be said that Anne squeezed out of me much more than I usually leave for two of us 
.
Here is a short video of the Celebrity Silhouette Lawn Club Grill
We then left and walk around for a little while around the Celebrity Silhouette.
Celebrity Silhouette Art Studio.
We decided to go to the Celebrity Silhouette Karaoke that night and see if maybe it had gotten a little better.
The crowd that nigth was actually a little worse than the previous time.
and I got the blueberry drink again. please note this are weak drinks.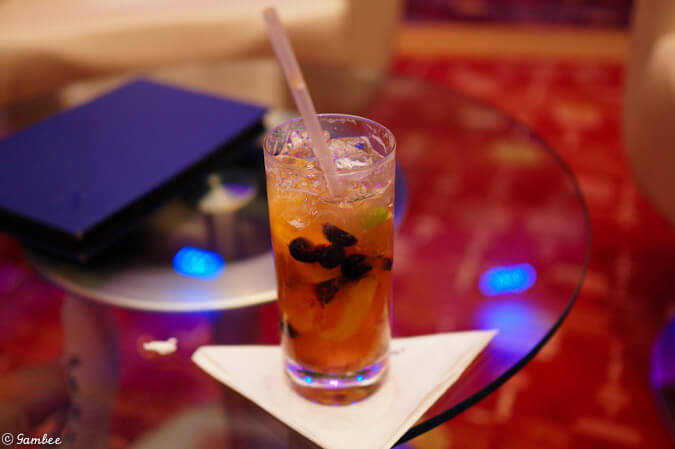 Mom ordered pair of roses.
After the Celebrity Silhouette Karaoke we decided to head to the room and call it a night, it had been a very long day and we were beat. We had a great time in Grand Cayman, I got to hold a turtle how cool is that?!?!?! But the funny thing is that the Best port of this trip had yet to come, how much better could it get? Well my friends, it can get much better 
I took this picture just before heading to bed
We had hope for better weather for Jamaica. Gambee had big plans for Jamaica!
Day 4, Finished!
More on the Celebrity Silhouette on the next page,