Day 5
Chapter 17 focuses one Hilton Rose Hall Jamaica.
Well lets go straight to the point, for those of you who are not aware by now this is not Gambee's favorite port. Why? Well I am gay and visiting possibly the most homophobic country on the western hemisphere is not top on my list. On my past review I stated how much I disliked Falmouth and I would possibly not visit that port ever again. Well with given circumstances I happened to be heading back to Falmouth once again.
Initially our plans were to chill by the pool in the ship and maybe get off to get some pictures of the RCCL complex and see how it had changed since our past visit in November.
I gave this a lot of thought and eventually had a change of mind. I understand that there is a lot of hatred against homosexuals there, and as a visiting tourist there is little I can do about it other than not going. I will not be part of the problem and help create more hatred against a group of people simply because they hate me. If they want to hate me, thats fine, but I will not hate you for such given reason. Now is something was done towards me then I am sure that would not be my point of view, but until then I will stay neutral and enjoy my vacations 
.
Once I had stablished that I was ok with doing something in Jamaica in a safe manner for myself, I started looking for possibilities. Initially I had my eyes set on the catamaran trip, but it just seemed a little bit over priced for what you got. It was also a very good thing I decided not to do it, because the weather that day was not the best and they most likely cancelled that shore excursion that day. I also looked into other possibilities, I am not entirely sure where the idea came from but then I set eyes on the Hilton Rose Hall Jamaica Rose Hall Jamaica. Once I had my eyes set on it the rest is history, I had to go there!
I decided to book the tour with Jamaica for a day, I believe that is the only company that does the tour. Please remember that all this was done two days prior leaving on our cruise, we were on a very tight schedule and a lot of shore excursions were sold out. I will not go into details of what happened during the process of making the reservation, as it is not relevant to the review. But I will however say one thing, this company is top notch, the very best customer service I have ever had. They bended over backwards for me that day to make this wonderful day possible for my mom and I. I would like to thank Stuart for all your help day, very nice fellow 
. As you all know I am special case and I just wanted to take care of a few details prior venturing into Jamaica. Talking to him helped me ease out a bit and go into vacation mode.
So all that said, I am very happy that I changed my mind and decided to be more open minded about situations like this. Not everyone has to accept who I am and I respect that, but as long as I respect their local laws there should be no reason why I should not be able to enjoy myself everywhere I go. Granted it is not an ideal situation, if my bf would of been there with us, most likely he would had to stay onboard and avoid another issue like last time.
Ok enough of that lets get started with Jamaica.
We woke up early in the morning around 6:30 to see the ship pull into port, I grabed my camera and took some pictures.
The weather had a bit of hope on it and we were praying that the sun would come out at least for a few minutes.
Soon enough I got a closeup, but it wasn't them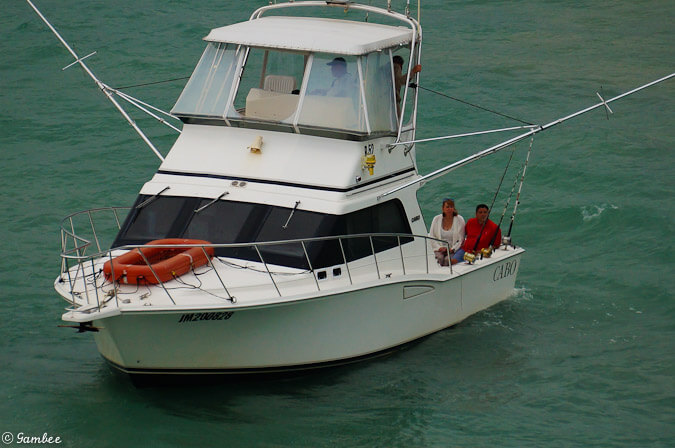 Ok my fellow followers, that day I made a decision that I thought I would never do. I decided to leave my main camera and my iphone on ship and to only take the underwater camera and a few bucks in this underwater pouch we bought. (by the way bad product, it broke before I even got to use it, we got it exchanged).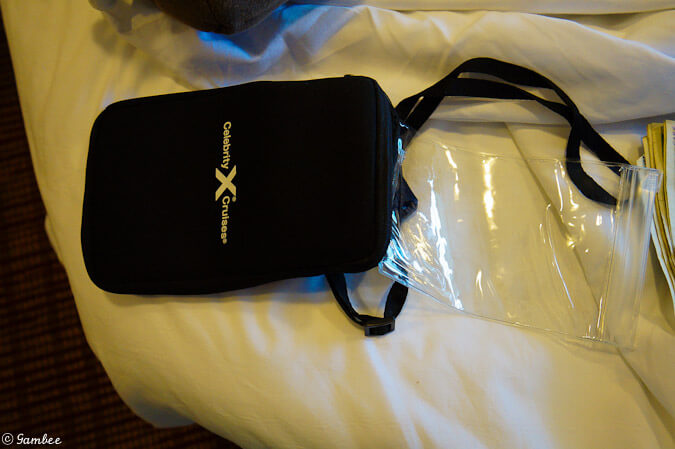 So why did I make that decision? Well, a few reasons really… The first was that the weather was not looking at its best and I did not felt like protecting so much equipment against it. The other reason was because I really did not feel like looking for the locker section on the Hilton Rose Hall Jamaica Rose Hall Jamaica and maybe having the bad luck that they ran out of lockers (limited amount of lockers). So with my heart a little sore, I packed all my equipment into the lower drawer and we headed our way to the buffet for breakfast with just my tiny cam.
Please note the Pictures from now on (until I saw otherwise) are taken with a Sony TX20 underwater camera. All pictures have post editing do to them, mainly boosting color and sharpening them.
Here folks is the infamous bathroom that my mom was locked in the night before.
And here is my breakfast from that morning
Once we were done eating we got our stuff (which wasn't much) and decided to go downstairs to our meeting location. This is probably a good time to talk about the elevators in the Silhouette, we rarely encountered a problem getting an elevator. The software is pretty fast and they stop frequently. The only issue is that sometimes your stop gets bypassed, at first I thought I failed to press the floor button. But one day I actually saw it deactivate itself and miss our stop. It only happened a few times, maybe one time each day. But overall the elevators on the Sily are pretty good. I did however feel bad for people in the aft cabins as they have to walk a lot to get to the nearest elevator.
Once downstairs I took some pictures.
For some really good pictures of the art work go to my Allure review. By the way someone asked me last time about the price of the shark, but I failed to ask back then. This time around I asked, he asked $45 for the one on the right, but when we were leaving he said $40. I imagine if you wait until the end of the day maybe $35?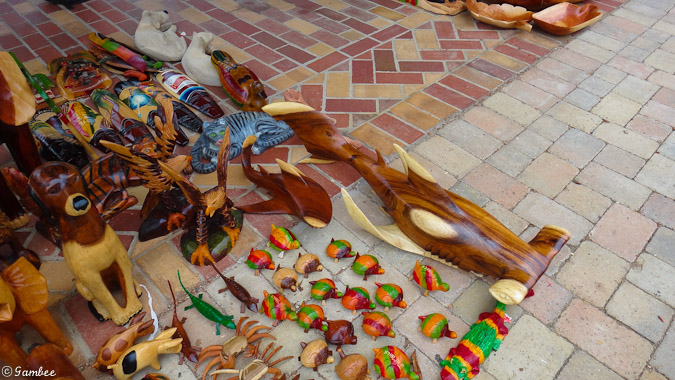 And walking towards the shore excursion area, where the Hilton Rose Hall Jamaica bus is supposed to be.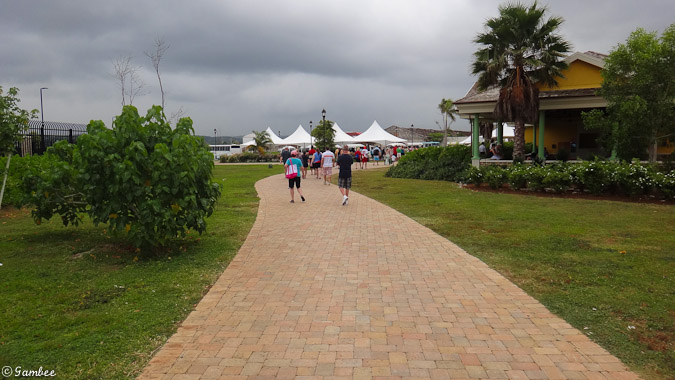 That area was a little disorganized, but thankfully the jamaicaforaday attendant was right there with a sign and directed us to right place.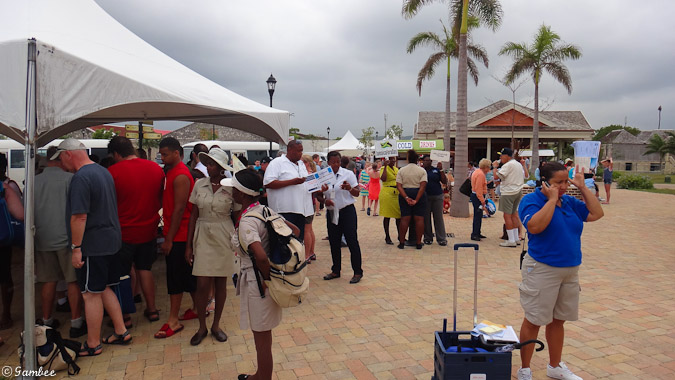 This was the bus
The AC was nice and cold
There was a little confusion about the times, on the paper it said eastern time, but really it was supposed to be Jamaica time. So a few people in the bus were a little frustrated as they waited there for over an hour. I knew otherwise as I had spoken with Stuart and I verified the times with him. I already reported the mistake to them, I assume they took care of it already.
And we were on our way, since I had no iphone to take notes I simply took a pic of my watch. I know I can look at the metadata, but figured I probably forget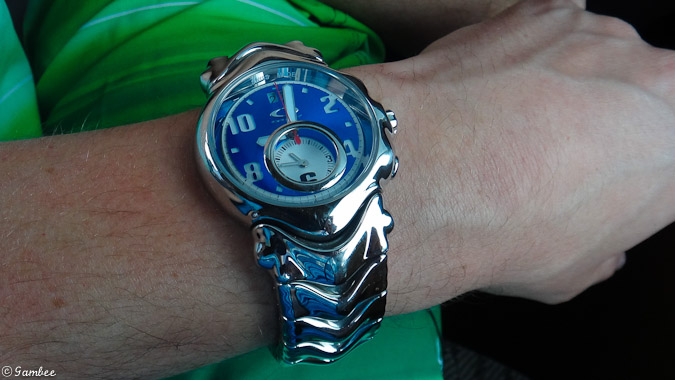 This short trip to the hotel only clarified my current thought on Jamaica, it is an extremely poor country. Something that stuck from that experience was that there a extreme amount of houses that are left unfinished. This is not uncommon for us coming from Colombia, however the amount of unfinished structures is just crazy…
The driver while very nice, was extremely hard to understand a word he was saying. We still tipped a few bucks both ways, he tried to tell us a little history on the way and such.
And here you have it the Hilton Rose Hall Jamaica under perfect weather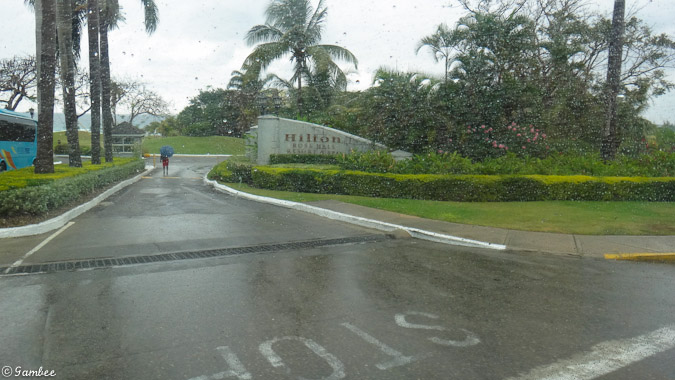 The Hilton Rose Hall Jamaica is kept nice and clean. The driver told us the meeting time, there is only one meeting time, so you have to stay there until set time. Trust me, you will want to stay longer.
The first thing you do is get off the bus and go through the door and the wrist band counter will be to your left. It is actually the same counter as the Hilton Rose Hall Jamaica Honors club.
Hilton Rose Hall Jamaica
Hilton Rose Hall Jamaica Lobby
Hilton Rose Hall Jamaica main Pool bar.
Hilton Rose Hall Jamaica main pool.
Hilton Rose Hall Jamaica tables next to bar to enjoy a bite.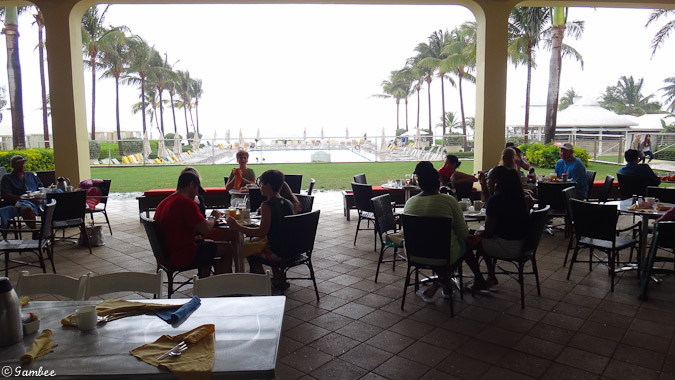 The weather at the Hilton Rose Hall Jamaica was not cooperating that day.
Hilton Rose Hall Jamaica Seaside Grill
Hilton Rose Hall Jamaica rooms in the main building.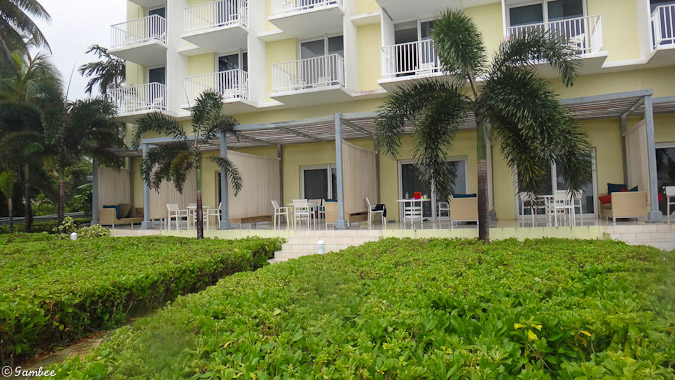 The weather was just miserable, we decided to look for a couple of lounges to set our cloths and hope they would stay dry. Then look for the hot tubs and hope that at least it stopped raining…
The towels were hot and toasty, perfect for day. Unlimited towels just like X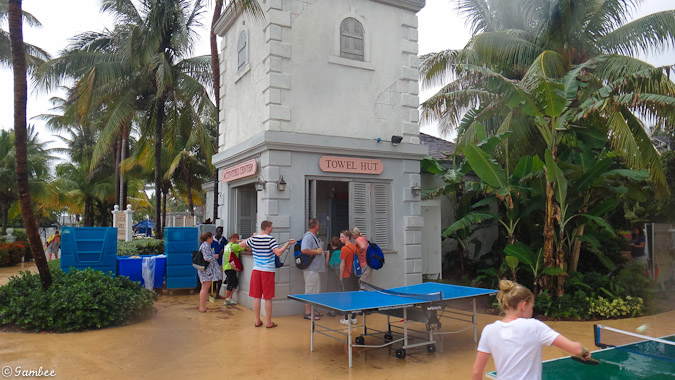 More on the Hilton Rose Hall Jamaica on the next page,