Continuing with my Hilton Rose Hall Jamaica Review.
Obviously a deserted beach, it would get a little more action later on.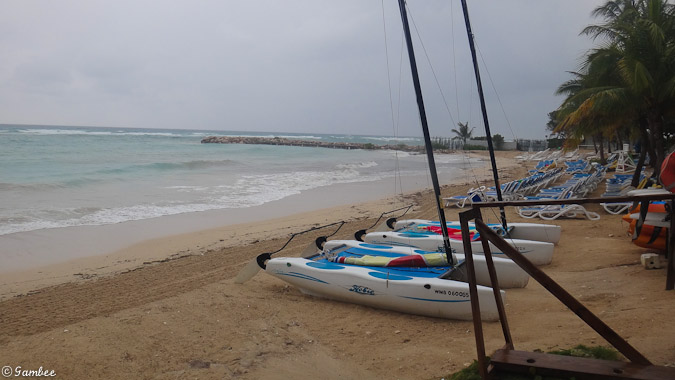 There are several activities in the Hilton Rose Hall Jamaica for all ages.
Entrance to the outside restrooms in the Hilton Rose Hall Jamaica.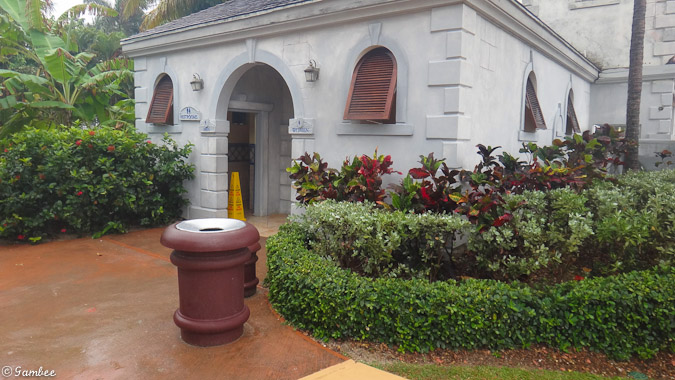 That is the sports pool and the entrance to the lazy river of the Hilton Rose Hall Jamaica.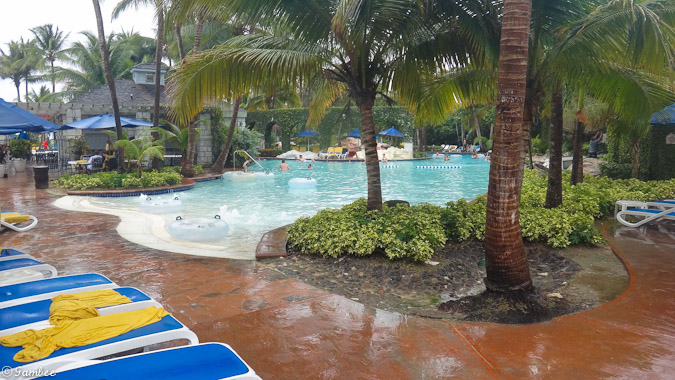 We had a hard time finding an umbrella that was not occupied.
Rose Hall in Jamaica view from the lazy river into the Jacuzzi.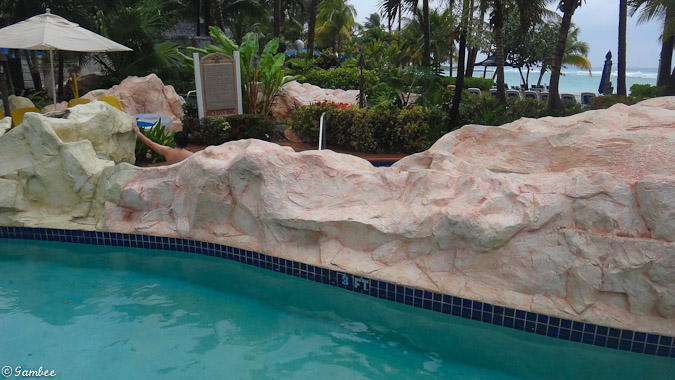 We eventually found an unoccupied umbrella the problem was that it was broken, I improvised a little and managed to get it working for us.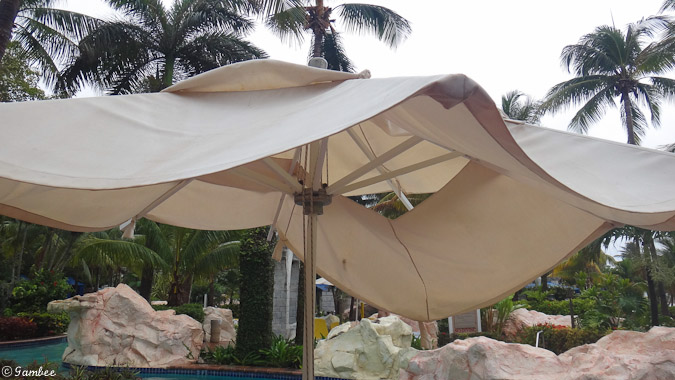 There were several other broken umbrellas in the Hilton Rose Hall Jamaica, I am not sure that would be a normal standard in the a US Hilton. But then again hotels in the Caribbean have their own more relaxed standards. And if that umbrella wasn't broken I doubt it that we would had been able to find a free umbrella.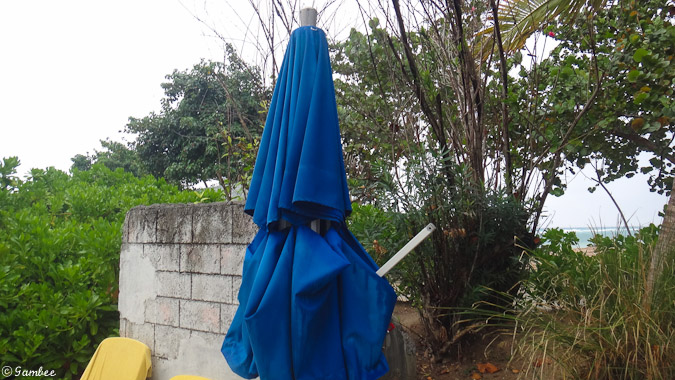 Then we went on the look for the hot tubs and try to warm up a little.
There are two hot tub and both very very hot, we were not expecting that. On one of them you could barely stay inside for over a few minutes.
Short video of the Jacuzzi and lazy river.
The cooler hot tub became a chilling spot for the kids.
Wrist band that they give you in the Hilton Rose Hall Jamaica.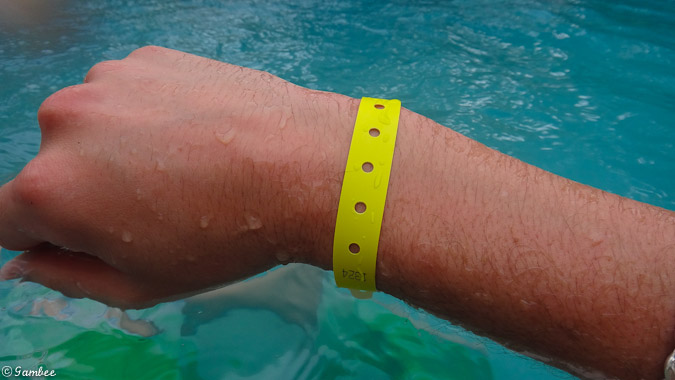 The view of our spot from the hot tub and my improvised umbrella.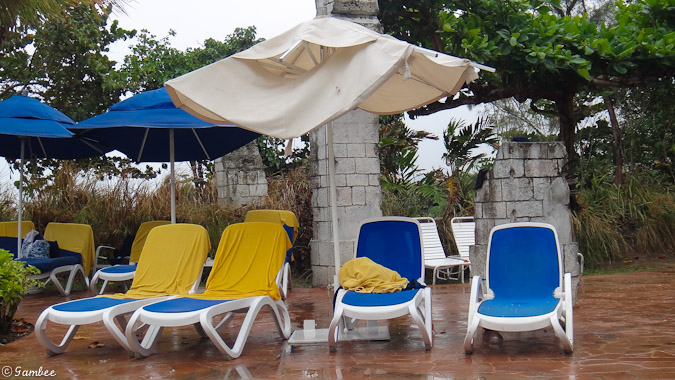 The jets were broken on the Jacuzzis at the Hilton Rose Hall Jamaica,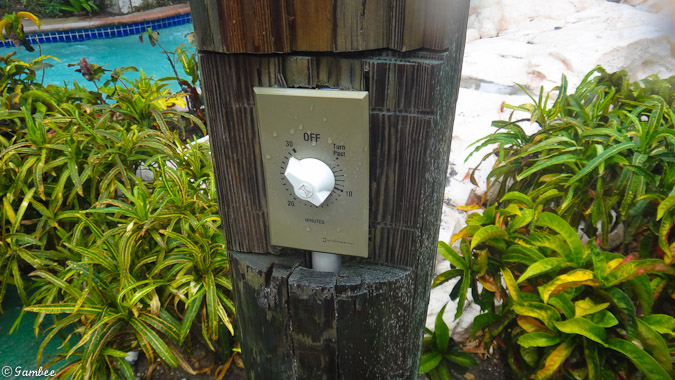 Hilton Rose Hall Jamaica Lazy river
We stayed in the tub for sometime, but soon enough we were both intrigued about the area and decided to go on the Hilton Rose Hall Jamaica lazy river for a little while. Yes it was still raining.
The lazy river goes around the hot tubs so you can stay there and get out and go in the river very easily, I did that several times in the day to heat up. The river takes about 4 minutes to complete, it is not a very long one, but you can stay there as long as you like and go around and around, I did that as well.
After a few laps around the lazy river we went for a frozen drink, pina Colada and to check out the beach are.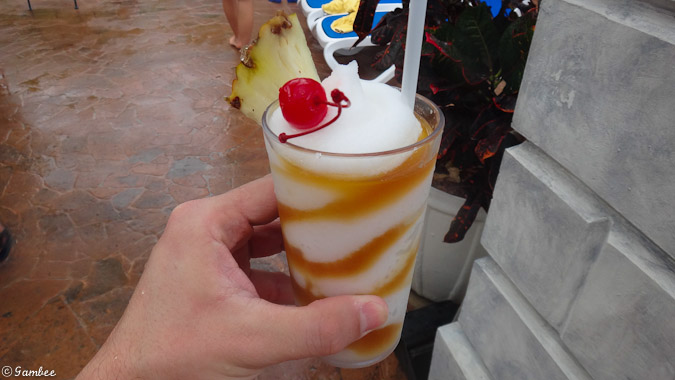 Hilton Rose Hall Jamaica Beach.
After lounging on the beach for a little, we went for a little walk towards the Hilton Rose Hall Jamaica pier.
Soon enough we were feeling a little hungry so we decide to head to waterfront dinning.
Hilton Rose Hall Jamaica hours and whats included.
Hilton Rose Hall Jamaica Menu
The coke there was nasty… I believe that the islands use their own sugar and water, and that is what affects the taste of the coke. I found the same issue in Grenada some years back. I also ordered a pina Colada and the server asks me if I want it virgin? Virgin? what the hell is virgin? =), No virgins for Gambee!!! HIT ME! bartender!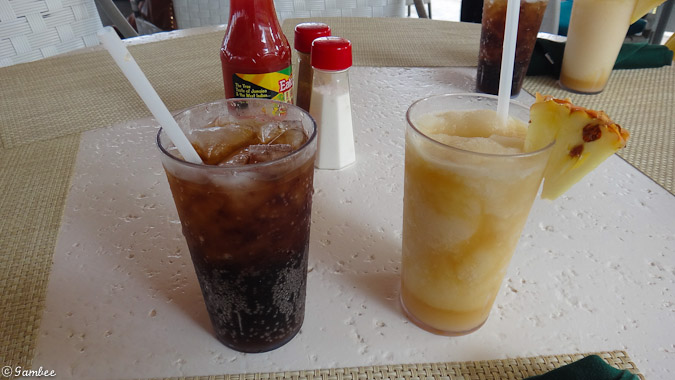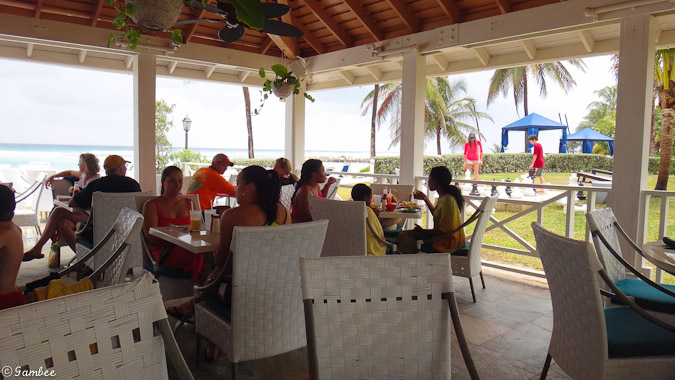 I ordered the fish and chips, it was good but nothing special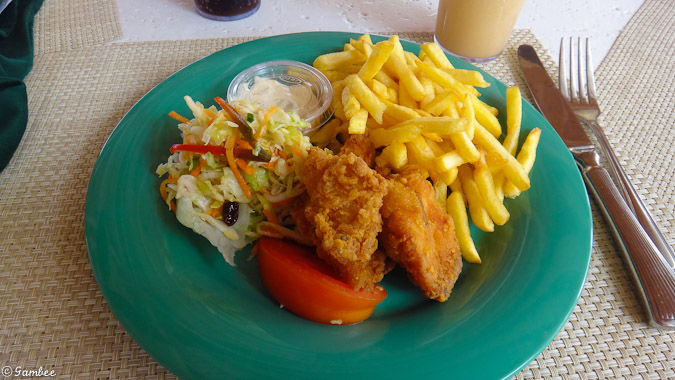 Mom ordered the shrimp flitters.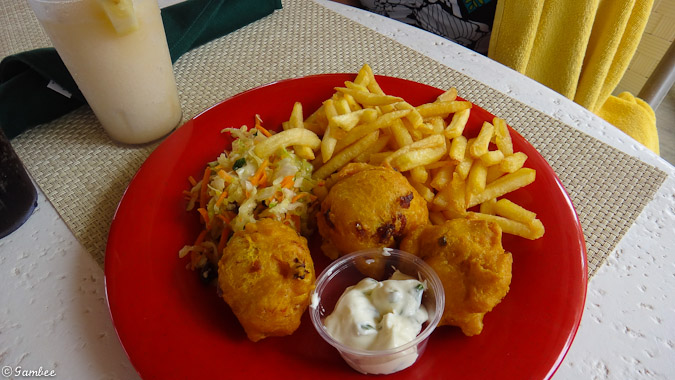 And a jerk chicken, please forgive me here, but this is the first time ever I try jerk chicken. How is Gambee supposed to know it is spicy =), I know pretty dumb. Anyway the chicken was supposed to be for mom, and she wont eat anything spicy. So mom ended up eating my food, and I ate her food. I am not crazy about spicy food, but I did eat some of the chicken. I really did not wanted it to go to waste, the server had warned us that we were ordering too much food, and I guess she was right in a way.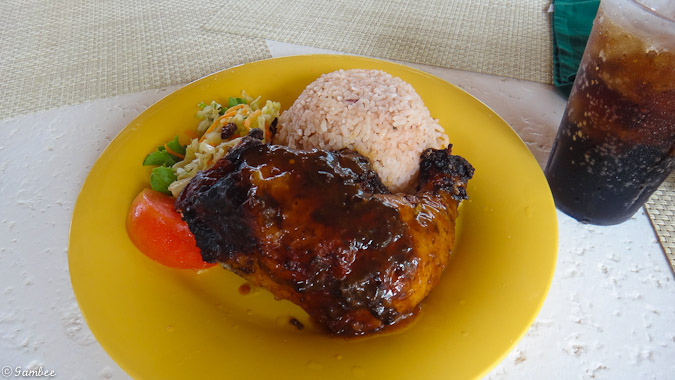 Let me tell you something about this fritters, they had ZERO! shrimp in them, but oh my my my they were !!!!AMAZING!!!! I ate them all 
and I am proud of it! Seriously though they were really good.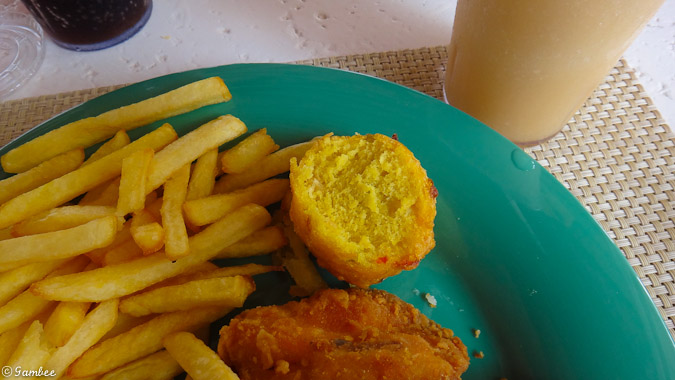 Short video walking back from lunch.
They have two slides, the ones that uses tubes (there we go tubes, now I remember 
) and the other one which uses no tubes and is split in 3 slides. I got videos of both slides.
The Hilton Rose Hall Jamaica slide with the tube is amazing, I must of ridden it about 10 times 
Please watch this video, I am very proud of how it came out. 
And here is the other slide, honestly it is pretty crappy… not the video, the slide itself.
See the sun? =), yes it is possible to get some sun in the Caribbean 😉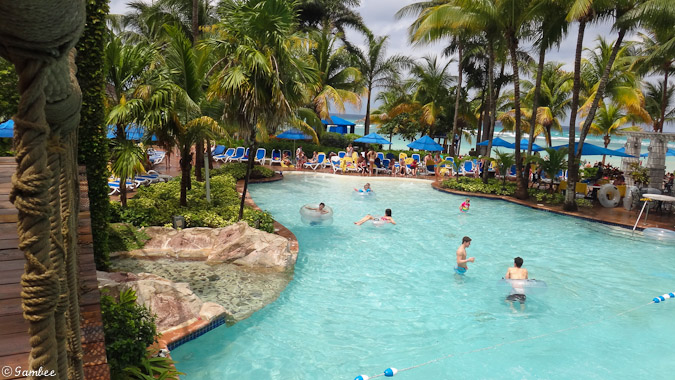 Hilton Rose Hall Jamaica Sports pool
Hilton Rose Hall Jamaica basketball and tennis courts.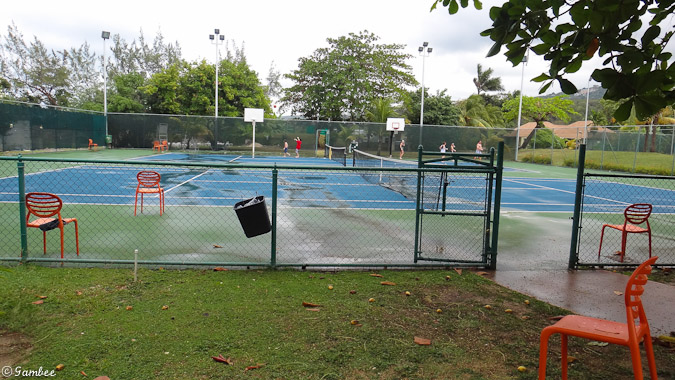 Hilton Rose Hall Jamaica Children's playground.
While the sun was out I must of ridden the main slide a bunch of times, I can't really recall how many. Every time I went there were only a few kids in line, virtually no line. The attendant was a little grumpy though, unless you were a hot chick he had zero intentions of socializing
.
After that I decided to hit the lazy river for a few rounds.
The Hilton Rose Hall Jamaica pool bar.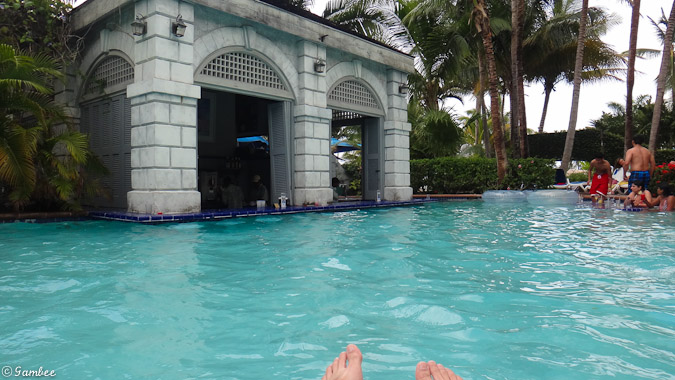 With the sun deciding to show his face, mom wanted to go to the beach area. So we took all our stuff and quickly found a great place was my mom could be sheltered from the sun. How ironic is that, we wait for the sun and then my mom hides from it, lol. But in all fairness, skin cancer is no a thing to be messed with and it seems to be hereditary :-/
They had a little jerk chicken cart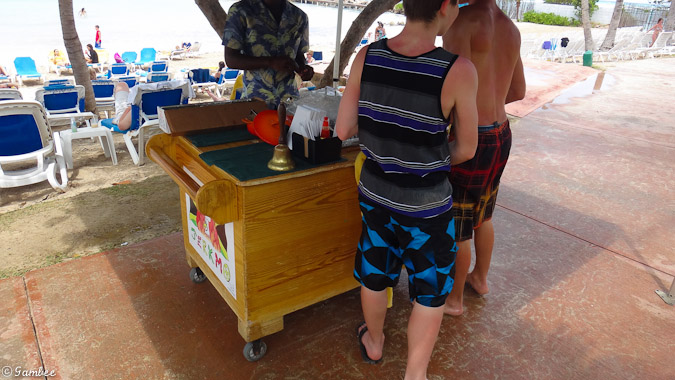 The water was really warm.
Here is a short video of the beach area
I was in the water for about 5 minutes and then something rubbed on my leg, I could not tell what it was as the water was very murky. I could of been a fish or even algae, but being the scary cat that I am with the ocean…. well I will let this picture interpret how I got out of the water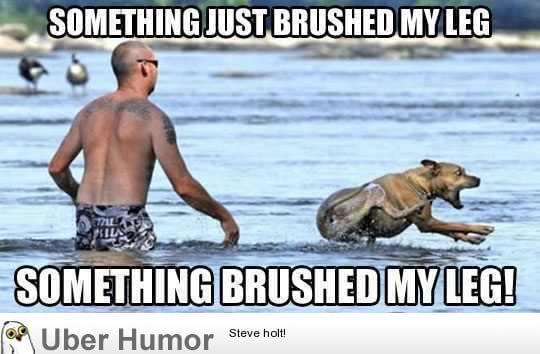 \
Yeah.. that was me getting out!
After I had calmed down from my near death experience I found a nice place to sit and expose my skin to some cancerous sun rays 
Then my mom spotted me and she came to chill for a little while there.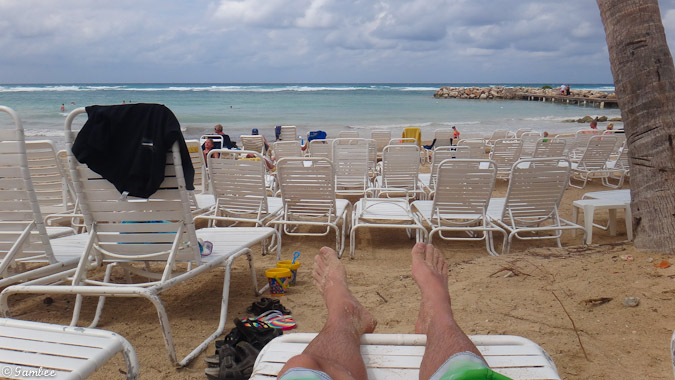 Soon enough it was time to head out, so we grabbed our stuff and started heading towards the bus.
While we were waiting outside a nice couple approached us, gosh I forgot both their name and screen name. I am so horrible with names and faces… Anyway they approached us and asked "by the way are you Gambee?" this my friends is the first time that anyone scopes gambee out. I was not wearing my signature hat that day, but I had discussed on the roll call thread that I wanted to visit the Hilton. Anyway they were super cool, we chatted for a few minutes and then the bus came to pic us up. Wait a minute wait a minute, her CC name was Mepsie 
 there we go, Gambee knows how to research, at least it makes up for the crappy memory 
Nice meeting you Mepsie, by the way we found our bag. They had just put it on the wrong place.
Well let me conclude the Hilton review. Lets see someone asked me if I would do it again? Possibly, but I get bored easily when repeating things and I like trying new things. So I might something different next time I go to Jamaica.
That said this place is great, we had a blast. I would recommend it to anyone that can afford it. The price is a little high in my opinion, but I guess if you go there and drink your moneys worth and use the water toys then it should even out.
The cost of this is supposed to be $95 I think, you prepay $30 for transport to Jamaica for a day and then when you get to the Hilton you pay another $65 per person. You can pay in cash or credit card. Everything is pay for including tips, ill be honest and say that I did not bring extra money to tip more. I did not feel like carrying around wet dollar bills, I did keep the cash dry for the bus driver. I think I gave him $5 each way, but I don't recall anyone else giving him anything.
The food was great, and so were the drinks, service was so so at best, nothing like the pampering of the cruise.
I am sure if the weather had cooperated I would of had much more fun, but overall I think this was the best port of our entire cruise. Granted the turtle touch and the Dolphin were fun, but the Hilton and the water slides brought that child out me and you tell me who does like feeling like a kid again?
Who knows I might even go there again, you just never know. Nothing is written in stone.
If you're on the fence about staying on the ship or doing something in Falmouth, I will tell you I done both and the Hilton Rose Hall Jamaica wins hands down.
Do it!
Hope you enjoyed my Hilton Rose Hall Jamaica Review
Click here for the next Chapter.