Day 6
We slept pretty good that night on the Celebrity Silhouette, the idea of leaving the door slightly open really helped me rock myself to sleep. As usual I woke up and turned on the TV to check on the stats for the day.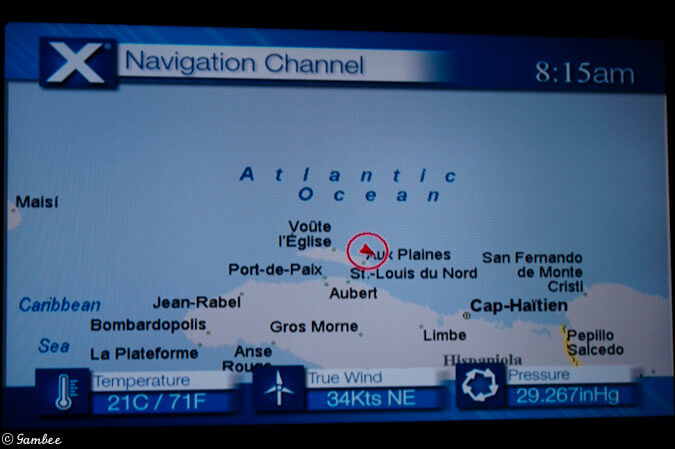 Well that's not good, strong winds and low temperature once again, so what is another day with bad weather… So I stepped outside with a little bit of hope that I might see a ray of sun somewhere in the distance.
It was simply going to be another blahh weather day, I could already tell. At that point I also realized how little we had used our balcony during this cruise. Mainly because of the amount of wind and all the salt that was continuously accumulated everywhere in the balcony. I found myself cleaning the railing a lot while I was using it. I am not sure if this is a problem with FWD cabins or it was due to the very bad weather that we had. In any case for some reason I think that the balconies towards the back of the Celebrity Silhouette should be more sheltered. From now on I will look into balconies towards the aft of the Celebrity Silhouette, I could be wrong with this theory, I simply going with my gut feeling.
The night before I decided to order breakfast from room service and hope that this time I got the time right. Soon enough they knocked on the door and breakfast was here,
So what can I say about this, well it was very good and followed X's food standard. Nothing like that nasty food that was delivered to me on day one. This was certainly good stuff, the problem you ask? Well they forgot all our bread and croissants, so mom had go without her bread. But let it be said that what got delivered was very good and much much better than in past cruises.
We tried to venture into the balcony to eat, but that was a no go, so we just ate in bed. They were playing "snow white and the Huntsman" on the movie channel so I just sat there and watched the beginning of the movie.
A few minutes later the captain came up in the speakers and said that our arrival was going to be delayed due to strong winds. This really did not affect us at all as I just knew that the weather was going to be crappy.
The funny thing however is that the spanish translator came up on the speaker and starts blabbering about how the captain will make an attempt to dock but that it was very likely that we would miss port. Let me clarify that the captain said nothing about missing port, he said that we were going to be delayed, and docking would be a delicate maneuver, nothing more. Puzzles me how the spanish translator made up that story out of that.
Then I went to the balcony and checked out the weather one more time,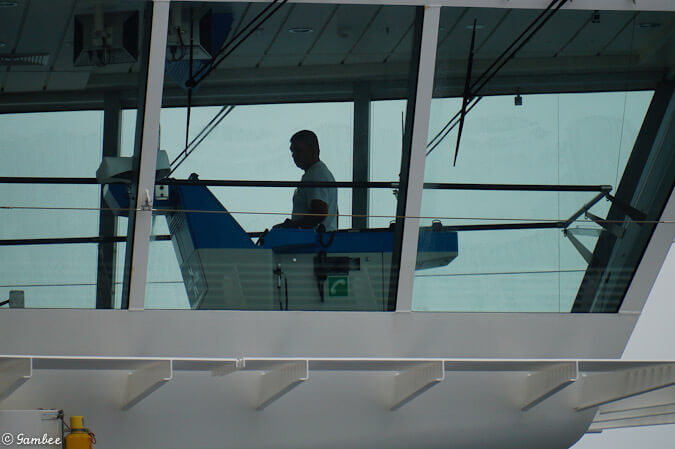 Soon enough you start seeing all these little rafts with fishermen. Something that impacted me is how far they go away from shore, not only that but in a cloudy day like this one you could barely see land and at times you could not even see it. Vey scary.
My neighbor was of course blabbering aloud of how stupid these people were and what would make them go all the way out there for nothing. Apparently she has zero knowledge that some very unfortunate people go to extreme measures just to survive, instead she accused them of being stupid, while in the meantime she yelled across the balconies to see where her friend were going to go for breakfast…. The irony….
anyway,
As I was snapping pictures, I almost had a heart attack. I was using the zoom lens to get the little boats when all of a sudden this stream of water comes flushing down like a waterfall into our balcony. I managed to cover the camera pretty fast, but I got drenched in water, luckily the water contact with the camera was minimal and I dried it quickly.
Please note that it was not raining,
So as the water stopped I go outside to look at what cause it and it was the attendant from above cleaning the balcony. He apologized profoundly as he heard my mom give me a warning yell, she saw everything come down. Honestly I was really not upset at all, I am sure that would not had been the case had my baby been damaged in any way. But I just told him no worries and moved on with my business.
But this is something that X should really look into, they should at least look into the balcony below you and notice to see if there is someone in the computer or camera outside. Just saying, nothing more.
Anyway back to the story, as we moved closer to the port, we saw this home made sailboat struggling to get out of the harbor. Eventually two boats had to pull them out to make sure they did not end up to close to the cruise. I think the two boats are either RCCL people of Haiti Police.
Here is a video of that sailboat.
I am almost certain this is new, last time we were here they had all the jets skies parked by the shoreline. Now they float them out early in the morning and then float them back to shore when the cruise leaves.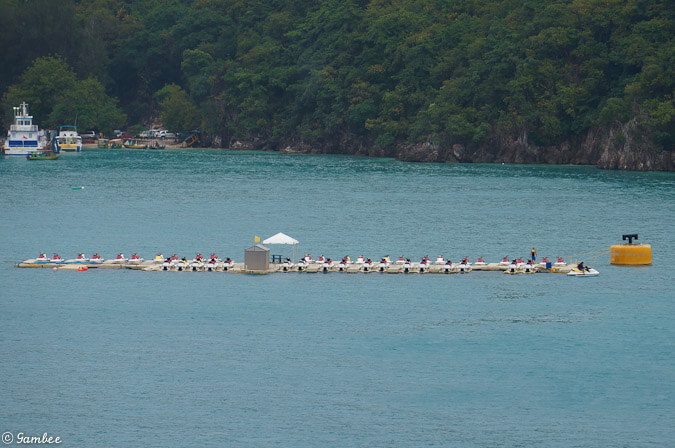 When we get ready to dock all the workers are getting ready to unload everything from the cruise.
I absolute LOVE this next set of pictures! Hope you all like them
After we docked and the first set of people ventured into Labadee, we were still deciding what to do. Mom suggested we got off early, but I was thinking otherwise. My thought was that the weather was really bad and it might improve later on in the day, or at the very least warm up a little. Then after a little we decided to head up for to the solarium and relax a little up there.
On our way out I saw our reservation reminder on the door.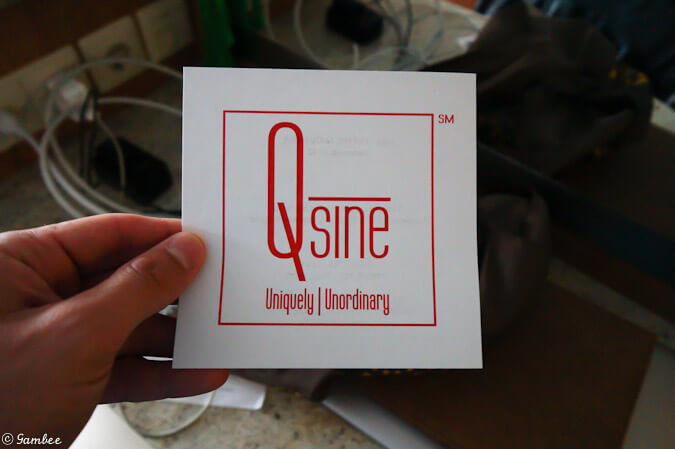 Celebrity Silhouette Solarium
And here is the video of the water movement in the pool.
And here is the underwater video
We stayed there for sometime, and I also recall getting some drinks in the process.
While we were in the bathtub another cruiser made me realize how little X pushes sales to their cruisers. I guess I had failed to notice that, but he was right, I had yet to feel pressured into buying something.
The internet was very quick that day, so I used my iphone to log in and check things quite often that day.
We must of stayed there for a couple of hours or until lunch time, because I have a lack of pictures between then and my lunch pictures.
My guess is that around noon we went to get some food.
Mom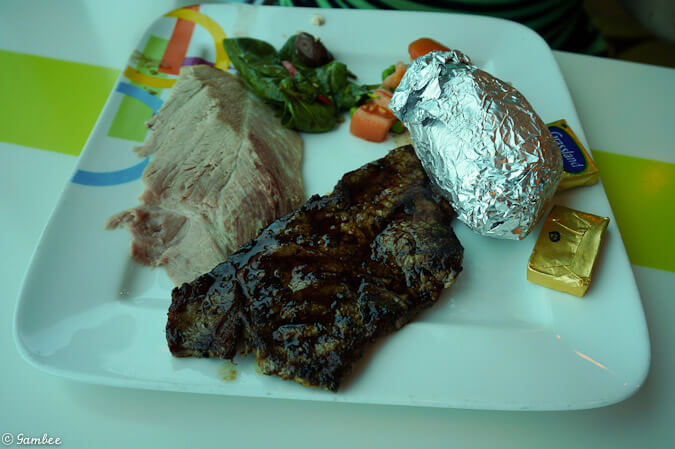 Mine
Here are a few pictures of the buffet area.
After lunch we went down to the room and got changed to venture into Labadee. We got lost for a second or two so I took some more pictures.
And that my friends is your window into Labadee. It was even windier down there, the weather was really bad.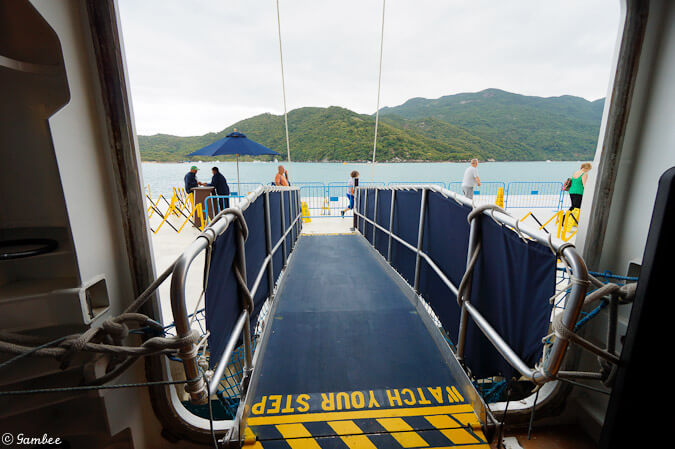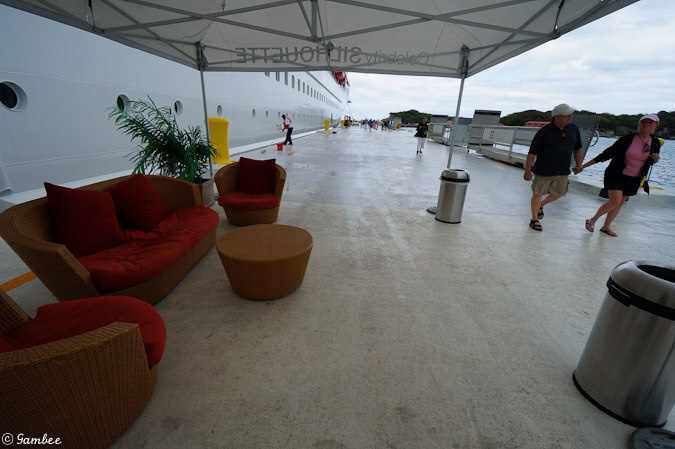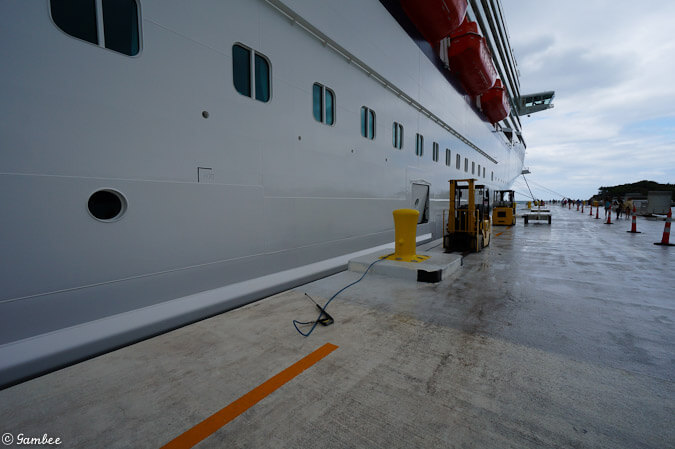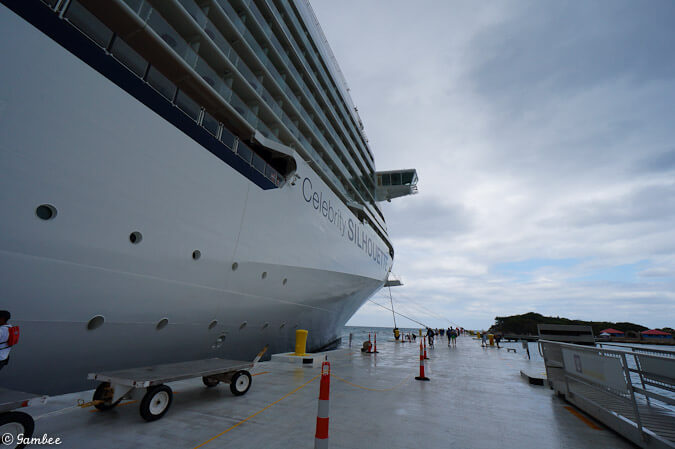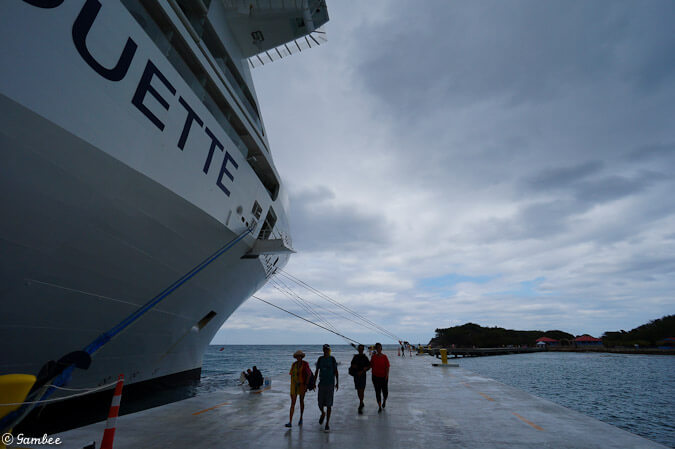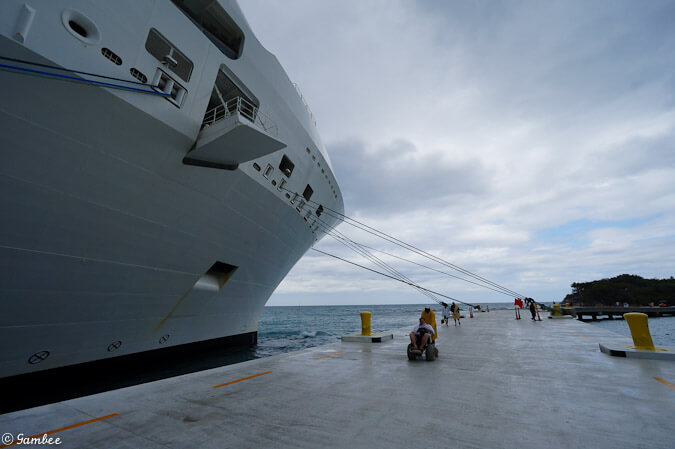 They had extra tight that day, I don't remember seeing those over my head with the Allure.