Chapter 8
After dessert and coffee on the Celebrity Silhouette, we went up to the room.
A few pics of the Celebrity Silhouette hideaway.
Mistake #4, while in the room waiting for mom to get changed I had a scotch. I never drink that, I believe that also helped into getting me sick. Also not to mention all the drinking from then on and the mixing of different liquors.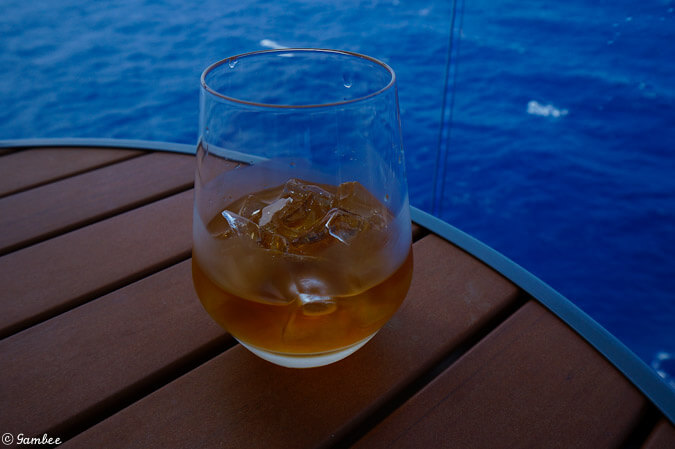 So back to the story, we stayed in the room for a little while mom wrote some emails I played with the Celebrity Silhouette TV system. Soon enough we got ready and decide to head down to the martini bar for some drinks. This was the first time that we really saw what the Celebrity Silhouette martini bar was all about, ENTERTAINMENT!!!!
I ordered a dry martini and mom ordered a banana split, the bartender was making another drink for another patron.
Mistake # ????? aboard the Celebrity Silhouette, I am not really sure what number we are in. But anyway, right about here is when I started feeling sick. It was not your usual sickness, I was feeling bloated and hot, very very hot. I ordered the Redbull to wake up a little, but that only made things worse.
We sat there and then the ladies next to us ordered the martini flights I think. Now this is something to see!
It was just INCREDIBLE!!! not only did not spill any but more so is the way they calculate the exact amount of liquid for each glass. VERY VERY IMPRESSIVE!!!
After watching the bartender doing his thing I decided to go to the room and get something for my stomach and see if I could get some relief. Right about now is when you could really notice the Celebrity Silhouette was rolling, it made waking very very hard. My mom would usually just hold on a rail, me on the other hand, well lets just say I was having a lot of fun going form side to side while trying to maintain all the liquid inside the martini 
.
So we got to our Celebrity Silhouette state room, I looked for some meds and took them. Right about then is when I my mom was asking me I was sea sick and I insisted it was nothing like that. I felt like my stomach was going to explode! Mind you I was not drinking that martini, it was just there for show I guess, I had drank that martini I can only imagine what would off happened.
We then decided to hit the casino for a few minutes before heading to the Celebrity Silhouette Tuscan Grill for dinner.
After a few minutes I managed to turn our $30 into this at the Celebrity Silhouette Casino.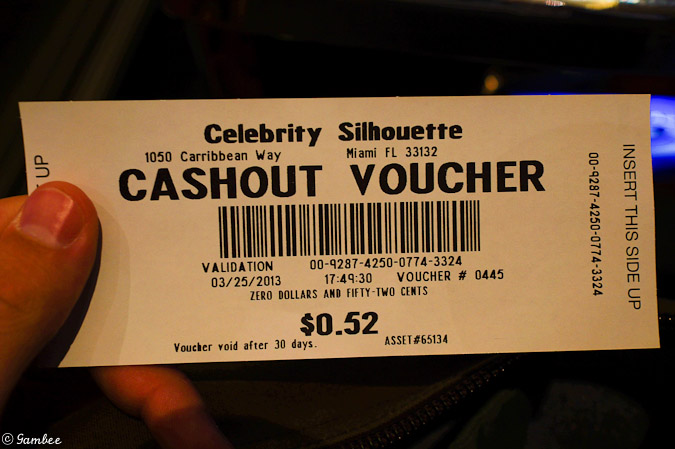 And here my friends is the thief, I tried reporting him, but no one would hear me out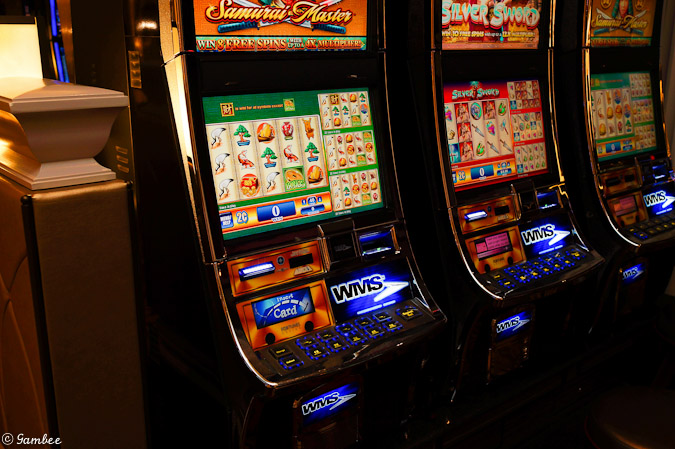 We stepped outside to the Celebrity Silhouette promenade for a few minutes to get some fresh air and see if maybe that would help me a little bit. I did indeed help me lower my body temperature a little, but the stomach feeling was still there, and it was going strong!
It was really nice and windy 
We relaxed out there for some time, it was really nice to get up and close with the weather. You feel a connection with the sea that is very hard to explain. It was just lovely.
Soon enough we had reservations for the Celebrity Silhouette Tuscan Grill and we decided to head that way.
Walking through the Celebrity Silhouette ensemble lounge is very nice, the room is very warm and sometimes they have some great entertainment there. Great singers.
Then we got to the restaurant, I think this is possibly the best located restaurant aboard Silhouette, not only that, but the tables are nicely spread, and you never feel like you're dinning with the table next you. The venue itself is very very nice.
Celebrity Silhouette Tuscan Grill
We asked for a table by a window, and they gave an AMAZING table, I was really happy about that.
Ok please note that reviewing the Tuscan Grill is a bit complicated for me since I wasn't, feeling so great at all. But that said the service at the Celebrity Silhouette Tuscan grill was very personal, and everyone was very nice. However it was very slow and slightly flawed, I will explain as I go on.
By the time we sat down the ship was really rocking, and what was even worse is that we could see the waves hitting the ship from our table. It was so neat.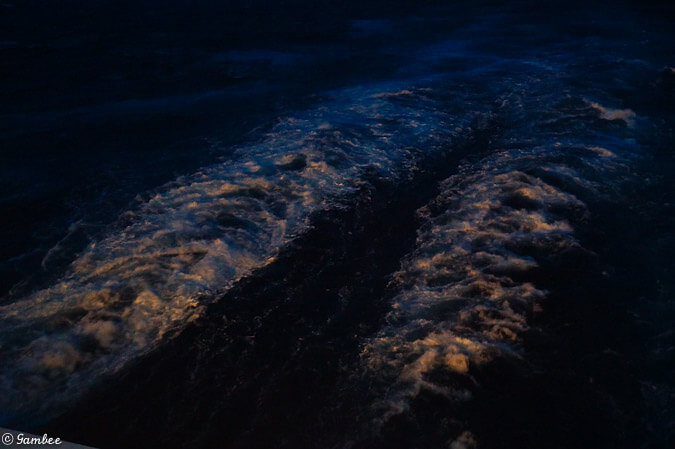 We sat down and as usual the server pulled the chair out for my mom and placed the napkin on her lap. The server introduced himself and offered us water, I ordered Pellegrino, possibly the worst decision I made that night. That was the last thing I needed for that bloating feeling. The drink server came around and we ordered a couple of drinks, I actually forgot what we ordered that night and I failed to get the pictures of the drinks.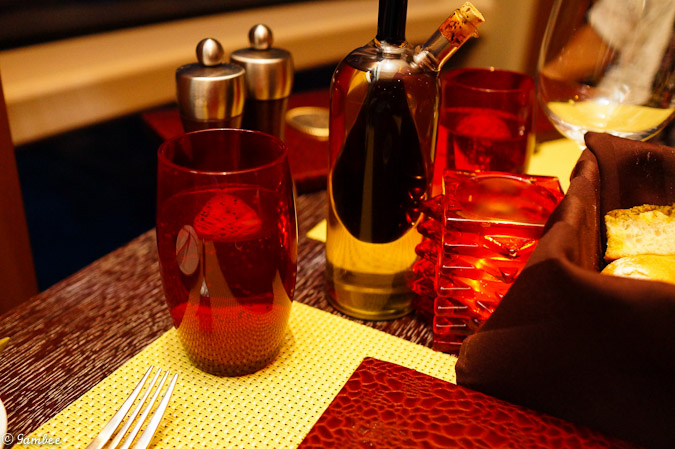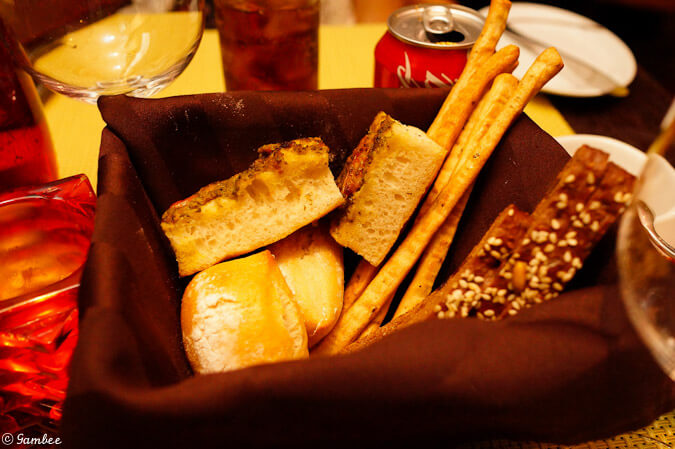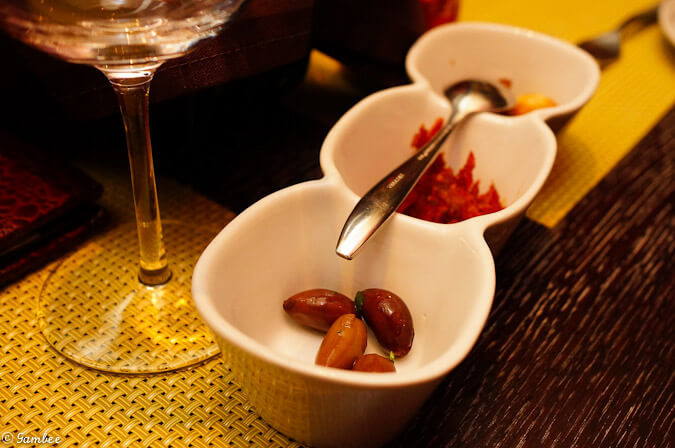 Then they come around with a cheese and meat selection for you to pick from and we each got a little plate. It was very tasty, yum yum
Note the silverware.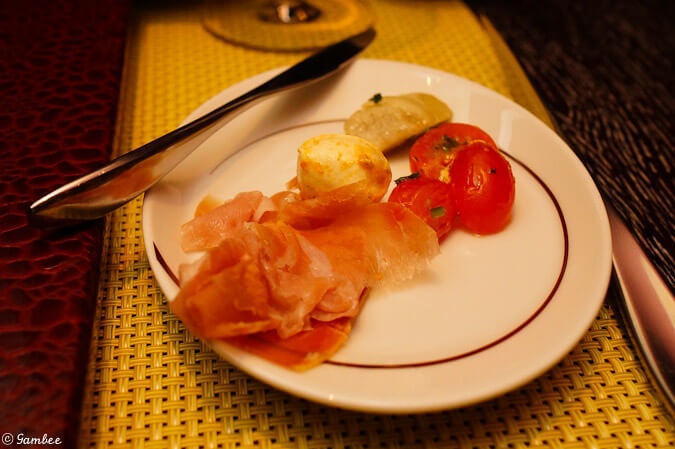 Please note that the time in between this dishes was around 25 minutes, oh by the way still no drinks.
My mom ordered the beef raviolis that the server recommended, I noticed she took one bite and then went back to the bread. She said they were pretty bad. She tried to explain that the beef inside was just not good at all. I think this is the first time ever that heard me say that my mom does not like something, she is very easy to please.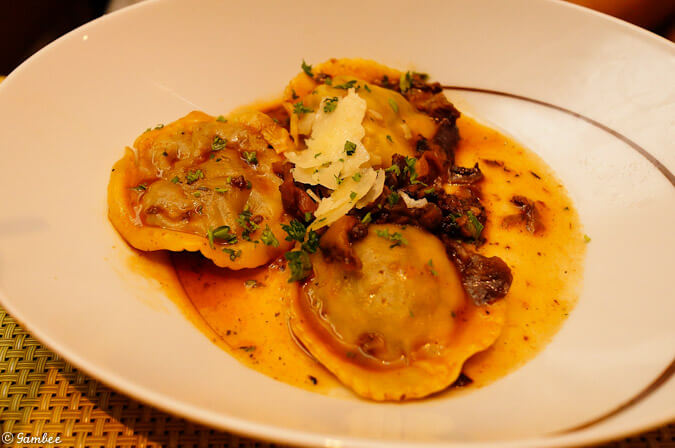 I had the beef capriccio, it was very nice, I enjoyed it very much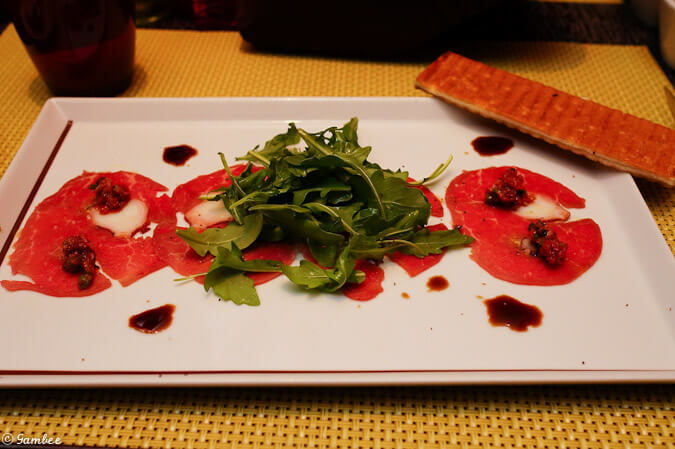 The drinks came out eventually I think it was at about 30-40 minutes after we ordered them, the server was extremely apologetic and he said he forgot (honest mistake, we all forget things), and the drinks were on the house. He was not aware we had the drink package, we thanked his, and he was on his way. You know on a normal occasion I would of asked for the drinks, but I was so sick that I knew that I was not going to drink it any way.
Some time after we were done our plates got cleaned and eventually they brought out the next course.
Mom ordered the minestrone I think, she said it was tasty!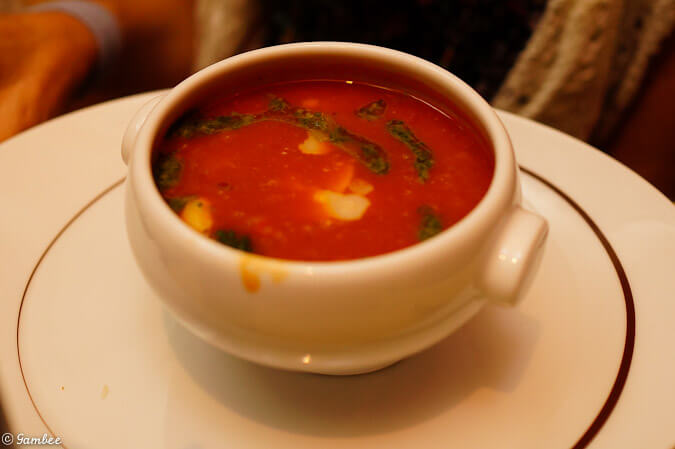 And I ordered the seafood salad, ti was very tasty and you could the bowl 
By then I was feeling like I was going to pass out, I told the server to really rush the next dish, and I gave the sea cards so that he could close the check and I could get out of there.
What surprised me was how long it took the food to come out even after I told him I was very sick. The metro d, passed around the table and I asked him, he then rushed and the food was there in seconds.
Mom ordered the risotto, it looked fantastic, but she said it was too salty. But please note that another person I spoke to later in the cruise said that it was the best risotto they ever had. I think my mom just ate on the wrong side. Because it looked amazing, I wish I had at least tried it…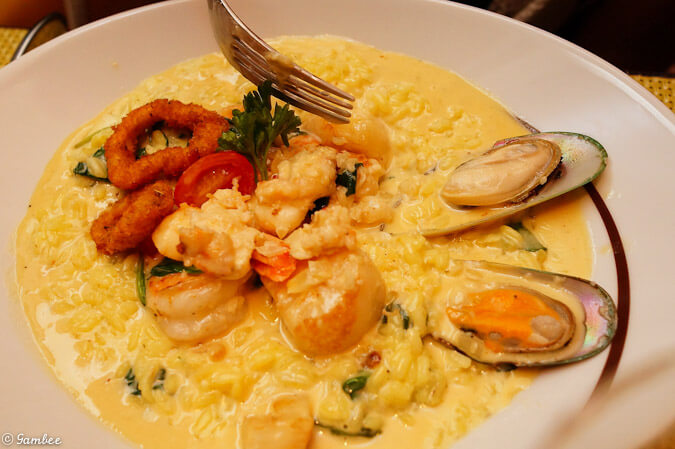 And I got the Seabass, how was it? Well I don't know. I think it was good, I took two bites and took off. You could see the tables near us were puzzled by our actions. I hope I did not interrupt anyone's dinner, it was not my purpose to be rude to anyone. I believe I bumped into one chair…
They had given us the dessert menu earlier, and they said that the dessert would be delivered to our room. I ordered two desserts on my way out and left, by the way the desserts never made it to our room that day.
How was the Celebrity Silhouette Tuscan Grill? Well as you can imagine it was just not my favorite. But it is not fair to judge that restaurant on one occasion that was just not the best for medical reasons. We loved how the restaurant is setup and even more the location of the restaurant. The food was good for the most part and service varies very easily. Please note that service was not all bad, it was just too slow for our taste. The servers, metro d and assistants were all fantastic and very nice. The one thing that I learned was that if I want to eat fast I should let the server know this ahead of time.
Will we try the Celebrity Silhouette Tuscan Grill in the future? Certainly, actually it is one of the two restaurants that I would go back to on the Silhouette. So that alone says something.
Walking back to the room, was horrible I though I was going to pass out. It was not a go to a restroom situation, it was more of a give me a bed and let this day be over already! kind of thing.
Once I got to the room I saw this little guy on my bed, which I moved promptly and went to bed.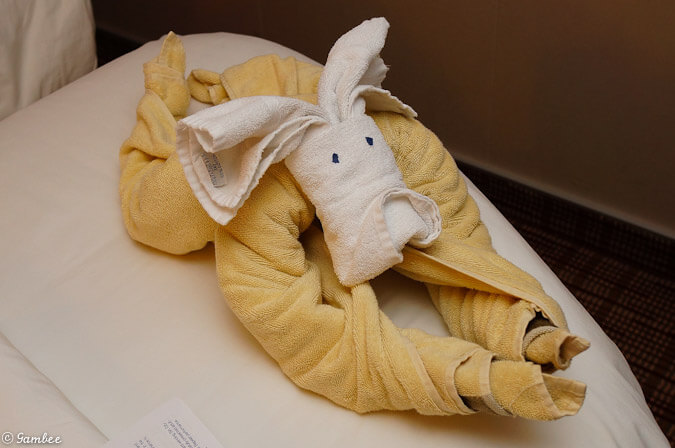 I took a pic from my bed to note the position of the ship, the wind speed had picked up a little.
That night I slept better than the night before, which was a good thing. The ship was also rocking and rolling constantly, getting really bad around 4am, at that moment I wondered if we would be able to call port the next day.
I forgot to add, we could not get an internet connection that night.
DAY 2, ENDS!
More on the Celebrity Silhouette on the next chapter,