Chapter 9
Day 3
Ok lets Cozumel, and the Dolphinaris Cozumel surprise for my mom. But in any case those of you who know me know that Cozumel is one of our favorite ports. Although I will go ahead and admit that during this voyage this was not our favorite port, it was a great port but not the best. Any guess on what port was my favorite? I bet you're all going to be surprised! lol.
Anyway back to the story, we woke up early and I was all healed up =). I adjusted my watch for the time change (please make a mental note of this), and I headed towards the balcony to look at the weather. Things were not looking very promising, I was actually very surprised we called port, considering the amount of movement the ship that night. But apparently it is not very common for ships to miss Cozumel as I found out later during our Voyage.
We were just then approaching the dock.
My neighbors were at full blast that morning, between the kids and the parents they were pretty much going all out. I decided to play some music in the balcony to see if maybe that got them to shut up and make them realize that they had other people around, but no go they really did not care about a thing.
I tried tried to connect to the internet, but it was still down, it had been sometime since my mom touched base with our family.
We sat there and took in the view, I always love pulling into port, specially Cozumel. But the weather was so bad and windy that it was just not as good as the previous time we visited Cozumel.
Soon enough we had docked, and people started venturing into Cozumel, it was so windy down there that people were loosing their hats and whatnot.
You can tell here by the ladies' hair.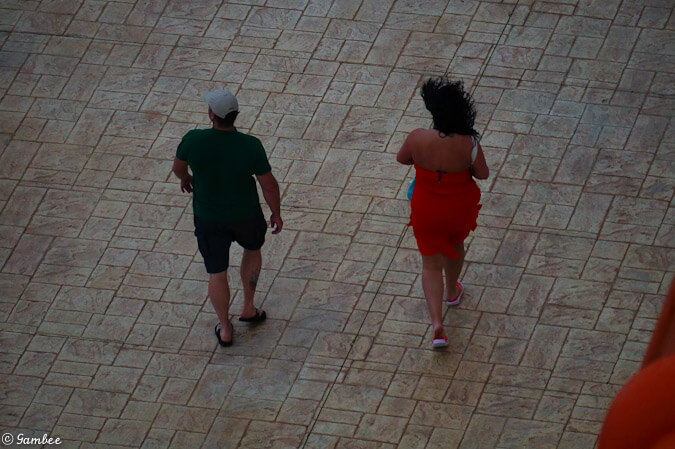 I noticed one of the 3 Carnival ships that was supposed to call port in Cozumel that day was pulling in. I could only imagine how the night before felt on that smaller vessel.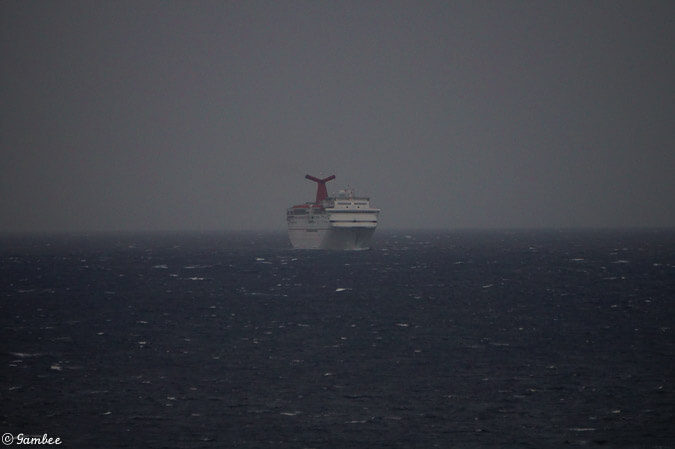 The plan for that day had always been to go to Paradise beach for a relaxing day at the beach, but I had something else in mind. It had always been one of my mom's dream to go see dolphins up and close to her, so a couple of days prior our cruise I booked a couple of dolphin encounters at the Dolphinaris Cozumel. So it was around then that I told my mom about it, she was very excited, but it was a shame that the weather was going to be so windy and cold.
As we sat there we noticed that the breakfast was late, my mom made a call and they checked in the system, she was told that they had no order in the system for our cabin and then they said bye and that was it. At no point she was offered an explanation or maybe offered some breakfast, I thought was a bit rude (please not that this was not entirely the ships fault, more on that later).
We then decided to get ready and head out to the buffet and get some breakfast before heading out to Dolphinaris Cozumel. It was kind of cold so I brought my hoodie along, and it was a good thing because the wind really brought the temperature down.
On the way there.
I got two different kind of eggs benedict, both very tasty!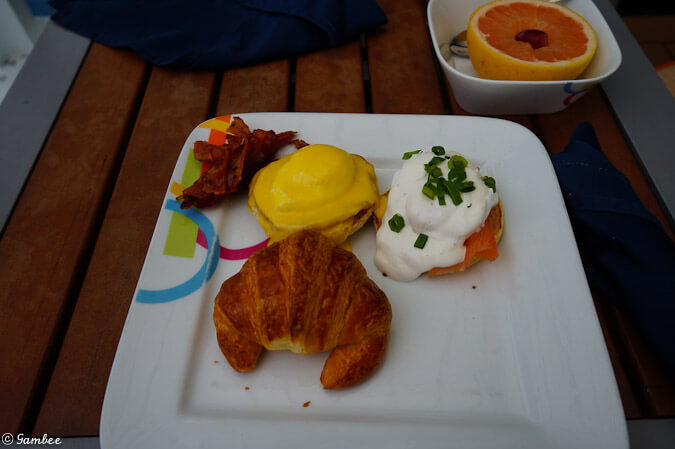 And this was mom's plate.
We were docked next to the carnival Legend, I love the lines of that class of ships.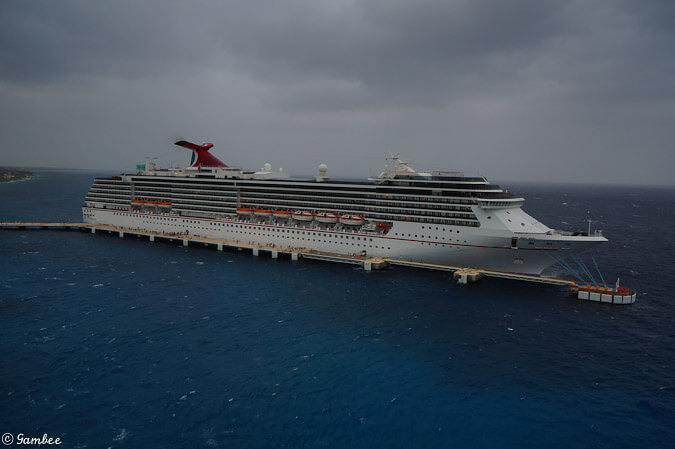 We sat at our favorite table and enjoyed the view, it was raining but our table was sheltered from it. It was a very nice place to sit down and enjoy some peace and quiet away from our stateroom neighbors.
Soon enough it was time to start heading out to Dolphinaris Cozumel so we grabbed our stuff and headed outside. I was beyond windy outside, mom struggled struggled to walk from the ship into the port area. I decided to put away my Nex camera to avoid getting her wet with the rain.
Now my friends is where Gambee messed up… We got there and headed to the front desk, I got my reservation paper and the lady looked at it. She then says, "ok, we are all good here, but sir you're 2 hours early"…. Yup you guessed it, I changed the time in the wrong way. So um yeah that room service breakfast we ordered the day before did indeed got to the room and on time ( I was told later on), and now we were 2 hours early for our encounter.
The lady in Dolphinaris Cozumel was very nice and told us if it was possible she could try to put us in the Carnival group that started their encounter in one hour. We agreed and decided to walk the grounds and take some pictures of the place. I also inquired about the beach they claimed to have and also about their snorkeling area. I was told that the snorkeling was closed due to the weather and she pointed me to the beach area.
This is the main restaurant area at Dolphinaris Cozumel.
Dolphinaris Cozumel
Overlooking the lagoons of the Dolphinaris Cozumel. The snorkeling area of the Dolphinaris Cozumel is all the way to the left by the mesh that divides the area from the ocean.
Dolphinaris Cozumel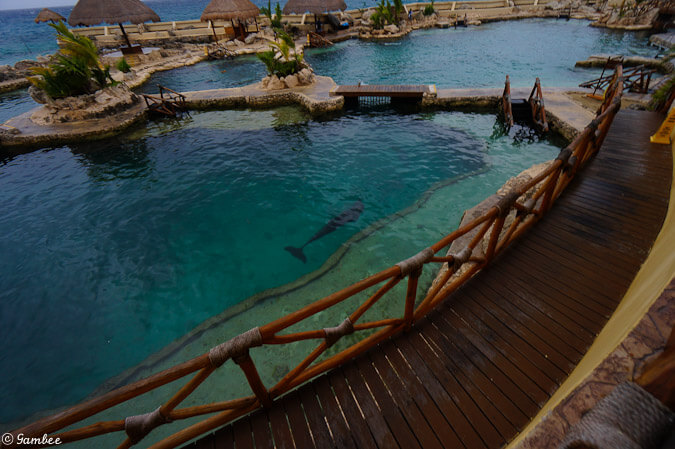 Dolphinaris Cozumel prices for lockers, towels and snorkel equipment.
We did rent one Dolphinaris Cozumel locker, mainly to keep my equipment protected. But it is not necessary to do so, you can easily use the storage under the huts by the dolphin area. Although I am not really sure how safe it is. There are a lot of people coming and going through there.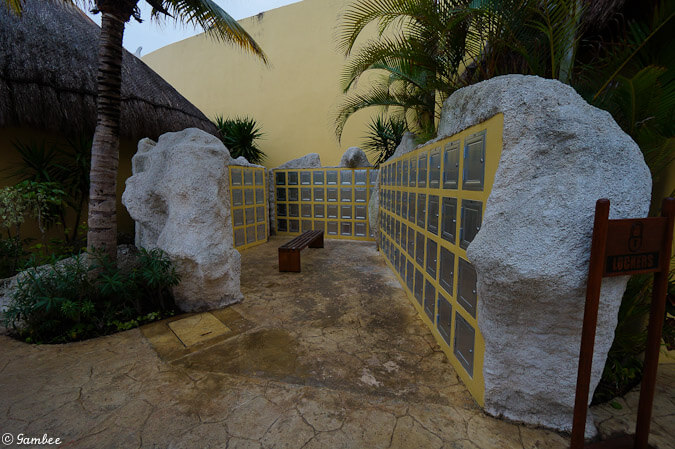 Dolphinaris Cozumel Lavatories.
And this ladies and gentleman is the glamorous beach of the Dolphinaris Cozumel! There is really no water access as that pool right there is the baby dolphin pool and you're not aloud in there. I guess it is more of a chilling place. Mind you if the weather was better I might of been a little frustrated because this was the reason I picked this place over chankanaab (for those curious about chanka, please visit my Allure review). So um yeah, no beach area. Lets call it a chilling place with view of baby dolphins 
So what do I think of the Dolphinaris Cozumel? Well it is a very clean complex, but at the same time very small. If you are looking for something to do other than the Dolphin swim I highly recommend doing Chanka instead. I also think that this one is more expensive, but I am not entirely sure. I purchased the tickets online and got a discount, I believe the total cost was $129 for two people. Please note that we did not do the swim, we only did the encounter. Why not the swim? well in all honesty I was afraid the dolphin would hurt my mom, they pull with extreme force, and I just wanted to be careful. Mom agreed with me in that aspect.
So then we went back to the Dolphinaris Cozumel restaurant area and soon enough the folks from the carnival ship arrived. So the nice lady called us up and told us that she managed to put us in a small group. We lined up with everyone else, (btw I heard somewhere that carnival customers can only book Dolphinaris Cozumel through the cruise line) anyway we lined up and waited. Then we went to rent the locker for 3 bucks (you have to leave your sea card) and headed down to the life vest area, were they fit you for one and then split into groups.
Then they send you down, and you leave everything in the little hut, by now we were freezing!!!! we had left all the towels there. There were 4 of us in our group, mom, and I and a mother with her daughter (wonderful people), the swim groups have a lot more people, maybe 10 per group. All the groups get the same amount of time in the water, but since we were just 4 we got to really spend a lot of time with the dolphin, actually much more than the swim groups. The swim groups rush to get everyone their swim meanwhile everyone else waits. In our grouped the lady went through the anatomy of the dolphin, explain a lot of stuff about their behavior, training examples and feed the dolphin among other things.
Ok my friends now please allow me to vent one more time. Dolphin encounters are a HORRIBLE HORRIBLE THING! There I said it, sorry, but it had to be said, I have refused to do dolphin encounters all my life and trust me living in Florida I had my fair share of opportunities. I just find it very sad for these poor animals, they work all day, and they are kept in this tinny pools where they spend their entire life. Other than me freezing that day in that cold water that day, the only thing in my mind is how horrible that has to be for that poor animal. I swore I looked in her eye and I could see her pain. So why did I play for it? simple, it was my mom's dream, nothing else needs to be said. Mom wants it, mom gets it.
I must sound like a hypocrite by now and trust me that is how I felt.
Also those dolphins are beat up, they have marks everywhere. The lady explained that they sometimes play too hard or get into fights and get these marks. My though was otherwise, I think that all the human contact might have to do something with it.
Ok enough of my rant, back to the story. So yeah the entire time there 2-3 photographers per group and all the do is focus on your pictures. You spend a total of 50-55 minutes in the water, by the time I got out I was like an Ice Cube. I would not recommend doing this in cold weather ever!!!
The mother of the little girl was also very cold and she hated touching the frozen fish to feed the dolphin. My mom on the other hand was not that cold, I am not sure why, because she is always cold. Maybe she was having fun and forgot about how cold it was.
The prices of these pics is exorbitant.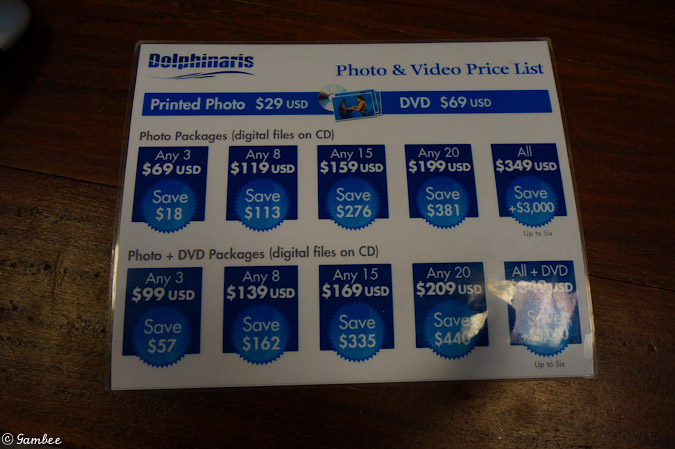 Hope you enjoyed my Dolphinaris Cozumel review 🙂