Welcome to my 2014 Celebrity Cruise Drinks webpage, with this page you should be able to decide what option fits you best for your upcoming cruise.
Here are also the prices for Celebrity drink packages, please keep in mind that they no longer offer the lower web prices. The only prices are the ones reflected on the onboard section. Celebrity drinks are moderately priced, and they follow the average for the industry. I did however notice that the prices for the molecular bar were a little higher than normal, but those drinks require so much work and exotic ingredients. By far my favorite bar was the martini bar, and the banana split was our favorite martini. It was just so great!
The cruise line also offers the Celebrity stateroom bar setup that you can order prior boarding the cruise. For some this is a better choice than the celebrity beverage package. More on this at the end of this page.
Celebrity drink packages prices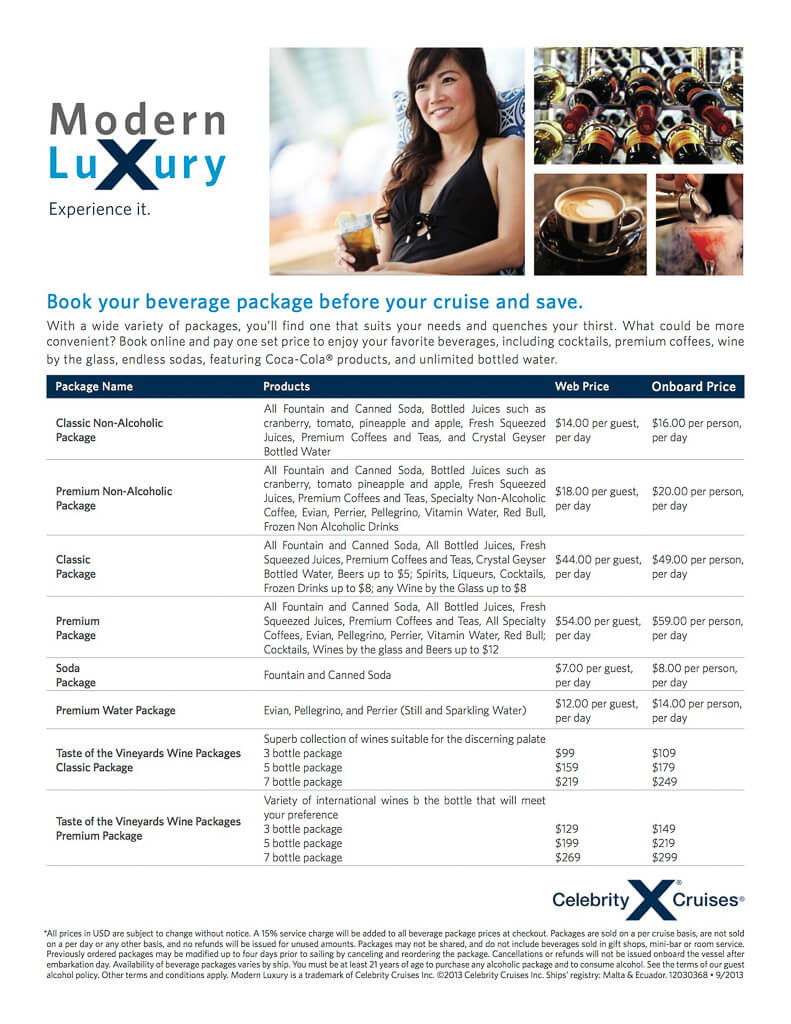 Celebrity Cruise Drinks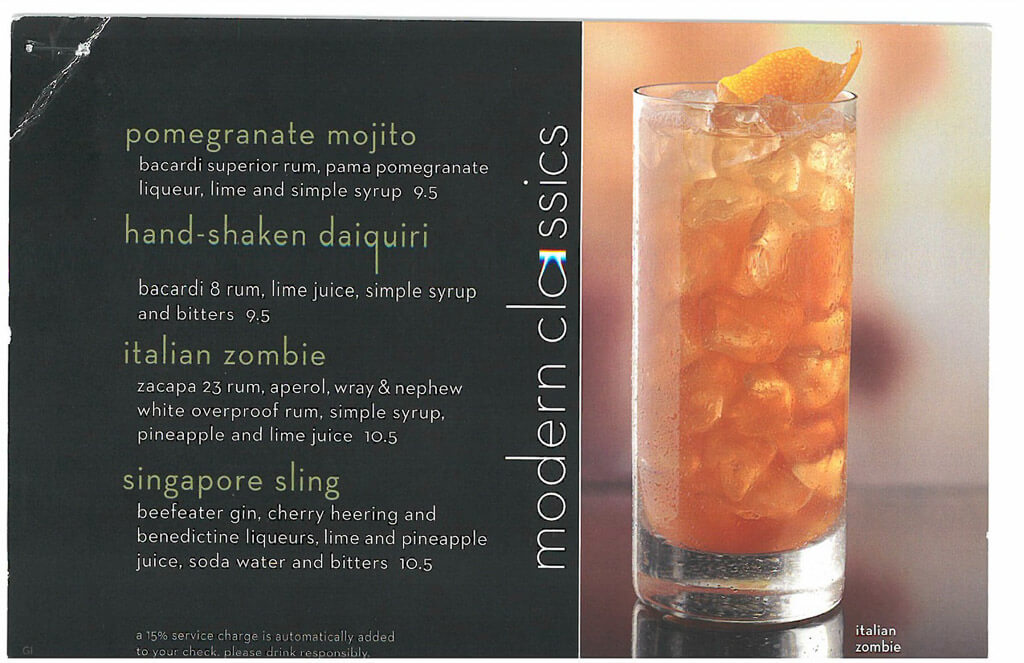 Celebrity Cruise Drinks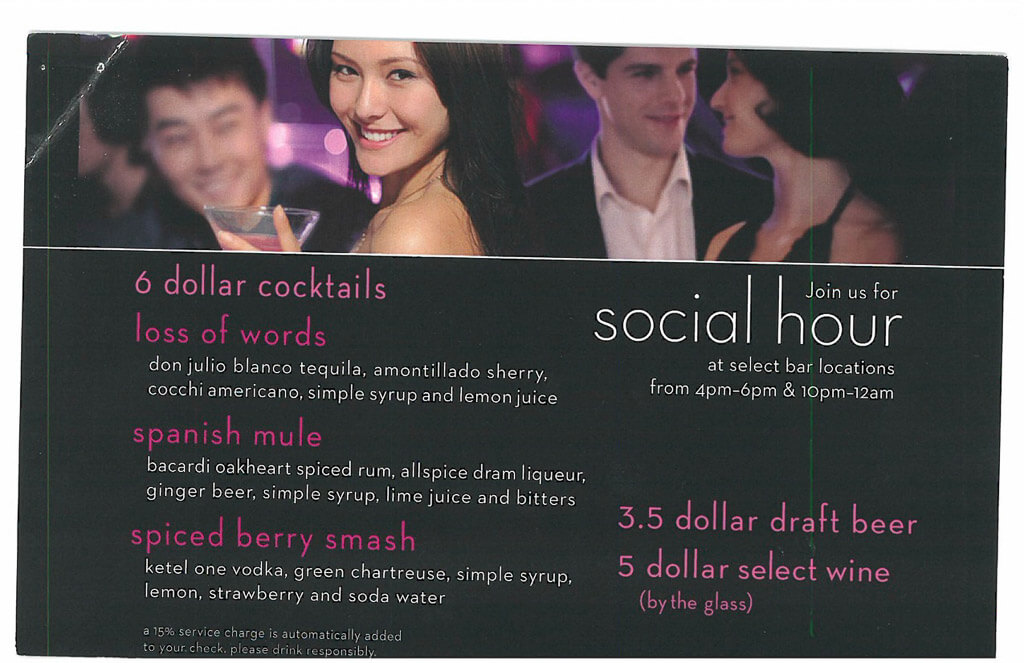 Celebrity Cruise Drinks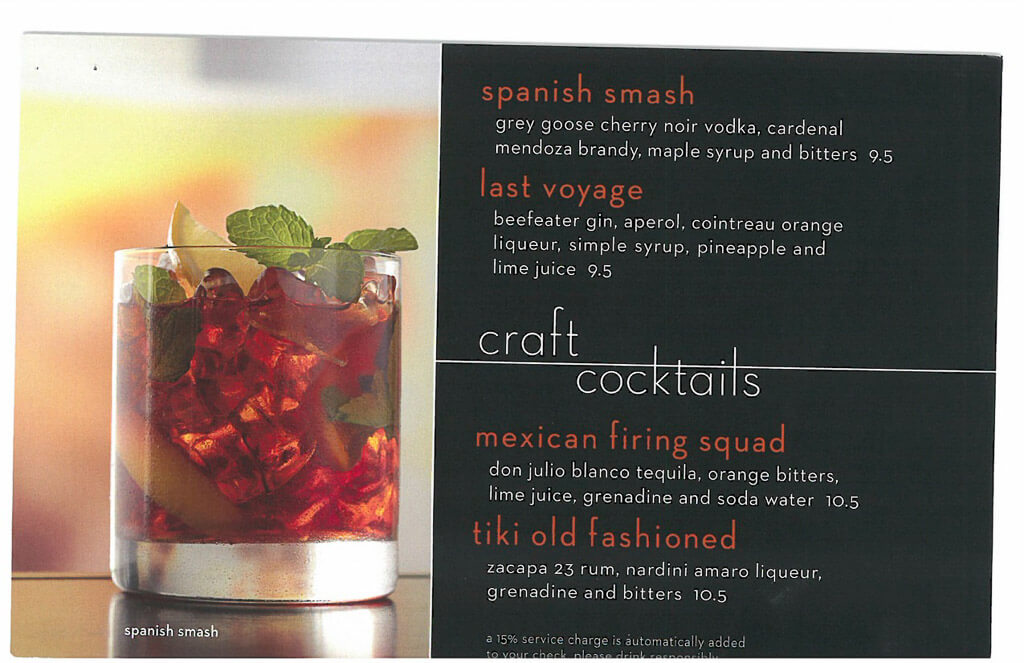 Celebrity Cruise Drinks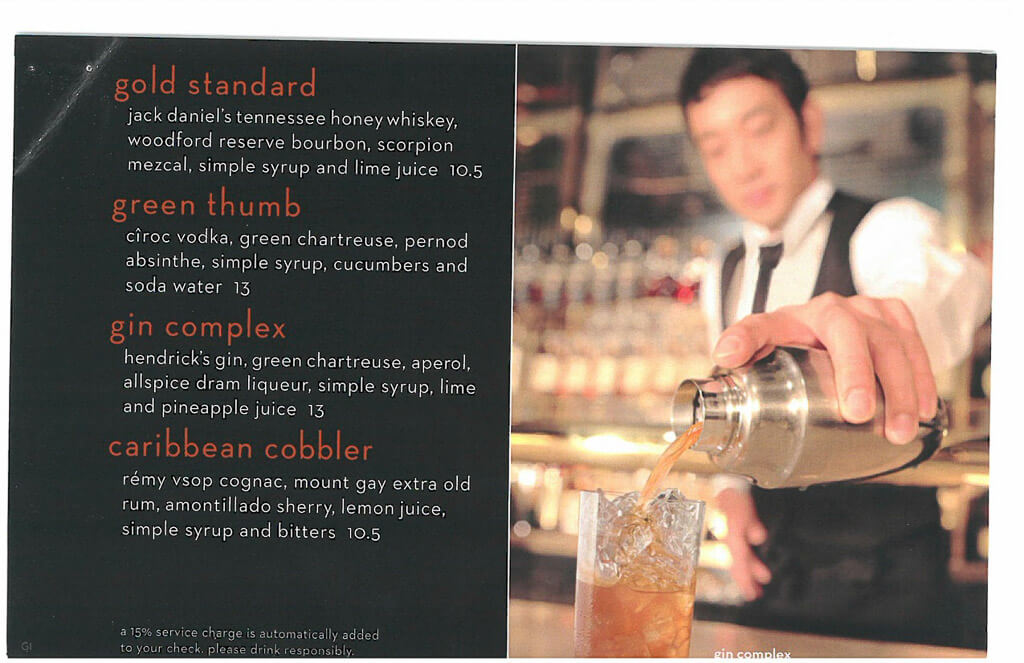 Celebrity Cruise Drinks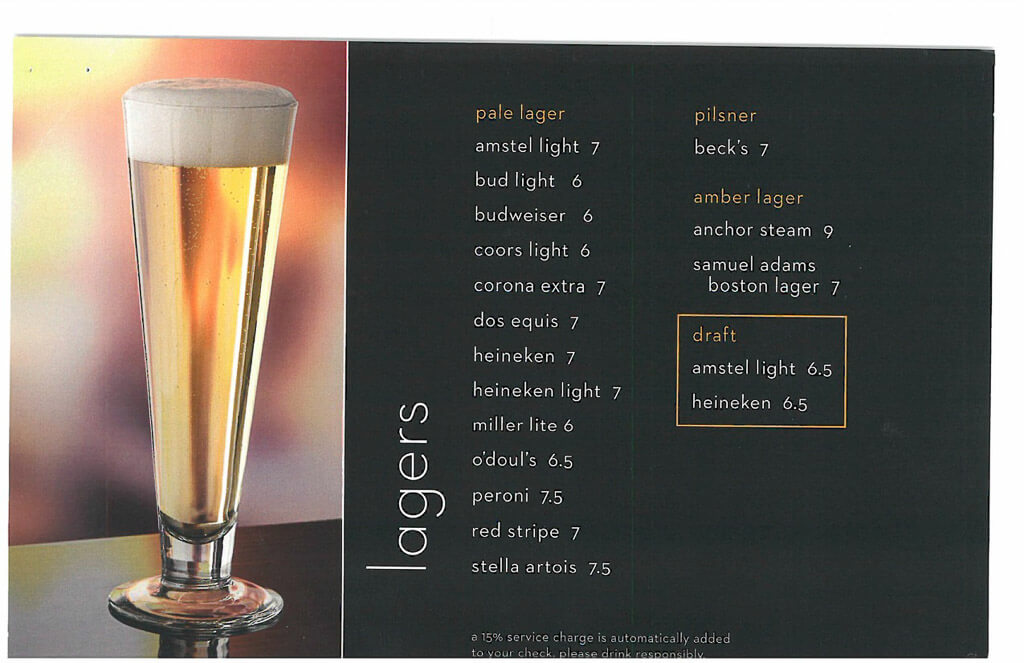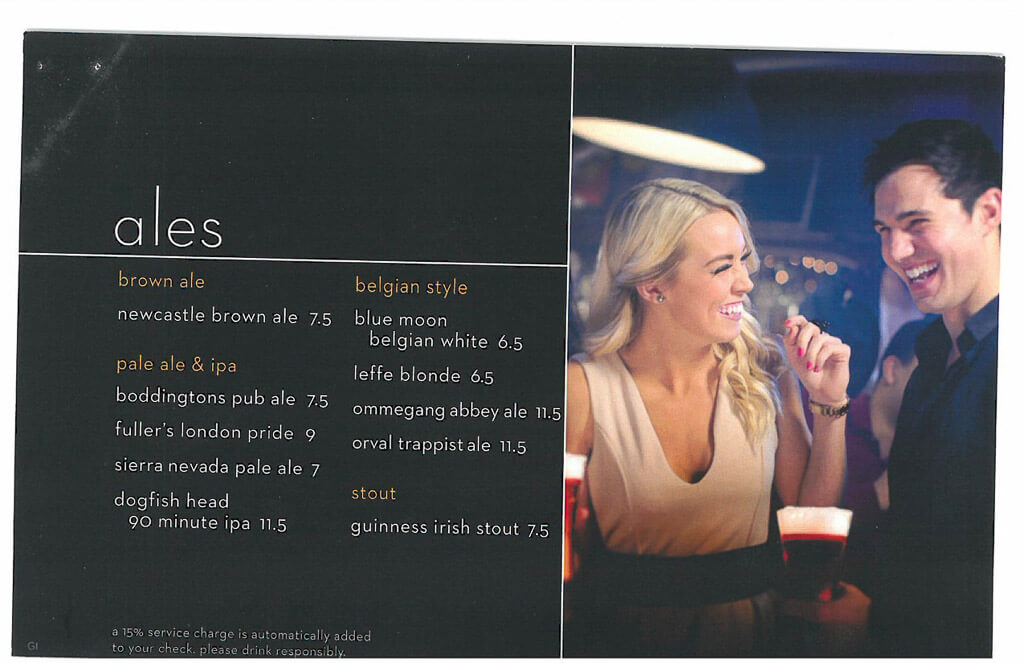 Celebrity Cruises Drink Prices
Celebrity Cruises Drink Packages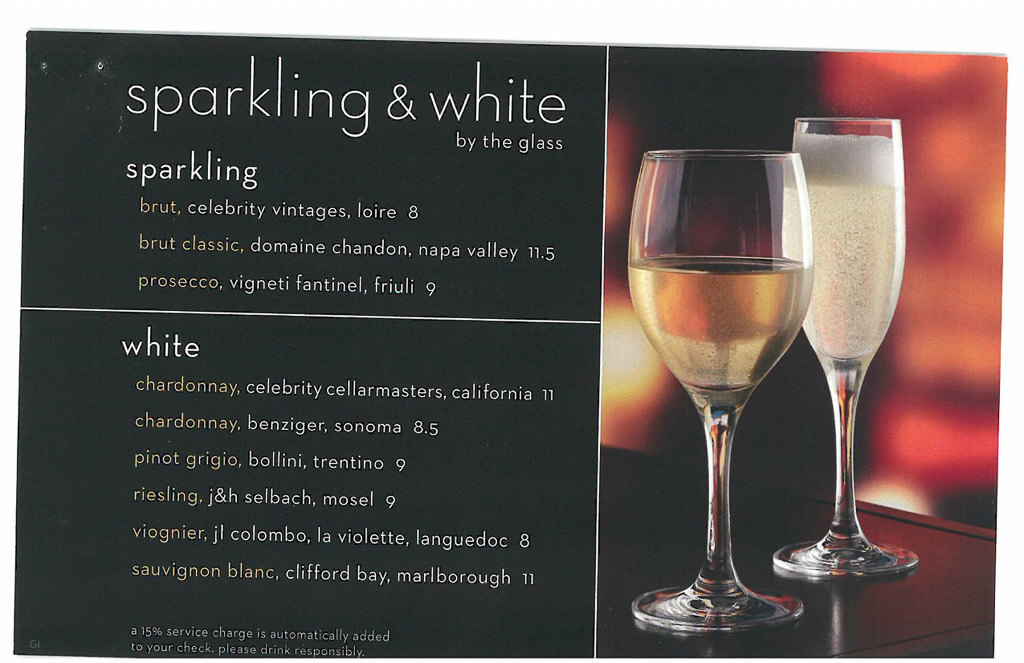 So as I was saying you can always buy a a stateroom bar setup, unfortunately Celebrity prices their bottle a little on the aggressive side. But none the less, this option is still one that benefits a lot of folks, including me. Celebrity also includes all the mixers in this option, so you don't need to worry about that.
What they call the classic stateroom bar setup starts at $80 and includes: Johnny Walker Red, Dewar's White Label, J&B, Cutty Sark, Canadian Club, Seagram's VO, Seagram's 7, Jameson, Jim Beam, Jack Daniel's, Carlos 1, Metaxa 5 Star Classic, Beefeater, Tanqueray, Absolut, Smirnoff, Stolichnaya, Three Olives, Van Gogh, Bacardi Light, Bacardi O, Bacardi Big Apple, Bacardi Raz, Malibu, Captain Morgan Original Spiced, Pepe Lopez, Jose Cuervo, Disaronno Amaretto, Bailey's Irish Cream, Frangelico, Drambuie, Sambuca, Kahlua. Remember it starts at $80
The premium stateroom bar setup starts at $100 and includes brands like: Johnny Walker Black, Glenfiddich Pure Malt, Dewar's 12 year old, Chivas Regal, Glenlivet, Crown Royal, Tangle Ridge, Old Black Bush, Midleton Very Rare, Knob, Creek, Blanton's Single Barrel, Remy Martin VSOP, Courvoisier VSOP, Hennessy VSOP, Cles des Ducs XO, Bombay Sapphire, Ketel One, Effen, Level, Belvedere, Grey Goose, Pyrat XO Reserve, Montecristo, Bacardi 8, Patron Silver, Patron Anejo, Patron Gold, Extase XO, Grand Marnier.
And remember that the minimum drinking age for any Celebrity cruise departing from the United States is 21 years old.
For more on this please visit Celebrity Cruise Drinks webpage.