After the Allure of the Seas show mom and I still had a little bit of energy in us, so we decided to go to the Jacuzzi. I had another glass of wine and then we left. I did not bring my Nex camera this time, I did not want to risk it getting damaged, so instead I brought my underwater camera. Initially we wanted to go to the concaved jacuzzis but when we got there we noticed they were closed. So we went back the beach pool jacuzzi, there was another couple there, it was very peaceful, but somewhat windy.
We stayed there for about 40 minutes and then headed down to the room. When we got out I had to get mom her towel and bring it close to the Jacuzzi because I was afraid of her getting sick. It was a little cold, and you never know, she is not used to that wind and neither am I.
When we got to the room we were exhausted, but so very happy. We had a grin from side to side it was like a dream come true for both of us. The bf was in the room, and he had ordered room service. He got some food for himself and a cheese plate with a sandwich for mom and I.
Fried fish for the bf
and his dessert, I think it was a berry chocolate tart.
my cheese plate
and sandwich
As he ate in the room, mom and I headed to our precious balcony, poured some more wine (the bottle of Nobilo was almost gone by then 
) and took the cheese plate to the balcony. Those there are my lactose pills, I am intolerant and sickly addicted to cheese, ironic…
Allure of the Seas room service
Allure of the Seas room service
Allure of the Seas room service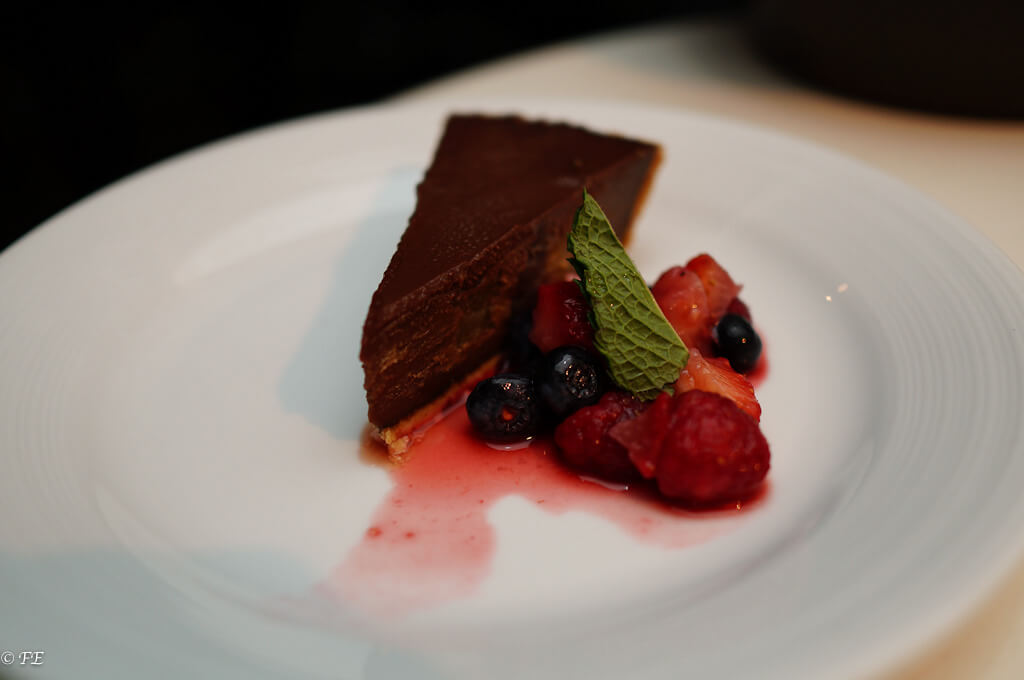 Allure of the Seas room service
This was the life we deserved, and we both knew it, I put some music on, not too loud I am aware of my neighbors and I don't want to put a dent on any ones vacation. I check my emails and downloaded some 800 pictures into my computer. We also compressed some of the pictures and send it to the family, this became a ritual twice a day. I would send on average 60 pictures to about 15 people a day, I became very good at it.
Which brings me to my next point, wifi on the Allure of the Seas.
These are the package available on the Allure of the Seas.
Base rate is $.65 per minute or choose from one of our prepaid packages:
$35** for* 60 minutes
$55* *for* 100 minutes
$75** for* 150 minutes
$100 for* 250 minutes
$150 for* 500 minutes
We decided to buy the 500 minute one, the reason why we did this was because the bf needed to be connected with the university and mom needed to be connected to her family and more particular with her mom. And I guess I could use Facebook a little more often, after all we had no excursions in Labadee and Jamaica so we could splurge a little on the internet package. After doing the math you end up paying less than half a minute, it comes out to $0.30 a minute vs $0.65 a minute. We ended up using all, but $5 out of the package, overall it was a great deal, and I don't regret buying it at all. 
I have some more info on the wifi, but I will get into that later. I am exhausted, this really takes it out of you. I am going to play a little with some videos, its been years since I play with iMovie. I get a usable video out of it I will post it tonight.
I hope everyone is enjoying this a lot, because I am drained… But I love that I can share my vacation with other people that appreciate it.
This pretty much wraps up day 1.
Day 2 Sea Day
Just a side note, I was not pleased with today's picture quality, I am not sure why, but the pictures were not to my standard (maybe lighting ::dunno:: ). But what I lack in picture quality, I make up for in content.
That day I woke up with a horrible migraine, it was probably from mixing all wine the night before. I ended up having Sauvignon blank, Moscato and cabernet. I decided to try to get rid of it with some food and coffee, rather than take Excedrin migraine and risk damaging my tummy again. So I turned on the tv to place the order, once I did that mom say hi, she had been up for some time, but she didn't want to wake us up. I asked what she wanted, and we decided to also order some food for the bf even though he was still sleeping.
Soon after I submitted the order I received a phone call, it was to verify the order and tell me a time frame for the delivery, if I recall correctly they told me 45 minutes. During that time mom and I headed to the balcony to check her email account and enjoy the view. We were a little worried because from the balcony you can't hear the knock on the door and nothing wakes the bf up. So she sat by the door, to have a better chance at listening the room service knock. I guess it did not help that I decided to put some music at a very low volume, but you tell me what is a balcony without the music you love. At that time I also started compressing a few pictures to send to the family.
We also discussed what a great temperature the ship has around the venues, mom never got cold, and I really did not notice. In the Norwegian  Sky she always had a problem being too cold. The night before we had walked in our swim suits from the Jacuzzi in the hallways and never really got that cold, of course she was wrapped in a towel, but none the less she noticed how comfortable it was.
The weather was somewhat decent, maybe a little cloudy for my liking, but that helped keep the temperature nice and comfortable. This was our first sea day ever, and what better ship to do it on than the Allure of the Seas,
We pretty much saw Cuba the entire morning, only later on during the evening the ship started distancing itself from the coast, and the clouds eventually prevented us from seeing it ever again.
As we sat there waiting for the food to arrived we talked about the room and how they managed to fit 3-4 people in it. I really only have the cabin of the sky to compare it to, so its not really a fair comparison. The cabin is definitely cramped for 3 people and what made matters worse for us was that we had different schedules, so it was hard for Gilbert to get around cleaning the room, we tried our best to accommodate our schedules together. I loved the interactive tv system, it might be a little slow for some, but it gets the job done, it is a lot of fun to sit and play it. I actually thought the bathroom was quite large and roomy, and the shower was fantastic, it had so much pressure, I loved it. There is however one thing to note, if some of you like taking cold showers, the shower never really gets cold. The starting temperature is mild and then it gets scorching HOT as you move the knob. I like a cold shower here and there, but I could not get it in the ship. I guess you could always go to one of the pools at night to make up for it.
So as we sat there we heard the bf calling for us, room service had arrived and we did not hear them. So mom went there and open the door. Then she attempted to grab the tray from the gentleman carrying it, I almost had a heart attack, there is no way hell that she would of been able to carry that tray. Thank God he refused and asked her if he could come in, I had already made room on a little table for him to put it down. Anyway I wish there was a system to listen to the door knock while you're at the balcony, maybe a door bell? I think I saw something like that in one of the suites, but I can't confirm that.
That's the tray she attempted to carry, I myself wondered if I could maneuver in that tight room with that tray.
Allure of the Seas room service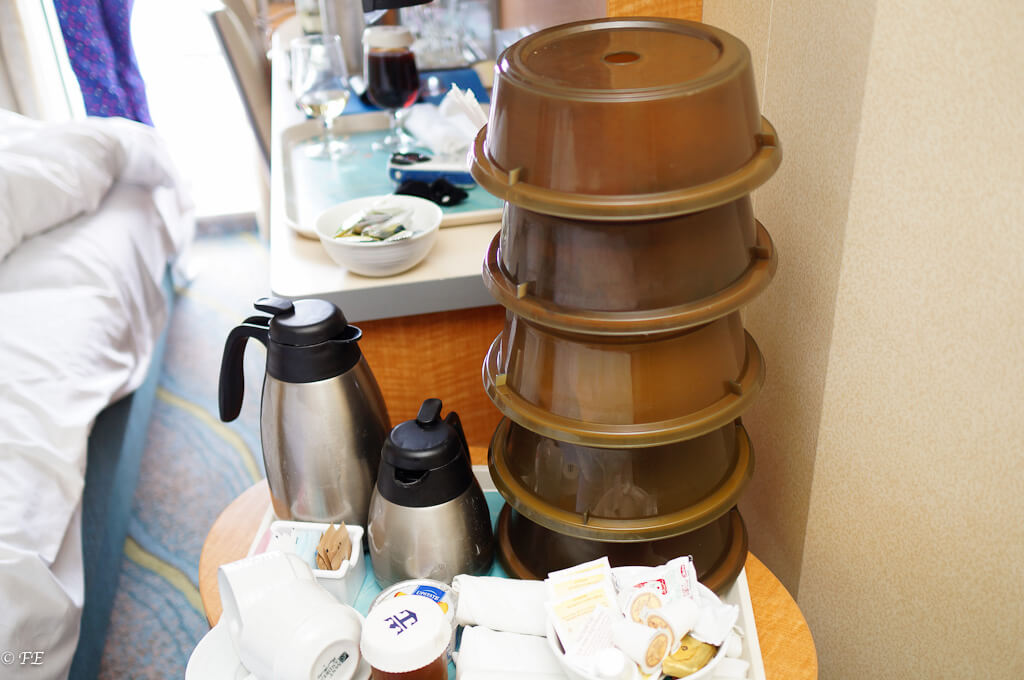 So mom and I headed to the balcony to eat breakfast, the bf grabbed his plate and ate in bed. I was actually surprised he was up so early in the morning, but I guess with all the noise and commotion he was forced up… We ordered mainly a little of everything, I was not crazy about the eggs, the bacon was good, and the hash browns were a little cold but good (I wish they gave more of them and less eggs, I guess I could order a double portion, the serving was tinny). We also ordered a few different type of pastries, here is my issue with them, they list the names on the tv, but there is no way to tell which is one is which. We only liked two of them, and I wish I could of told which ones they were. The other days we were forced to order all of them just to get the two we wanted. I know horrible, but what else can you do. The names they use for them do not resemble the pastry that is delivered, they should be more clear or at least show a picture of the item. Not a big deal, but something that RCCL should take note of to try to reduce waste, I hate throwing away food, unfortunately there was a lot of that in this cruise, I am very ashamed of it 
The coffee on the Allure of the Seas was good and plenty of it, they did however mess up in the ice tea order and only deliver one. No biggie, mom had some water instead and gave the tea to my bf.
I forgot to put this down yesterday, but the way I have my notes is not the most organized one. Last night in the middle of all that euphoria my camera almost went overboard. I had it setup on the tripod and I stood up to go use the boys room, and I knocked the tripod. I had it fully extended to its maximum height, and it had the zoom lens (it was top heavy), I think I was trying to take a picture of a ship. Anyway mom grabbed it very fast, I am not sure if the entire thing actually would of gone overboard because of the height of the railing, but its definitely something that I would of cried over if it did happened. Thanks mom 
By the way mom is following along every word and picture I post. I think she is re-living the trip all over again.
Say "Hi mom!" 🙂
Allure of the Seas room service breakfast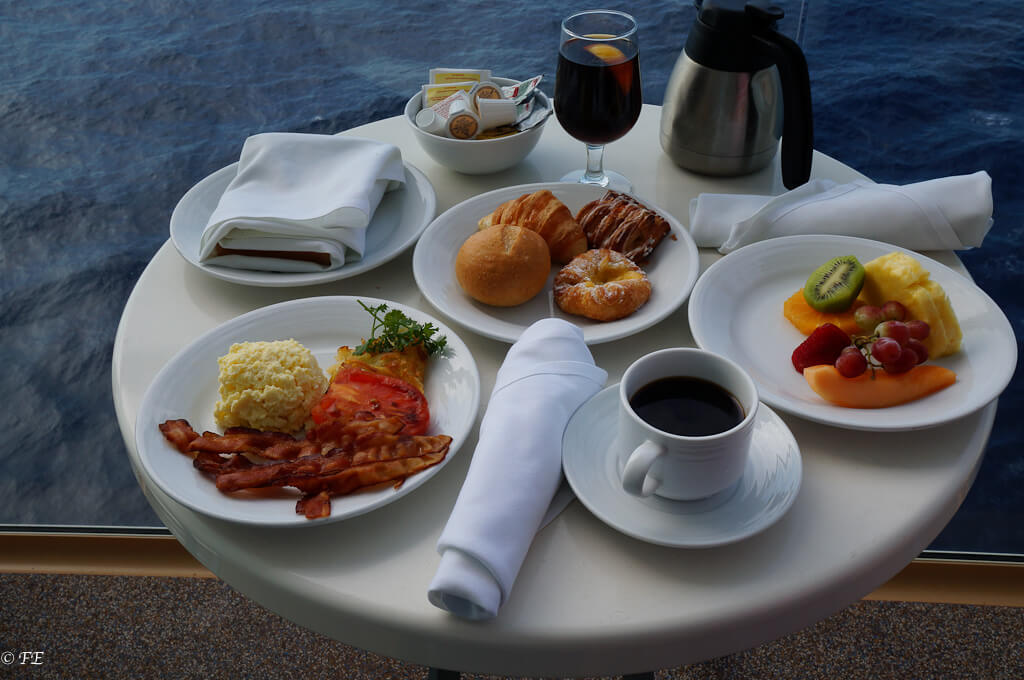 After breakfast we showered, got ready and mom and I headed to the Allure of the Seas solarium. Bf stayed in the room, I believe he was watching a movie, they played a lot of movies in that cruise, I think he saw them all, lol.
We got to the solarium at around 10:15am and we were able to get two lounge chairs by the doors, they did not have the best view, but they were very sheltered from the wind. Parts of the solarium can be very windy, its all about what you like. Personally I like a little wind, but mom had to be sheltered from the wind. One more thing to note is that if you get a chair by one of the windows, you might have some people walking in and out around your chair because they either want to take pictures or they want to feel the breeze hit their face. I can say I was one of those annoying people and after I sat down I noticed at least 5 more people around that lady in the chair. She seemed very annoyed, one person steeped on her book. Later on during the cruise I did sit by windows, but I made a little path so people could come and go as they pleased and not bother me in the process.
As Mom laid there and people watched while I went on a photo shoot of the solarium. I know we have all seen the Allure of the Seas solarium, but lets look at it one more time for old times sake.
This is a little important, I am not 100% on this comment, but I am almost sure that I am. When I was in the NCL Sky all the pools and Jacuzzis were salt water and they always messed up my jewelry, I know I should taken it off, but I am lazy… Anyway on the Allure of the Seas the 4 main pools are salt water and if I am correct this pool and all of the Jacuzzis are fresh water. This was such a treat for us, I really dislike salt water Jacuzzis. I can't comment on the current pool as I did not feel like testing my theory, lol. But I was super happy about the fresh water Jacuzzis, they were fantastic. I only used the Allure of the Seas solarium pool once, I wish I used it more, it was a great place to cool down.
A word about Allure of the Seas elevators. The crowds felt better on the second day, but getting elevators specially aft was always an ordeal, either they take long to stop, or they stop and they are packed. Once you board the elevator it would stop on most floors with little capacity for more people. I am not one to shy away of squeezing myself in a crammed elevator, but the bf likes his space so at times we had long waits. If it was mom and I we would just squeeze in there after people told us there is no space, trust me there was plenty of space. For some reason elevators make people uncomfortable, but I was not letting that make me wait another 4 minutes for the next elevator to stop. I would also make space for people, but some would shy away and say no we will wait, thank you.
Once again I will comment on something to keep in mind, elevators are usually way better on the port side of the ship. Trust me on this I tested it through out the cruise, my theory is that people tend to go right first for everything first, so that ends up filling everything in the starboard side first. I wonder if left handed people go left first, :dunno:… Anyway just a little tip.
At 12:10 we went to the Allure of the Seas Royal Promenade to see the Dreams work parade, if I am correct it started at 12:15 can't recall, I guess its in the compass for those interested. We stopped on deck 6 and got a spot in the railing, not the best view, but not horrible either.
These are the only pictures I took of the show, it was prior the start of the show. I will note that by FAR my FAVORITE characters of the show were the horses. Let me see if I can explain, its a guy in a suit and the suit is a horse. As the guy bounces the entire horse would bounce, it was AWSOME and so goofy. I will say that very little things bring out the child in me, those horses for some reason managed to do just that. I believe there were about 3 or 4 of them and I would wait with anticipation for them to come to the corner and make their pass in front of me. One of the best parts was that before they waited for the show to start they were right in front of me and they would bounce all over the place and once the lady with the walkie talkie would pet the horse it would tame them for few seconds and as soon as she stop the guy/horse would start bouncing again. I WAS MESMERIZED!!!
I really can't explain why these horses were so captivating for me, I don't really like horses that much. But the character was phenomenal, all the horse riders played it perfectly. Very goofy and smiling the entire time. I will NEVER FORGET THEM. And called me whatever you want, but just to see those horses I would go on the Allure of the Seas again. I think I was more excited about those horses than most kids down there about the entire parade.
Thank you RCCL so letting me know that I can still enjoy the simple things in life and that the child in me still exists. As I sit here typing this I have the biggest smile in my face.
The rest of the Allure of the Seas parade was good, all the characters you expect and dancing and such, but in all honesty I was simply too engrossed with the horses to really appreciate anything else that was going on around me.
Please don't miss this parade and for those who go, enjoy the horses for me 
Oh one more thing, it does get a little hot during the parade, too many people in a fairly small space.