Chapter 9
Our plan for Labadee was simple. We wanted to go to adrenaline beach, and by we I meant I 
. Why adrenaline beach? I thought it would be a really cool place to see the people zip-lining and my mom likes when the ocean has some waves. The beaches on the other sides seemed to have waters that are too calm and in addition to that most people seem to frequent that side more. I though we had a better chance at a more relaxing day at adrenaline.
I had no plans on walking in that heat in Labadee, so we caught one those little tractors and we were on our way. The shuttle in Labadee stops on all the other beaches first and Adrenaline beach last. That was great for us, because I wanted a short tour of Labadee.
The first stop in Labadee is barefoot beach.
Next up we drove through the Labadee market, let me just something here, this place is HUGE. I never thought it was going to be so big. Most other reviews did not make note of the length of it, I think it took the tractor like 2-3 minutes to go through it. You go all the way up hill and then back down. The bf actually went there and bought of wood pieces that I will show later and he said the environment was extremely stressful. Good thing I never went there. A lot of high pressure sales tactics in Labadee.
After getting to Columbus beach the Labadee tram turns around and heads back to Adrenaline beach.
Next we stopped and we got off, we went through an Arch and headed towards Labadee adrenaline beach. In the way we passed the buffet, it was closed at the time and the eating area.
We were very lucky to find a very nice spot under the shade of a palm tree, I am not sure if I have mentioned this before but shade is EXTREMELY IMPORTANT for us. Mom has had skin cancer and I am prone for it as well.
So you might ask if you both are prone to skin cancer why not get a clam shell? Well feel free to look at my review of the ncl sky and you will notice that we hate them. They get SO HOT that you eventually have to leave them, its like a mini sauna in there. We much rather be in the open where the wind can flow freely from all directions cooling you down. We had a great spot and the beach was not crowded at all, it got a little more later on, but overall it was the perfect beach for us.
Just a side note. Make sure you bring cash to tip the Labadee chair attendants.
I forgot to mention something, that morning my searched everywhere for our sunscreens, we brought 3 of them, but somehow we lost them all. Maybe at the pool, who knows, we do that from time to time. So the first thing we did once we got off the ship was to purchase a sun screen. If I don't use any I burn horribly. Long story short, we paid $8 for this tinny thing!!! Make sure you bring your own.
Labadee Panoramic
Then we started to people watch and enjoy the view. People were already zip-lining.
Then I went for a little walk to see if I could get a better view of Labadee.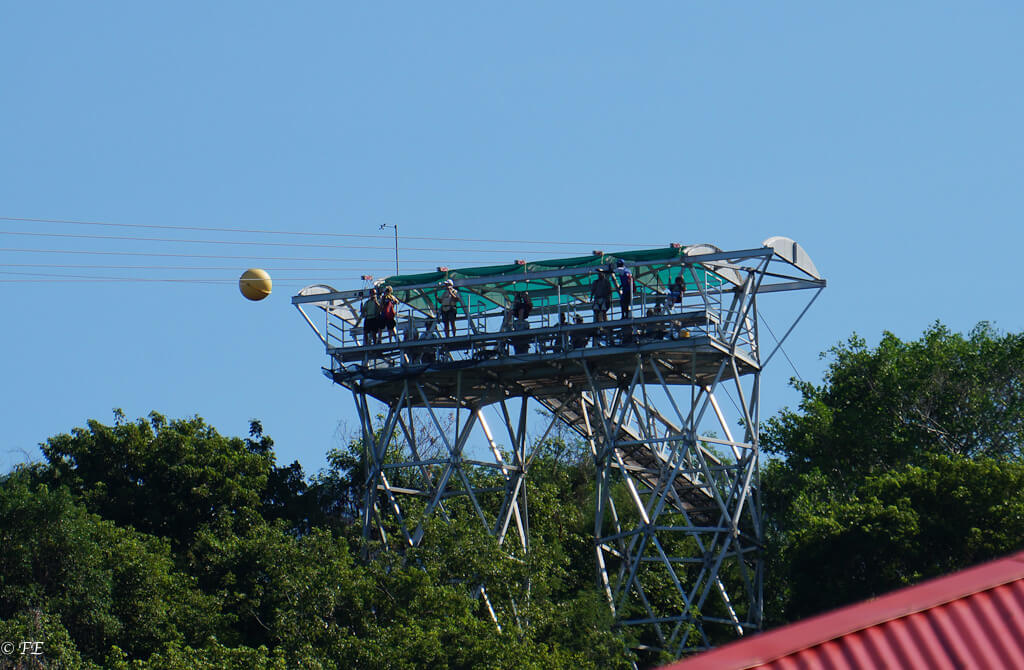 Labadee Zip Line
Labadee sand crab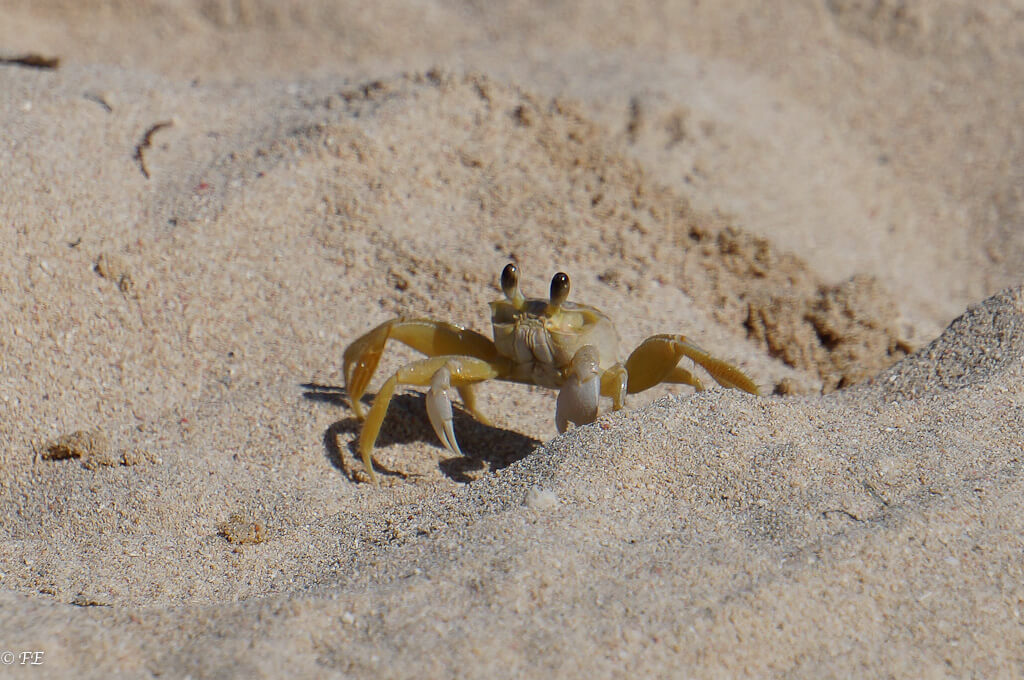 Labadee Adrenaline Beach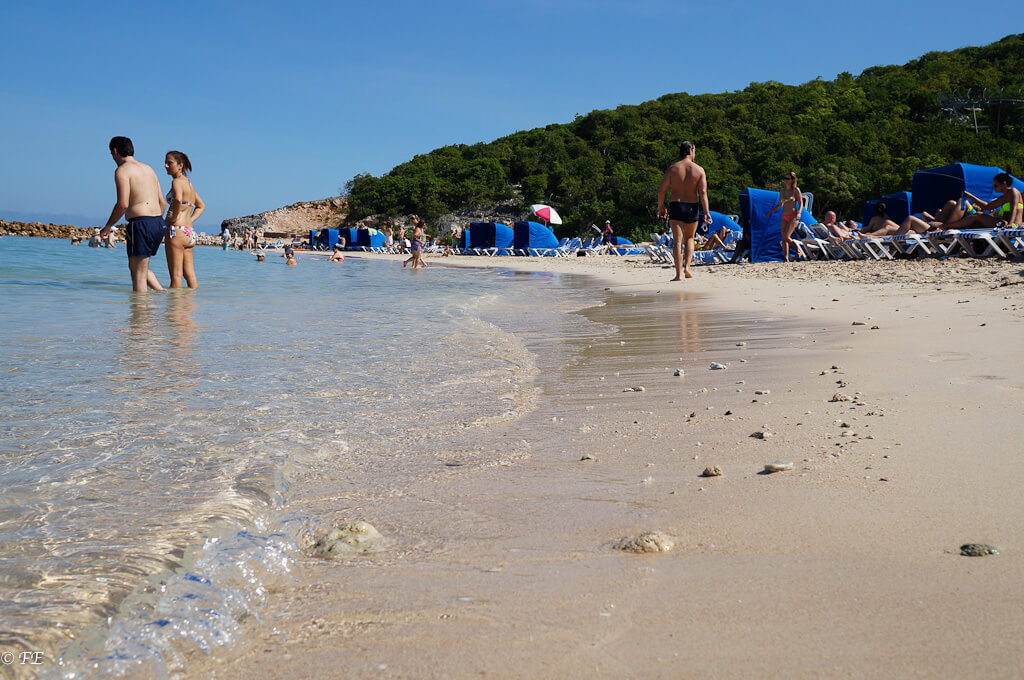 Labadee zipLine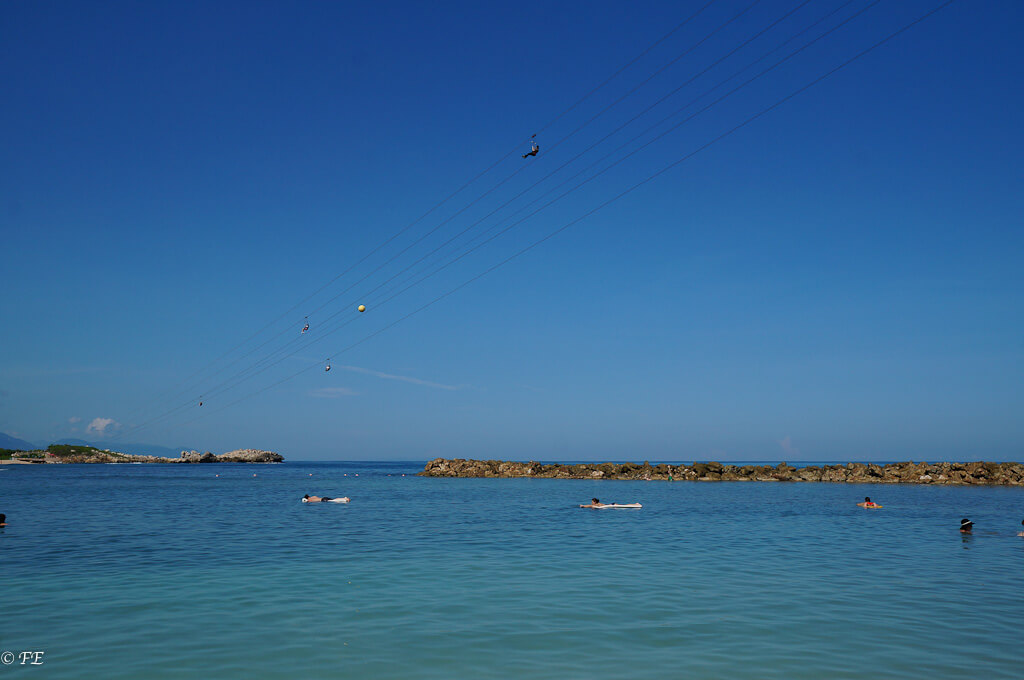 Labadee Adrenaline Beach

Then I went back to our little piece of heaven in Labadee and started talking to mom about many things. Among them we discussed who gets selected to work in Labadee, our guess was that it was all probably based on connections. Some of the chair attendants were making good money that day. We also noticed how RCCL has the clam shells for free, while NCL charges $30 for them and place them horribly crowded in a tinny beach. Thumbs up RCCL.
Later on I took a short nap, after I woke up I was ready for some water. So I left mom with all my electronics, made sure she was awake and headed towards the water. The water was cold, typical Caribbean ocean temperature, the beaches in Ft. Lauderdale get very warm in the summer months, we are spoiled. Once I started walking into the water I noticed how rocky and filled of shells it was in Labadee. It was very hard to walk in there, a good pair of water shoes are a must in that beach. I am not sure how the other ones are on the other side of the peninsula, but this one was pretty bad. A guy next next to me said somewhat loudly "you figure if they are buying a beach they would buy one with sand in it", he could not had said it more perfectly.
In any case I just wanted to cool down a little, I stayed in there for a few minute and once I noticed my body temperature had gone down I went back to our spot.
By 10am I was ready for my first long island of the day in Labadee, luckily the bar was right next to us. Again I asked mom if she wanted something and she said no 
So I went to the bar and ordered my usual and got her a coke, it was hot as hell and I knew she would drink it all in a sip. The total drink + tip came out to $11.50 a little more for the fancy cup I guess.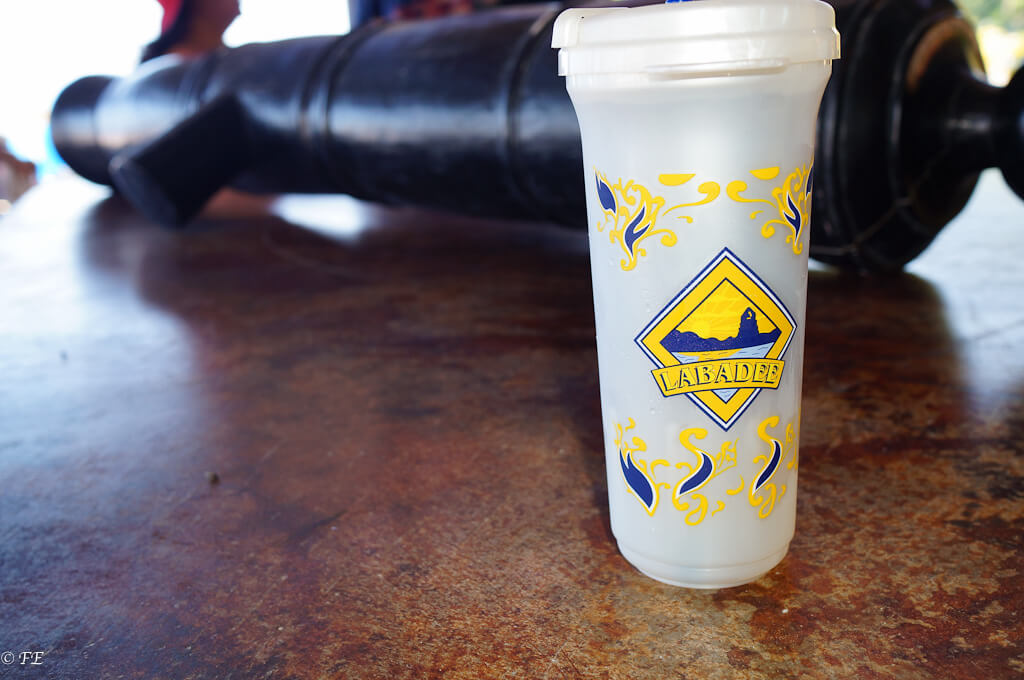 I went back to our spot and just like I though my mom was pretty thirsty so she had her coke and then asked me for some of mine, lol. So we sat there, relaxed and shared the long island. Such a good time.
As we were laying there I noticed a local dog had somehow managed to enter the the property. Next thing I know a lady went down to the dog and started offering him water, the dog was very stubborn and lazy. Eventually she figured out that he wanted ice, so she was feeding him ice cubes one by one, her bf seemed very annoyed by entire process, but he just stood there and waited for her to finish.
Once the lazy Labadee dog had finished some of the ice and refused to eat more, the nice lady decided to splash some water on top of him to cool him down. Once again, it was a very hot day, by then it looked like her bf wanted to kill both her and the dog, it was toooooo funny to watch. Unfortunately I failed to take a picture of him. Well the dog did not like the water on him, (bf said that actually makes them hotter and humid) so he just stood up and left. Side note, I think I applied 5 coats of sun block that day.
More on Labadee on the next page,