Welcome to my Allure of the Seas Review. For those of you thinking that I am a beautiful sexy lady just because of my name "Gambee", sorry to disappoint you, I am a guy 
. And if you're wondering where Gambee came from? Well I can't really remember, but I think it came from the cartoon character Gumby, I guess I just got a little creative with the name or maybe it was just bad spelling, who knows… Anyway who cares, it gets the job done 
This will be my first attempt at a detailed review with lots of pictures, I reviewed the NCL Sky before, but that was a short and quick review. I am sure this review is not for everyone because it will have some non-essential information, for those not interested in reading you are welcome to just scroll down and look at the pictures, there will be lots of them. But for those interested in tips and opinions I will include a lot of details in the text. I have read a lot of reviews preparing for this trip and I have a lot of useful information to share. I guess you could say that I am attempting to make an almost complete guide to the Allure of the Seas, will I accomplish it? who knows, but I will sure try.
In advance I like to apologize for some grammatical errors and exclusion of words, I tend to do that from time to time. English is my second language and sometimes I struggle with it. I will however proof read everything prior posting and try my best to do a good job so its easy to read and understand. I hope you all enjoy.
I will start from the beginning, four months ago I went on my first cruise it was on the Norwegian Sky for a short 3 day cruise to Bahamas with my mom. Don't ask me why this was my first cruise, I live in FT. Lauderdale and I travel extensively, but had yet to cruise ::dunno::, although now that I think about it, maybe it had to do with the fear of getting nauseous. Anyway, the cruise was absolutely fantastic, a new addiction was created that weekend. There was so much going on that we really did not know what to do, all in all we had a great time, with very little hiccups (Aside from Atlantis, but that was not the cruise fault).
Allure of the Seas Planning
When we got home we were both static and slightly depressed to be home, so what do we do to remedy this? Well I started looking around for longer cruises and pricing a few of them. There were so many good options to choose from, but the problem was that after docking next to the Oasis in Nassau we both knew that was the class of ship that wanted our next cruise to be in. Although we were a little surprised at the price difference between the Oasis class ships and other cruises, we decided to go ahead and do it anyway. You only live once, right?
I took this picture when were going over the bridge towards Atlantis. From the left, Majesty of the seas, Disney Dream, Carnival Dream, NCL Sky and Oasis of the Seas. You can see that Oasis was doing a life boat drill, the funny thing is we did not see this at the time, the Oasis of the Seas is so BIG that she blocked everything.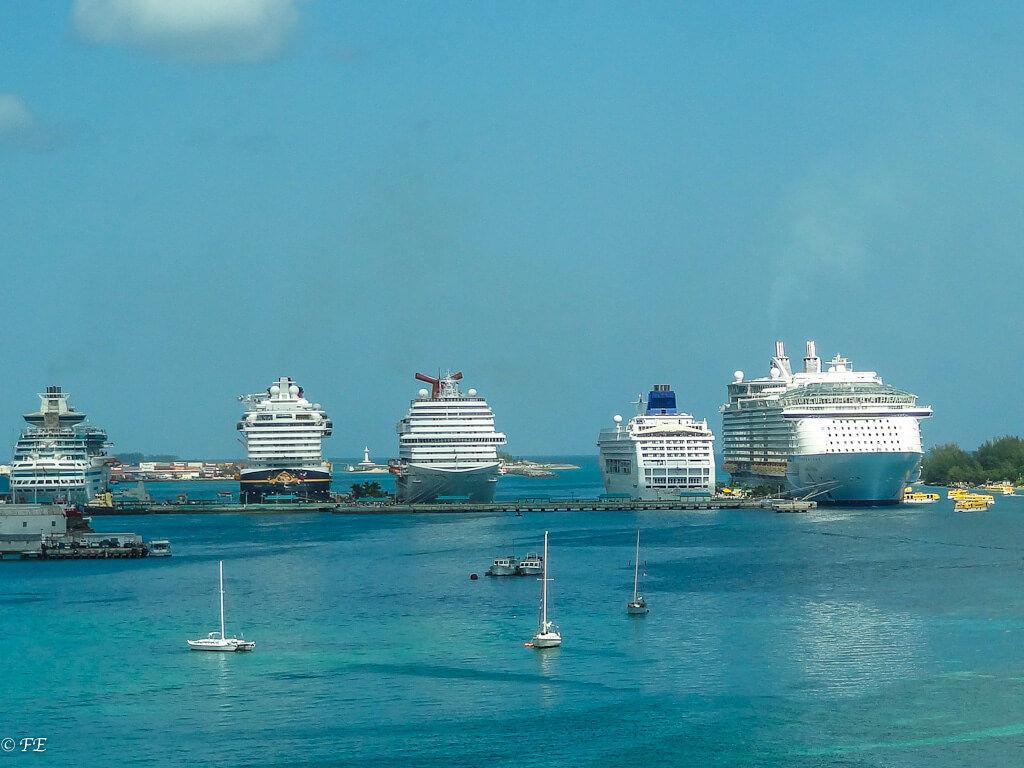 Allure of the Seas room Booking.
So on I went deciding on what room to book, we knew we wanted a balcony room and while we liked the boardwalk and central park ones, we both knew we belonged in a ocean-view balcony (go all out or go home, right?). Well at least for us that meant all out as there is no way in hell we could afford a suite. This was the first time with a balcony for us, we did an interior room on the NCL Sky to test things out. So we ended up picking a starboard aft room on deck 7 room 7704. This seemed like a good room to us, but then again what did we know, this was the fist time doing this. We liked the idea that we would have 5 sunsets and 1 sunrise (if my calculations were correct) and it seemed like it had the potential to be a quiet spot. We would also be docking from that side as long as they were not doing life boat drills and I thought that would give us nice views of the ports. I was also aware that being mid ship was better to avoid nausea, but unfortunately there were no cabins available at that price point. But overall we liked our cabin location.
Our Allure of the Seas cabin circled in red.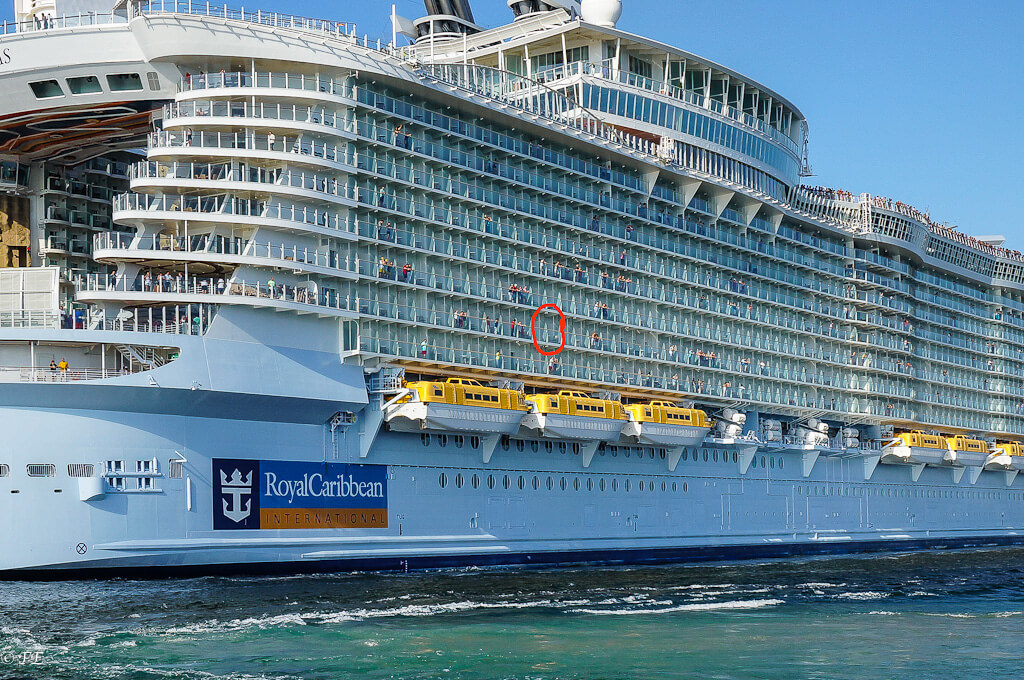 So time went by and I found CC.com, omg the addiction to cruising was nothing compared to the addiction to cc, I became a CC junkie. Researching everything possible and writing all kind of notes for our upcoming cruise. A few weeks later I showed my mom CC and well lets just say that she started to drive me a little crazy with all the CC talk. We were both CC junkies and we were both crazily addicted.
Weeks went by and I found out that I could go and get really close to the Allure of the Seas and the Oasis of the Seas while they were leaving port. It became a hobby to go to the port and watch the ships sail away and wave goodbye. I went there in all kinds of weather it did not matter if it rained or shined, if I could be there I would. I recommend this to anyone sailing in the Allure of the Seas, you should go on saturday and see Oasis sail way from the inlet. There is a neat feeling of adrenaline rush when you do this, its really cool and it also gets you all pumped up for your cruise.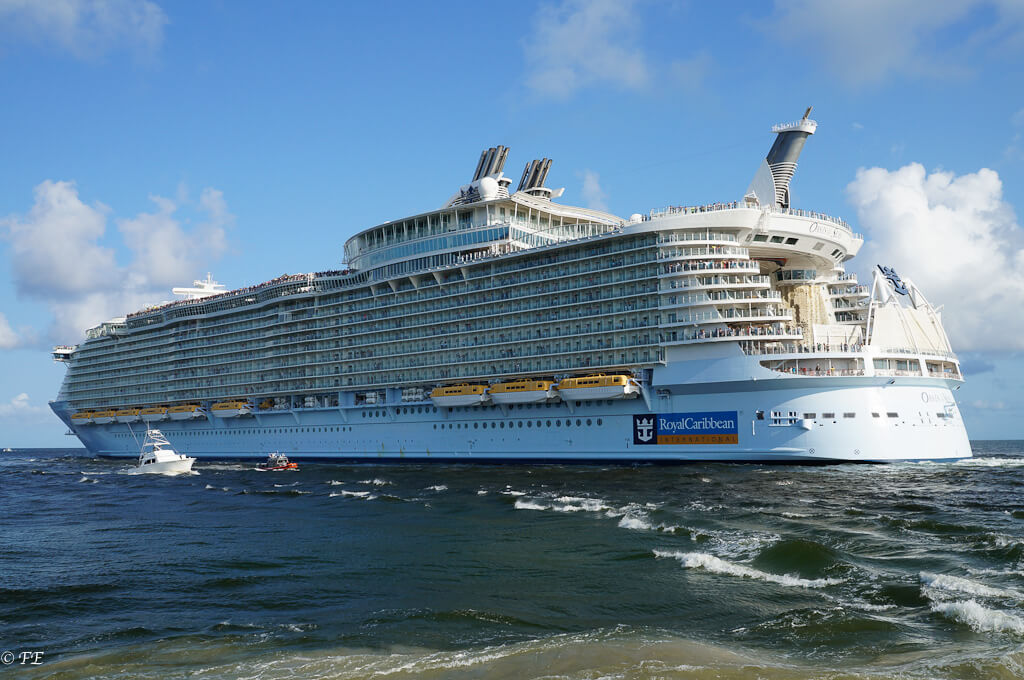 It was a lot of fun and for the most part there is always a group of people there to talk if that is your thing. There is one piece of advice that I will give you, if you decided to go there remember to dress accordingly as the weather can change rapidly and always bring water (or booze, lol, jk no alcohol allowed in there). A lot of the times there will be delays on the departures and you will be there for a little longer than expected.
For those of you interested in how to get to the inlet I will post a short guide here. The pictures taken from the north part of the inlet are in my opinion better due the lighting, the angle of the pictures and the distance from the ship. You can stand much higher off the ground since the rocks are much taller in this side and you are slightly further from the ship. However there are problems with this location, there is a limited amount of parking spaces and they can be hard to come by, the good thing is that they are free. The other problem is that people with mobility issues will have to stay off the rocks, it can a little tricky and dangerous climbing all the way to the top. This location is also ideal for people staying in the Hyatt or other hotels on 17st, its just a short walk there. I say Hyatt because I noticed that is a popular hotel to stay for CC goers and the closest one to the inlet. All the other hotels are across the bridge, they are just a slightly longer walk.
Directions by car.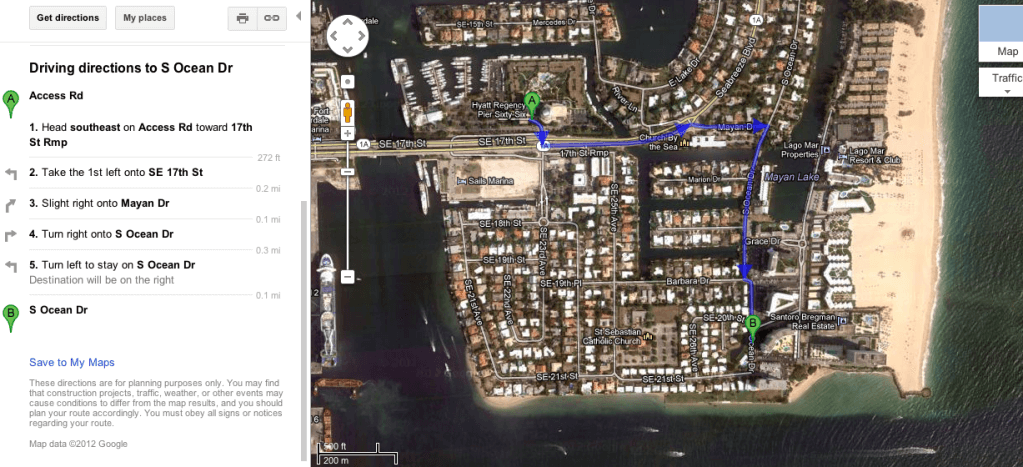 Free Parking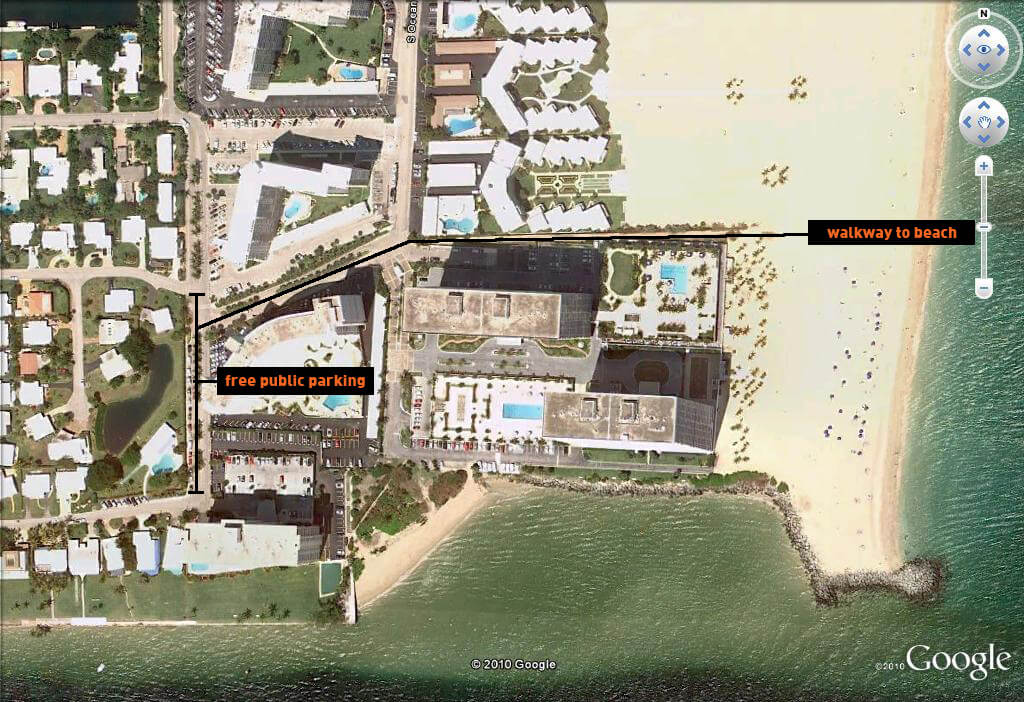 Walking directions, this path takes you through some very nice houses, enjoy the view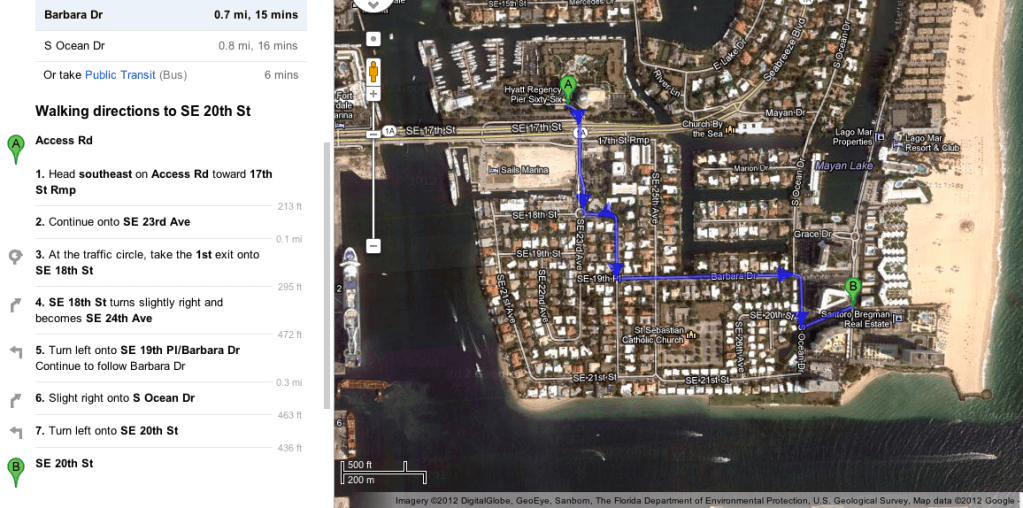 The other location is the south side of the inlet located inside the state park John U. Lloyd, parking is abundant and I have never encountered an issue with it. The entrance to the park costs $4 for vehicles with the driver only and $6 for 2 or more people in the car. You could also go there for a day at the beach, their beaches are very clean and if its a clear day you can snorkel and see lots of colorful fish (I once say a manta ray, she scared the living **** out me, it was HUGE). Fishing is also allowed in the inlet and they also have restrooms and a concession store available. Walking to the inlet is painless as there is an assigned walkway and you never have to touch the sand if you don't want to, no hills either. I also believe that in this side you stand much closer to the ship, this can be good and bad. Good for feeling so close to it, bad for pictures.
Here are the directions from the Hyatt. This side should only be done by car, I could not imagine walking there. But maybe swimming there is a possibility, lol, just joking.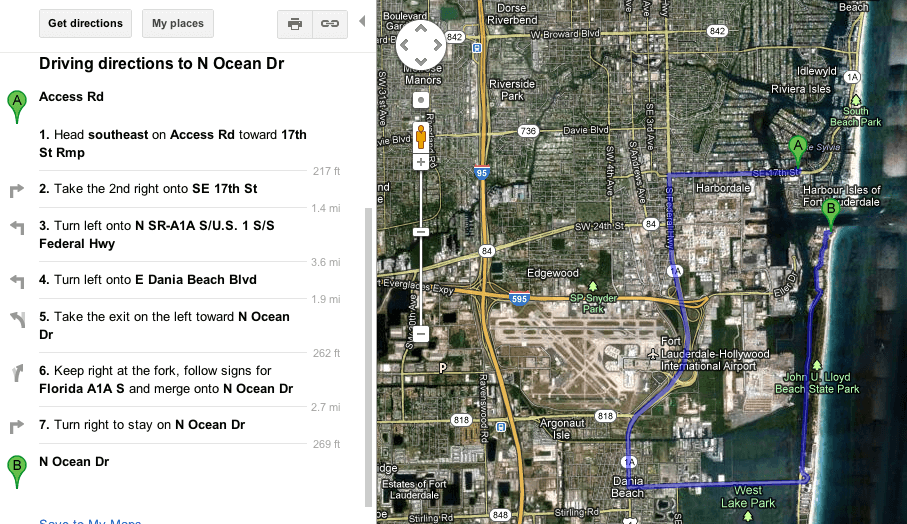 I also noticed lots of people asking for the best place to stay near Port Everglades. My suggestion is simple any hotel on 17st should do it. There are so many restaurants and stores in that area that just walking around will get you what you're looking for. This is a very safe area with lots of traffic, mainly from people heading to or from the beach. As you can see there are 6 hotels off the main street and a few others a short walk away. Most are within the $100-$200 range, some travel sites might offer some specials in some them and you might be able to get them under $100 in some cases, just look around.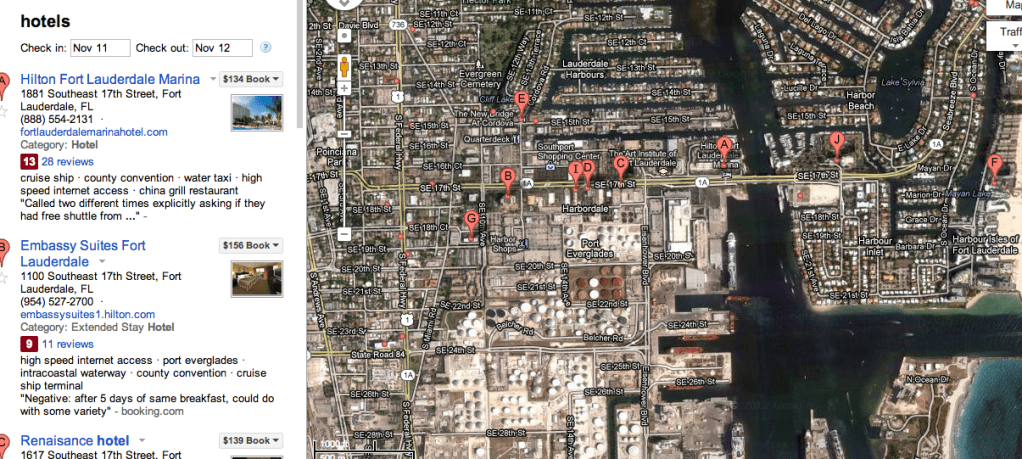 Flash forward to 2 weeks prior boarding, I have a boyfriend we been together for over 3 years? I forget he is the one that keeps track, I am horrible at remembering dates.
So some of you may ask why was he not a of part of the trip. It is kind of complicated and a long story, but I will try to explain briefly. He has many cruises under his belt around 18 I think and this is before he was 17yo, his granny used to work for NCL, so they did lots of traveling around the Caribbean. He is not very found of the Caribbean, nor the heat either and in addition to that when I booked the trip we had no idea about his university schedule. Back then I asked him if he wanted to go and he replied "it's too much money" I really did not think much of it. I actually thought he did not wanted to go, just because it's the Caribbean and with all the heat and some other issues that I will get into later on. But in a way he was right, it was too much money. Right now he is in school and I take care of most of the expenses of the house hold (he helps as he can) and with mom leaving to take care of grandma, money was a little tight.
So anyway back again with the story, I was at work one day and I feeling a little gloomy, I am not really sure what it was, but I just did not feel right. So out of the blue I called my TA and requested a quote for the addition of one more passenger to our cabin. What she told me was good and bad news, I was told that I could add someone but we would need to upgrade to a more $$$ cabin, the good news was that since the price dropped a little the rates for my mom and I would stay the same. But adding my bf would cost quite a bit and a little more that I had anticipated. So I took notes, thanked the nice lady for her excellent service and told her goodbye and to have a nice weekend. I preceded to think on my next move, I could technically do it, since I had some money put away.
I spent much of the morning thinking (one more thing to take into account was that our relationship has been a roller coaster of adapting to each other, we are in total opposite sides of the spectrum on what we like to do and how we are). But so far we do good, the one thing that we have still a few issues to resolve is traveling. I spent all morning weighting my options and came out with a simple conclusion. He is a good bf, he rarely asks for anything and I think he deserves this trip as much as I do, if he wants to go he will go. So I preceded to send him a text message asking him if he wanted to go. His response once again was "it's too much money, we need to save" so then I asking him again "you did not answer my question, would you like to go? is there any part of you that thinks that you would have fun on that cruise?" and after a 30 minute wait he replied "yes, it would be nice". Well it was settled he was going, as I was calling my TA to change my reservation, I remembered his passport was expired. I had a moment of anxiety, so I told him and he said he would do some research. Remember this is two weeks prior sailing 
After some research I found out that Miami had a same day passport service for of course a nominal fee, great more money… But what other option did we have? The problem with this service was that you needed a purchased itinerary to use it, it was a very risky move (you need to be 14 or less days away from your traveling date to use this service). So after some thinking the next day I called the TA made the change (by the way, between the day before and the day I booked him the price increased by 12%…) and printed his itinerary to take it to the passport agency. Something good came out of this, since we had to change room category they game us some options for our new room. One of them was on deck 11 about 6 rooms from the secret aft balcony room 11718. I loved the idea of being so close to such a large semiprivate balcony with aft view, it would give us the chance to spread out a little if we were feeling to cramped in the room, so I told my TA to book that one for us. Mom and I were happy about the change and he was happy because he was going, even though he would not show it 
 his personality I guess, got used to it already.
There is one thing that I thought I would miss from our prior cabin, I like being close to the water and this one was much higher up. Not to mention more movement of the ship could be felt. But that was also a good thing, this one could provide better views and a more elite status, lol, like anyone cares about that. But yeah I was very excited about that aft balcony!
Then he proceeded to make an appointment, they gave him the appointment for Wednesday 12 days to cruising (funny side note our home AC broke that day and yes you guessed it after 27 years of loyal service he gave up on us, we needed a new AC unit 
, it happens what can you do. The average life of an AC unit is 15-20 years, the repair guy said we are very lucky). So I was a nervous wreck, no AC, no passport and bunch of money spent, lol. So he went on wednesday and did all the paperwork for the passport. Later he send me a text saying everything was fine, we just needed to wait until Friday and he could go pick up his passport. My thought was that it was not exactly same day, but close enough I guess, they apparently do it by the needs of each person. For the next two days I was again a nervous wreck waiting for the passport. By now I really wanted him to go, it had been a while since we traveled together and I was really looking forward for this trip together, not to mention all the money that would be lost.
Another thing we had to discuss was what to do with our specialty dinning reservations? I had another mouth to feed and buy drinks for. The good thing is that he does not drink anywhere near what I drink, but none the less I was sure that he would want a drink here and there. So I had to account that into the budget. We also needed to figure out parking, before he was going to drop us off at the port, but now we had no one to drive us there. We had to park there or around the area, no way out of that one. So yeah a lot of little expenses came up here and there. But in the end we decided to keep our Central park dinning package which included 150, giovanni's and chops for $65 each person, we thought it was a good deal and it would help us experience more of the Allure of the Seas.
We also got the Allure of the Seas 7 bottle gold wine package, I figured between the 3 of us we could easily put down a bottle a night and help us save a few dollars per bottle.  Here is a summary of the savings that can be done by using the wine package, but be careful you can also loose money, the text in red represents cash lost. NOTE this is not my work, another CC member did this wonderful job for us to use, wish I remembered his screen name. In any case, thanks again for your work in this charts, they came in very handy.
Allure of the Seas wine Package
So as it turned out all my worrying was as usual for nothing, the bf went on friday and got his passport, we were ready to go, 10 days and counting. I was extremely excited with a brand spanking new AC and his passport in hand I went ahead and did my own version of the "Smarty pants dance" to celebrate 
 ( for those of you not familiar with this dance here is the original videohttp://www.youtube.com/watch?v=1Nn9dd6FfE8 ).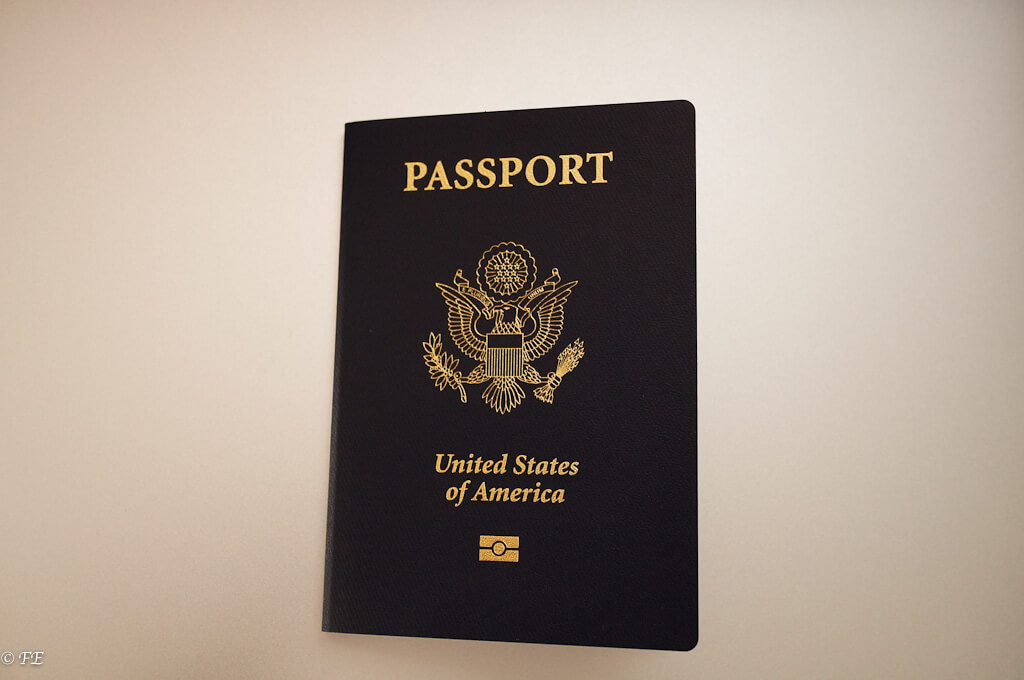 It was 8 days until boarding and I decided to book park-and-go (http://bookparkngo.com/) ahead of time and save about $21. I went on the site and did all the steps the total came to $61.23 not bad for a week of parking in a reputable place. I did my research to make sure that the place was safe, sure you can find cheaper, but most of them are unsafe. So in the end I decided on this one. As I pressed the submit button, a sign appeared that said something like "transaction not found for given amount" or something along those lines. I said oh ok, let me just try again, but then something came to me and I decided to check my card company site. Just as I thought the transaction was already pending… So with no email and a transaction pending, I decided to give them a call and sure enough the reservation went through but their system was having issues, so he asked me for some info and 5 minutes later I had my confirmation email. Just as a side note for those of you who rather avoid the hassle of taking a shuttle and such, you can park at Port Everglades for about $112.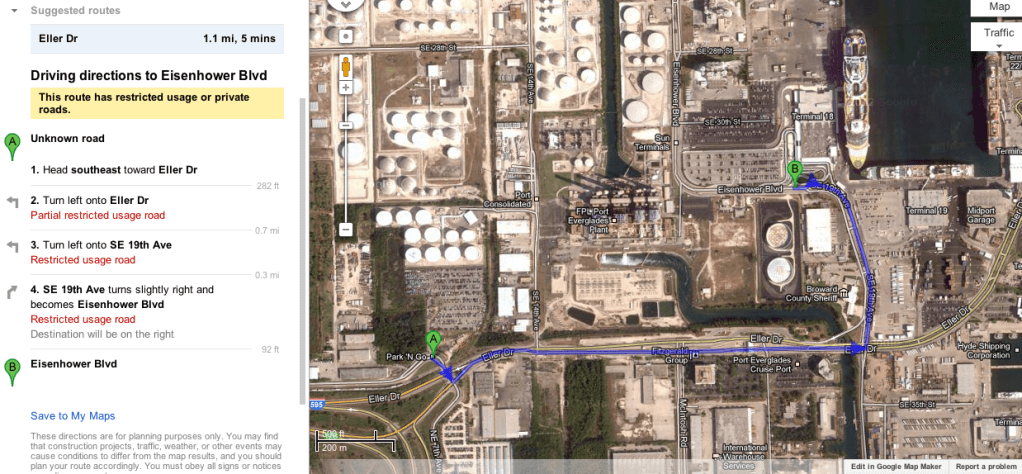 So with nothing to do, I decided to finally add all of the bf passport information to the RCCL site and check him in. Which actually reminds me the night before I made big progress, I actually remembered his birthday, I know I know I am horrible. But in all honesty I have a really hard time with remembering dates, I have even forgotten moms bday in the past 
. Both him and I were very happy about this yayyyy. Stupid I know, lol oh well, boys will be boys. I also printed all the cruise documentation and luggage tags at that point.
Later on mom came and told me that she had changed her mind, she wanted to pre-purchase the soda package after all. I thought she would, after all coke is to her how wine is to me. It's not like she drinks a lot of coke, but she opens a lot of them and has 3-4 sips and then she is done with them. (She actually reminds of the little girl in the movie "Signs" were she would drink 1 sip and say "it's contaminated" and not drink from that glass again, lol). So if you think about it, ordering a coke for her to have a couple of sips would add up very quickly. I did the math and she had to have at least 3 sodas a day for the package to pay it self. I could definitely see her drinking 3 sodas a day and I could probably benefit from her leftovers as I don't like trowing sodas away (that is usually what happens at home). So we went ahead and purchased the soda package under her seapass card, the wine package was purchased on my seapass. I was also excited to get the RCCL travel mug, we already had the NCL one so I guess we were starting a new collection.
I am not sure if you folks figured out this by now, I am a mommas boy. Growing up for the most part it was just the two of us and it has stayed like that as the years go by, my father was rarely present in my life and I have grown to be completely detached from him. Thankfully my mom stepped up and came through for me in every way that she could. She is probably the worlds greatest mom, I know most people say that about their moms, but I am telling you, my mom is #1 
.