Back up at the Lido deck of the Allure of the Seas, there really was not much action that day, I guess most people start packing early.
Then we just headed to the jacuzzi for the last time in our cruise.
Everyone had turned their lounges to get the most out of the sun that was available.

These were taken leaving the solarium and heading towards the room to get ready, we had Blue Planet reservations at 5pm.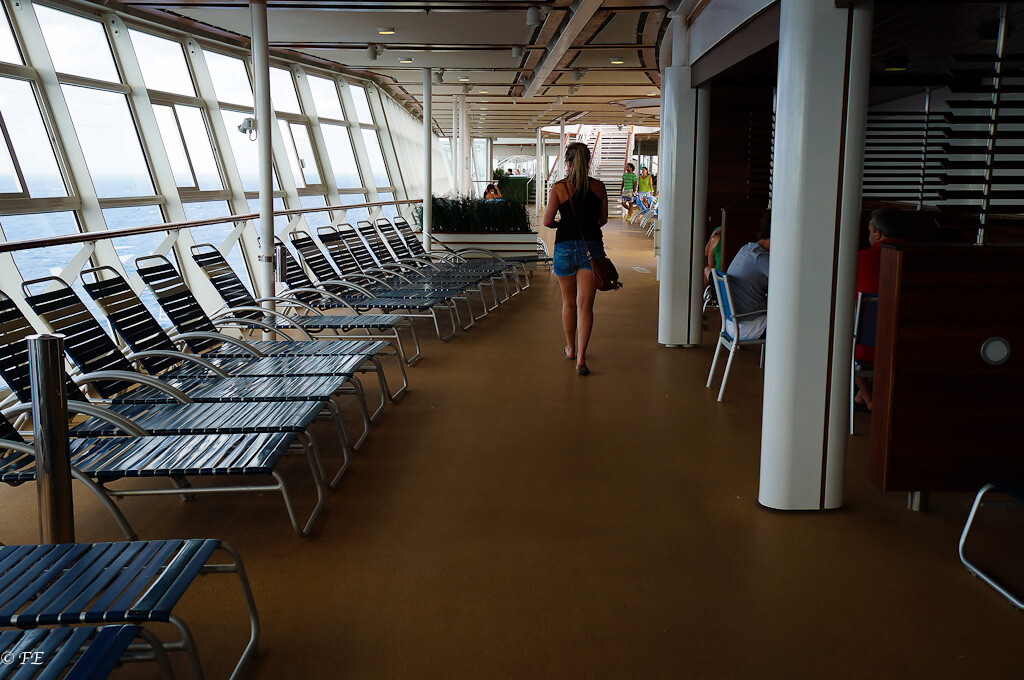 The port side of the Allure of the Seas is the smoking side. That was a good thing since we liked the beach pool so much and spend so much more time in the starboard side.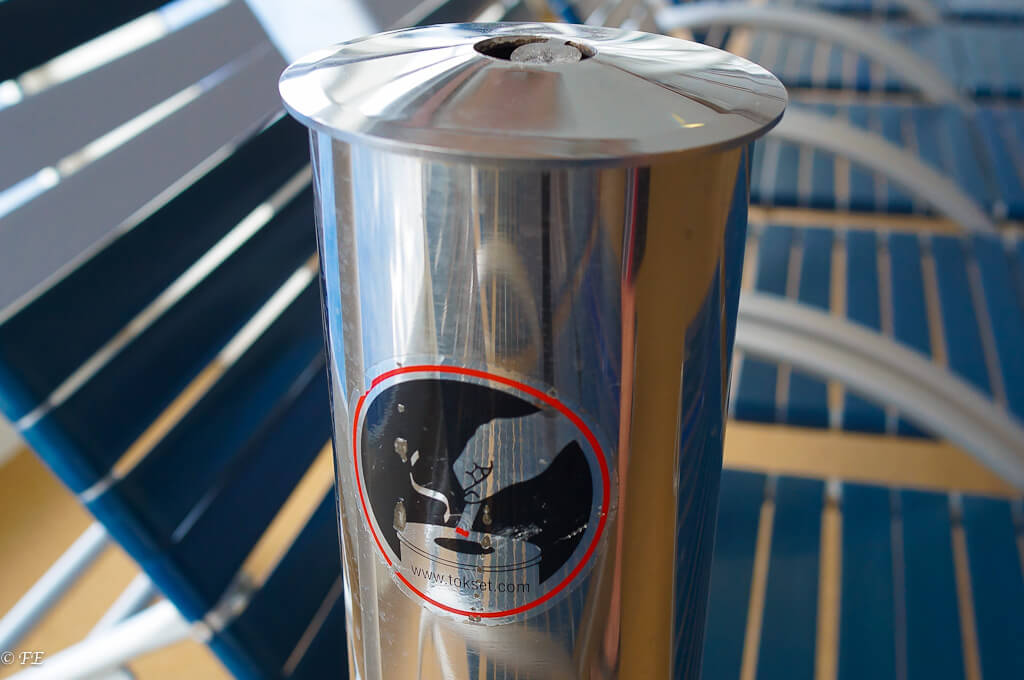 On our way down to change,
The Sports Pool.
Allure of the Seas Sports pool
Before blue planet started I took the pictures of the Allure of the Seas Starbucks menu, I rarely get Starbucks so I am not sure if the prices are the same or not.
This was before the show started, the theater was about 3/4 full. No need to make reservation for this one. Actually the only ones I really would bother making reservation for, would be the comedy show and Ice games. But I guess if you're making those two, you might as well make for all of them.
The Allure of the Seas Blue Planet show was kind of boring, personally I took a nap, it was not my intention to do it, but soon after the show started I was out like a baby. I woke up for a few minutes and made sure I wasn't bothering anyone, I don't snore and I was sitting in between my mom and my bf, so it was all good. There were plenty of seats available, it was not like I was occupying a seat that someone else needed. After I noticed it was ok, I went back to sleep.
My bf who likes those kind of shows, said that it was pretty boring. Mom did not enjoy it either, but she said it was ok. For the time I was up, I can remember a lot of jumping, dancing and hanging from cables. We all came to the agreement that this was probably the show that that we all enjoyed the least. I did however enjoyed some of the music that was played in the show, it was very soothing 
If I recall correctly it lasted about 45 minutes and it had some of the same performers from Oceanaria.
Right after the show was over, there was a flash mob dance, the one that all the people had been practicing the days prior. It was a lot of fun and it actually had a very good turnout. Apparently this was the first time they announced it on the Compass, or something like that. In the past they did not announced it and not many people were there to experience it.

Here is a short video of it, http://youtu.be/jlV3y383TSA
After the flash mob was over we had about 1:30 wait until our 150 reservation, but all of us were pretty hungry. So we decided to stop and see if they could seat us a little earlier than our reservation.
Once we got there I asked the host and she said she would gladly seat us earlier, she made some changes on the computer and told us to follow her.
Allure of the Seas 150 Central Park
Remember I had very high expectations for 150 central park and usually when you have such high expectations they are hard to meet. This was supposed to be our big finale to our fantastic vacation.
Did it meet my expectations? well yes and no.
Would I try it again? Maybe..
Walking into restaurant felt a little awkward, we kinda felt a little under dressed for the venue, but there was no way that I was going to put my suit back on. I think the same conspiracy that is my closet at home transferred to the one on the Allure of the Seas, because all my closed kept on shirking during the cruise 
 .
We were seated on a big table with a very comfortable couch on one side and two large chairs on the other side. I immediately took the couch, I am bit of a couch potato at home 
 lol. My mom and my bf took the seats across from me. We all took a few seconds to look around, there were just a few more occupied.
Our table looked just like that one, but with larger chairs on the other side.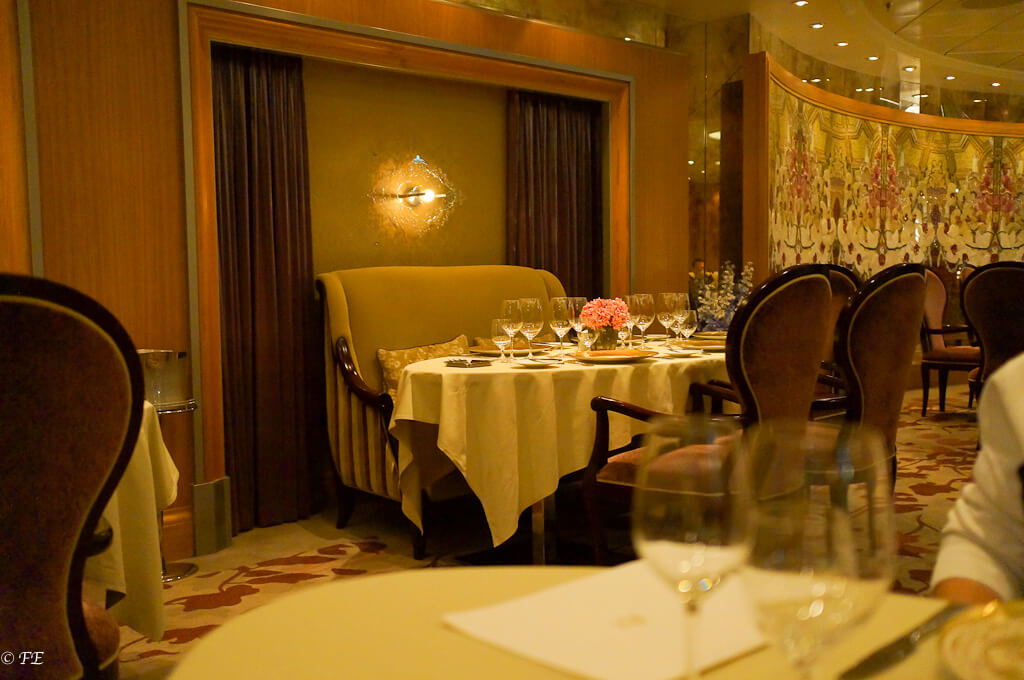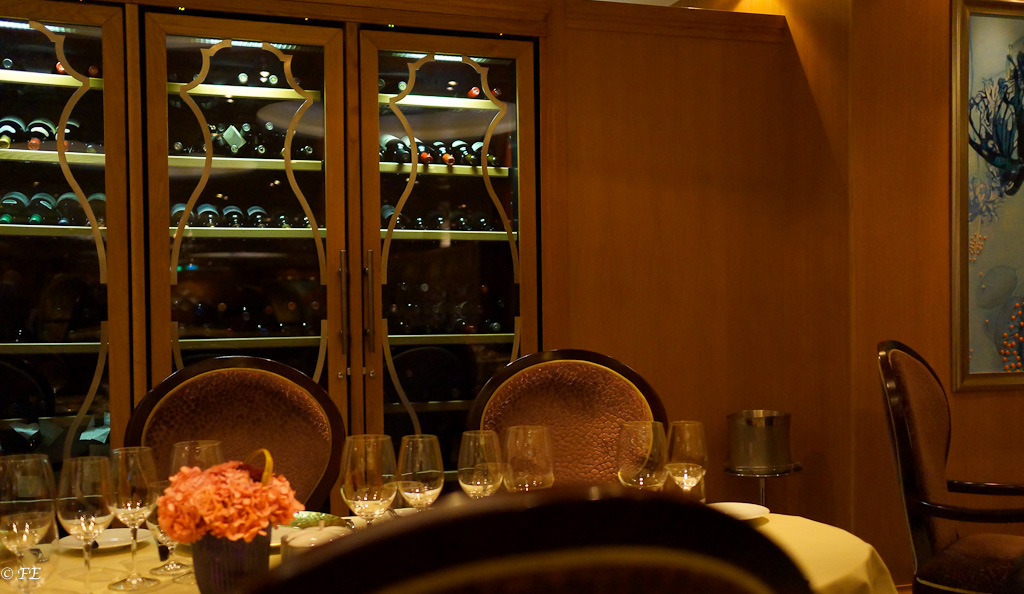 Soon we were approached by our server. Please notice that I am not one to complain about service, actually I think I have yet to say anything bad about service in this review. I fully understand the stress they are in all the time and how hard they work to please everyone. But unfortunately service was a little rocky during the entire night, I will talk about it as I write the review.
At first he introduced himself and told us a little behind the idea of the restaurant. You know the usual, that it is supposed to resemble the very high scale restaurant in NY City and that it is a tasting menu and all kind of stuff. We all had this huge wine list on top of our plates, I failed to take pictures of it.
He was very professional in everything he did, the way he explained everything and such, but there was something that we did not like about him. He was an extremely serious person and lacked personality, I don't think I remember him smiling one time at us during the entire meal. I don't think he cared for us much.
I asked him for a wine from my wine package and he said sure sir, he asked me do you know which one? I said yes, Castle Rock, I wanted to play it safe and get something that I knew about. One thing to note was that he did not offer me the mini package wine list for me to look around. But I never asked for it anyway. I also asked him if he could get my mom a coke.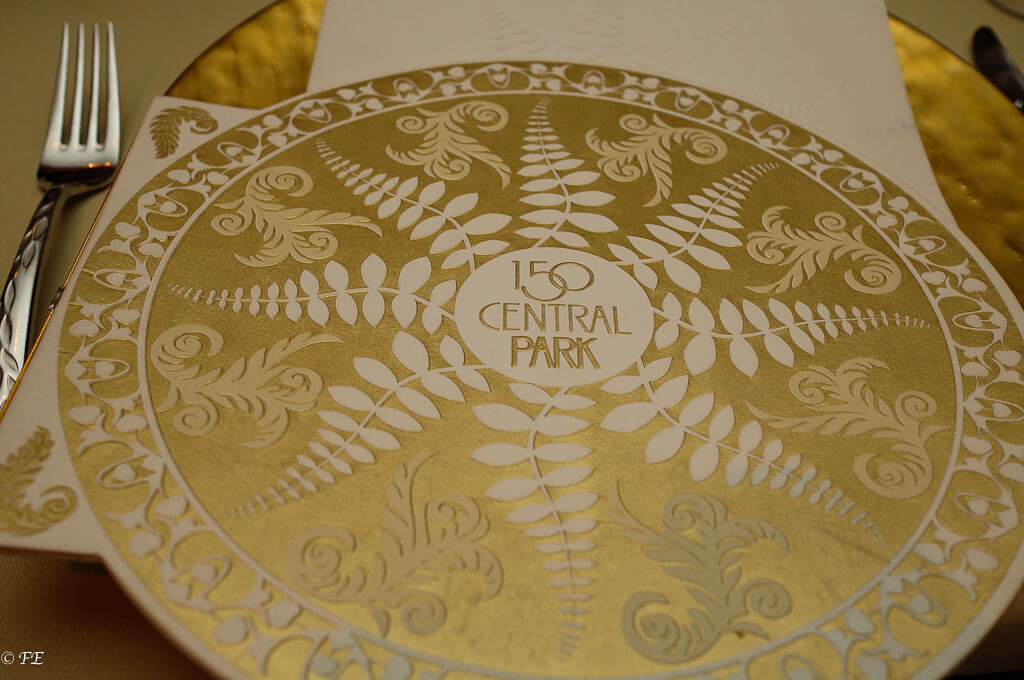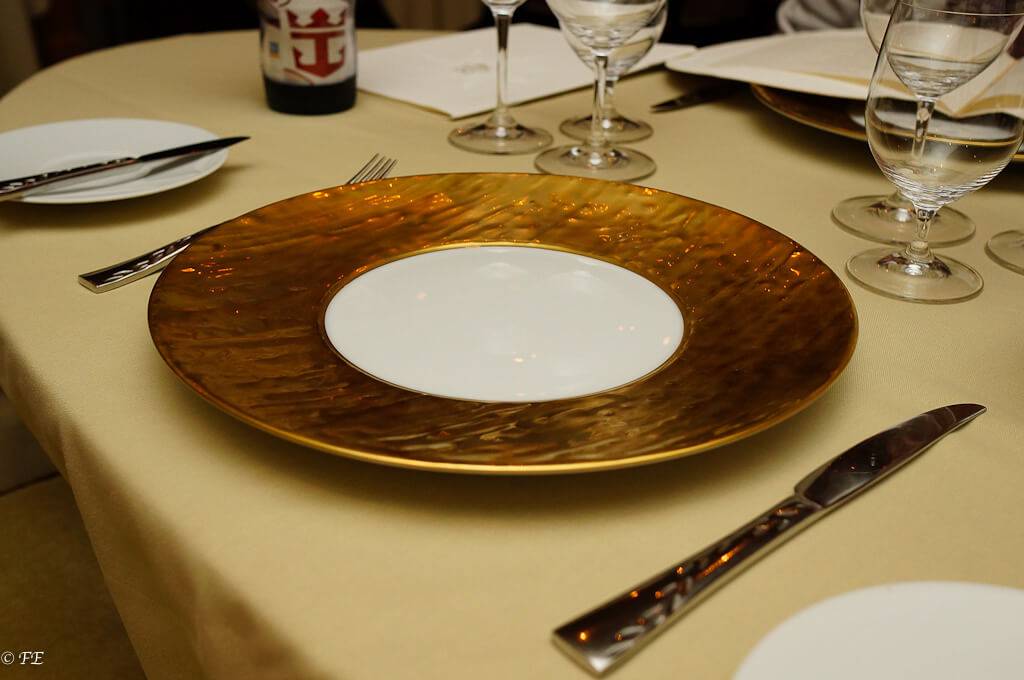 I would like to note here that out of 5 tables that I saw that night only one was doing the wine tasting, all the other tables had the wine package. I wish I could of afforded the wine tasting, I am sure it makes the dinner so much better, but my cheap bottle of castle rock did just fine =)
At that point my bf left for a second, he had to go to the restroom. Our server came and opened our wine and poured it, once again I like to say that he was EXTREMELY professional. Mom and I said "thank you", but heard nothing back from him… 
 at one point I thought we done something to offend him, but what?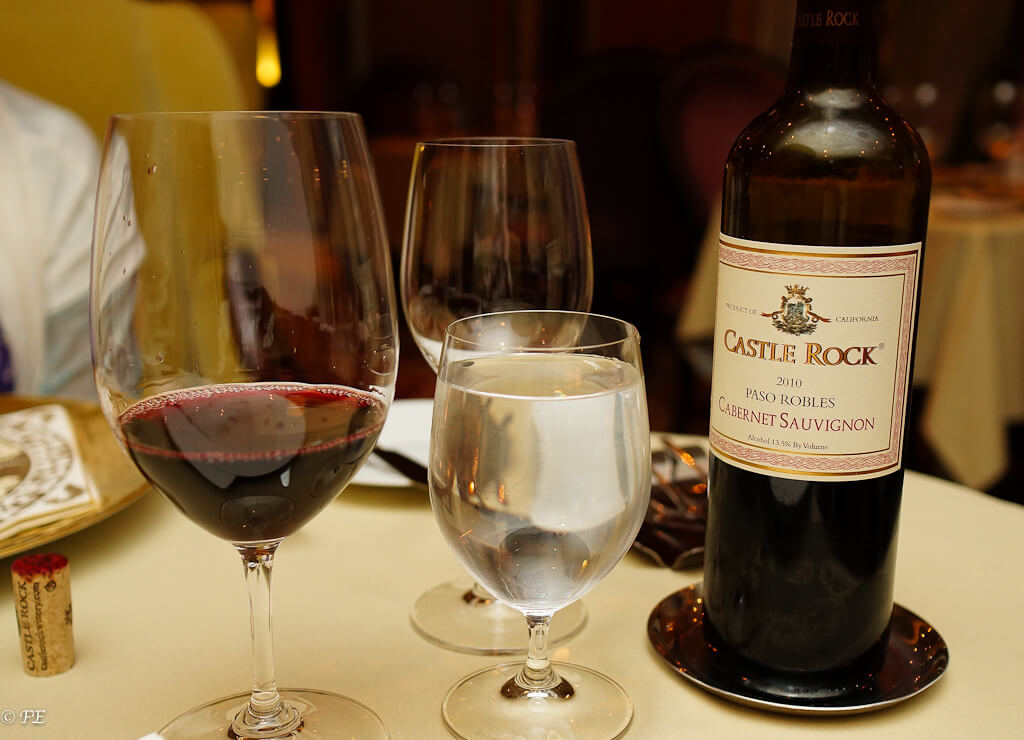 Then he gave us the menu and told us a very detailed explanation of the dinner, to be honest with you, mom was lost at Lobster, every single word after that was just too confusing. I tried following along, but also got lost at times. We really had to read the menu every time something came to the table. He spoke english very clearly, we just got lost in the explanation, some of the ingredients are a little confusing. But in any case we sat there and listened to entire explanation.
They had some nice flowers in the table.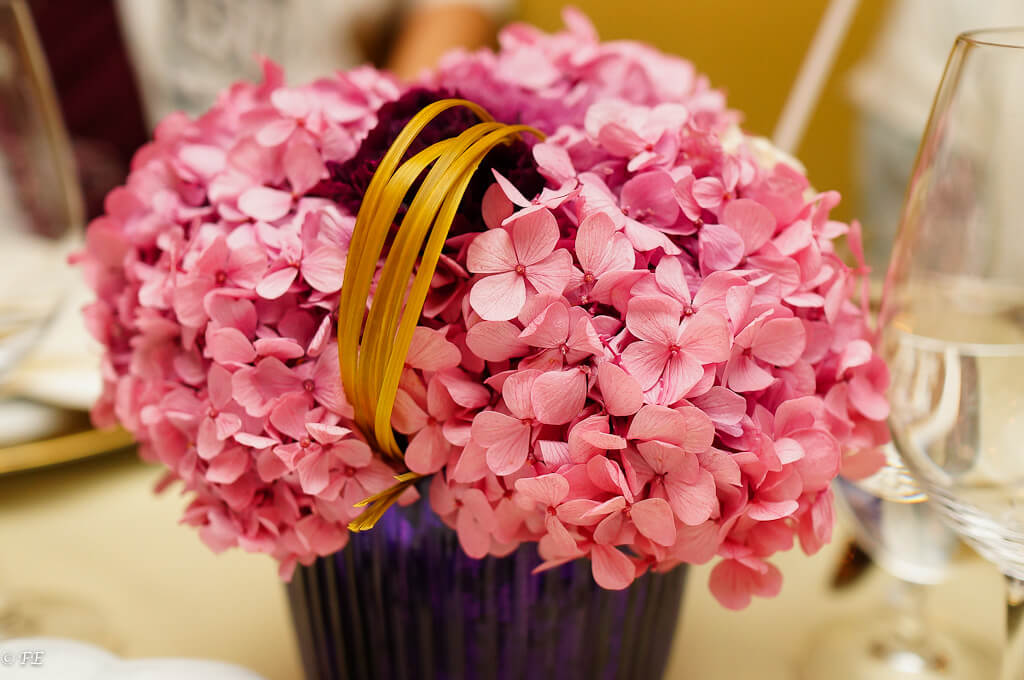 Then he offered us the very famous cucumber/mint martini, I have read extensively about this martini and while I was intrigued by it, paying $17 seemed a little too much. He really did not push us at all to buy it, but in the end I said yes, please bring us one. There have been mixed reviews on some people getting just the one glass and other people getting the little martini mixer with additional martini in it. At that point I was just praying that we would be one of the lucky people that got extra.
Then hold and behold we got lucky he brought the martini plus the little shaker with more liquid in it, I was pretty happy about that.
150 central park famous martini 😀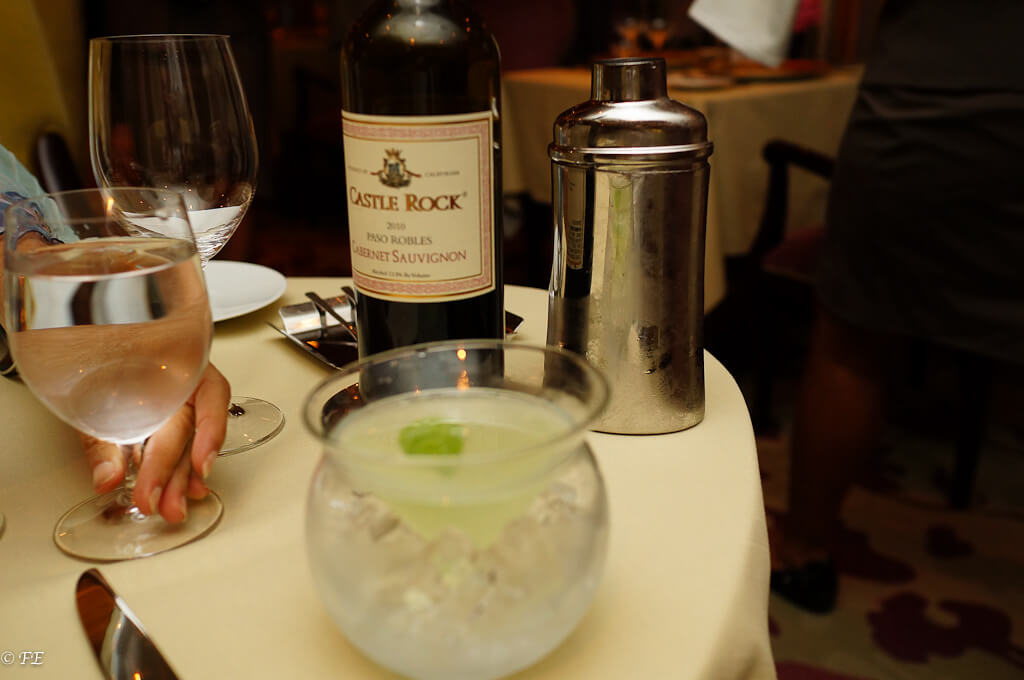 Ok, now let me tell you something about this martini. IT IS THE ABSOLUTELY MOST INCREDIBLE MARTINI I HAVE EVER TASTED!!!!!!!!!!! And this is coming from someone who 90% only drinks martinis, I have tried a lot of martinis in the past, but this one was just something special.
The way they describe this martini is that it is supposed to open your sense of taste and smell, for all the great food that is about to come and somehow it manages to do just that. They are so many flavors in it, that are just impossible to describe (I think the mint adds something special to it), we all tried it and loved it. In the end mom had most of it. The reason why she liked it sooooo much was because it was a very weak martini, the amount of liquor in it was minimal 1.5oz. But this martini is simply not drank for the alcohol, it is something else, it is just one of those little pleasures in life. It was just something remarkable. OOOOOHHHHH THE TASTE…. Yum Yum Yum =)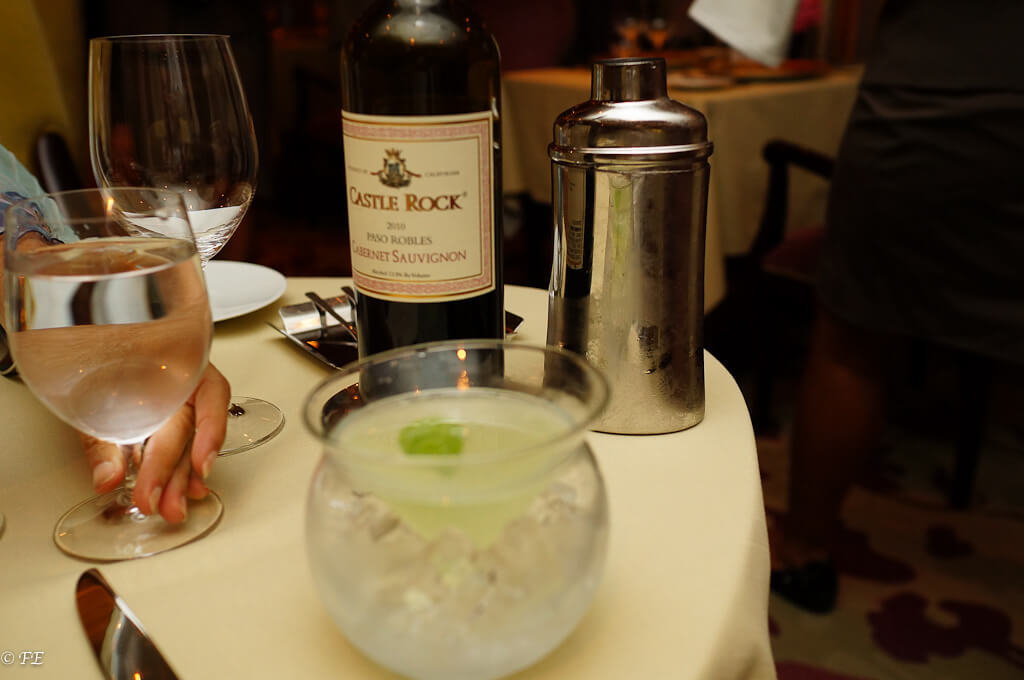 Then came the description of the salts and bread. I had already opened the salts to take a picture and I guess our server noticed, lol.
So he came with a little tray with some spoons in them and he started to explain. The butter in 150 central park does not contain any salt, instead they give you the option to use any these salts. These salts are accordingly to our server the best salts in the world and some of them are very very rare. He went very fast through the explanation and he said a lot of information, I tried making as many mental notes as I could, but unfortunately I lost some information in the process.
Here is what we remembered, they had a french salt (that is the finest of the world and used in most of the finest across the world, that was the white one), one from Australia called Salish, one from Hawaii tasted like rose petals, one from India that tasted like boiled eggs, there was also a barbecue one. I think I missed a few. In any case they were all salts and they all tasted different, I tried them all and that was it. Mom like the one from India and my bf liked the barbecue one.
It is a nice little detail to make the restaurant special, the funny thing is that I always over salt all my food and that day I added no salt to any of my food. Ironic.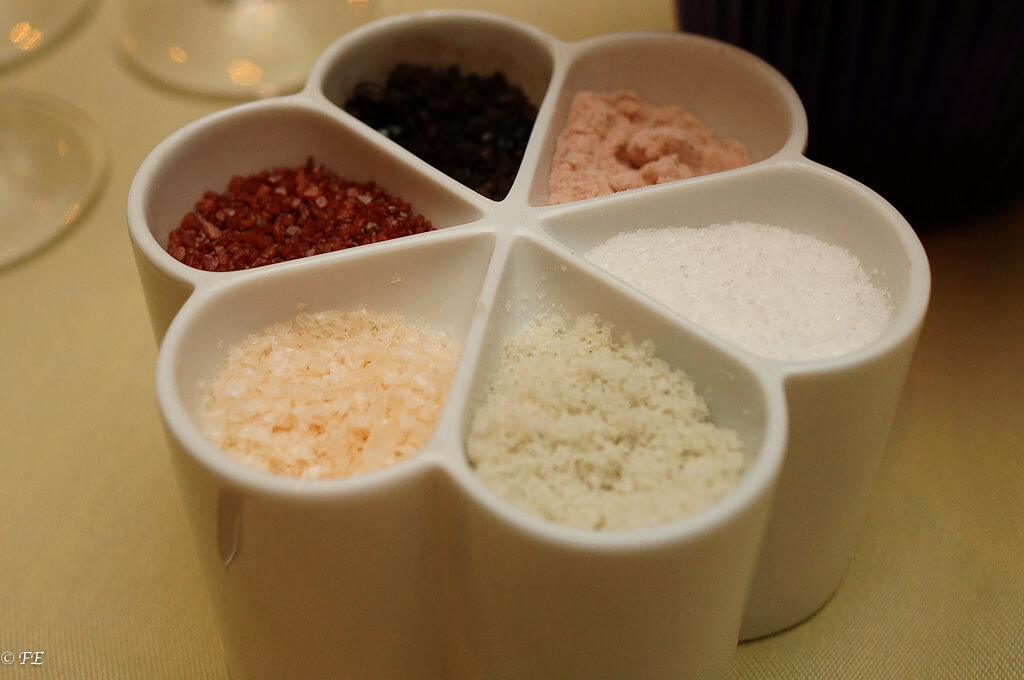 Salts.