Final chapter of the of my Allure of the Seas Review.
Then came the first dish, let me describe it in my terms. It was chilled lobster, with what I think was proscuitto, some very tasty oranges, and a lobster pure (made from concentrated bisque). There are also a few mixed greens, all over a very tasty sauce.
I enjoyed this first course very much and so did my mom. My bf on the other hand did not care for it at all, he does not like lobster, my mom had double lobster portion and I had everything else from his plate. All in all a great course with lots of flavors and a very tender lobster. This course gets an overall thumbs up.
Lobster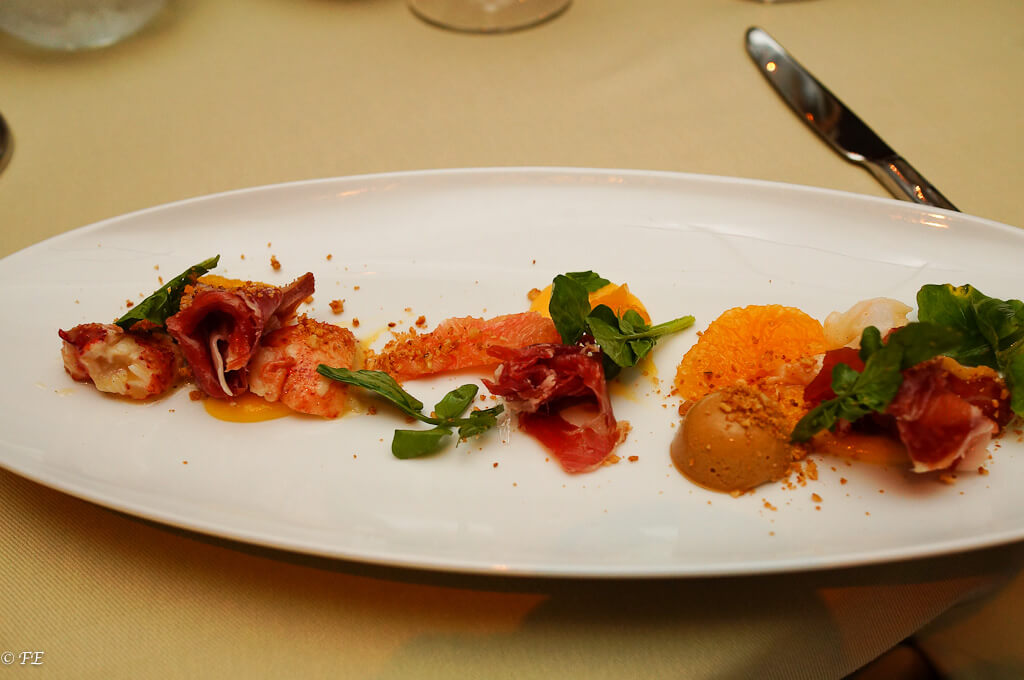 The second course was the soup, it was a smoked apple cheddar soup. I was a little scared of this course since I had for gotten my lactose enzyme upstairs and they were already packed. If there was a lot of cheese on it, I would have to pass on it.
The soup comes out covered, they serve all 3 soups at the same time and uncover them at the same time. The SMELL when they uncover the soups is incredible, extremely strong and very pleasurable. It became a thing for me to wait for other tables to get their soups, just so I could enjoy the smell of it. The soup had a side of ingredients that you add to it, my bf said that the soup changed flavors as you added them separately, I just added all of them together at the same time. The soup was ok I guess, I really don't care much for soups. My bf loved it and so did my mom, so it gets thumbs up.
Soup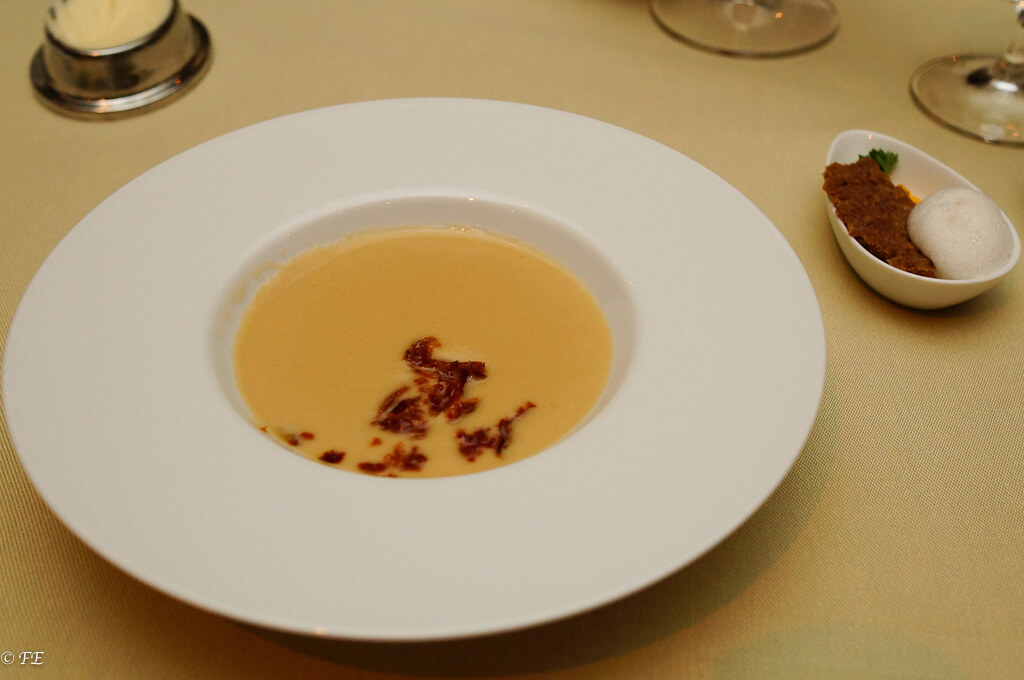 Then came the worst course of the night, it was dover sole. I have always loved dover sole, but unfortunately it is a very expensive fish and somewhat difficult to find. Some restaurants like to make a strong creamy caper sauce to go with it, that is usually how I like to have it. This dover sole came out to the table COLD, it was also very bland and it was quite fishy. I still ate it all, my mom ate a little as did my bf, they did not care much for it. RCCL might want to revisit this dish, or who knows maybe it was just a bad batch of dover sole. In any case it gets thumbs down from all 3 of us.
In the middle is a potato pure. The creamy sauce was actually very good.
Dover Sole
Next up came the tortellini, it was ok I guess, it all tasted good. My only problem with it is that they add potato chips to it, it somewhat makes the dish look and feel cheap. From what I got from our server, they add them to add crunch to the plate, I think they could of added the crunch from something else like pine nuts or something similar. But overall it was enjoyable, I ate it all and so did my bf, my mom was struggling to keep up, she had filled up on bread 
, lobster and soup.
Raviolis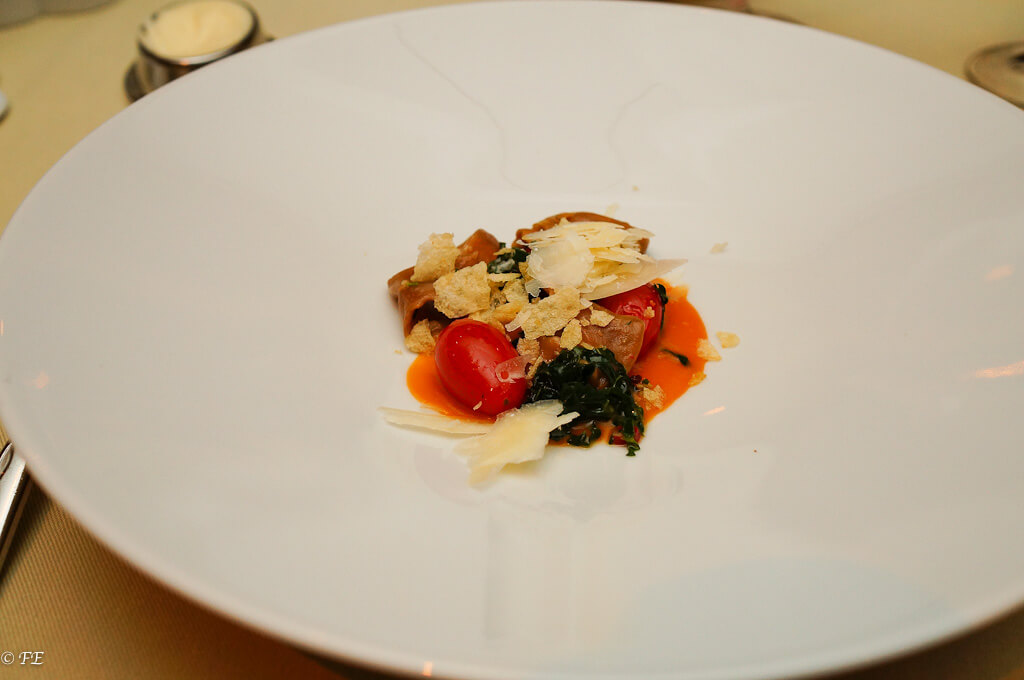 At this point I also like to mention that our server had yet to acknowledge any of our "thank you" so by that time I just stopped saying thank you, it is really not my style, but I really did not feel good being ignored. At first I thought it was the style of the restaurant to be like that, but then I saw the two servers to both sides of our table having a little fun with the customers, I wished we had the lady, she seemed so nice. Oh well, what can you do. The Chef also came out at this time and said hi, he was very nice, asked how everything was going. We told him great 
Next up was our main, It was fillet. Our server explained how this fillet was special and one of the best in the world. The fillet wasINCREDIBLE, it was very different from the one at Chops, I think you could cut it with a butter knife. It was very different than another kind of meat I had ever tasted. We got them cooked how the chef recommended medium rare and my bf of course got it burned as usual. Overall I enjoyed it very much, my mom claimed the one at chops was better and my bf said it was ok. I tried one sprout, but not the yellow thing, it kind of looked like polenta, but I was simply too full.
It was very crispy on the outside and inside just perfectly pink. LOVED IT!!! =)
Fillet Mignon
Finally the dessert came out, mom declined the dessert and the server thought that she did not like chocolate and he offered to ask the chef to make something else without chocolate. Like I said the service was not all bad, he was very professional and timed everything perfectly, but the way he came across was slightly intimidating and rude. We explained to him that she was just full and he left to get our desserts.
The only part of the dessert that I enjoyed a lot was the rum ice cream, it was TO DIE FOR. Very good, luckily my bf did not eat his and I had his. He only ate all of his cheesecake and liked it very much.
The little chocolate pieces under the ice cream mixed great with it.
Dessert
By the end of meal I was stuffed, I ate so much that night. Overall it was a good experience, it could be better, but it was good. I might think of trying the other menu next time aboard, but I will make sure to up front ask for a friendlier server. I think that might make the experience a much better one and make us feel more welcomed in the venue. I am not sure if after that I would ever visit it again, I think it is a little too formal for such a relaxed kind of vacation. But non the less we were very happy we went there and tried it.
We asked for the check, this time we had one for the martini it came out to $18 something I believe, we left him his extra tip in cash like I usually do and left. Note that since this was a more expensive venue I was planning on leaving more tip than the other ones, but in the end I left the same as the other venues. If anything Francisco from the night before at Chops deserved more.
After sometime in the room, mom and I decided to go check the karaoke one more time, there was an open mic session and we wanted to enjoy it one last time. Some of the best time aboard this ship I spend in the On Air venue with the Karaoke contest, I never thought one could so much fun there. I will make sure I never miss karaoke contests in any future trips.
This was probably one of the 
 sights in the entire cruise.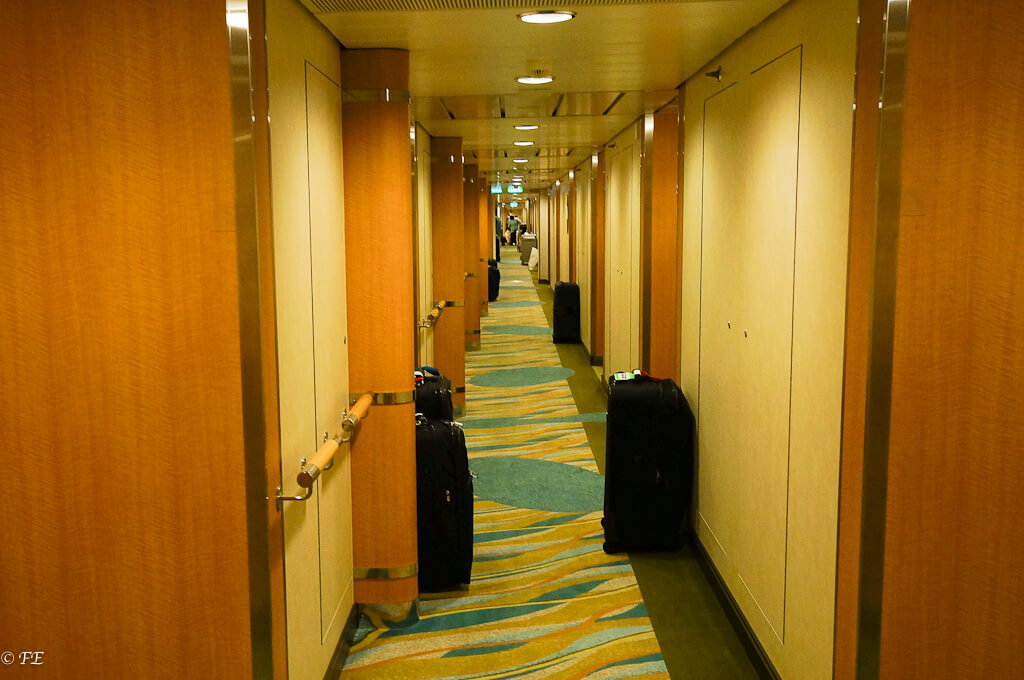 Back in the Allure of the Seas promenade I took one last picture of the Mercedes Benz, everything looked extra purple that night.
Back stairs mom and I went to the balcony and relaxed a little, that was it, our last night on the cruise. We enjoyed the breeze and listened to some Bob Seger music. It had been a great week and a most memorable one.
We finished packing and went to bed.
Demarkation was fairly easy, we left the ship at 8:08 to pick up the bags and we were out waiting for our shuttle at 8:35.
We got home at 9:25.
Allure of the Seas Final thoughts.
I am kind of getting teary eyed as I am writing this, our trip on the ship was MAGICAL. I have been very fortunate during my lifetime to have traveled the way I do with the limited resources that I have. This is all thanks to a most supportive family that one can have. I had a lack of a father figure, but my mother and her side of the family made sure that I was one very happy child. With all the traveling that I have done, somehow this trip managed to be my favorite one. We had a great time aboard the Allure of the Seas and she introduced us to what a longer vacation aboard a cruise is like.
My eyes have been opened to a new way of traveling, one that will most likely be my only way of spending our vacations for some time to come. There is something special about getting on these vessels that take you to multiple destinations and not have to worry about nothing else but just having fun. I really can't think of anything else that compares to it.
The Allure of the Seas is a wonderful ship, but not without it flaws. The crowds on the first day are pretty bad, but I guess that is what comes when you unleash 6,000 people into a compact space. The elevator software should be rewritten to one that is more efficient, or maybe there are just simply not enough elevators in the ship, I recommend using the forward elevators to avoid crowds. This ship is not for people that have mobility issues, we witnessed several older couples making comments and struggling to keep up with the crowds while getting off and back into the ship in ports.
One thing that I would like to note, is that I hate high pressure sale situations and during my preparation for this trip I read several reviews complaining about that. We never encountered anything like that in any of the specialty restaurants, the only time I saw a very mild form of it was at the spa, but a simple no was enough to make it clear that I was not interested.
This is one ship that you need to be inside it to really appreciate its magnitude and the engineering marvel that she is. There are simply no amount of pictures or videos that will let you experience the real deal.
The food was all very enjoyable, just a few items that I would avoid would be the escargot, baked alaska, rack of lamb (Giovanni's) and the dessert trio sampler, thats about all I can remember of the top of my head.