The day continued in our Allure of the Seas cruise asI sat in my lounge chair ate the light lunch and ordered one more drink. Mom ate some pastries.
The view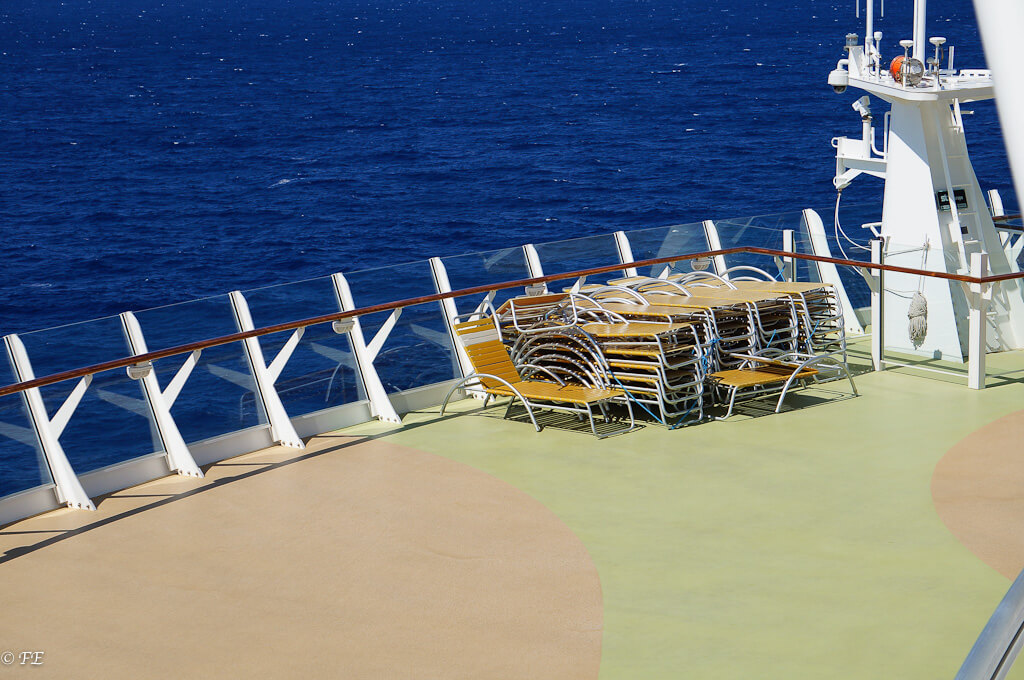 I also noticed a bird inside the solarium, but by the time I changed the lens it was gone.
Side note, our Allure of the Seas sailing had 5770 passengers. You can ask in guest services.
Later on we decided to try the outside jacuzzi for a little while before going to the windjammer. Here is when we noticed a few of our belongings gone missing. Nothing big, no worries, but none the less take care of your stuff, you're in a ship with 6000 people and you just never know. Earlier on the cruise I noticed someone putting their belongings up high so they could keep a constant on them and that is what we did from then on.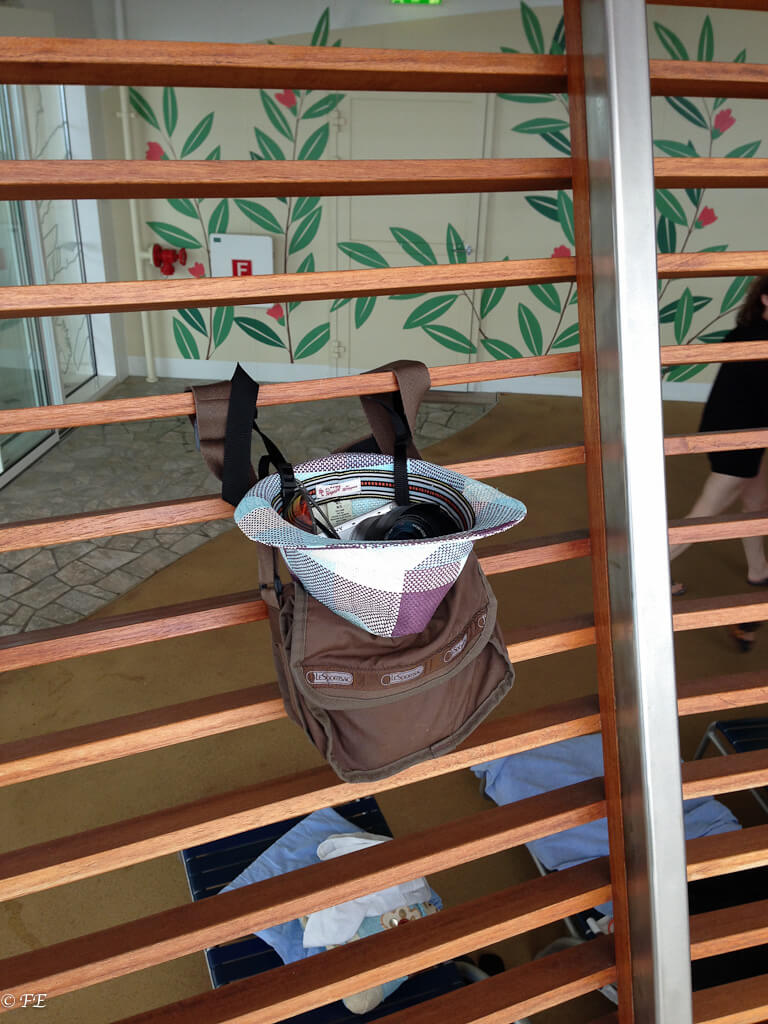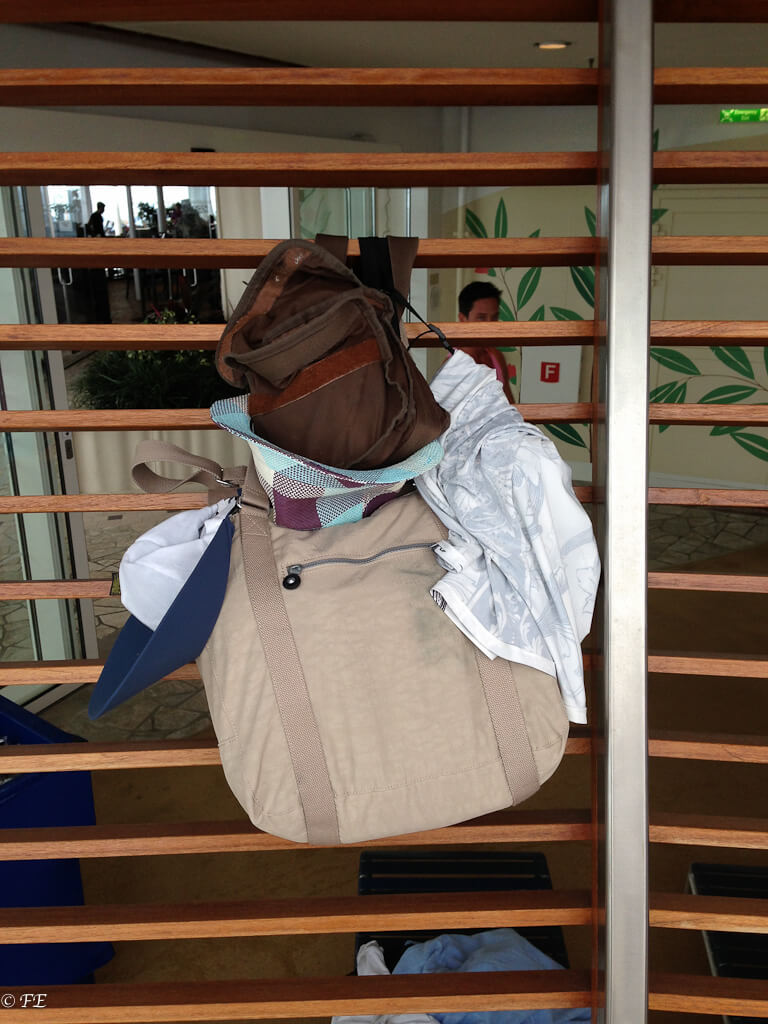 After that we headed up to the Allure of the Seas windjammer.
On the way up
Remember you have to return your towels before a certain time on the last day or you get charged $25 for them.
I was wondering what she kept looking at all day and night. lol
They have a scuba training program on board the Allure of the Seas, they do it on the aqua theater and in Cozumel. I think the Padi certify you, but not sure.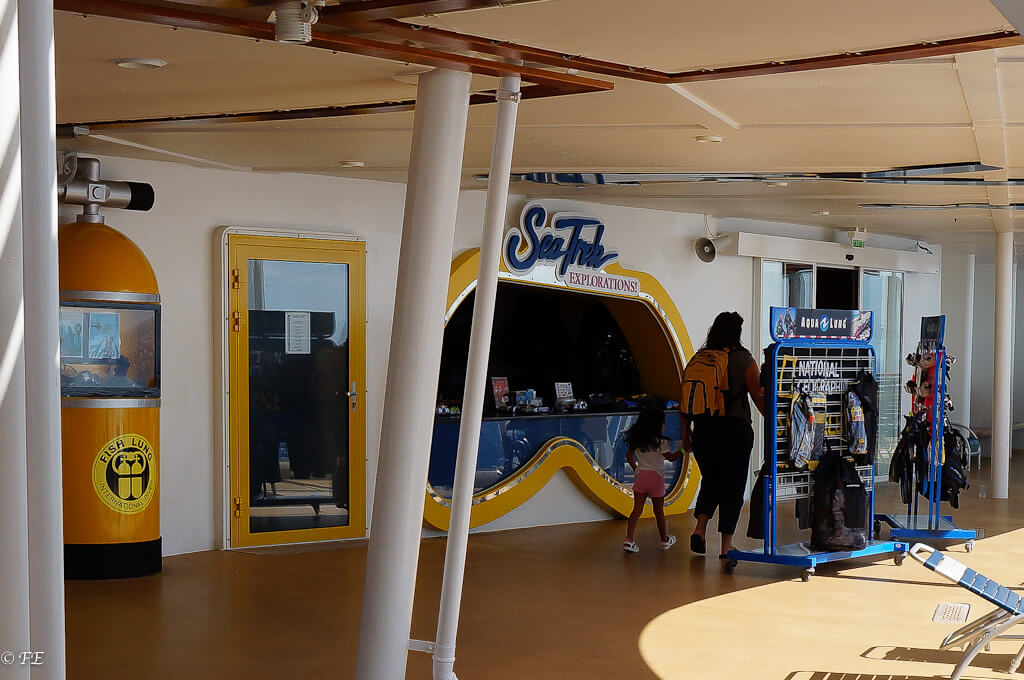 Ohhhhh those fries.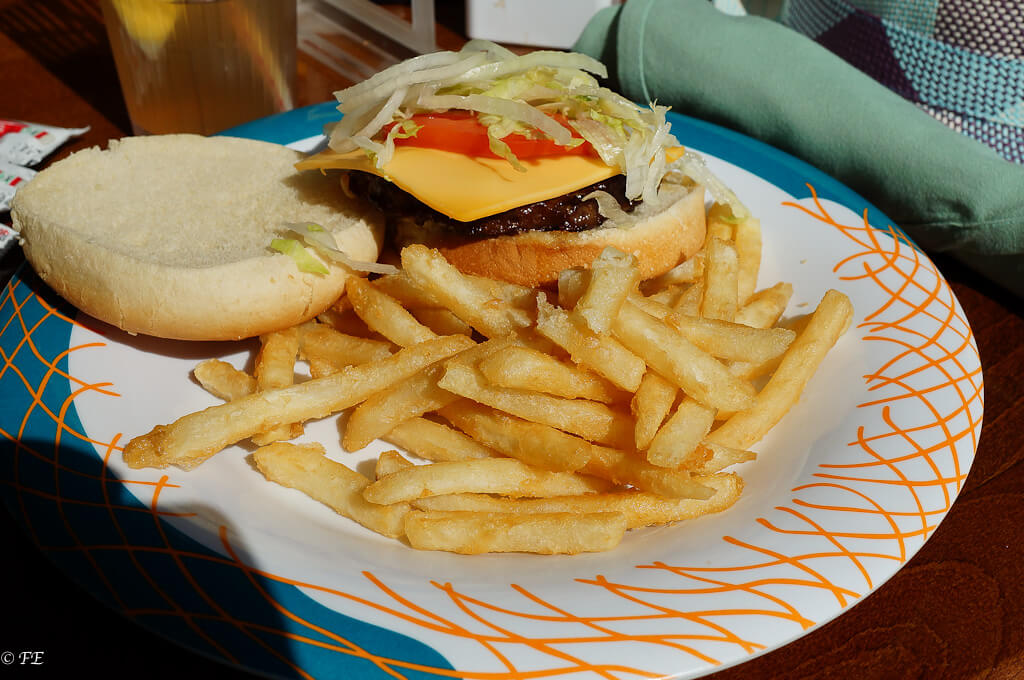 I did not get a picture of moms food because she ate it while I was getting mine.
Then we went back down to our balcony to check moms email, as we sat there we noticed how the ocean was slowly changing to a much nicer color. We stayed in our balcony until 3:30 finishing my drink and listening to music. We could not believe what a great time we were having 🙂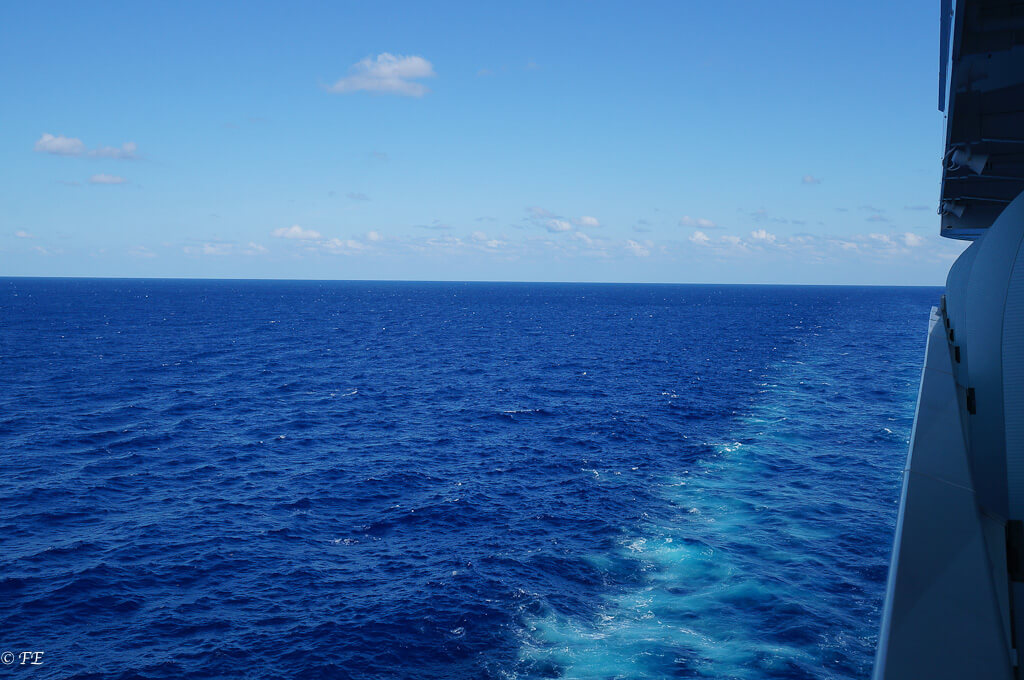 After that mom and I headed to the running track just for quick look around the area.
It is a very nice peaceful place to sit read a book and enjoy the wake. One of favorite spots in the Allure of the Seas.
Back up at boardwalk, there was a family playing bean bag.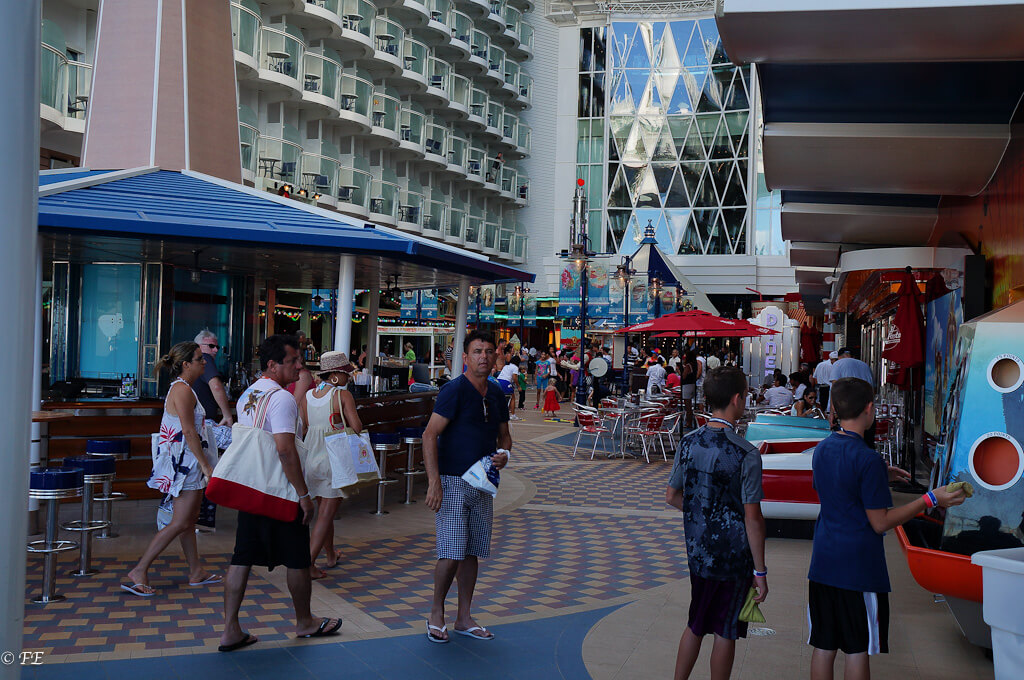 For the first time during our cruise we stopped by a few of the shops around that area. A lot of different stuff for your children to pick from.
Then we spotted Gloria trying to run away from us, I got a few pictures.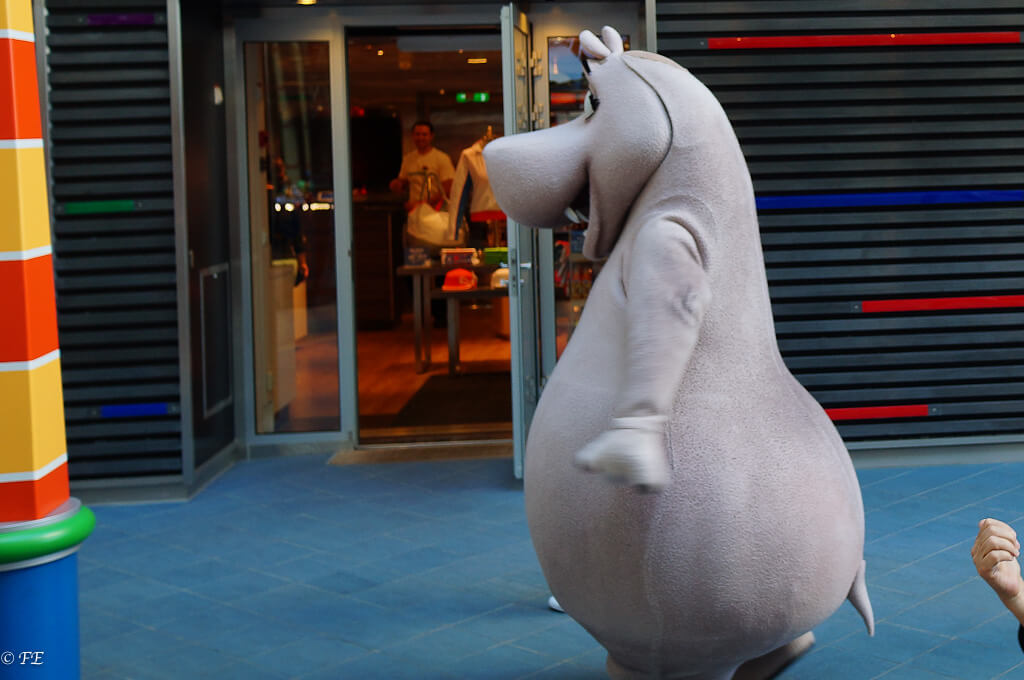 Back inside the Royal Promenade,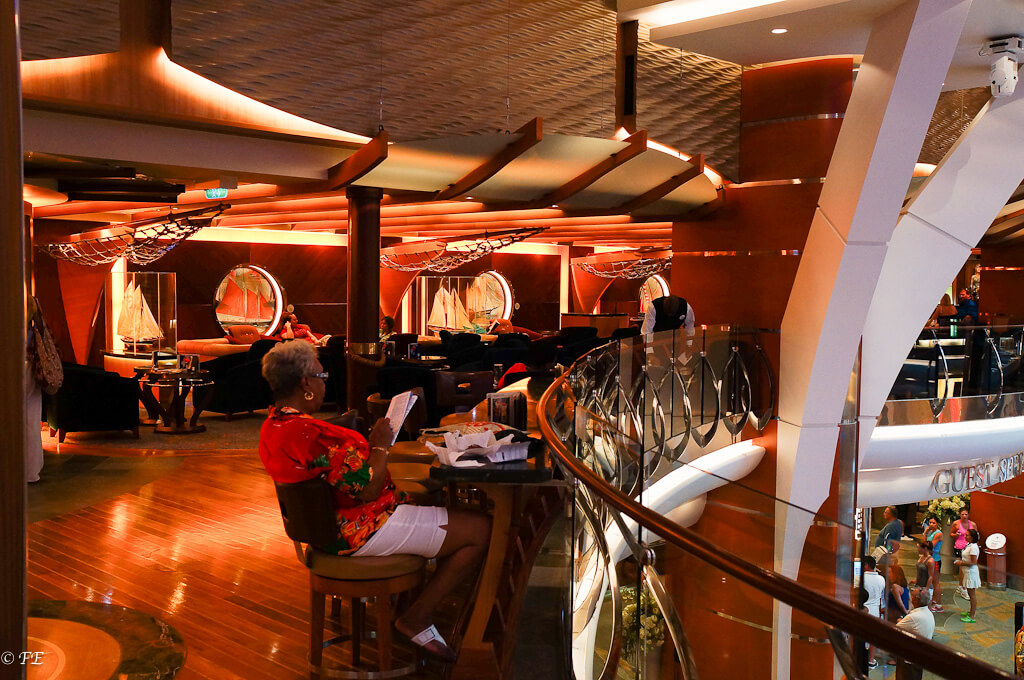 I never got to try this bar, maybe for the next time. They had some good music playing most of the time.
We stopped by one of the Allure of the Seas cupcakes classes for kids, everyone seemed to having fun. It looks like a nice little family activity.
At this point I also decide to get a slice of pizza, it was good, but nothing write home about.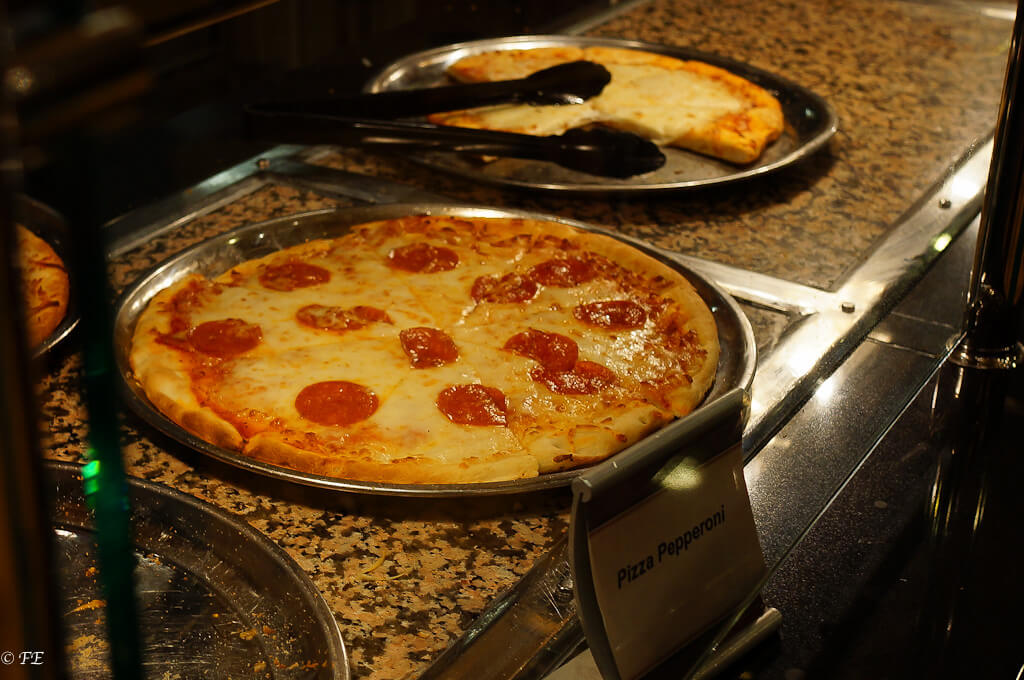 I am not sure if you can see, but there was a little spot in my slice of pizza that appears to be cheese gone bad. I did not see it at the time and ate it, I am not really sure what it was. What does not kill you makes you stronger, right? lol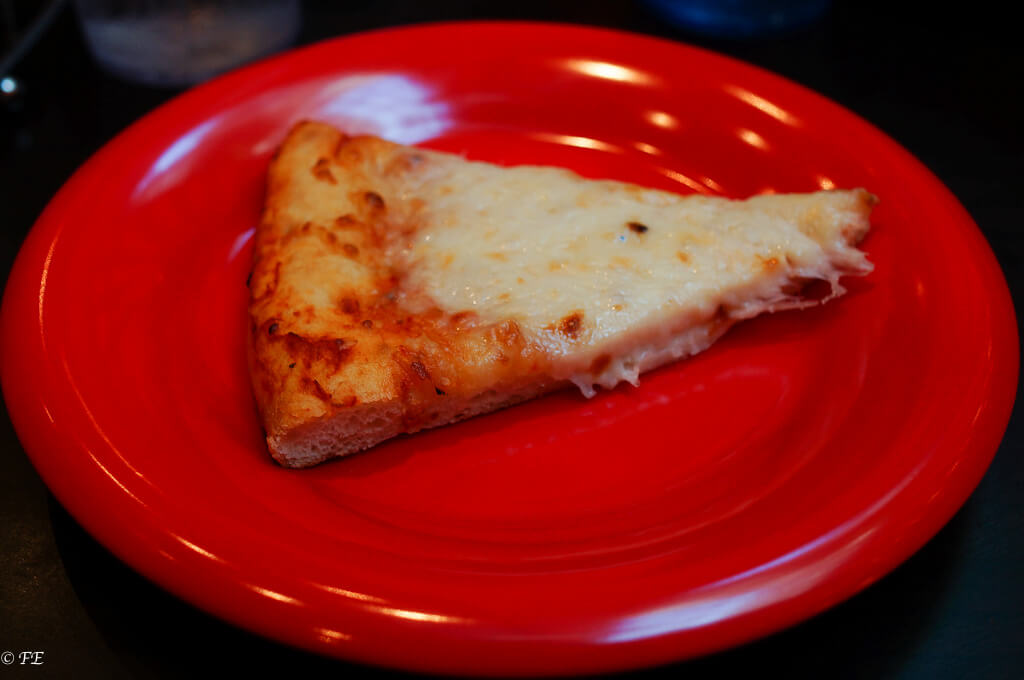 There was a session of dancing classes in the promenade and mom decided to stay there for a little while. I went back up to the room to take a quick shower and download my pictures into the computer.
On the way up I spotted Gloria and another character. They always had kids following them, I can only imagine how hot that costume gets.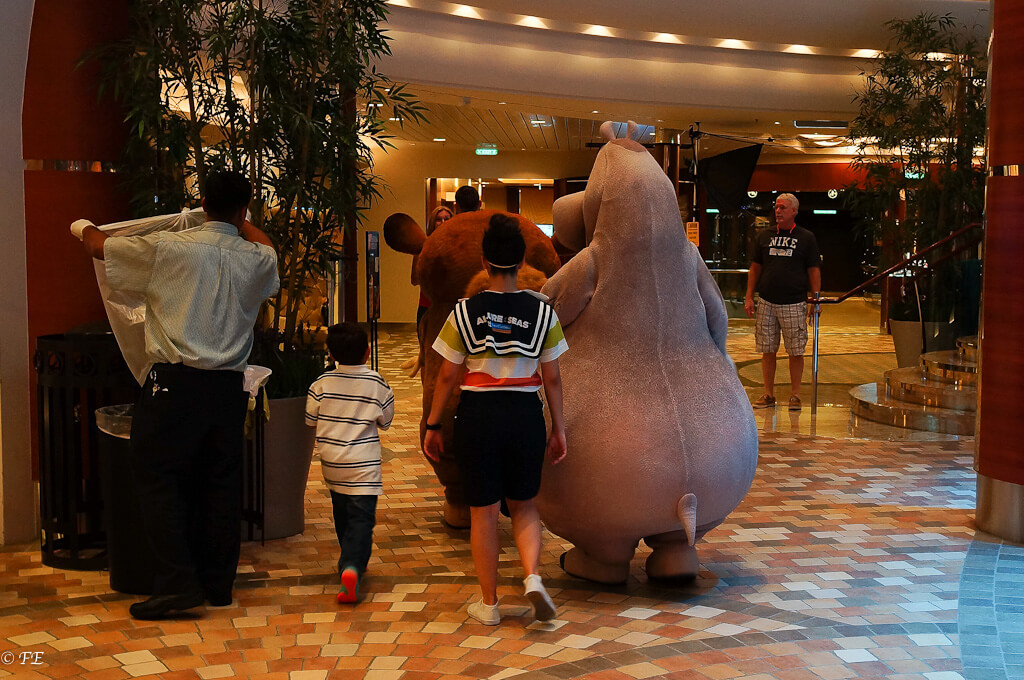 The weather was much better by now, it actually turned out to be a very nice day. We enjoyed it very much.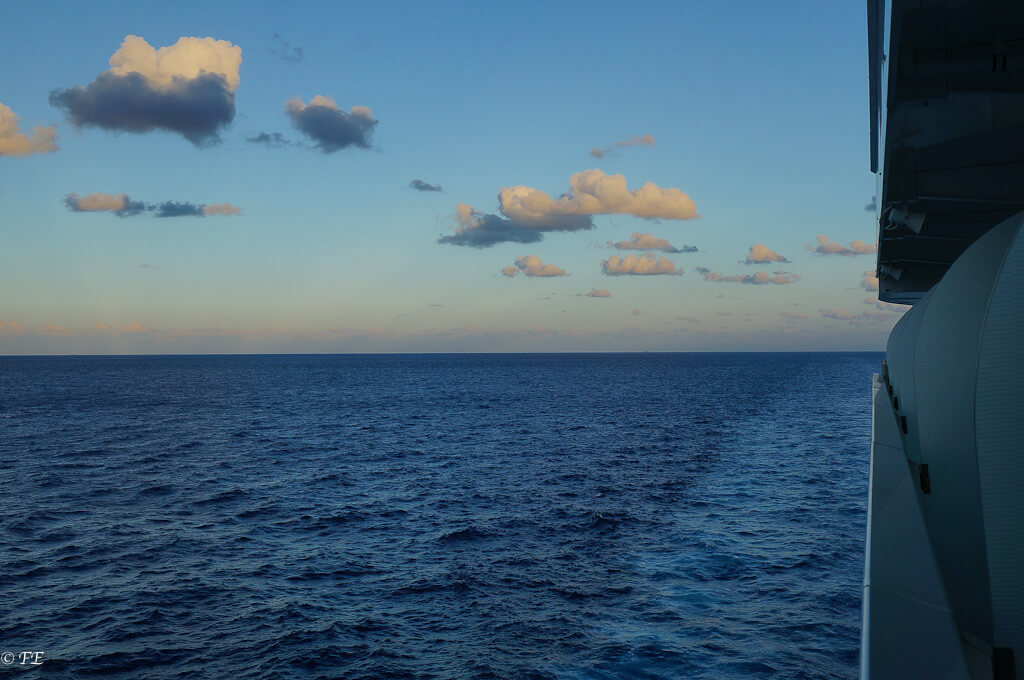 Mom arrived back in the room around 5:30 she did some wondering around the Allure of the Seas. She also stopped at a store and purchased a pair of glasses for $10, she was very excited about them 
, lol. I was just hoping that they lasted more than 24hr 
Her new glasses, they actually looked very nice for $10, I think she lost them already, lol,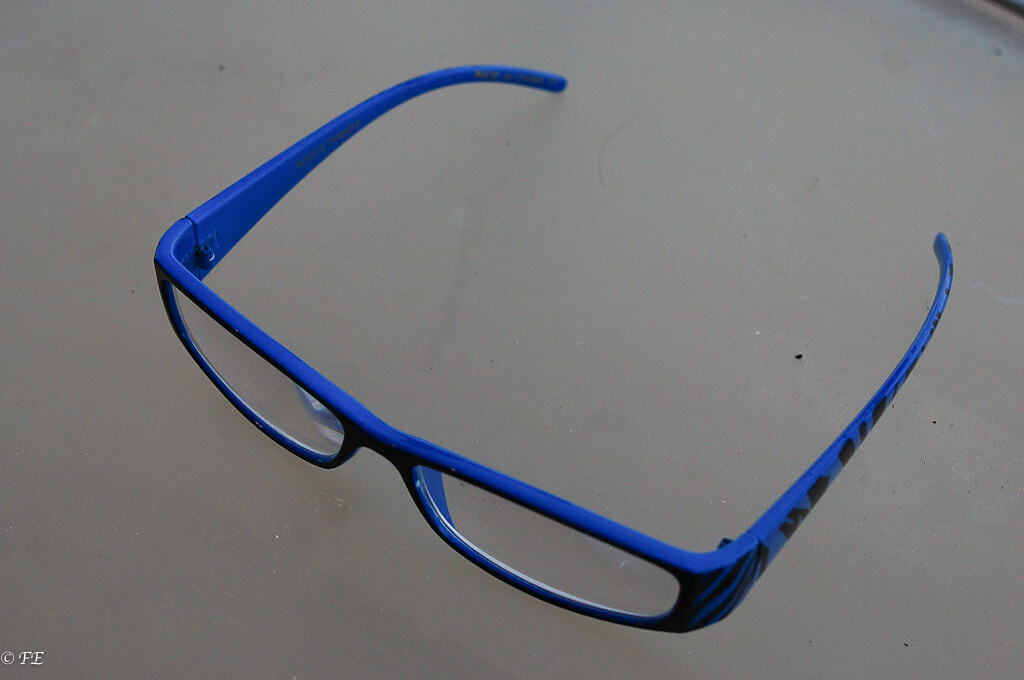 We talked for a little while, my bf checked the menu on the tv for that night and he noticed that there was really nothing that he wanted to eat, so he decided that he did not wanted to dress up. I believe he went to the windjammer instead. Mom and I got ready and I made a second attempt at trying to fit into my suit. Things were even worse now, apparently I gained a few pounds in those days 
. There was no way I was going to be able to use that jacket again, so I put on those pants and my sport coat. The plan was to go eat the lobster fast and then run to the room and get changed so I could breath again, lol. Once again I felt like a burrito but this time with extra guacamole, it was horrible. 
 At one point I actually thought of skipping lobster night or just dressing casual, but both ideas went out the window pretty fast.
Before going to the MDR I stopped by the aft balcony and took some pictures.
Allure of the Seas rock climbing wall.