Chapter 19 focuses on the Allure of the Seas Shows.
Then mom and I headed to the MDR and got seated quickly, every day we ate in the MDR they sat us around the same area. This was going to be our last meal in the MDR, we had reservations for Chops and 150 the following nights.
Mom got the creamed wild mushrooms, it was a nice appetizer. I think I might have it next time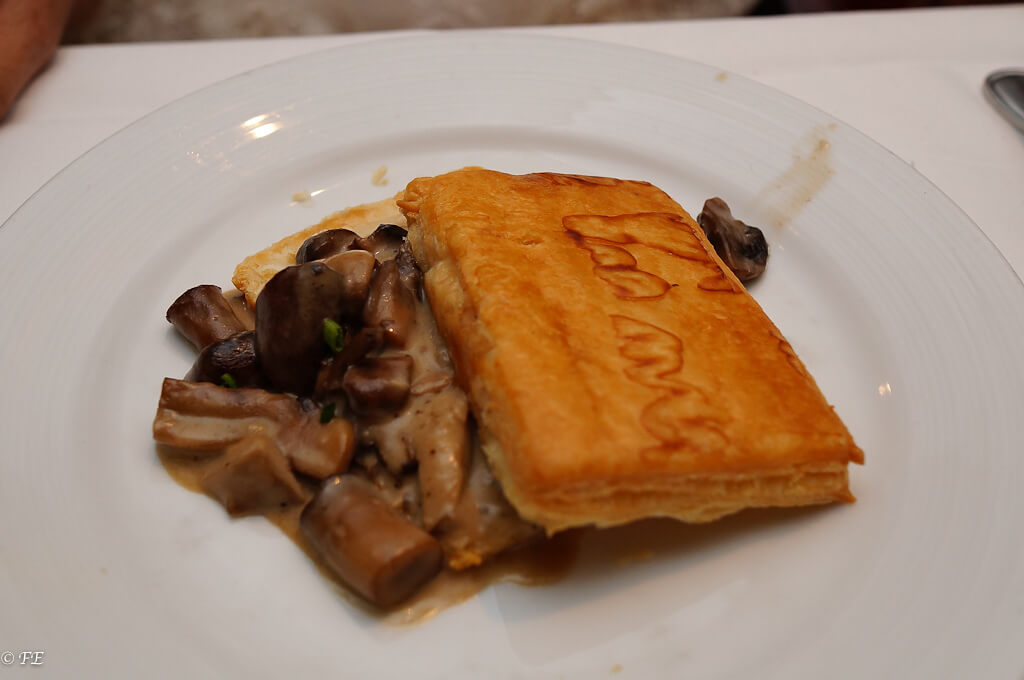 I had the royal seafood salad, it was very good as well. They use a small piece of real king crab, it was the highlight of that appetizer. I squeezed some lemon in it, loved it.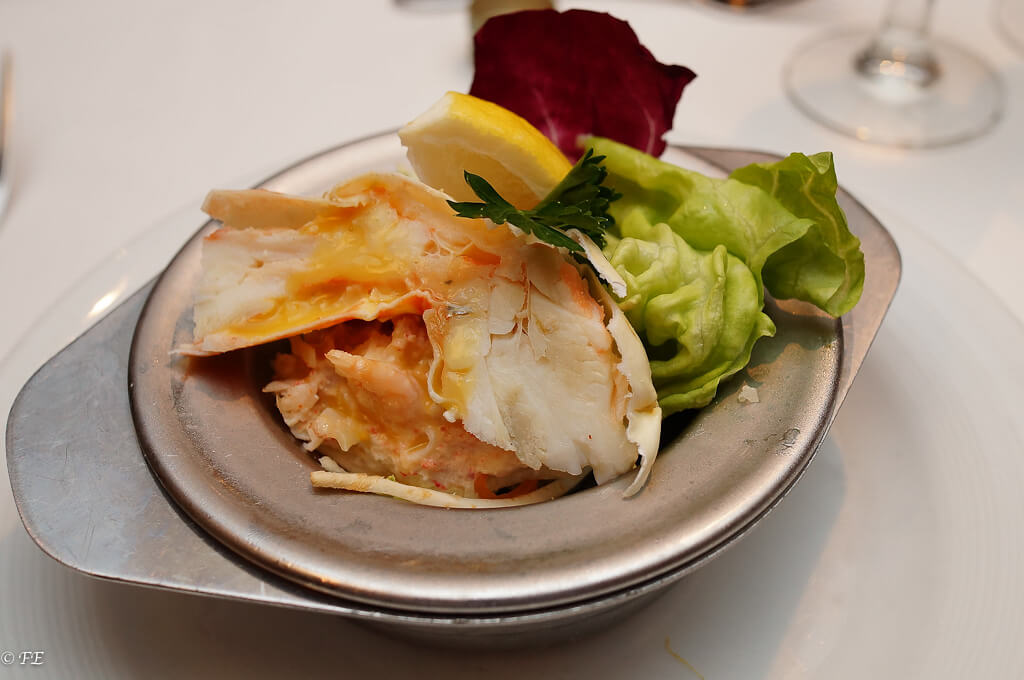 And I am sure that you know that we both got the fisherman's platter. It was tasty, we both enjoyed it, but we did not repeat. I thought I was going to break my belt by then. I actually did not even finish my shrimp.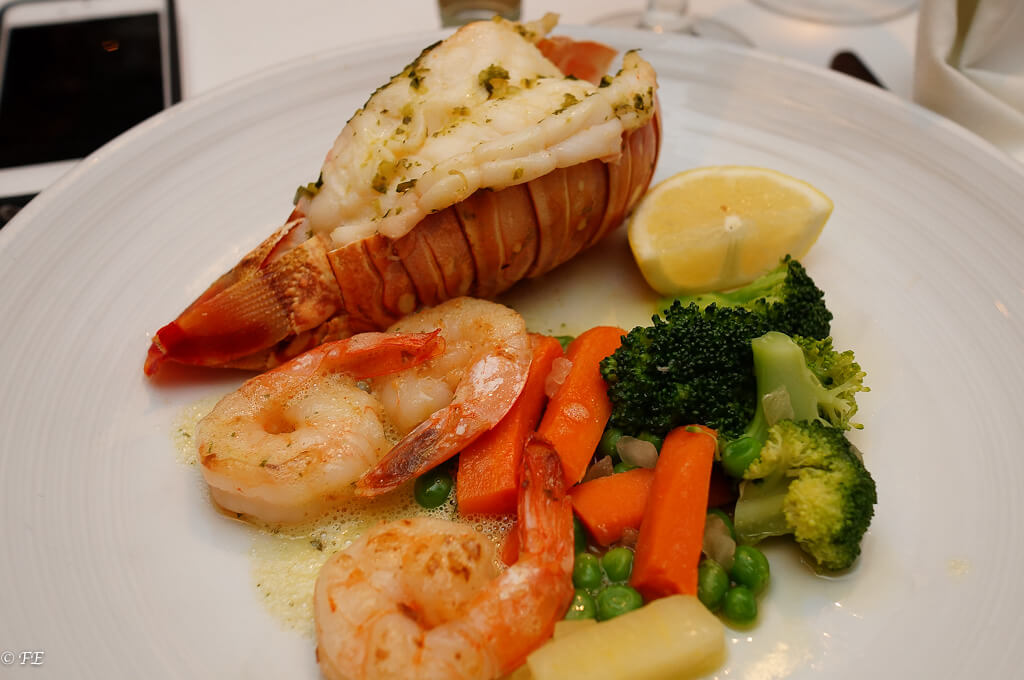 We accompanied our dinner with a sauvignon blanc, very nice and smooth.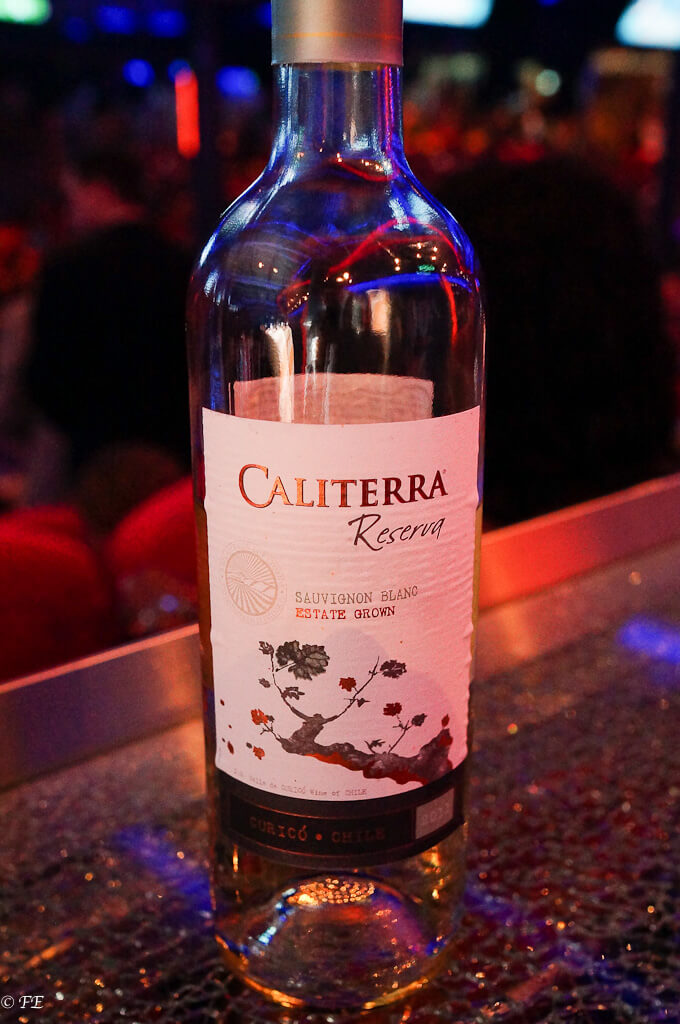 Mom had the creme brulee
And I ordered the baked Alaska, I actually took a couple bites before mom reminded me to get the picture, sorry. But in any case, this dessert is wayyyyyyyyyyyyyy toooooooo sweet. That is as much as I had, it was really disappointing. We ended up sharing mom's dessert.
Overall we had a good dinner, service was good and fast. Our assistant waiter Ishyta was a great server, we liked her very much.
After a very nice dinner I had to run upstairs and get out of that suit, I was going to die in it. My bf had gone to windjammer, made himself some plates and brought them downstairs to eat. I think he was tired of the same room service food by then, it is somewhat of a limited menu.
Taking the elevator up to our room.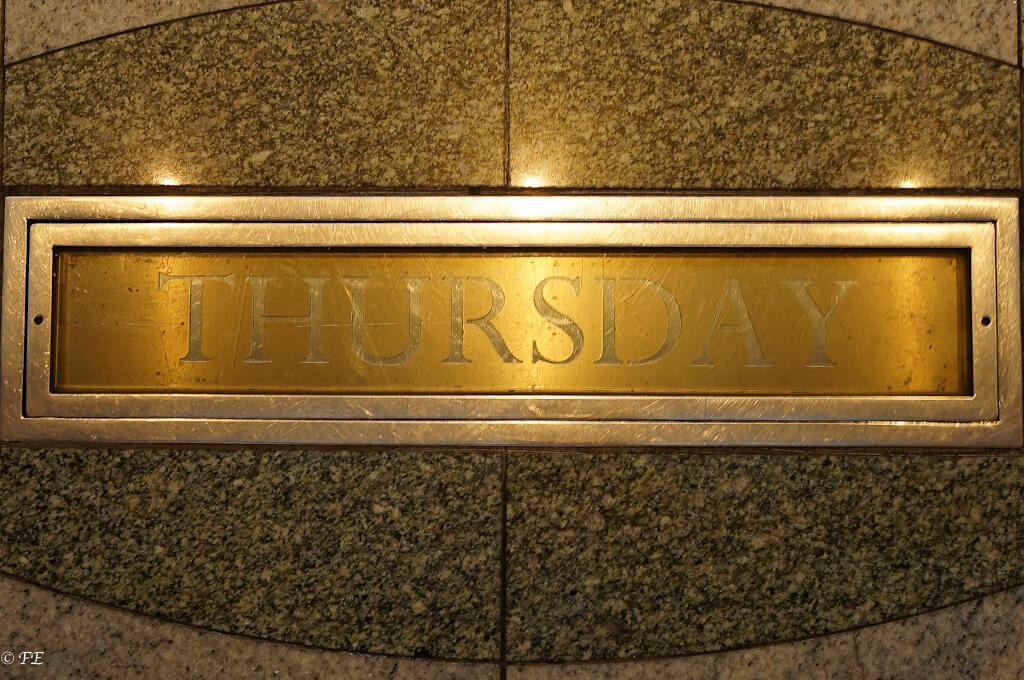 Once upstairs I exploded out of my pants 
, which reminds me I need to buy a new suit for a wedding on December 9 ughhhh, lol. I quickly changed because we had reservations for the Allure of the Seas Ice Games, not that we needed them but still.
To get through studio B we went trough the casino, every time I went through the casino I noticed this little sculpture, I think I took over 10 pictures of it.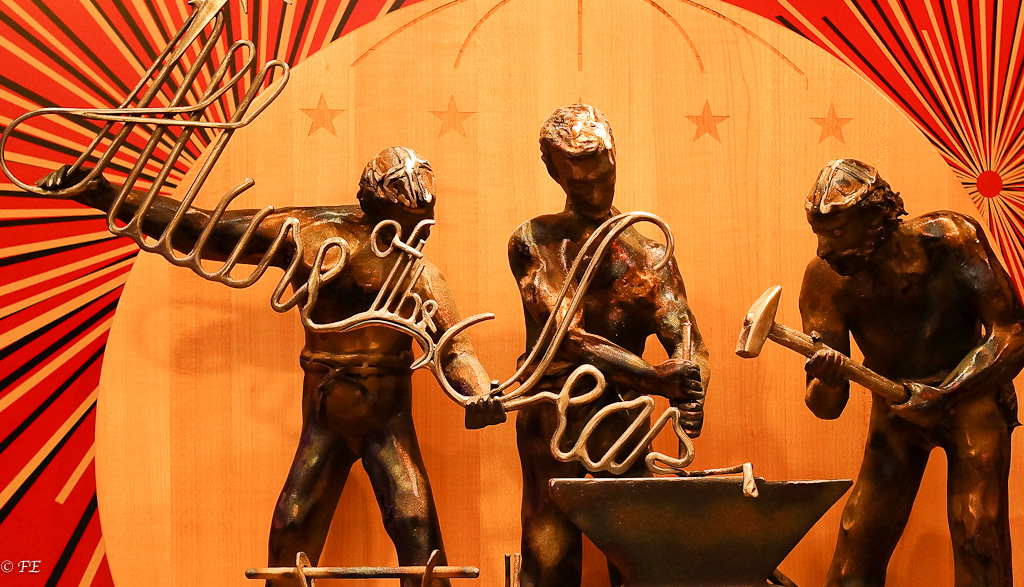 Allure of the Seas Shows
Entering the Allure of the Seas Studio B they asked us for our cards and then lets us in. We managed to get a couple of nice seats up on top with a little bar to put our bottle of wine and my camera equipment, I also had my tripod with me at that time. A server came offering us something to drink but then he noticed we had a bottle of wine and moved on. We really only had very little at dinner, so it would be able to last us for the show. We usually only carry one glass to avoid breaking stuff, with all my camera stuff and her stuff is already enough.
This was my favorite show in the Allure of the Seas, mom said it was better than Chicago. They start off with some Michael Jackson music, that I love of course. The props of the show are incredible, you can't believe that they are doing this in a ship. It was just great, the simple fact that I did not walk out midway through the show proves that this is one should not be missed.
I am however puzzled by the name of the show, I think it actually kind of turns people off from seeing it, like it did to my mom. Another thing is that the relation between the show and monopoly is very hard see, but none the less I am sure most will be entertained with it. They had some very good music during the show and it also involved some light comedy. At this point I would like to congratulate RCCL for a great show!
After the show we had a little bit of time before the karaoke contest that we wanted to see started. So we decided to stop by the Allure of the Seas  Headliner show and see the beginning of it. We had no intentions on seeing the entire show, it was Mo5aic A cappella group. I am not one to enjoy those kind of show, that said they were very impressive.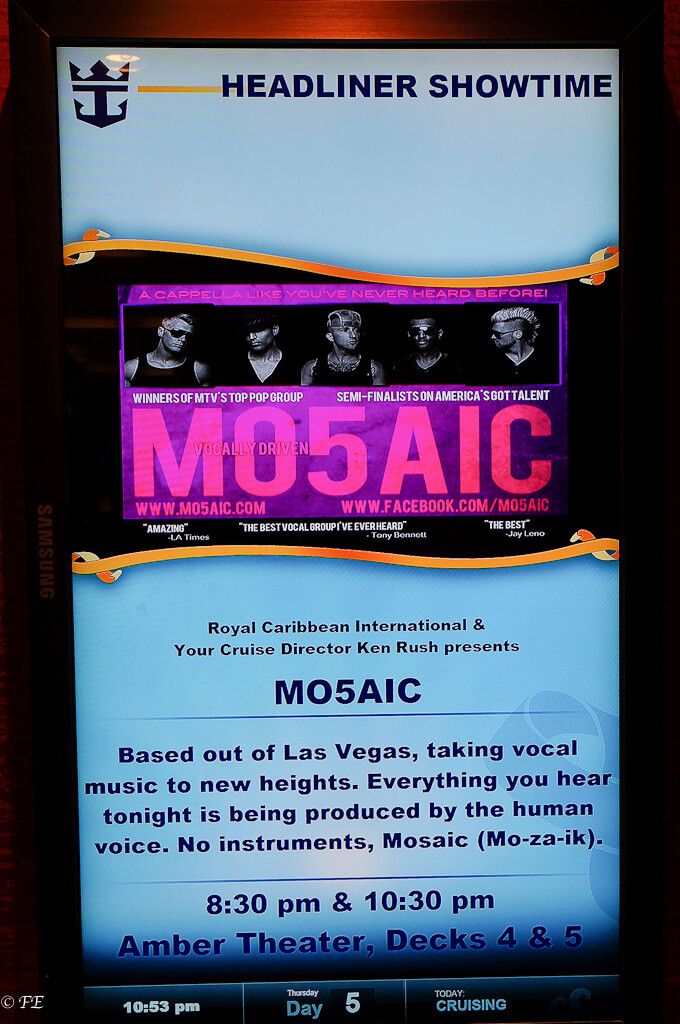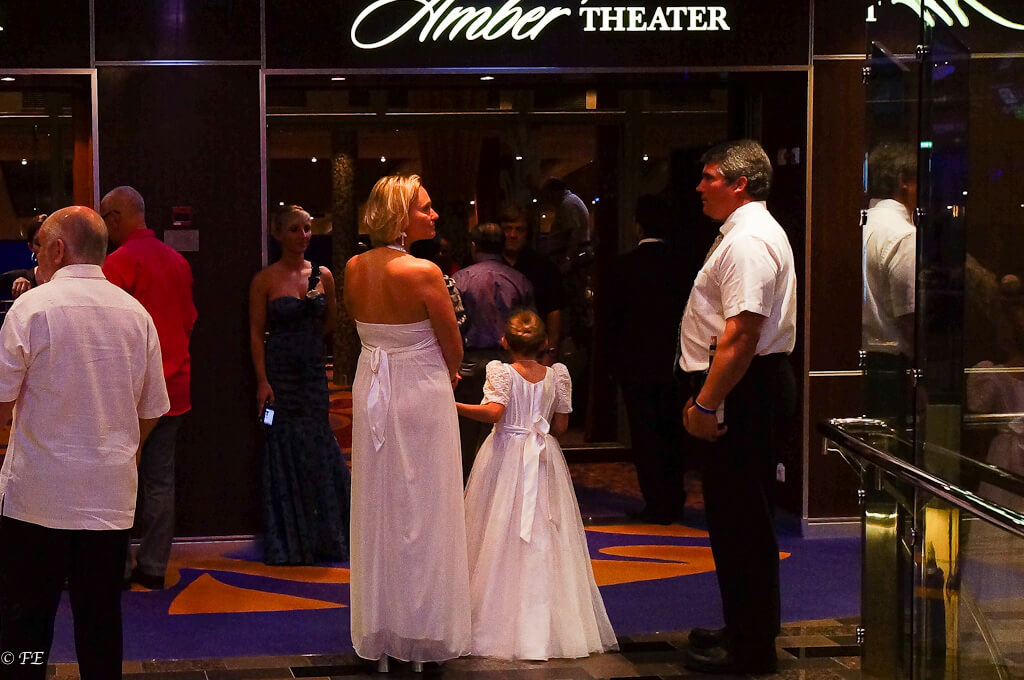 Allure of the Seas Theater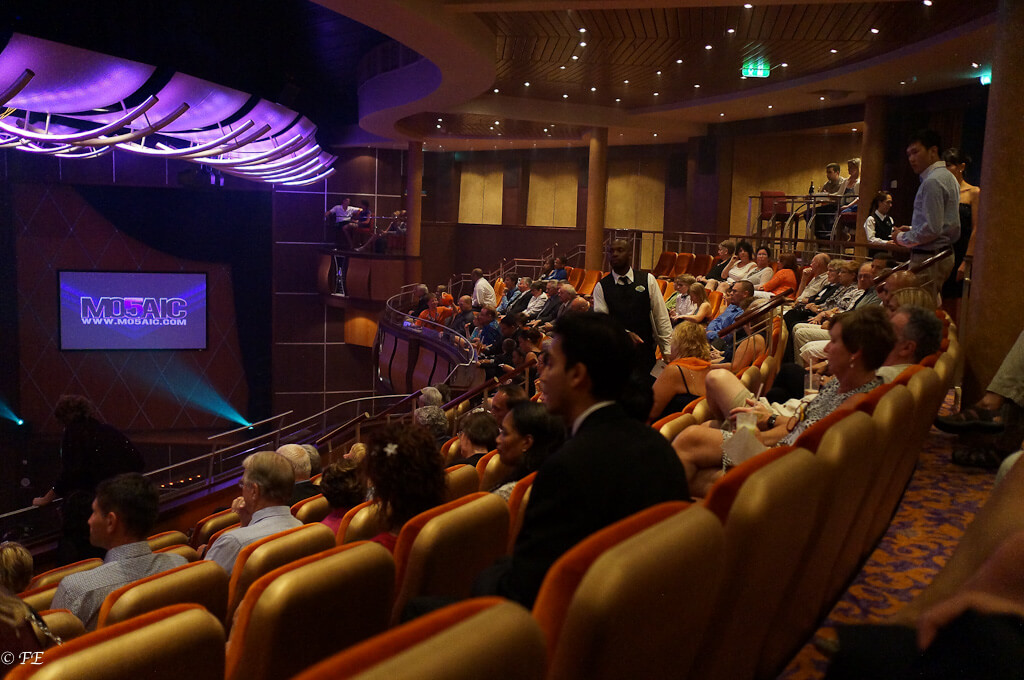 Then we headed to the On Air venue and managed to get a great table in the back, we later shared it with other people.
Before the show started I ordered my usual, this time I got 4 olives 
.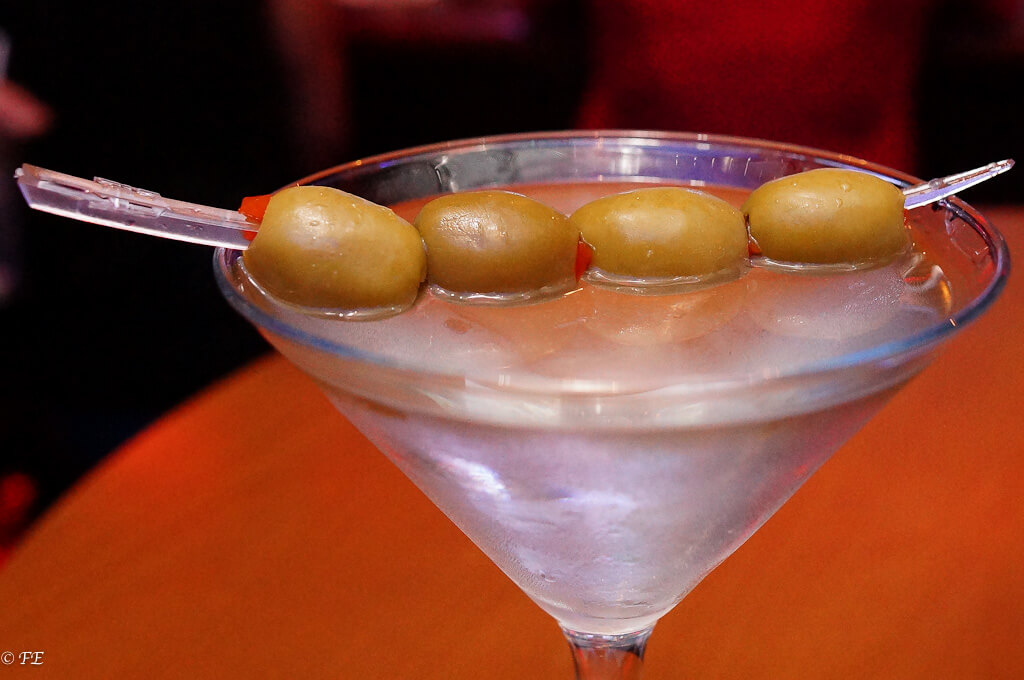 The Allure of the Seas Karaoke contest was blast, we had the best time there. I was singing along and cheering and as the time went by, the venue was filling up pretty quickly. First they select 3 judges, one of the judges in our contest was an Elvis impersonator, the day before he sang for a lady that was having her 102 birthday on board. He also sang for us one song before the show started, he was pretty good. He had a lot of personality and took it very seriously.
To the right is the contest host and to the left is the real Elvis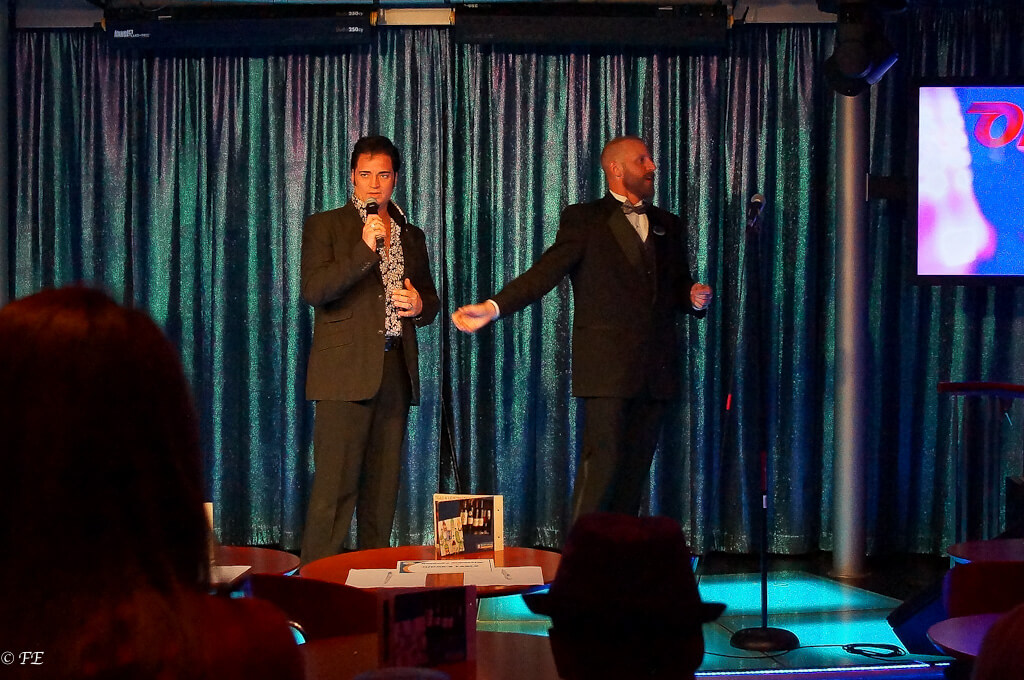 Here is a short video of his performance, http://youtu.be/O9C2hYR96js
Watching those videos brings me back, I think mom and I created memories in that cruise that will be near impossible to beat.
I loved contestant # 1 he was singing some of my favorite songs unfortunately he failed at grabbing the audience the way the other contestants did. He got third place 
.
Here is his short video, http://youtu.be/Lv7RUjF50XE I was singing along the entire song, but softly of course 
, yup that's me screaming 
 a few times, lol.
I got another very short video of him http://youtu.be/iVxy0MENXJA
Contestant # 2 was pretty good, I failed at getting him on video. He got second place, the guy was looking SHARP in that suit.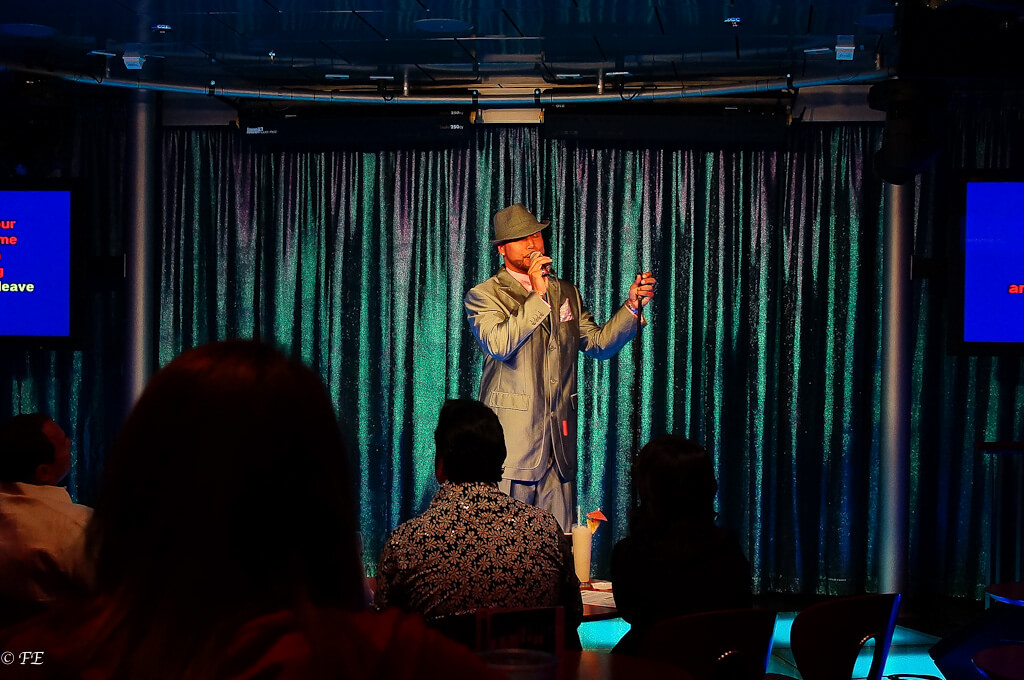 Contestant # 3 was incredible, she was simply amazing, she captured the audience and took them a ride that one could not forget!! She got first place.
Here is her video, http://youtu.be/BxTTNwILD08 You HAVE to see this video!!!!!!!
She made a few of us cry 
 I wont mention names 
 (then again I cry every time I see Finding Nemo, I am a bit of a softy", and yes thats me screaming again 
. I guess martini and wine have a way of influencing my personality. And yes that is also me with the broken voice at the end of the video. My mom says I could be a singer, I think she is only one in the world that can make that statement. Everyone else hides when I sing :-(, lol.
At times I wish I had the courage to do karaoke, it looks like a lot of fun.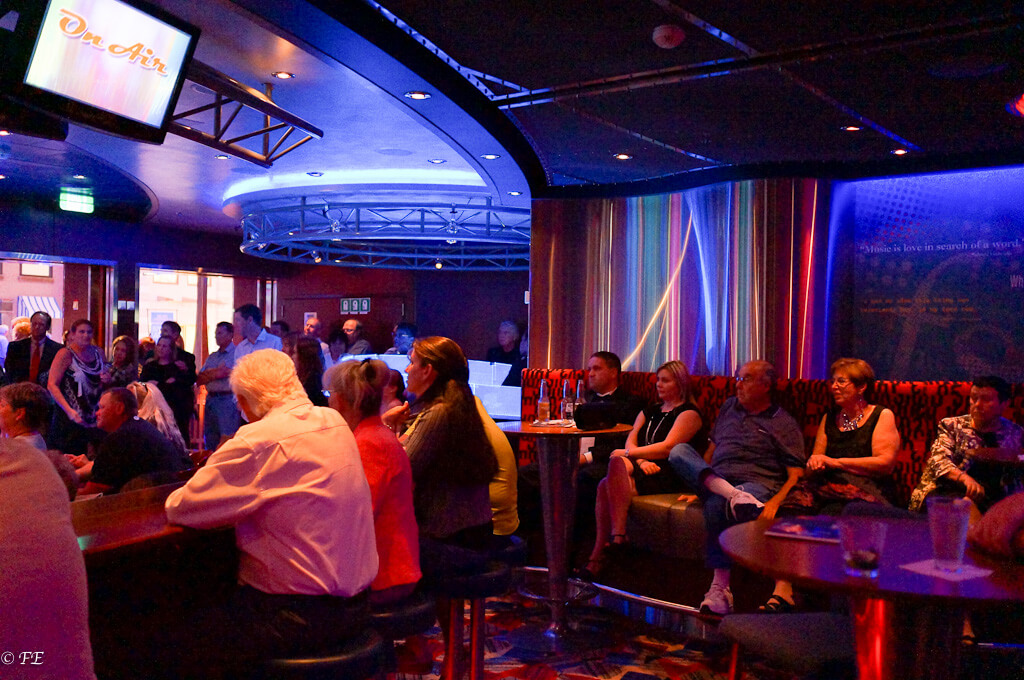 For the our intermission with had a young boy that the host had asked to stop by and sing for us. Apperently he had been on the family karaoke the day before and done great. Unfortunately he could not compete, due to the contest rules, but he was allowed to sing one song for us.
The kid was great, he had such a cool personality not shy at all, it takes a lot to do that in front of so many people, that place was packed. My hat goes off to him, you did a great job little buddy.
Here is his video, http://youtu.be/ytU-oV-wxYQ it is cool to watch.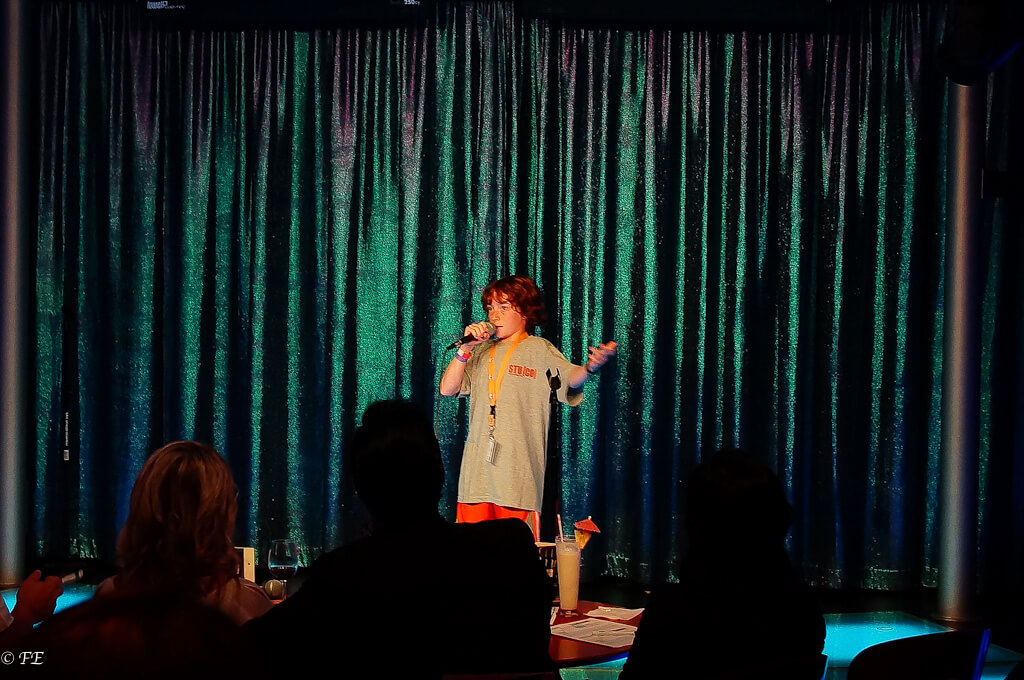 Ken Rush made a quick stop. He was also dressed like Elvis.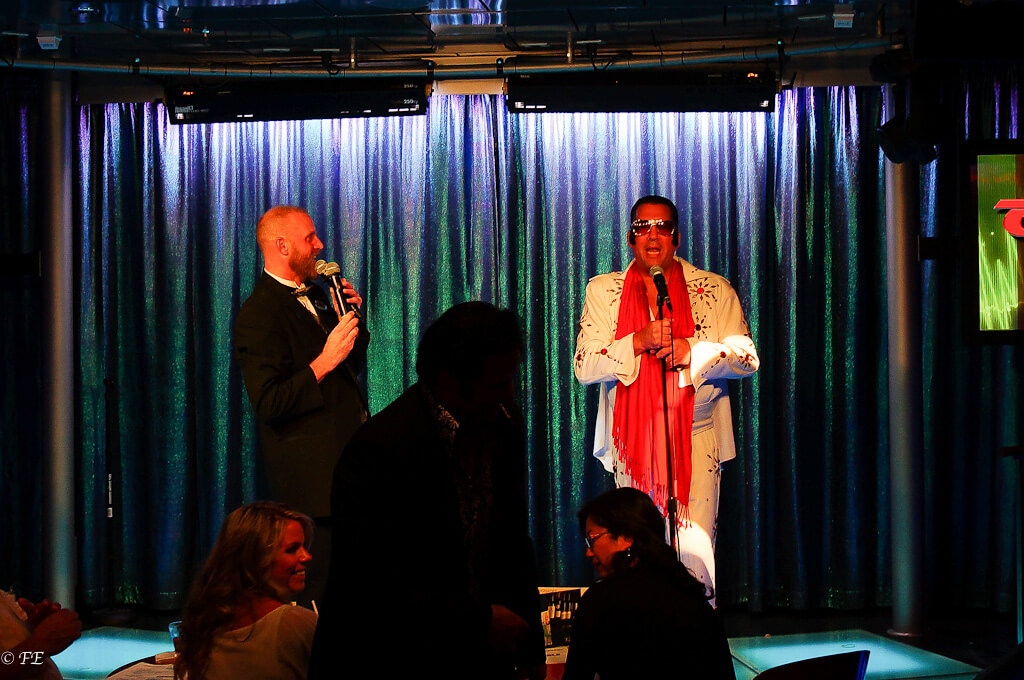 Here is the winning video and Ken Rush, http://youtu.be/ibrypp95lCg
Overall we had a GREAT TIME, it was among the very best memories I had of the Allure of the Seas, something as simple as a karaoke can be a lot of fun! Try your best to assist them, at least the contests, they attract a lot of people.
After the Allure of the Seas Shows had ended we decided to check running track at night I wanted one of those endless corridor pictures and since I had the tripod this was the perfect chance to get it.
Back inside the promenade I decide to get another slice of pizza and call it a night.
Boleros had it going on!!!!
Back upstairs I rushed to my computer, I took the memory and prayed that all the data was still there. To my surprise IT WAS ALL THERE!!!!! not one picture had been lost, I was so excited, mom was happy that I was happy about it. My data means so much to me, it would of been so sad if I had lost it all.
End day 5