We made our way to the Allure of the Seas Boardwalk and noticed the bar in the back. I needed a real drink, so I got a Long Island Ice tea and I got my mom a drink of the day, if I remember correctly it was a Bahama mama.
The servers were doing a little dance outside of the restaurant.

We sat there for a little while enjoying the view and our drinks, mom was using her Ipad, and I was just people watching. Then we noticed if we went one flight of stairs we might have a better view and so we did that and we ended up in the rock climbing deck. We sat there, and as she used her Ipad I decided to snap a few pictures from there, and this is what I got.

Washing the balcony glass.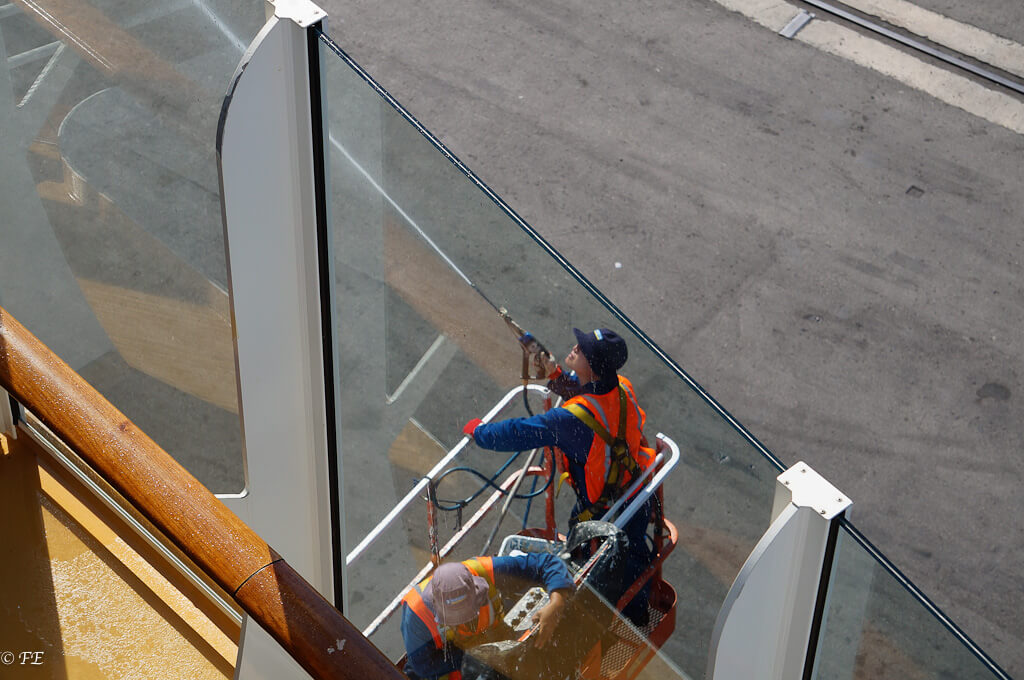 At 2:19 pm I called my bf and he told me he was in the room and that 1 bag was missing, it was my bag. I did not get worried at all since I know that they can deliver bags until late. But he was a little congested about it, it really did not matter. I had some clothes in my mom bag, even if it was lost I would be able to work around it.
At that time we decided to make our way up to our room and check it out, as we were walking there mom said "it feels like a city" she had in that moment described the Allure of the Seas perfectly. The room first impressions were good, maybe a little small for 3 but it would had to do. I did not take any pictures at this time because my bf had already opened the bags and the room was a complete mess. But no worries I even got a video of the room that I will post later on.
I headed to the balcony and admired everything. I will make a comment now and please don't take it personal. In our opinion the best way to do the Allure of the Seas is with a balcony, the ship is so enclosed that to feel connected with the ocean you really need it. I understand if you can't, but if the possibility exists that you can expand your budget a little more, please do it and get an ocean balcony. That said, I would travel in her any way possible!
Picture from our Allure of the Seas balcony
At this point we decided to put Allure of the Seas door decorations up. I decided to do door decorations at the last minute, I figured it would be a good idea to try help the child in be free. Plus I know mom liked the idea, this was the final result.

By the way if you're wondering about my room decorations, here is the link of the ones I got RoomMates RMK1134SCS Ship Shape Peel & Stick Wall Decals
.
After a little while in the room mom and decided to head out the aft balcony to check it out. Just as I expected it was 5 doors down the corridor, it was a very large balcony with plenty of places to sit in. I took advantage of the extraordinary position it offered and took some pictures, mom did her usual, asked me to take pictures of her with her ipad to send to her family. As you can imagine that iPad was about a minute away from flying overboard 
.
Allure of the Seas Secret Balcony
After checking out the secret balcony I told mom we should check out how to access the running track on deck 5, we needed to be aware of to get there because this was the place that I had chosen for us for sail away. For those of you wondering why I picked this particular place for sail away, here was my train of thought.
There were two meet and mingle locations one on deck 11 aft port side balcony and the other on deck 15 aft by the Allure of the Seas flowriders on to of the word Allure of the Seas. Both locations were great options, but in the end my priority was to be able to get good pictures during sail away. Deck 5 was the closest one to all the targets I wanted to get, another good thing about it was that it tends to be not as crowded and I could move around and maybe even set my tripod without disturbing too many people.
So we took the elevator down and I snapped the picture of the day that we are so familiar with. The running deck was everything that I wanted it to be and more, it was perfect for my purpose. Then we went around it and come into the royal promenade through the other side.
I needed to head up to the spa to make my appointment for my free treatment. When I initially booked the cruise they had an offer if you booked a balcony cabin or better, the cruise would give you a coupon for a free treatment. There were 3 options, swedish massage, hydrolift facial and reflexology. This was my very first time in a spa, I am a little intimidated by them. So I picked the facial, it seemed the best option at the moment, plus I would not have to get naked or anything. Please don't laugh, lol, it was my first time.
On the way up we stopped at the Allure of the Seas cup cake store, ill let the pictures do the talking this time. We never ate there.
Once we got to the Allure of the Seas spa I made my appointment for Jamaica day, the only condition is that the treatment had to be on a port day and since we had no plans for Jamaica that was my best option. They tried selling mom a few treatments, but she feels even more uncomfortable than I do in spas, that is why she did not take the freebie, I was not going to let $120 go down the drain.
After that we headed up to the room to get ready for the Allure of the Seas Muster drill, the missing bag was already there so that was good. I HATE drills, I don't feel very comfortable in big crowds. Ours was in deck 5 in the main dinning room. We got there pretty late I was trying to avoid being there a long time, I believe we got there 7 minutes before the videos started. If you get there early you will be able to get a chair and table, we had to stand the entire time all the way in the back……. I guess my reasoning was a little off, next time I will get there earlier to make sure I get a table by the front.
As we were leaving we met our cabin attendant Gilbert, what a wonderful person. I can't enough about him, one of the most attentive, personable and professional people I've ever met. We took advantage to give him his gift, which by the way I noticed he shared with his coworkers (very nice of him). I also made note he knew that we prepaid gratuities and gave a little extra, I also asked him if he could keep ice in the room for us. You have to really realize how hard these people work to make your vacations so wonderful. I for one am not one to let that go unnoticed. They sacrifice a lot to be there and I will make everything in my power to let them know how much I appreciate what they are doing for me. Thank you Gilbert.
As we walked down the hall I overheard a conversation between a couple, the lady told her husband "My hips are killing me from all this walking". She was right, there is a lot of walking. I suggest you take careful consideration in which room to book if you have any kind of medical condition, the Allure of the Seas is a large ship!
The drill was fairly quick, after that was done with we headed towards the back to make sure I got the prime spot I was looking for. We got the perfect location with two chairs and foot rests. Mom and bf sat down, while I got comfortable with my location.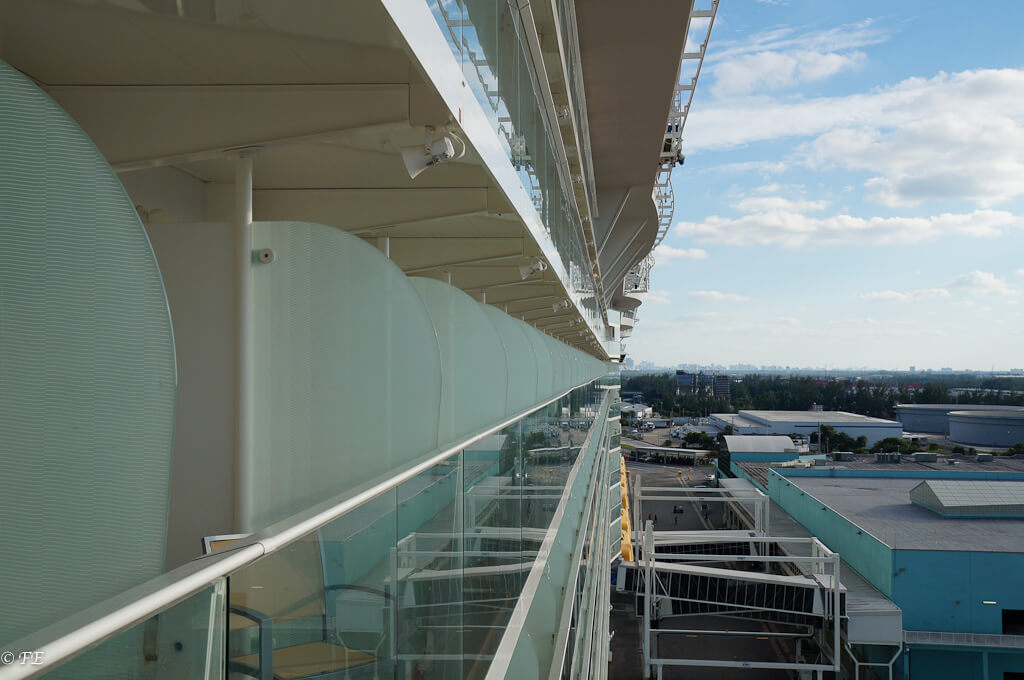 Allure of the Seas running track.