Day 7 aboard the Allure of the Seas
Woke up at 7:44am to a very windy and somewhat choppy day.
Here is the video, http://youtu.be/uTDzQ5u52rI
Remember how at the beginning of the review I said that I wanted to get a room on the starboard side of the Allure of the Seas to avoid the sun hitting into the balcony early in the morning? Well I guess that all the planning did pay off, this was the first morning that we had it beaming into it, fortunately the weather was a little cloudy, and it was not that bad. It actually was actually perfect because it was a little chilly outside and the sun provided just enough heat to keep us ousted comfortable.
There was a slight feeling of sadness that morning, we knew that our Allure of the Seas cruise was soon going to be over. But like mom stated, "It will not be our last one, we will soon be aboard another one" and I guess she was right, knowing me I would book one before the end of the month. I need to have something in my head to keep me preoccupied.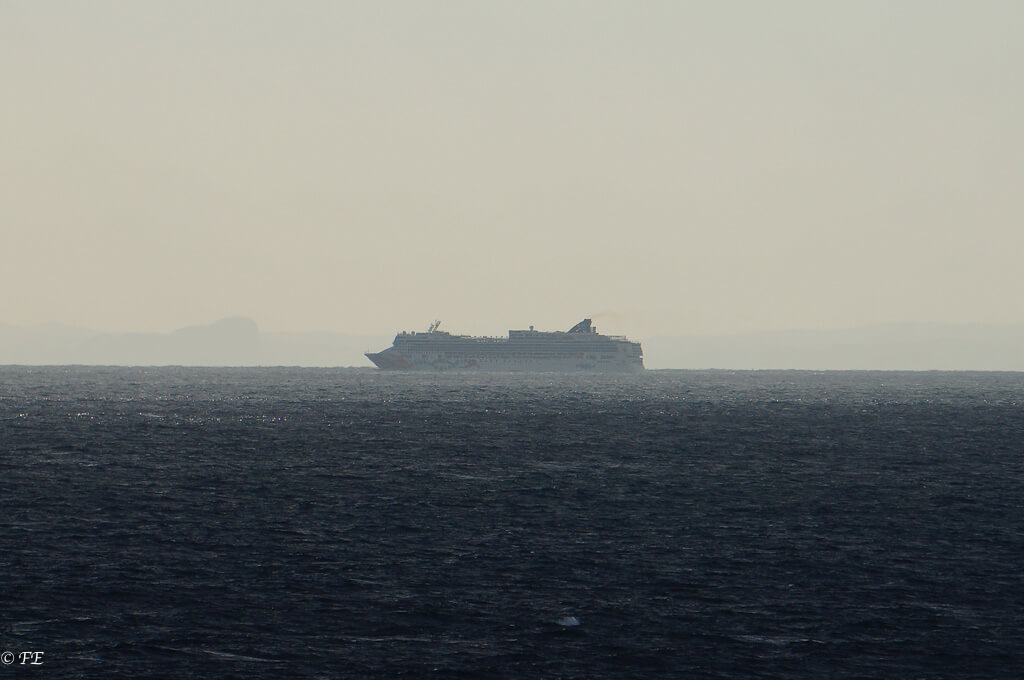 As we sat there and I check mom's email and my Facebook, all I had in my memory was that red velvet cake that my bf had the night before. It was such a tasty dessert, I wondered if I could just stop by and buy one, but I never got around that. We also talked about the possibility of ports that Cuba could offer, they have so much to be explored, too bad that the political situation does not allow it. At that point in time we had $18.90 left of Royal Caribbean wifi from our initial $150 credit, it had worked fine for us, but in the future I will get a smaller package. I gained enough information on how to compress the pictures to a minimal file while maintaining decent email quality. I think that I could easily do it with 200 minutes or less, this time we had 500 minutes.
My bf had ordered breakfast again last night, but thankfully he only ordered a couple of plates, there was no way I was going to eat that on my last day. After we finished all the computer work, mom and I decided to go to the windjammer to get a real breakfast. So we got ready and headed upstairs.
Once upstairs an employee asked "how many in our party?" we replied 2 and he told us to follow him, he quickly found a table for us, but I think it was pure luck. I noticed that he had no idea were to put us, they just walk around until they find a seat to accommodate you. The place was packed!
Mom got her usual fruit plate, she never really has an appetite in the morning and well in reality neither do I, but I was not going to let this opportunity pass.
So I got a bunch of stuff:
Everything was excellent for the exception of one hard rock muffin, the sad part is that I pretty much finished everything :-(. Something that I regret now, lol 
After breakfast we went downstairs, we had to pack the bags. Before going into the room we said goodmorning to Gilbert and he gave us a few documents. One of them was the comment card, there was only one given per room, my bf took care of it and filled it out. He had all my notes and made sure that everyone that I needed to be mentioned was mentioned. I believe at some point in time my mom got another card because they could not fit everything into one card. She said guest services was PACKED!!! I can only imagine..
I went to the balcony, while my mom and my bf packed. I would gladly helped them, but my bf says I don't know how to pack. And I guess he is right, I would most likely just dump everything in the bag and thats it 
. so bad, I know. But don't judge me, I am on Vacation, lol 😉
While I was in our balcony I noticed how annoying the Compasses in spanish actually were, they put all the times in military time and it takes me a few seconds to change it in my brain. It becomes very annoying if you're trying to change 40-60 hours a day, I am not sure where they got their data for that. But most of south america works on non-military time just like the USA. Very very annoying, RCCL you need to change that! Mom also took down all the wall decorations except one little anchor.
Royal Caribbean wifi
The Cost for the wifi  is $0.65 per minute, or you can choose prepaid packages starting at $35 for 60 minutes and going up to $150 for 500 minutes. All the ships also have a small internet area were you can use their computers for the same rate that you use the wifi. The internet was pretty stable for the most part, but that really varies from voyage to voyage.
This is after you have already setup the account on the TV.
You type in the ID and password for Royal Caribbean wifi.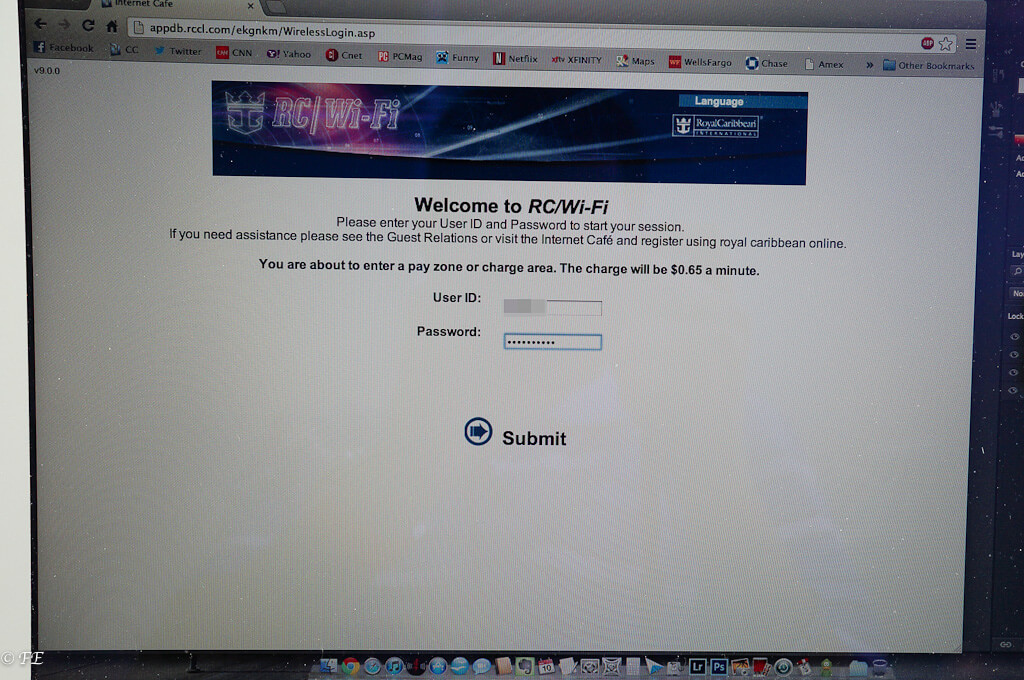 Then it directs you to this screen.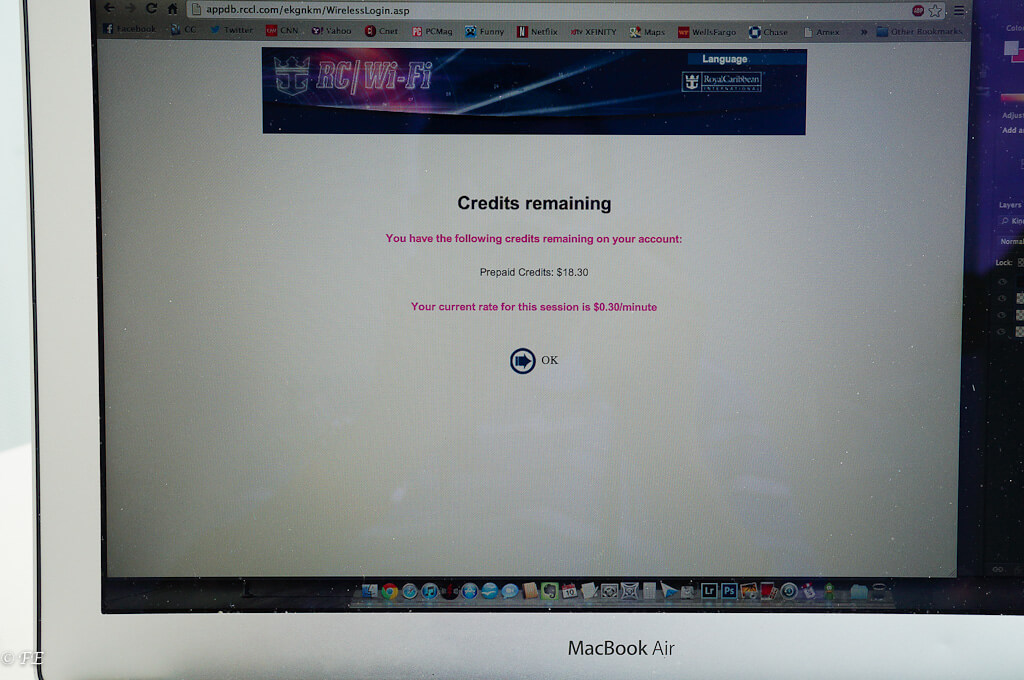 You press ok, or so I remember that, not sure. I guess there is not need for the book mark. Your call.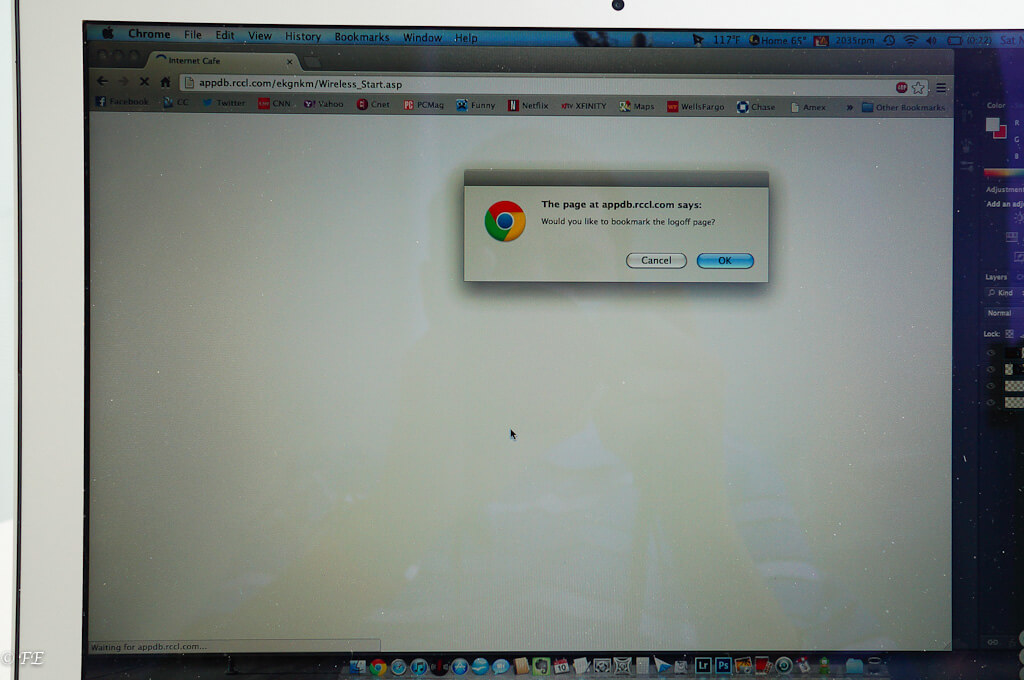 Press ok again.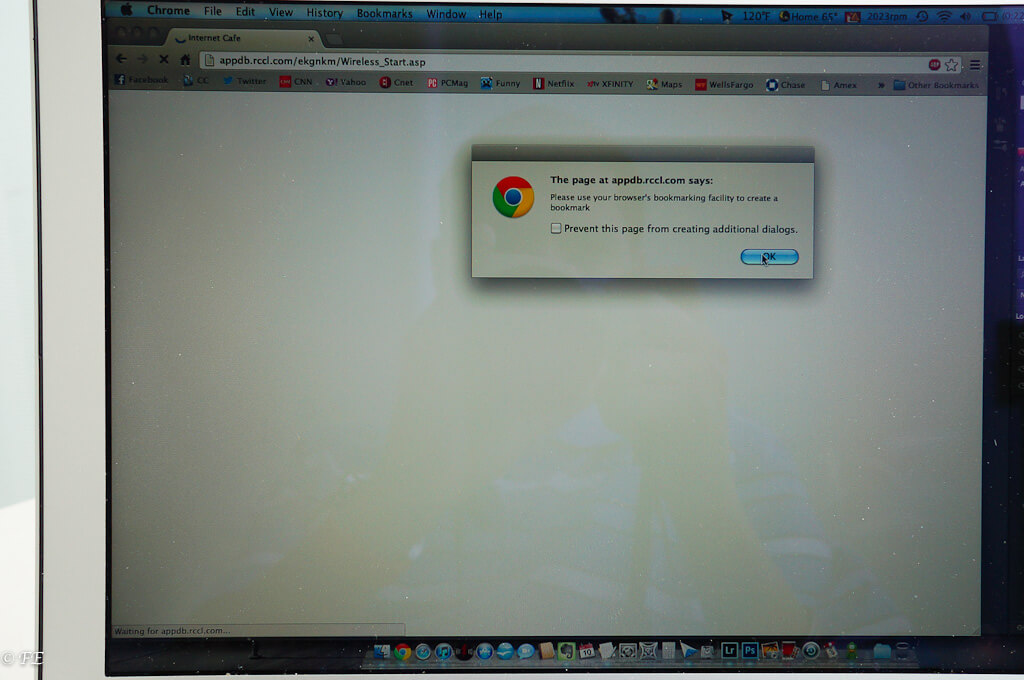 Make sure you leave that little window open, because you need to log out.
I like moving mine to the lower corner, to log off you click on the pink sign.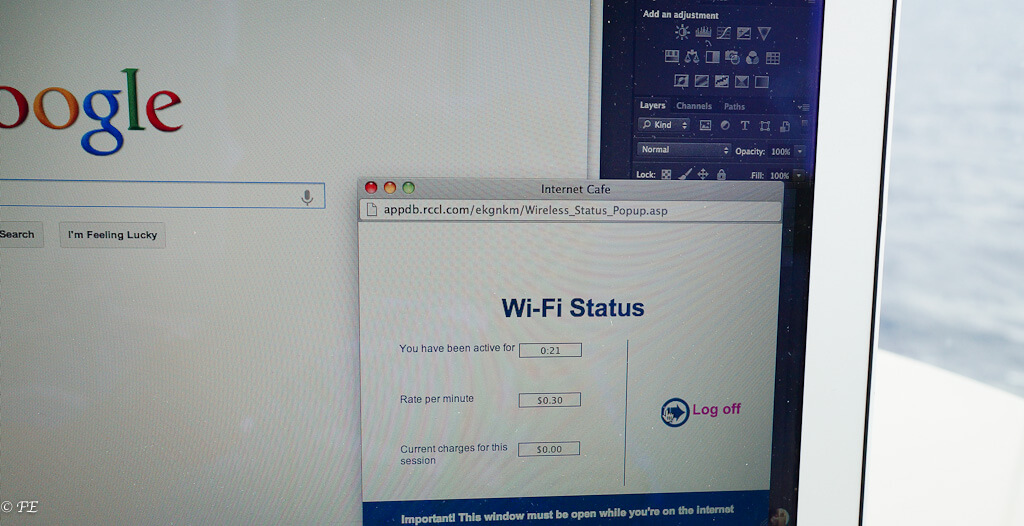 And thats it. You need to log off, if you don't it runs for a few minutes before logging out on it's own.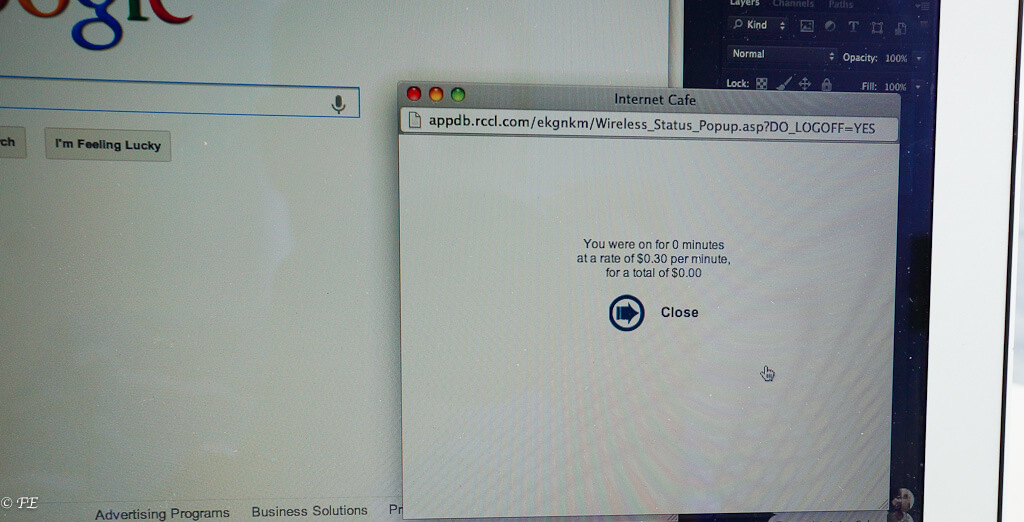 I took few more pointless pictures there, I was taking soooooo many pictures that day! If I moved an inch I would take a picture, it was my last day and I needed to make sure I got the most possible.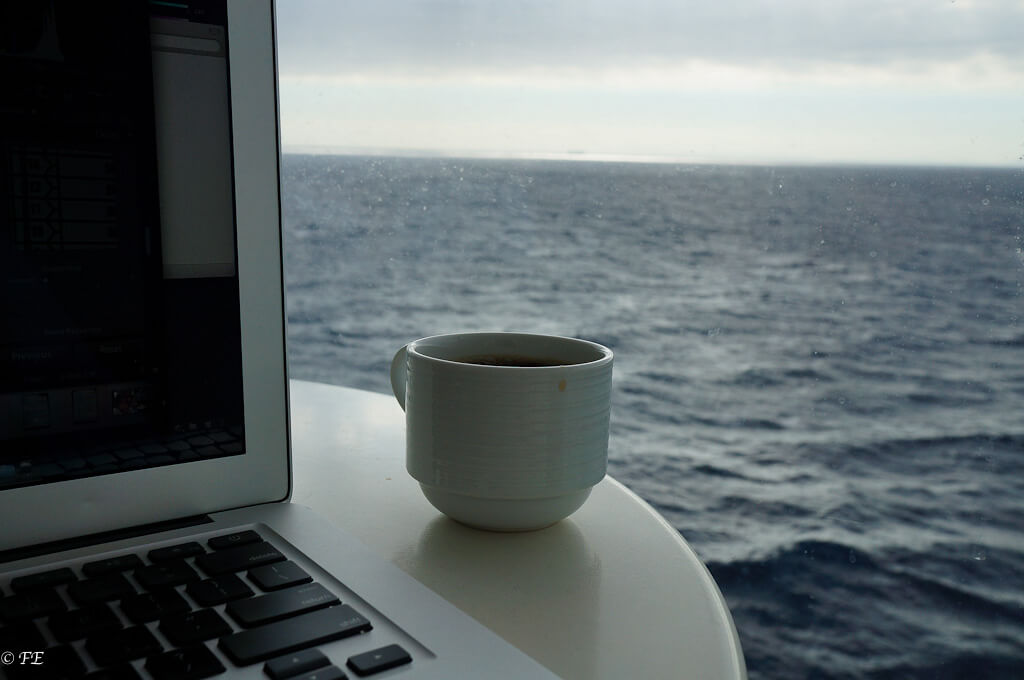 About an hour or so later we decided to leave the room and go for a walk.
Allure of the Seas ATM