Ok this pictures deserve it's own post, it was a very memorable moment during our Allure of the Seas cruise. This is what happens when your fingers are glued to a camera like mine are. I was taking pictures of everything that moved that day. I saw several planes take off in intervals and I took pictures of most of them with out really checking out what airline they were or anything, I figured I would looked after and keep the ones I liked.
Just right NOW as I was going through my pictures I noticed one of them was a very special plane. Yes sir Air Force One indeed. The president was in Hollywood, Florida that day for a rally and I was lucky enough to get him leaving Florida that day, Go Obama!!! Let's hope he does good in his second term.
I am so excited about this picture! I can't believe I got it 
.
AIR FORCE ONE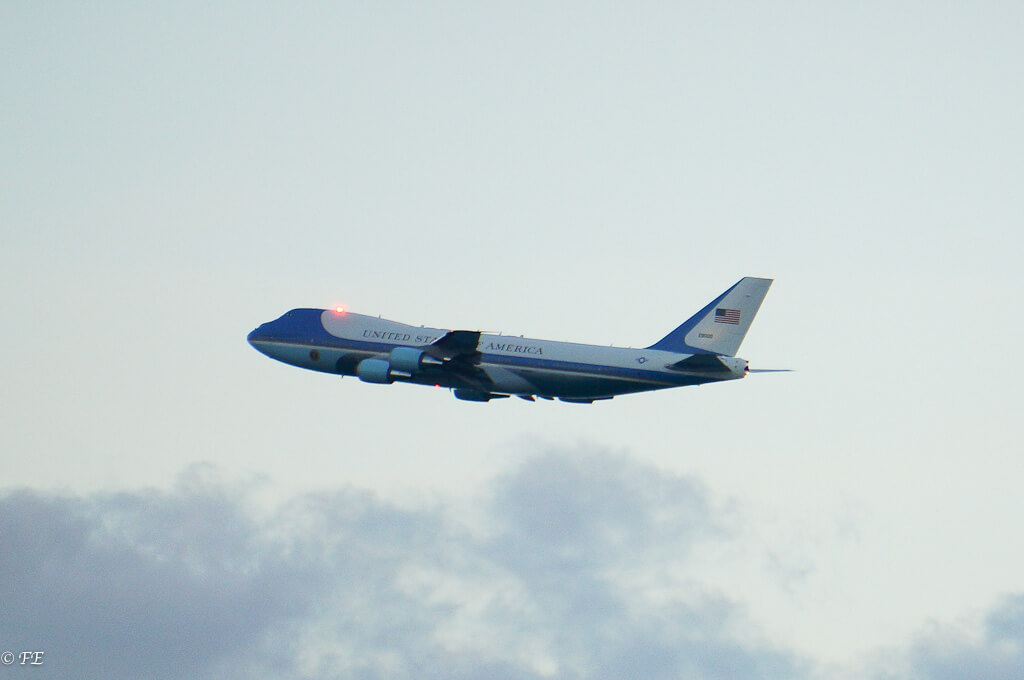 Once again ill let the pictures do the talking from here until dinner.
Allure of the Seas Giovanni's Table review
Our first night on the Allure of the Seas we had reservations to Giovanni's. Let me tell you something, as some of you might have noticed I had picked all my food for the cruise prior boarding and that night I was supposed to eat Seabass. I LOVE seabass, to my surprised when I saw the menu they had removed the seabass from it. I was a little frustrated, but got over it pretty fast. As I started looking for a substitution for the seabass, I noticed of rack of lamb. The problem was that I had already selected rack of lamb for another night, but in any case I figured well just get it here, it will most likely be much better than the one at the Allure of the Seas Main Dining room. So it was settled I would get the rack of lamb.
For the wine I wanted something somewhat strong, so I picked the castle rock Cab as I was familiar with it. I will to comment that I was never pressured to buy another more expensive bottle. I read many reviews were servers told people that they could not get their wine package at specialty restaurants. Prior our cruise I contacted RCCL twice to make sure this was not going to happen to me. They send me a statement, and I printed it just in case I was told otherwise. The main reason I got the wine package was to save on wine cost at specialty restaurants. I NEVER encountered a problem in any of our specialty restaurants when ordering our cheap wine, so please don't be ashamed of using your wine package anywhere you go in the ship. As a matter of fact in 150 all 3 tables around me had wine packages, I am not sure which pack they had, but I noticed all of them were given the little wine list for the package. Two couples at the other end of the restaurant were doing the wine tasting, I wish I had the money to splurge on that. However I did try that martini, I will into that later on.
Allure of the Seas Giovanni's Table review
 Allure of the Seas Giovanni's Table review
bf Appetizer lentil soup, he said it was very good. I am not one for soups so I can't comment. But as I stated before he likes food with A LOT of flavor in them.
I had the carpaccio it was very very good, I loved it and devoured it all.
Mom really did not want anything or at least that is what I recall, so I told her to get the Antipasto and we could share. It was excellent, with the exception of the anchovies they were just horrible. I love anchovies, but I am not sure what was wrong with those. Mom ended up eating most of the appetizer, I had most of the Cambonzola cheese, it was sooooooooo good. It is a type of brie cheese I think.
Allure of the Seas Giovanni's Table review – Beef Carpacio
Allure of the Seas Giovanni's Table review
After the appetizer we had some more wine and played around a little with the decanter, its a fun little device but it makes pouring the wine very annoying. I could not imagine as a server using that on all the tables so time consuming. I believe they have them for sale on the ship, I did not ask how much. I really don't think that my cheap bottle of wine really needed it, but it was a very nice touch that he did for us and we appreciated it dearly.
Then I took advantage to take some pictures of the restaurant. I made this two panoramas so you can get a feel of what the restaurant looks like. I am really sorry about the second picture, but it's the best I could do with the pictures I took, the lighting was horrible and the angle was hard to get. That is why I shopped off the head of the guy in the picture, sorry, I wish it would come out better.

Allure of the Seas Giovanni's Table review

Then our dinner came out.
Mom got the Jumbo shrimp, They were HUGE just like our server had said like little Lobsters and they were very very tasty, mom loved them. It was so funny since he had seen me take pictures of everything, he asked me if I wanted to take the picture before he took the shell off from them. We were all laughing. I was the only person taking pictures and most of them with flash, I am sure it annoyed some of the people, but my fellow CC family wanted pictures right?
My bf ordered ossobuco, it was his first time. He said it was very good, so I decided to taste it. It was indeed an excellent piece of ossobuco, you will not be disappointed.
Now to my dish…….. The disaster of the evening. I ordered the lamb, it came out and looked fantastic, I could not wait to dig into it. But I was waiting on our server to remove the shells of my mom dish. Well it was cutting time, I ordered them MR, but our serve suggested Medium, I never go against a servers suggestion, they always know better than you. The meat was cocked perfectly, the problem you ask? Well I could not tell if I was eating meat or a rock, it was the hardest piece of lamb I have ever had. I mean it was almost impossible to cut, none the less I worked through it and ate all of it, it tasted good, it was just hard as a rock. The server stopped and asked how everything was, we told him very good. I was not going to return my food, I don't believe in it. Anyway long story short, it was so hard, that my jaw was actually sore the next day. I am not bluffing, I rarely complain about food being hard, but this was new to me. Just being honest. I wish they still had the seabass.
Allure of the Seas Giovanni's Table review
Allure of the Seas Giovanni's Table review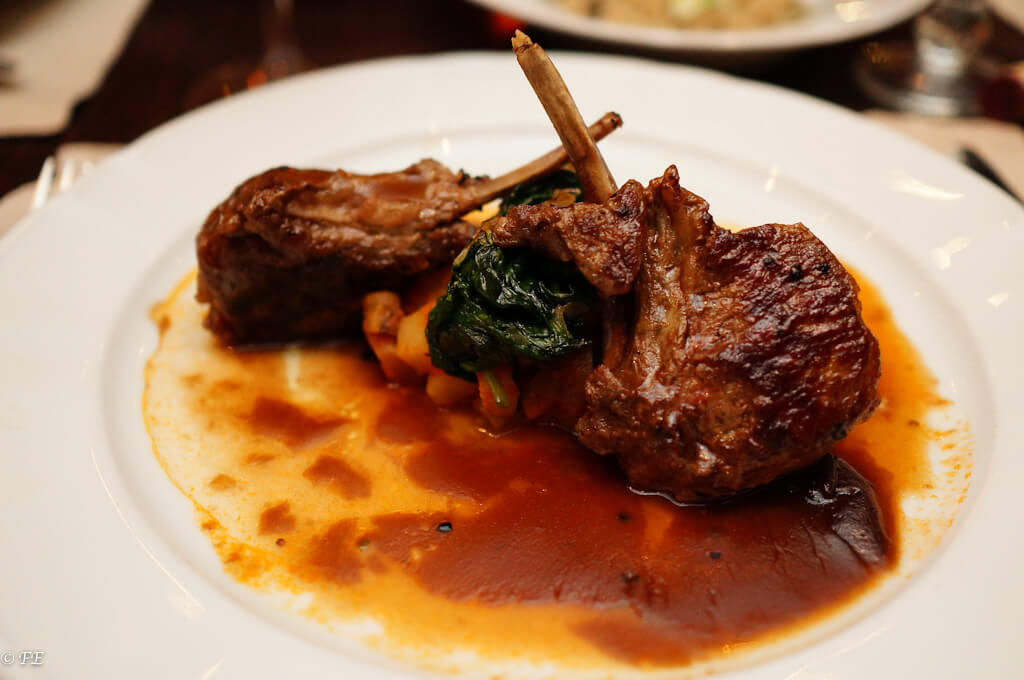 For our pasta sharing plates we had the mushroom risotto and the gnocchi they were both FANTASTIC!!!!!!!
OMG SOOOOOOOO GOODDDDDDDD!!!!!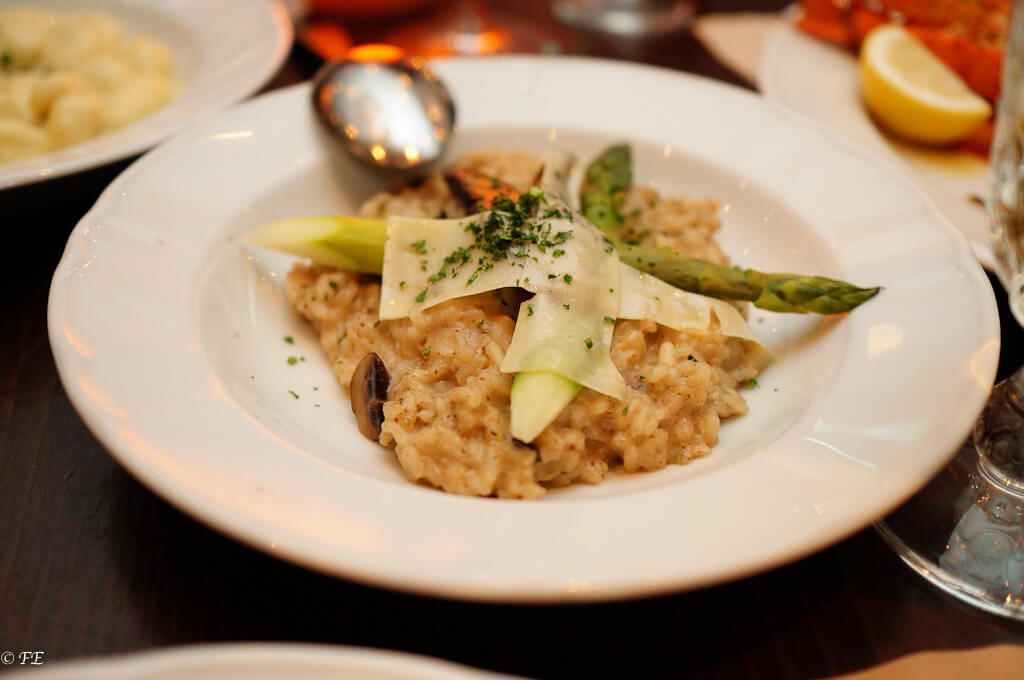 Allure of the Seas Giovanni's Table review
For dessert mom and I were completely stuffed, I decided to order dessert for the purpose of the review. We both asked him for the fruit cup, but he said "No, you're having both the fruit cup and the cherry cup each" I forgot their exact names, he was so funny, made us laugh once again and we could not decline the way he insisted was very charming. So we each got two mini cups, I am so glad he insisted on us trying the cherry dessert, because IT WAS TO DIE FOR, the fruit one was good, but it had no comparison to the cherry one.
My bf had the tiramisu, our server made a huge effort to sell the tiramisu. The way he described just made you melt away, very nicely done Bashir. The bf LOVED the tiramisu, he said it was excellent and cleaned the plate. I tried a little spoonful and thought it was good, I really don't care for tiramisu, personally I think they have to much cream.
Allure of the Seas Giovanni's Table review
lastly and most importantly of it all I want to compliment our sever Bashir, I am so sorry, I could not find your name when I was filling the comment cards at the end of the cruise. I just found it now, it was buried in my notes. I want to ask RCCL if you could please add this as it was my comment card, he was fantastic. Every little detail you did made our night a very memorable one. He was funny, professional, fast and very enthusiastic. You did a phenomenal job, thank you Bashir.
Then we asked for the check, since we had both packages paid our check came to $0.00 and if I remember correctly I left the extra tip in cash, but I am not sure. I might of put it in the credit card. No coffee for us, I was enjoying the very pleasurable effects of our bottle of wine 

About tipping extra… there is a vast amount of threads here in this forum, I my self started a poll to get an idea of how much people tip extra at specialty restaurants. I always tip more in specialty restaurants, I am not saying that is how you should do it, just making a comment on what I do.
Oh I forgot, while at Giovanni's I placed my new iPhone 5 on the bread plate with the olive oil, I almost had a heart attack. Thank God the bf saw it before the olive oil could do any damage to it, fewwwww, that was a close one.
After we left the bf wanted to go the Allure of the Seas Coach store to look around, he likes all those brands and stuff, me not so much. I rather spend my money on Tv's and electronic equipment. I actually bought a coach bag to carry my camera before the trip, but I ended up using my old ugly bag just because I liked it better. The new bag stayed in the drawer the entire trip. Anyway, in the store there is not really much of a selection for men, not that I expected it to be anyway. But none the less it is a gorgeous store;
After we left the coach store we went up stairs to get the document of the wine so we could head down stairs to guest services and claim our wine. Once we opened the door we noticed that Gilbert had already done our room and that my mom's bed was actually very nice, the only problem is that the bed left very little space to walk through. It was a very tight fit.
As I turned around to get the folder with my documents, what do I see??????
Tadaaaaaa!!!!!!! My wine yayyyyyyyyy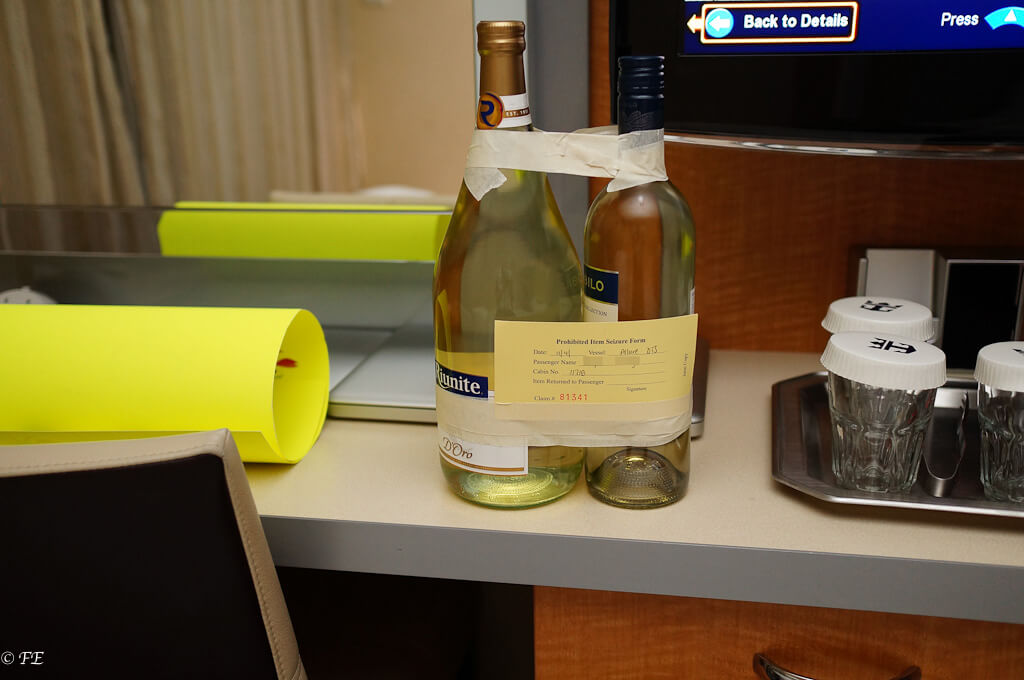 I wasted no time in getting my bottle of Nobilo, putting some ice into a glass and pouring a glass of wine to take to the balcony.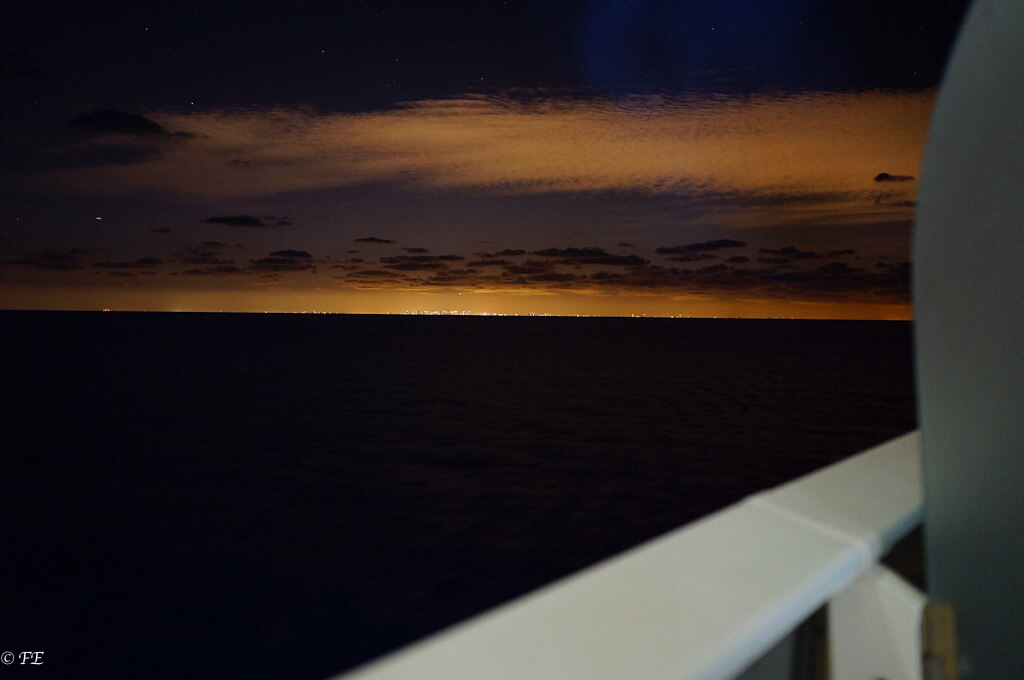 As I sat there listening to ABBA, having my glass of wine looking at the ocean and wondering if there was anything better than cruising in life? That's it I was hooked, I had just realized that from then on most of my vacations were going to be spend cruising! No question about it. I was in Heaven 
After some time in the balcony, we realized that we had reservations for "Oceanaria" we discussed it and came to the conclusion that we would be better off watching the show from the aft balcony. We were exhausted and I did not feel like going to the boardwalk an looking for seats. So that is exactly what we did, mom and I headed to the aft balcony, I think the bf stayed in the room watching a movie or reading can't recall.
I did not take any pictures of the show due to copyright laws, but I did take a few pics before the show started.
Hopefully my Allure of the Seas Giovanni's Table review gave you the information you needed to plan your cruise