Day 5 on the Allure of the Seas – Sea Day
We woke up to overcast skies, but it looked like it was going to clear up later on. The ocean was the choppiest that we had an experience during the entire trip, but it was still kind of mellow. As I turned on the TV to see our position, my mom reminded me that my bf had pre-ordered breakfast, that threw off my plans since I wanted to go to the windjammer for breakfast to try it out. I had no intentions on throwing away all that food so we decided to wait for the food to arrive.
The TV pointed out that we were just passing George Town, but we could not see it from our balcony. The people from the port side were able to see it. Mom offered to go to the aft balcony and get some pictures. So she unplugged the camera from the charger, I changed the lens for her,and off she went.
In the meantime I headed towards the balcony to do the usual email, Facebook and weather. Since the Allure of the Seas was experiencing some minimum movement I decided to play it safe and take a bonnie, I also grabbed one for mom. The Allure of the Seas had crosswind that varied from 28 knots to 36 knots and traveling at 13.5 knots.
That day I struggle a little with the internet, it took me longer than usual to log in and use it, maybe too many people were trying to use it at the same time. Mom came back a few minutes later, she was very excited, it seemed like she managed to get some usable pictures. So I took the memory card and checked. Sure enough she did a good job again. These are a few of the pics she took, I cropped them so you will be able to see more detail in the houses.
As mentioned before there was a crew filming RCCL newest commercial and they were in the rock climbing wall filming away. I hope they managed to get some video, those skies must of affected the quality that day. She took one picture of the film crew. You can also see a lady in the boardwalk checking stuff on her computer.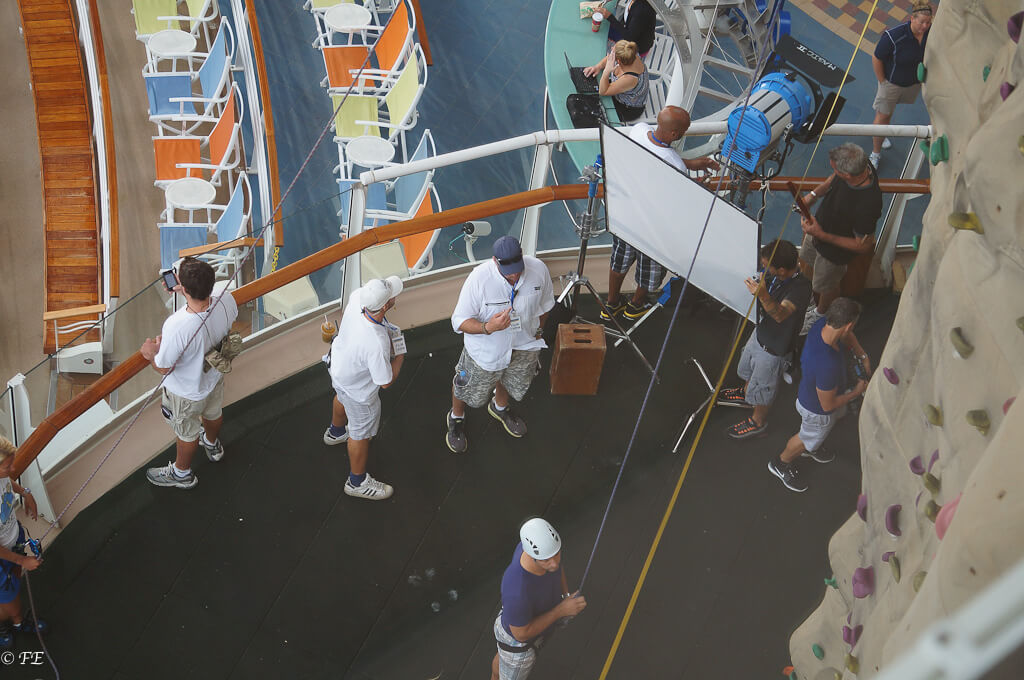 Once I had the camera, I changed the lens and took my usual morning pictures that you might be used by now. It is somewhat of a tradition that I started.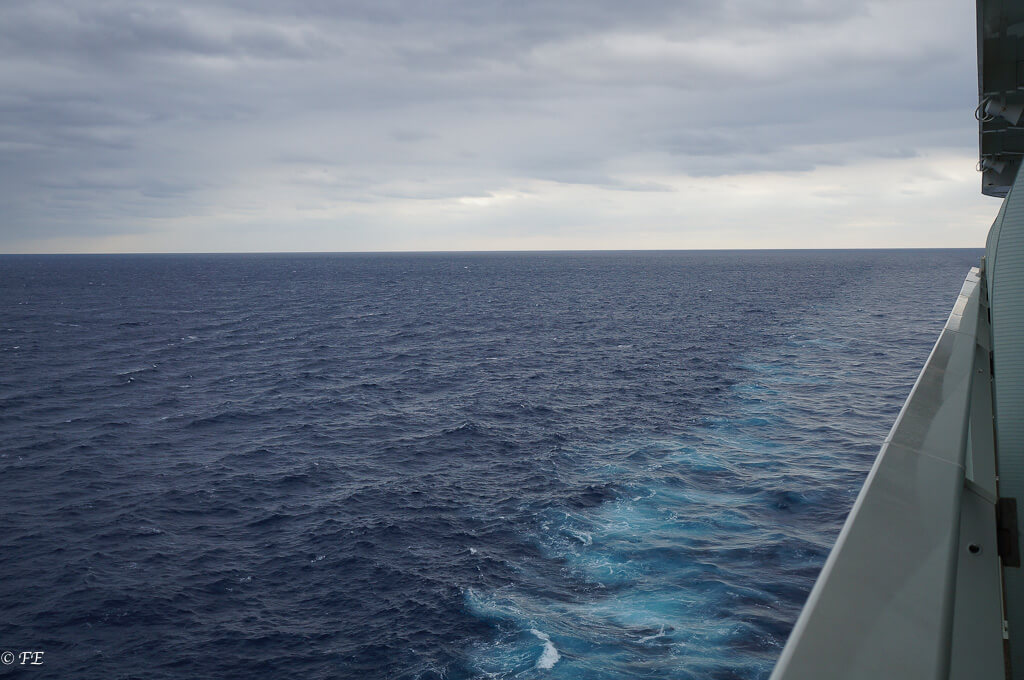 Breakfast arrived quickly after that, so we sat down and started eating, my bf was woken up by the confirmation phone call. He took his plate and ate in bed as usual, good thing because I really don't think there is room for more than two people on those balcony tables.
The usual, nothing changed here.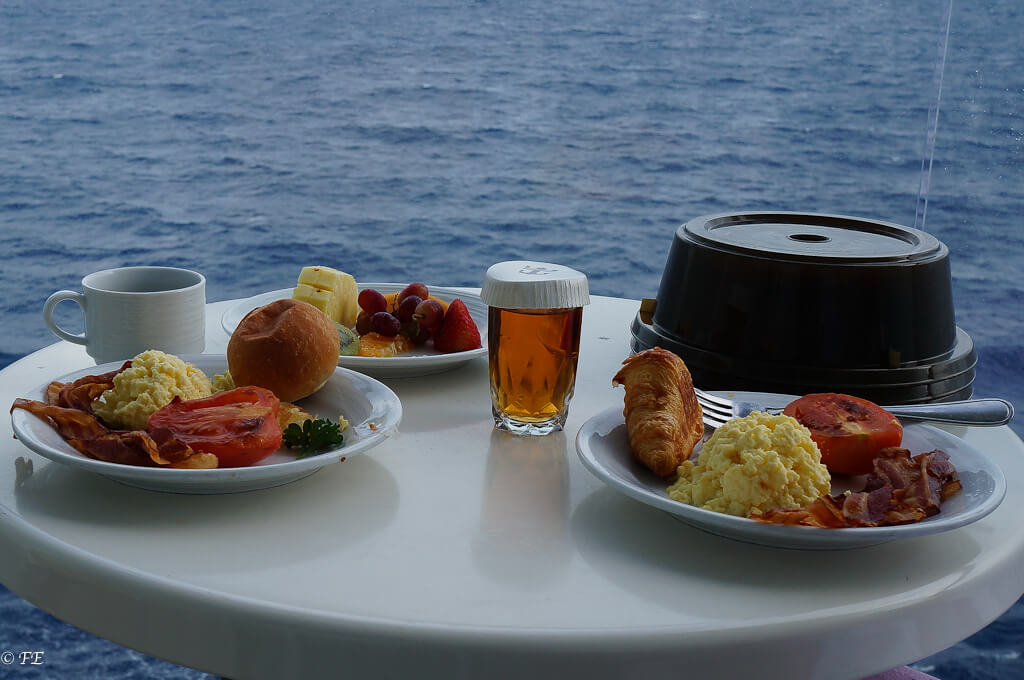 Here are a few pictures of the tv, I used these maps as a source to geotag my pictures later on. My old camera had a GPS built in and she was able to geotag, since this one does not I have to do it manually.
After last nights mess-up with the time of the show, I decide to make detail notes in my cell about everything we had setup for the remainder of the week. That way we would avoid any future problems with that.
Mom and I decided to hit the solarium for a little while, so we got ready and headed upstairs, we decide to stop by the windjammer and fill my moms soda cup.
Once we got to the solarium we found a very nice spot port side of the Allure of the Seas, right next to some plants. I knew we were going to keep this place for sometime and enjoy how sheltered it was. It was very easy to get that spot.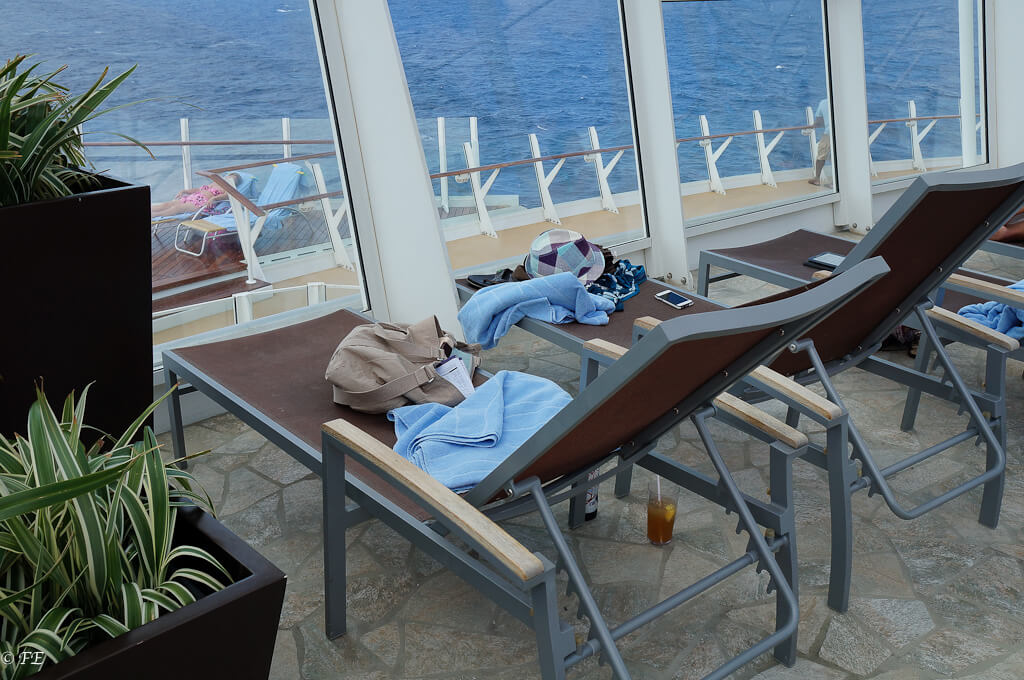 Since I was a little hungry I decided to go check what they had in the Allure of the Seas solarium buffet, I ended grabbing two things.
This is a little funny, it said miso shrimp/ miso chicken on the display, I thought it was like a miso salad and grabbed one. I wanted the shrimp one, but by mistake I took the chicken one. Once I got to my chair I noticed that it was a little dry and did not have much of a miso flavor. But none the less it was very good and I cleaned that plate. Some of you might be laughing by now…… yup, it was supposed to be a soup, lol, I figured that later on.
Then I took some pictures of people on the sundeck. I want to make a quick not here, the sundeck only has access from the port side of the Allure of the Seas. The starboard entrance to it is permanently closed.
Then we napped for a little while maybe 40 minutes or so and woke up to what we thought were announcements, little did we know that they were not. There was gentleman in the Jacuzzi and boy could he talk LOUD, I think he woke everyone around us, it was so funny. He would make conversations with everyone, most of the solarium knew more about his life than himself.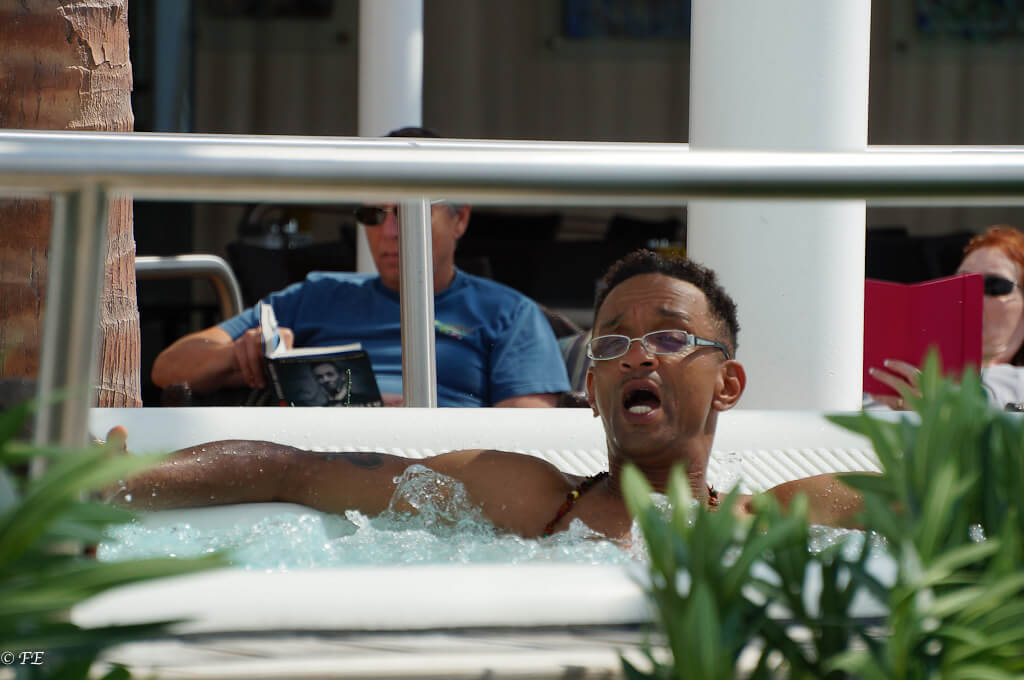 It was agood thing he woke me up because I noticed a ship in the distance and I managed to get a picture of it.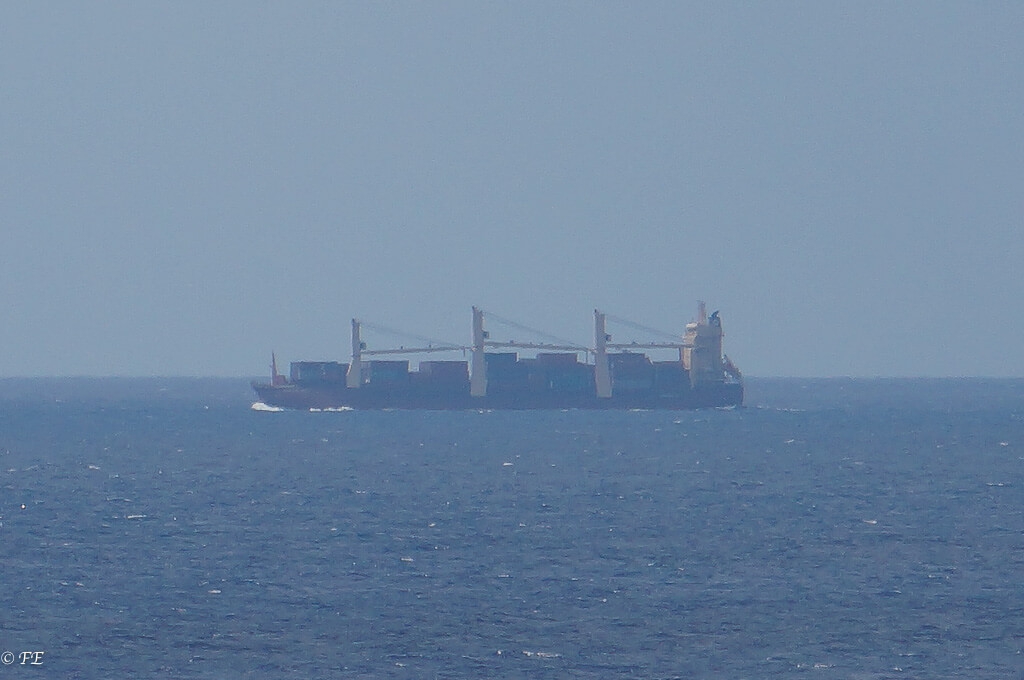 At around 11:30 we decided to try the jacuzzi for a little while, so we covered all our belongings and headed towards the jacuzzi. We stayed the for about 30 minutes, there were about 8 people in it, not bad, max capacity is 18. The jacuzzis temperature on the Allure of the Seas always seemed fine to me, mom claimed they could be a little warmer.
Once I got out I decided to get a drink, but I did not feel like going to the bar. I waited for about 5 minutes and bar service lady stopped by, her name was victoria, I gave her my card and told her that I wanted a long Island. About 4 minutes later she was back with my drink, I was very impressed, I took down her name thanked her and she was on her way. She was supper friendly and efficient.
I will take a minute here to compare NCL with RCCL, the bar service in RCCL is 10x better than NCL. NCL waters down all their drinks, I don't mind paying top price for my drinks, but if I do, I expect something equivalent for the price paid. In NCL I had to search for special bartenders all over the ship, that got old very fast. In RCCL I never experienced a bad bartender, thumbs up RCCL.
I took some more pictures of the Allure of the Seas solarium, by the way if you're getting tired of specific pictures let me know and I will cut down on them.
Allure of the Seas Solarium
This couple had the right idea, they stayed there for a few hours.
I wanted to do some more exploring for review purposes, but we had a prime spot in the solarium and that could not be wasted. The Allure of the Seas review would to wait.
At around 12:30 mom went to get my bf so we could have lunch I told her I would stay and keep our stuff safe. Soon enough they had returned, I told them to go eat in the solarium and that I would go and get some stuff later on. I was not quite that hungry yet.
As I sat there I noticed that my neighbors went to eat and they left EVERYTHING on the loungers. It was a group of 7 and they left, kindles, bags, book, ipods, everything. I will note later on that we had a bad experience with some of our belongings gone missing. I am not sure why they left everything there, they never asked me to guard it for them, although that is exactly what I did the entire time.
Then mom and the bf came back and they complained of how poor the buffet in solarium was, they said it was horrible. My mom took a seat in lounger and my bf went back to the room. I decided to go try it and see what they were complaining about. I found it to be average, that is also when I discovered that my supposed miso salad was actually a soup, lol, silly me 
. As I was there taking pictures I was approached by an RCCL employee. I thought "oh oh, my picture taking got me in trouble again", the lady said "sir you need shoes to be in here" I was so embarrassed, I never noticed… I ran out to get my shoes and then came back, once I was back inside I noticed 1/3 of the people in there had no shoes. I guess that made me feel a little better.
I ended up getting a taco (very good), the actual miso soup (I actually liked it salad style better, go figure) and some pastries ( mom loved the almond one, she went back for more).