We stayed about an hour there, and then we headed out. I wanted to try another shack that I had spotted earlier. I was actually hoping to find some fried fish, but that was a no go. However, I still wanted some conch salad and we decided to stay there anyway. Plus, when we got there we found an open WIFI connection.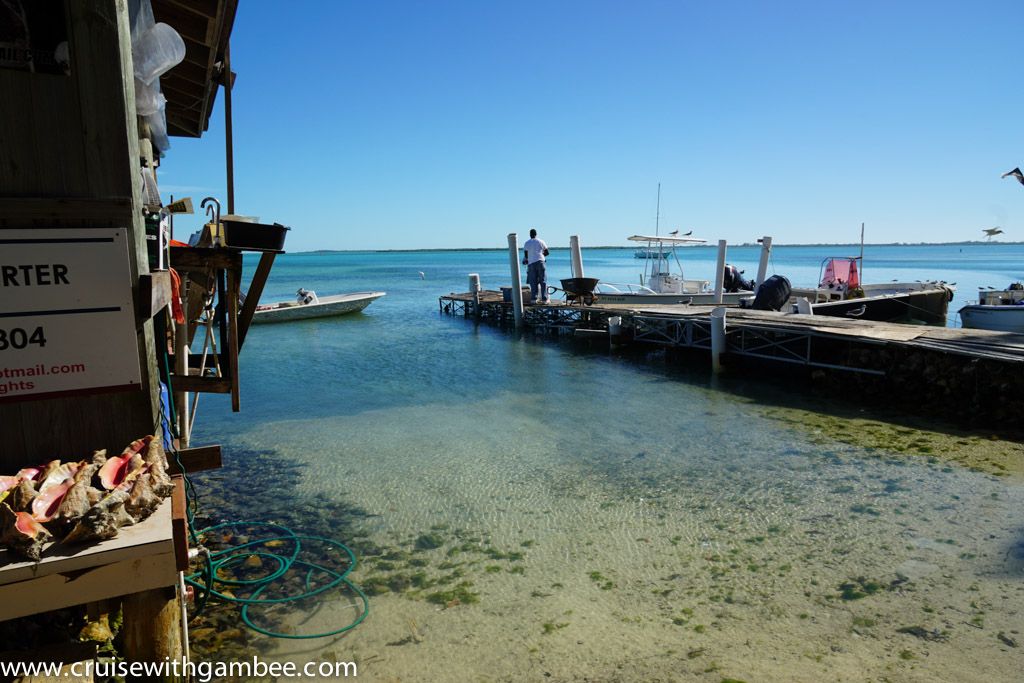 These two ladies knew how to do it right, they had everything prepared. All they needed to do was chop the fresh conch and mix it together.
This one was much better, more balanced.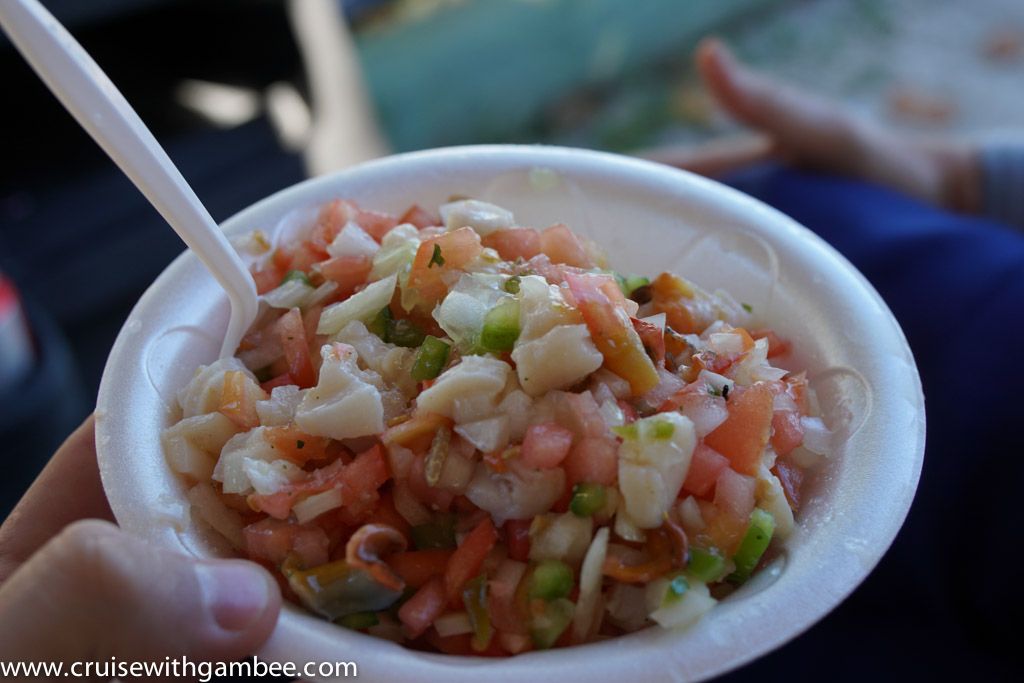 We stayed there for some time and finished the salad. So far it was a great day, I really like Bimini, I think it is one of my favorite islands. I know it's very small, but being so compact you can do so much more in one day. Can't wait to go back, hopefully sooner than later.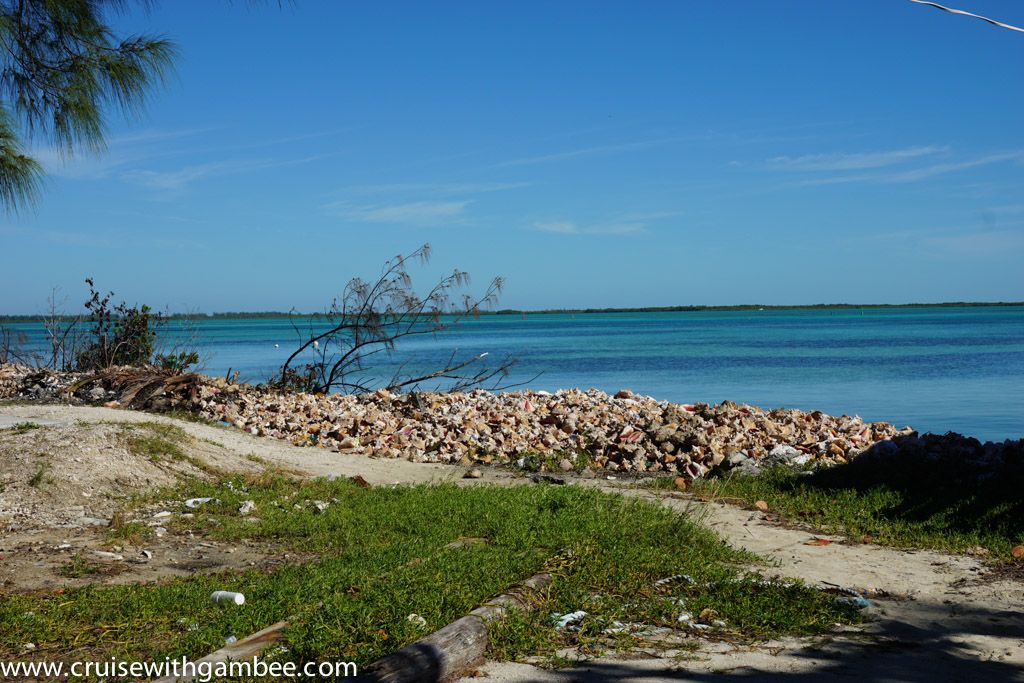 We then drove back inside the resort itself and stopped in the marina. The resort is rather dead at this point, although we were told that this was low season. I am not sure about that.
Here is the marina.
My mom was looking for a store that sold souvenirs, but all she found were expensive brand stores, and grocery stores.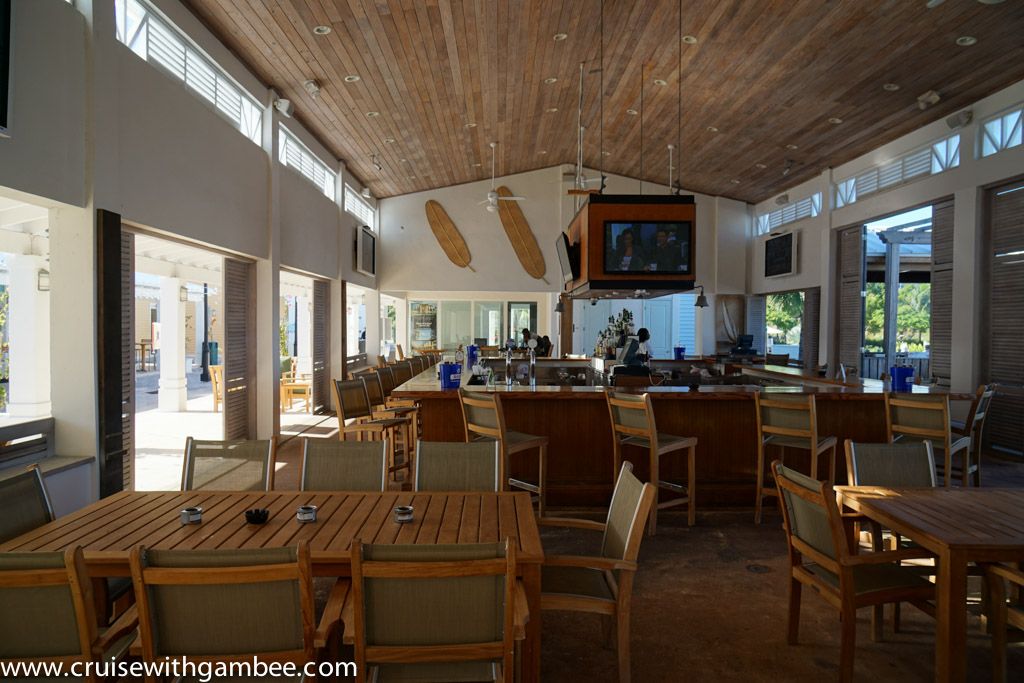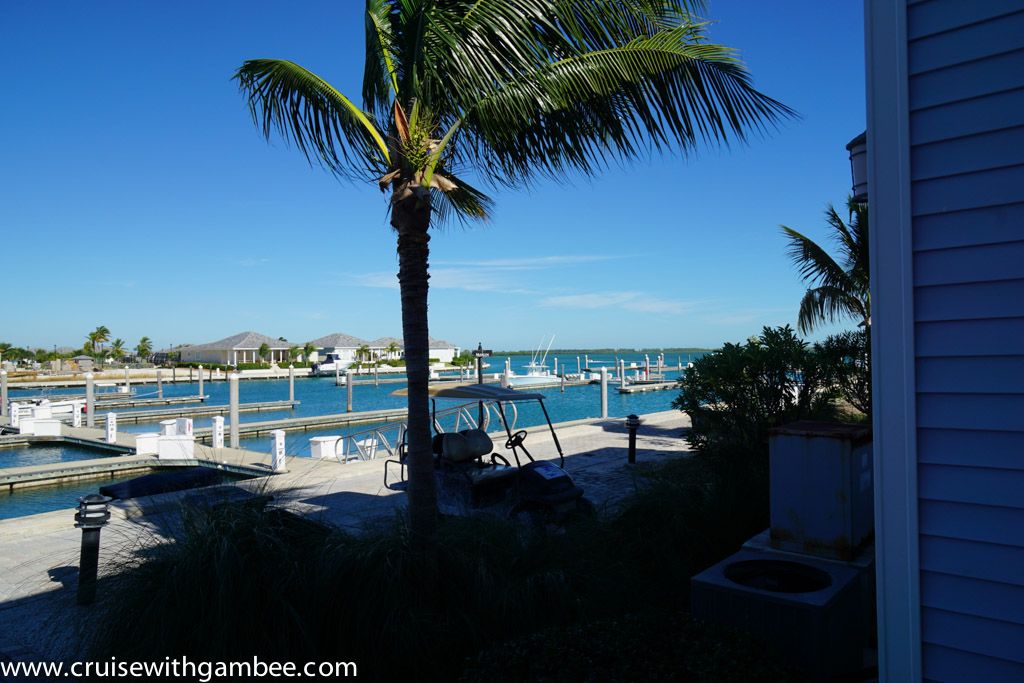 We then got our cart again and decided to checkout the pools. You have access to two pools within the resort, and let me tell you something! I am not sure which one is more amazing. I will let you decide which one you like better.
The first pool is by the ocean with a view of the ship, it is also an endless pool.
One thing that I wonder is whether the ocean is always this rough on this side of the island due to the open exposure. The main reason why this is concerning, is because this is the same side that the main beach is at. On that particular day the beach was really rough, I get some pictures later on.
A few waterfront properties.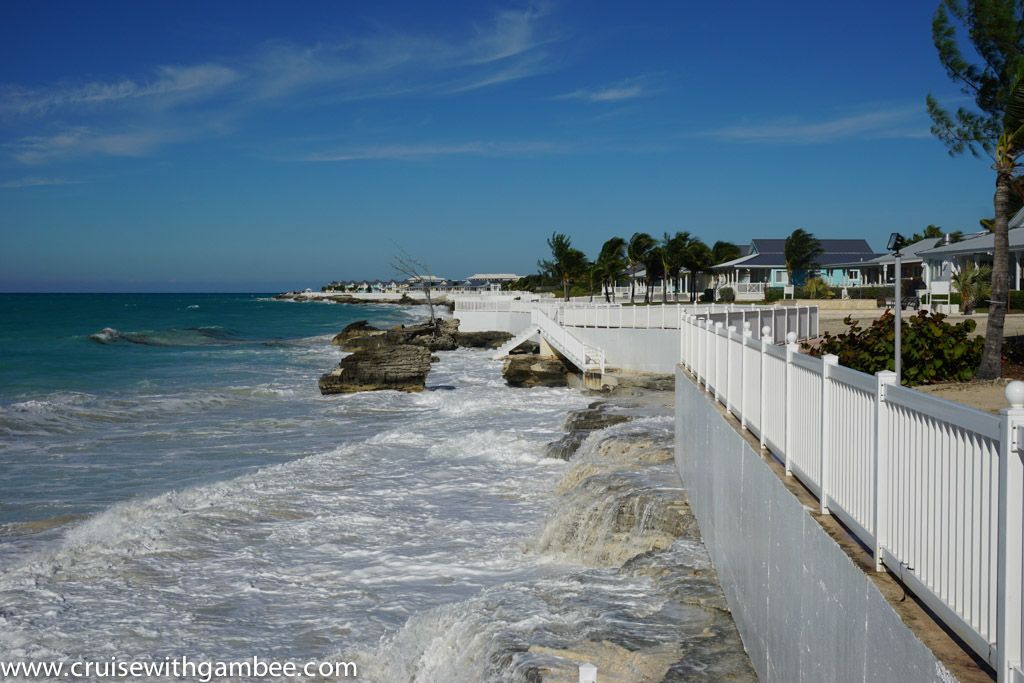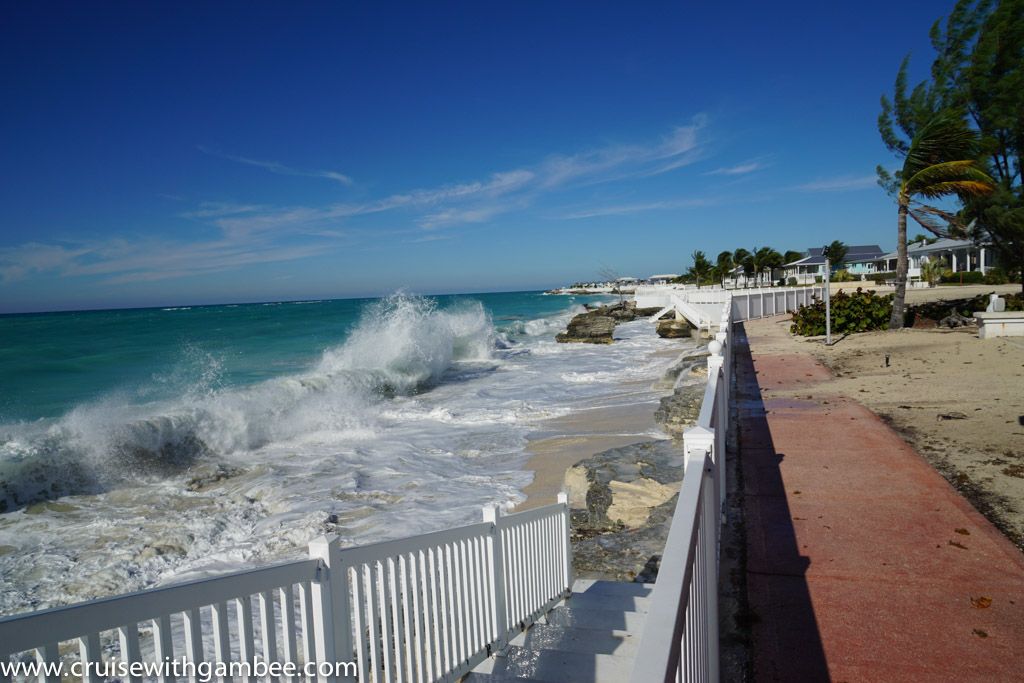 Here is the pool itself, it is a really nice area, with a restaurant and everything. They also have towels available so no need to bring your own. The pool was freezing though, so not many people actually go in the water.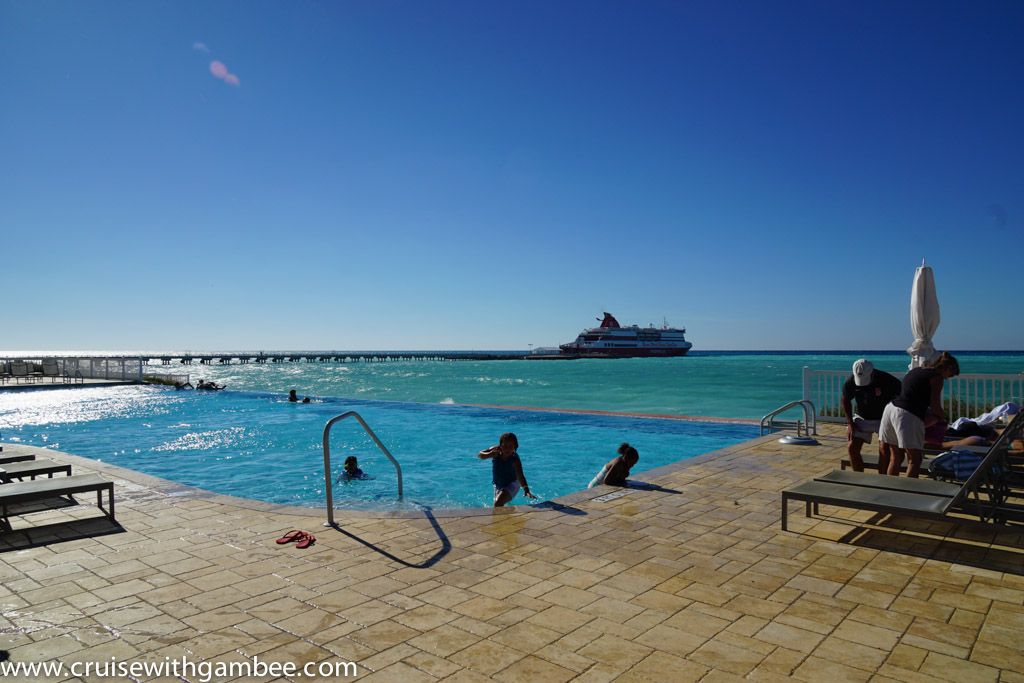 There's the restaurant.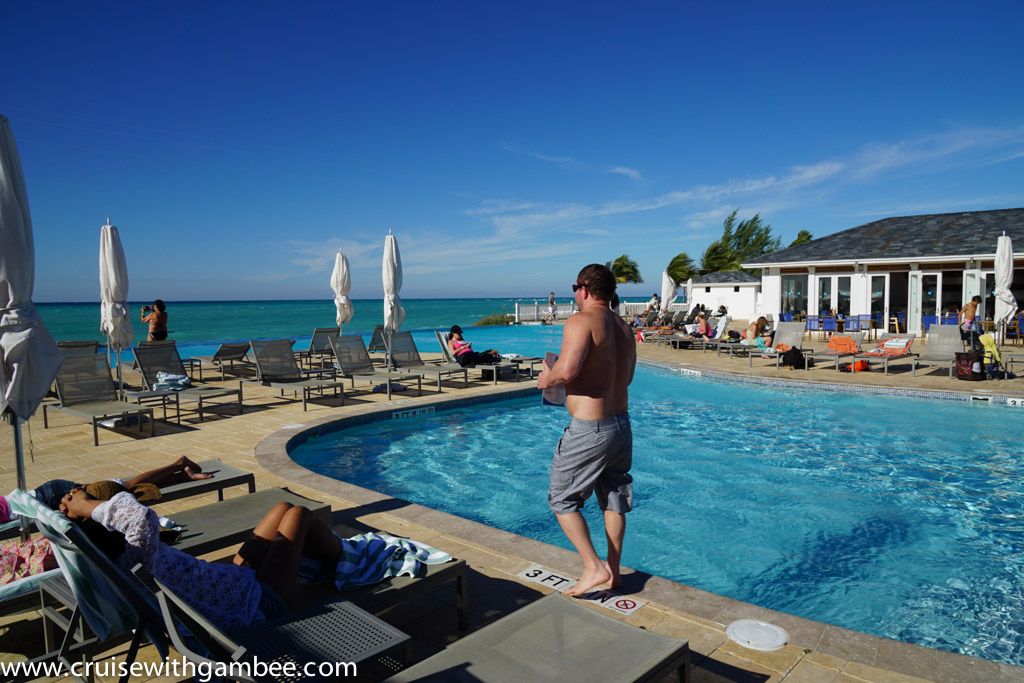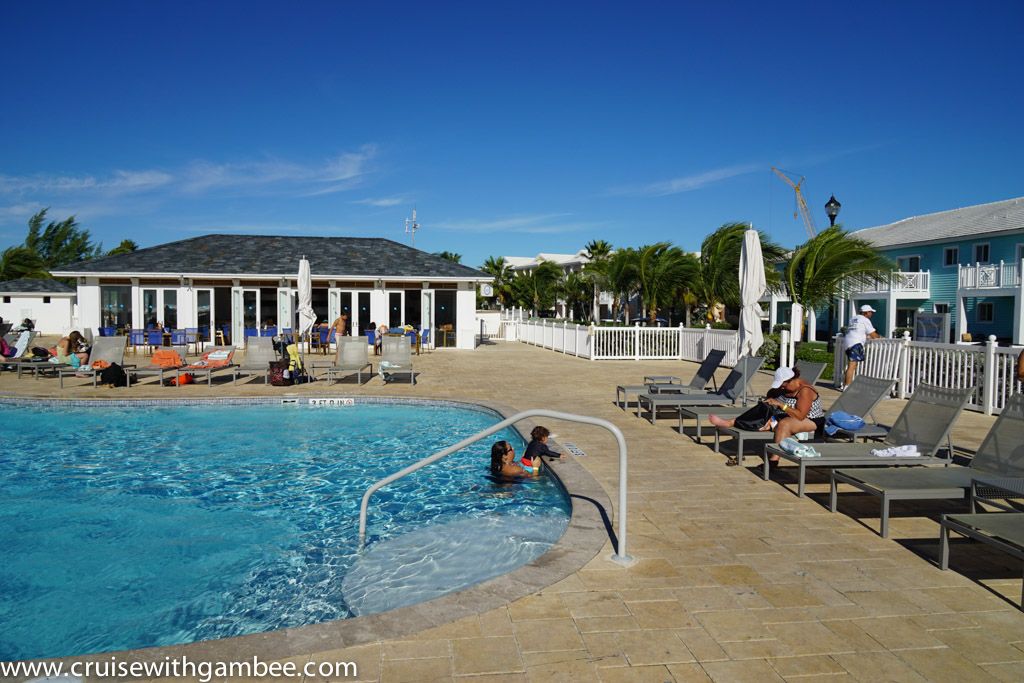 Oh, I forgot there is free WiFi by the pool areas, I am not sure if they spread throughout the resort. But they did have them available in those areas. The speed of the internet was rather slow, but comparable to a ship's internet service and here it was free.
We relaxed by the pool for a little while.
Eventually my mom ran out of battery on her phone and she grew a little impatient to go and discover more of the resort. I am not entirely sure why she did not bring her iPad. Right now she is using my old iPhone 5, and the battery on that thing is horrible. She needs to get the battery replaced ASAP.
Then we drove to the casino, everything is very close together, maybe a minute or two by golf cart. But I would not recommend walking those distances, I would not do it personally. The key to Bimini is that cart, I know I have said it already, but I cannot reiterate that enough.
The casino while small by Vegas standards, is majestic for the island. I was not able to get many shots, and the ones I got came up blurry and in bad lighting. I was told to put the camera away nearly a second after I pulled it up from my shoulder, the pictures I got came out by a miracle. The casino is truly incredible, lots of marble incredibly tall ceilings and elegantly decorated. One thing to note was the smoke smell, it left a lot to be desired.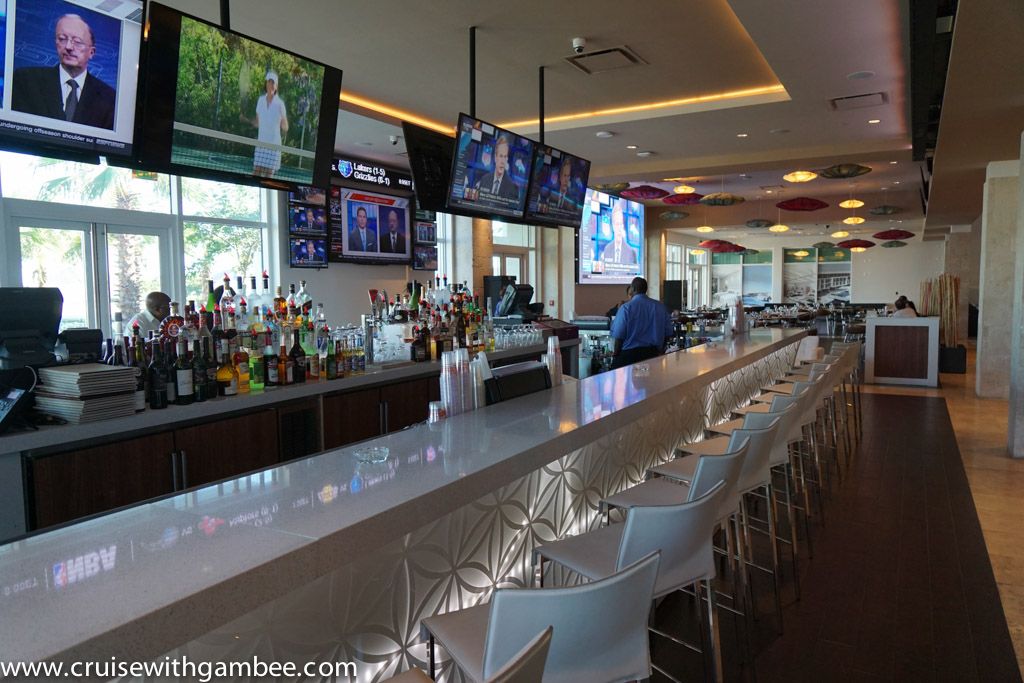 We decided to get a few drinks, I got some scotch on the rocks and I got my mom a fruity drink. I am known for commenting on weak drinks, and I am afraid to say that the trend continued in this resort. I swear that my moms drink was virgin, if it's not because I saw him make it and do 2 counts of vodka I could have told you it was virgin.
Prices were about average, gratuity added to the check. Mostly everything on this trip was just perfect and from what I noticed everyone was having a great time. One thing I did notice is that service in the resort does lack. Most workers are very short on words and the attitude was not right to be in the service industry. For me its not a big deal, but in the main pool there were several people complaining and telling each other they had no plans on tipping.
We stepped outside and walked towards the marina to check out some of the vessels that were docked there.
They had a few big boys there.
This thing must fly!
They are currently building a 5 star hotel, still some work ahead.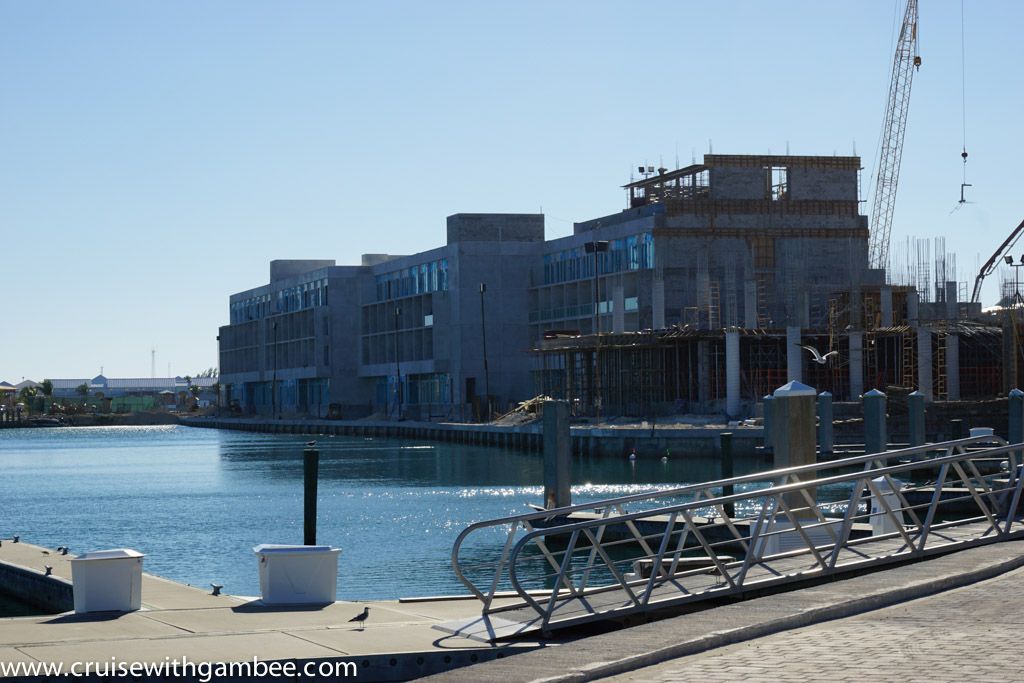 Never seen one this, at first I though it was a slushy machine, lol.
Adjacent to the casino is the main pool, I am calling it the main pool, mainly because of the size of the pool. There is also a very large

jacuzzi

right there, I dare to say this is possibly the largest

jacuzzi

I've ever seen. The main issue is that it was not lukewarm at best. But lukewarm was good enough for me to enjoy it. Mom decided not to go in the water, the air was rather chilly and she had been sick the week before. Better to be safe than sorry, right?

The pool area is sublime, and surrounded by cabanas with beds to relax on. There are also a pool access bar and another restaurant.
There is the jacuzzi.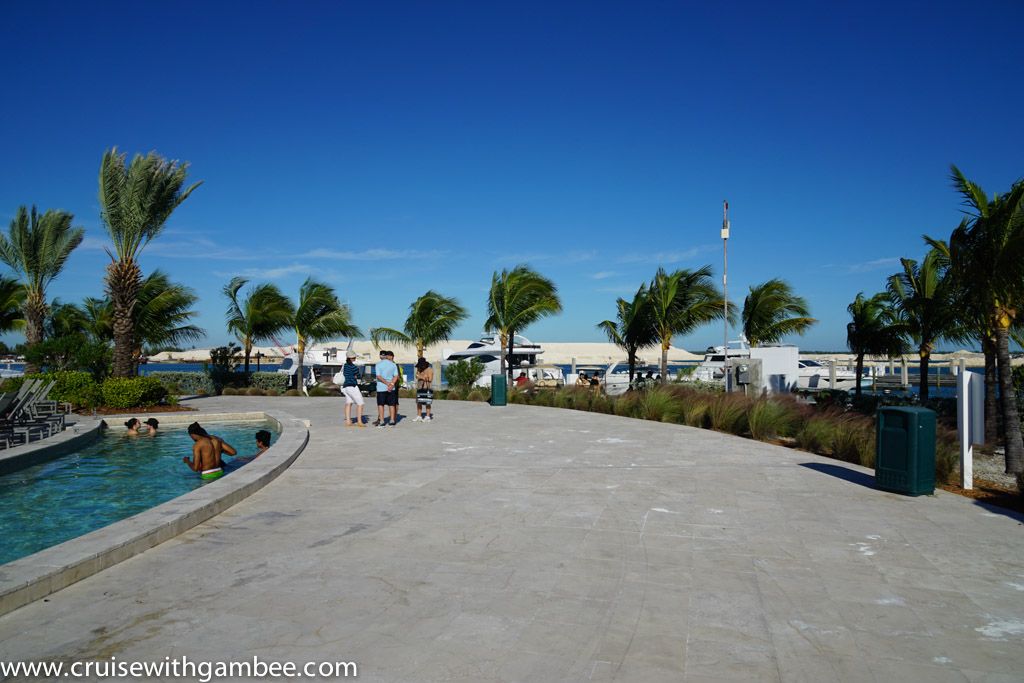 OMG, I just noticed this picture. I guess my mom is learning after my style. I guess while I was in jacuzzi she shot this picture
, oh mom, lol.
We relaxed there for sometime and then decided to head out the the beach area. I took a few pictures of the pool area before leaving.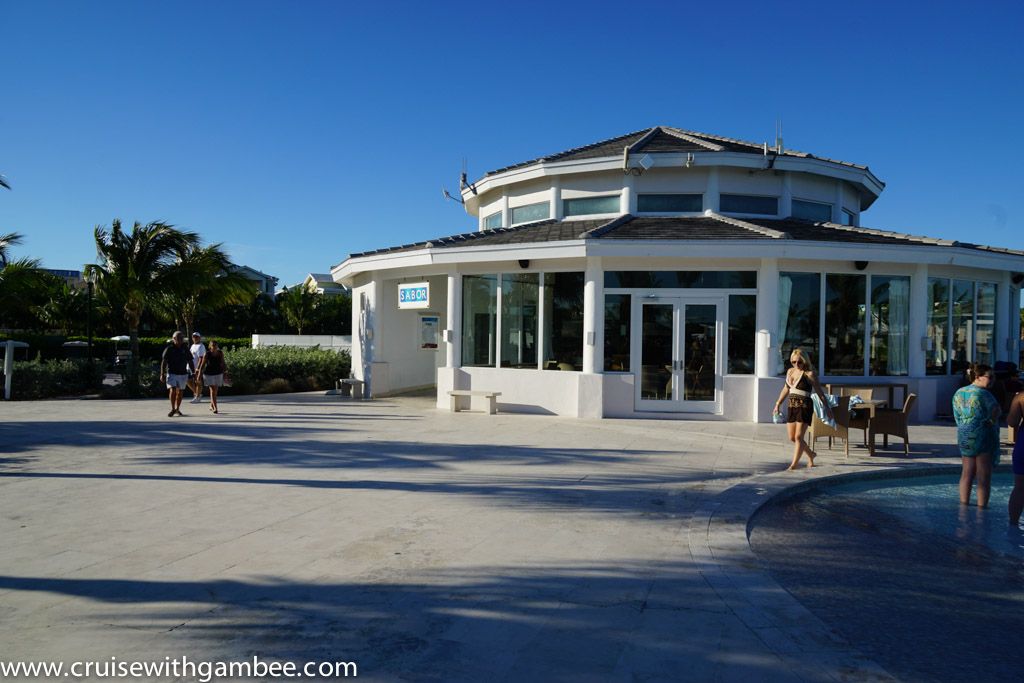 Here is the main restaurant.
The menu for Sabor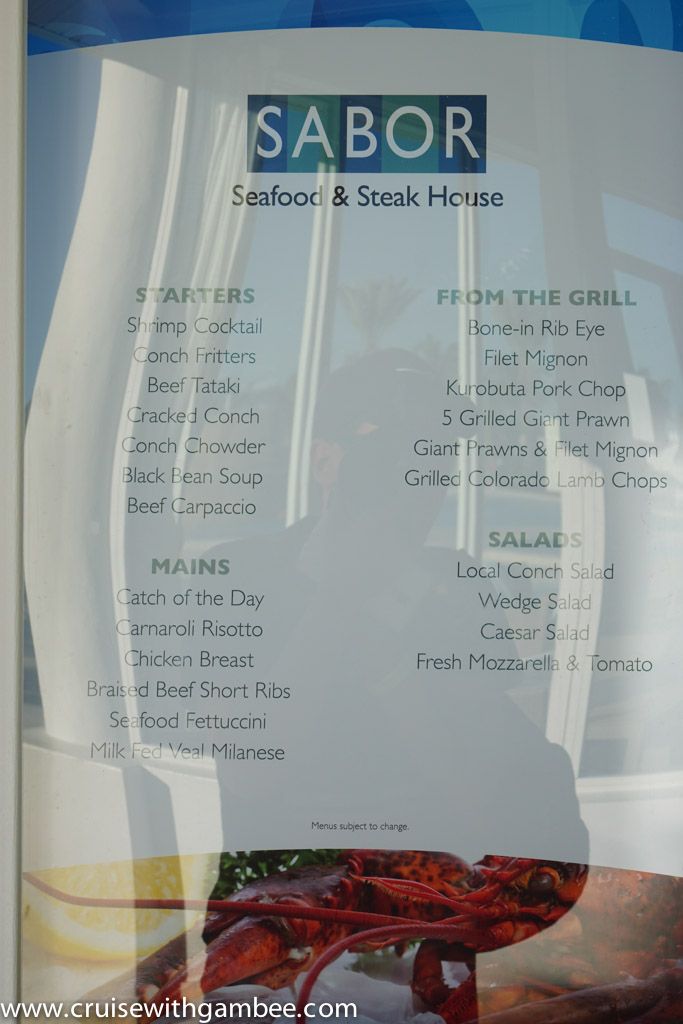 A very short ride away was the beach area. Here you will find another restaurant and a bar. You can also get massages right on the beach and lavatory facilities. Overall a well appointed beach, but

again it

puzzles me as to the beach conditions.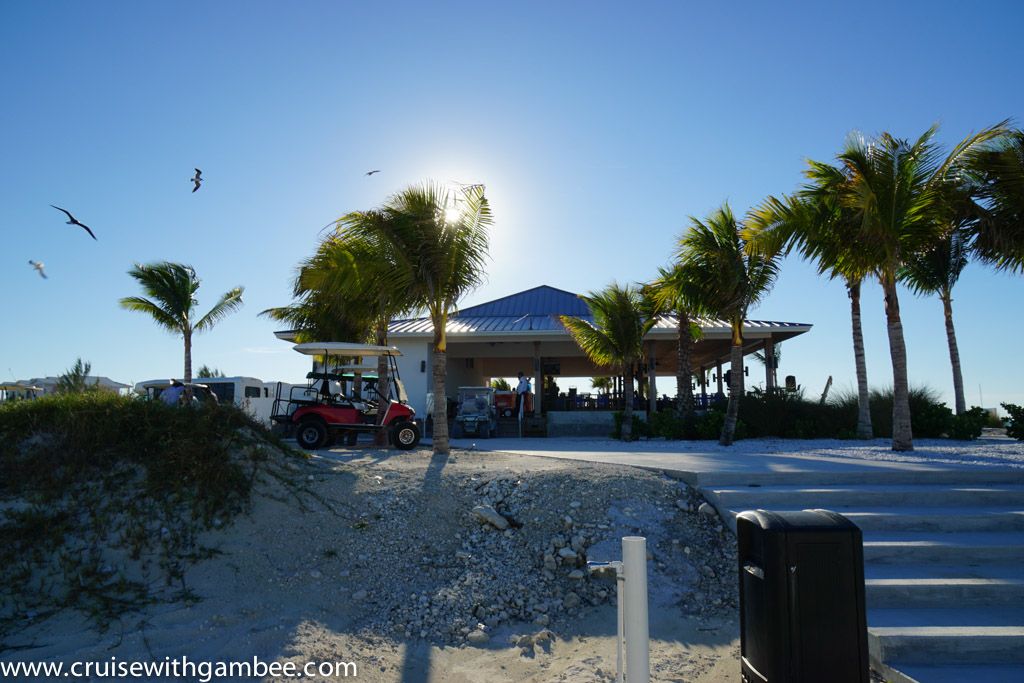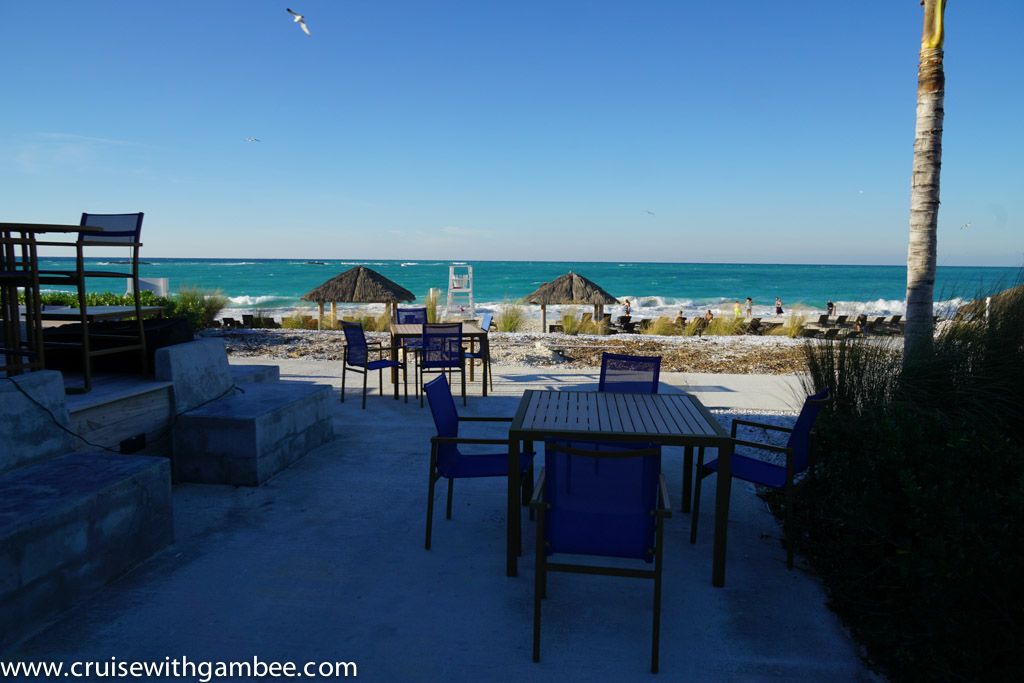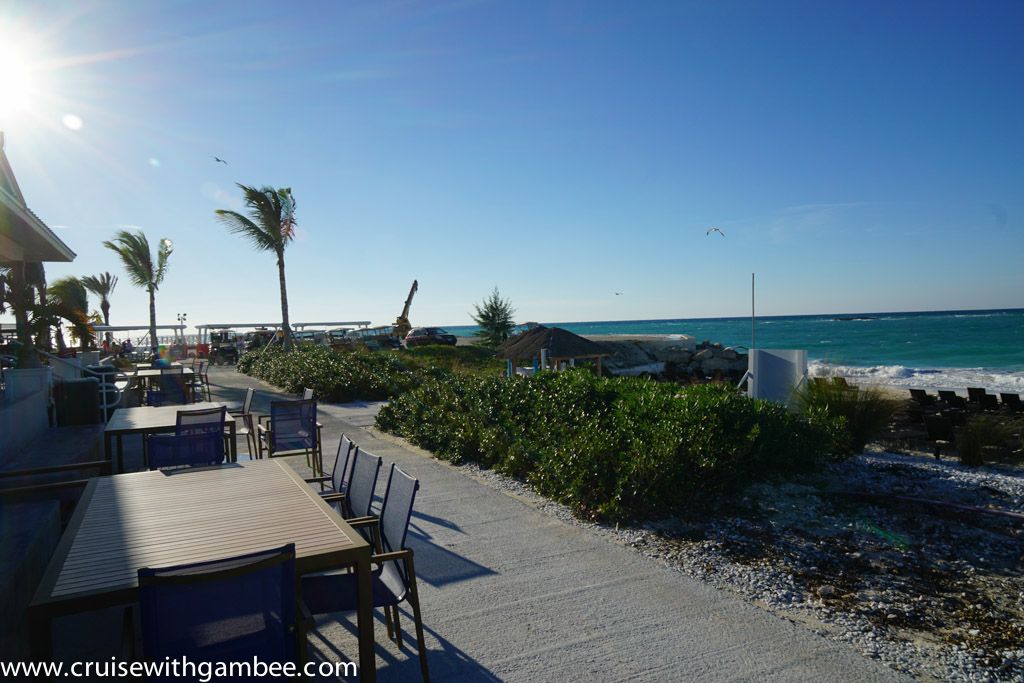 Given the beach conditions on that day we decide to head back to the main pool. We arrived at the island at noon and we had to be on board at 5:30, we still had about an hour or so to enjoy the island. Once we got to the main pool we were lucky enough to get one of the beds on a cabana.
Our View. The Pool bar has access from both sides.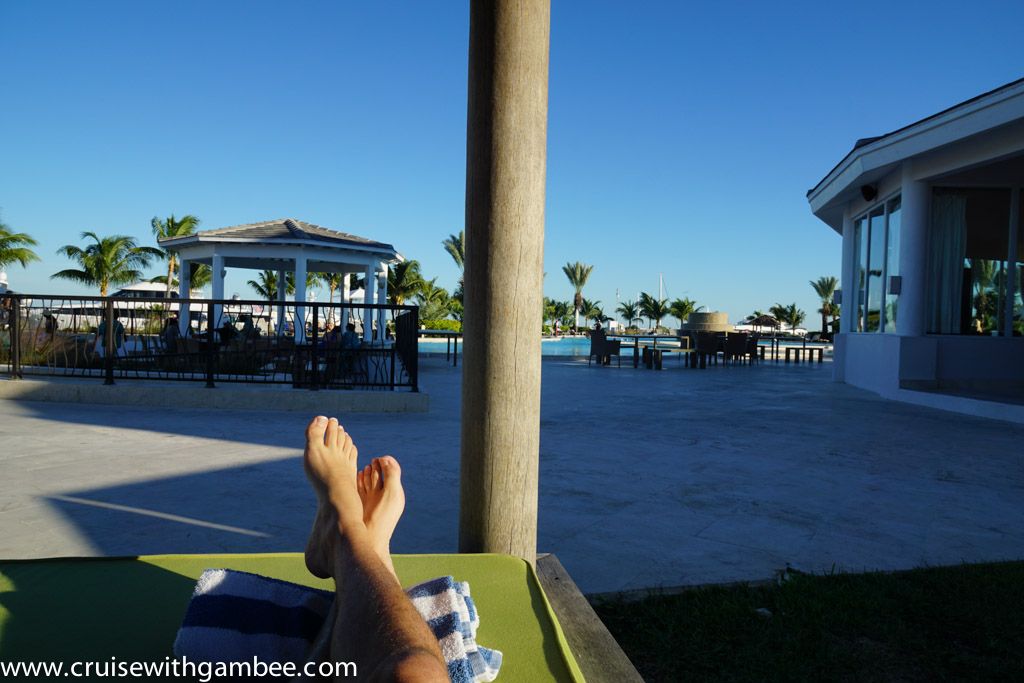 It was then that a really big boy pulling in, so I went to get pictures of it docking. Unfortunately, they were not able to dock there due the yacht size and they had to dock in the other marina. But I was still able to get some great pictures of Echo.
I guess technically it was not that large, I certainly have seen much larger at home. But the design of the yacht was one that appealed me in quantities.
I took a couple more shots of 2 other vessels.
Soon enough, it was time to head back to the tram waiting area. Once we got there the sun was setting down and the ocean was a bit more calm. We had such and amazing time in Bimini!
Here is everyone waiting for the tram, I have to admit it took a bit longer than I expected. We were running very close to all aboard.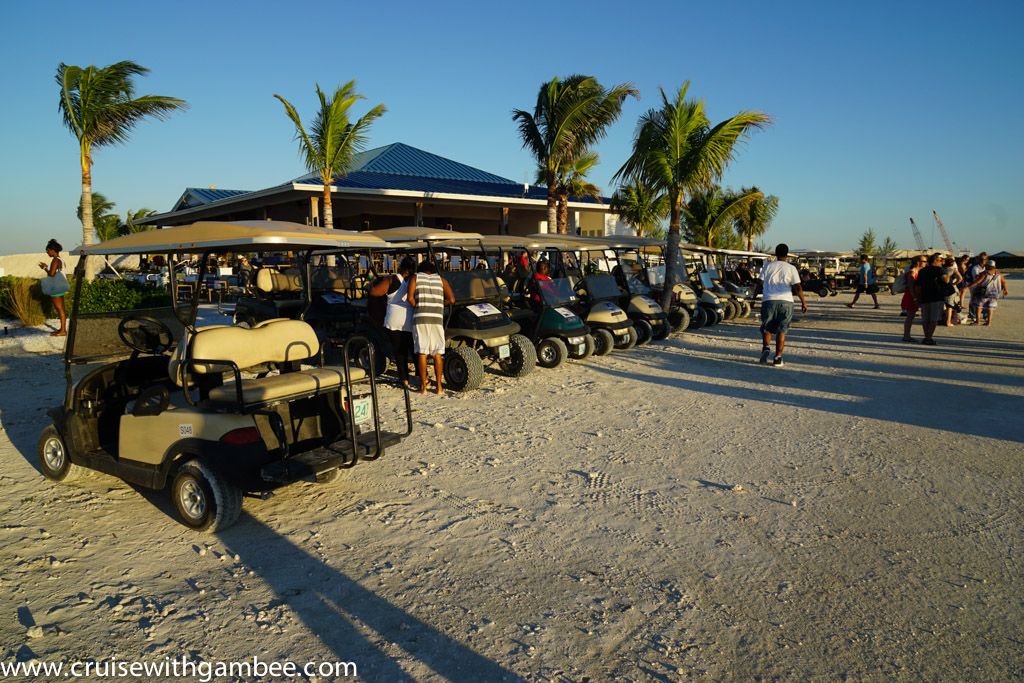 There was no capacity for everyone waiting, so a few had to wait for the next tram.
There you can see Echo docked in the main Marina.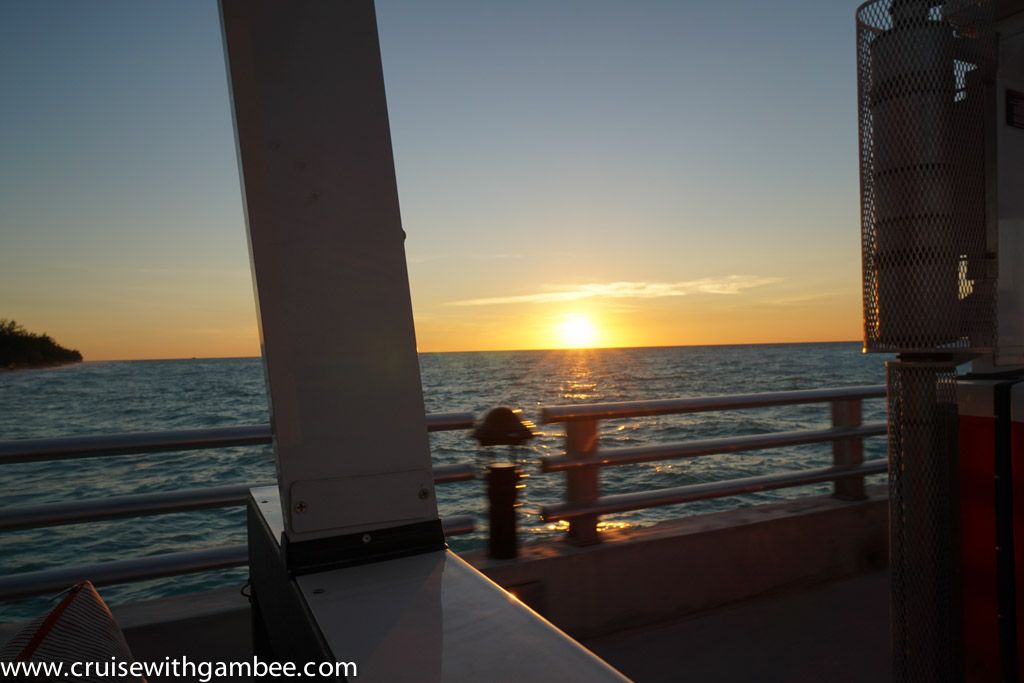 Boarding was quick and painless, this time you enter through the large doors.
Here is my Money Shot!
My main goal was to get a table in the same area that we had on the way to Bimini. But since we were boarding rather late, I feared that they were all gone. This seemed to be a very popular area on the way to Bimini. Fortunately for us the trend did not continue on the way back and we were able to score a nice table once again.
And once again Bimini SuperFast on Time! We actually left some people in the island.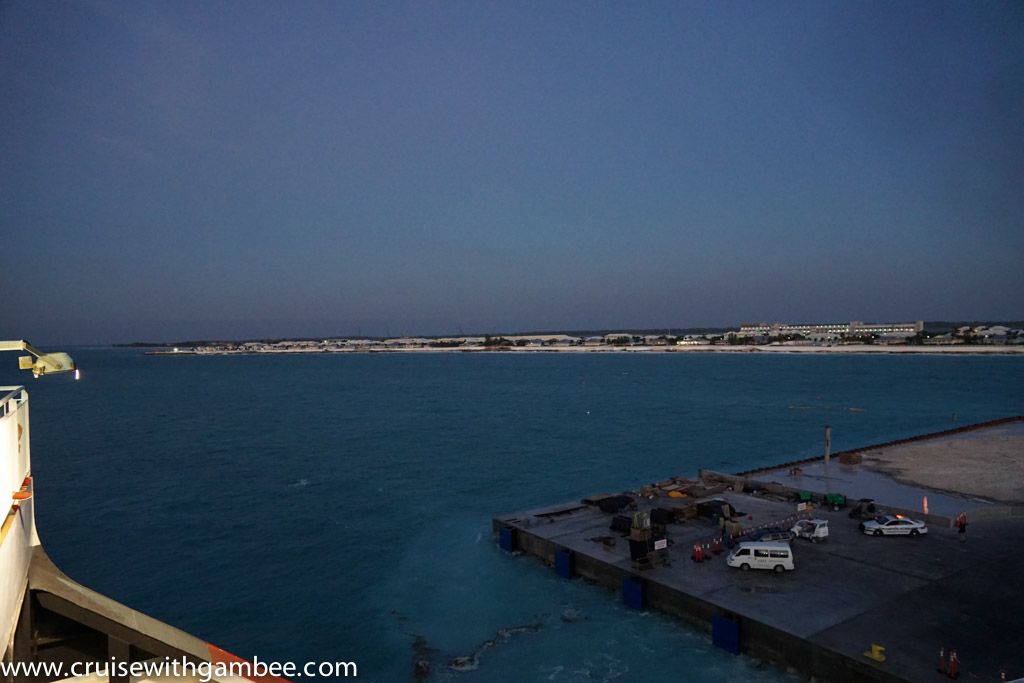 Here is the construction of the dock that I was talking about.
Love the colors in this picture.
The place emptied out quickly and I took out my study material.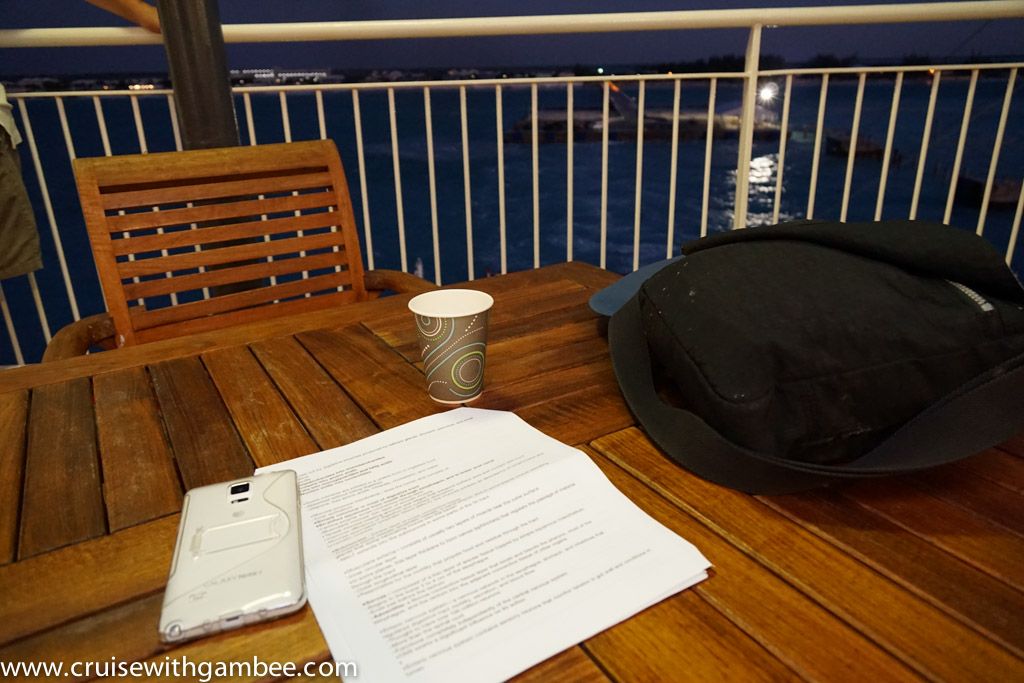 There was a grumpy old man next to us watching the game and he kept yelling at everyone who got in front of the TV. I think his team lost, since he eventually left cursing, LoL. Good thing I don't bother with sports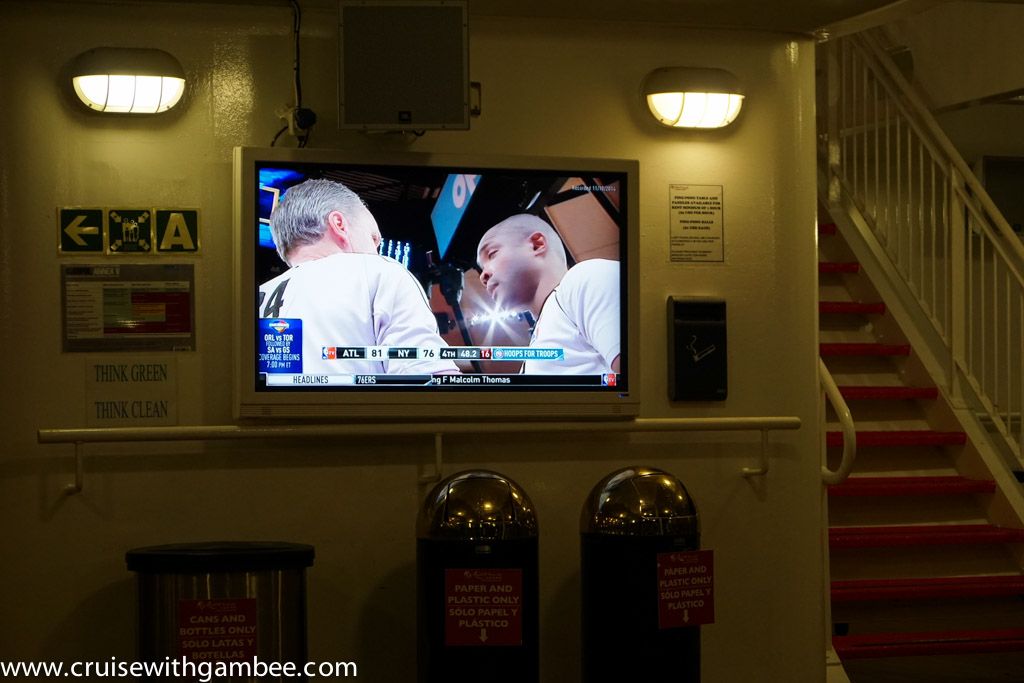 I stayed there studying and mom went downstairs to get us some burgers. It was not until later that I found out that I could have ordered the burgers from our server there. The burgers were great and they hit the spot!
I pretty much studied the entire cruise, mom did some walking around the ship. We had some movement, but not as radical as the one on the way to Bimini. Later on in the night a group of friends sat near us and they were completely trashed. To the point that they nearly tripped on everything each time they got up to get more drinks. They were celebrating the 21st birthday of one in the group. It was a lot of fun watching them, they were

surely

having a great time together. The staff was also very accommodating and they were encouraging the fun and whatnot. Later on they even got a cake for him, which went in its entirety in his face, the other guys were liking it off his face. Quite funny, I don't think he was gay either, they were just completely inebriated!
At some point we crossed another cruise, but the pictures came out horrible. It was impossible to get a good shot with all the movement going on.
And then we started approaching port Everglades.
Here is the last pictures that I have, I actually ran out of battery. I went through the entire charge of both batteries.
Since it was a near to full sailing, disembarking took a little longer than expected. Nothing horrible, but I wish that we would have headed down earlier. Of course, being as stubborn as I am, I told my mom we were fine and to wait a little longer. By the time we got to the casino, the line already wrapped around the entire casino. The good thing is that we found seats while we waited for the line to move. I would dare to say about 40 minutes?