Chapter 1
Day 1, Norwegian Breakaway Embarkation.
We woke up around 8:30, I looked out the window and noticed some pretty bad weather. I was pretty bummed about that because I wanted some good weather to enjoy sail sway with CC member SliceofLife in our balcony. But what could we do, is not like I have control over the weather, we learned that on my Silli cruise 
.
We got ready and mom went downstairs to get us some breakfast, unfortunately she got there rather late and missed most of the good stuff. Either way I was not worried, considering I was about to board the Norwegian Breakaway with an unlimited food supply for 7 days.
After we packed everything we decided to head out, I think it was around 10:15am. It was a busy day in New york that day, they had a bunch of events going on. I was very glad that our hotel was just a block away from the terminal.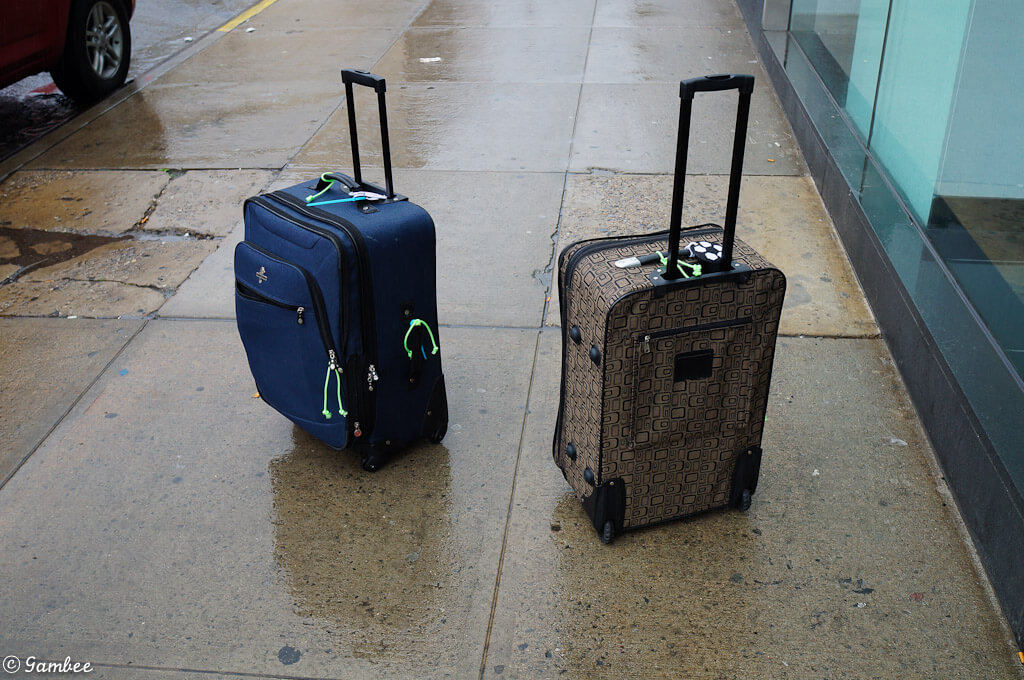 See the Norwegian Breakaway in the distance?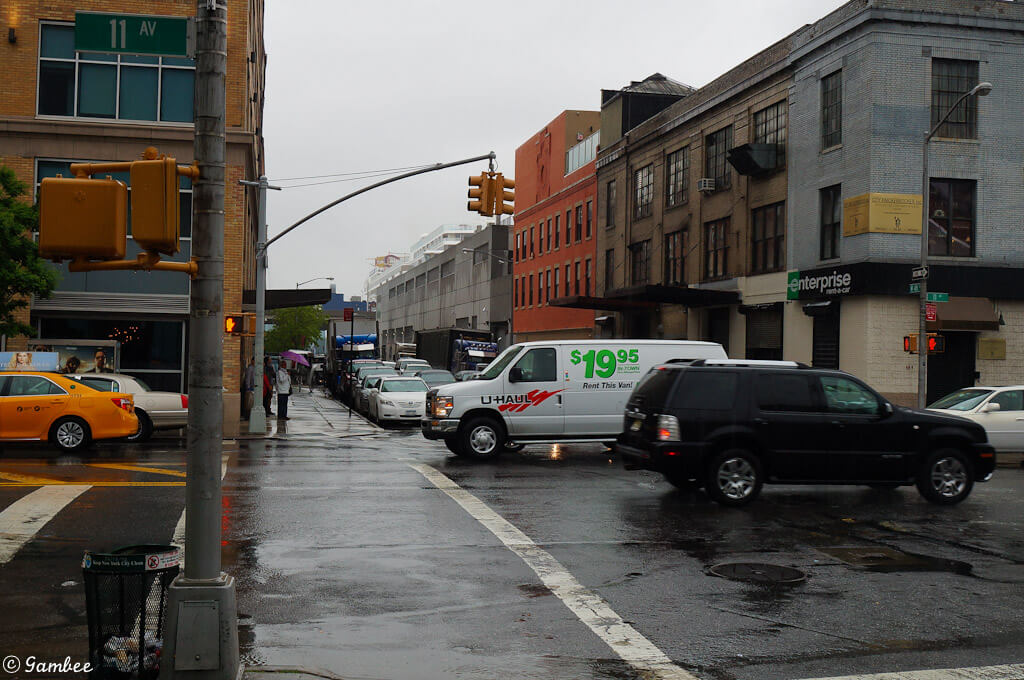 Looking back towards Times Square.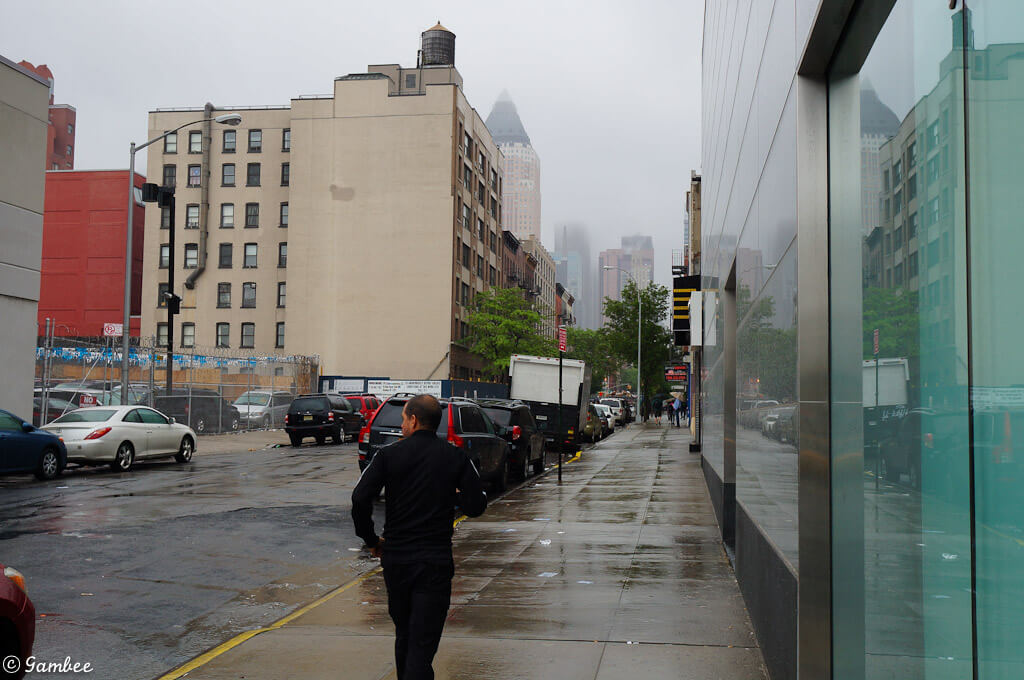 So like I said we walked one block and then we found this.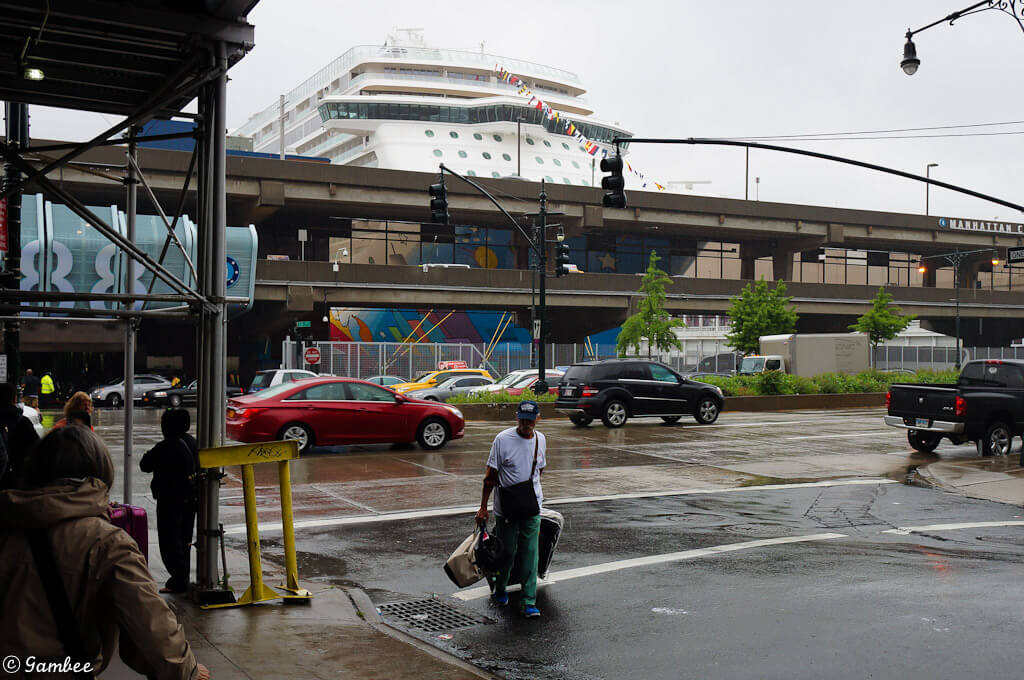 Pier 88 there you have it.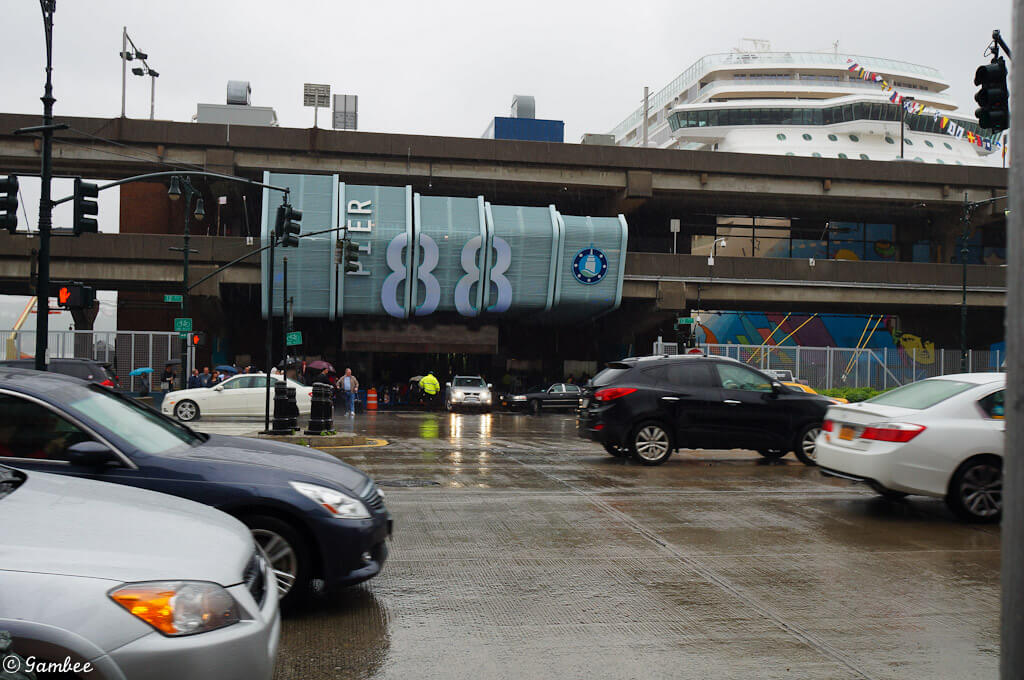 Not the prissiest port, but possibly the most efficient i've been to.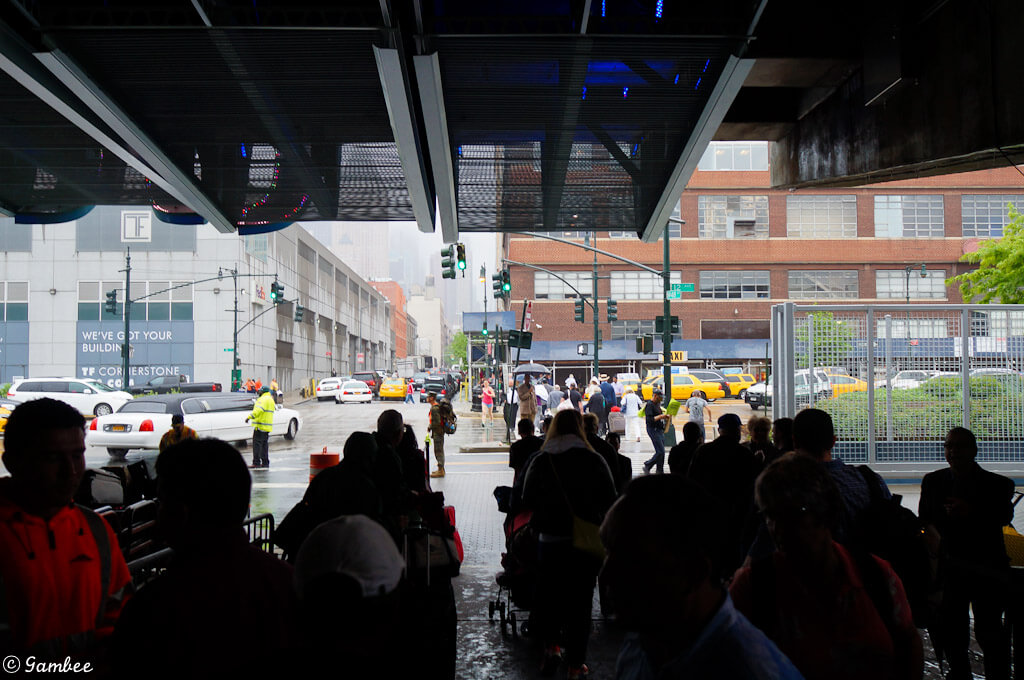 The way it works is that as soon you walk across the street you go upstairs or take the elevator up, we took the elevator of course 
.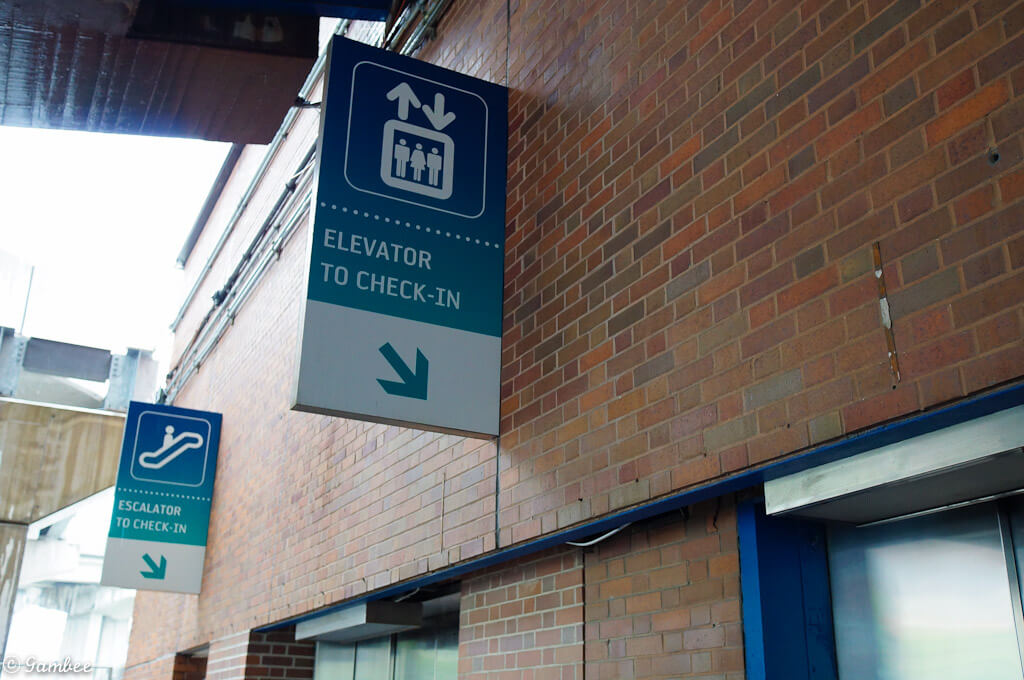 Upstairs we dropped off our bags and headed to check in, for our room the check in was all the way in the back. After we got there it took maybe 2 minutes to get everything done, absolutely fastest check in EVER!!!! It was really good.
I snapped a few pictures.
People getting off the Norwegian Breakaway from the prior cruise.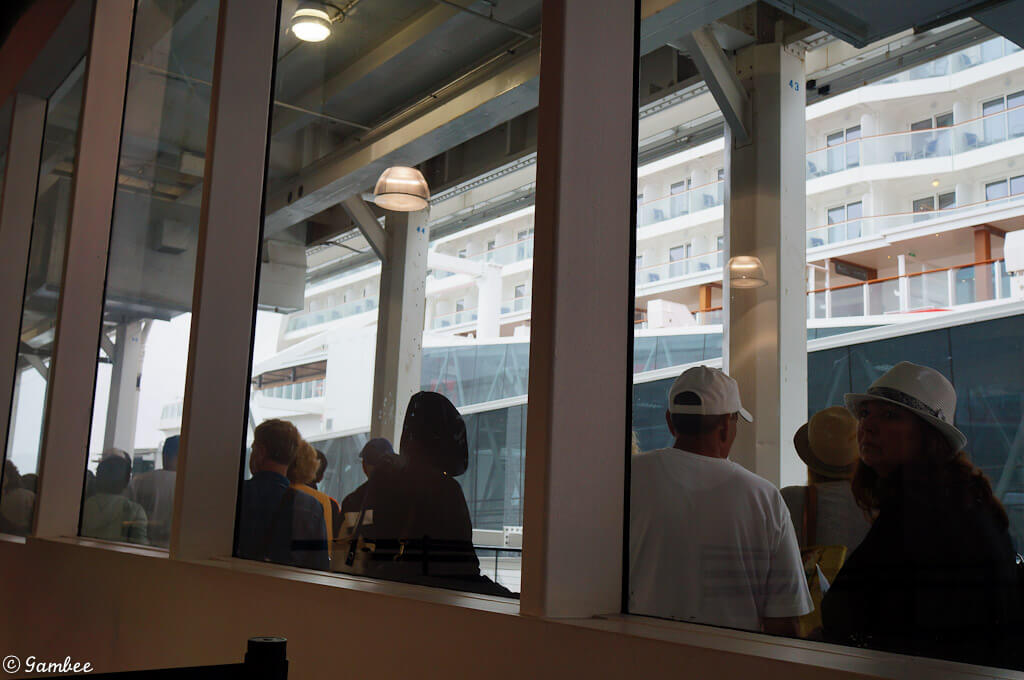 The one thing that I noticed about this area was that there were not enough seat for everyone and people were just seating in the floor. Mom and I got lucky and got two seats.
Everyone excited to board the Norwegian Breakaway!!!!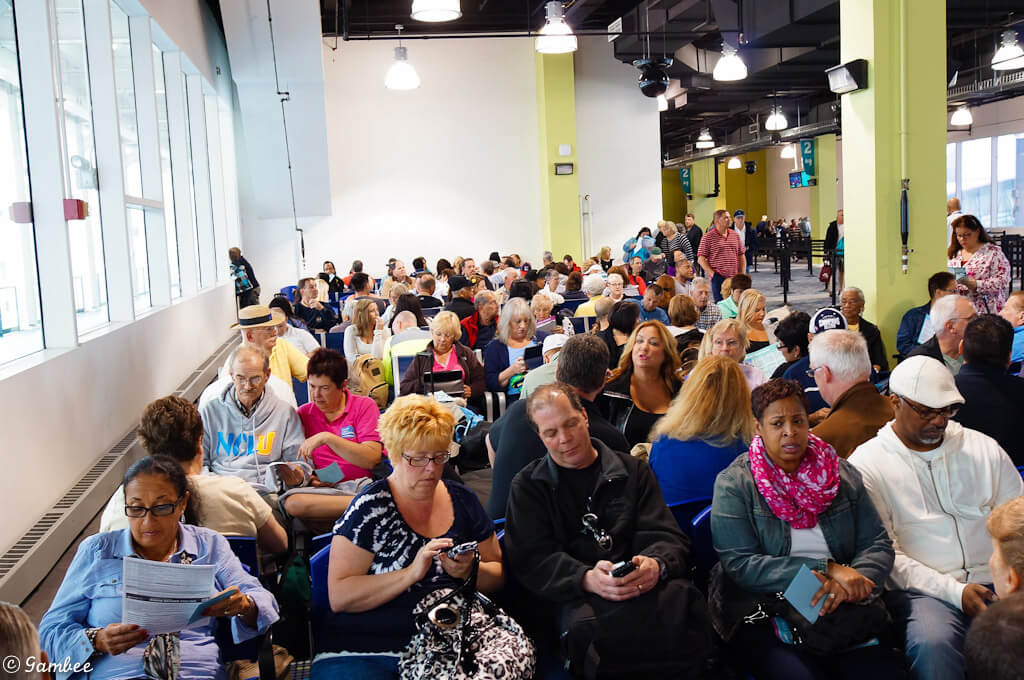 Meet my new fedora. Actually now it is so dirty… I need to buy a new one for my next cruise. But I think from now on I will only travel with a white fedora as they are much easier to match with cloths.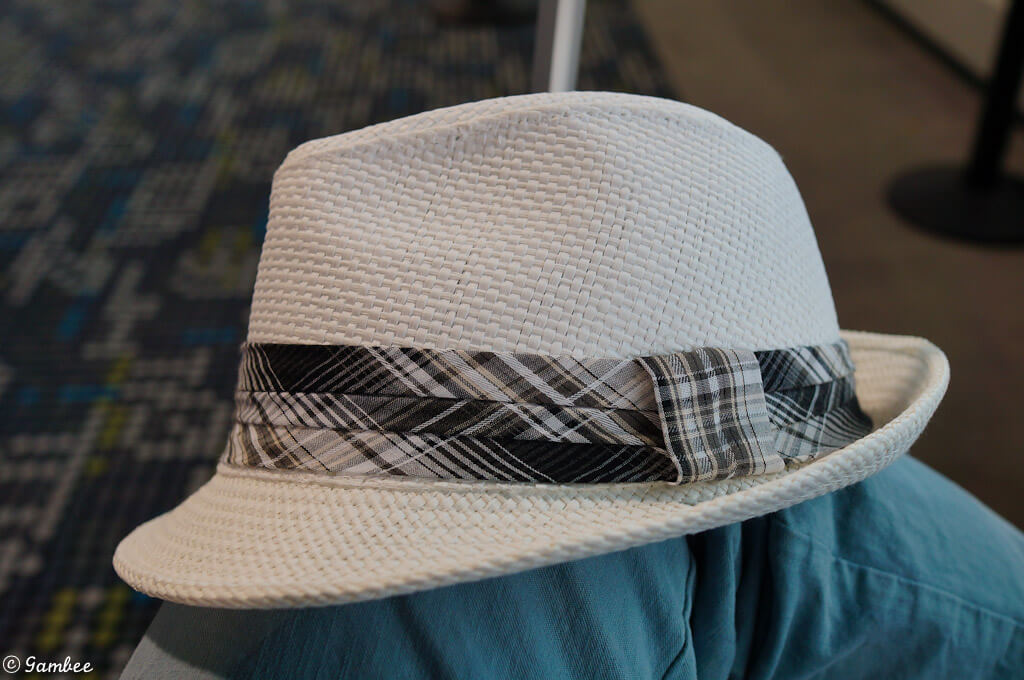 Then the boarding boarding process started around noon, we were number 6 and they were boarding groups 1-6 first. Things there are a little chaotic as they did not announce that, we thought it was groups 1 and 2 firsts. I believe Joeski experience was not as good as mine. But we were among the first people to board the Norwegian Breakaway.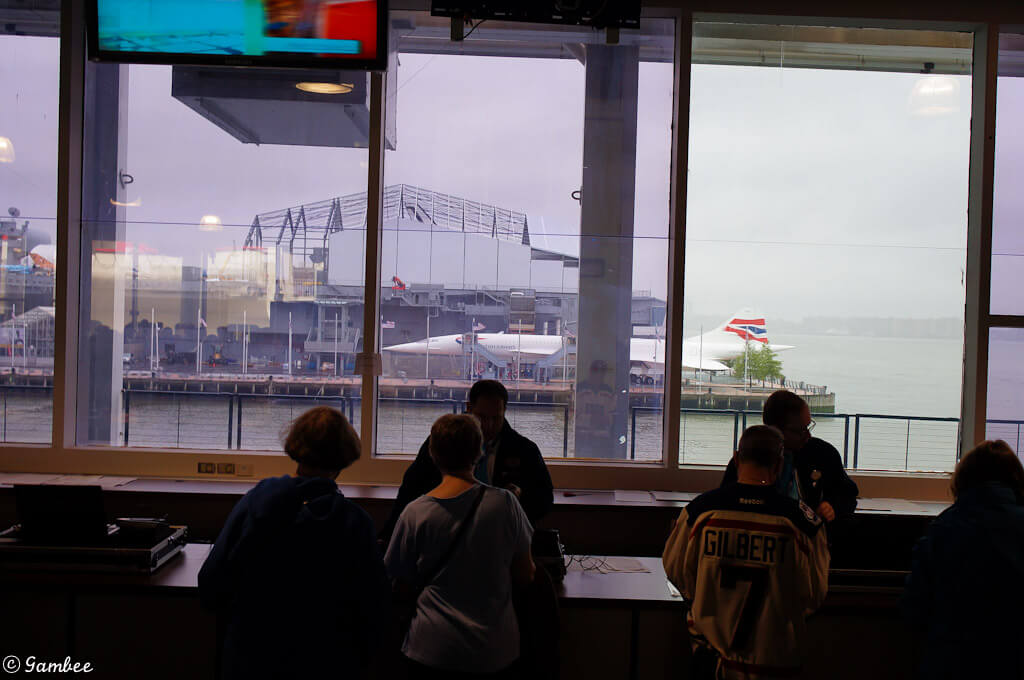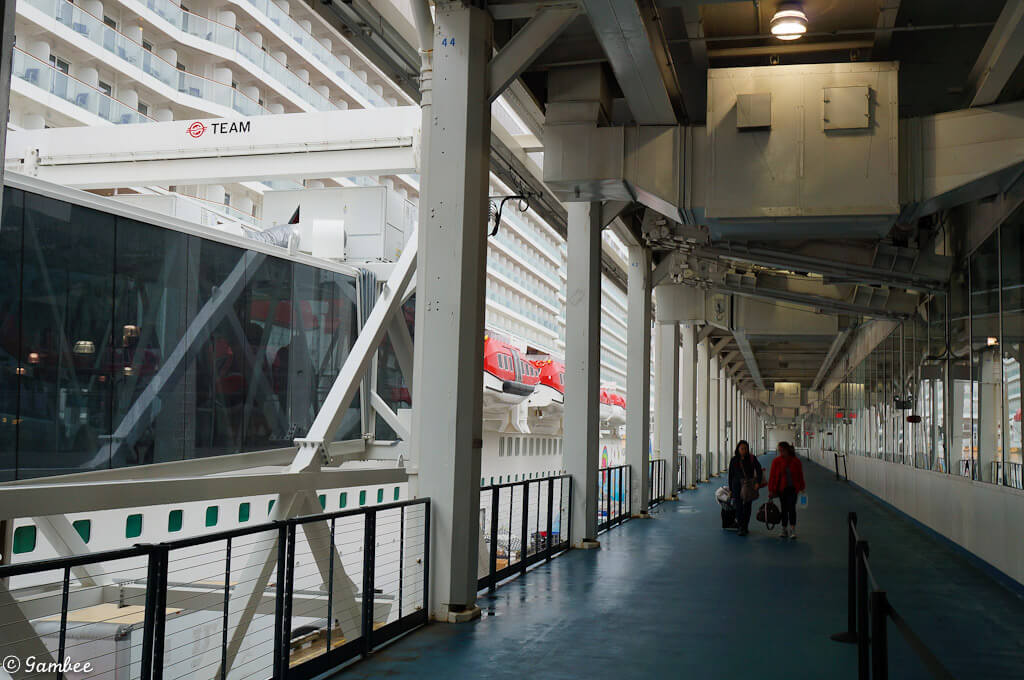 The Plank, and yes Gambee braved it =)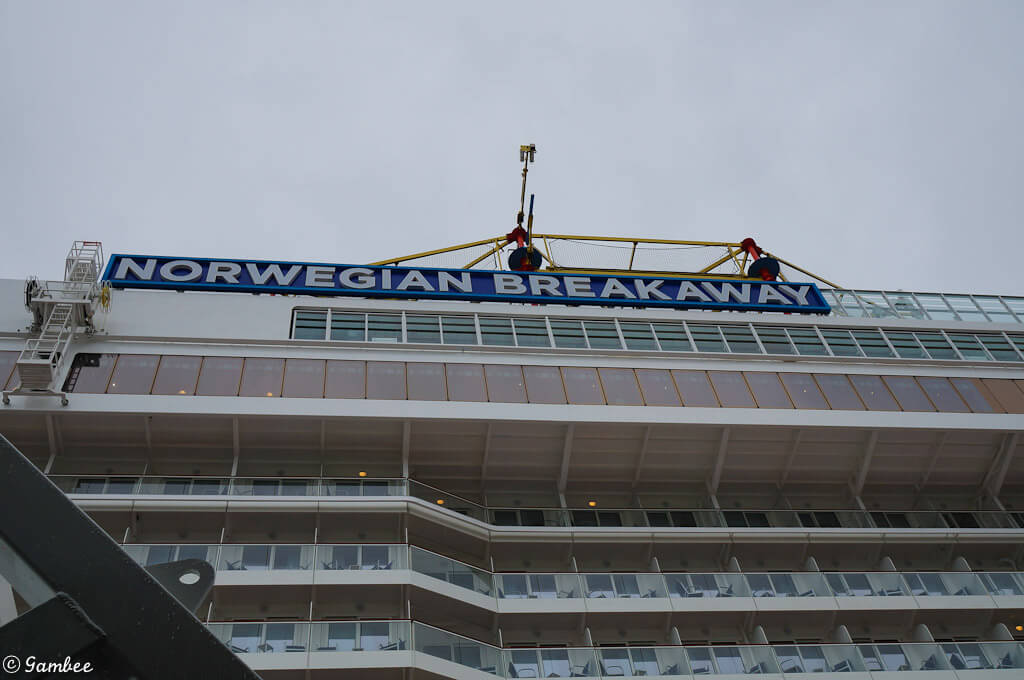 That weather :-/….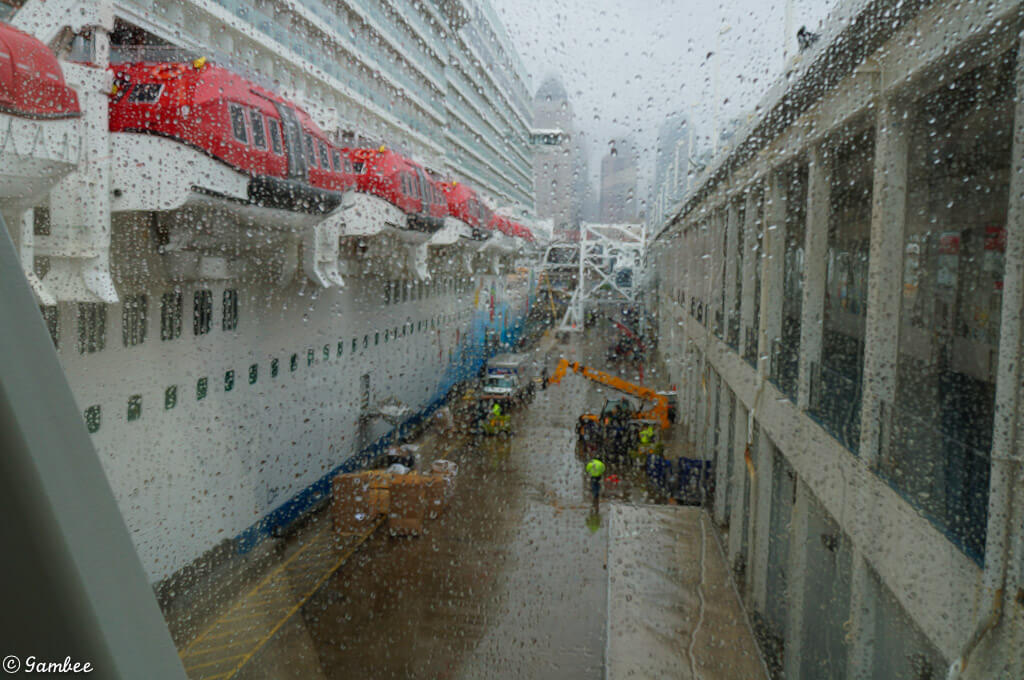 Come on people, move faster!!!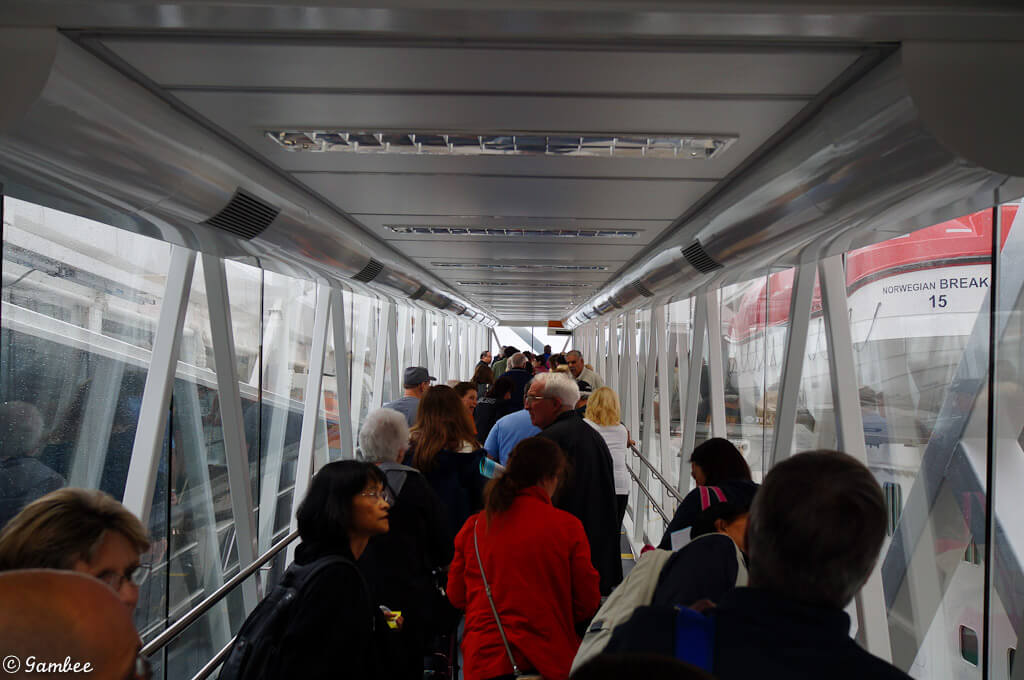 We are almost there.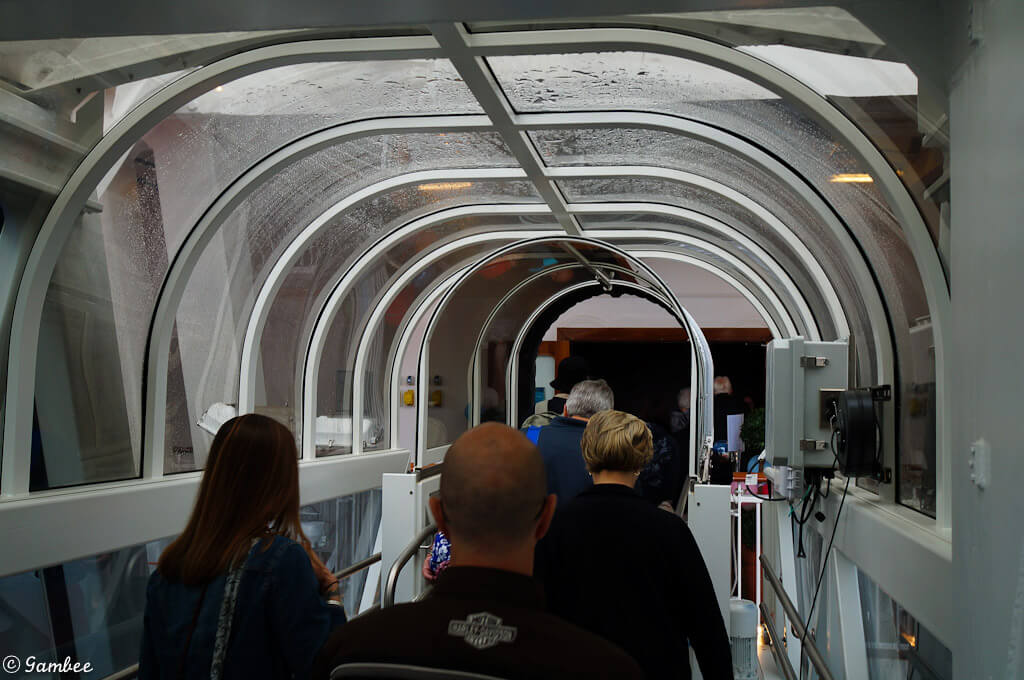 And as it is customary for me to take the picture of the first thing your eyes will see when you board the Norwegian Breakaway. So here is the one for the Norwegian Breakaway.
Not very impressive huh? sorta like the one in the Silli, but no worries soon enough the scenery changes.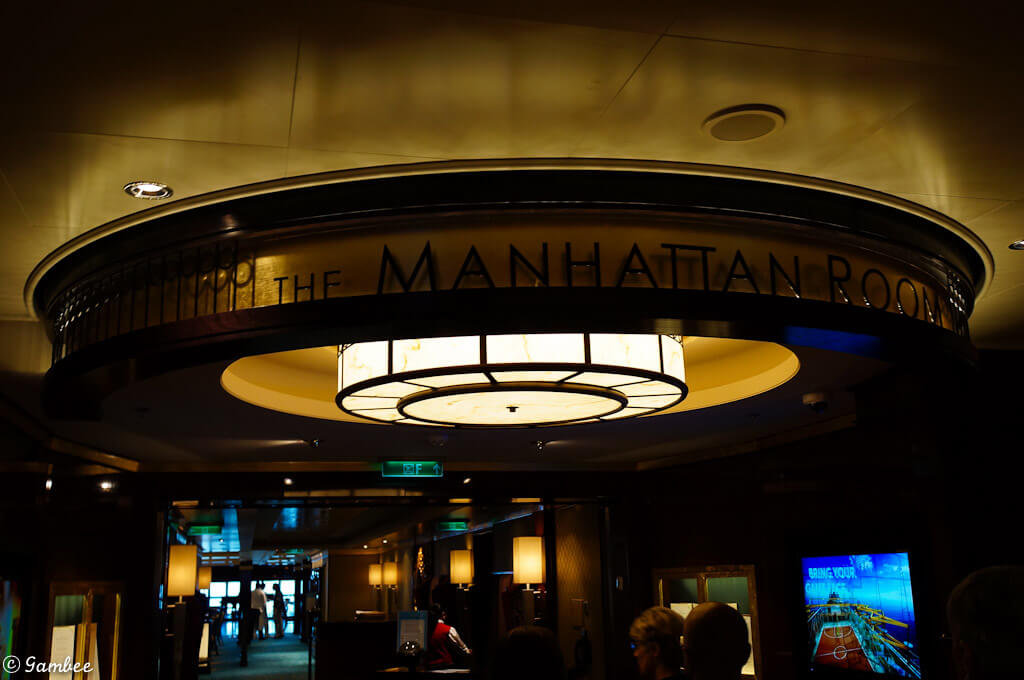 The entrance to the Norwegian Breakaway casino.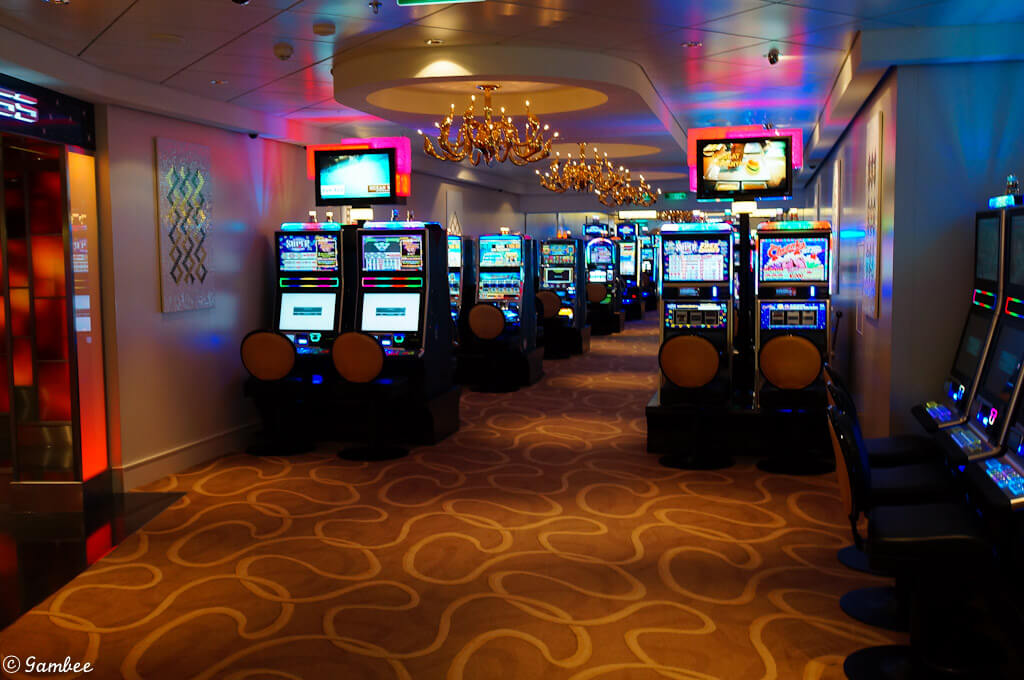 And then the magnificent chandelier, It is very impressive!

As you look down below you see Bistro and entrance to headliners.
I will stop here and talk a little about this area, let me start by saying that I absolutely LOVE 678. Everything about it is just great, love the way there are all these different venues and how easy it is to get around this area.
There is one mayor issue with this area. First let me start by saying that I am not a smoker, however I grew up with a father that smokes and many in my extended family smoke. Smoke usually never bothers me, unless I go to the hard rock casino and stay there for hours. So I guess you can say that I have a high tolerant for smokers. Actually now that I think about it, most of my coworkers are smokers and I hang out with them a lot.
So yeah for those wondering, the smell of smoke is felt down in Bistro. People that are susceptible to smoke (asthmatic, ect) will have a hard time eating out on the al fresco area of Bistro. Understand that I am not saying that the smell is overwhelming, all I am saying is that you can smell some smoke by bistro.
Well anyway here it goes, I think deck 7 around the the chandelier should enclosed by glass walls. That way the format of 678 is not lost, but at the same time you can keep decks 6 & 8 protected from the smoke. It seems like such an easy fix to me, I pounder why they did not do this on the Norwegian Breakaway after all the complains about this area on The Epic. Who knows maybe they will do this for Getaway, which by the way I am very excited for 
.
I also heard from fishbait that it is complicated to know exactly where exactly the smoking areas in the Norwegian Breakaway casino are. I could not tell you more beyond this point as I really did not even venture into finding out where you could smoke or where not.
I am sure that you know that the casino it self does stink like cigaret, although sings of smoke are almost non existent.
Also correct me if I am wrong, but I believe I read somewhere that Joeski said that they are constantly spraying some kind of febreeze to neutralize the smell. I would think that it is done with some king of machine? :dunno:
Anyway so yeah, this is a gorgeous gorgeous area, as a matter of fact the entire ship is just stunning. Like I said many times onboard, it reminds me off the S class X ships, but with a little twist. Maybe because of the more use of neon lights and colors.
I know I said that I don't like comparing cruise lines in my reviews, but I think that now is a good time to start doing so. It might help some cruisers understand what I am talking about.
So I will conclude by saying, that the smoke was not an issue for me, but I can see how it can be for some. Like any casino there is smell of smoke, I just wished NCL enclosed this area with glass and avoided a bunch of bad rep that they keep getting in their new megaships.
We made a quick stop in O'sheehan's
I guess I can stop here and talk a little about it, we only went there once for breakfast and I can tell you the food is exactly the same that you will find in the buffet. It was pretty good, but don't expect something different than what you will get in the buffet. Or at least that was my experience. There is so much more to talk about this area, but let me keep on going on and I will touch base here later on.
So we decided to go to our room since they said they would be available at noon. I wanted to drop off my computer, funny I ended up leaving much more than just my computer. Ill explain later.
We headed to deck 12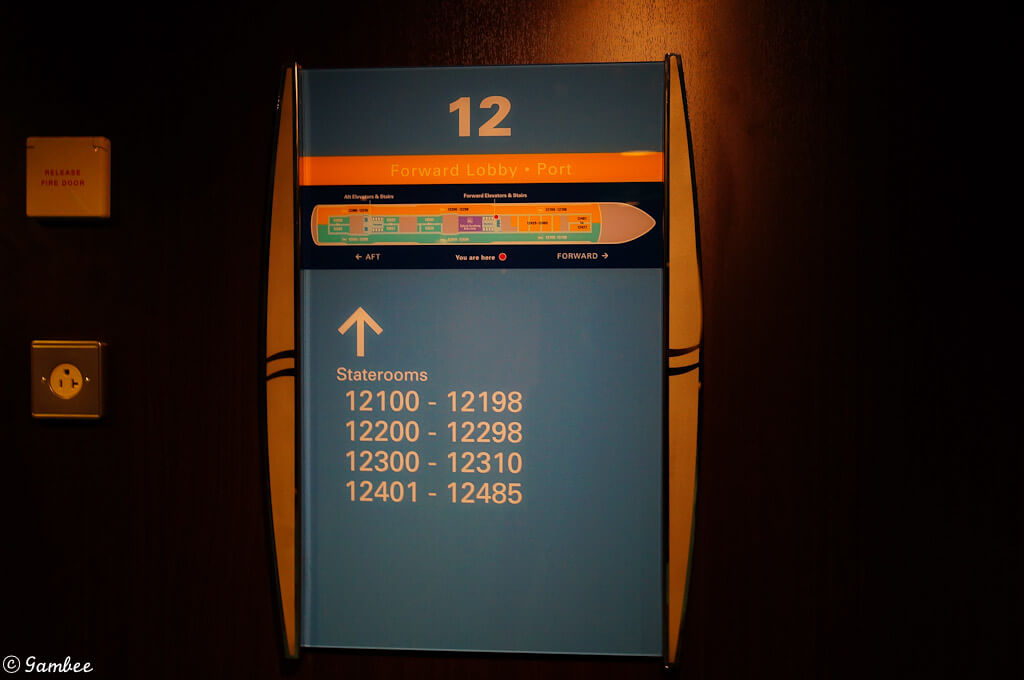 As I was walking towards the room I took the pic of another room.

Then we entered our room, OMG OMG OMG THAT ROOM!!!!!!!

Well to be fair the room was ok, but that BALCONY!!!!!!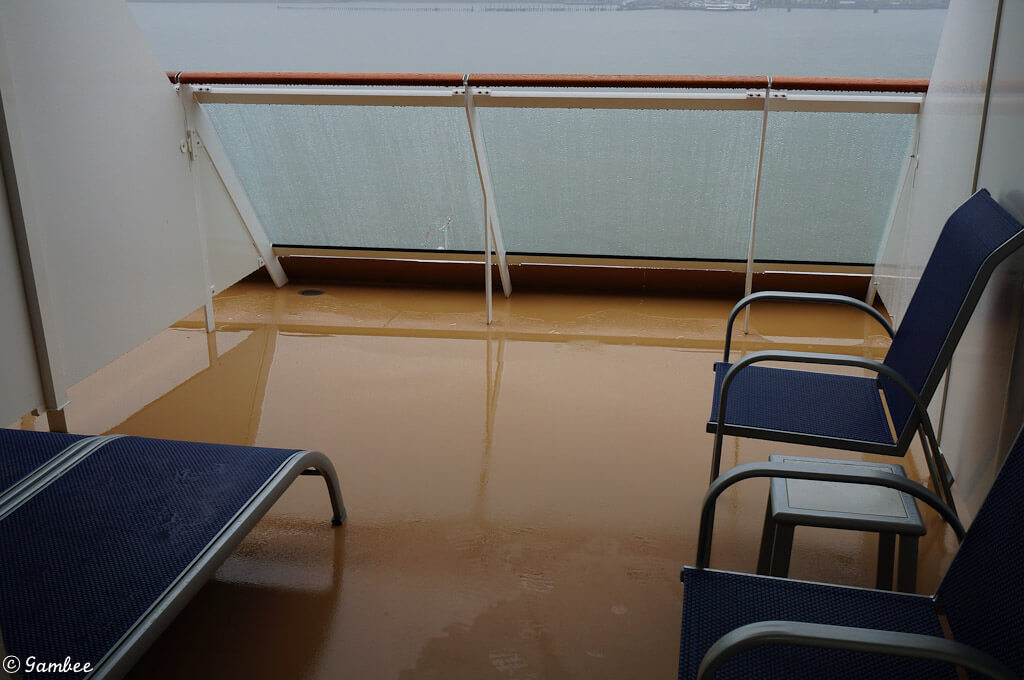 Remember folks, do your research and you will be compensated. I had been calling out this room back in december and I can remember all those discussions… But in the end, this balcony was much better than I expected it to be. Actually it is wider than the room itself as it takes a little of the suites space. Trust me that suite can spare the space 
.
So anyway back to the story, when we entered the room we saw a bunch of goodies waiting for us.
I believe they gave one book per room, one day there was a lady in the hot tub complaining that in her room of 3 people all with different last names and they were only given one book. She told us that they got into an argument with their cabin steward over it. I wont comment on what I think about this…
The coins, don't ask me why they gave them. They had no markings whatsoever of anything related to the Norwegian Breakaway or NCL for that matter and when I asked about them, I was told they were good for nothing, lol.
But the book, OMG, it is soooooo nice! Thank you NCL 
. I know the TA did not get it, I am very grateful we did. Maybe the books were brought onboard in NY?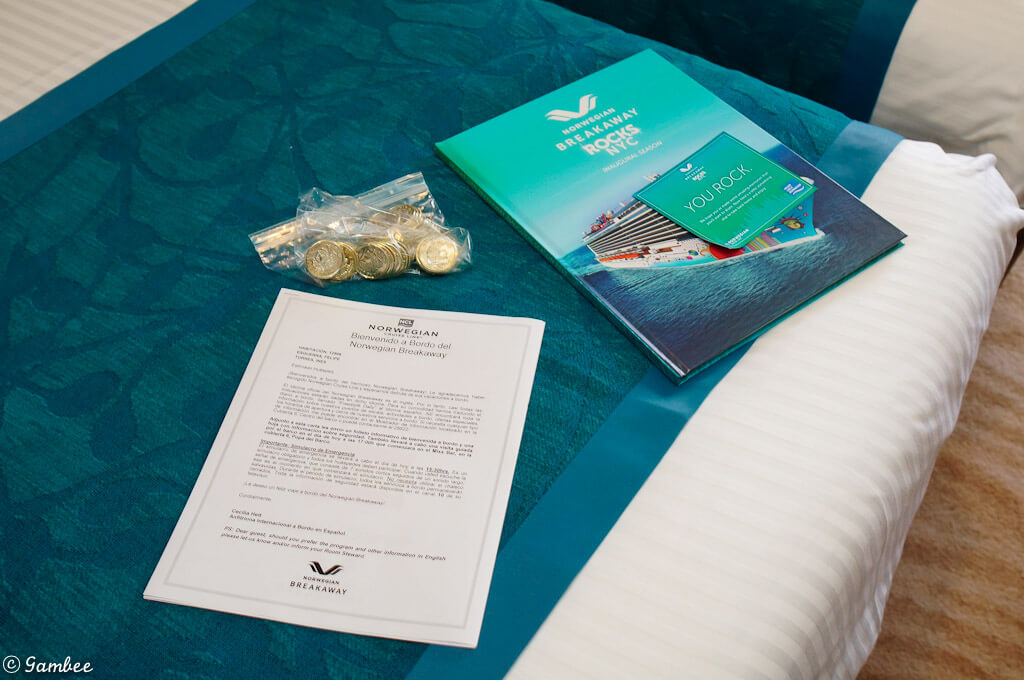 There was also this little bag,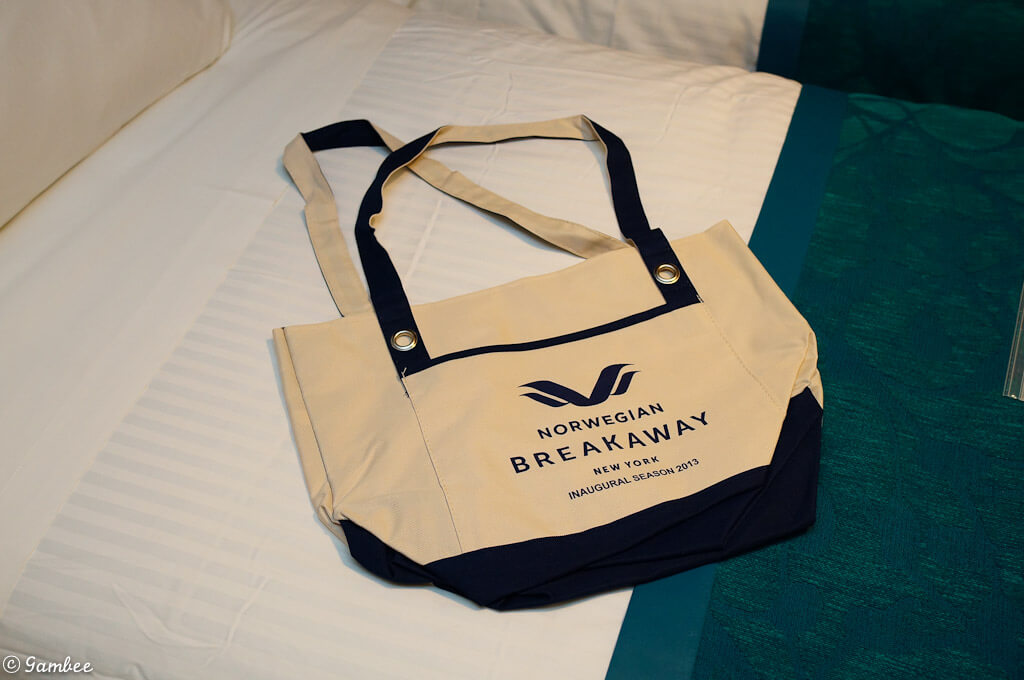 In addition to that we noticed that we had room decorations,
As I sat there thinking about who could given us the decorations, I decided to call my friend Sarah to share in with the excitement. As we were talking she asked me if there was a cake, I looked around but no cake. Then she reveled that it was her that had gotten us the Bon Voyage package. It was very nice of her to do that for us, I guess we had to wait for the cake. Honestly everything should be there since the start because I had no idea who it was that got us that.
Also in our room were the two bottle of vodka that I had purchased. Originally I purchased smirrnoff, but they gave me absolute. So it is one of two things, either they were being nice by upgrading me or they simply ran out of smirnoff. For me it was very welcomed as the Absolute is higher alcohol content so it would last longer.
My TA also got us a bottle of wine when I purchased the cruise and I was happy that it was there off the start. Oh, one more thing, the $100 OBC were also applied to the account since the moment we boarded the Norwegian Breakaway. They also gave me some very poor mixers for my vodka, first of all they called FAT because everything was diet. I know I gained a little weight, but diet 
. lol. They gave me a bunch of tonic, which I hate, I know I could changed it, but honestly all I needed was Cranberry justice which came a few minutes later and the redbull that I have brought with me.