I picked up a dog on the way out of Norwegian Breakaway's H2O. It was just ok. Nothing like the dog place on the Allure.
We got to the room and started changing, then mom noticed that we had a message on the phone. The message said that they could NOT fix the light while the vessel was moving, that it was dangerous. I kid you not, about 5 minutes later we heard a knock on the door, and there he was the maintenance guy with a ladder and all his tools. WTH?!?!?! lol.
Anyway it was not long for him to figure out that was a bigger job than he though…
Notice the switch.
He said he would come back after he examined everything. He covered the switch again, but took the light. Let it be said that we never heard from him again. At some point in the cruise I was told that they did not have the equipment on board to fix it… Oh I forgot, to tell, but the only reason this was even addressed was because I called one of the numbers in the head of departments. I am not exaggerating when I tell you that overall we must of talked with 6 people about this light, before calling the head department…
I relaxed in the balcony for a little while, I think mom was showering.
Then we headed up to the rope course. That place is an absolute blast, I cannot tell you how much fun I had up there, it is simply amazing. I actually like it even more when it is windy, it feels so much more risky. Also, I recommend you not to wait until the last day of your cruise to try this, on our last day it was closed the entire day.
I spoke to this nice man, he had just had shoulder surgery and was drying to try the rope course. But he was not able to do it. He was there doing some kind of marshal arts.
They have a mini rope course for the youngsters.
That's me.
I tried to do the plank, but it was closed due to the winds. By the way, it looks like I am taking a picture, but I promise I was not. I did not have anything with me, I even gave my mom my room key. I am not sure what I was doing, maybe looking at the camera?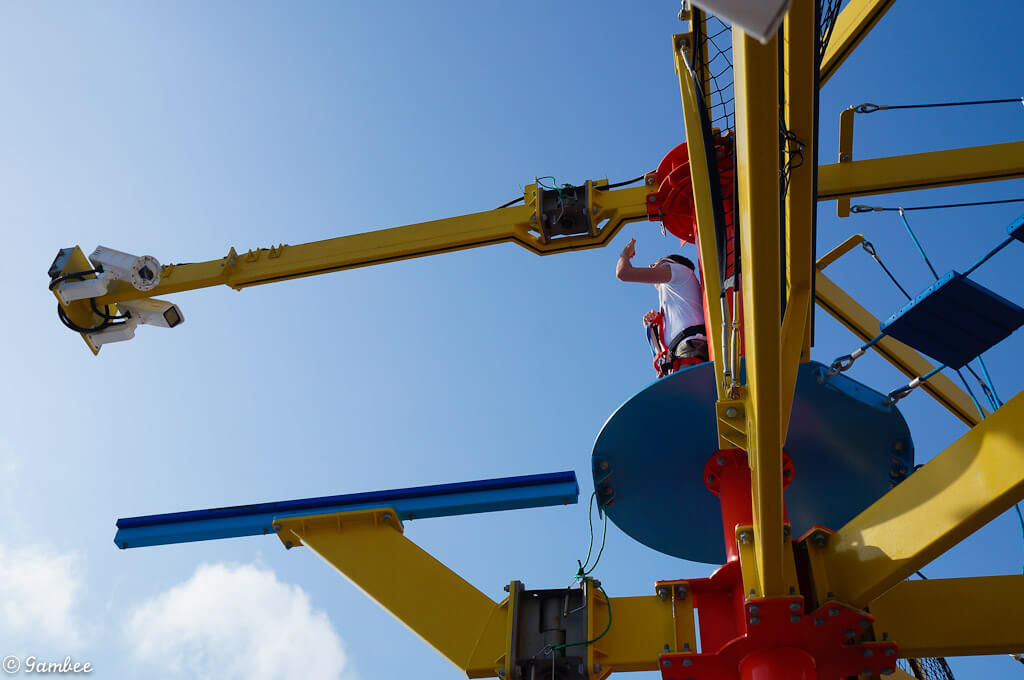 By the way, even adults can use this one, I did not know that. Shaun told me he went on it.
Then we walked around the mini golf, and I took some pictures. We never played there, but it was getting plenty of action on that day.
That's looking at H2O from the mini golf area.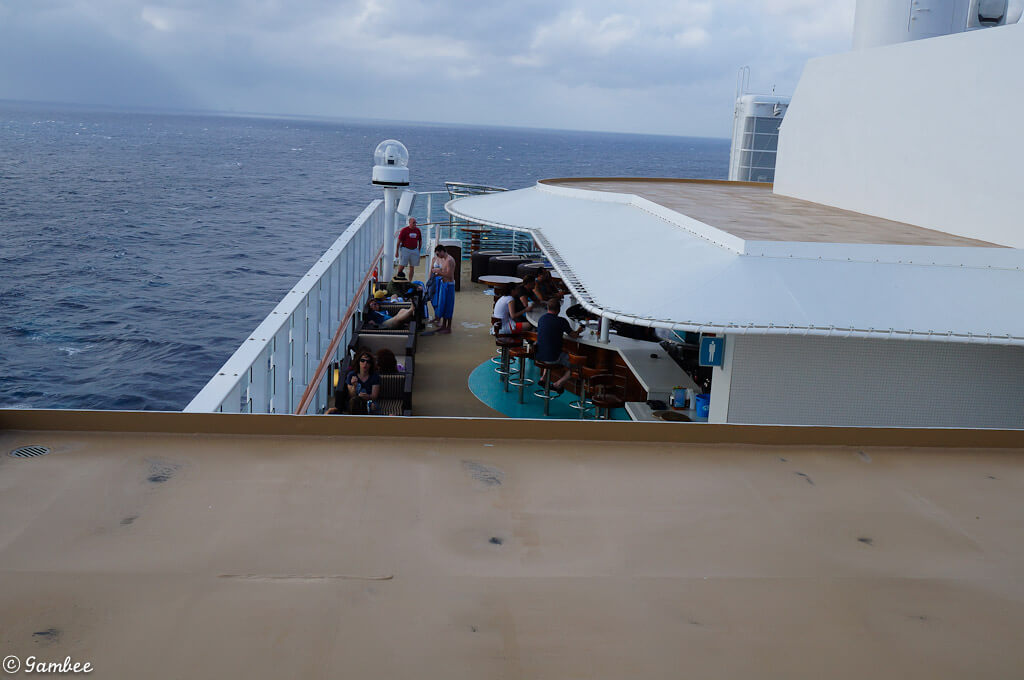 Those 2 slides are GREAT, the rush you feel is just amazing! Don't miss them. I never made more than a 2 person line to go on them.
We then decided to go to the fwd part of the Norwegian Breakaway since we had yet to see it. It was so windy that my mom was struggling to get there.
I took a few pictures on the way there.
And a little play area for kids 2 and under. I believe this is on the 15, by the fwd elevators.
And now walking towards the front of the Norwegian Breakaway.
Entrance to NCL Breakaway Vibe Beach Club.
And here it is the fwd where you can lounge. This area is very windy.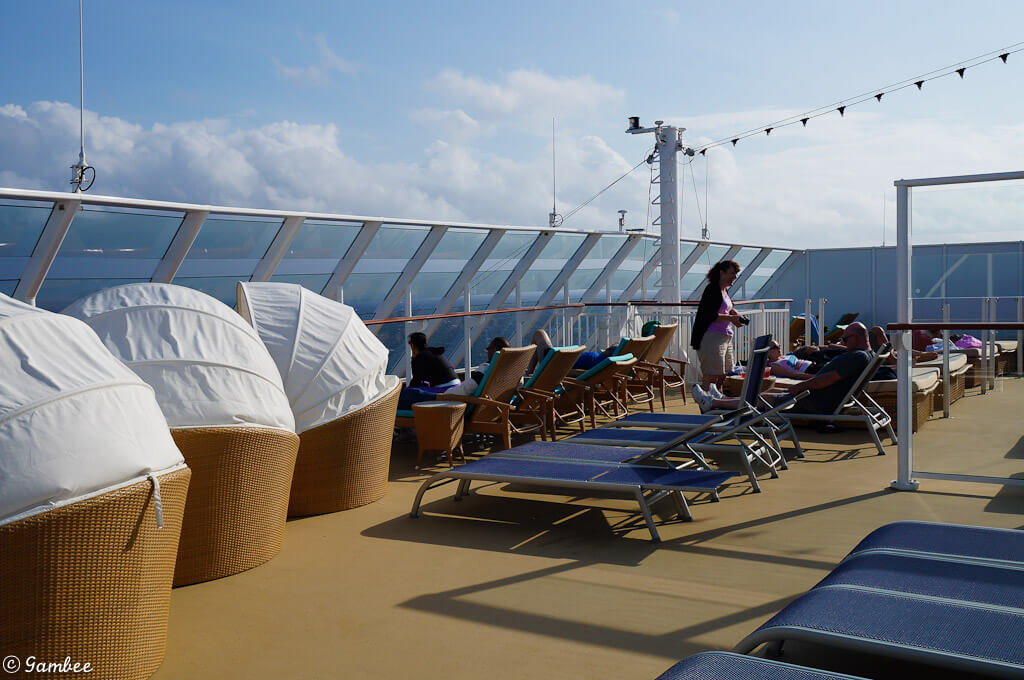 That is Heaven, you can put your camera through a little hole. The place was really empty.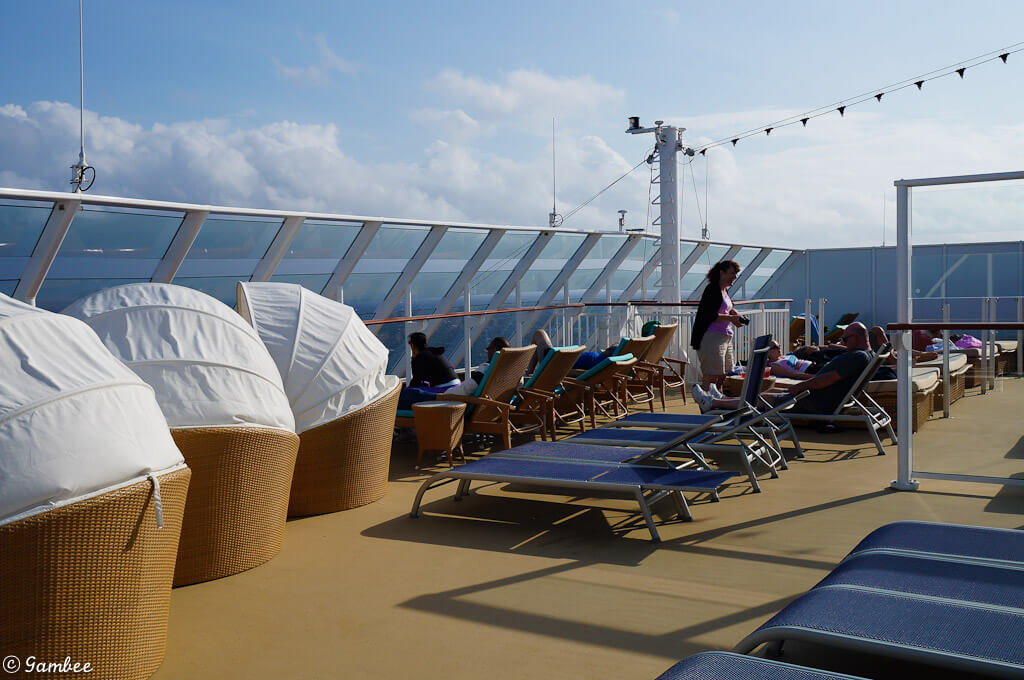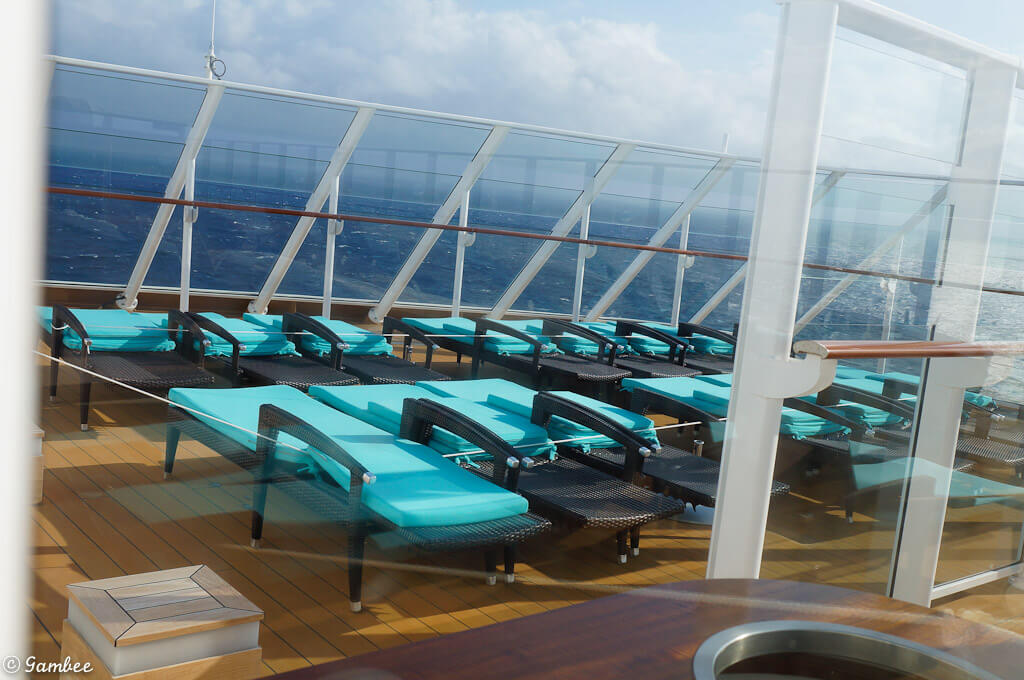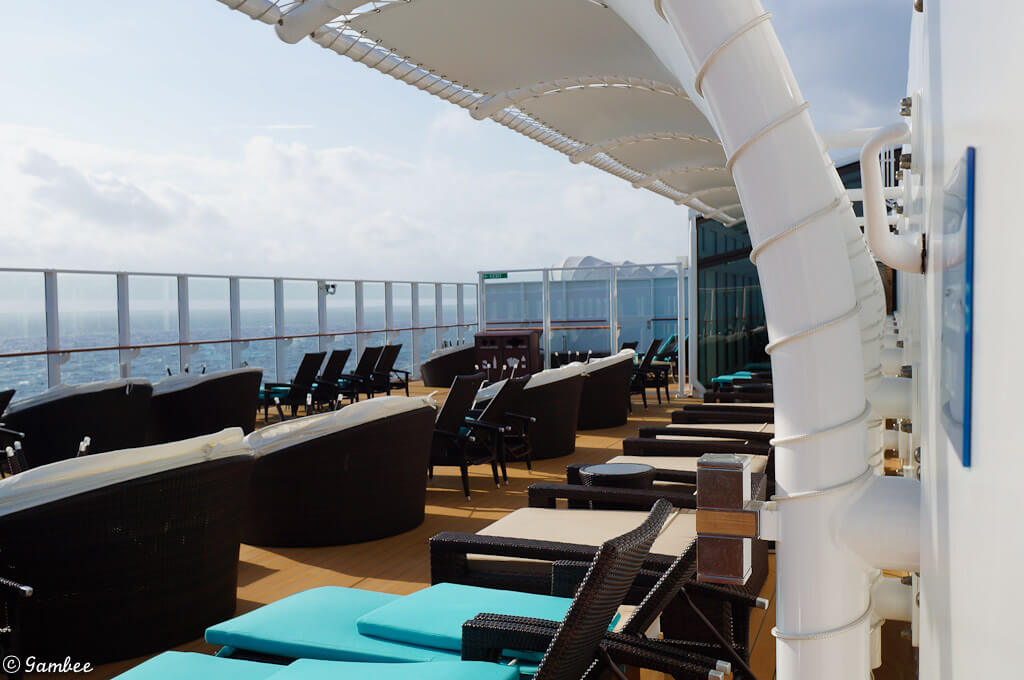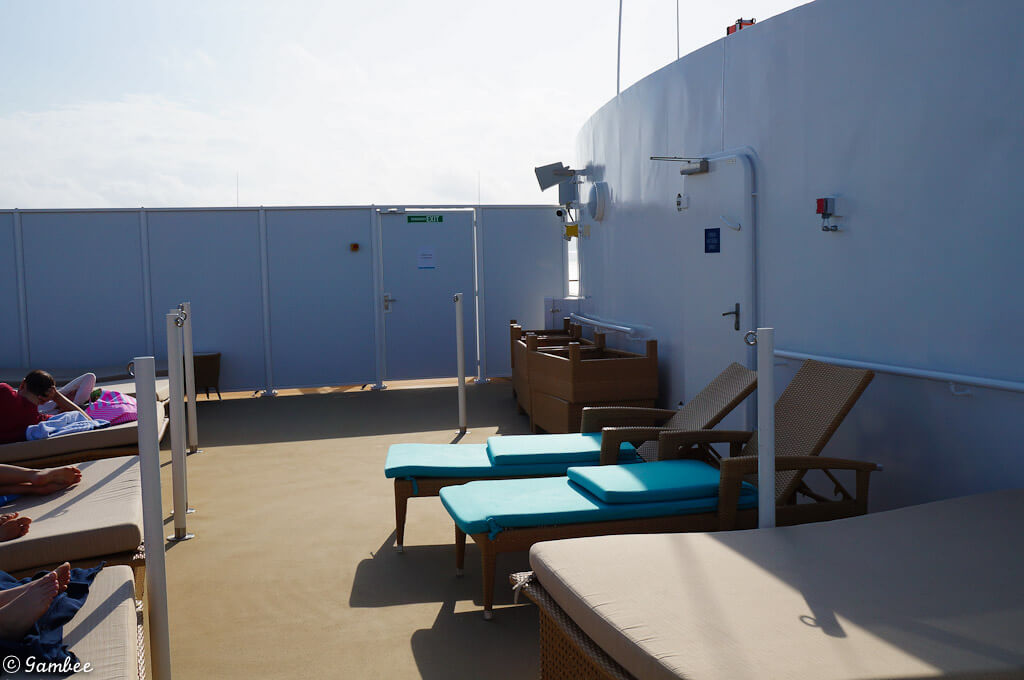 A few views of the bow.
Then we went back to go up to the freestyle deck. And no, there were no topless women there 
.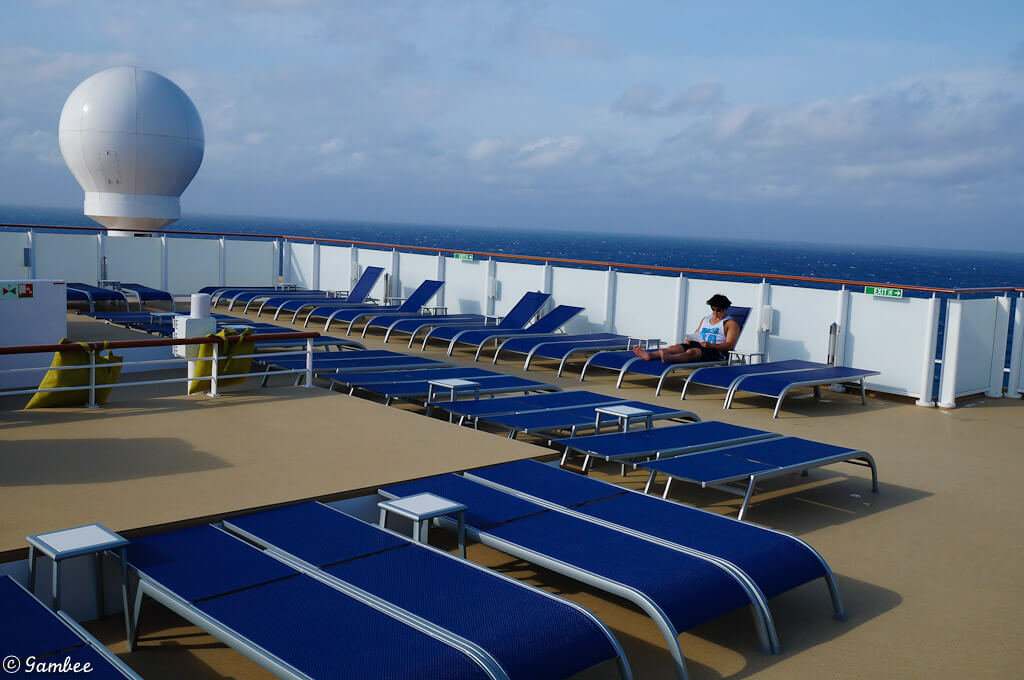 Then when you start going downstairs you can see Norwegian Breakaway Vibe Beach Club.
Dandy7 said the place is great and worth the money. Please don't ask me why no one is there and the place is sold out! I am not sure, I actually went to the bar in the other side to ask. And the bartender told me it was open, I could of swore it was closed. Why no people? Anyway the place was nice, and for $20 I would buy it for one sea day, it seemed like a nice place to relax and have a drink. I specially like the roof in the Jacuzzis.
We kept on walking, I wanted to see the promenade area in front of the Norwegian Breakaway.
I took this pictures on the way there.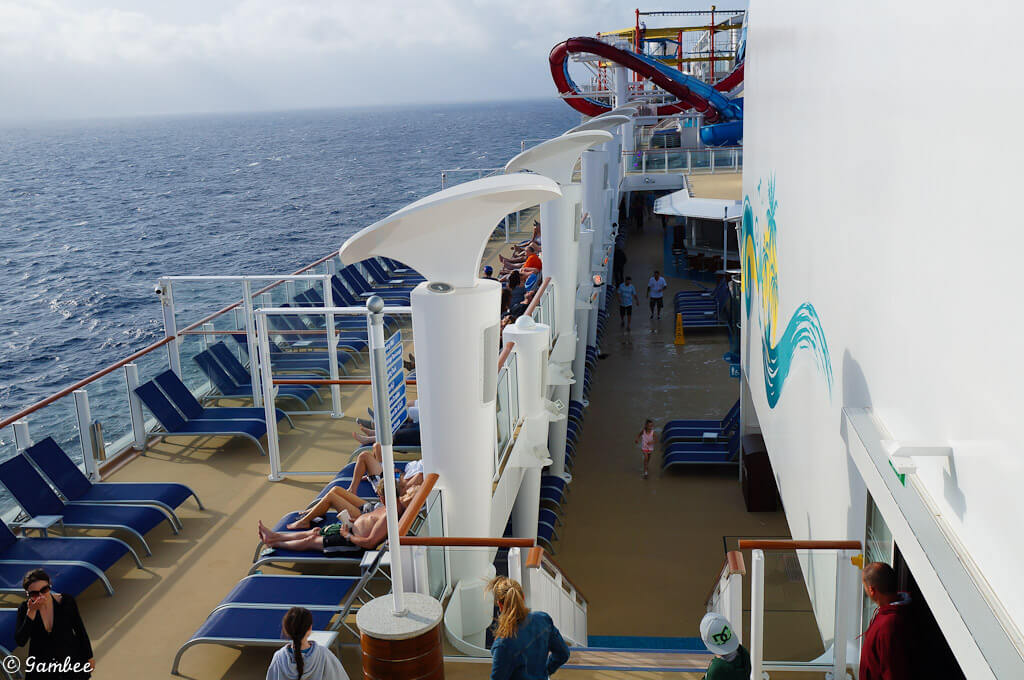 Do you see the red color in the ocean? Slice's husband said it was possibly the reflection of Peter Max sun on the water.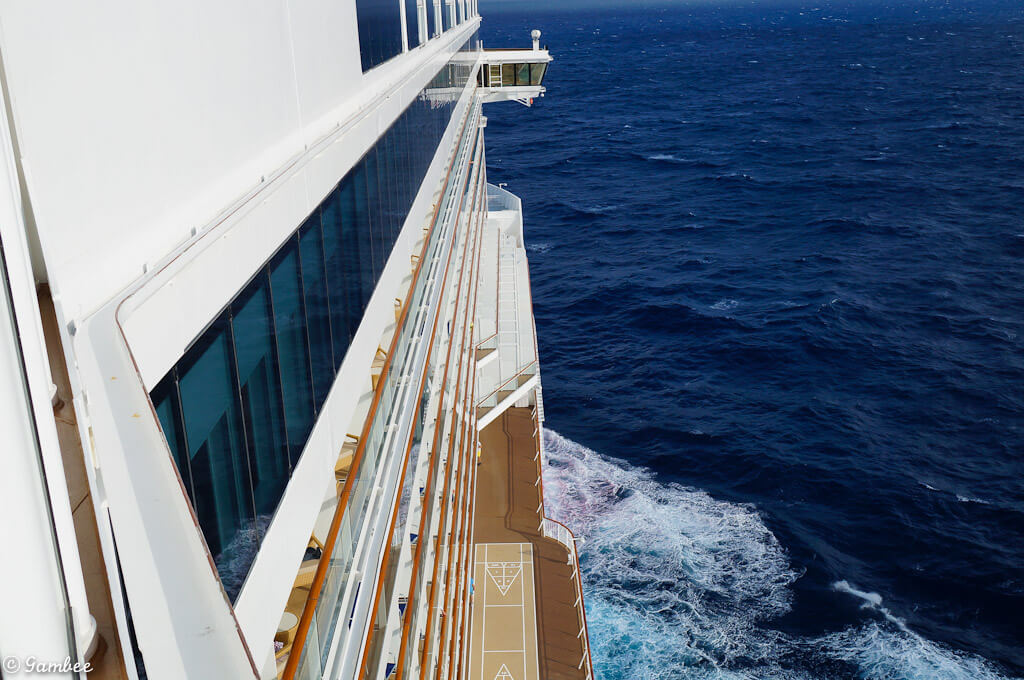 We got off on deck 7, and I finally found the bowling alley. It is hidden back there. Or wait a minute did I see it on day one? Can't remember, anyway here it is. I think on day 3 I go bowling with a small CC group. I will go into details later on.
And here we are walking out.
We headed back to the room, to relax for a little. I think it was around 5:45pm
On the way there
These stairs are so pretty, yet so dangerous.
Once in the room I decided to order room service. You are going to kill me, I never left the room again that evening, it had been such an emotional day that I was fully drained out. The funny thing is that I ordered room service twice. To order room service it has to be done by phone, unlike RCCL and X. I much rather order from the TV.
I believe I just stayed in the room, watched TV, used the internet which by the way is good on average. You can tell how fast it is going to be, by the wait times while loading the login page. If it is taking too long to get to the log in page I suggest to not use it, and just wait until it becomes less crowded. Logging in is pretty simple, unfortunately I did not take screen shots of the process. This time I did not purchased any plans, I just went by the minute, and it worked great for me. I want to say that in total I used about $20, granted I had unlimited internet in Bermuda for $15, so that must have helped a lot.
I also remember my mom going out and about, she actually did go out for several hours and walk around. She said that fire and ice were great, and the karaoke was packed. I was simply too tired to even get out of bed, I am getting old =(.
Remember I ordered two times, one at 6pm and the other around 9pm
Norwegian Breakaway Room Service
Fruit platter, good.
Grilled cheese, blahhhhh
macaroni and cheese, average
Chicken soup, good
Tuna samich. Tasty =)
And my burger, was GREAT!!!
Sponge cake, average
Overall I think this is the best room service I have ever had in a ship. The wait time was less than the 45minutes that I was told. And the food was all very hot and tasted fresh. I was very happy with this.
We also missed our reservation for the comedy show that night, but no worries I still got to see it 
.
Overall it was a good day, yes I had a few issues with customer service. But I also met some incredible people and that made it all worth it. No worries folks, the cruise goes pretty smooth from now one, the only other issue I recall was meeting Peter Max. That was on day 3, I will post all about it when I get to that.
That night they had a party upstairs and I could hear the music from my balcony, all great music. I wished I was not so tired and that I had gone, but vacations are all about enjoying yourself doing what you want at that moment.
I got a little video from the party upstairs.
I believe its rock the boat?

Day 3, Ending.