Hello everyone, how are you all doing? I am a 29 year old guy (I will forever be 29, ok! 
) traveling with his mom. As some of you have probably figured out by now my bf is not very keen about cruising, so for now it is just my mom and I.
We are new to cruising and so far we have been on X, NCL and RCCL. We are currently on our plan of traveling on every cruise line within our price range to find which one suits us the most. However, I tend to get bored when I do the same thing over and over again, and this is why I think I will never settle for a specific cruise line. Only time will tell.
This is my third time around writing a fully detailed guide to a cruise ship. First, I wrote a short review of the Norwegian Sky. It was my first cruise, and I did not go into deep details within the report. My first detailed review was the Allure of the Seas Review. I am very proud of this review, and I think it was the main reason for getting into writing reviews. My second report was the X Silhouette Review. It was a great cruise that was unfortunately impacted by very bad weather during almost the entire voyage. This was also the first time that Gambee realized he had grown his sea legs 
. Now I will try to bring you aboard Breakaway and let you experience the magic of NCL from the comfort of your home or office (most likely office, I hope you can get some work done during these following weeks 
).
I have also expanded, and I now have both Facebook and Twitter accounts dedicated to cruising. The Facebook is mainly for those who just like looking at my pictures. It is easier to do so from there, so please feel free to friend request me. For the Twitter account, I plan on doing LIVE updates and such. Feel free to join me there too =).
I will start from where I left off.. 
Like I said, we traveled on the Allure on November 4, 2012. After I got home, I started the review immediately, and it took me roughly 2 weeks to complete it. Writing it was as much fun as the cruise itself and I am eternally thankful for everyone that was a part of it. After I was done with the review, the cruise blues started to hit me. Although the review kept me entertained for some time, once it was finished, I was starting to get bored.
And what better way to cure the blues than to start looking for another cruise?
We had a fairly large group of choices for our next cruise, including Carnival Breeze, Disney Wonder, NCL Epic, X Reflection, X Silhouette, Princess Ruby and HAL Westerdam. We were mainly looking at cruises that sailed either from Ft. Lauderdale or Miami. Since we live in South Florida, we did not want to fly or drive to other ports, to save on the overall cost.
I spent a few weeks doing some research, and in the end we decided to book X Reflection. It was a good option for us since it was a new ship and traveled to ports that neither of us had ever been to. In my opinion, X Solstice class ships have some of the best and cleanest looking lines at sea, not to mention their beautifully decorated interiors. As usual, after I booked it I started to plan our sea days and specialty dining options. We were pretty happy with our choice 
.
It wasn't until a few weeks later that I realized that I had completely ignored NCL Breakaway during my initial search. I remembered the Breakaway from an advertisement that we saw during our NCL Sky cruise and from reading around here on the NCL board. I also remembered that someone from my other thread told me to choose the Breakaway for our next cruise. For some reason, I thought the ship would be delivered around August, and I wanted something closer to my birthday. Once I realized that the ship would hit New York around May, I decided to do some research on it. There were a few things that I was not crazy about, like 3 days in Bermuda, the cost of traveling to NY and the higher price tag of the cruise itself. But on the other hand, there was a lot that I loved, like all of the options for dining, the water slides, rope course, oceanfront and most of all, that it was the first ship in its class. After a quick chat with mom, we decided that it would be a nice idea to try out the Breakaway. We could always do X in the future. We know now that we of course were very lucky to be able to squeeze in X Silhouette before the Breakaway, but that was not the original plan.
So it was settled. We were going to New York and Bermuda! Both of us were eager.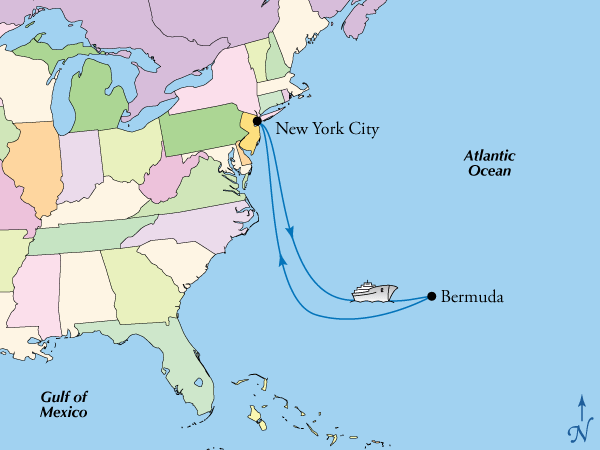 For info on cabins, please go to this thread: Here is the link
I then proceeded to change our reservation, but the problem with the Breakaway was that for the same money for a nice balcony on Reflection, we could only get an inside room on this ship. After some thought, we decided to just do an inside room. I figured that it's a new ship with what looked like plenty of open air space (oceanfront) and that in the end we would be fine with an inside room. So, I did a little research and got a room on deck 12 so it would be nice and quiet. I bought it from a trusted TA and got a $100 credit as well as a bottle of wine…
Well, I lie. That is what I told my mom. I did not want her to spend the extra money for the balcony. This trip was my Birthday/Christmas gift, and it was expensive enough already. I decided to book us a balcony, and I would just cover the extra cost for the upgrade. That was going to be a surprise for her. I had it all planned and it was going to be a lot of fun 
.
Picking a balcony was a little hard as there was very little info and mostly everyone on CC was just speculating on everything. So, I decided to look around a little and price different balconies. At one point in time, I remembered how much I loved being in the back of the NCL SKY, so I priced an aft balcony. Boy, were they expensive! It was the same price as a mini suite, and I really was not expecting it to be that much. It took me some thinking, but I just had to do it. Just imagine our very first aft cabin on this ship!
Then, I looked around and chose cabin 12906. From the looks of it, the cabin had one of the deepest balconies. The room also had a prime location near the elevators and close to most of the activities that we enjoy in the ship.
We were really glad that I made that decision to pick this cabin. Considering the size of the regular balconies on Breakaway, this was money very well spent. By the way, if you're wondering which aft balconies are the largest, it goes like this:
The deepest staterooms are in deck 9, followed by deck 12, then deck 11, deck 10, deck 14, and the smallest ones are on deck 13.
But, I would always try to avoid deck 13 and 14 as they are significantly smaller than the other decks, and the noise from H2O should be much more intense up there. One more thing when considering deck 9 is that it is directly above the oceanfront and the roof of deck 8 extends a few feet outward. To me, it really does seem like that would affect the view, but I guess in the end it's all about your personal choice.
Considering the small size of the Breakaway's balconies, there are other options for those who would like a larger balcony, but do not like the aft balconies. The M6 mini suites on deck 8 have huge balconies, although some of the balcony is exposed to the decks above. None the less, I think that these rooms will be in high demand. I also remember reading somewhere that the balconies there are over 110 square feet. There are more options on deck 9 forward, and the B6 staterooms also have a large balcony that I am sure many will enjoy. Just a little research will help you see if these are cabins that are right for you.
Anyway, back to the story. Here was our room. For those wondering, the square footage of my balcony was 140, almost as much as the room itself at 175. My balcony was actually wider than the room, since it ate a little of the space in the suite next to me.

During the following months, mom kept asking me the cost of upgrading to a balcony cabin. Well, I kept telling her that it was roughly $1300 and reminding her of all the specialty restaurants, spa, vibe, cost of NY hotel, air etc. But she insisted on asking weekly, so eventually I lied to her and told her that our reservation was a no cancellation/modification cabin. After I told her that, she made a face that just destroyed me, it was as if I told her about some terrible family news. The day after that, I decided to just tell her so that she could be happy during the following months. Once I told her, she was super happy but at the same time frustrated that I told her. Good thing I had my bf to back me up. I always have a hard time keeping surprises, but this time it was not my fault. I was trying really hard and even keeping everything hidden in CC. You can't win them all, I guess.
And that folks is the story of how we booked our first ever aft cabin 
.
For those of you who would like to do research prior to selecting a cabin, CC member bear3412 has created a spreadsheet to aid in that process. Please bare with him as this is a work in process, but overall it is a great source of info. Thank you Bear! Here is the link: Cabin & Balcony Sqft Spreadsheet