The game can take about 10 minutes, maybe less.
There she goes, full of happy passengers. I think that is the only class of ships that I would die to go on again. Every other cruise I had in the past was great, but the Allure captured my heart.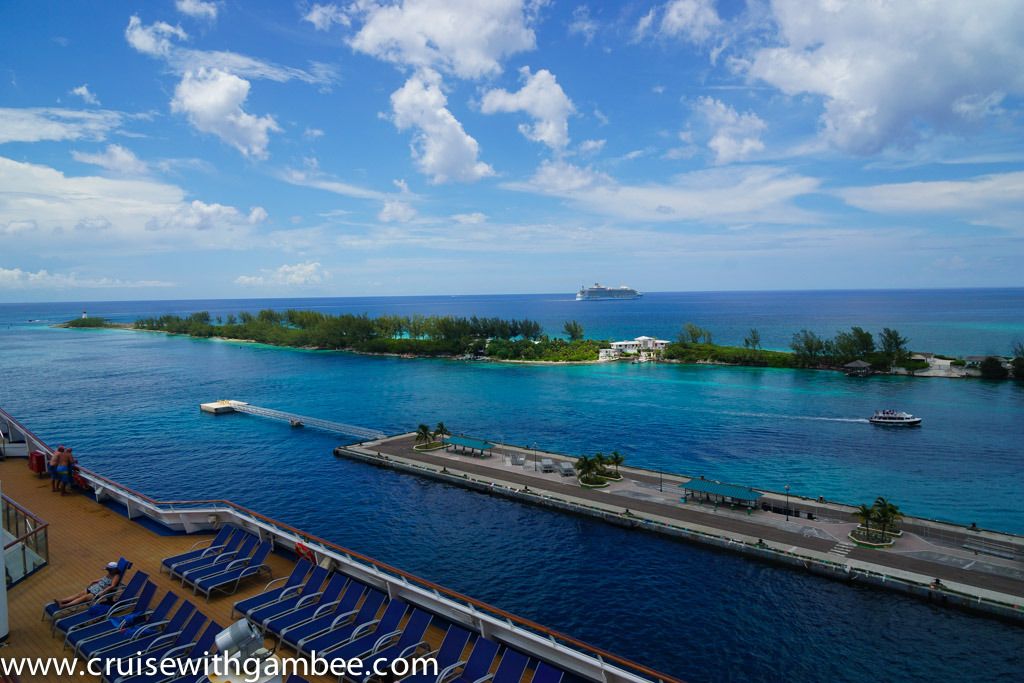 They had a bean bag contest by the pool, or how my uncle said Tejo. I had forgotten about that. In Colombia we have the same game, but instead of a bean bag we use a rock. And then we spread loud firecrackers on the base. So the idea is to hit them and cause a big boom.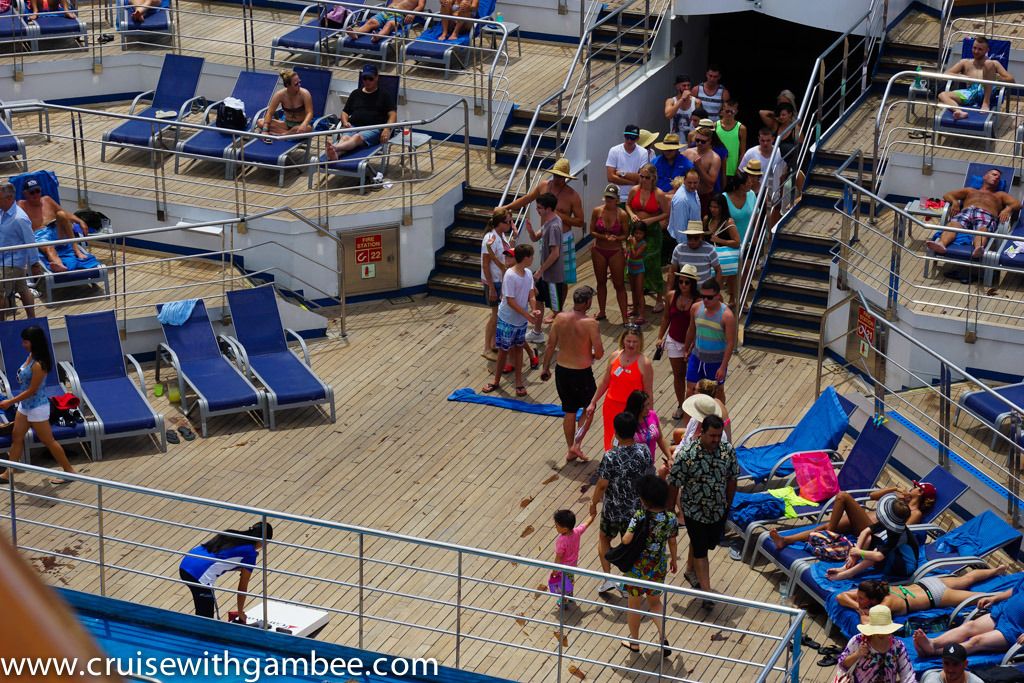 See all the seagulls going crazy for food? The funny thing was that the lady kept looking at them, but she would not move. She was clearly bothered by them, and could not eat in peace. It was quite funny.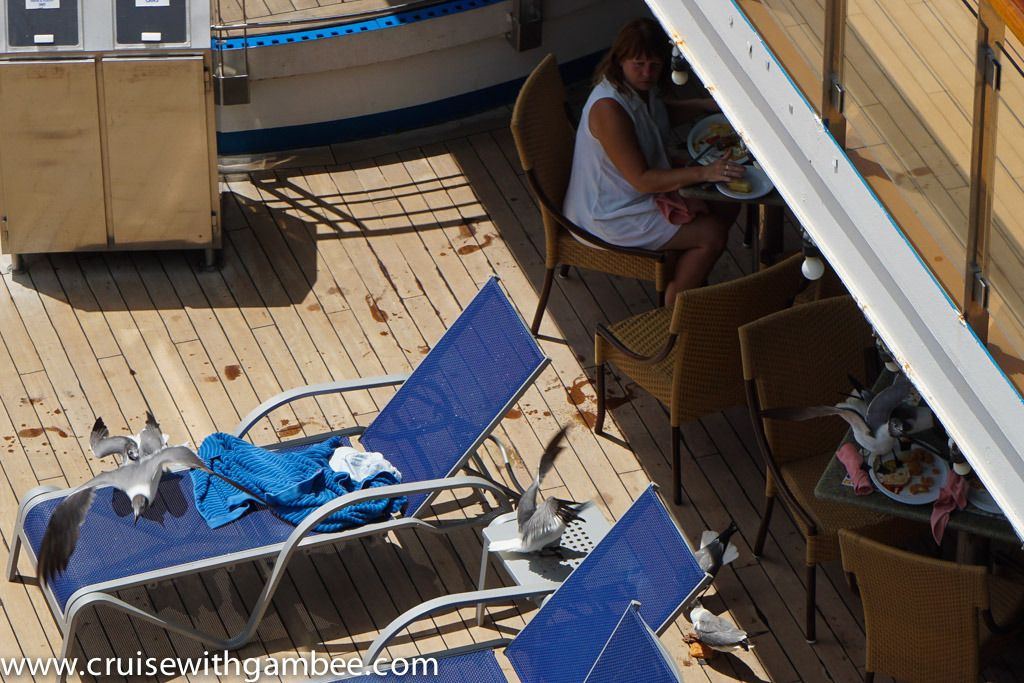 The line for the water slide, it was actually quite short at that time.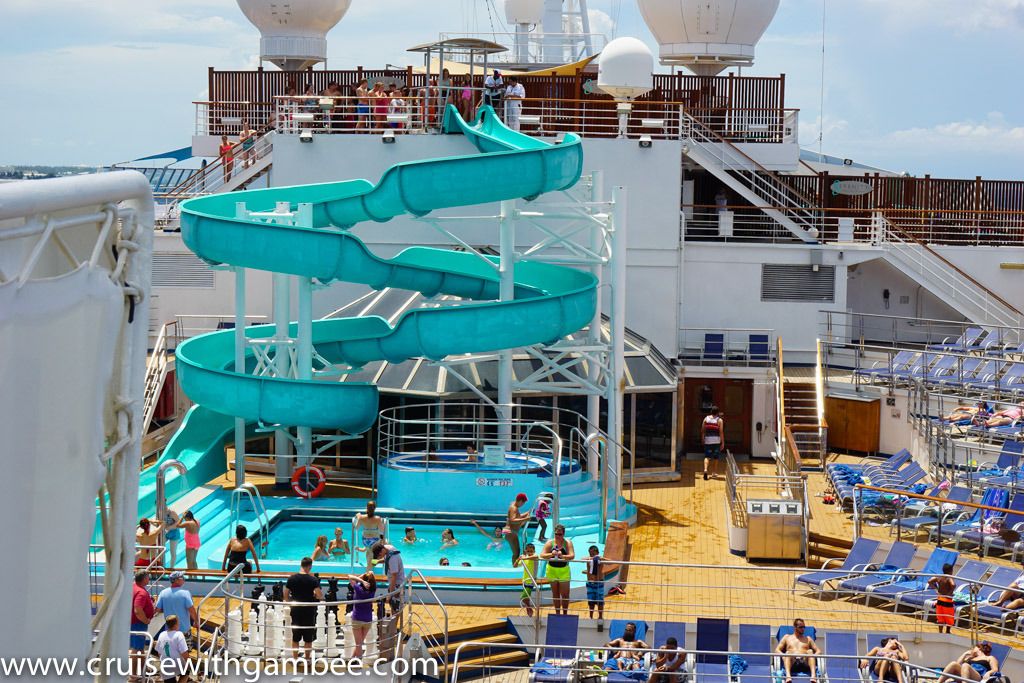 They were now testing our life boats. My uncle mentioned how they are designed to roll over. Dear Lord, I can only imagine what that would be like packed with people and rolling over. Not a pretty sight!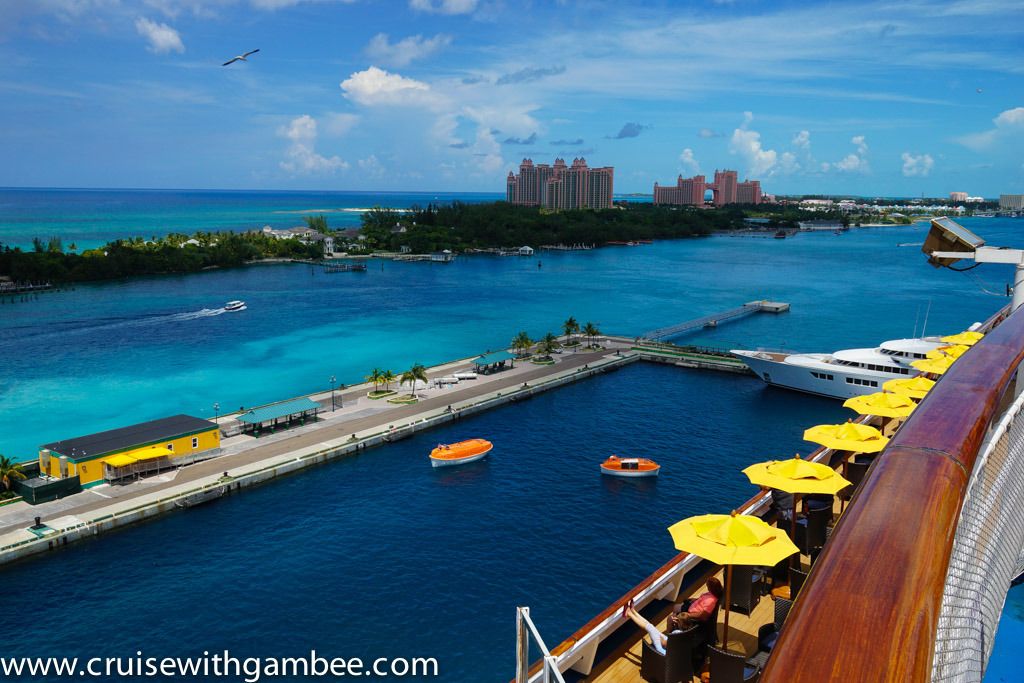 We headed to the aft pool to relax a little before the Carnival Victory departed from Nassau.
Here is the retractable roof, we saw it closing once.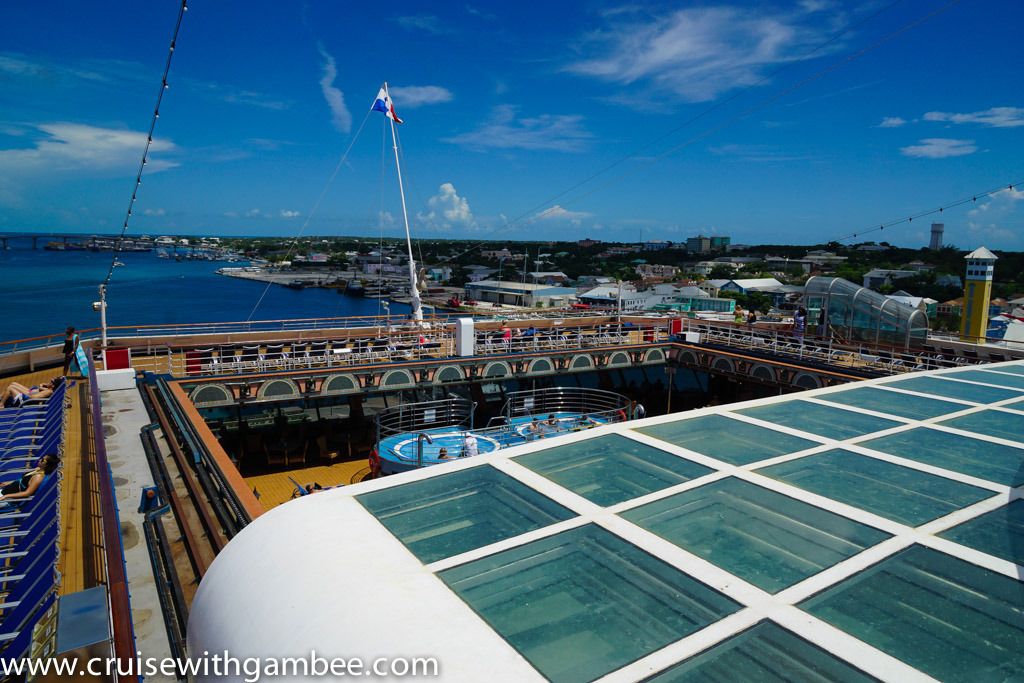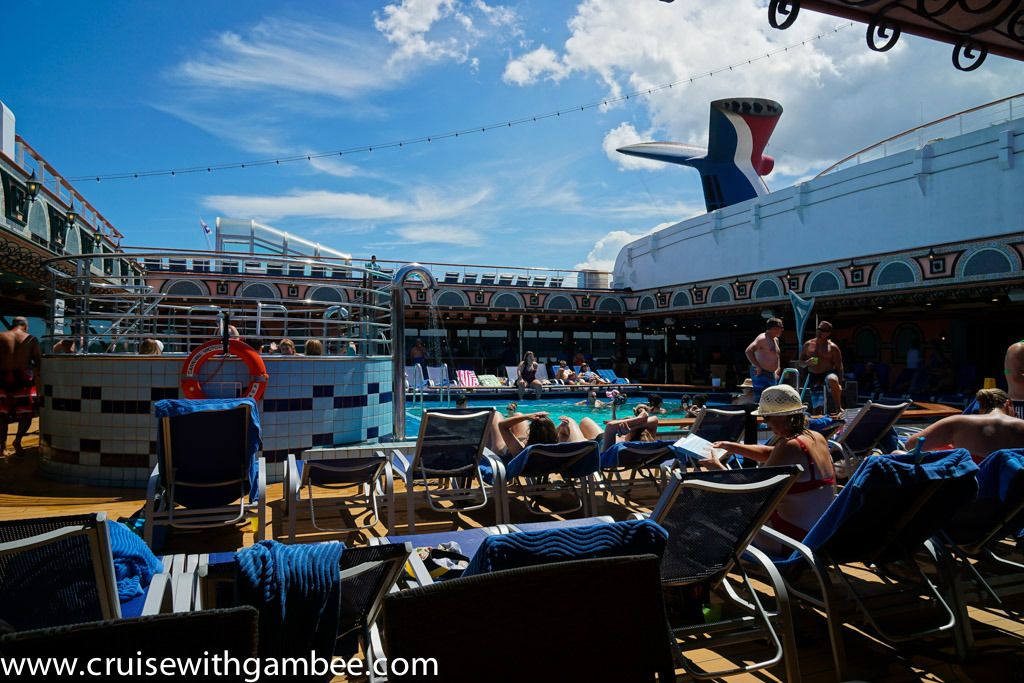 My mom and aunts went to the room to shower and what not. My uncle and I just relaxed by the pool.
At one point one of the drink pool attendants came by, and offered my uncle a drink in one of the fish cups. He actually ended up ordering one, and taking the souvenir cup to his granddaughter. My uncle offered me a drink, but I was still very sore. So I decided to decline it. Anyway, the cocktail server then noticed my GoPro on the table, and asked me he could grab it. I said of course, and turned it on for him. He then asked me one question about it, LoL, that was it. He came to the right guy to ask questions, if there is something I enjoy, is talking about camera equipment. We must've talked for about 20 minutes. One other crew member later joined the conversation. He actually wanted the GoPro for his motorcycle back home. He has a racing bike, and tracks it on the weekends. I can only imagine how hard it is for him to be away from such a freeing hobby for months at a time in a ship.
Nice fellow. By the way, I recommend the GoPro Hero 4 Silver and not the black. The reason why, is because I never film in 4k. It takes too much memory. Actually, now that I think about it, I rarely film at all. One more thing, I almost never use the screen on the camera. Everything is done through the app on the cell phone. So if you find a hero3 without screen for a killer price, go for it! I am intrigued what the hero 5 will look like when it comes out. They sure are expensive cameras, but they are fabulous!
Anyway, here is uncle sipping away
After chilling there for a while, we decided to go to the room and see what the girls were up to. As it happened, they were just on the balcony, doing my mom's favorite sport, people watching
.
There were a few military vessels there.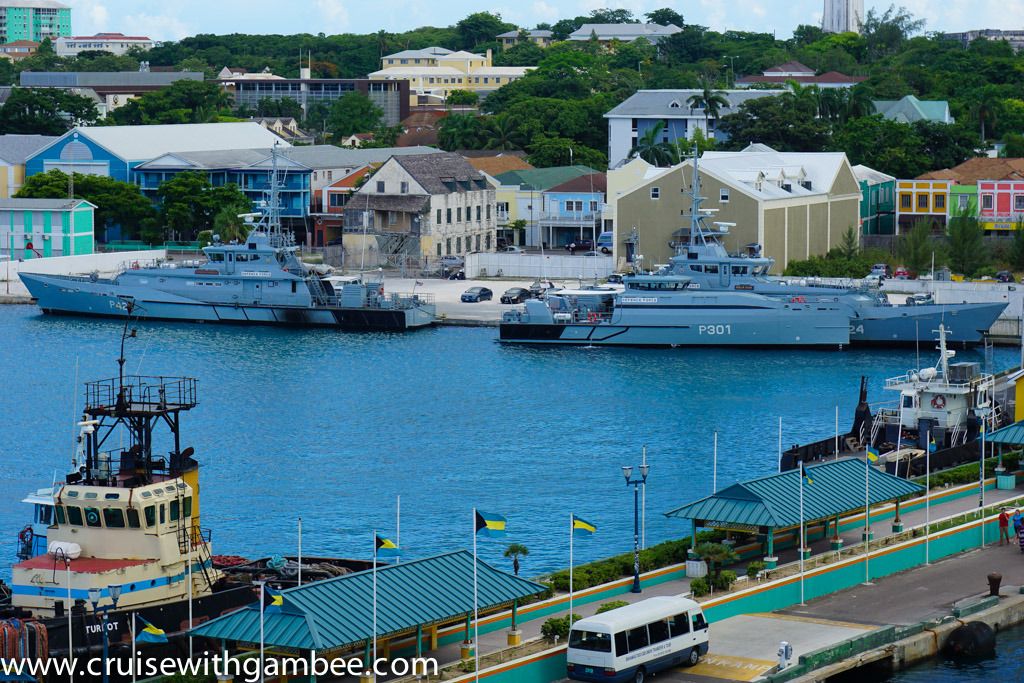 Now the vessel P301 really interested me, mainly of the Pram Bow (flat bow). I really like this design, similar to Steve Job's Yacht, maybe he rest in peace. Unfortunately, I was at a distance and I could not really see the vessel right. Plus there was another behind her, and it threw everything out perspective.
But then I got home and found out that it is actually a new ship, they just got it in July 31. The ship was proudly docked there for all the noisy tourists to look at it
. I for one was thrilled to see it there. You can see more pictures and read about it here, P301 Patrol Craft.
The Carnival Victory was actually running a little late, as you can imagine we were waiting for passengers.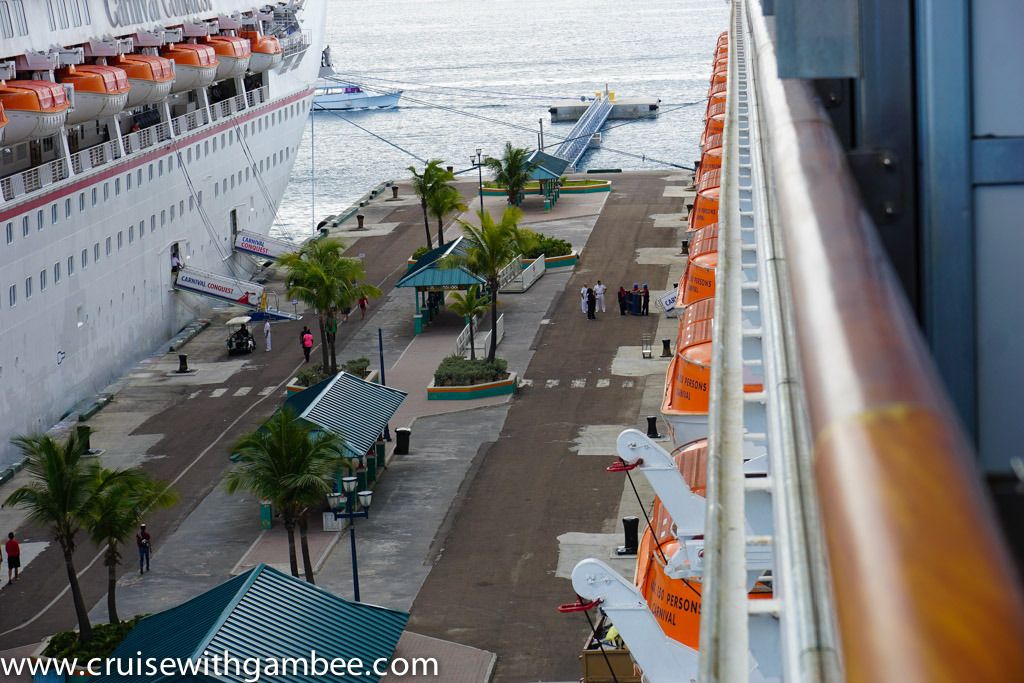 Since our departure was late, my uncle decided to go and jump in front of the camera so that we could watch him on the TV. This is a thing that he does often on cruises, and usually people in Colombia are also watching him.
But guess what, that dinky dinosaur of a TV did not even display him properly. They really need to change those tv's.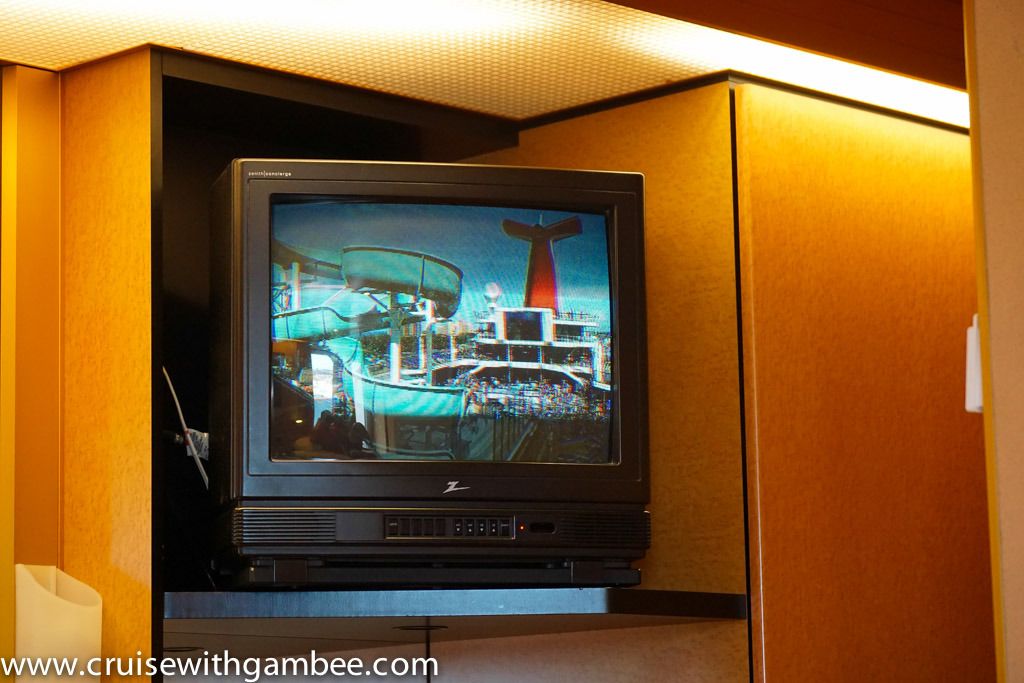 He must have stayed walking around and taking pictures, and we decided to head back out to the balcony and people watch some more.
Then we saw a few runners, but these two had no shame. They even stopped in the Nassau sign and took a picture of themselves there. Then again, little did we know that there was a much larger group still missing. So in actuality, they had a lot of time left. I think we were past 15 minutes our assigned departure time.
Is the picture ok? No, wait, let's go back and take another one
.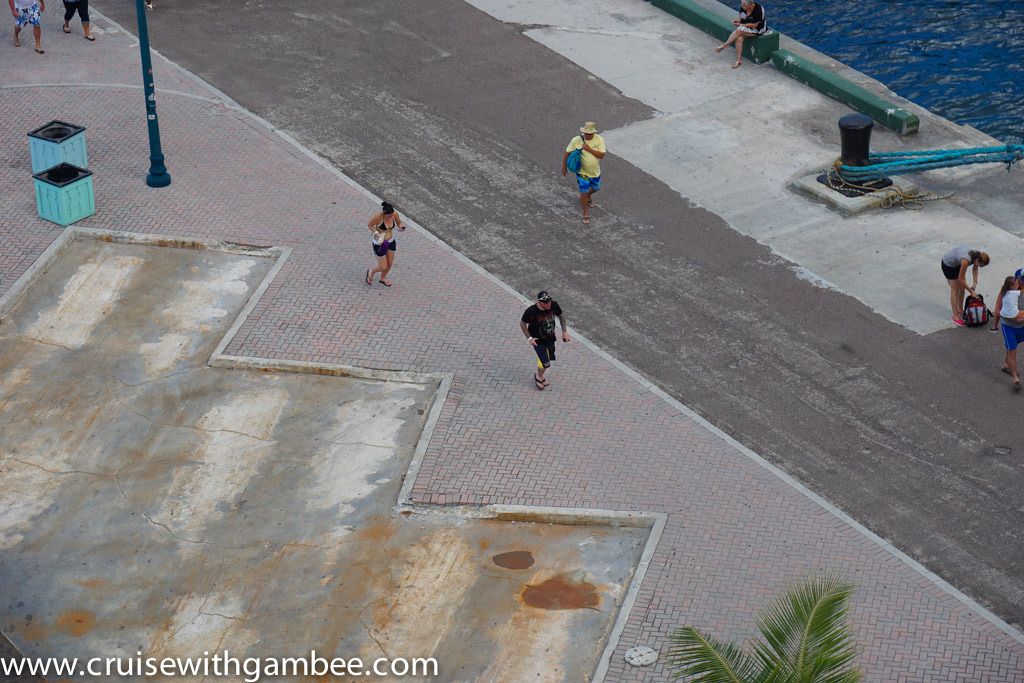 Damn, look how sun burn she got!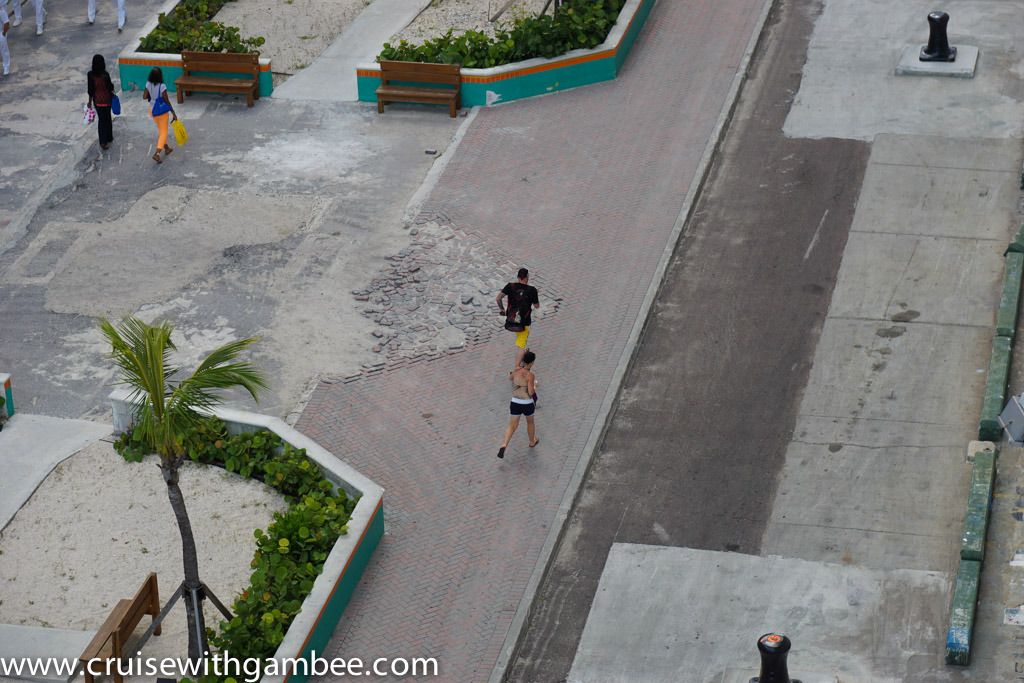 We kept on waiting and noticed that they had brought a diver to go under the Conquest.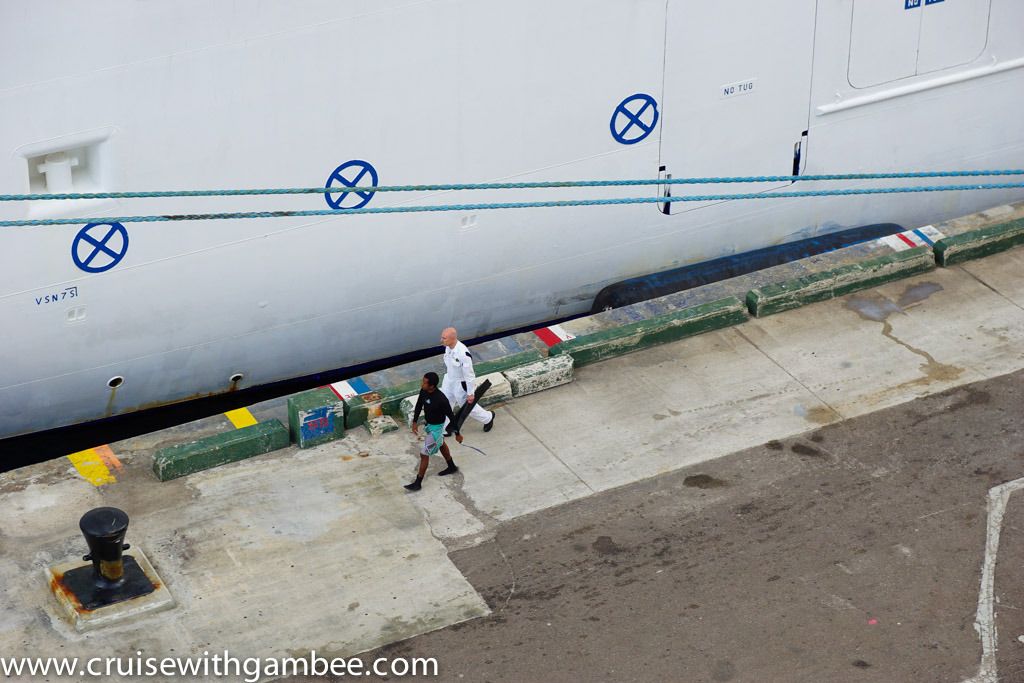 So what happened was that it appeared that something got stuck somewhere below the water line. The diver first went down with a camera, then gave the camera to the officers. The officers all looked at the pictures, and all nodded their heads. Next thing they gave him a large blade and he went back down.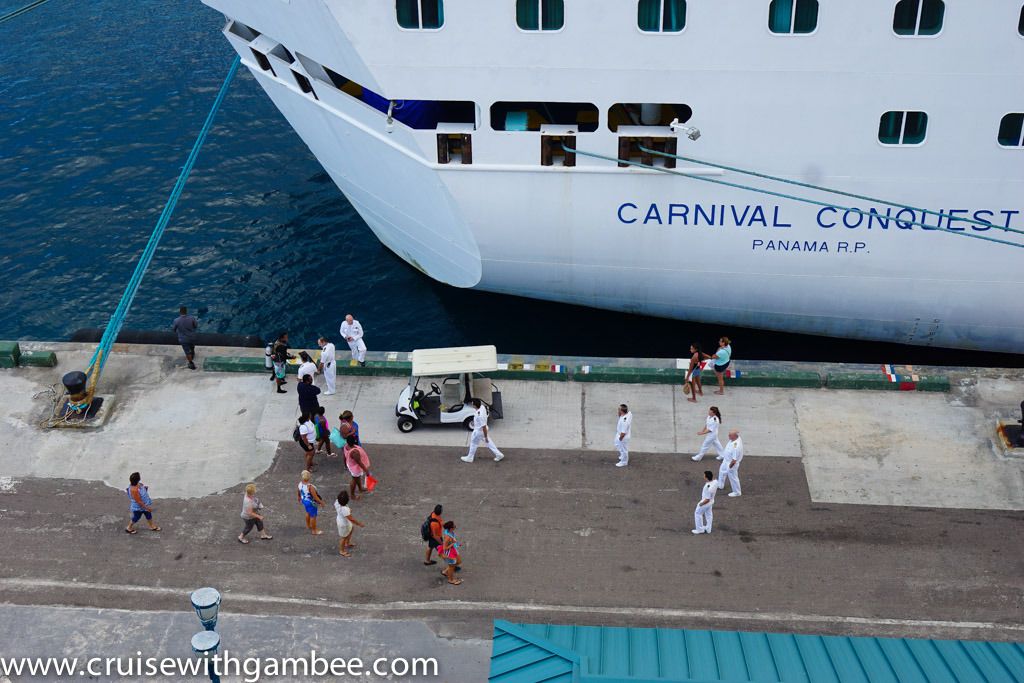 Looking at the pictures.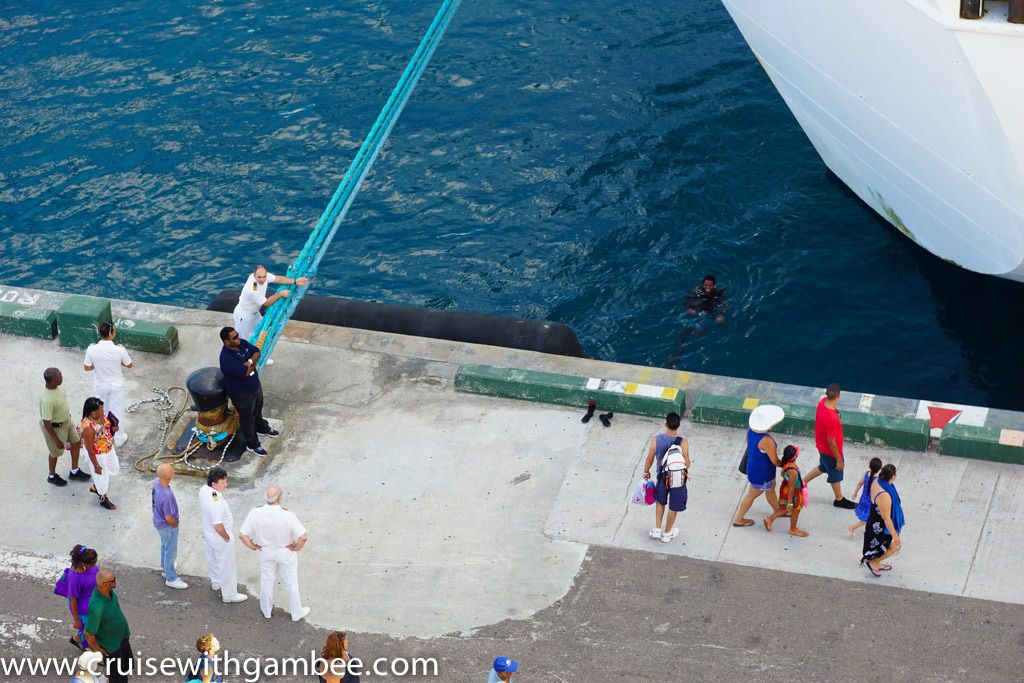 A bunch of people were posing with the officers, and they were all super friendly. It appeared to be a minor issue.
Posing for a picture. I got to try this sometime.
Pretty soon everyone was back on board and we were moving.
This was the most amazing departure ever, although my uncle was still out and about. We all grabbed the bubucelas and started making a lot of noise. I mean we were so loud that we were grabbing everyone's attention. It was ridiculous, best of all no ship blew their horns, so there was no competition.
Although I have to say it was really hard blowing on that thing and taking pictures at the same time. But the funny thing is that most people noticed what I was doing, and some of them even started jumping and dancing.
Oh, by the way, my uncle was in the Serenity area when we started blowing them, and he heard them super loud from there, and started running back the room. He missed most of the fun though.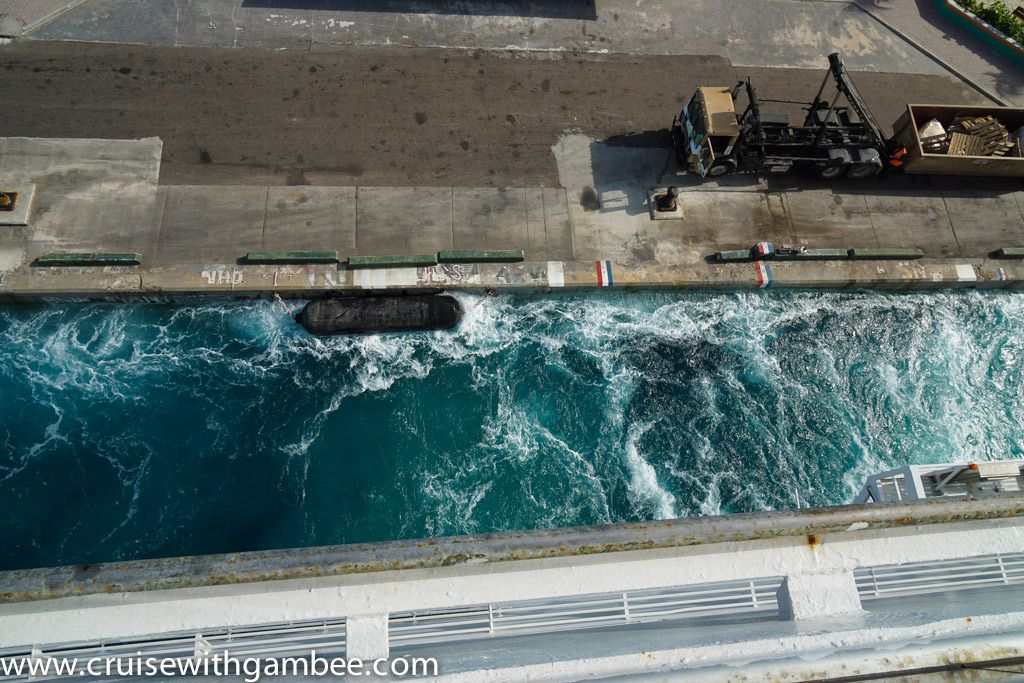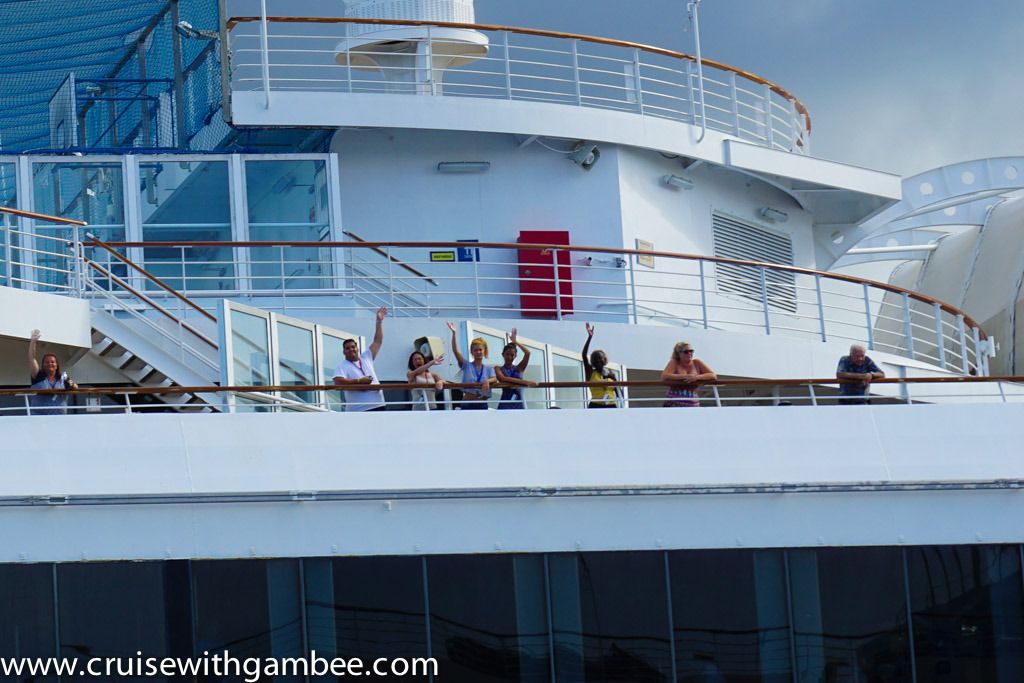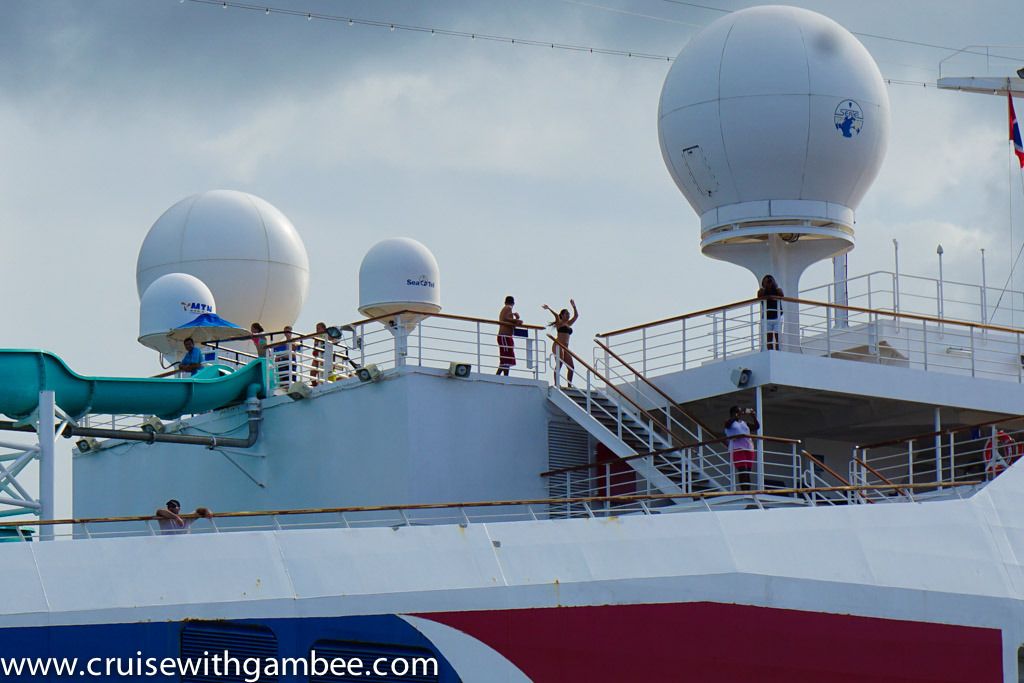 Just look at them go!
I really should have recorded that with the gopro, next time for sure =)
It was a real fun departure.