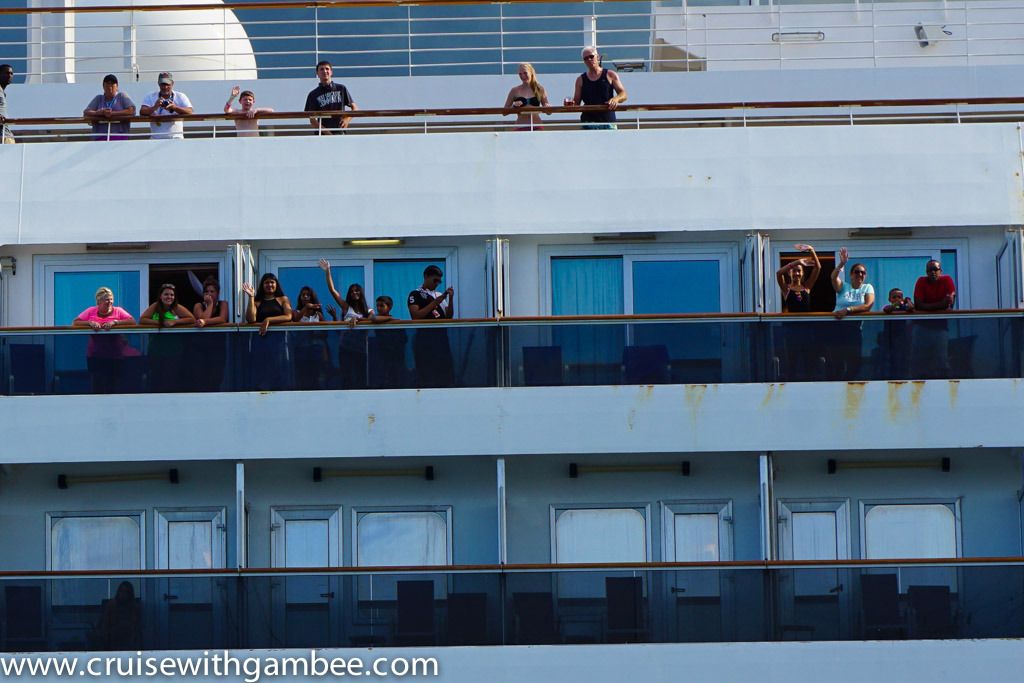 My uncle was showing us how he tried to get a picture of us blowing the horns, but the extension prevented him from doing so. Thank God, because the last him I wanted to happen was for him to trip over for a picture.
INCREDIBLE PICTURE! Look at lady Majesty filling that cloud! She was backing out.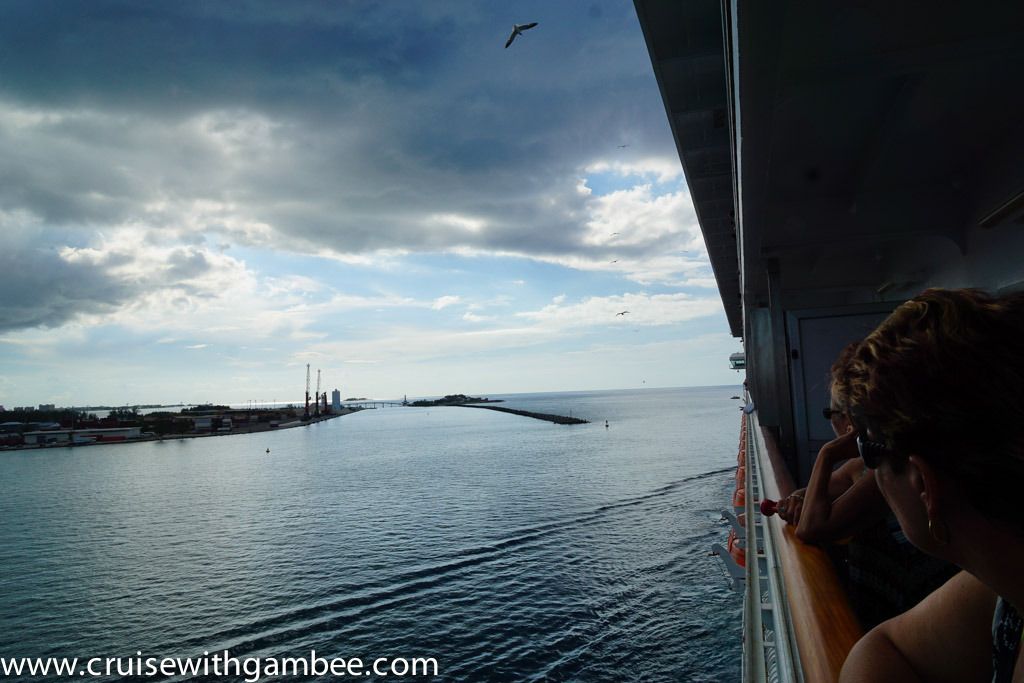 The Pilot boat picking up the pilot.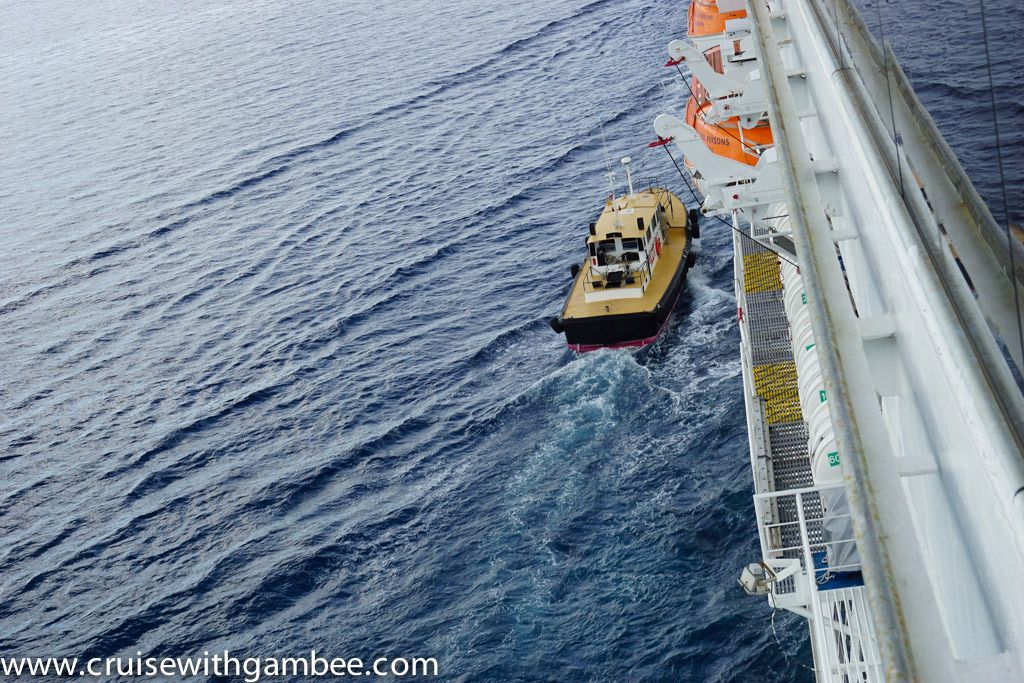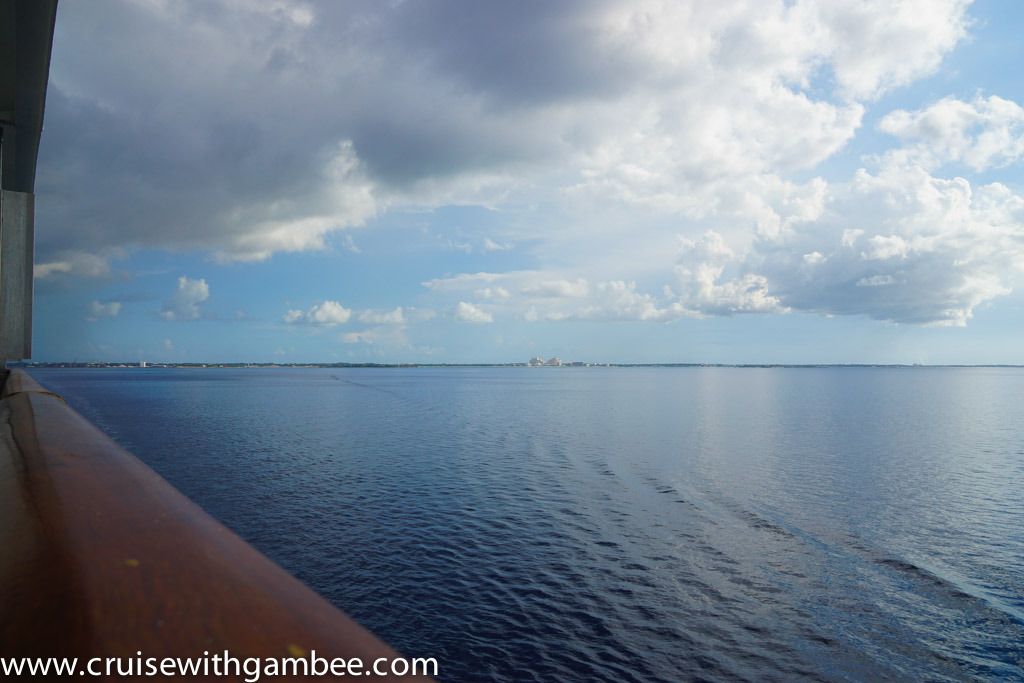 We were sailing at an incredibly slow speed, and the water was like a lake.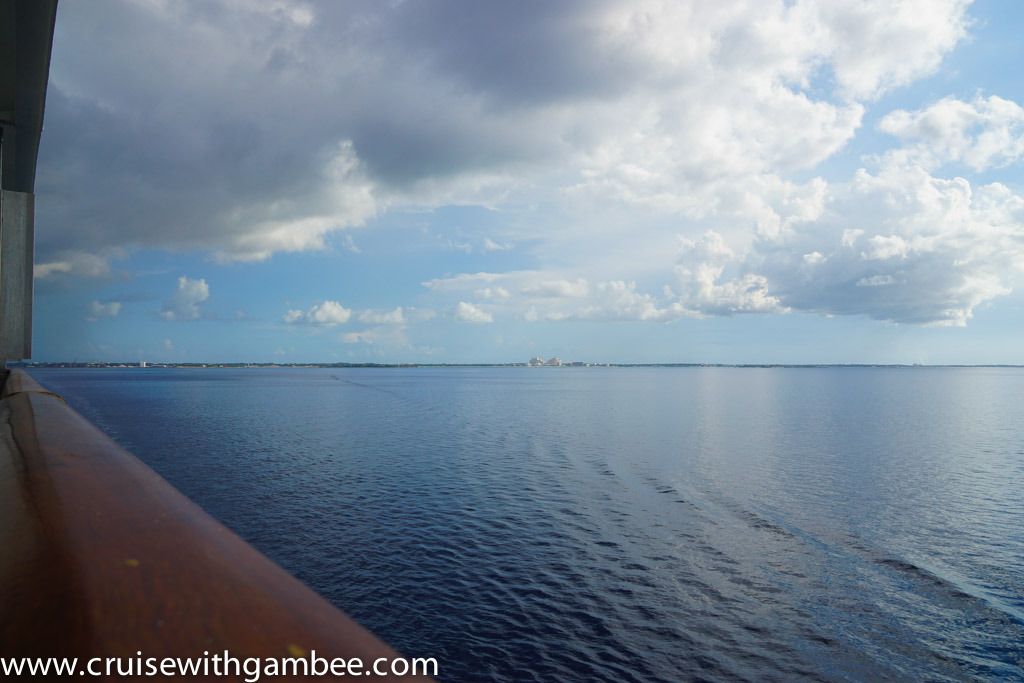 As a mater of fact, it was so smooth that there almost no feeling that we were aboard a ship.
Lady Majesty was heading to Coco Cay or Miami, not sure. At that point we were both heading north, before splitting apart. We would do a U turn, and she would turn west.
My best guess is that everyone went in the room and changed or something, maybe to talk?
I stayed outside relaxing for a little while, and enjoying the wonderful weather! Although the sun was hitting us directly. Which brings me to the next point. Ever since I started cruising, I noticed how Carnival ships have the dark glass on the balcony. I have always wondered why this was. I really did not like it that much before, I am trying to remember why, but I can't. I think was because I thought it blocked the view? Or maybe because they did not flow like the other vessels.
Well, now I knows an incredible benefit from it. If you lean all the way, it covers most of the sun. Allowing you to stay there ever when the sun is hitting that side of the ship directly. Granted, it was still hot as hell. Now that I remember, that is why mom and the ladies left. But it is much cooler than if it was the clear glass of the other vessels.
I took some pictures of examples where the Carnival Victory shows some of its age. Nothing horrible, but still worth mentioning.
This was my chair, she was ready to bust open and drop me on my butt
.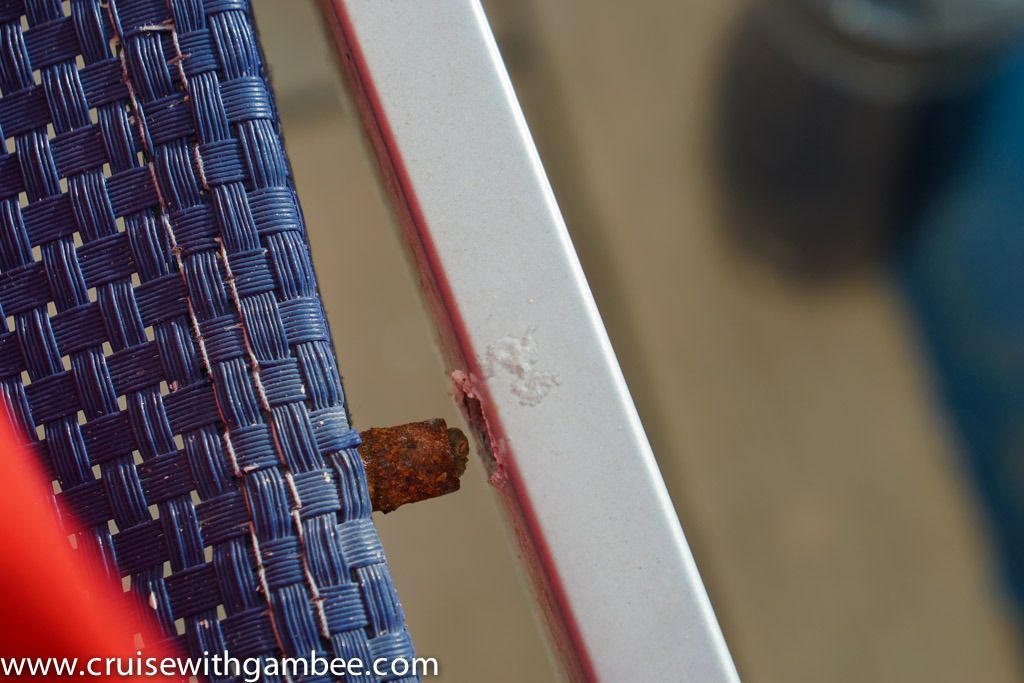 Just some rust, I know the ocean does this. However, since I am used to new vessels, they tend to show much less wear. No big deal either way.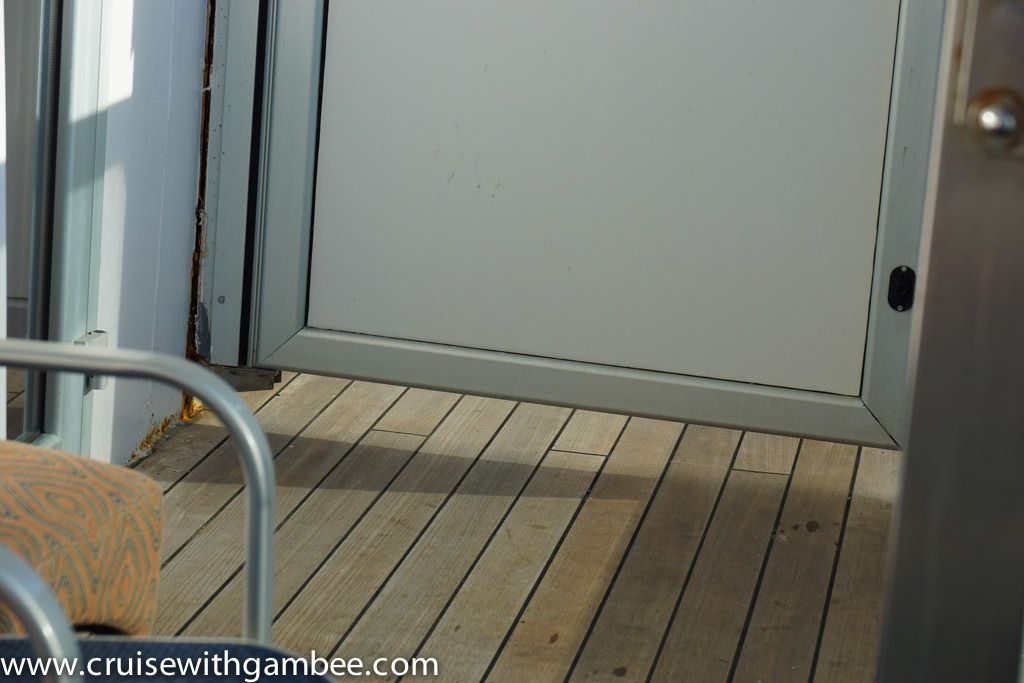 The sun was dead on. See the Majesty to the right of the sun?
My uncle joined me at some point.
Here you can really tell how smooth the water was.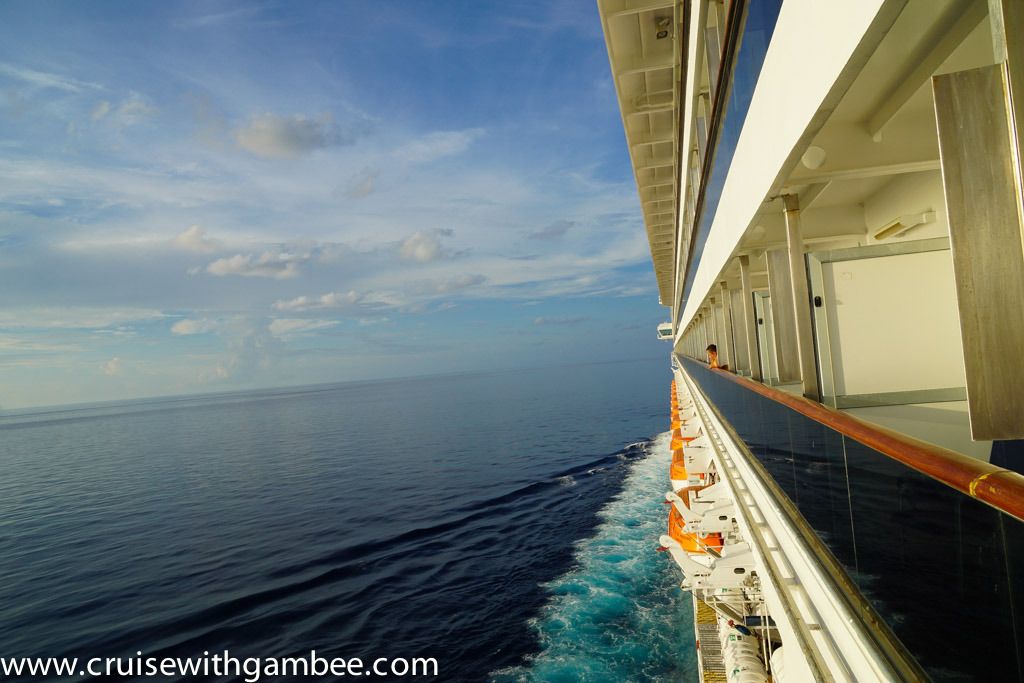 Some sea gulls still following us, it is so impressive how far out these animals can travel.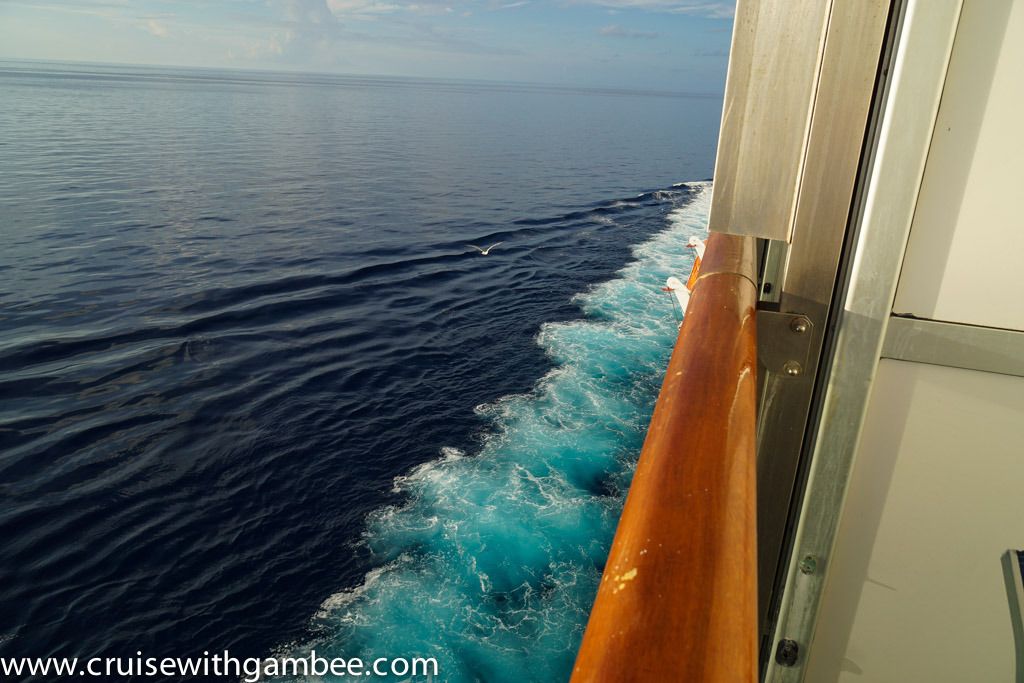 I still wonder what ever happened to those birds of the Allure of the Seas, we were way out. Like in between Haiti and Jamaica at midnight… Hopefully they had a long range of flight.
While we were out on the balcony, Ruben made our room. I cannot say enough good things about him, among the best I've ever had!
Look at this cutie =). He actually offered to teach my uncle, but I guess he never got around to.
And then there is this, I am sorry, I just had to. He has the most awkward positions when shooting pictures
.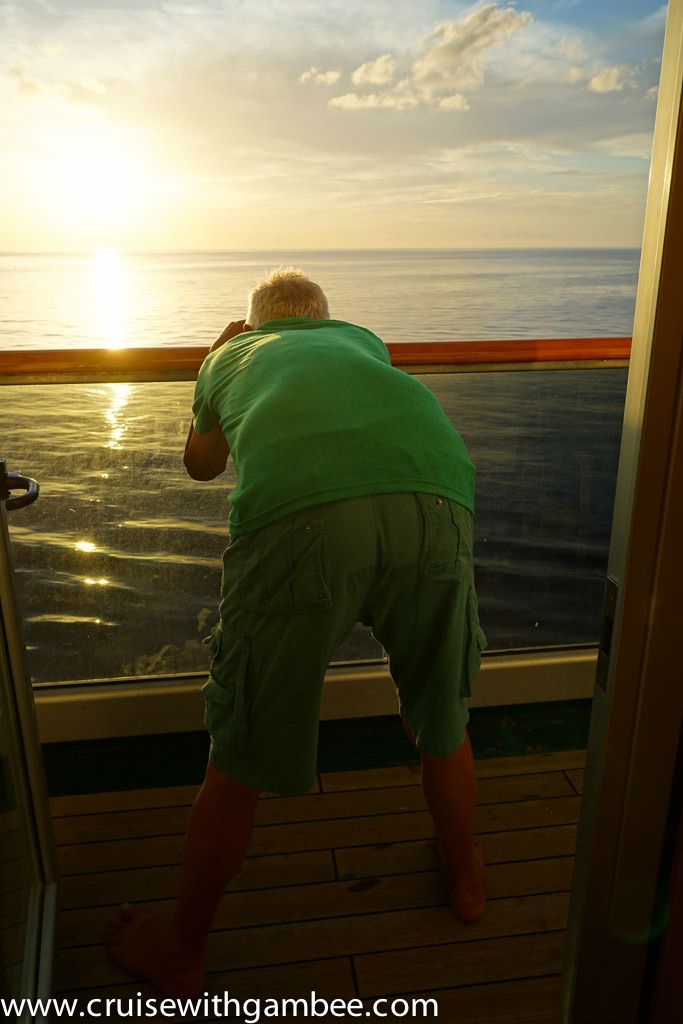 I love silhouette pictures, (and not I am not talking about the X ship
). Although I love those too.
They tend to talk to you a freeze that moment forever, yet they leave so much in question.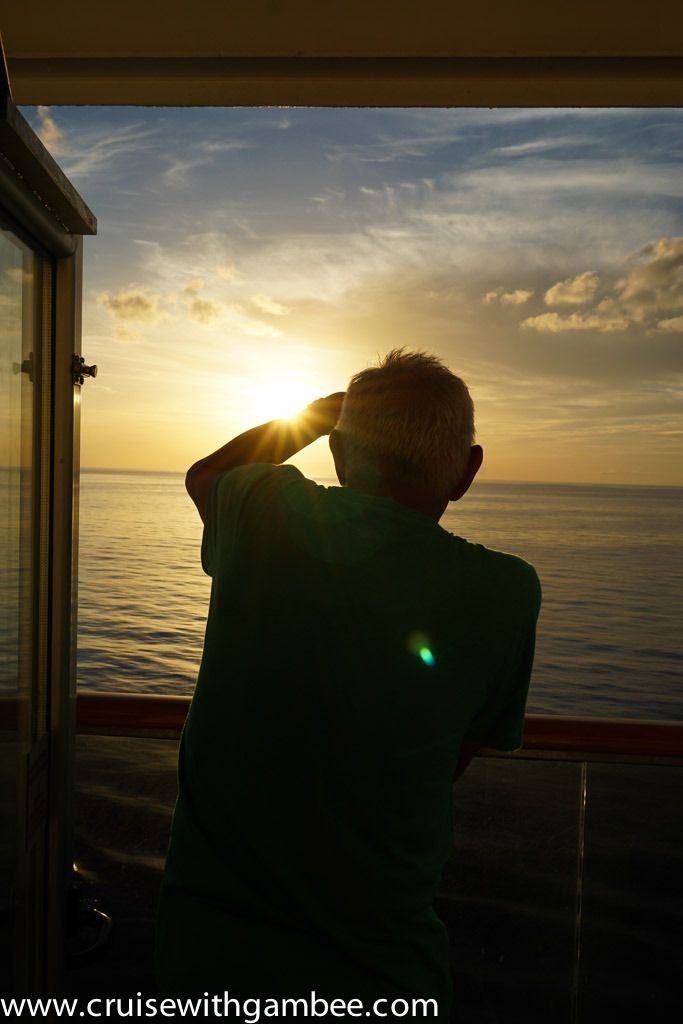 It was a beautiful fire sunset!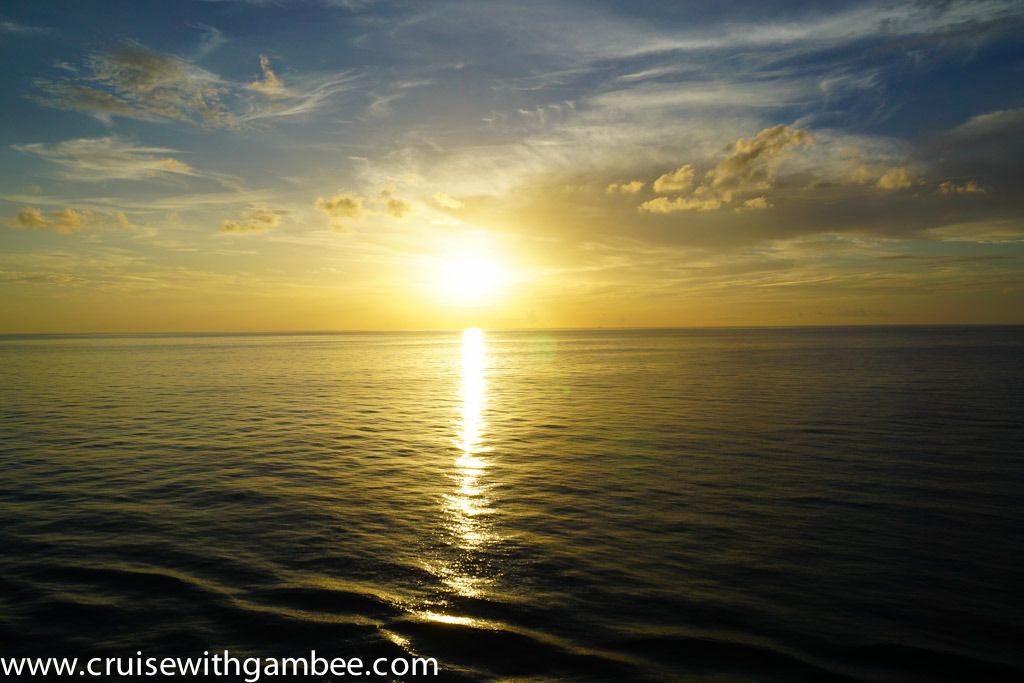 I have given this lots of thought. At first I was not going to write about it, mainly because it was just an uncomfortable situation. But I have always been very straight forward in my reviews, and there is no reason to start changing the theme now.
Where do I start? Ok, let's try from the very beginning. So that night was elegant night. As you all know, I dislike elegant night. I started cruising recently, and to me the Caribbean is all about being lax and free. The last thing I want on a cruise is to put a suit on. However, I have found ways to look all snazzy without the need of a full suit. I have also always respected the codes of the ships, and in some cases have found out ways to not dress up. For example on X, if you go to one of their specialty restaurants you don't have to dress up. The only time I remember dressing up was on the Allure when I stuffed myself into an old suit and I looked like an empanada. I ended up fully opening the pants in the MDR, zipper and all. No worries, I had it all covered
.
So yeah, just because I am against it, does not mean I disrespect the code of given cruise line.
Ok, let's continue. The last time that I was on the Breeze, I dressed up nicely all in white. I think I had a polo, my nice white pants and the hat. You know, no suit, but it still looked like I put some effort into it. I felt that I look appropriate, and proper. Some of the ship was dressed like me, and others had suits. It seemed like it was well balanced.
I guess when I spoke to mom, I told her that Carnival was more relaxed than RCCL and X. But maybe I was not too clear with her, and she told my family that they could ignore all their fancy wear and not even bring it. I guess it was a lapse in communication.
This time around I failed to read the FunTimes. The only thing I did was I asked my uncle and he stated that it said voluntary elegant night. I asked again, are you sure. Because it did not sound right to me. As far as I know, only NCL has such a thing. He said yes, I am sure. Then again, I am not blaming him for anything. If he says he saw that, then he saw it. But I should have looked at the daily myself, and I did not out of laziness.
Ok, so lets keep on moving with the story. I took a shower and dressed up. I looked like this.
I had my nice white pants, and a nice brand new polo (no collar) shirt. My one flaw was that I had flip flops, while they were really nice, white, and by the way quite expensive (they were a gift). They were none-the-less flip flops.
I was happy with my look =)
So yeah, let's keep on going. Since my uncle said it was voluntary, he just had his regular short and a t-shirt and sandals.
The girls looked like this, nothing wrong with their outfit, except those $1 tiaras and flowers. My mom was wearing a windbreaker (that by the way looks like a plastic bag, although she denies it. She is going to kill me for typing that, LoL). And all in sandals, the sandals were clear violations of the dress code.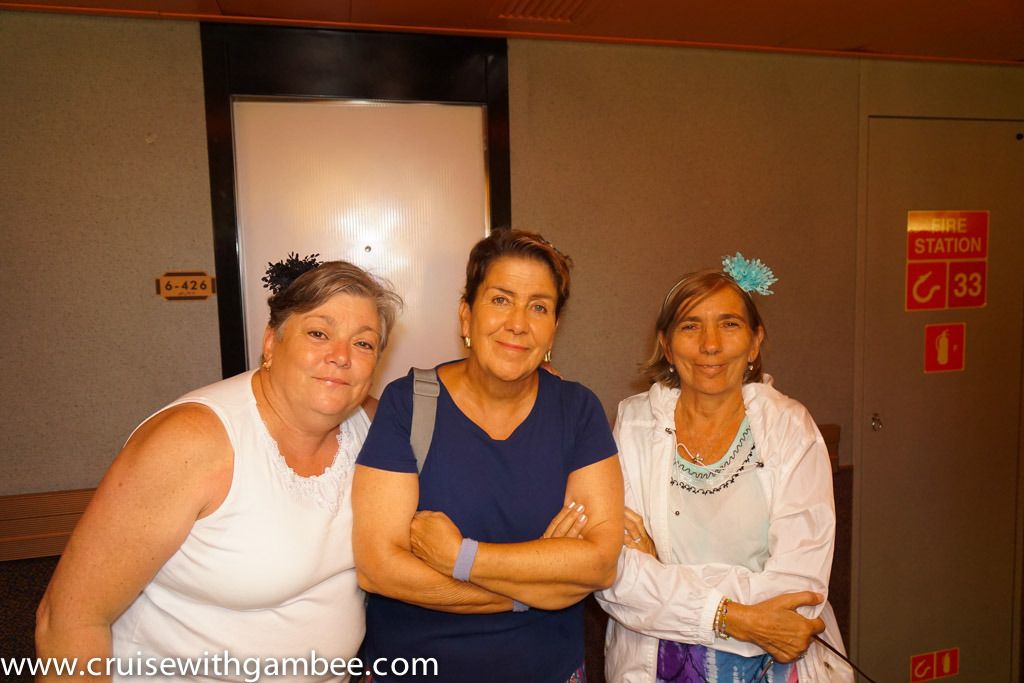 So there you have it. We were all dressed for a voluntary elegant night. However, I was still skeptical. I knew better, I am an experienced cruiser. At the time the only thing I said was, "I really don't think you should wear those flowers and tiaras today".
Ok, so I will say it now. HOLLY CRAP!!! That ship was dressed up like if I was on the X Silhouette! About 95% of the people were in full suits. And the women's dresses, OMG, you have no idea. I am talking about the long ones, everyone looked AMAZING! While on the Breeze this never happened, just about 40% were like that.
Who ever says Carnival folks don't dress, are dead wrong. My mom was astounded as was I.
While walking on deck 5, going from aft to fwd, heading to the MDR, I felt like, we made a huge mistake. We were getting odd looks, and I can fully understand why.
I only got a few pictures that night, so you will have to take my word for it. The Carnival Victory was looking sharp!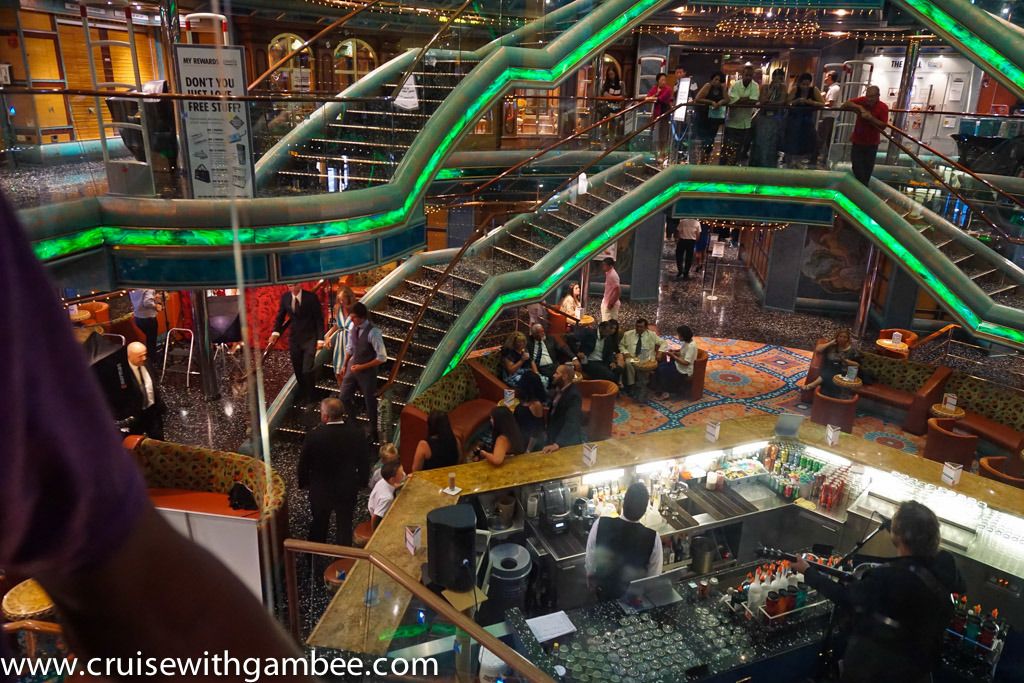 Just look at the lady looking at us, it was exactly like that.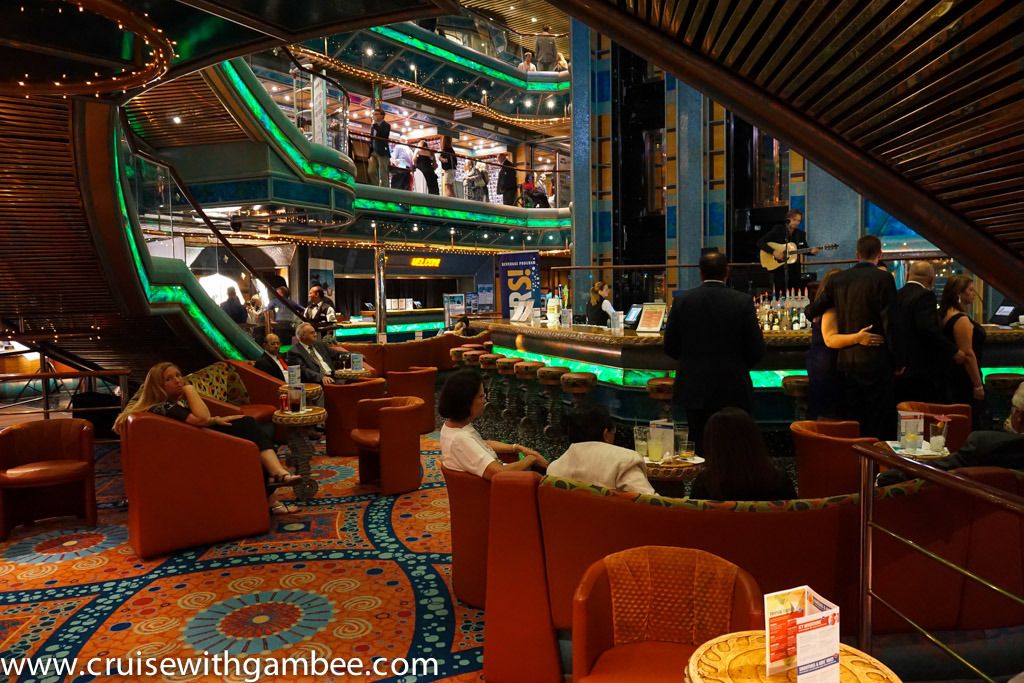 And what the hell, I will even post this picture since I don't have that many from that night.
There is uncle.
Ok, so yeah, we were underdressed. Nothing wrong with that, but in a way I did think we were mocking the ship's code. I am not entirely sure why. But we got in line to enter the MDR. I guess I was still set on my uncle telling me it was optional. But once again, I should have read the FunTimes, no, screw that, I BLUNTY SHOULD HAVE KNOWN!
I guess I really wanted mom to have that lobster.
Once we got to the front of the line, the lady nicely asked my name, cabin number, and number of people in the group. I gave her the details, and then I stared into the room. Holly crap…. That is when I fully appreciated how underdressed we were, and that included me! Then she told me "if you can please wait here, someone will be here to sit you in a second". Next thing I know a very serious (Eastern European lady) started whispering to another lady and pointing, at us. The other lady approached my uncle and told him he needed pants. Makes sense, at the very least he needed pants. They made no comments on the sandals. However, I brought it up. I asked, she said, no, they are not allowed either. It was no wonder, just looking into the room said it all. Then my mom tells me, well, none of us brought pants. Just the ones we have on. They were kind of 3/4 pants.
Then the host, said, "Here let me sit you guys, and your uncle can go change". I was very surprised that they were going to allow all of those policy violations.
Then we all started discussing it in Spanish, and everyone was staring at us. I can just imagine what we looked like. So it went something like this. I told my uncle he could have my clothes, and since they were going to allow some sandals, he could have the nice ones and I would wear my shoes. The girls were apparently ok to go in, so they were going to stay like that. We were all kind of talking at the same time. My uncle kept saying, no, no, no. I am ok ill eat somewhere else. My mom wanted to go in, and also think one of my aunts wanted in as well.
The host told me again, let me seat the ladies and you can go change. Long story short, they started walking out, and I told her thank you for the help. Then she kind of gave me an attitude, I am not entirely sure why. I tried to be as polite as possible considering the situation. She said "FINE!" and turned around. I will never know why she reacted like that, she had been so nice before. Maybe because she tried hard to sit us and we still declined? Who knows… This is all happening with the eastern European lady staring at us like we were going to steal her 10 carat engagement ring.
So after that we decide to go to the buffet.
Here is the thing, I reckon the girls refused to go in because they felt genuinely embarrassed. I now believe that is the cause and fully understand that position. If we sat after that, things might have gotten more uncomfortable. As to why my uncle did not want to change, I am not sure. Maybe he just did not, after all he is on a Caribbean cruise, why should he, it is his vacation that he paid for. He can do as he wished. I still wanted to go in, but I did want to split the group. Mainly because mom has fun with them, and it was lobster night after all.
On the way to the buffet.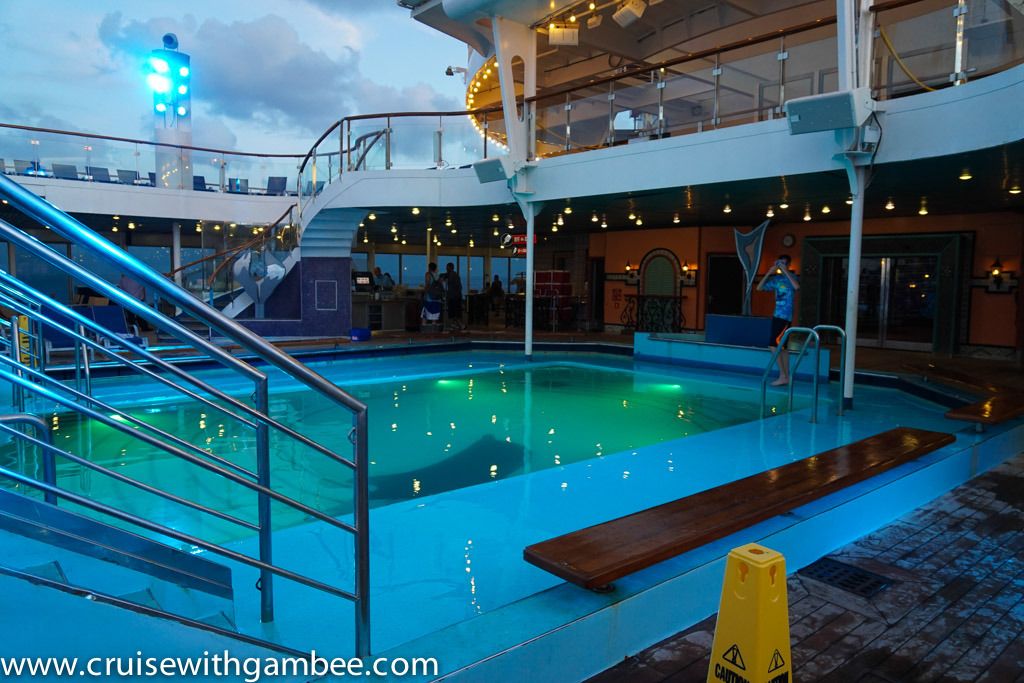 Anyway, we got to the buffet, and the offerings were kind of basic…
My family went and got stuff from the buffet and started eating it.
So I decided to get a pizza instead. The pizza was excellent, but well you know there was better in the MDR.
I really was not feeling very well, the cheese on the pizza did a number on me (I forgot to take the lactose enzyme). So I decided to retreat to my balcony. They had plans to go to the show, and I really did not feel like going in there.
Once in the balcony I relaxed and put some music on. Had a glass of wine and enjoyed the almost serene ambience.
They later told me that the show was excellent, they really had a fun time watching it. They went to the casino, but once again they had little success.
Mom also reported that we were not the only ones to get denied service, she saw a few other dress code violations, and denied them service.
I was actually going to post some pictures from my uncle's camera, but I completely forgot to ask him and he left for Colombia today. Sorry… I have plenty more pictures though
Overall, it was a good day, sure there were a few bumps. But it was still a great day aboard the Carnival Victory. Up next Half Moon Cay! Possibly my new favorite private Island

Day Two End.