Day One
Well, as you can imagine we were incredibly excited to board the Carnival Victory. Some in the group had traveled great lengths to be here, and the rest of us had waited what appeared to be an eternity for this cruise. I forgot to mention that my mom, uncle and aunts, did a short road trip to New Orleans the week before the cruise. I met them later on towards the end of their trip in Cocoa Beach and Peanut Island. We had a fun time planning the cruise and just spending time together. 

Anyway, on to the cruise. As it's customary with me, I get little sleep before a cruise. I think it is all the anxiety builds up. That leads to a night of weak sleep. I woke up around 4am and just started watching movies until everyone was up. Ironically, I had yet to fully pack since I was working full-time in the days prior to the cruise. Once everyone was up I gathered all of my digital equipment. To be quite honest with you, I can leave everything behind, but if I will leave my cameras then I will go crazy. I was equally eager to try the GoPro since it was a fairly new acquisition for me.
After a light breakfast, you know some coffee and arepa (flatbread made of ground maize dough, very common in Colombian Breakfasts). We started getting ready. I still had my doubts that we would be able to fit every one bag in the car. We each had more than one bag, but thankfully there were only two large bags. We loaded the car and were port bound by 9am. I know way too early. But since I had to drop them off in the port and then I had to drive to our out of site parking lot, we planned to allow a little bit of time for that maneuver.
The drive to the port was uneventful, and we were there way ahead of time.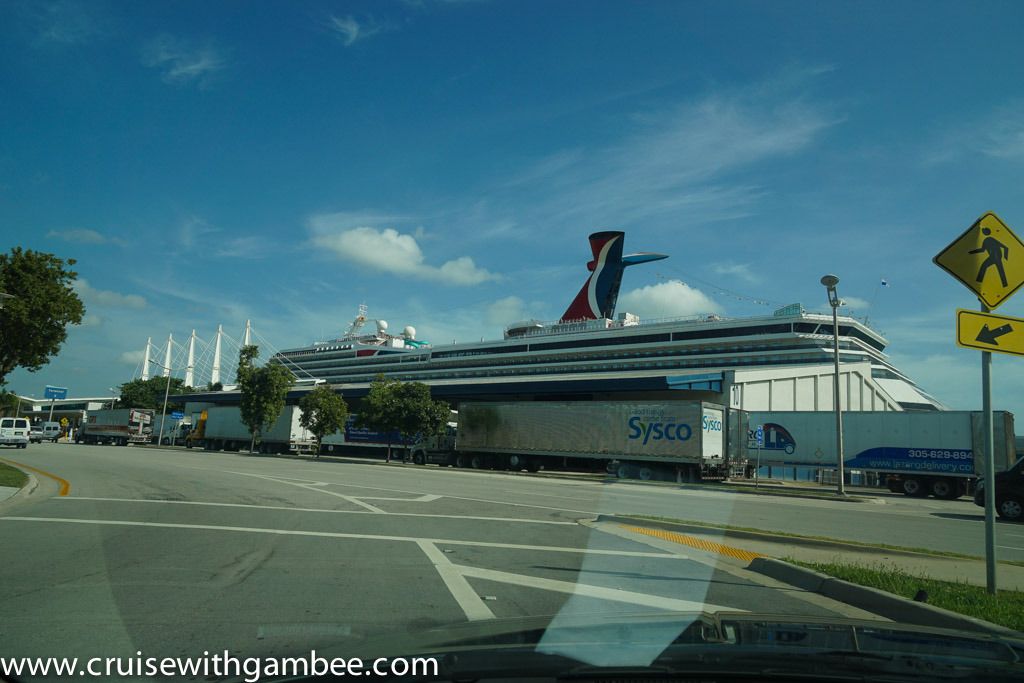 After dropping them off, I headed to the Parking Lot. The drive to the lot is actually pretty quick. I want to say about 7 minutes or less. You also get to go through the tunnel, which is fairly new. The parking facility is decent. I think mom paid $10 per day. My only issue with the facility is the fact that they only start the shuttles from the lot to the port at 11am. While they are continually running shuttles the other way around. It just makes no sense. I told them just let me into one of the empty shuttle and drop me off there. The guy said that the drop off location was a different location than the pick up one. I told him no big deal, I will walk. He kept giving me unreasonable excuses, and eventually I gave up.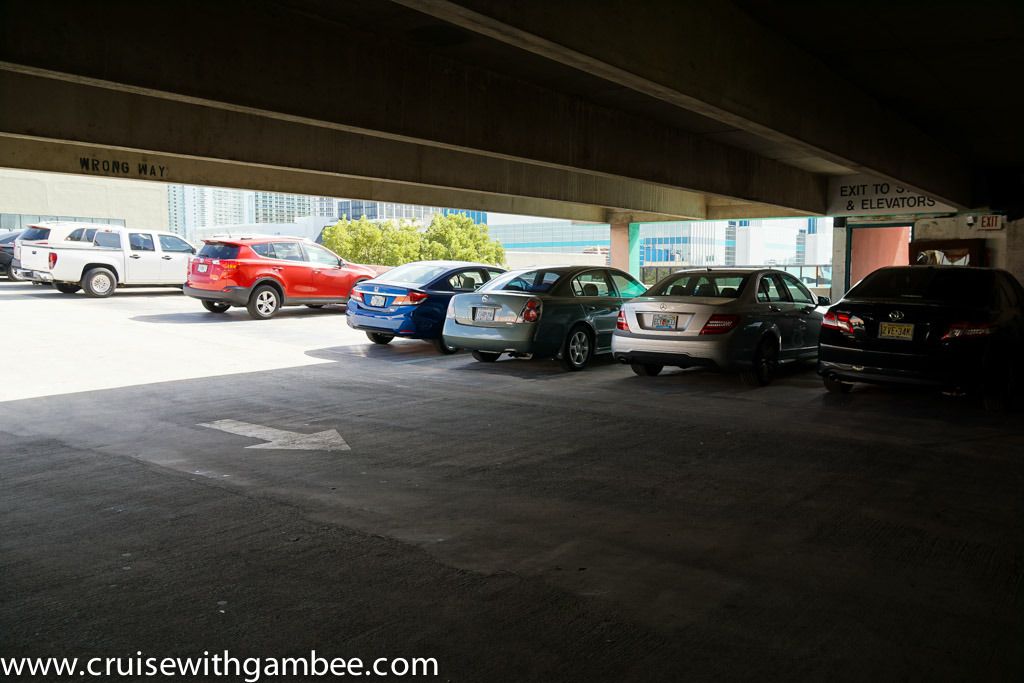 I waited there for about 40 minutes, while they had shuttles continually running. Go figure that one out. Anyway, while I was waiting there was some kind of race around downtown Miami. I never found out if they were legal or illegal, but to me they seemed more illegal. It was mostly high end cars, revving their engines and speeding. Let me tell you something. Those things are loud in the city. The sound waves seem to augment when they bounce off the building. I am very used to high end end cars living in sound Florida, but I have never heard them this loud before.
So at the very least I stayed entertained while waiting for the shuttle to take me to the port.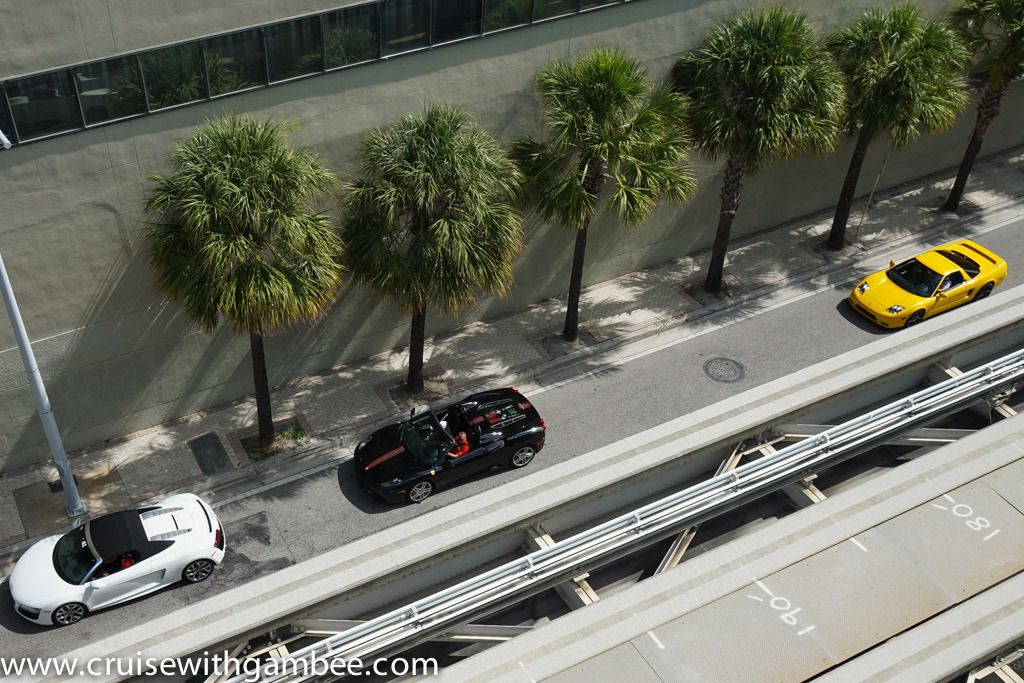 Two of my dream cars, I have to at the very least rent one some day. I actually researched it already, I need to put about 1k aside for this little venture.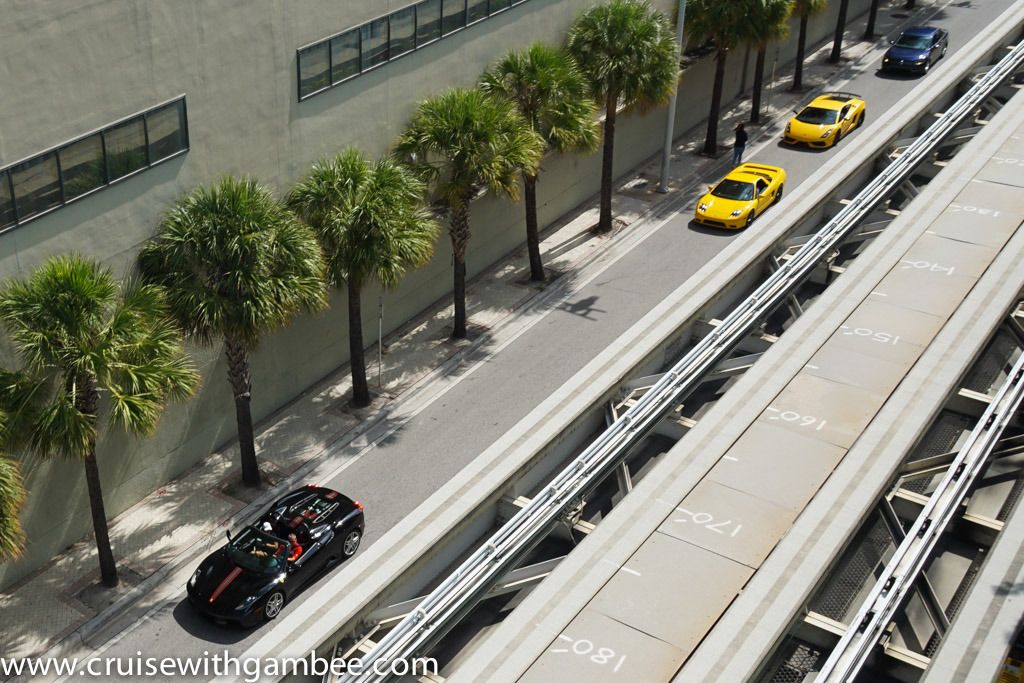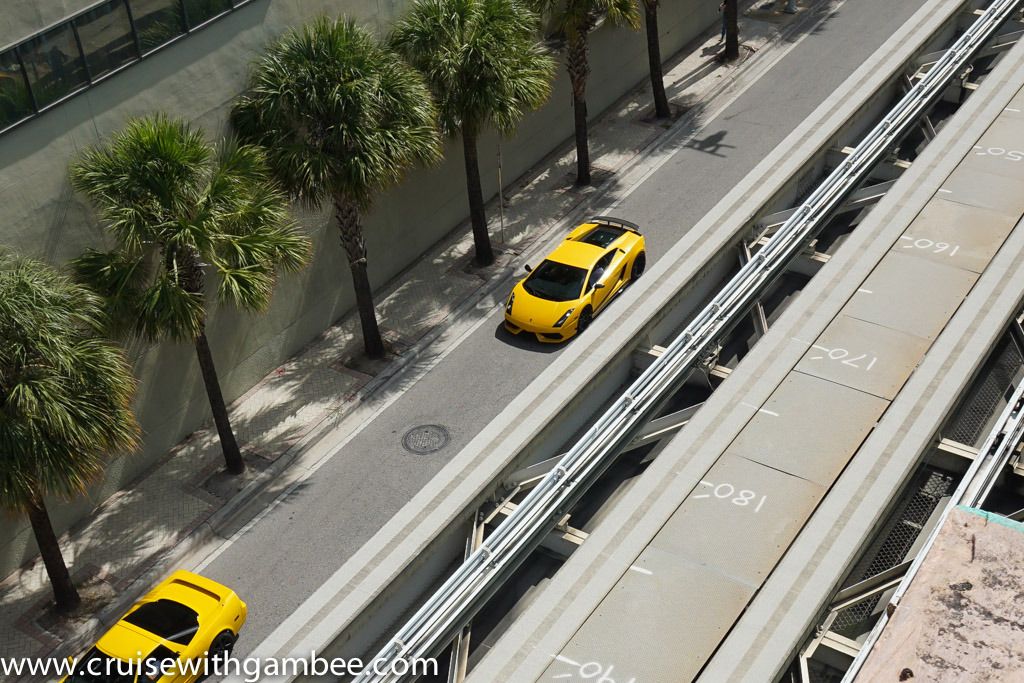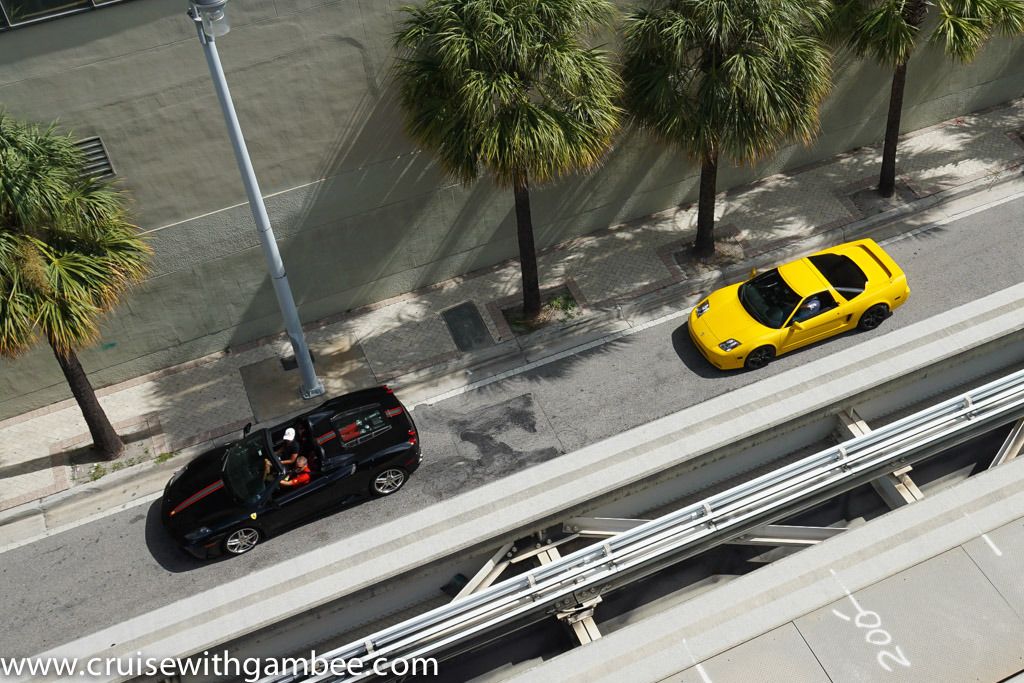 Once I made it in the van, I asked the driver about the cars and he had no idea. That is why my though was that they were illegal, although I saw a few cops blocking some of the intersections. When I told my uncle about the races, he was a little bummed. He was dying to see some exotics, and he had yet to see any on this trip. I am telling you, they had everything from Ferraris to Vipers, it was pretty cool.
Checking in was really quick and I was given boarding group # 2. Since my group had group #1, I simply ignored my group and got ready to board on group 1.
These pictures are at a weird angle since you're not technically supposed to take pictures, but everyone does it anyway.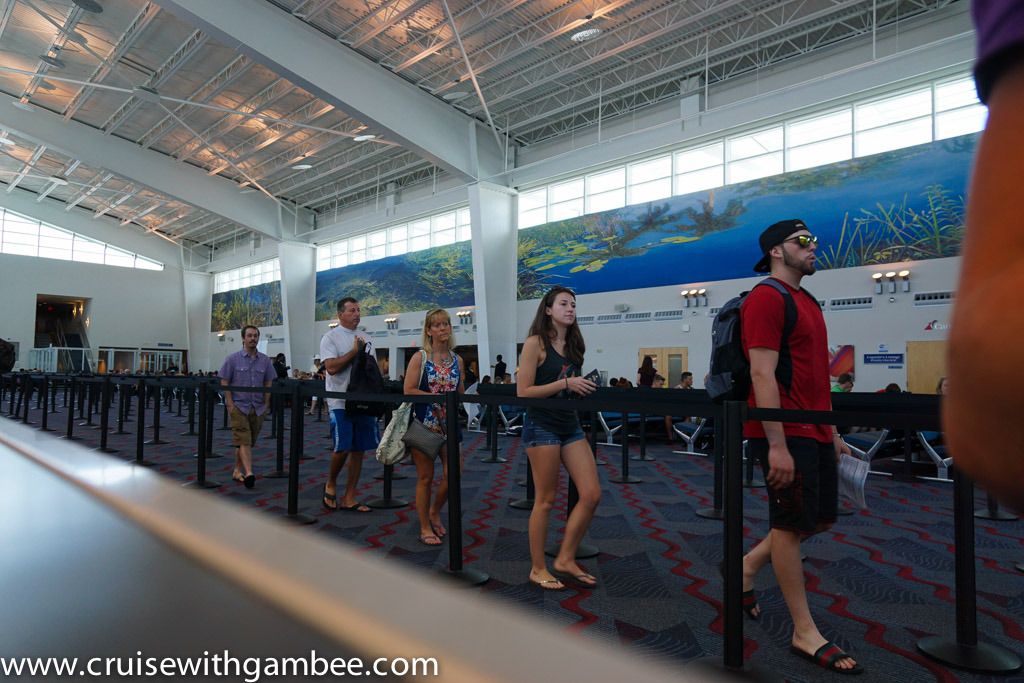 While we were waiting to board, someone can on the speaker and started some kind of dance in the middle of the waiting area. I have never seen this before. It got everyone in the mood for the cruise. And of course, my mom was attempting to dance with them
. Now that I think about it, I think that I inherited my fantastic unchoreographed moves from her
While waiting my family started talking with one of the Carnival employees working there. Note: my uncle and aunts are not a couple. We are just connected in the way that all Spanish families are connected. God that sounded racist, but if you're Spanish, you will understand what I mean
, lol. Anyway, while they were talking. I am not sure how this came up. But he asked if he brought enough ******(lol, you will have to figure the word out) to satisfy both women… It was to die for, because he is the kind of person who will bounce from any comment. It was really funny, then he grabbed them both, and hugged them in a polygamy sort of way, lol. The conversation went on, and they were just having fun. But to be honest with everyone. I think he was trying to come on to me. I was just busy trying to get the go pro working, but every time I looked up, he was looking at me in that kind of way. I am not even sure if they noticed. I guess they will know now. Long story short, after all that talking and flirting, he said to us, come here and I will get you through with the VIP group.
And it happened just that way, we were in the very first group boarding the Carnival Victory. They actually sneaked us past the VIP line, that felt special. Lol, and I did not to pay for the Faster to the Fun ticket, we were off to a great start.
My first impressions of the Carnival Victory were. Well, how do I put this GREEN!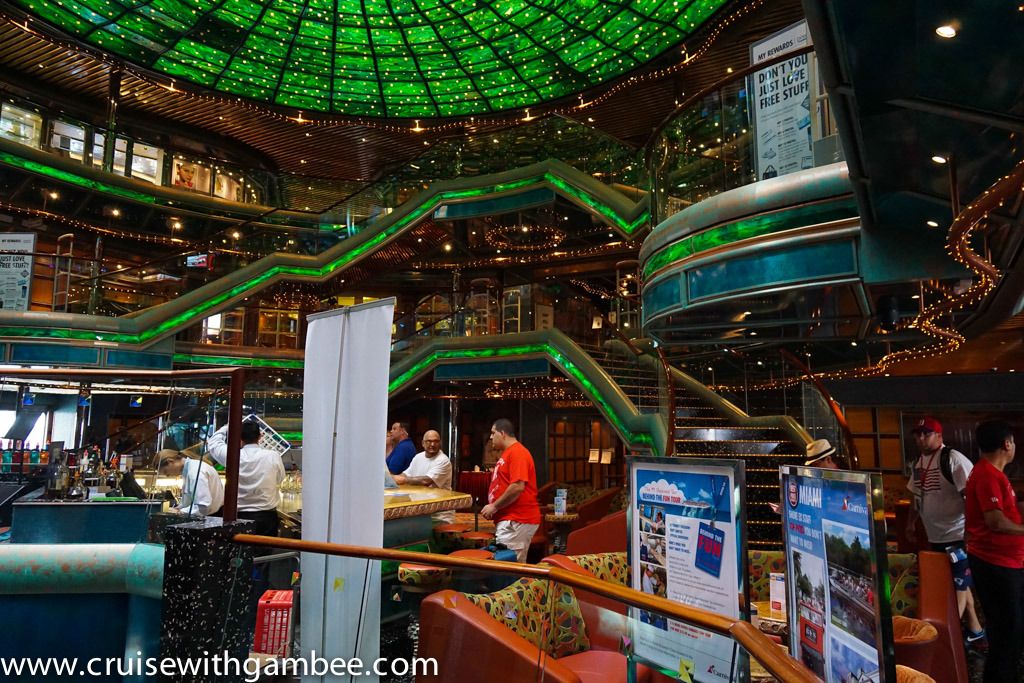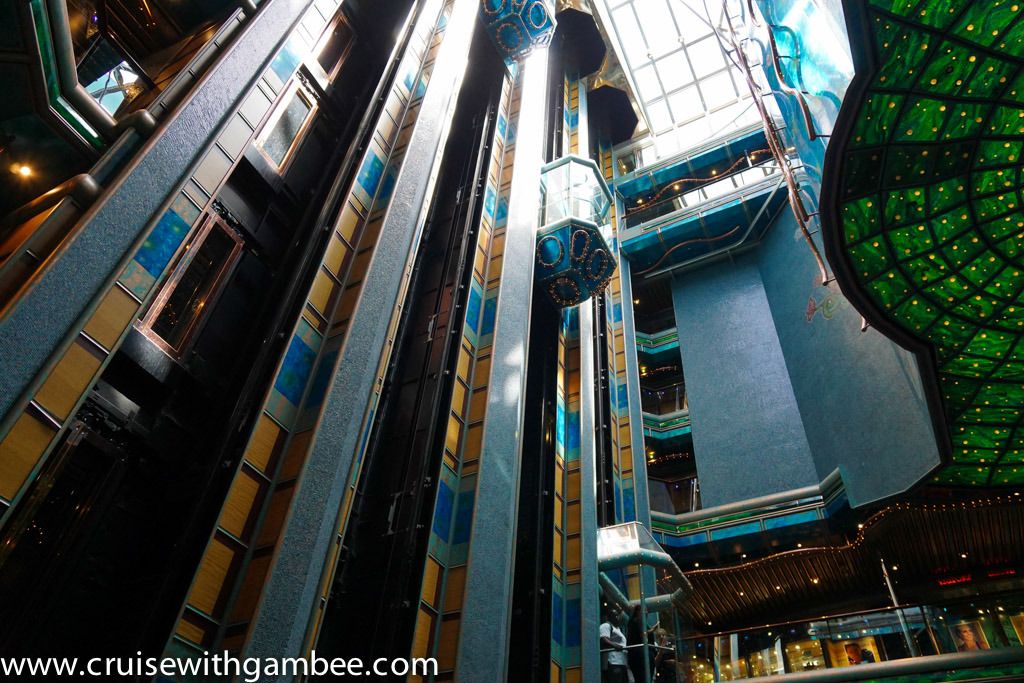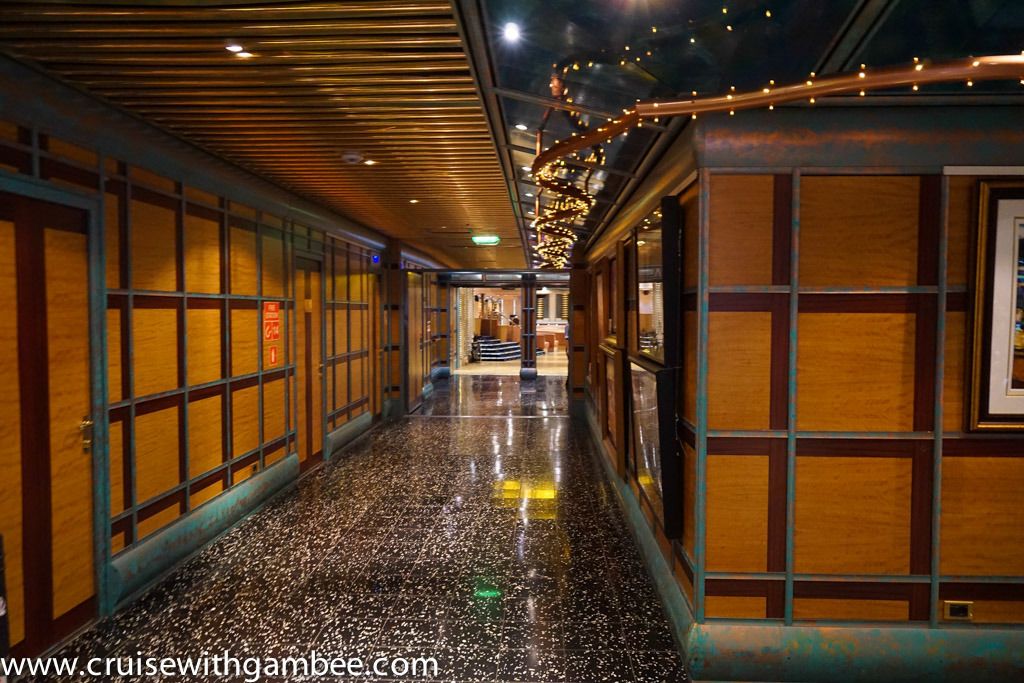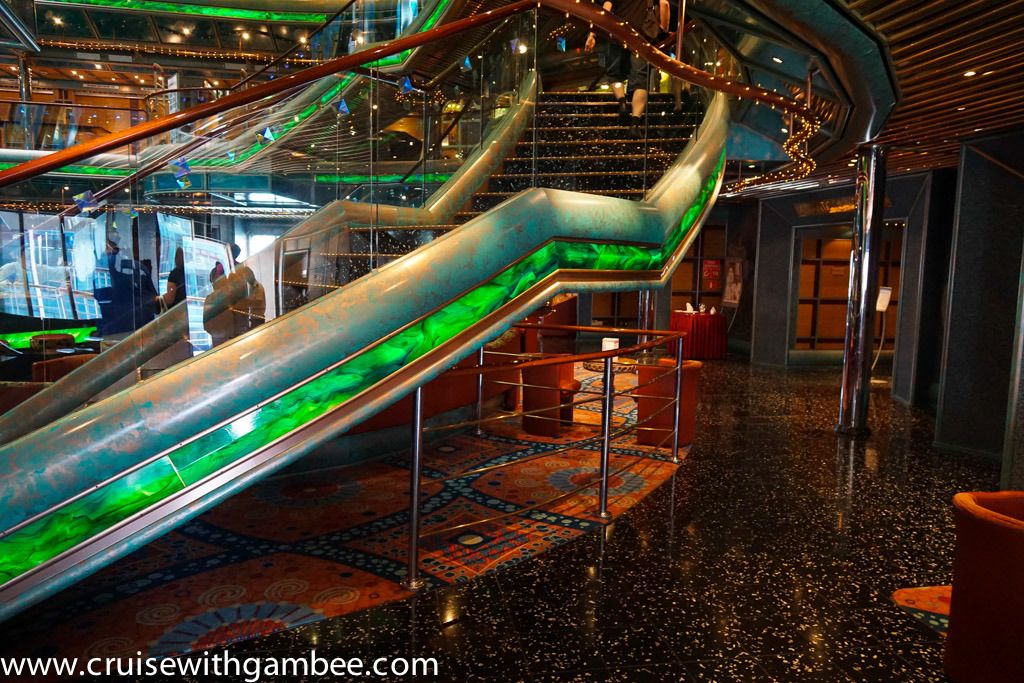 I knew what the ship looked like before boarding. To say that I was impressed would be a big lie. To be honest it is overwhelming, and not in a good way. There was just too much going on for my personal liking. But it was equally expected. I really like the way that Carnival is now decorating the ships with Vista and the Breeze, much more than the old vessels. But like my grandmother used to say, hey you're not buying it, so why worry about it.
We immediately agreed to head to the buffet as we usually do. Everyone was fairly hungry and I was particularly eager to check out the buffet selections. After all, my Breeze cruise offered some of the best cruise ship buffet food that I have ever had. And even if the Victory did not have the 2.0 upgrades, I was expecting a fairly good buffet.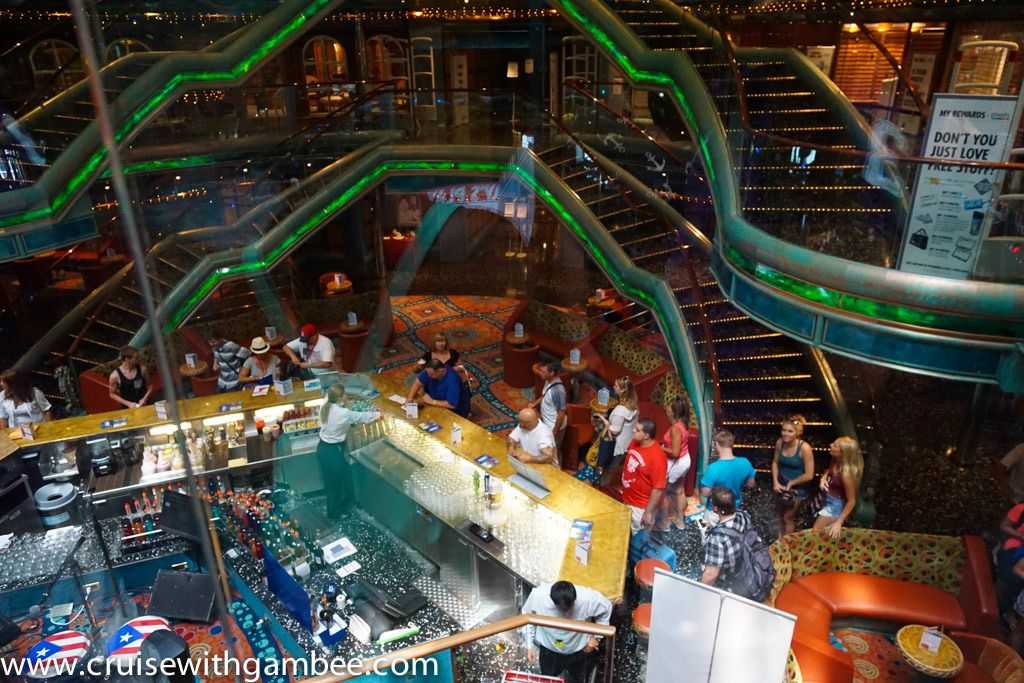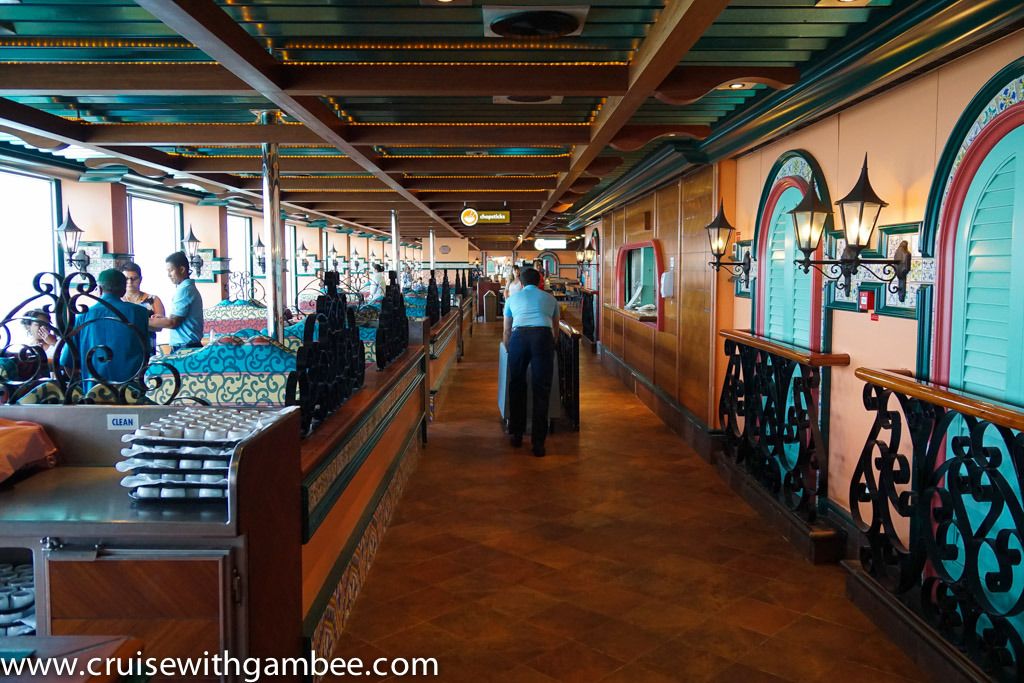 Look at that beautiful line, you will see plenty of them!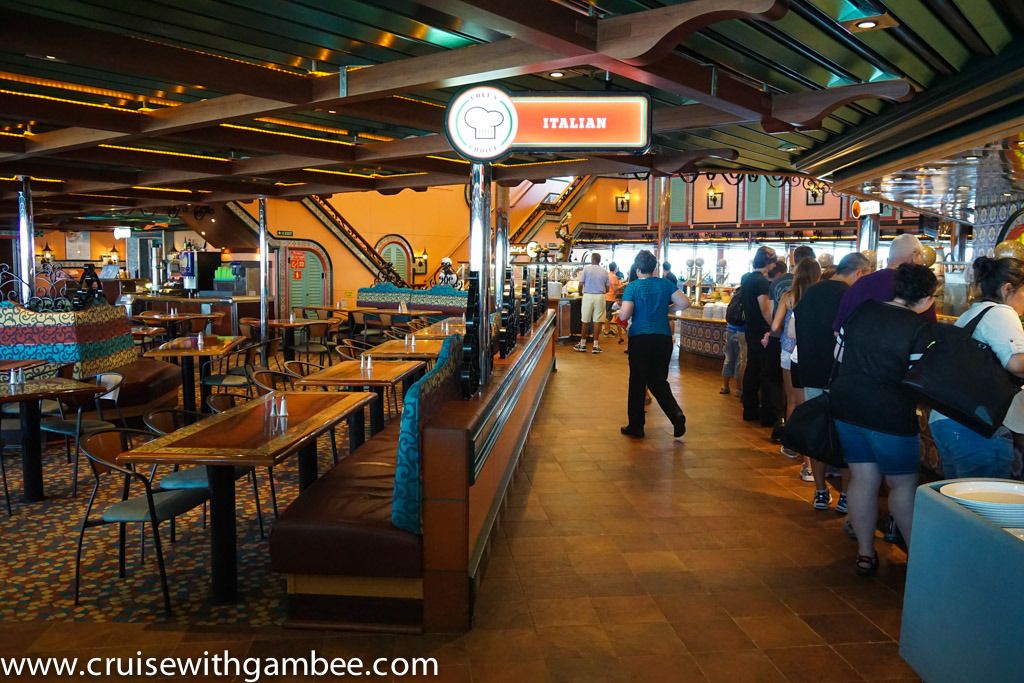 Second floor of the buffet.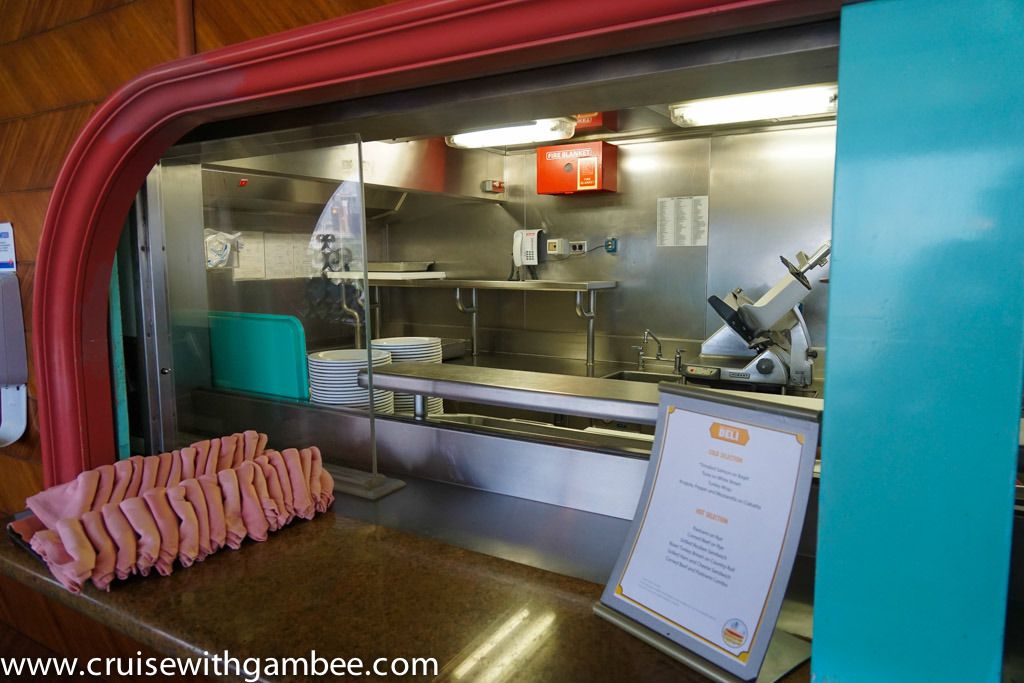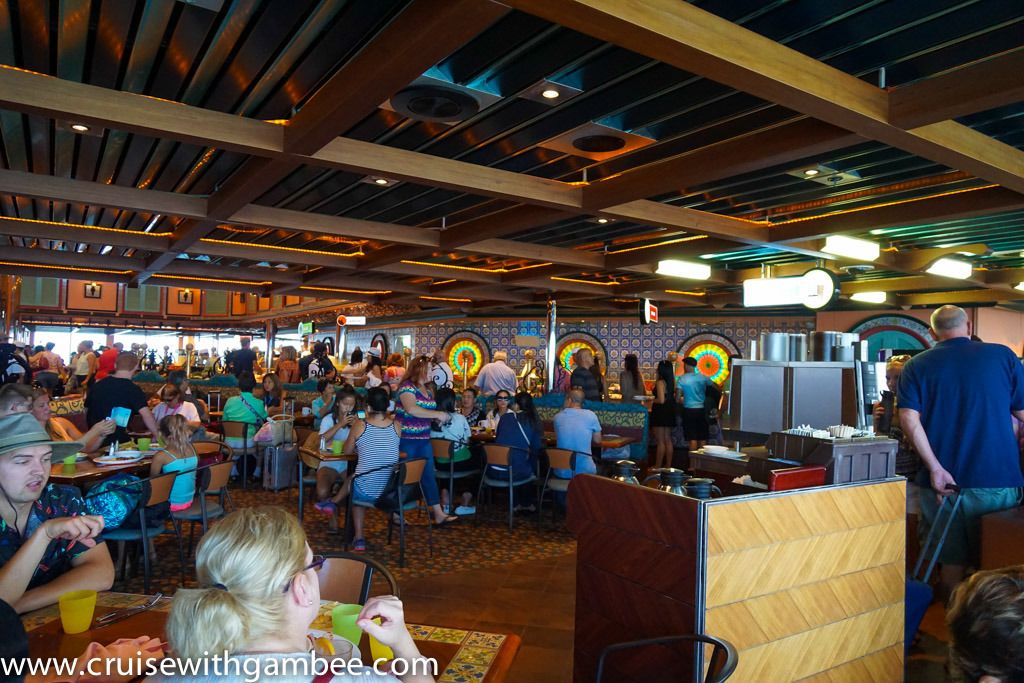 Always remember that there is additional seating upstairs if it gets too busy on the main deck.
Ok, so let's approach the buffet. I will do so with ease. The buffet itself is just ok. The food is good for the most part, everything is tasty, without being overwhelming in flavor and spice. The main issue with the buffet is the setup. Get ready to wait in line, because this will be the trend in the Carnival Victory. I wanted to call it the line ship. My personal recommendation is to get there early when the buffet opens to avoid lines. Personally, I do not do lines. I rather not eat than go on a long line. Maybe this is why I was able to maintain my original weight. Several times I wanted an extra slice of pizza, but I decided to forgo it just because of the line.
I think the core issue is that they have two large setups for everything. So for example, if you want an apple, you have to get on the same line as the person who wants chicken. The only items that are separated are the pizza, chop sticks, desserts, and grill. The pizza line really gets to me. This makes absolutely no sense whatsoever. Expect to wait in line anywhere from 10-20 minutes for a slice of pizza. This never happened on the Breeze. They should just add one more person there, and that would cut the time in half. There is always one person there, and two at peak times. It seems to be a shortage in personnel or something like that. By the way, the pizza is KILLER, SIMPLY AMAZING!!! Which makes it the more irritating that I have to wait in line for so long for a damn slice!
Expect the same line in Chopsticks. The food there is hit or miss, some are really tasty and some are just blahhhh. The only stations that you can access with ease are the dessert and burger/hot dog/fries station.
I will build more on this topic as the review evolves. I am releasing way too much information too early.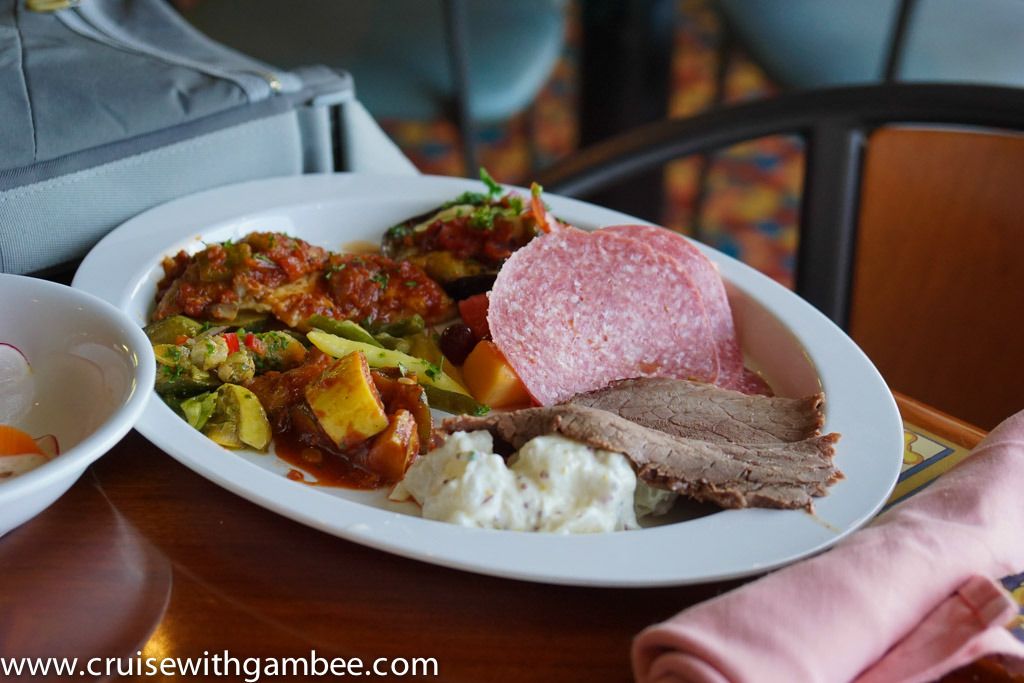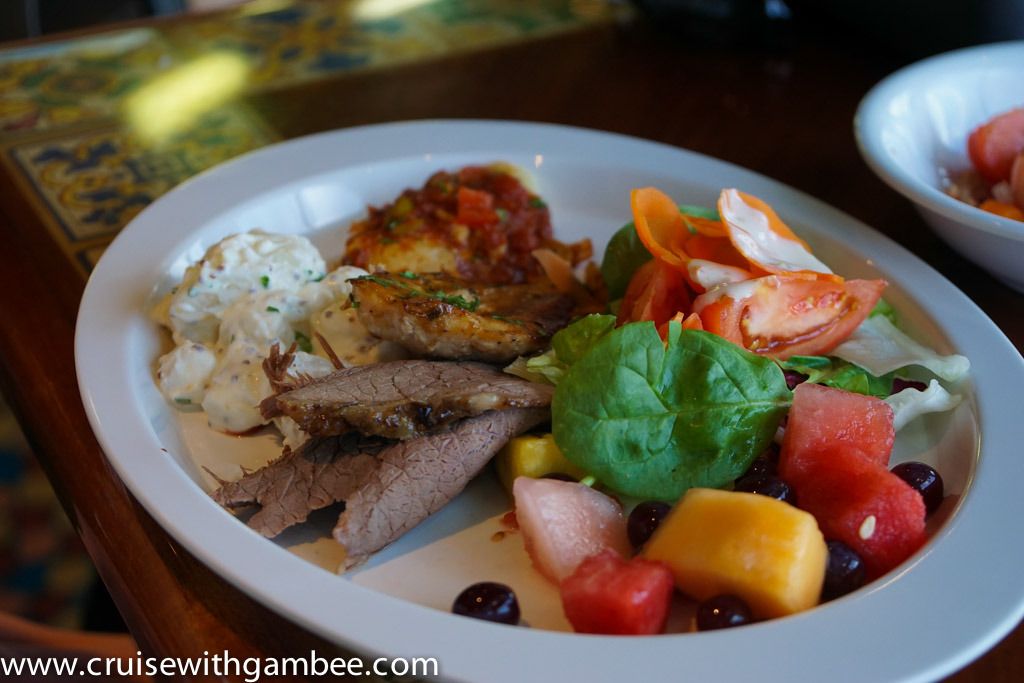 My uncle ready to dig in. For the life of me, I will never understand how he is able to mix everything together like that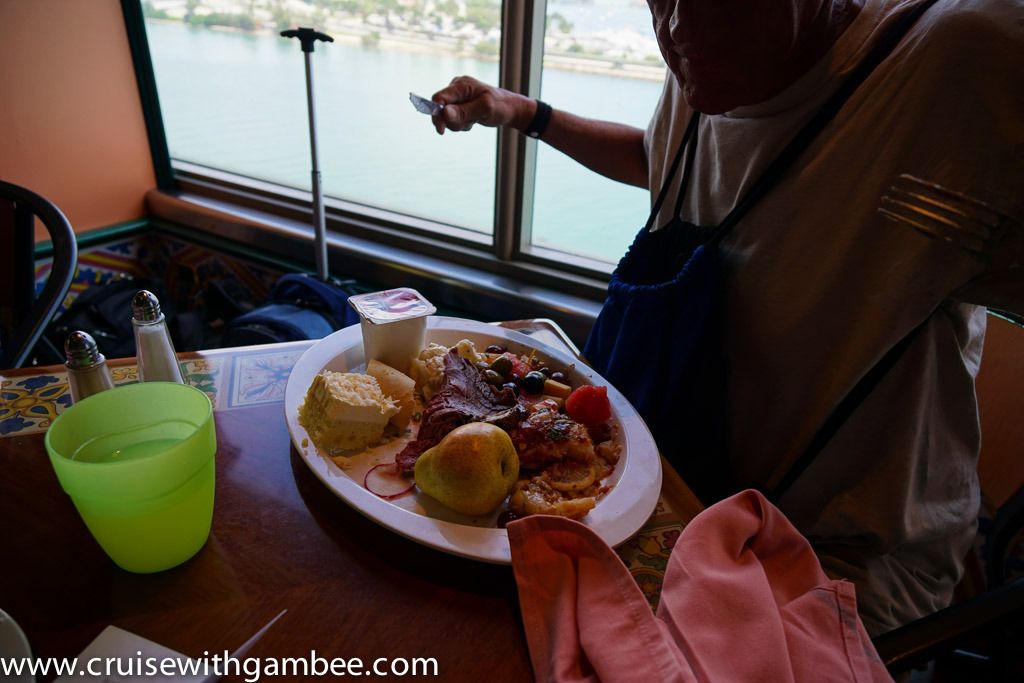 And here is mine, I got a smoked salmon and creme cheese panini. It was excellent!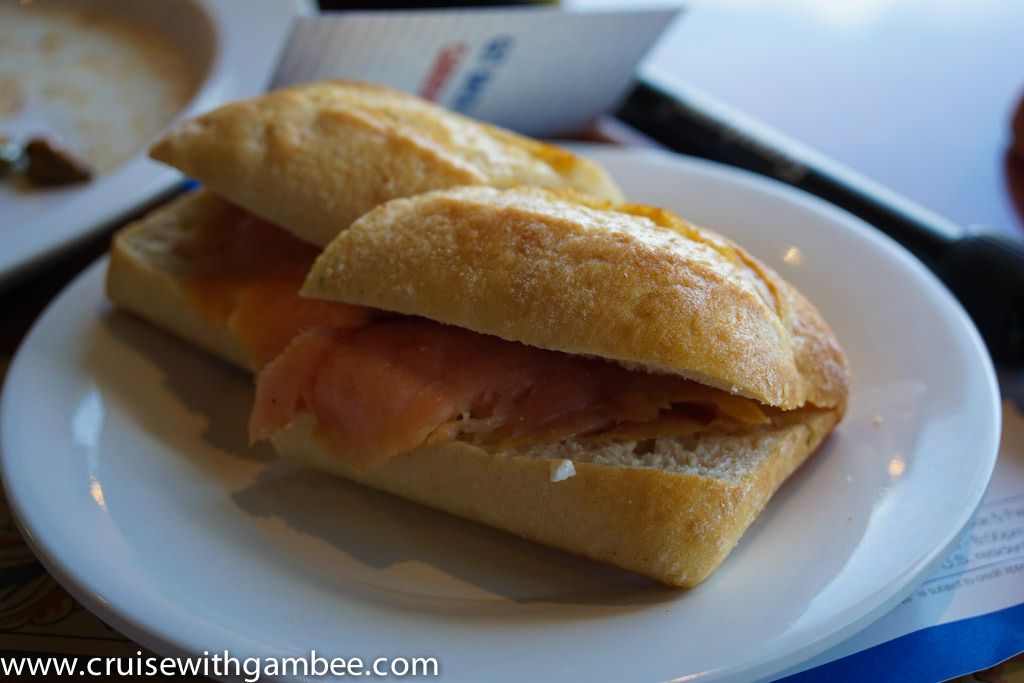 Food from chopsticks, fried rice, some seafood and some noodles. It was just, mehhh. I ate it, but this is not a restaurant I would visit at home again. It got better on other days, the soups, egg rolls, and beef stir fry were excellent.
While they talked a little, I decided to head upstairs and take a few pictures. I was there earlier when I went to check out if there was more food upstairs (there is not).