We then decided to hit the spa for a tour. We went through the lobby one more time.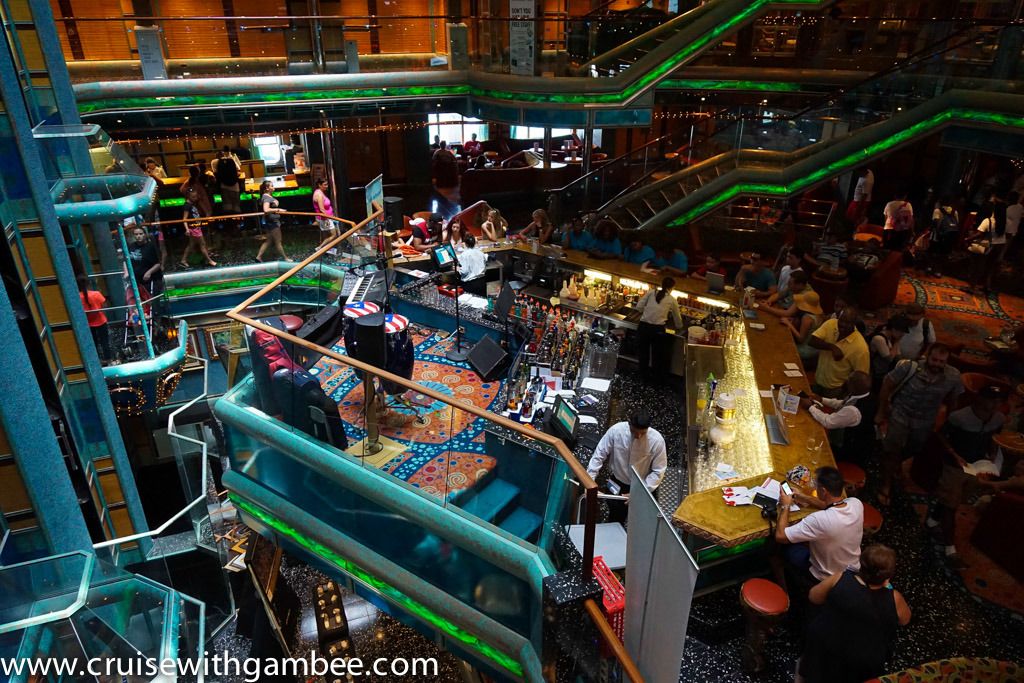 The spa is just ok. It lacks the pool and heated lounges. Keep in mind that the steam room and sauna are FREE!!! The only catch is that they are not unisex. I like talking to mom when in these places, so we did not go. But nonetheless they are free for everyone to use.
The Spa tour is unlike any other spa tour I've been on. It is usual that they try to make a sale on the tour, but this was different. They pushed it like I've never experienced. The tour was also much longer than the usual tour, and you were not allowed to go on your own. Well, it is not like I had known where to go anyway. As a matter of fact, that appeared to be a trend on the Carnival Victory. SALES, SALES, SALES!!! I'll get into it later on.
This treatment was supposed to take an inch of you by the end of it. I truly wonder if it is true, maybe they just sweat the crap out of you, and just walk out there completely dehydrated, and there is your inch
, LoL. Sorry, just my humor.
She looked like a mummy in there, and would not flinch for anything.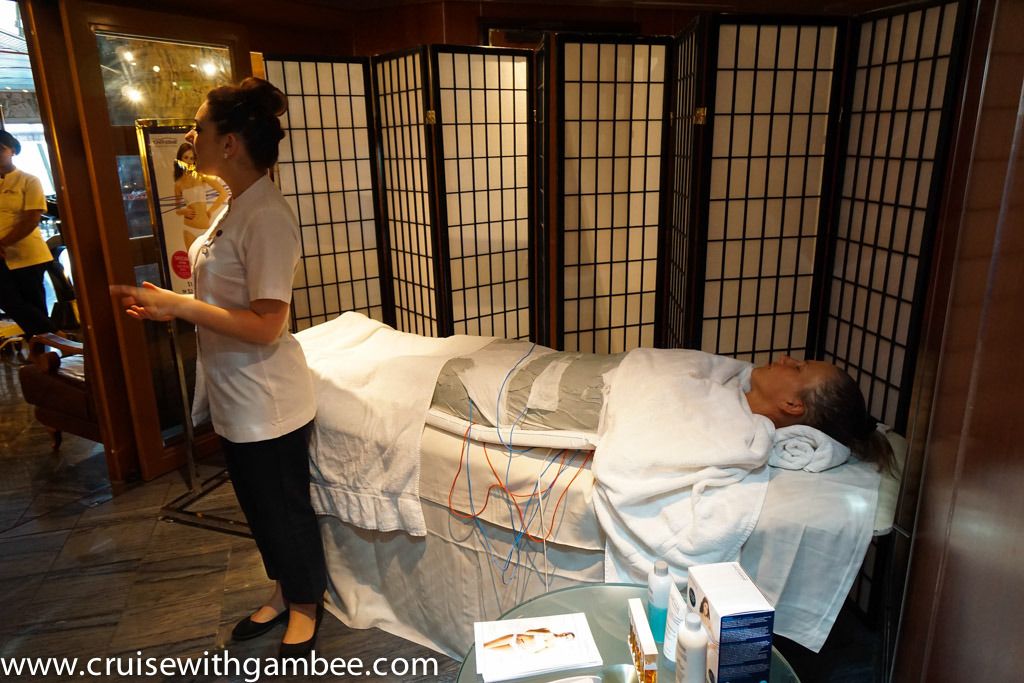 Another presentation, I think it was about haircuts.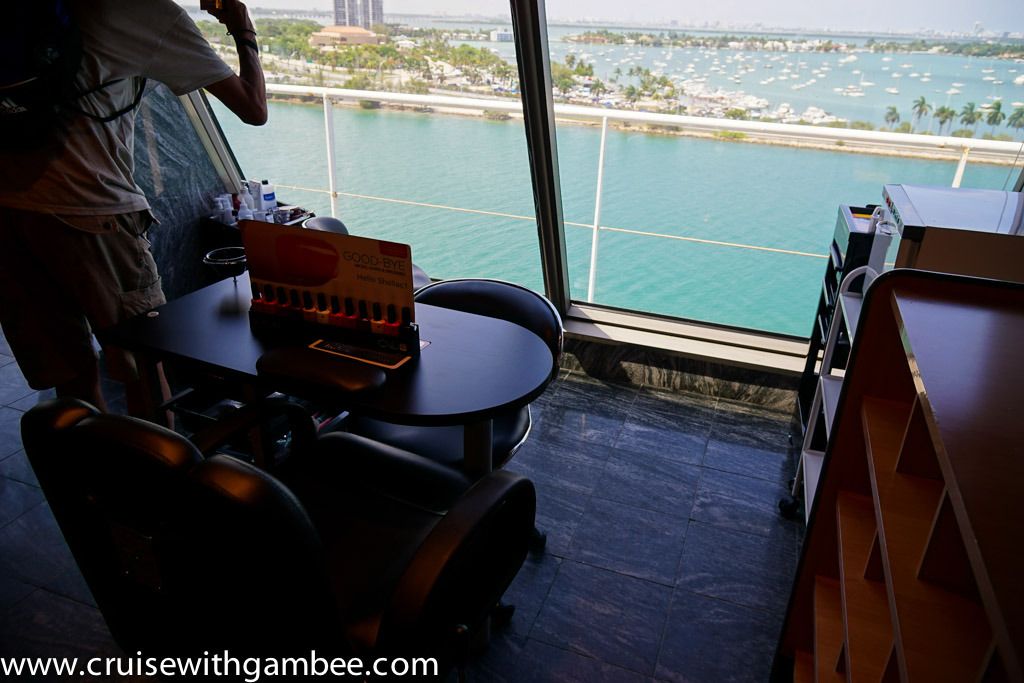 They also had a teeth whitening process. I was actually interested in this one since I am in the process of doing it. So far I am progressing a lot, and teeth are considerably whiter, but there is still room for improvement. I am still half way, so I am sure I will get the desired color once it is over. Carnival's product is said to be different and uses light instead of peroxide. She argued that it was painless and you would see improvement right after the treatment. It is just my personal observation, that any process that whitens in one application leaves in so much pain that you can't eat or drink for days (done it once and never again). I was not about to experience that on my cruise, especially considering that I had halted my treatment 2 days prior the cruise just to have no pain at all. In addition to that, it was around $250.
She also handed free samples for people to use, but then she says, "the product is useless without the light". Then what is the is the point? LoL. And there was my uncle applying it thinking he would have whiter teeth in minutes
. Kind of funny if you ask me
. She said it was so you could get used to the base product that works with the light.
It is kind of funny, because each representative finished their spiel with this "You better book fast because I only have 2 slots open…..) Ummmmmm yeah, sure, I am one of the first people to go on the tour and you're all sold out but 2 time slots
These chairs were lovely, and the view was even better.
Another demonstration of facials from a hydro dermabrasion machine that they use. They claimed the treatment could last up to six months. That I can believe, I've seen some people change dramatically. She said this one was different because of the natural collagen that they use.
We stayed there for an additional 5 minutes or so because one lady in our group showed interest and they wanted to reel her in
.
In the meantime, we had some of the naturally flavored water that they offer there. I can't believe I missed the picture of it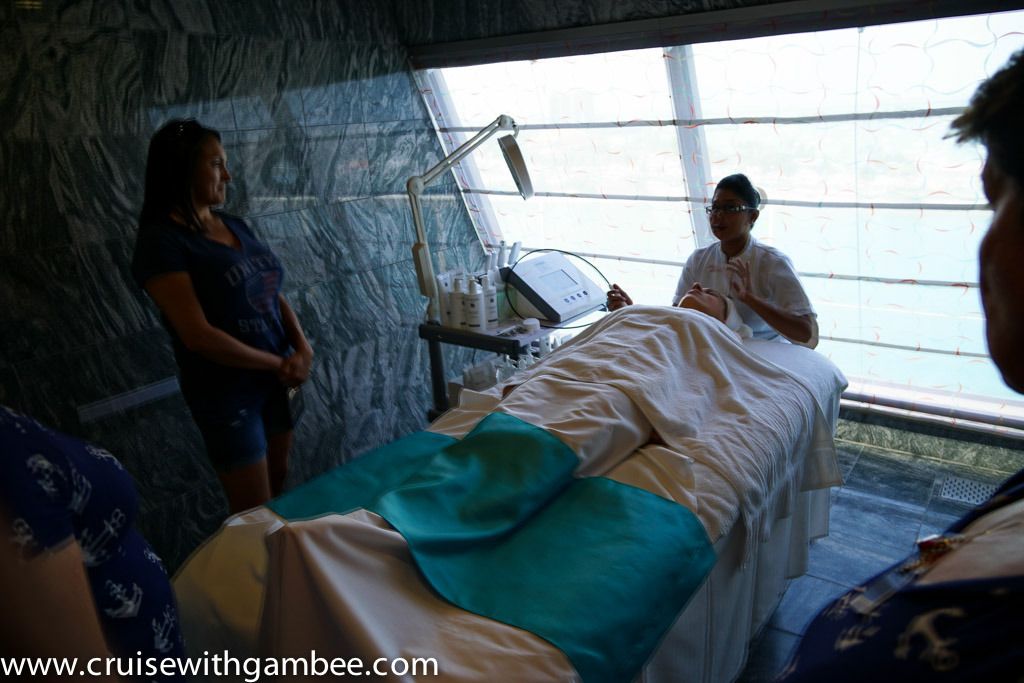 Ohhhh, I forgot they had a sale. If you booked more treatments, you got more off. They also had a bunch of sales on specific treatments. Like extended treatments, to half off. I forgot to mention that earlier when I attempted to visit the spa, before going into our rooms, they had a little meeting going on, and they asked us to come back later on.
Now this treatment was hilarious. They took one guy from our group. And out of all guys they took the most masculine person that would feel odd there. Please, for heaven's sake, pick someone like me. I am not all that feminine or anything, but you clearly tell that I would be more lax in such a situation. The barber started palpating the guy's skin, it was to die for, mainly because of his facial expression. He also kept asking him whether it felt good, and such. The funny thing was when he showed him the mirror and asked him if he could see the difference from one side to the other. I would be lying if I noticed anything different. He looked the same on both sides. Then the guy stood up and was on the verge of taking off, and he said you're not done. Then he proceeded to apply some cream under his eyes. Let it be said he was happy that treatment was done. On the other hand, I think I would have enjoyed that little sample there.
Then we went to the gym and even there they tried to make a sale. Actually, it was one of the longer spiels we heard. He tried telling us how we all walk wrong, blah blah blah. I know I am defective, but walking wrong? That is a new one for me. I've been volunteering in a physical therapy office for about 300hrs and no one noted this before. Now I am left self conscious with my new abnormality
That said, they had some pretty neat equipment there.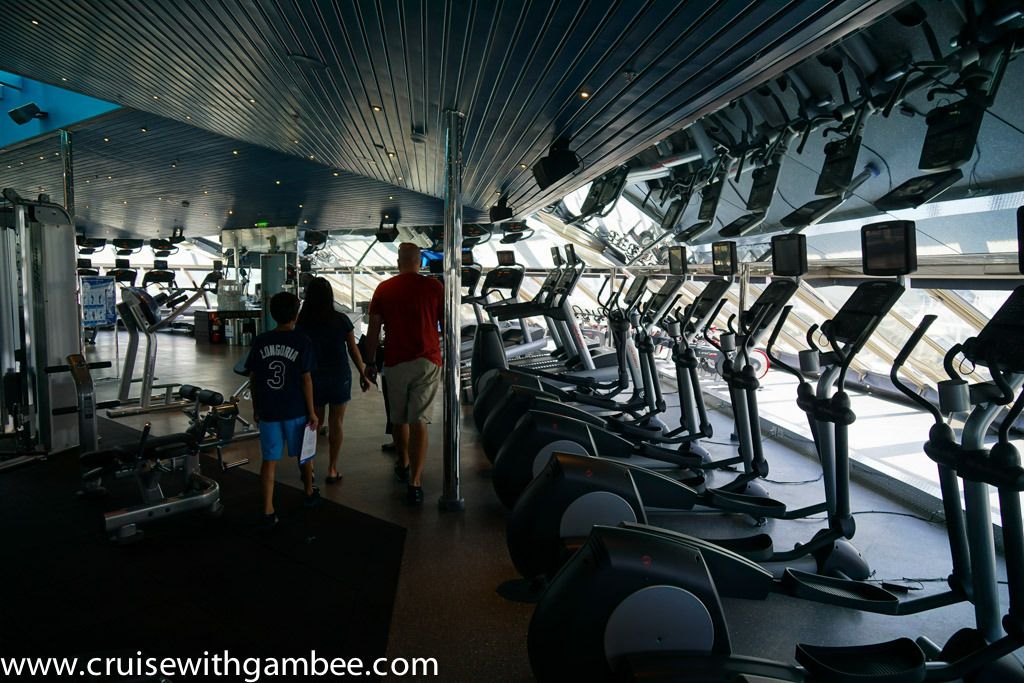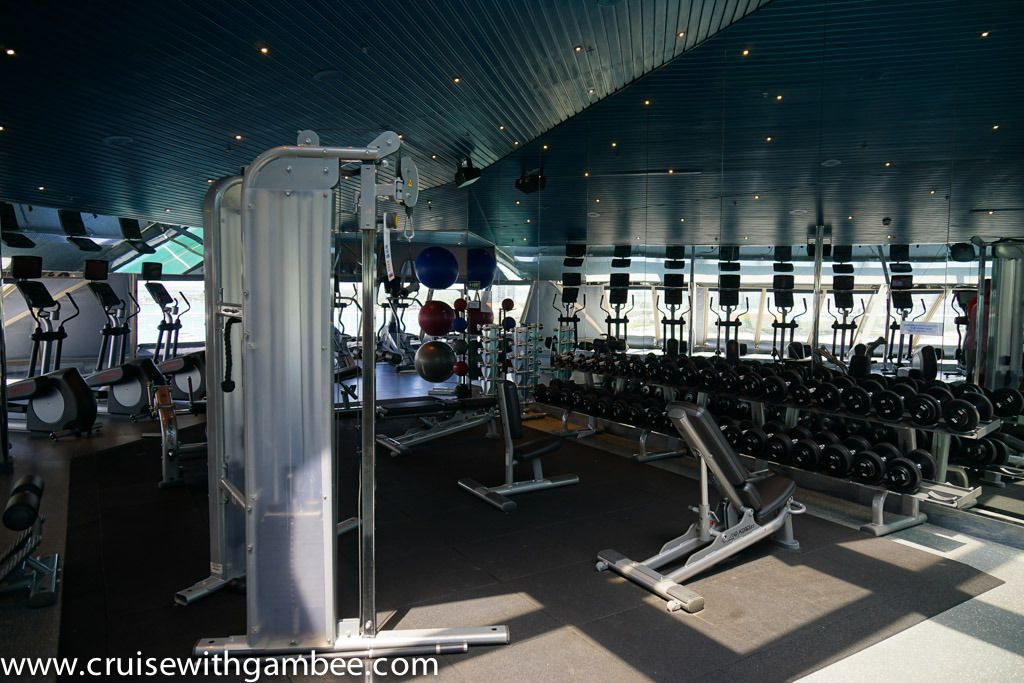 Of course, my family wasted no time to take pictures to send to Colombia as jokes that they came to the cruise to workout…. Hmmmm Yeah…. Not one of us stepped foot in that gym after the first day
. And yes, we were told to get off the machines, because they were not running and they could break.
Here is the footprint analysis section.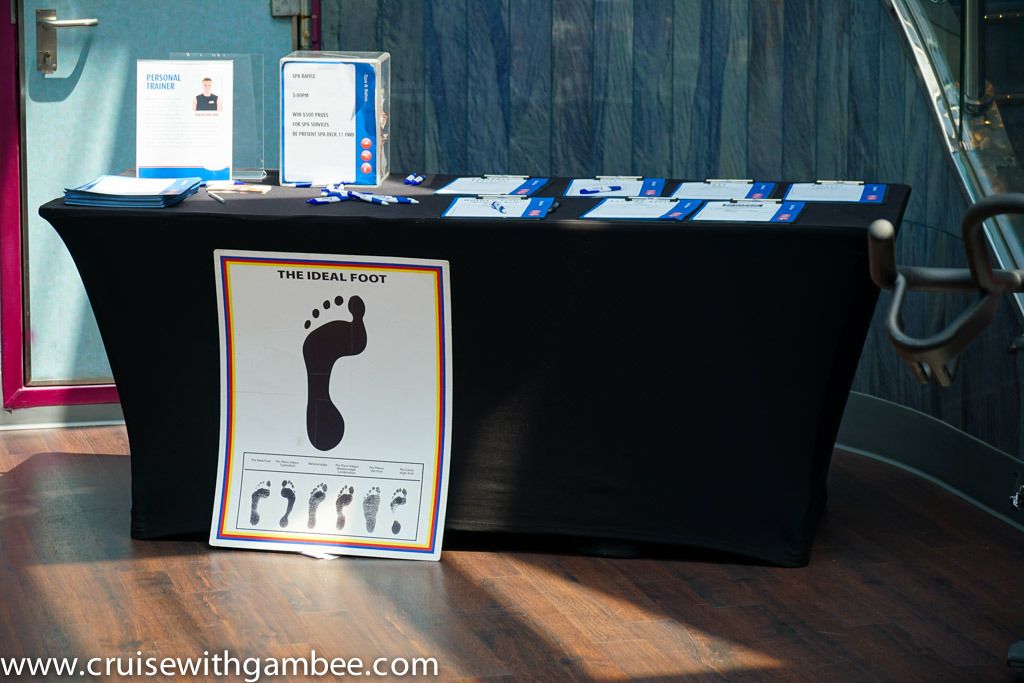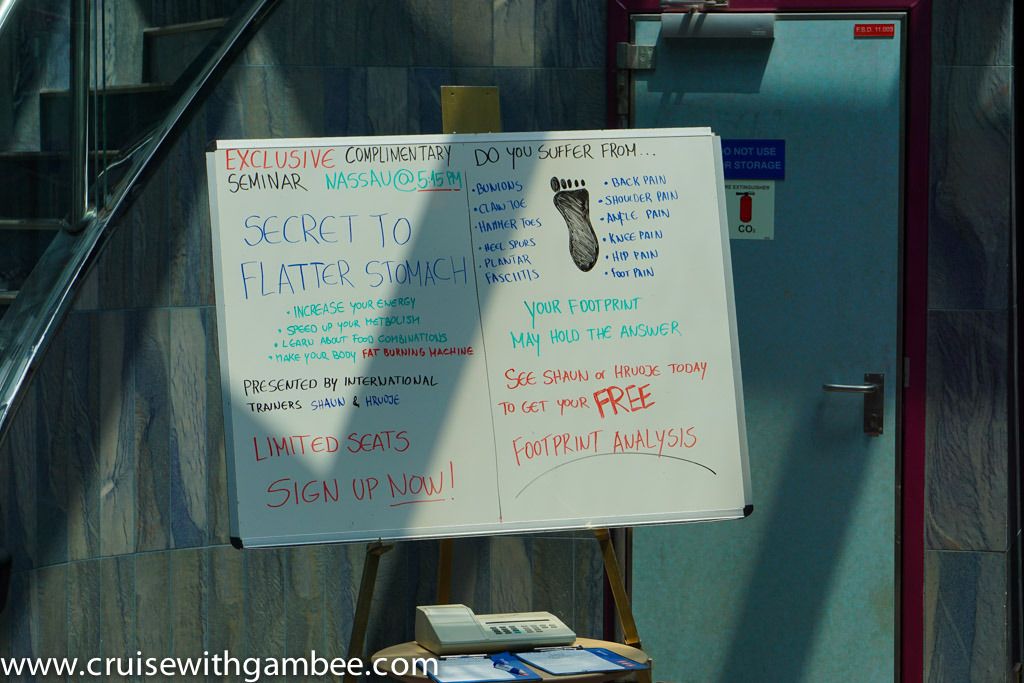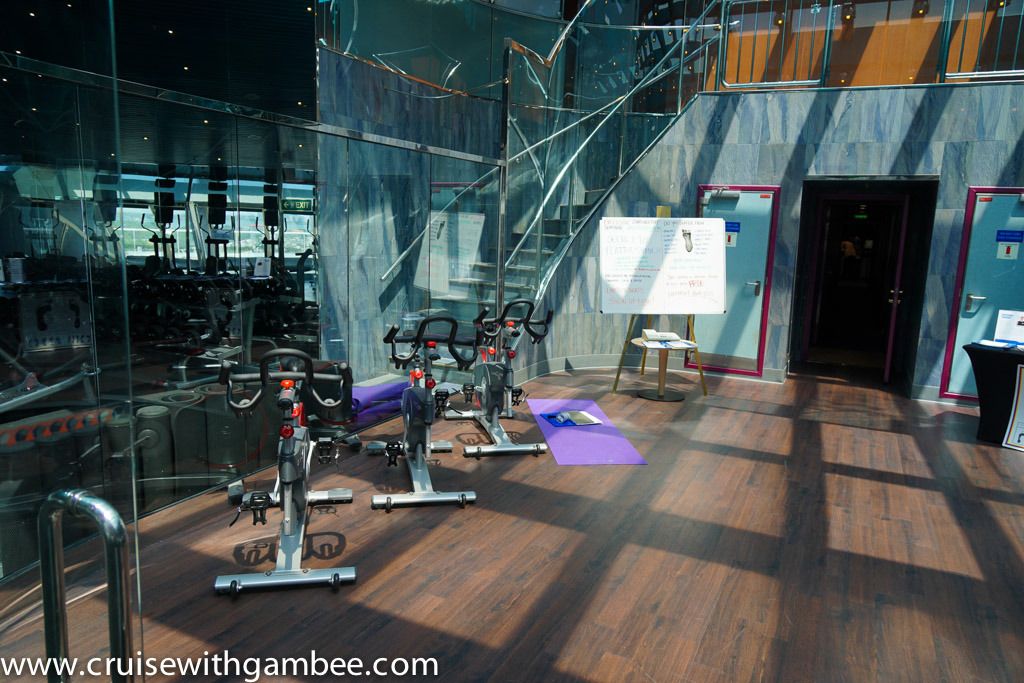 My family had pretty much had it with the extensive tour and decided to relax a little. The main issue is that two of them lack English, so these tours are boring for them. We kind of just wanted to go and tour the facilities like I usually do. But I understand this is part of their job.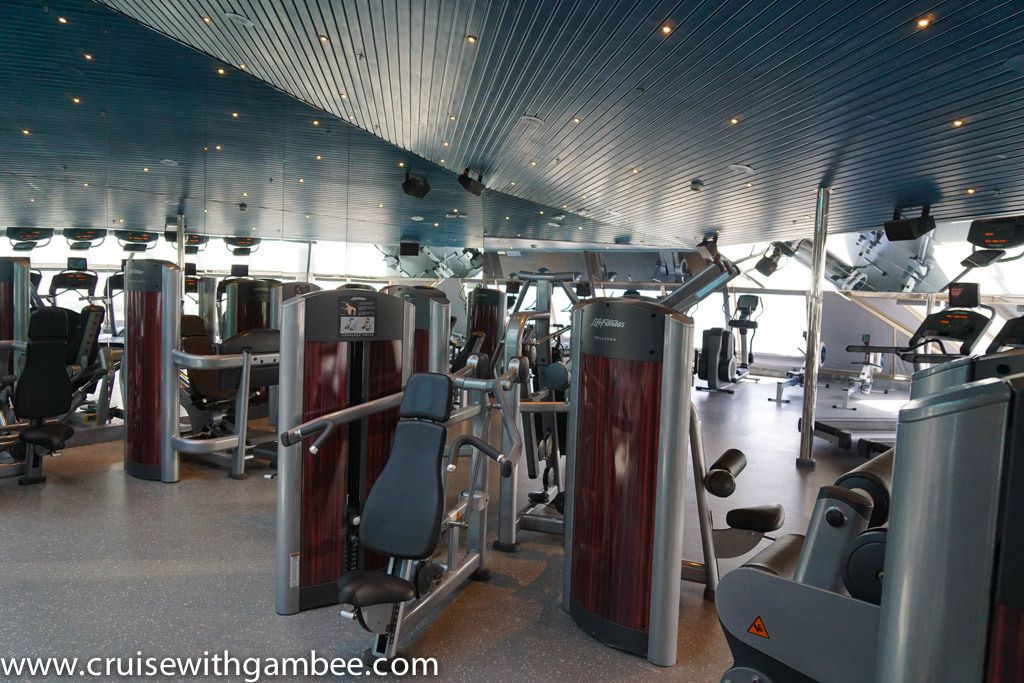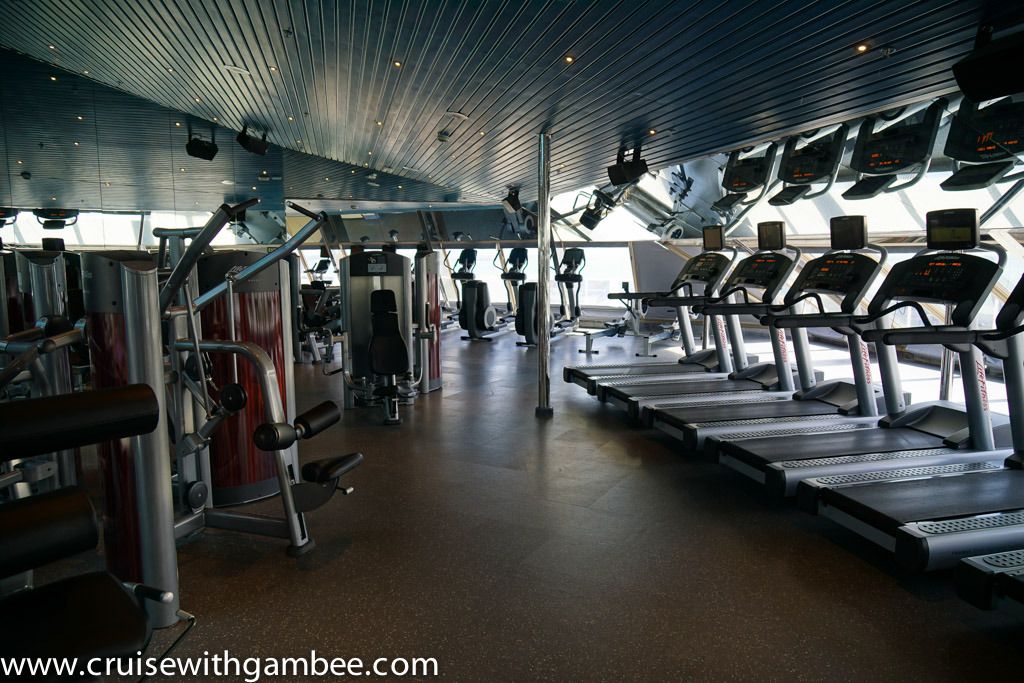 Those bikes looked really nice! They seemed like a recent addition.
After that we were given the little tickets for the raffles, we filled them up and dropped them in the box. We failed to go to the raffle, but then again that is just another event for sales. I attended one in Disney once and they are just looking to close sales. So I guess it was not a bad thing
Then we moved into the massage area.
First, it was a seaweed product that they wrap you in and seal you with some metallic paper. They do a sample on your hand just for tests. One thing that I like to note, is that they kept telling my aunt that all the treatments were great for water retention. She actually does suffer from it, and it is something that as you can imagine bothers her. Thankfully, her English is not that good and it bypassed her. Nevertheless, in a large group like that, and repeating over and over, is not a nice thing to do. It would certainly make me self-conscious. I did not discussed it further with her.
Then they took us to the lobby area of the spa and asked us to have a seat. Then they sample a few of the massage techniques that they offer. They all felt FABULOUS!!! OMG I found myself in haven, and actually so was mom. She was interested in the hot rock one, so I told her to get it and I would pay for it. But she declined. I think this runs on the family, I really love massages, but only from people that I am comfortable with, like my ex.
Oh by the way, all of those massages are great for water retention
The different types of tools used for the massages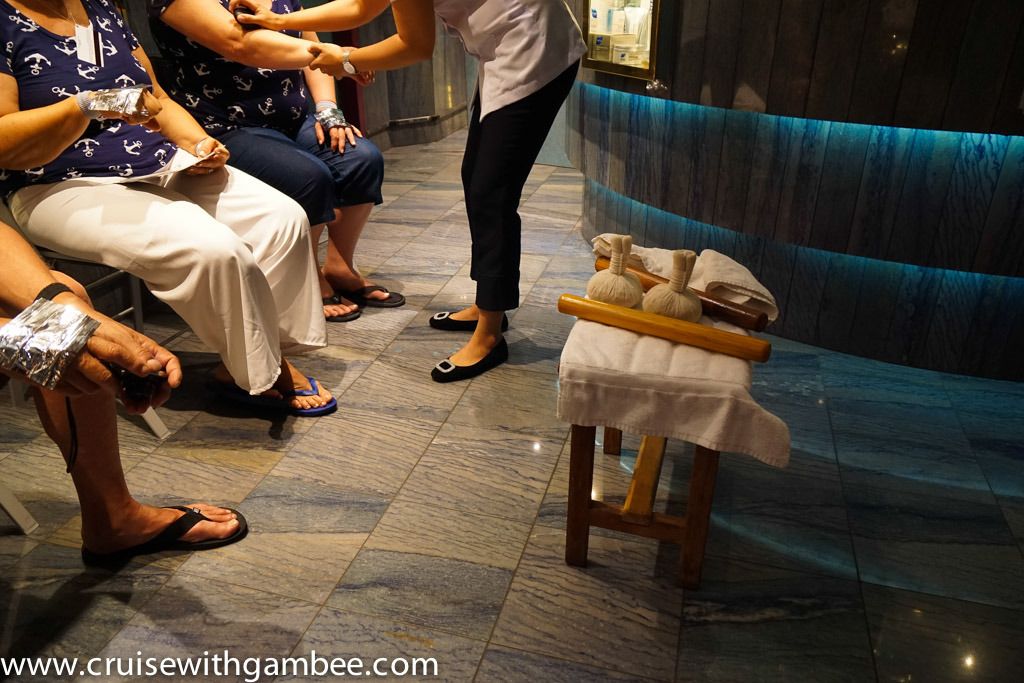 They really made an effort to close a sale, but it was a no go with this group. I played myself out of there, promising to come back with mom to pick of the massages.
After that we headed to Camp Carnival, I have to admit that it is one of the smallest I've seen. It was tiny! Good thing I don't have kids. I forgot to get documents of camp Carnival. We were just having a blast laughing away. I have a few of the other ships, on my site.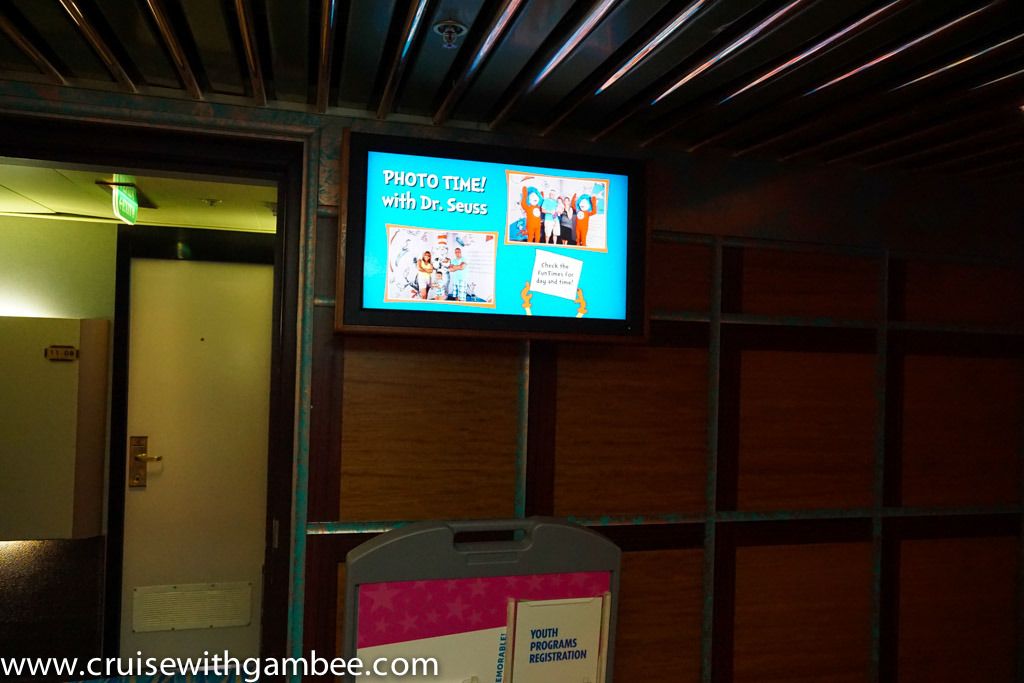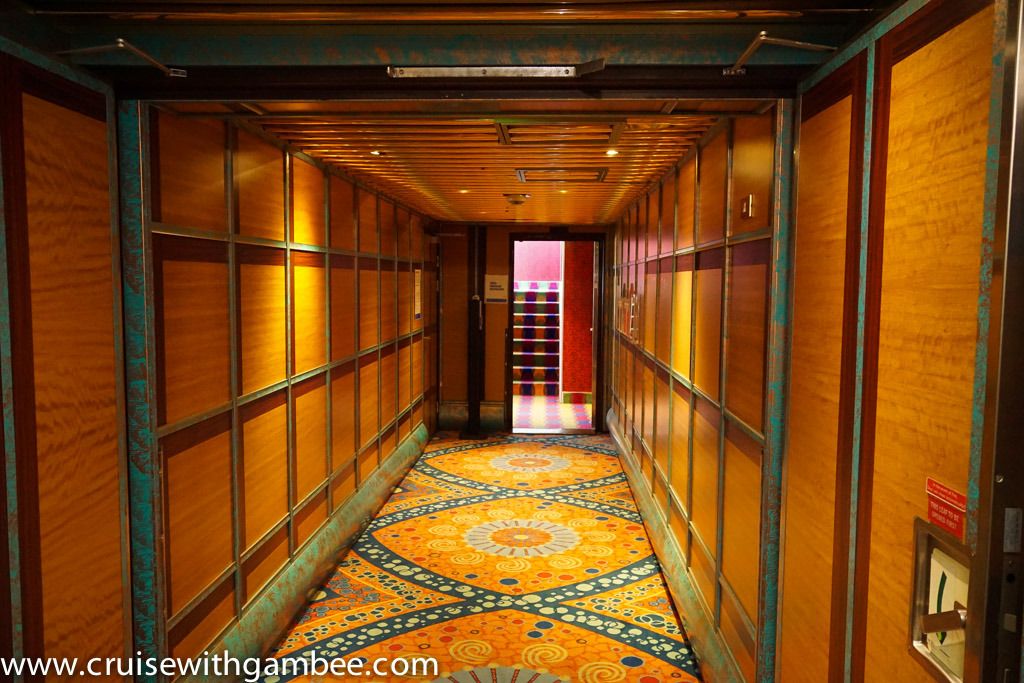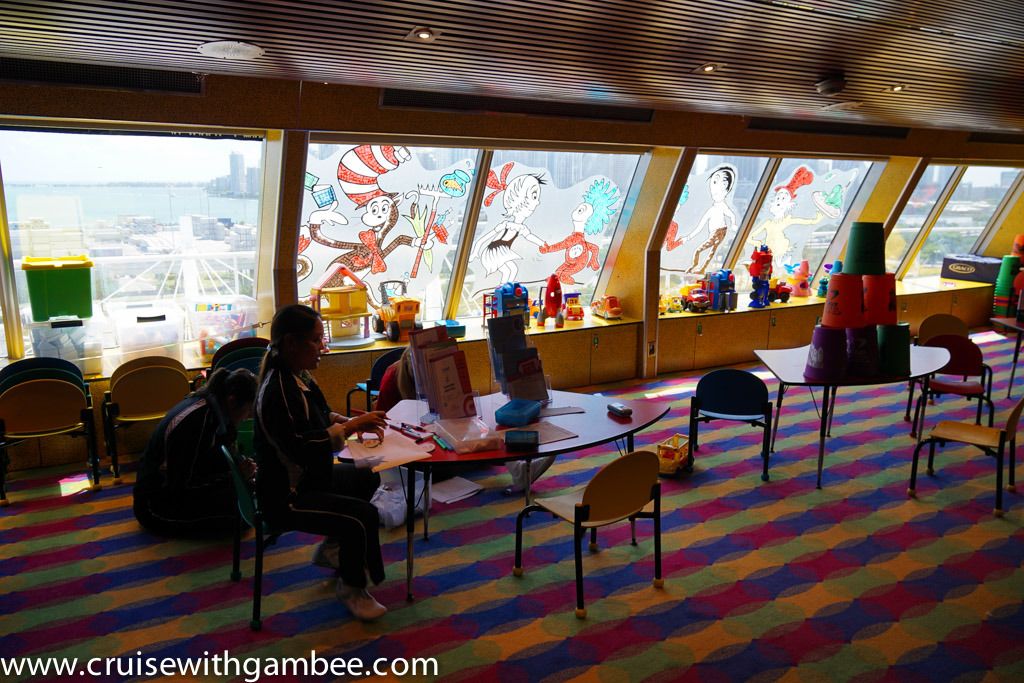 At least they have a nice view, unlike some other ships.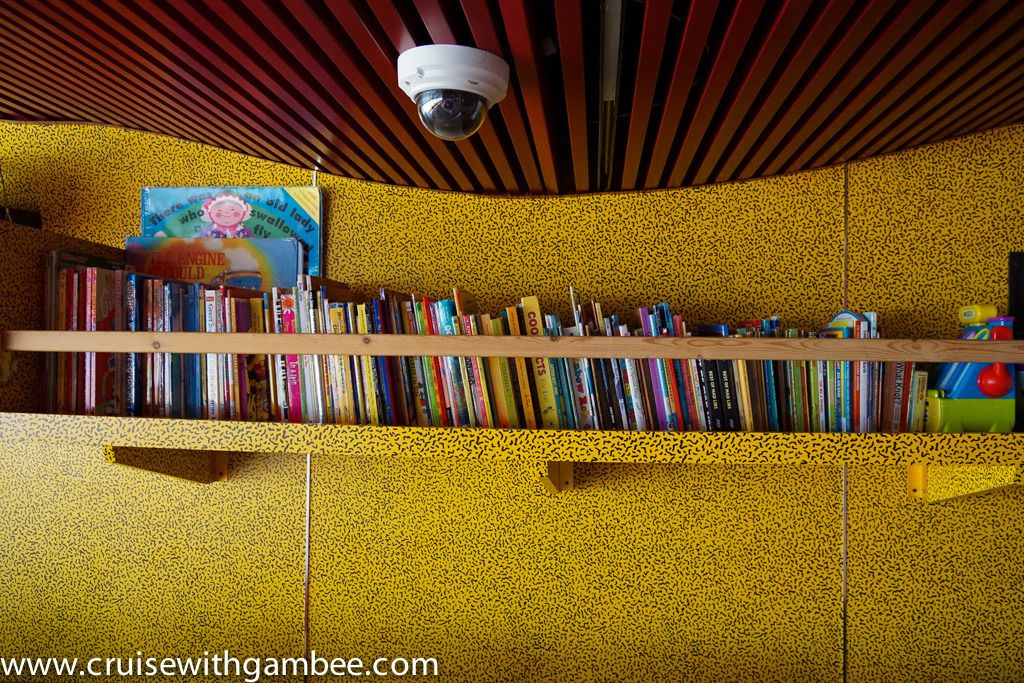 Right off Camp Carnival, you can head up the stair and end up by the kids pool. It was a really nice area. And why in the name of God, aren't the jacuzzis covered like this???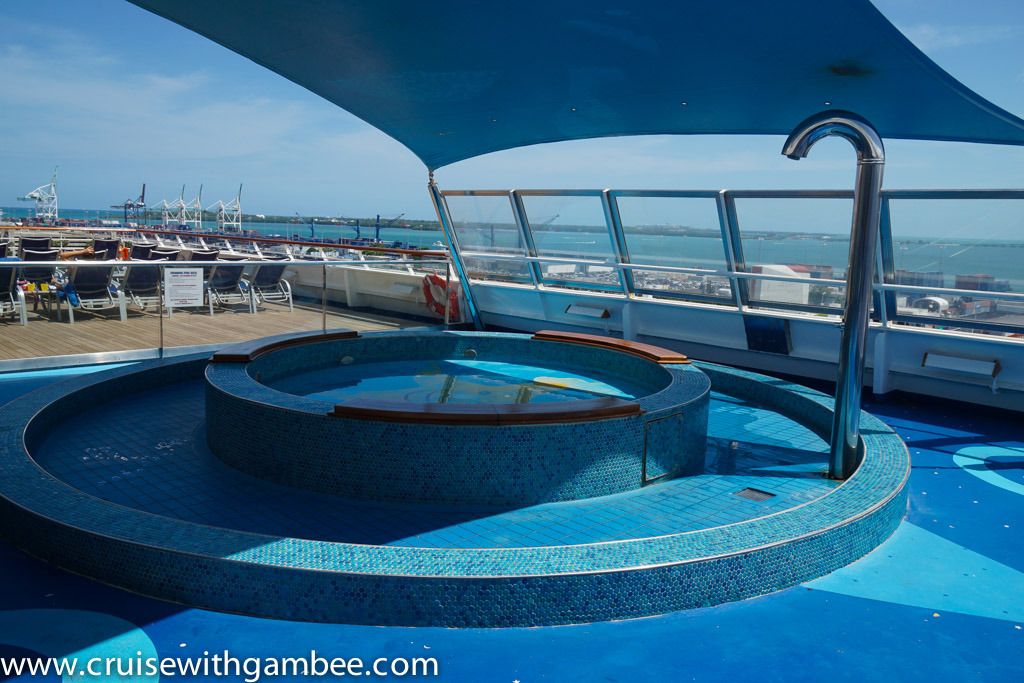 My uncle actually cleaned the seaweed there, he said his hands were a little softer.
After that we decided to head to the room to get ready, because it was getting closer to Muster. And who wants to miss muster? Right? Not me
, it is one of my favorite events of the cruise.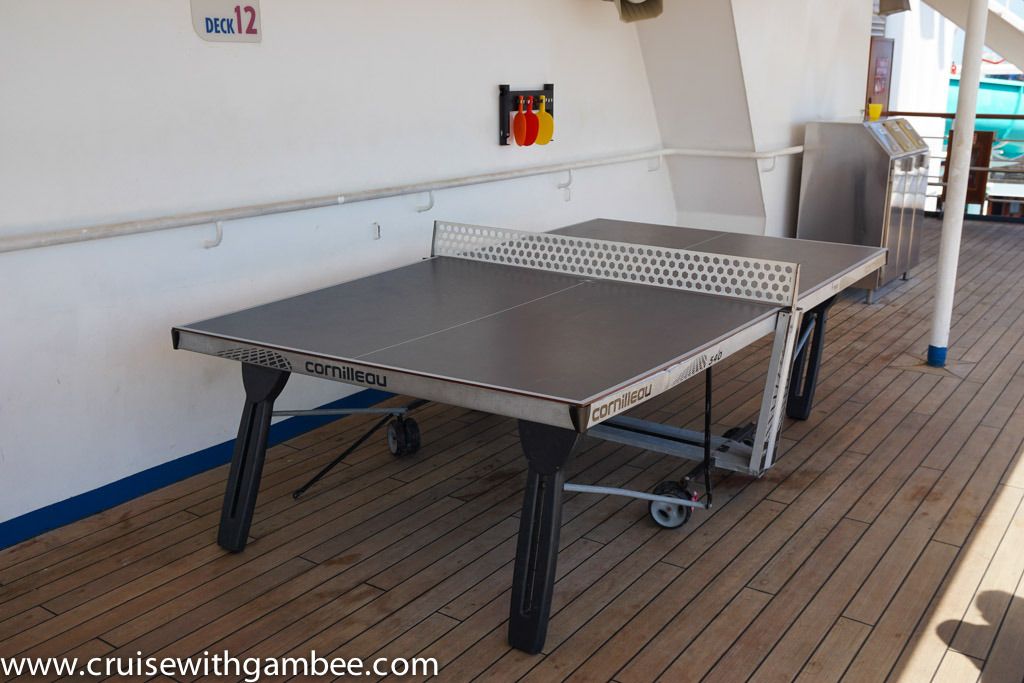 I love how the screen is always playing underwater videos.
My uncle dancing to the Carnival Victory Camera that can be viewed on the staterooms!
Anyone for Chess?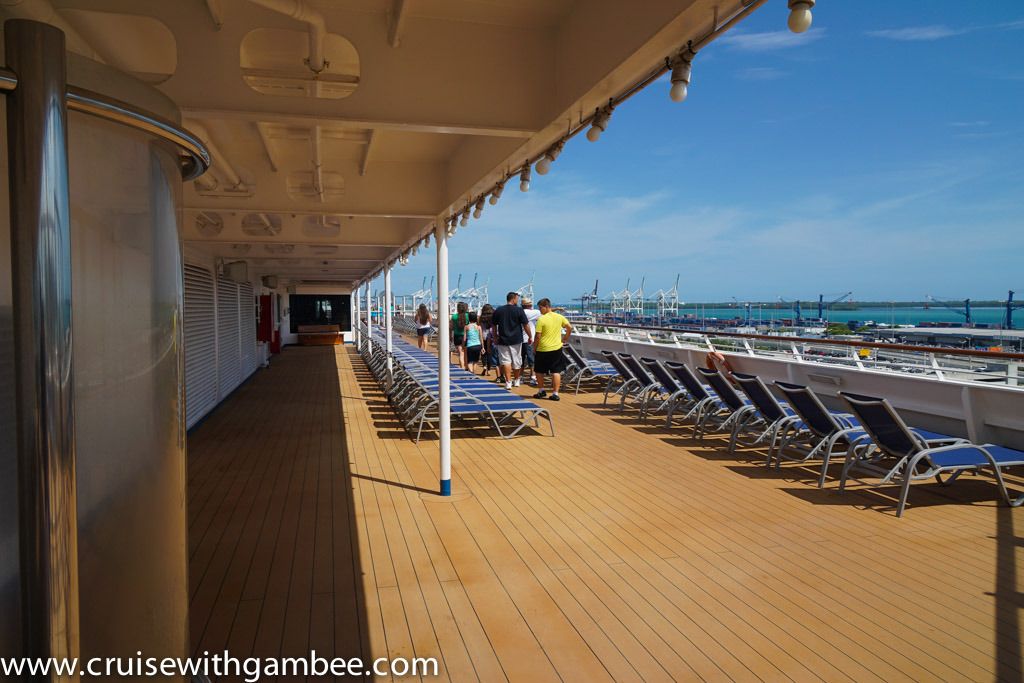 Classic Carnival picture
My uncle way behind as usual.
The aft pool ended up being our sanctuary, more on that later.