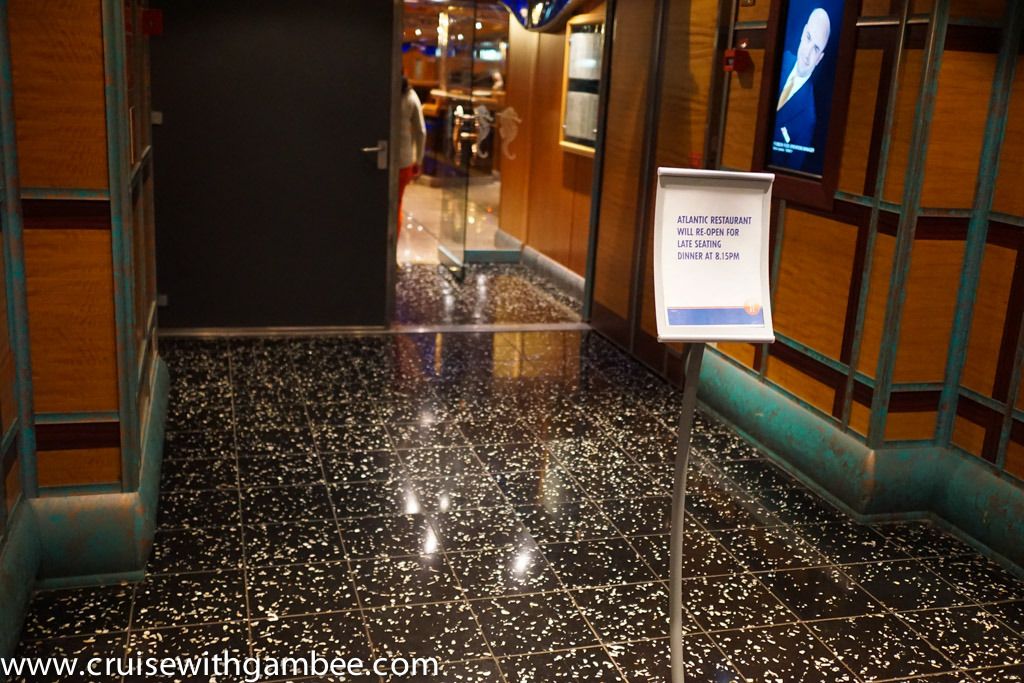 As much as I object to photographers, these must be a fun picture for a young family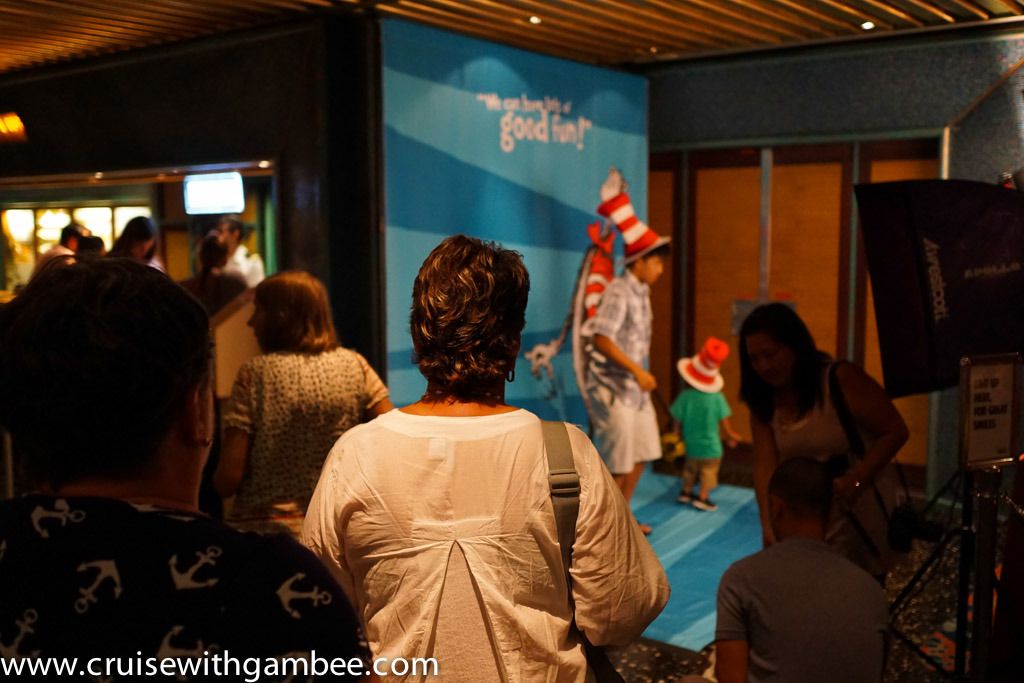 We then went into the MDR. I requested a table, mom then noticed the same eastern European lady giving us the evil eye. I know we defied their dress code, and trust me we paid for our mistake in embarrassment. But her attitude was totally uncalled for. I am not objecting of her working for Carnival, I just think she is in the wrong department. She shouldn't be in hospitality, she should instead be in security, she would be amazing there, cause I was petrified of her
.
We waited there for our table. I got a few pictures before sitting down.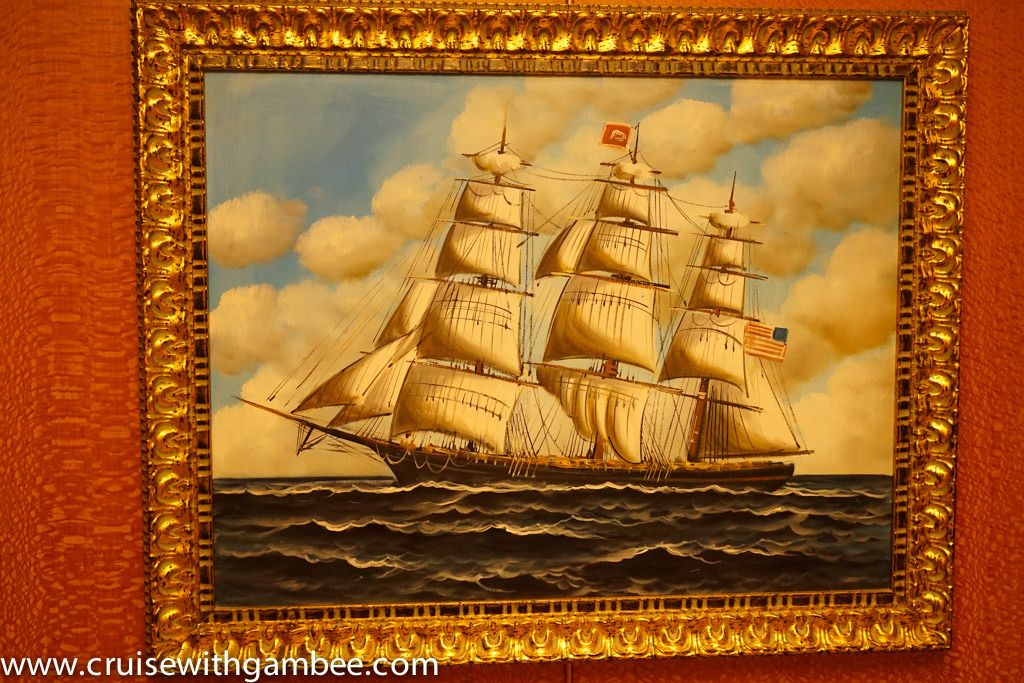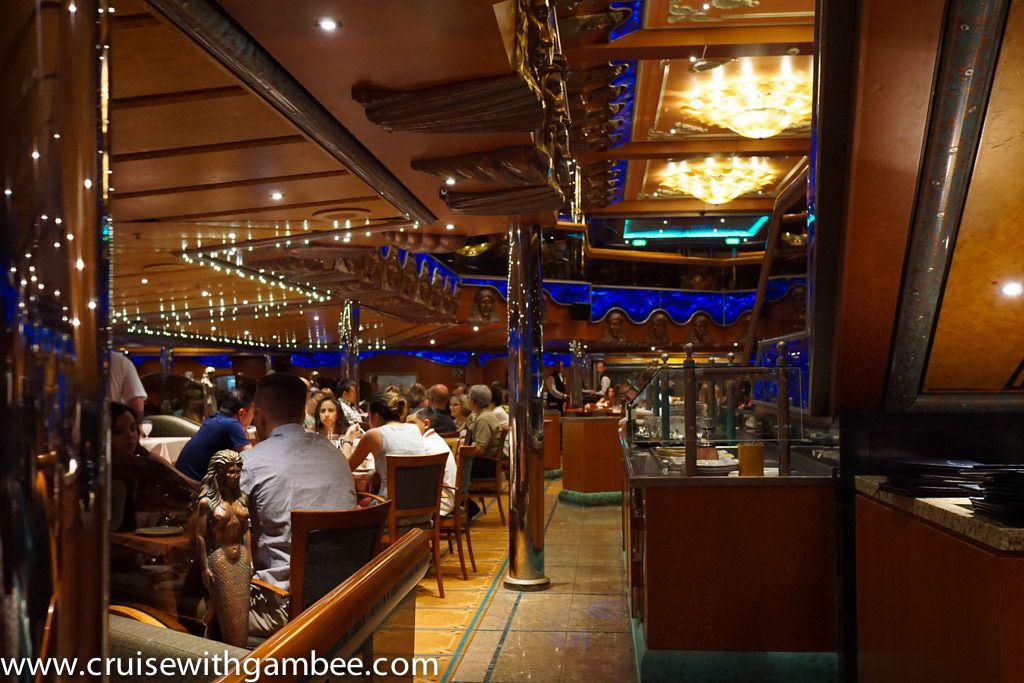 They were getting our table ready =)
We were sat promptly, and in the same section with the great server of our first night aboard the Carnival Victory. Everyone was pretty hungry by then, so we looked through the menu quickly and made our decisions.
Our server came over and my family each ordered their own food. I will glad to say that almost every server in the MDR at the very least understands Spanish. Some of them might not speak it, but they can at least take the order. That was a welcome change from MSC. I usually had to order for everyone.
This time around when he came to me, I ordered for both myself and my mom. Mom told me she wanted the steak from the everyday menu. But I felt really bad about the episode of the prior day, so behind her back, I ordered the $20 lobster with fillet mignon. By the way I recommend you order the full size lobster, and a everyday steak instead of the one I ordered. The $20 lobster is larger than the one I got.
So anyway, I was ready to order everything behind her back as a surprise. I had my card in my hand, and he came to take the order next to me. So in theory all I had to do was point at the dish hand him my card. That way she would not notice anything. So that is what I did, I told him my mom will have this. I pointed to the item with my finger and the card in the same hand. Then he goes "You know there is a charge for that", ughhhhhhhhhhhhhh, really?!?!? I guess, it did not go the way I wanted it to. I said yes, I am aware, I tried to play it cool gave him the card and he took the info. Mom said to me, no, I want the free one. I told her I ordered her the free one and quickly changed the topic. It could have gone better, but I understand that he had to clarify that. I can imagine that is a common problem.
The food came out prompt.
My shrimp cocktail, good, as usual.
Fried shrimp, really good! They were like a sweet and sour shrimp.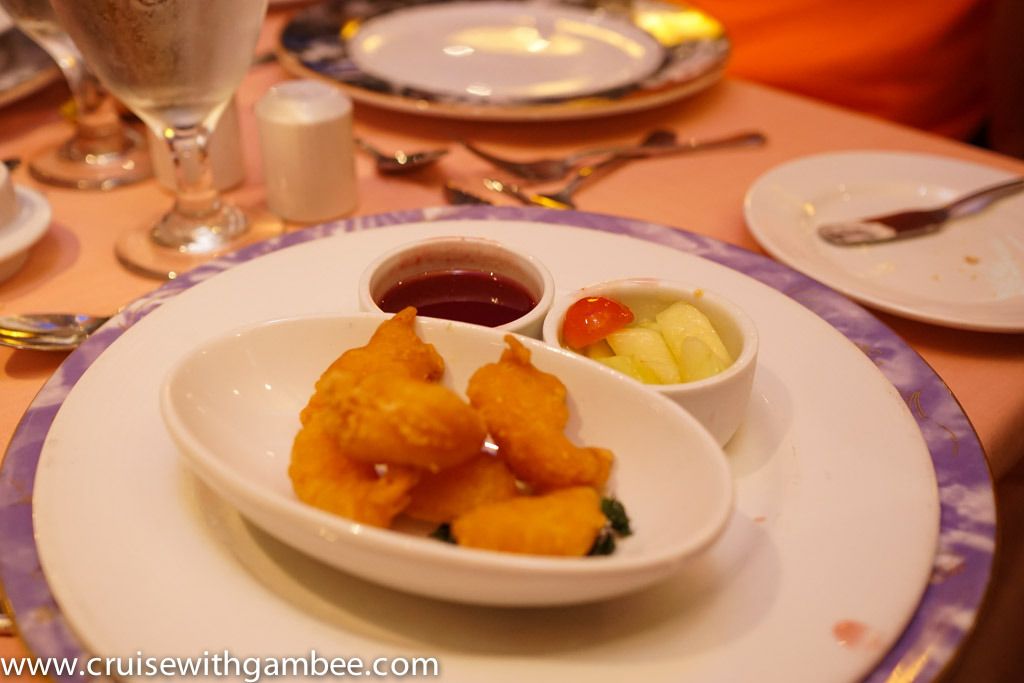 Some kind of salad. I cannot comment here as I dislike salads. Personally, I think they are for rabbits
And my uncle had a tasty chicken noodle soup
I ordered the "Grilled Chicken Breast". So I had a small issue with this. I am the kind of person who just reads the title and then moves on. If you read grilled chicken breast what do you think you get? I think some chicken and maybe steamed veggies. Right?. Well, here is what happened.
I am grateful that the table next to us had just gotten their food, and I noticed an amazing noodle dish in a cream sauce. But I saw it nowhere in the menu. Well, after reading, in more detail I saw it there. So I went ahead and ordered it. Just keep in mind to read the full description of the item.
Please tell me, who names a fettuccine Alfredo with chicken, as "Grilled Chicken Breast"?
That said, it was excellent! OMG those mushrooms, so savory!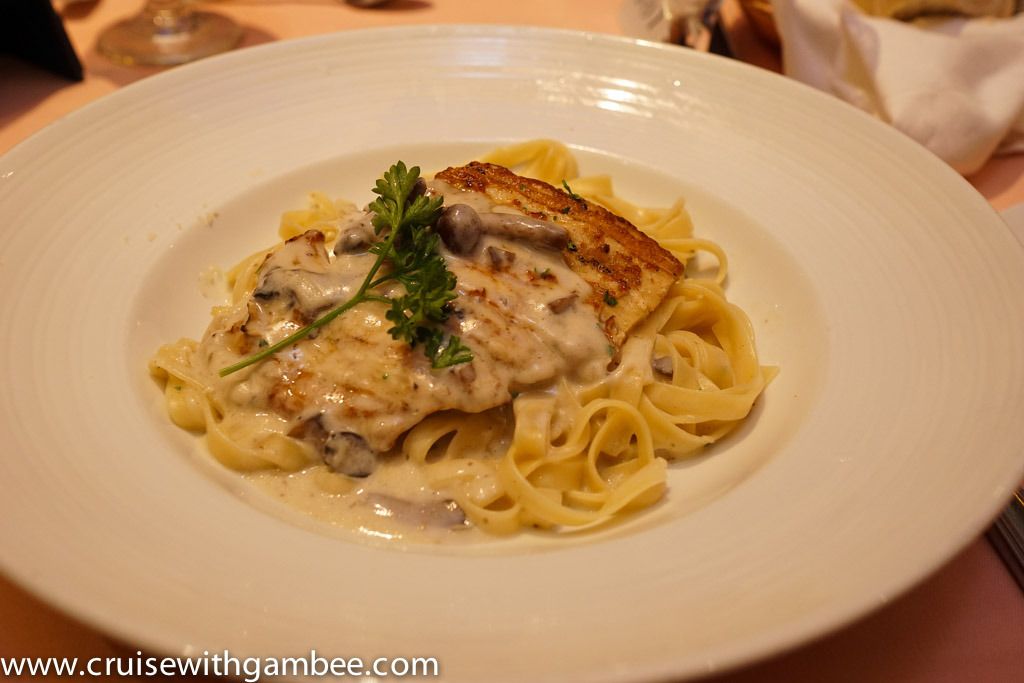 Everyday steak, good as usual.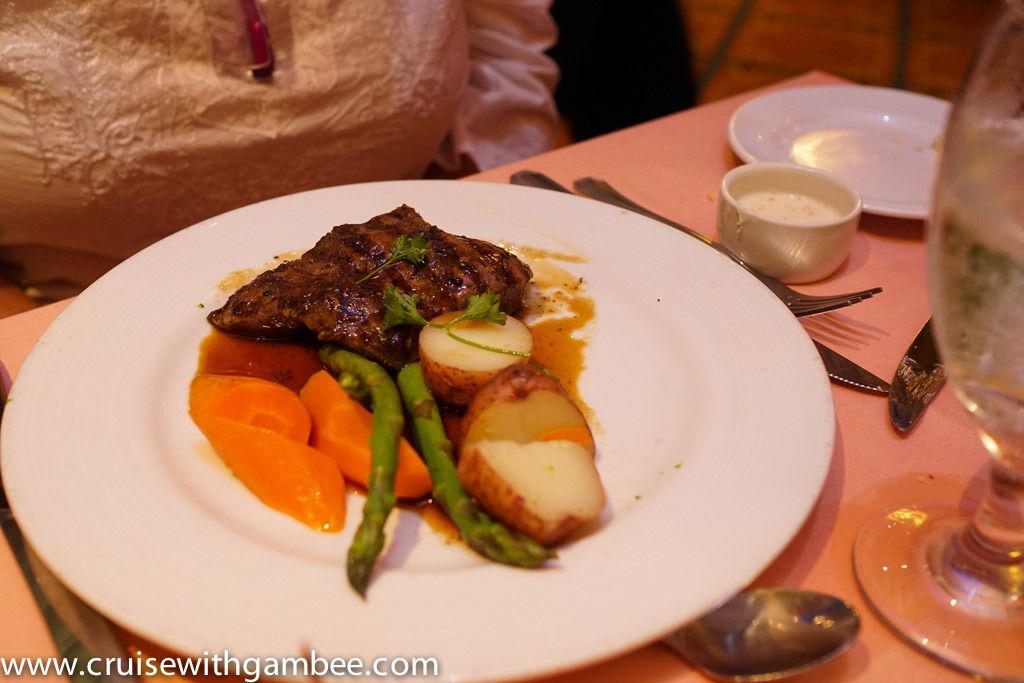 And shrimp tempura, good I guess. Can't really remember.
Here is the $20 lobster with fillet, mom says it was good. I tried some of the meat and it was nice and tender. Is it worth it? In our particular situation, you bet it was, she had to have her lobster! There was no way that my mom was going to go on a cruise and not have her traditional lobster, I would never have allowed it.
But on another situation, I don't think so. The lobster looked kind of small to me. You be the judge. Tasty though.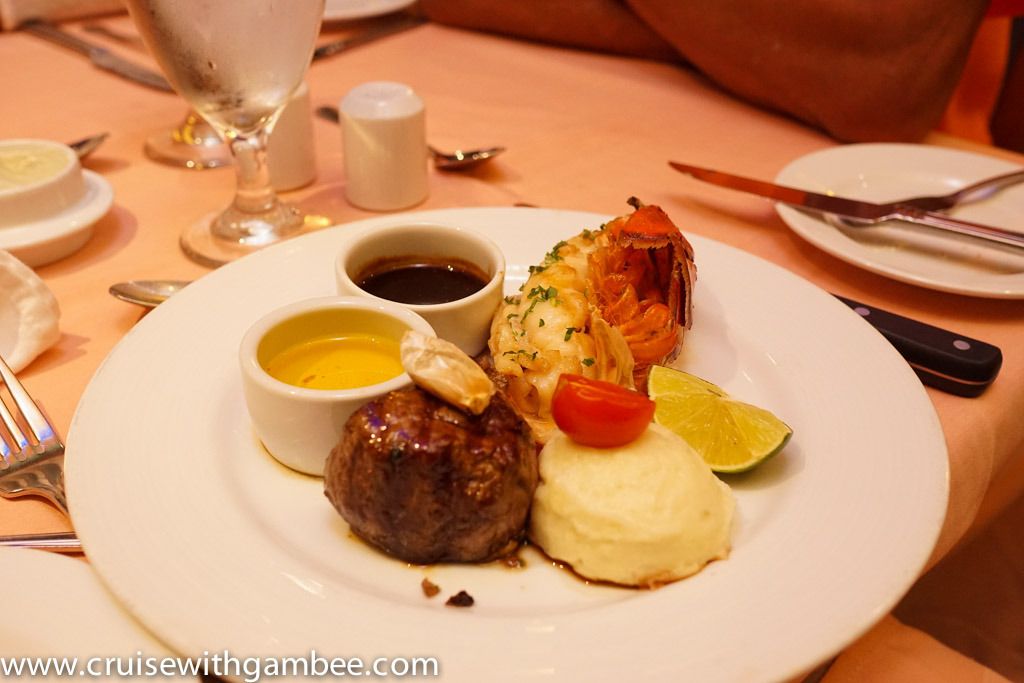 It was fun sharing the food pictures with the family in Colombia while we ate. Like I said, this is something we enjoy doing
The dessert menu.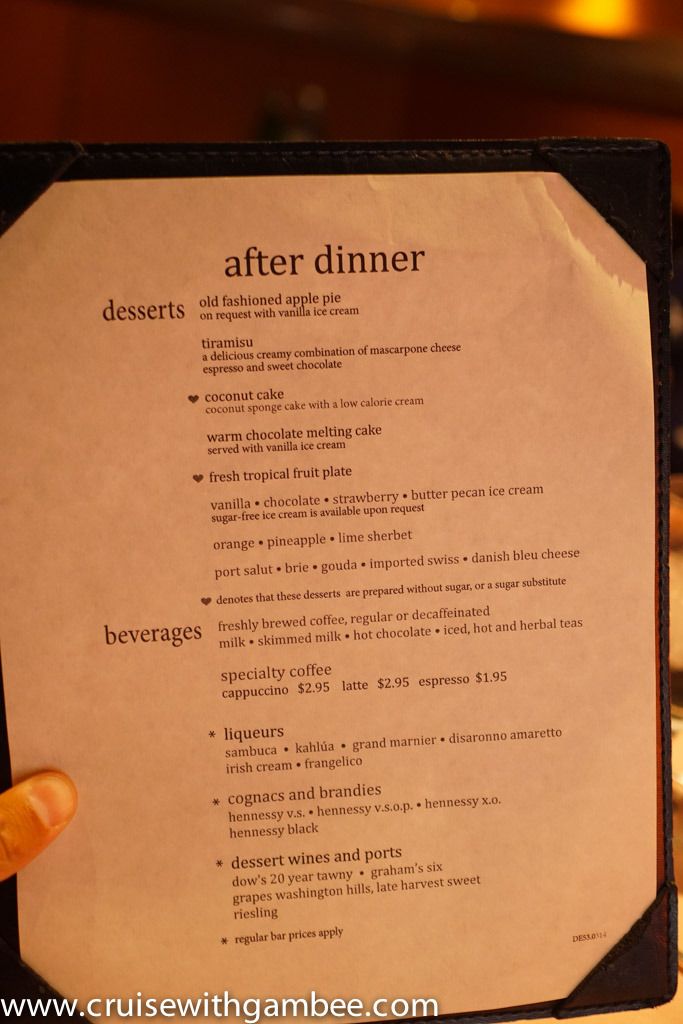 My uncle got the coconut cake, mehhhhhhhh.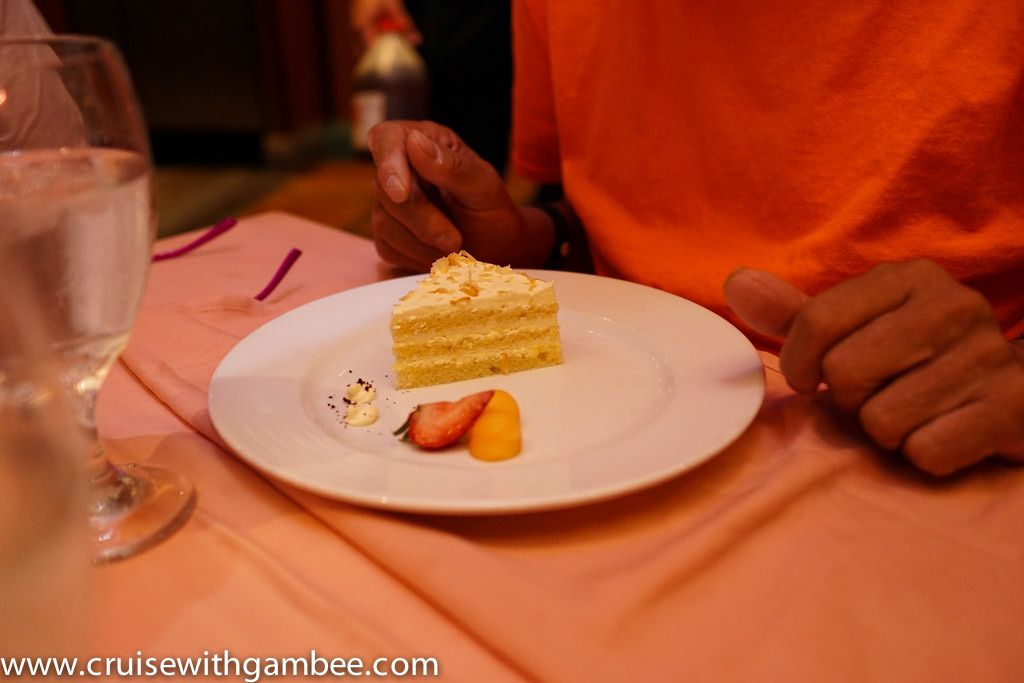 We got 3 of these. Now that they have found how good it was, everyone wanted to get it!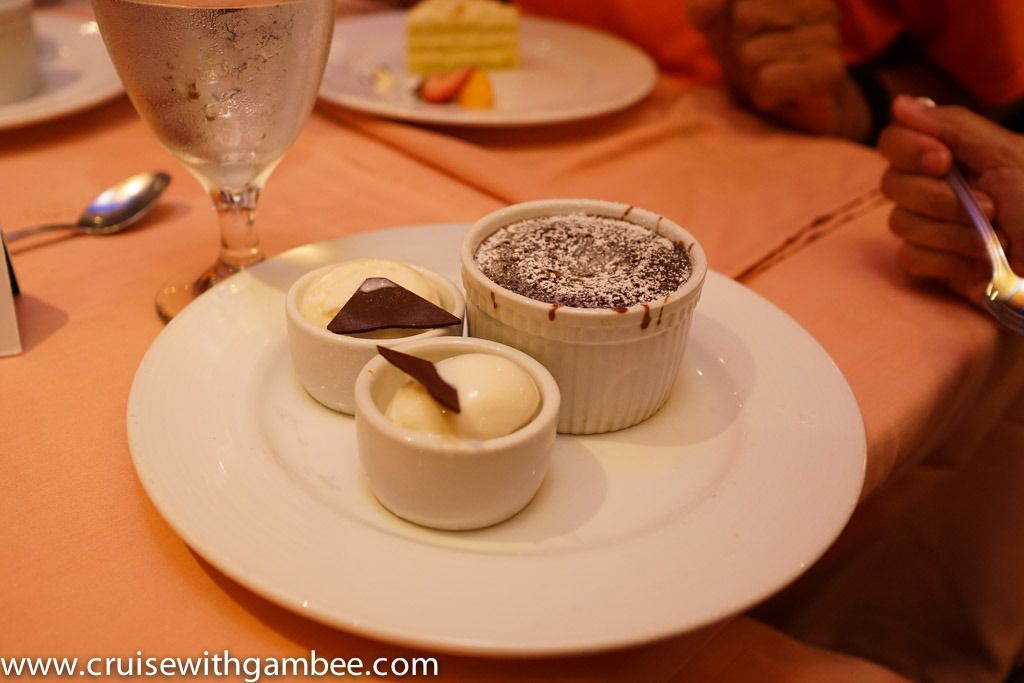 Tiramisu. It was good I guess, I got it for the picture
.
We were about to leave and they gave the announcement to the staff to get ready for the show. We decided to stay long enough to watch the dancing waiters. Remember that I told you that our server was the best dancer there. I think if it was allowed he would have stripped for us there, and believe me he had the body for it
.
Hey, you don't hear me complaining, LoL
The song was Low by Flo Rida, Ft. T-Pain.
Oh Yeah Baby!
There were only a few that really got into it.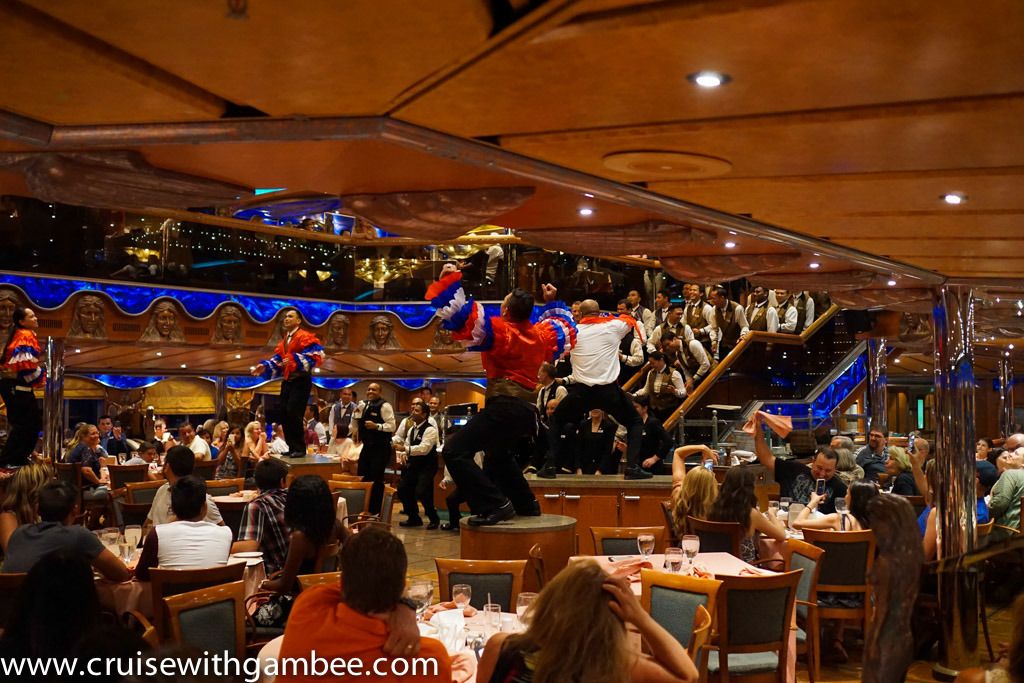 We then left and headed to the casino. My uncle wanted to donate some money to the ship building fund
, and that he did.
I think the green is growing on me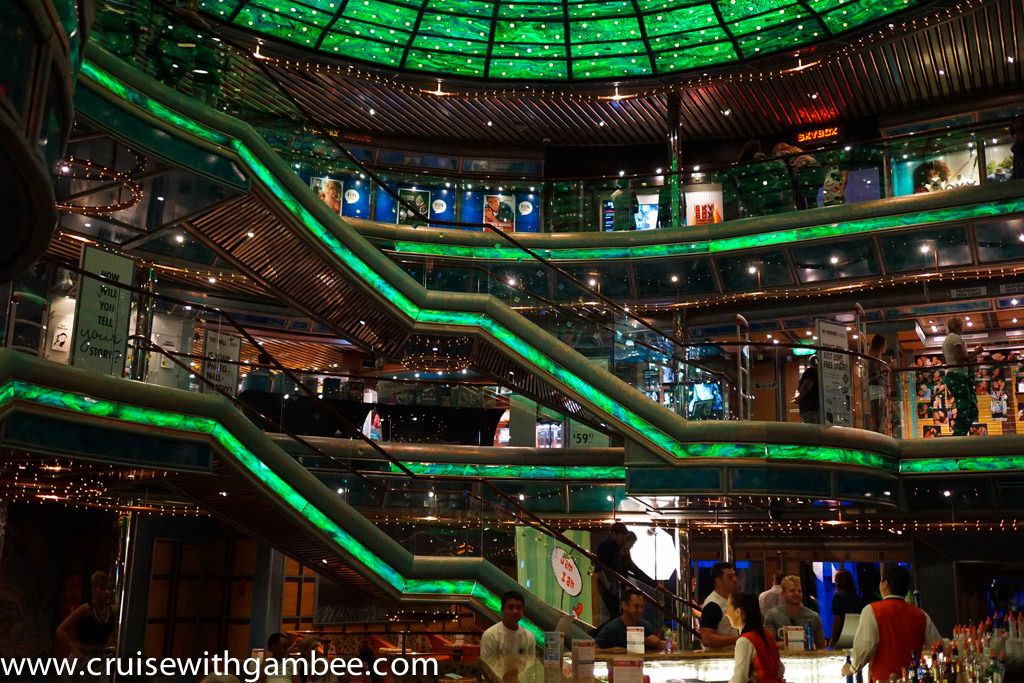 We stopped at the guest service desk, for what? No clue, can't remember. By the way my uncle did a 1:20 hr line in guest services on the last day at noon. He was cashing out his account. I kid you not.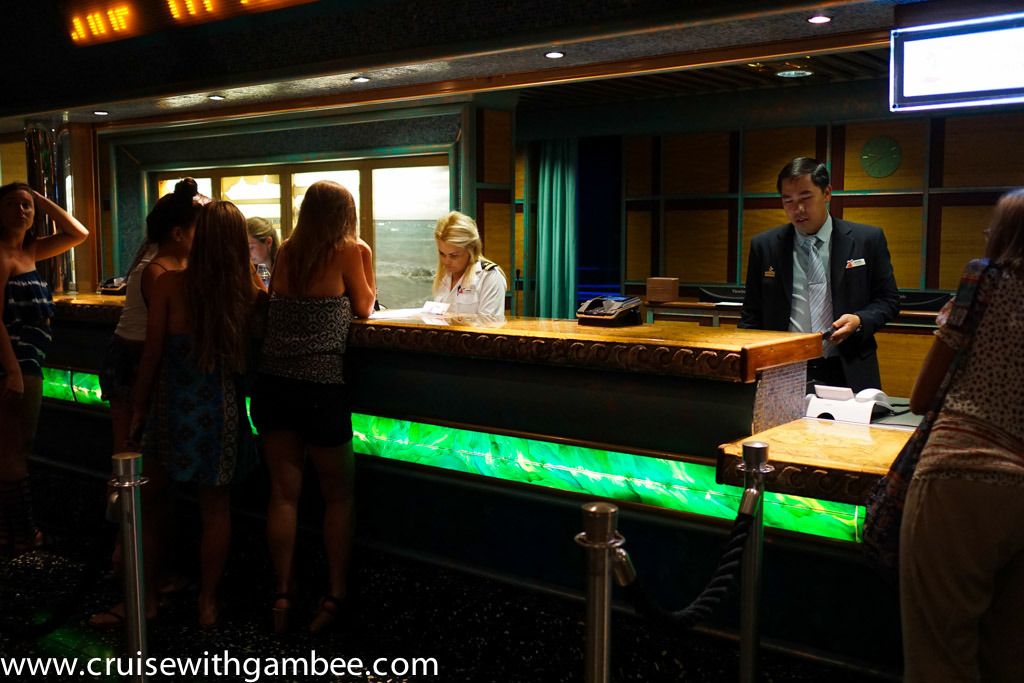 In the casino he played a few games.
By the way, a few notes before I forget. There was an incident on day one. I am not sure which restroom it was in. But mom reported that security took a drunk fellow out of the ladies bathroom. I can only imagine what he was up to in there. The other incident was also on this machine. There was one guy who had been playing for quite a while. He must of feed about $30 to the machine, we were all around him cheering for him. Out of nowhere security comes and takes him away. Mom said that she thinks that she saw fake bills. But then the odd thing is that we saw him again playing the same machine on other days, who knows.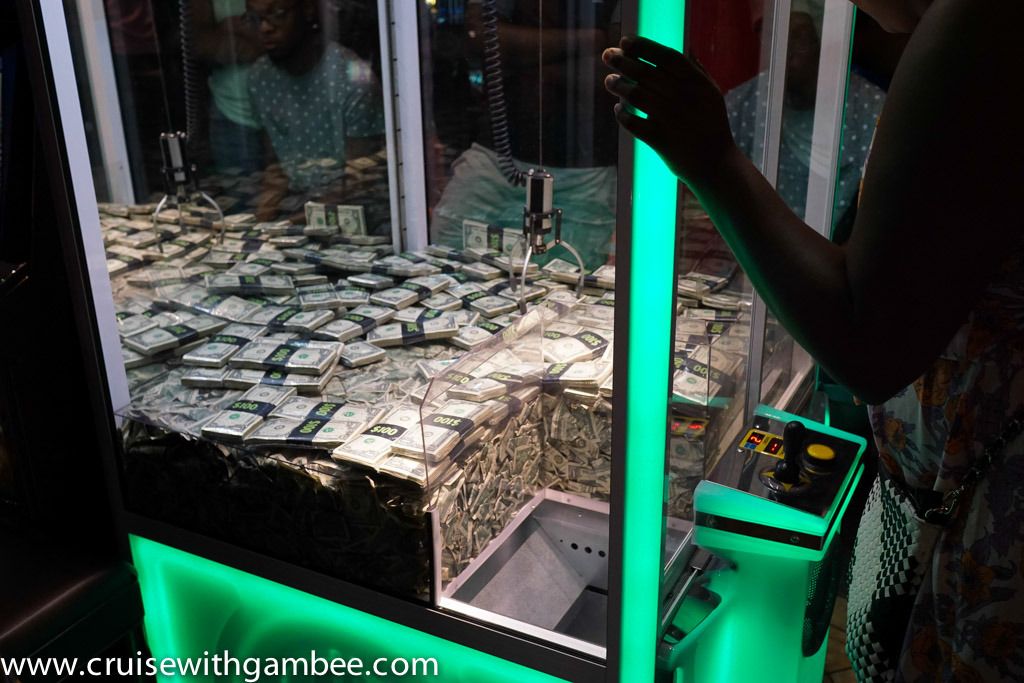 The lady here almost had it, actually I started screaming to early and I think my loud voice made the machine drop it, oooops
I told them that I wanted to relax in the Jacuzzi for a little while, my mom said that she would join me. I think my aunts joined us for a little while and then left to go to sleep. My uncle stayed in the casino and about 1 hr, later he joined us.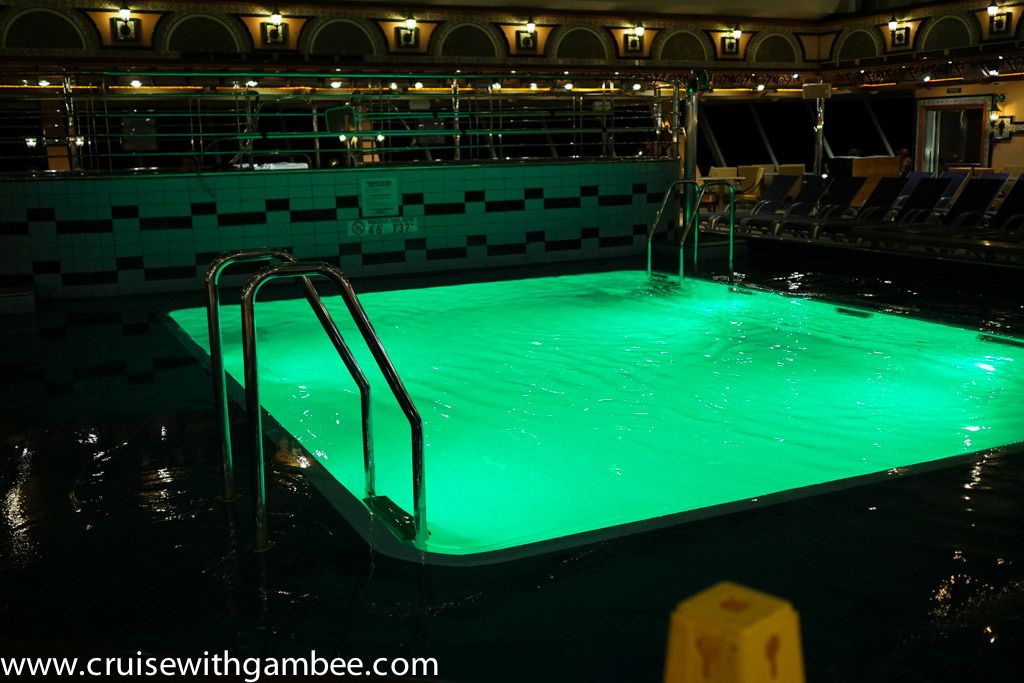 Mom and I must of been there for a couple of hours. This is my kind of fun. Some like bars, some like shows, some like live bands, we are all different. I really enjoy Jacuzzis late at night, they are so relaxing. Especially with a few drinks on me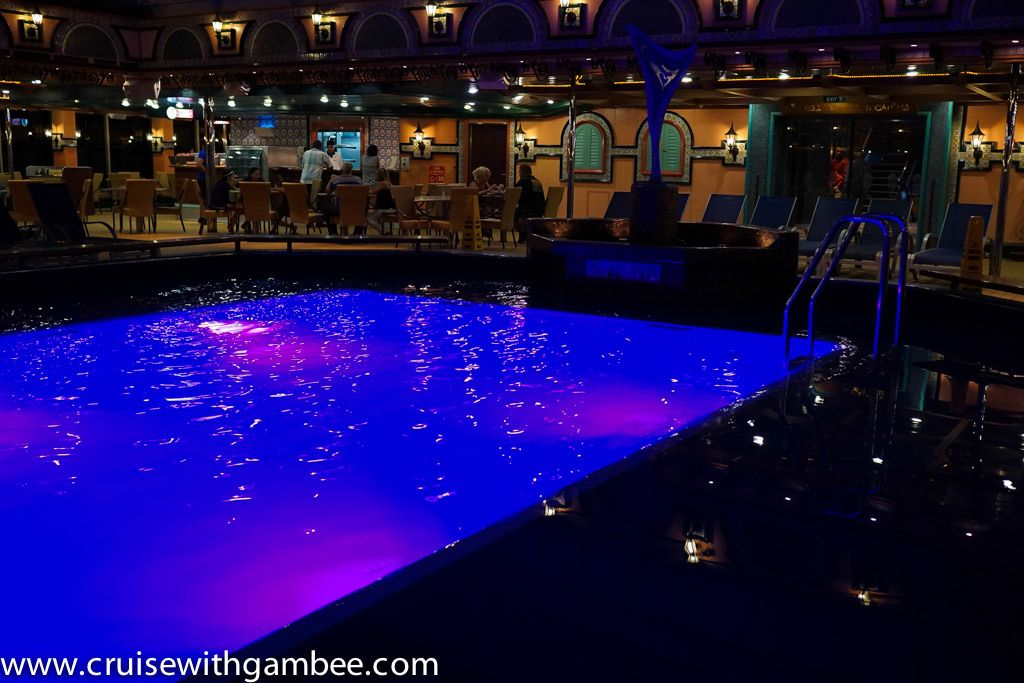 We then headed to the room. There was a short line in the pizza place. Sorry the camera focused on the wrong point.
When we got to the room my uncle took no time in destroying the towel animal, even before I got a picture of it. LoL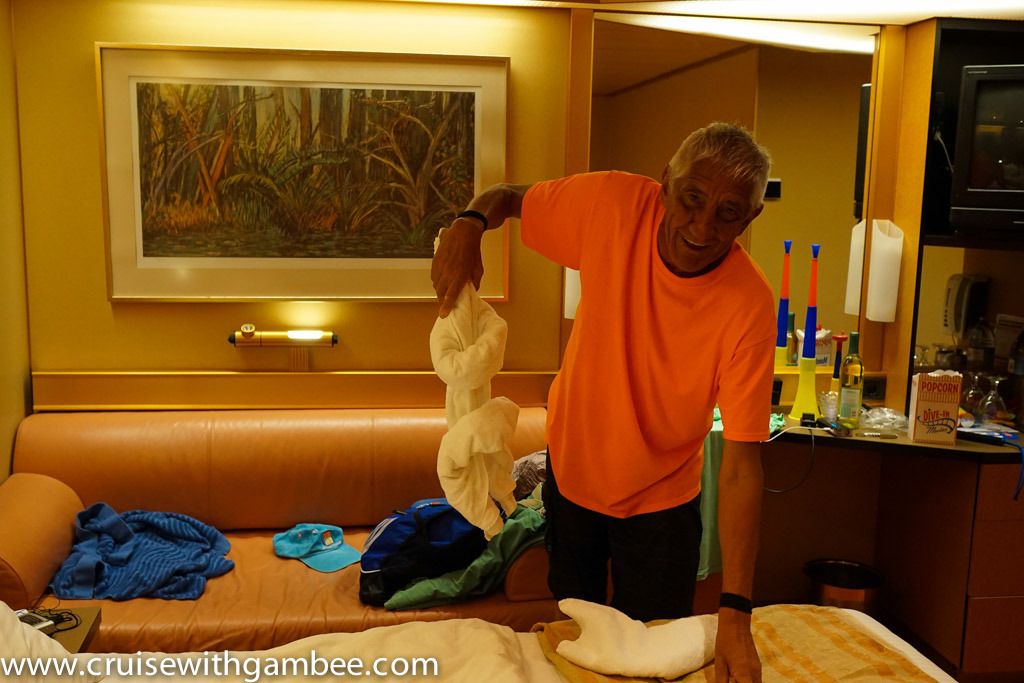 He tried fixing it, but there was no go.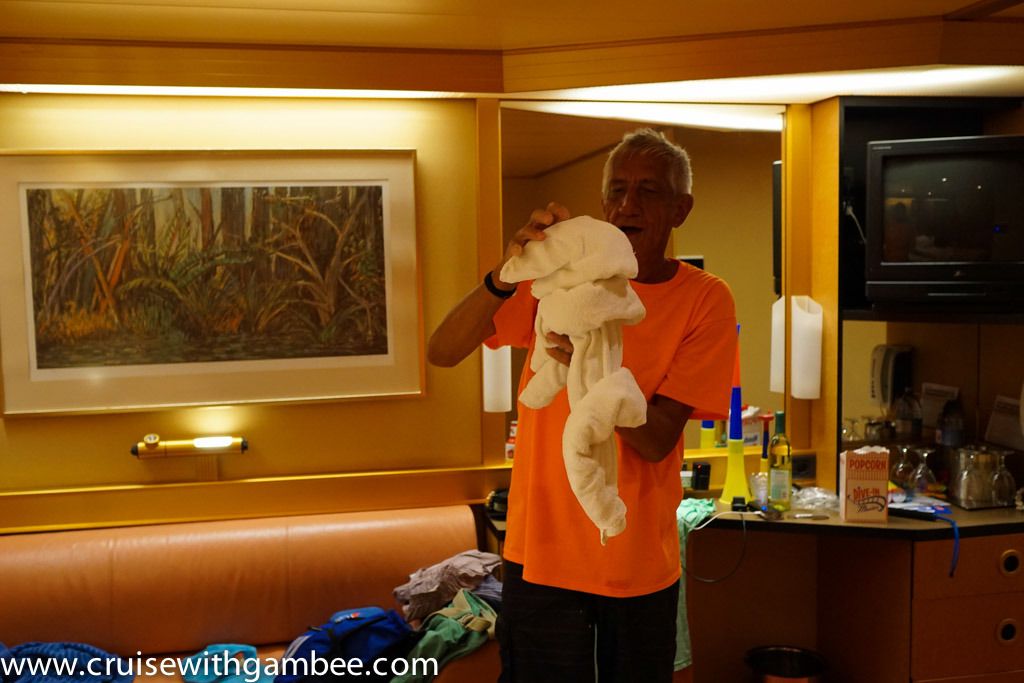 By the way, we had animals every day
It was a beautiful night for star gazing. I felt really bad because this is something that my mom would have loved, but I did not want to wake them up since my aunts were already sleeping.
My uncle and I put some oldies music on my phone and just sat there, stargazing, talking and glancing through the pictures of the day. It was a great fish for an incredible day.
Last time on the Breeze was my first Carnival cruise. It was then when I learned that I do not care for Carnival balcony doors. I much rather the sliding doors on the other cruise lines. This time around I came prepared
That was my closet on this cruise
And with this picture I finish this day. Our charging station fully loaded for the next day =)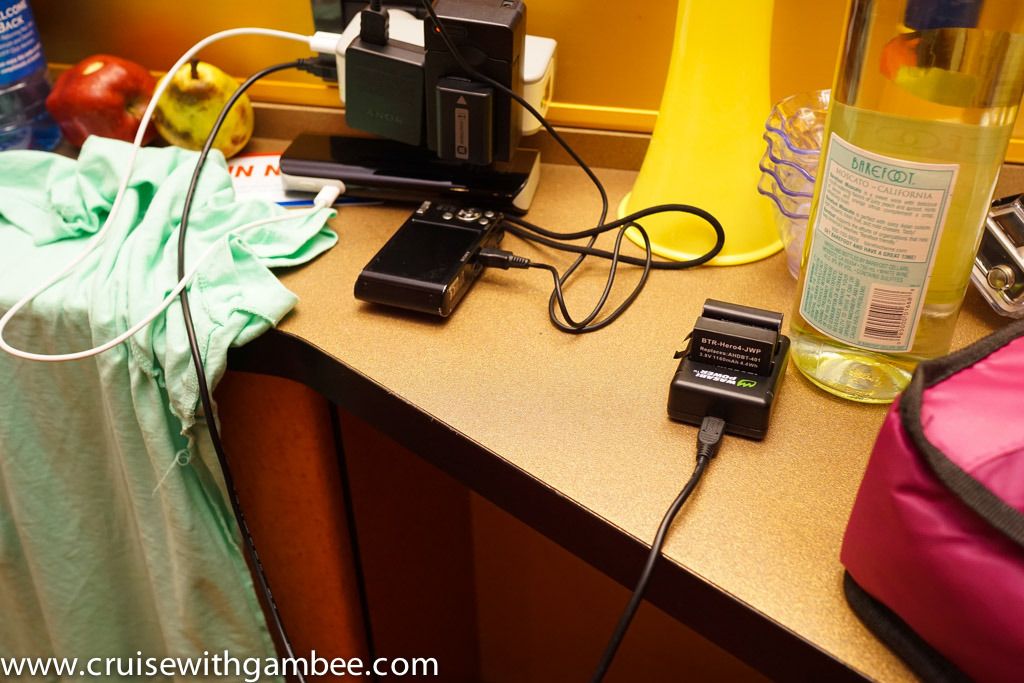 I am exhausted, hope you all enjoyed this set. I am worn out.
Day Three End.
Click here for the next Chapter.