Welcome to Gambee's Celebrity Silhouette Review. If you're looking for the most comprehensive Celebrity Silhouette Review, you came to right place.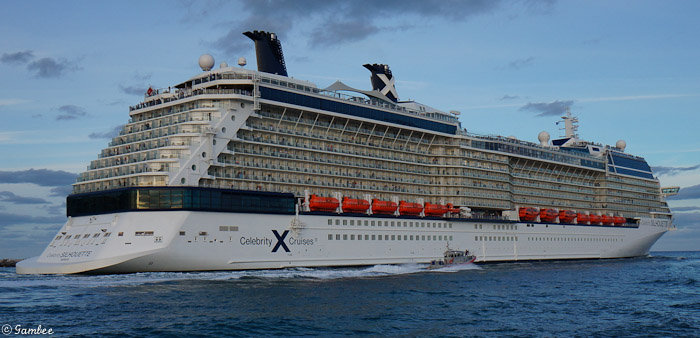 Total Score, 77 out of 100. Celebrity Silhouette Review
Food 9/10
Celebrity really excels  in this criteria, they do an overall great job at delivering great food throughout the cruise. During our voyage we tried their 4 main specialty restaurants. All of them delivered a quality product, although you might want to keep in mind that we did like some more than others. The main dinning room had the best for free food that I had at sea since I started cruising, my only issue with this area was how crammed it was. The buffet area is well setup, and it also offers a good selection of food that will satisfy most appetites.
Here are a few of the reasons why this cruise the perfect score. Room service food is just plain and terrible, I am not sure how else to describe it. The chicken saltimbocca in the main dinning room was very dry, and it did not resemble the classic chicken saltimbocca at all. The cupcakes at Qsine leave a lot to be desired, and for that price I really expected something much better.
But for the most part, almost all of the food was outstanding. The price of the specialty dinning also comes into play, I honestly think that Celebrity is charging too much for these venues. I was really happy that I got the package and lowered the cost of them slightly.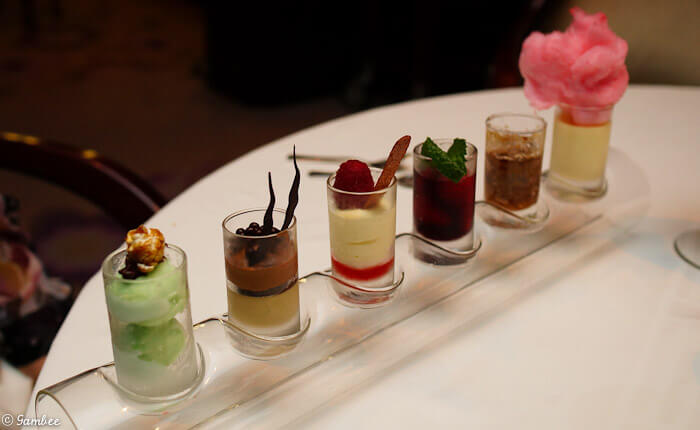 Celebrity Silhouette Review 
Cabin 8/10
The felt about average, with an appropriate amount of storage for two people. The furnishings are up to date, and give the room a clean and comfortable look. The bathroom felt about the same size as the industry standards, with the slight difference of a slightly larger shower. The balcony was a great size, specially considering the new industry standard with balcony sizes. I believe the size of the balcony is 54 sq ft, in comparison with some newer ships going as low as 33 sq ft. Trust me it is a huge difference when you actually experience it in person. My only complain with the balcony was the lack of a light fixture, but you can always use the light from the room. More Celebrity Silhouette Review on other pages.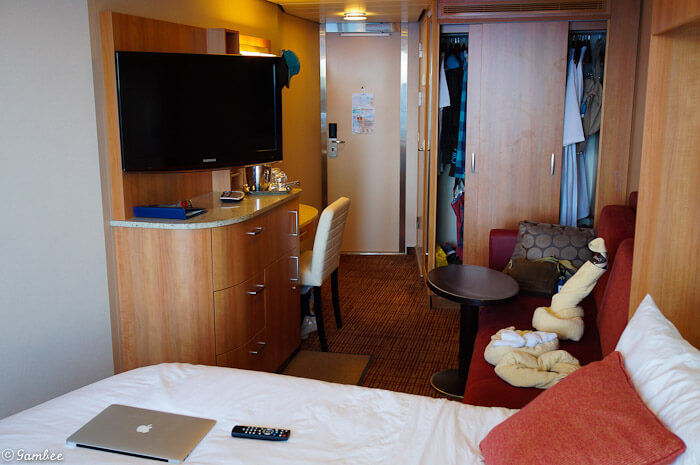 Celebrity Silhouette Review
Cabin TV System & Internet  5/10
The TV system on the Silhouette really lacks in every possible way. Not only it lacks a lot of information usually displayed by other lines such as, menus, shows, dailies and shore excursions. But it is also incredibly complicated to use, and terribly slow. Something as simple as activating your internet account, becomes an ordeal that makes you think if you're better off going to the internet lounge. While programing was usually good, and with plenty of channels to watch. We kept having issues with reception and loosing signal for most of our voyage. I had to rely mostly in their movie channel, for my entertainment needs. It might be also worth to note the batteries in our keyboard were corroded and soldered into the keyboard. It took sometime to actually clean it up to get it in working condition.
My experience with the Celebrity Silhouette Wi-Fi service aboard the ship was not the best. We had extended blocks of time when the internet was inoperable, and once it was up it was terribly slow. This made it very hard for my mom to contact our family back in Colombia. Were we usually used to send tons of pictures, we saw ourselves struggling to send one picture a day. I do however have to say, that logging in from my iPhone was very easy, but other than that the internet service was very spotty.
Celebrity Silhouette Review
Pools, Jacuzzis & Adults Only Area 8/10
At first I was very worried that with only 6 Jacuzzis we would have a problem finding space in them. But as usual all my worries were for nothing, finding space in a jacuzzi was never an issue for us. I usually don't use the pools that much on a cruise, but I found myself in the solarium pool more than once. The water is kept at a nice temperature, and as an added bonus they are fresh water pools. As far as the Adult only retreat the Silhouette offers one of the best areas I have been on, the Solarium. This area is just great, large enough to never feel crowded, and it was a truly tranquil area. We were very happy with our overall experience with this matter.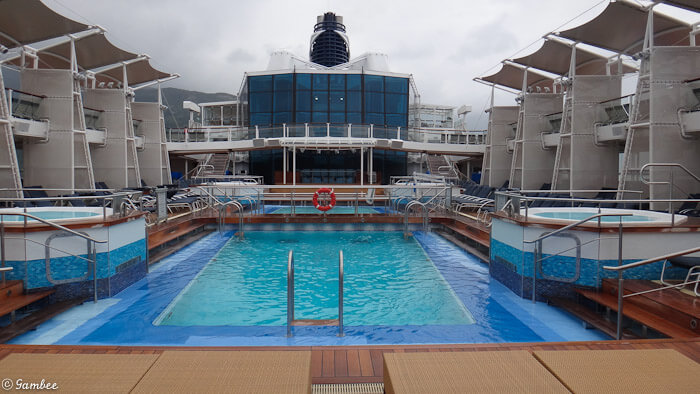 Celebrity Silhouette Review
Activities 5/10
This is such a hard subject to judge since most of this opinion really depends on what you like to do, so please keep that in mind. The Silhouette was a rather disappointment in this area, it really lacks a lot of the activities that other cruise lines have. Most of the activities that I saw were related to pool sports, dancing, exercise, etc. None which really appealed to me, I would dare to say that I really regretted not bringing a book during that cruise. I wont go more into details, but to me this was the kind of cruise that I had entertain myself rather than be entertained.
Celebrity Silhouette Review
Shows 7/10
The shows in this ship were better than average, but they were not Broadway level as some of the other cruise lines are now doing. We enjoyed a few comedy acts, and bits and pieces of other shows. But nothing really grabbed my attention to stay for the full performance. They had a terrible A Cappella group that not only did shows in the main theater, but they also had them singing around the ship every day. I was not a fan of them, if anything I found myself trying to ran away from them every time I could, lol.
Celebrity Silhouette Review
Bars & Lounges 10/10
Celebrity really does an outstanding job with their lounges. You can a nice relaxing area to sit down and enjoy your time nearly anywhere in the ship. I was personally a huge fan of the Martini Bar, Molecular Bar and the Sky lounge. The Ensemble lounge was another area which was very popular, and I wish I had found out earlier that they play live music at night there. But the reason why I gave then 10 out of 10 points here, is because of the entertainment level that the bartenders provide. The most impressive part of it all was that no matter how busy they were, they always found the time to put on a show for almost every drink they served! That is some true talent right there, not to be missed! I have yet to see anything like this in any other cruise line, X has something truly unique here.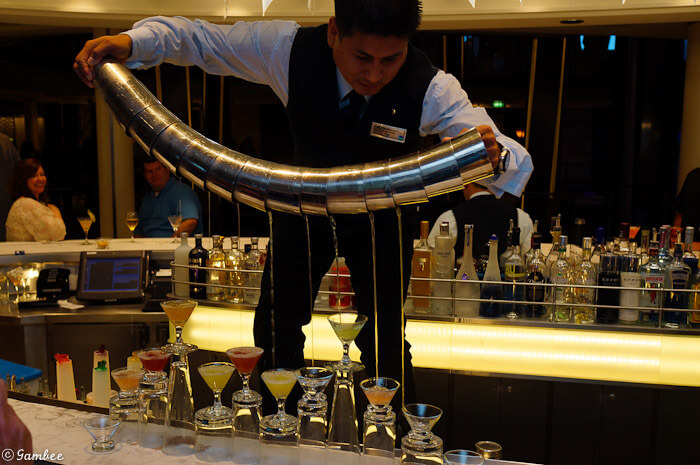 Celebrity Silhouette Review
Ship Decor & Elegance  9/10
The S-Class ships from Celebrity are among the cleanest looking ships at sea, actually I think they are my favorite ones. The same line concept follows around throughout the ship, and the interior of the ship almost feels like a W hotel. The interior of the ship feels nice an warm, while still having some very sleek lines. I only wish that they had made better use of LED lighting, LED's add so much more to a space. But overall I think most will be satisfied by the simplicity that X offers on this class of ships, very eye pleasing.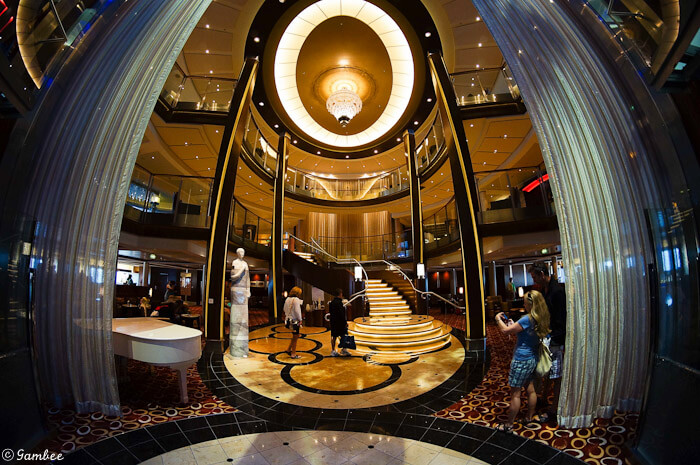 Celebrity Silhouette Review
Unique Area – Lawn Club  7/10
I must admit I am not a big fan of The Lawn Club aboard the cruise ship Silhouette, the area just does not do it for me. I did however notice that it had a good share of fan, a few activities are done there, and it also serves as a good place for young families to gather and relax. I did however like the Cabanas there, and I can see how they might serve a great purpose for some people. I was however puzzled by X's idea of having the Cabanas facing inward instead of having an ocean view. By placing them the way they did, they completely eliminated any idea of privacy that they could have. Overall we really did not spend much time there, I think we walked by a few times and snapped some pictures. But we never really relaxed up there for more than a few minutes.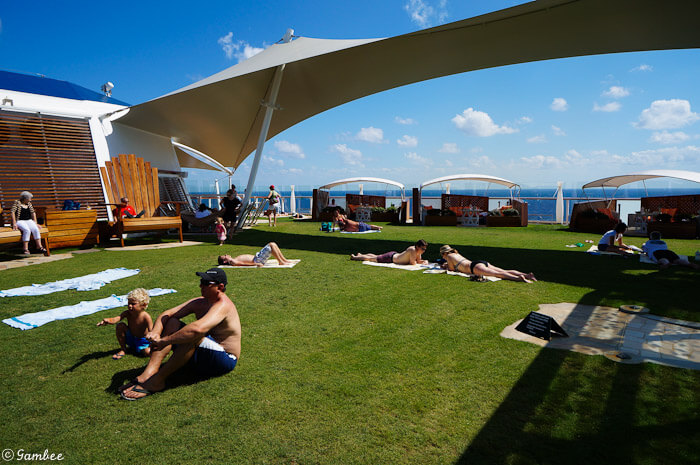 Celebrity Silhouette Review
Service 9/10
The service in the Silly was amazing, extremely attentive and fast. I usually like dinning fast, and X certainly delivered in that aspect. I do have to admit that the servers were not as warm as in other voyages. Although that is not really a complain, as I much rather fast and efficient service than a very warm one. We only encountered issued when we dinned in Tuscan, it was just extremely slow, and I was not feeling very well. But other than that I have nothing, but good things to say about the service on this trip.
Celebrity Silhouette Review
Total Score and Conclusion,   77 out of 100
Overall we had a great time in our cruise, however it was a real shame that the weather did not cooperate with our voyage. I do tend to think that Celebrity would be perfect for an Alaska or Europe cruise. The reason I say that is mainly because in the Alaska cruise you need a fully covered Solarium to really enjoy the jacuzzis if the weather is too cold. And I would love to travel through Europe in style on one of these ships. As for the Caribbean goes, I think I rather sail in a more active ship that offers better activities for someone my age. I believe the food alone is something that would merit Celebrity in the future!
That is about it for my Celebrity Silhouette review, if you want more details on this cruise please go to my Celebrity Silhouette cruise guide.
Thank you for visiting my Celebrity Silhouette Review webpage. Hopefully this Celebrity Silhouette Review webpage had everything you need, for the full review click HERE.