Day 1 Embarkation
Welcome to my Disney Dream review, this review will be more like a guide than anything else. We got to the parking place we dropped off our car and within minutes we were aboard the shuttle on our way to Port canaveral. The parking venue was overall good and fast. The only issue I experienced with it was that we had to wait for about 40 minutes for the bus to pick us up to get the car when we got back from the cruise.
I do have to say that I really like the bay in Port Canaveral.
The Disney Dream terminal in Port Canaveral is extremely organized, I think this is my favorite port ever. It is just a painless and very relaxing process to check in.
So right after check-in we just sat there and I took some pictures, I also took advantage and played with my new camera. My mom was as she said unimpressed with the terminal, I am not really sure why. Personally I think there was about the right amount of Disney essence, without being overwhelming. May I note that there was no line whatsoever and it was really quick. They also took the picture of all of us in the same frame and the computer split the pictures on its own, pretty neat. All this little details is what makes Disney Cruise Line the amazing experience that it is.
They had this really cool model of the Disney Magic (I think). On one side of the model it was just like a normal ship, and they used that side to take pictures with both Mickey and Minnie Mouse. The really cool think about this model was the other side, they opened it up and showed you the view of the model inside. It was really really AWESOME!!! I am actually just now starting to look at the model in the pictures, everything happened so fast on that day.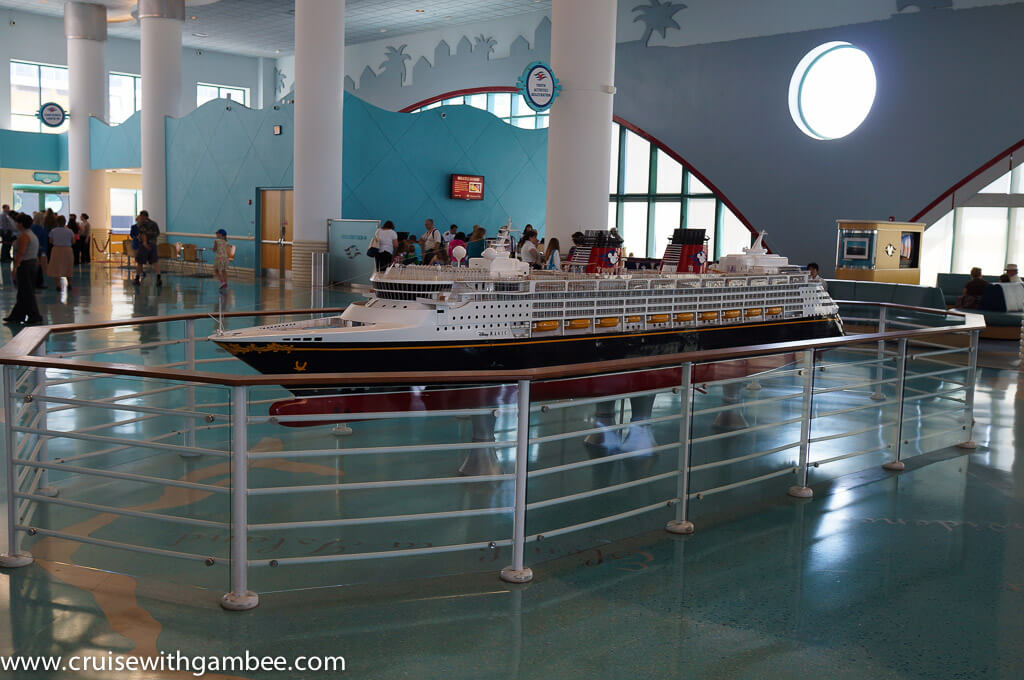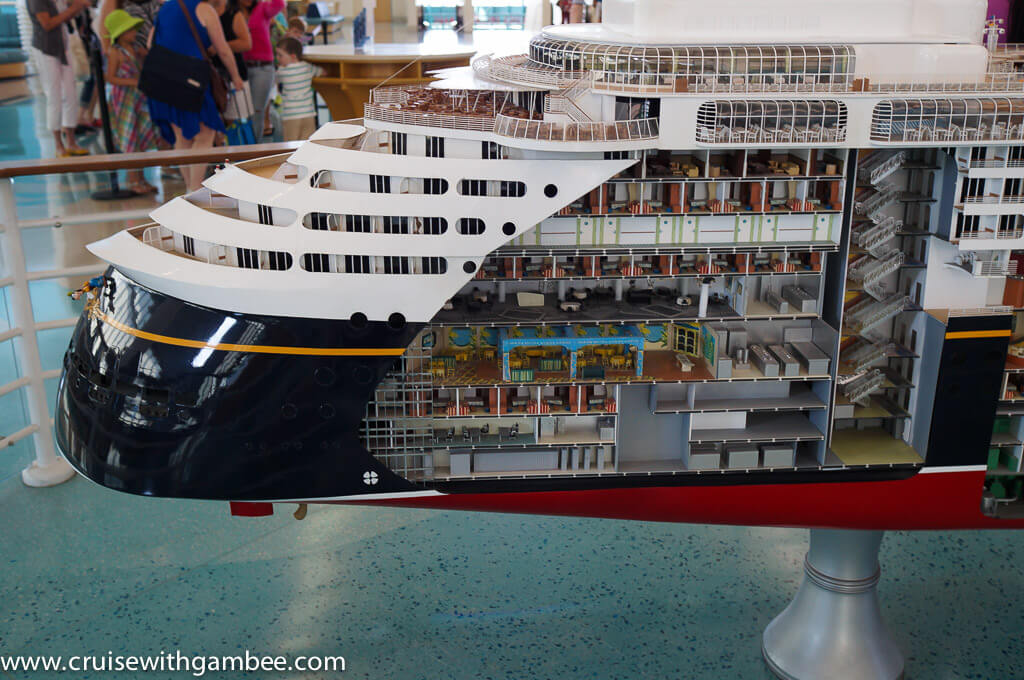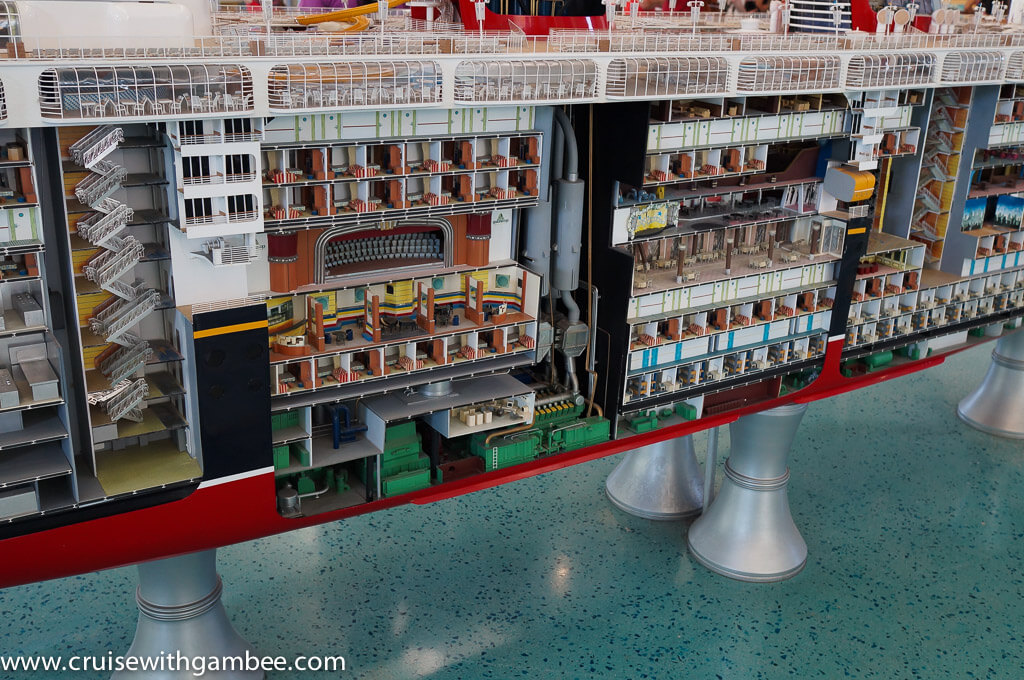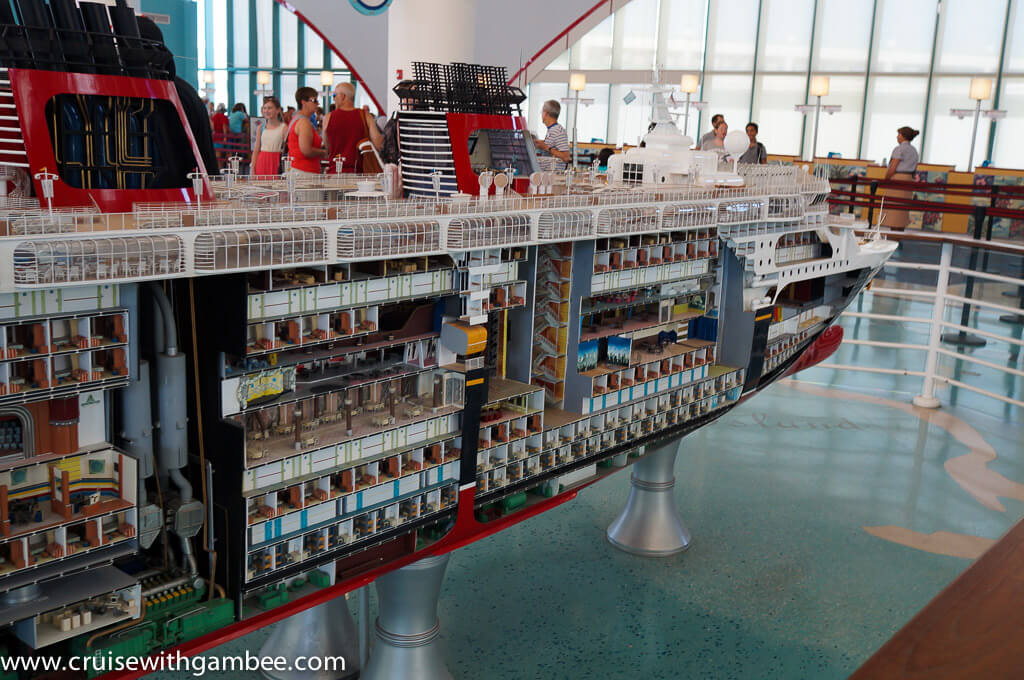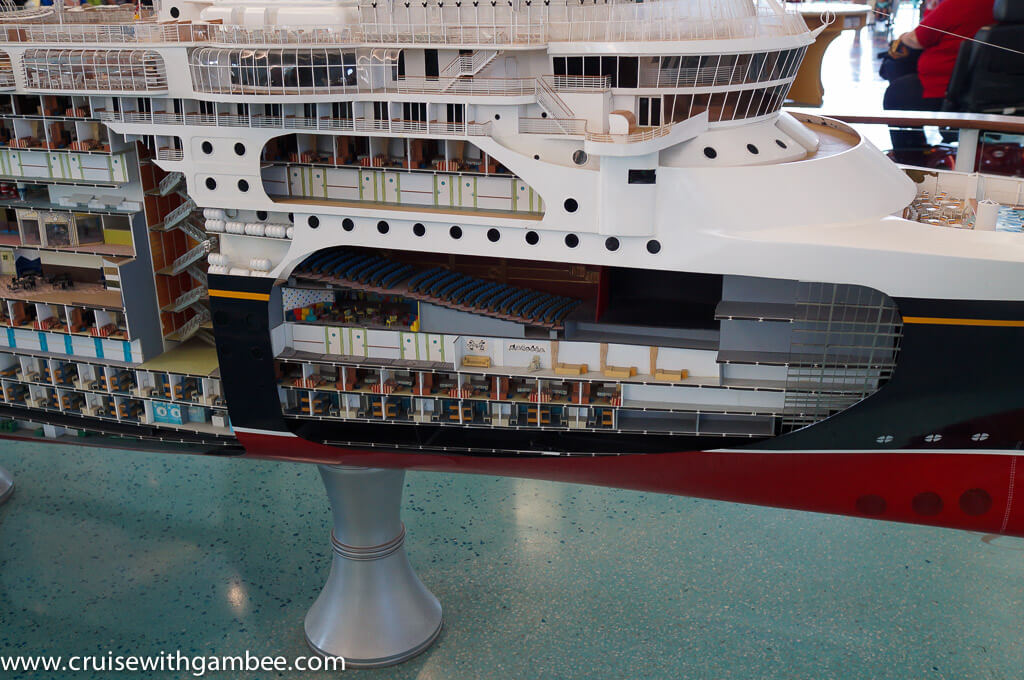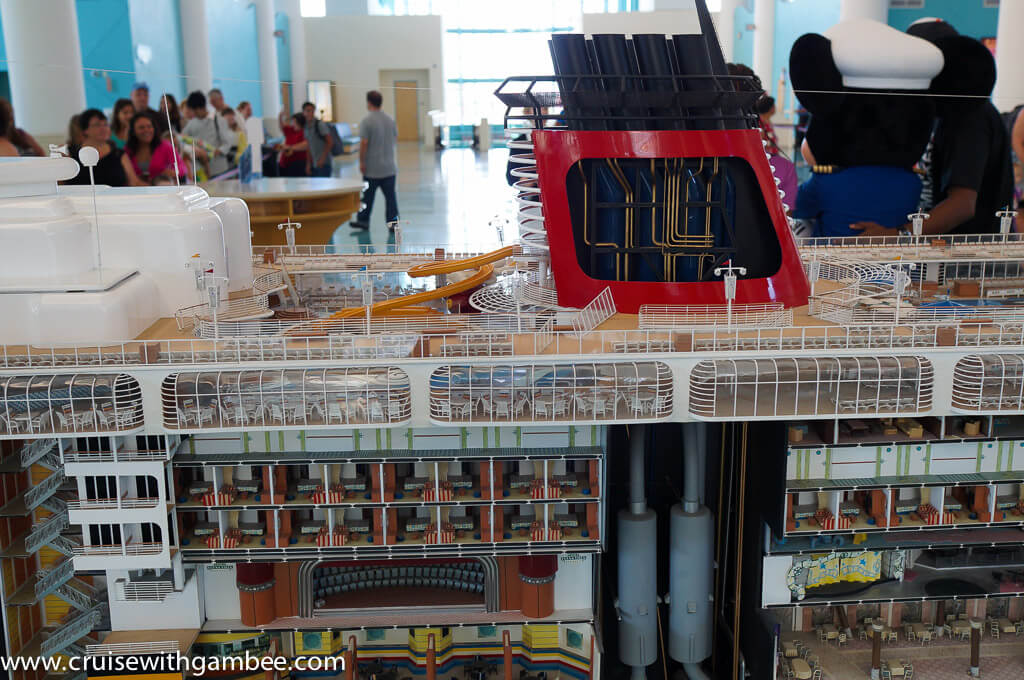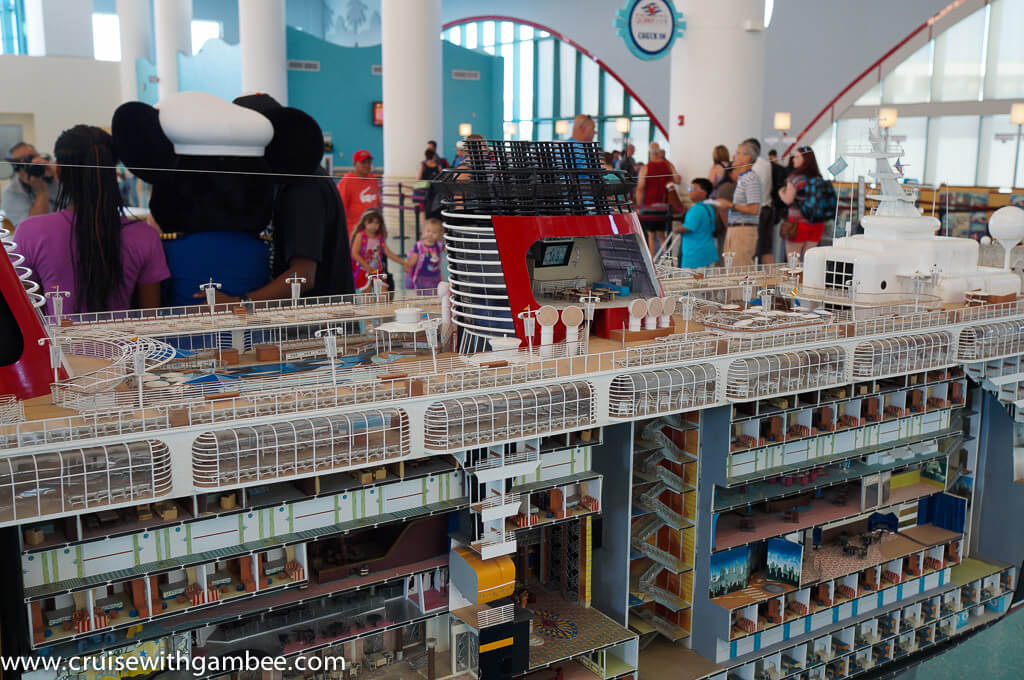 Soon enough the terminal started to get really busy, I noticed that there were not enough chairs for everyone. I think we had boarding number 15, I am not sure how they give them out but I thought we would get an earlier number considering that we there so early. I forgot to mention that when I booked the earliest boarding time available was 12-12:30 and I was a bit worried that they were going to make us wait for that time slot. Fortunately that was not an issue.
We just waited there and relaxed for a little while we had a nice little place on a curved sofa and we all had a seat.
At one point in time my mom noticed that they had a ship viewing area and we headed to the area to get some pictures of the ship. This area is also were you can go and smoke. Disney ships are just so good looking, I was told that the Disney fans call them Classic Disney ships. I am not sure about that, but I know for a fact that they are now some of my favorite looking ships along with the s-class ships from Celebrity.
The Disney Dream for the first time up close.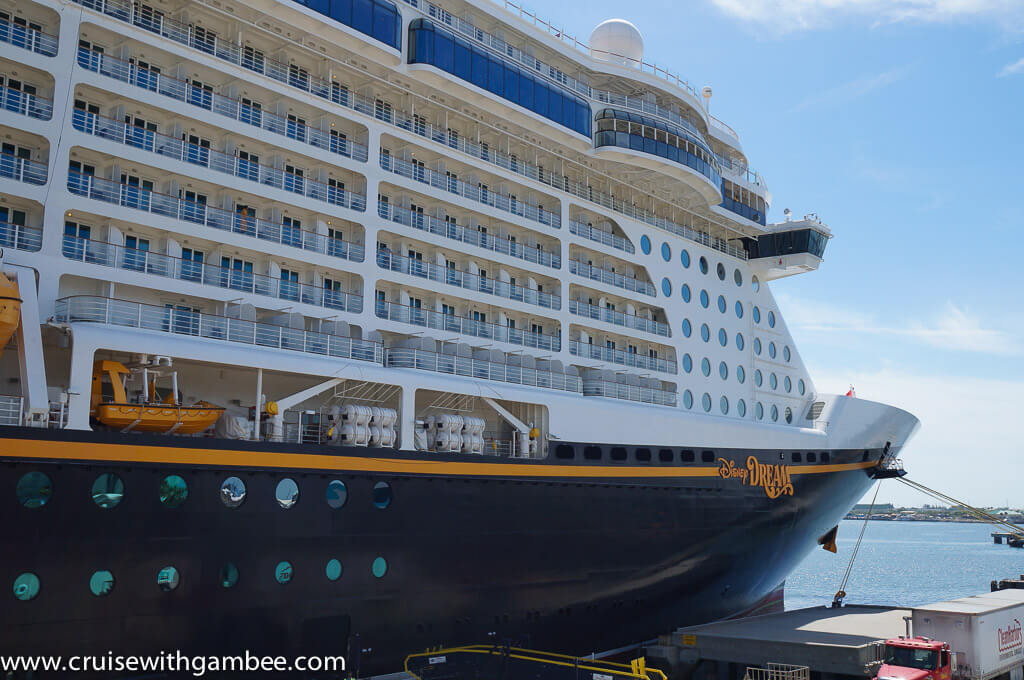 So they started calling the boarding process at around 11:20 and we were on our way into the ship at around 11:40. Not bad at all.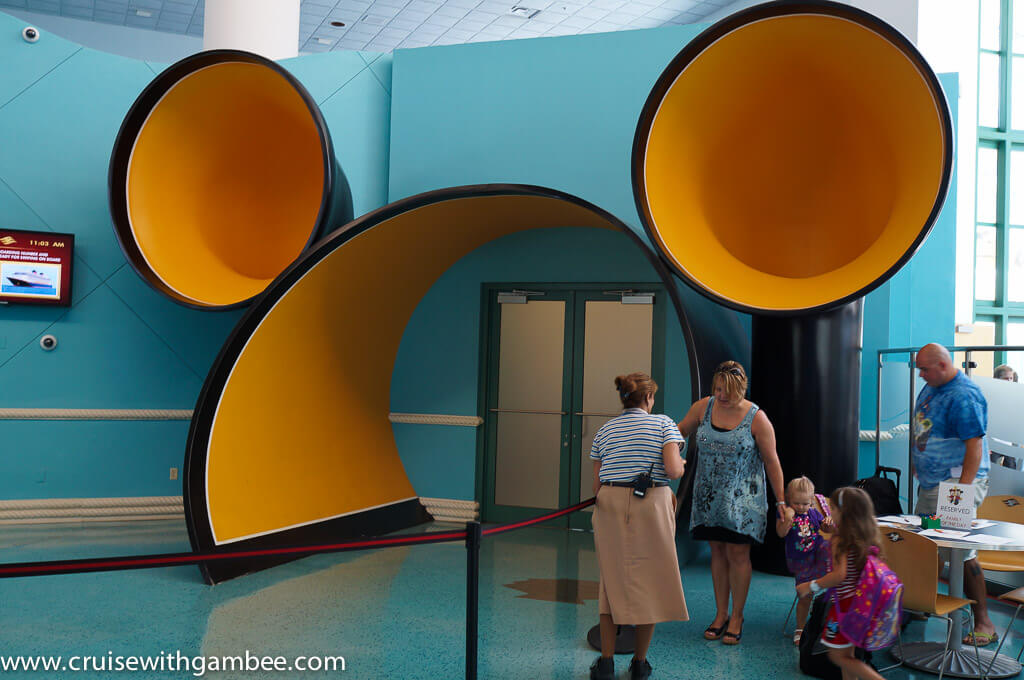 There was a slow wait for the pictures to be taken so we just went around and skipped the entrance picture. Sarah said that picture was the one that they use for facial recognition for the rest of the pictures. But I think that they use the one that they take for your key card, who knows… The funny thing is that I actually purchased a picture in this cruise…. I know right? Did Gambee go crazy? no, not really. It was my mom, she wanted the Aquaduck picture, there is no way that I could of taken that picture, lol.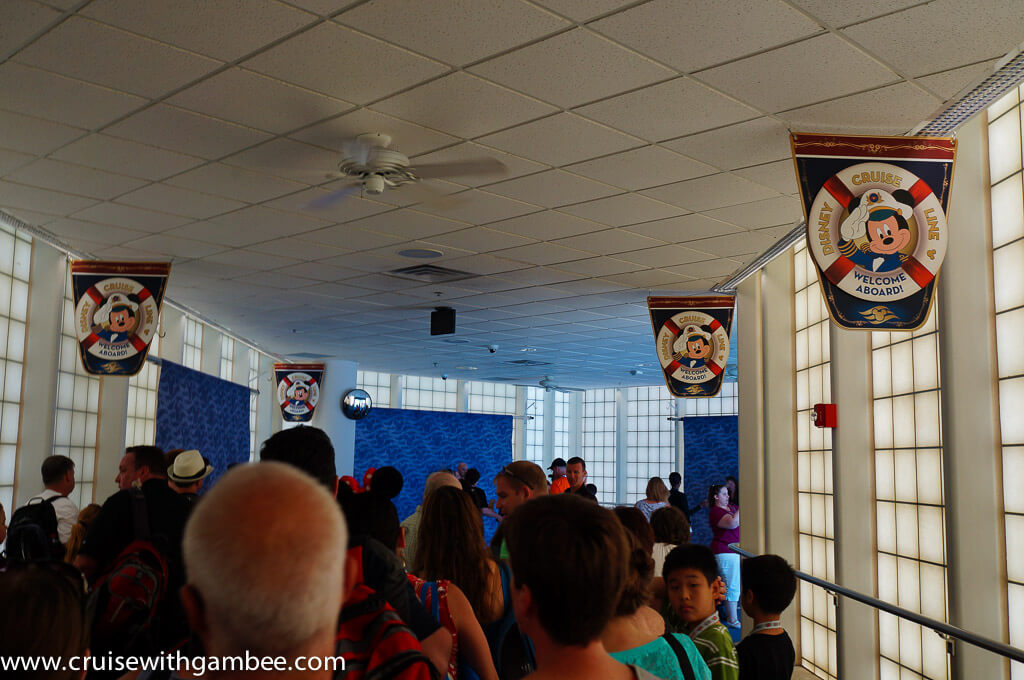 Walking into the Disney Dream was unlike anything else I have experienced. As you walk into the ship a cast member asks for your family last name. Then they call out your name saying "Please welcome the Blah Blah Blah Family" this goes on all day in the Atrium. In any case it make for a very special way to board the ship.
For some reason I said my moms last name and not mine or Sarah's last name, don't ask me why. I guess they caught me off guard, for some reason I thought that they made swipe your card and called that name. Anyway so once they call your family name there are cast members on both sides and they clap as you walk in. Right then someone approaches you and welcomes you in and gives you information on what is opened and where you can eat lunch. Just avery nice touch for them to do, these are little things that make Disney such a different experience than any other cruise line.
Here is a short video of people walking into the Disney Dream. Remember Just click of the small picture.
Here is what you will see once you go inside the Disney Dream.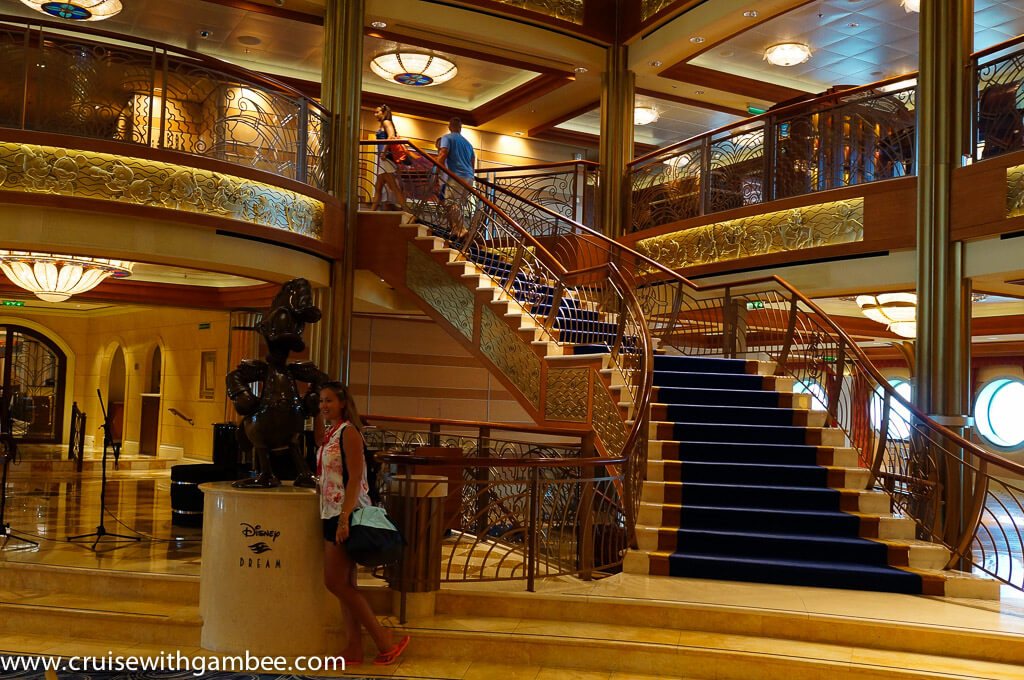 So we decided to head over to the Buffet (Cabannas) for lunch, I had heard so much about the buffet on the Disney Dream and we were all dying to try it. I took a few pictures on the way up there. The Disney Dream is incredible inside, it is just stunning while not over doing the Disney theme. There are so many hidden touches around the ship and it is so much fun to see all the little details.
The Disney Dream Elevator.
This is the adult pool on the Disney Dream.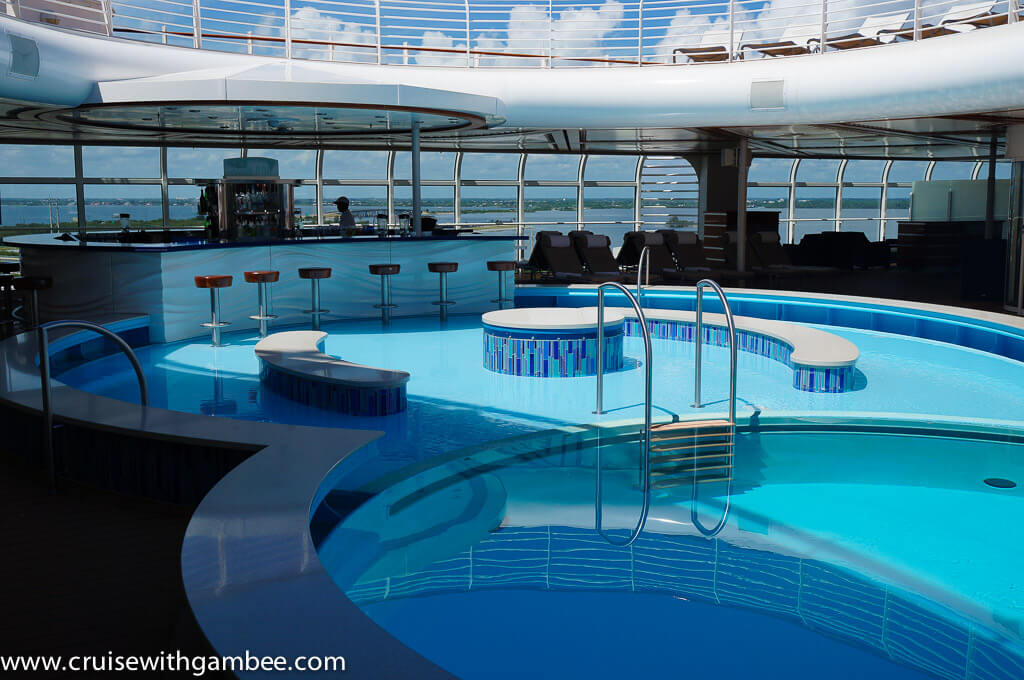 Adult jacuzzis on the Disney  Dream.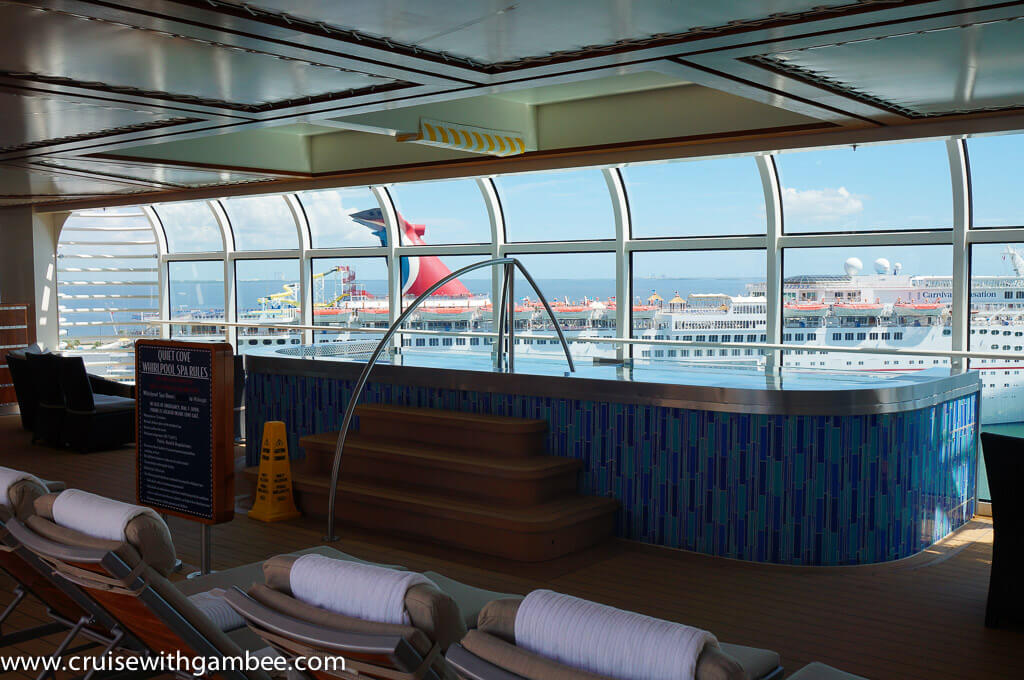 The Jacuzzis are just awesome!! They have a glass wall and bottom, making the experience a truly unique one. I just wish that they had an additional 2 tubs on the other side. They are also kept impeccable at all times!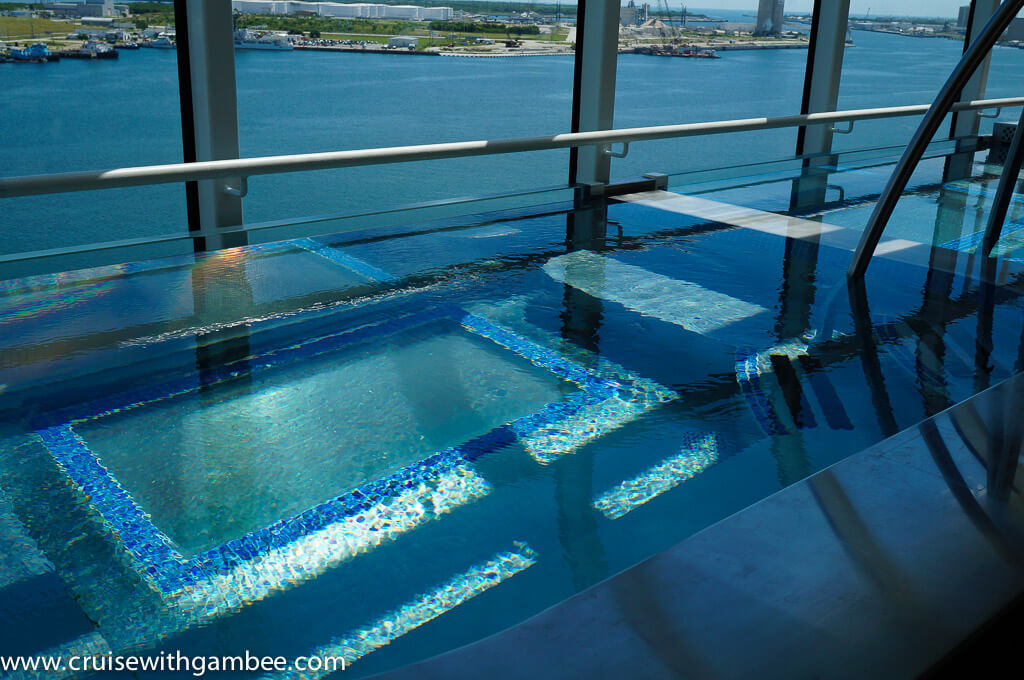 How cute is this? They had the ice cream place on the Disney Dream open most of the cruise, maybe that is why I gain 3 pounds on this cruise. I think this is first cruise were I actually gain weight, I have to keep an eye on it before it becomes a real problem.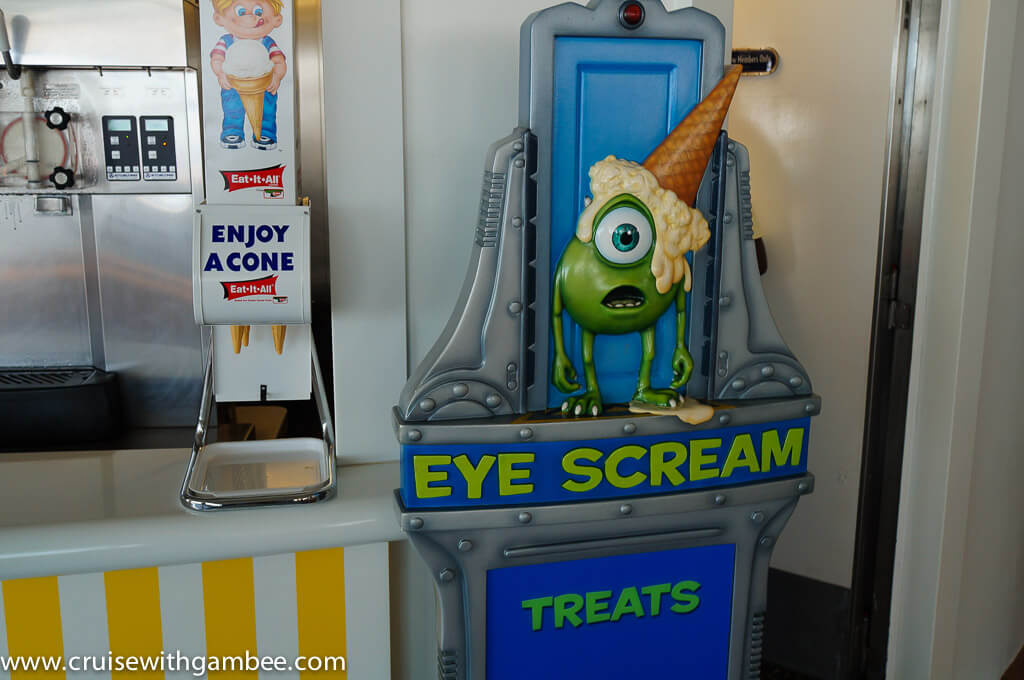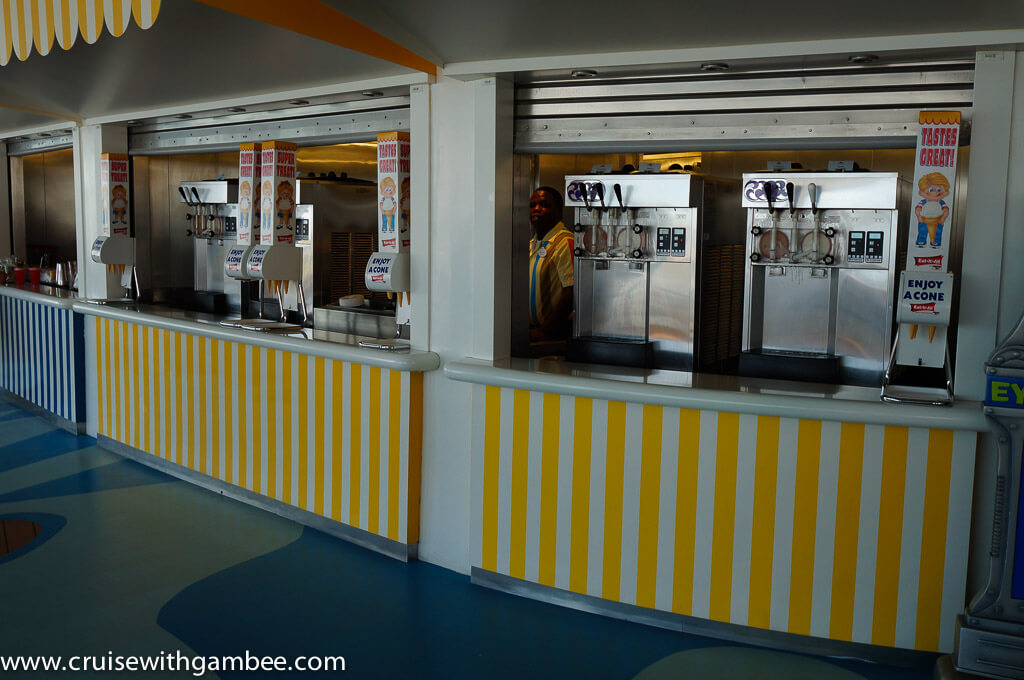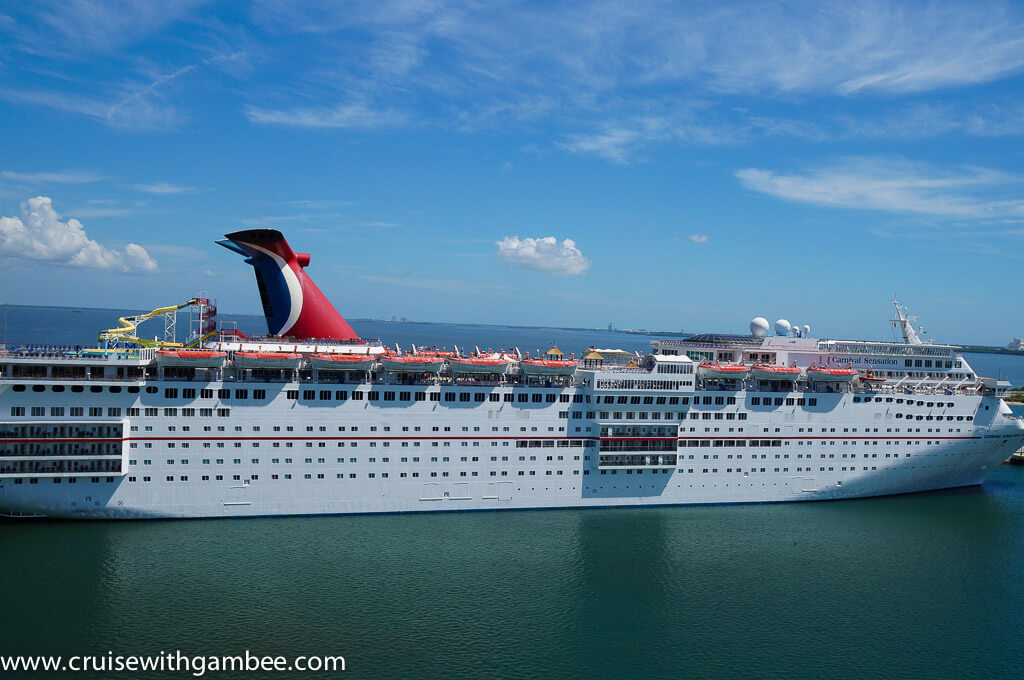 The main family pool area on the Disney Dream.
The small children area on the Disney Dream, that stingray is a water slide. Soooooo cute!
More on the Disney Dream on the next page 🙂