Chapter 5
The Disney Dream offers a Spy game, we never played it, but I got a video of one of the picture frames.
We also stopped by the Disney Dream Buenavista Theater. Here is where they play new movies and do special screenings. On our cruise it was all about Planes, Monsters University and a few others. Planes had just come out.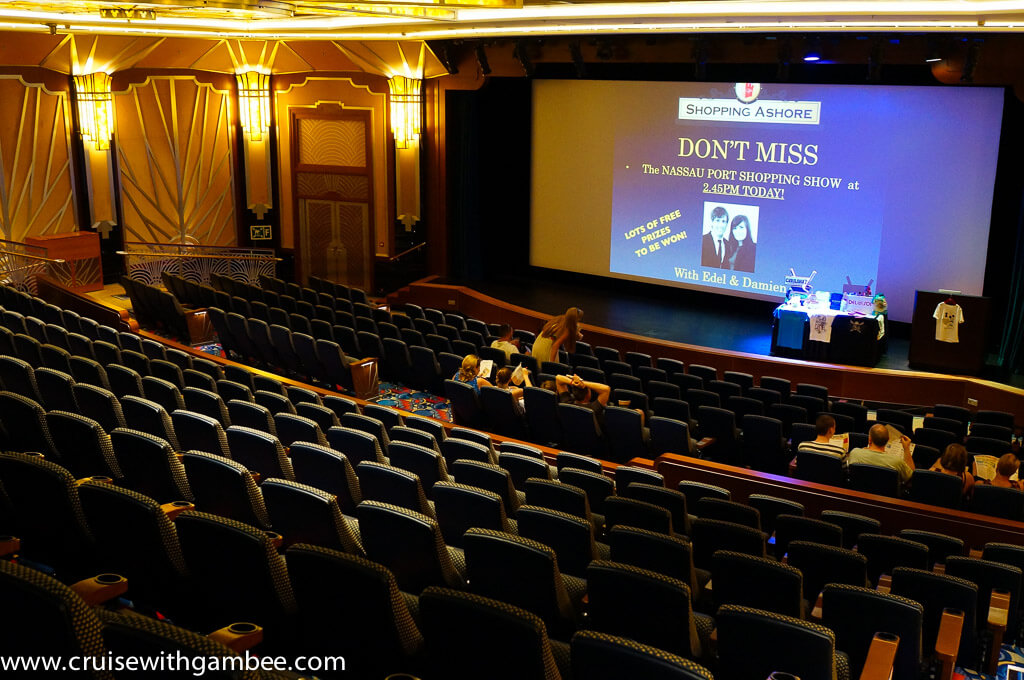 Once upstairs we relaxed for a little while in the Disney Dream adult pool. All 3 of us made great use of the adult area, I think this is one of my favorite adult areas of any ship. It was very relaxing and sheltered from the noise of the adjacent areas. The only issue I had with it was that it was far from our cabin and it required a long walk to get there. I am also curious as to how will this area work in sea days, it seems to me that there might be a problem with space and lounges. But at this point I cant comment on it. All I can say is that while the other two Disney Dream pools were completely packed, this one was a nice piece of heaven to enjoy.
A side story, the pool attendant in that picture was amazing. We saw him there every second we where there it was incredible. He worked none-stop, excellent work ethic! We made sure the he knew that we noticed how hard he works at his job. The thing is that some of the back stage employees don't get the appreciation they deserve, I wish I was able to do more. But in this case since we spend so much time in the pool and saw him so often, we really appreciated the work he did for us. I am sure it helps his morale to know that guests really do notice all the hard work he does for everyone.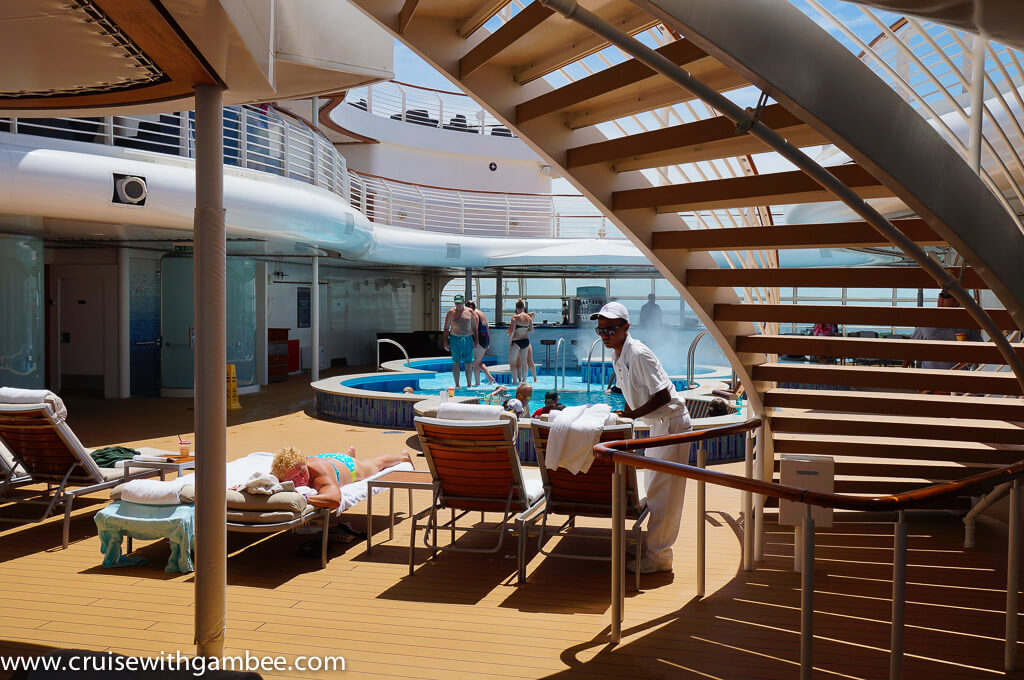 All the Adult lounges on the Disney Dream are padded.
Since my bag was not in the room yet, I just went with my shorts in the Jacuzzi. Sorry I just could not wait, lol. By the way those things are kept crazy hot, the warmest I have experience of any cruise!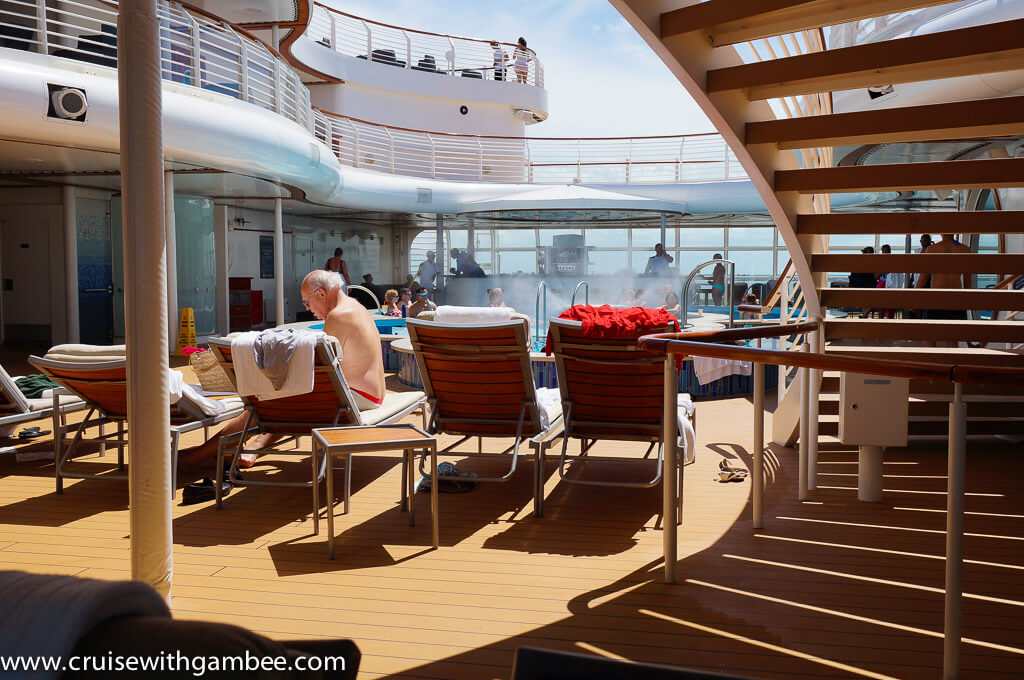 At 3:00 pm they hold a raffle in the spa, and everyone that did the tour participates in the raffle. Since we were right there, we decided to go. I was soaking wet so I did not last long there. The minute that I noticed that it was just a speech of all of their services followed by a raffle 40 minutes later, I decided to leave. Sarah however stayed until the end. You have to be there to win, but our names did not get called.
She told me a funny story, one of the massage staff asked "Who here wants to get stoned?" and an old men yelled "ME" and his wife immediately hushed him and told him to stay quiet. lol, by the way the lady was talking about the hot stone massage, not what might be thinking about. So for those thinking that Disney carries ganga, sorry no go folks, lol.
Then Sarah and I went for a little walking tour on the FWD of the ship. Here are the pictures I took.
By the way most bars are usually empty in the Disney Dream, with the bring your own alcohol rule, you can pretty much go and get a drink at a bar within seconds. I guess in way it lacks the bar atmosphere that some people enjoy.
That is the teenager pool area, I heard other people saying that should be the adult area, but I would beg to differ. For me it is crucial that I get an ocean view while I am enjoying myself in the pool, and unless they figure how to implement windows down there I am not sure this area would have much appeal to me. None the less is it a very neat little area, I wish I had gone down there that day and seen it in person.
This is inside the concierge area of the Disney Dream.
I love the Disney Dream Funnels!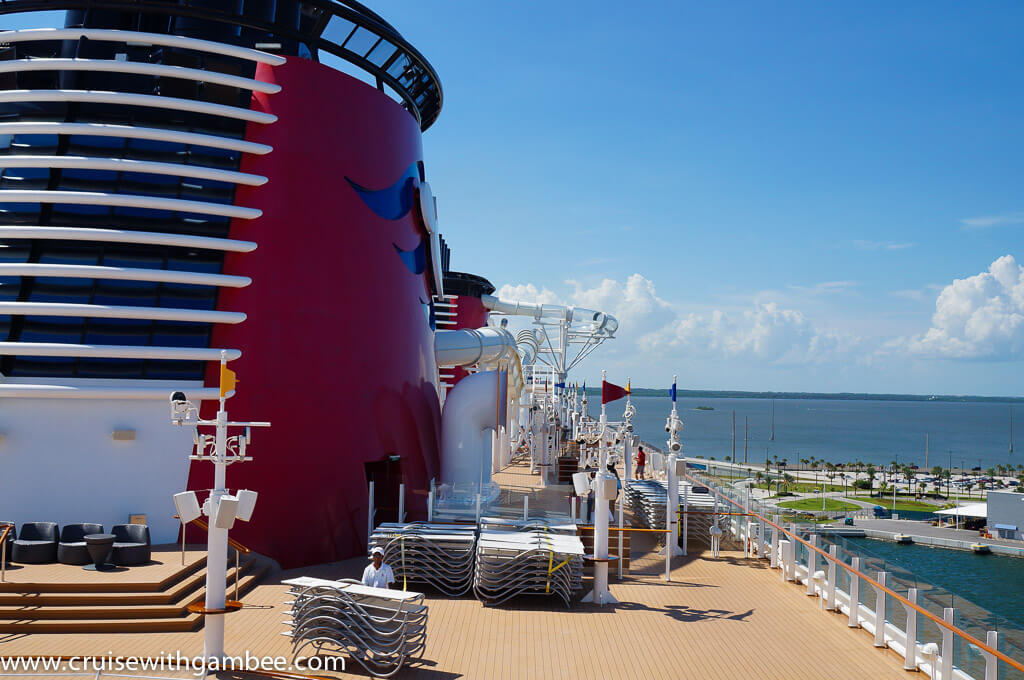 We went back down to the adult pool area, and I went to the Cove Cafe to get some pictures from inside the Cafe.
After relaxing in the pool for a little while it was almost time for our Disney Dream Muster drill so we started heading to the room to get ready and the Muster. I took a few pictures on the way.
FISH EXTENDER DISNEY CRUISE LINE. These are a big deal for Disney fans!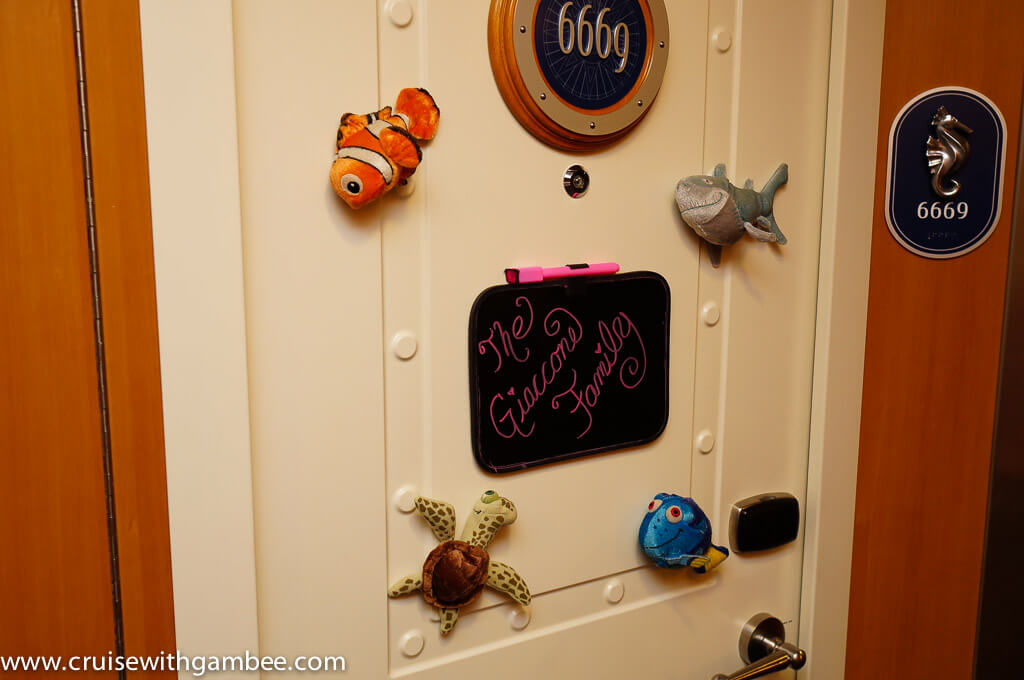 More on the Disney Dream on the Next page 🙂