Chapter 6,
Our Disney Dream Muster was about average, ours was in the club. Nothing really to point out except that the alarm noise was excruciating loud. They actually tell to cover your ears and even the crew covers theirs. This picture was after muster was done.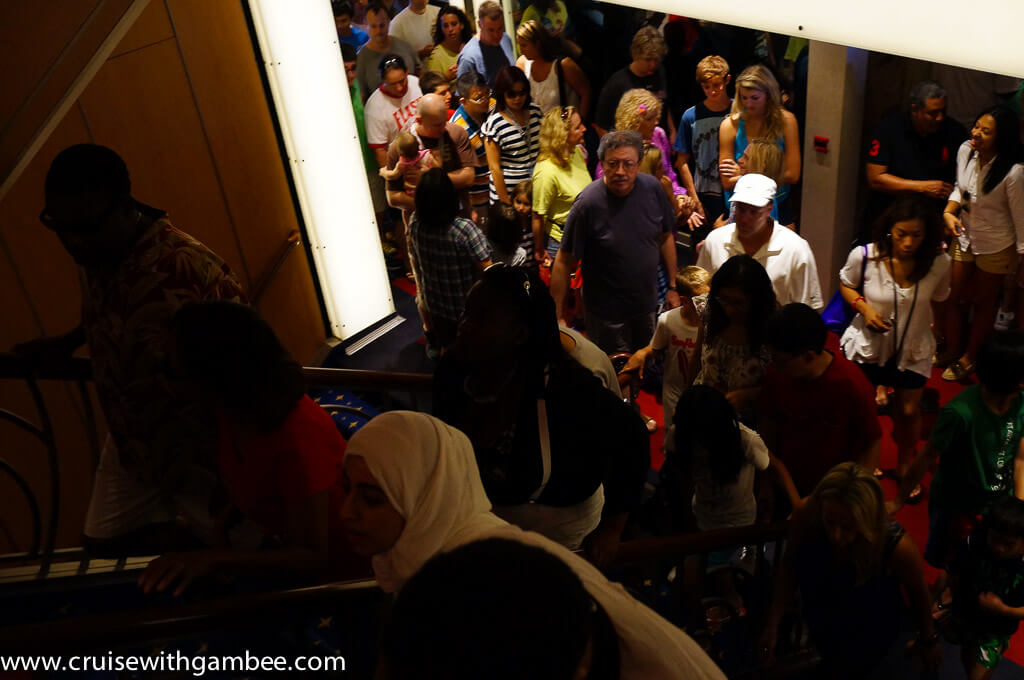 For our Disney Dream sail away we decided to stay in our balcony. Disney does have a sail away party by the pool, but as you can imagine it is packed and that is not exactly what I wanted for my cruise. I asked them if they wanted to go, but neither felt like going either. If you want to see the event just look for the video on youtube, type Disney Dream Sail away and you will see the video. I found out that it was a short show followed by a promotional campaign.
Something to note that is that Disney stream most of the events and Show performances live on TV. We found this out on the last day… lol.
I took a short time lapse of our sail away, I think it came out pretty neat. Check it out!
The pics for our sail away. It was your average sail away, Port Canaveral is surprisingly long, I was not expecting that.
They actually went inside before I could get a clear picture, I hope they lasted outside a little longer for the aft balconies to get a view.
After sail away we went up to the lido deck for a little walk, we noticed that they were almost done with the cleaning from the party. We also picked up some food from the Disney Dream pool food station. I have more pictures later on, but basically there are 3-4 stations with food at tall times. Most of the food there was really good, the only one that I did not enjoy was the pizza.
For those of you following my reviews, you might remember that my mom lost one of her crocks on the Norwegian Breakaway cruise. But no need to worry she went back to the store and ordered another pair of the same model.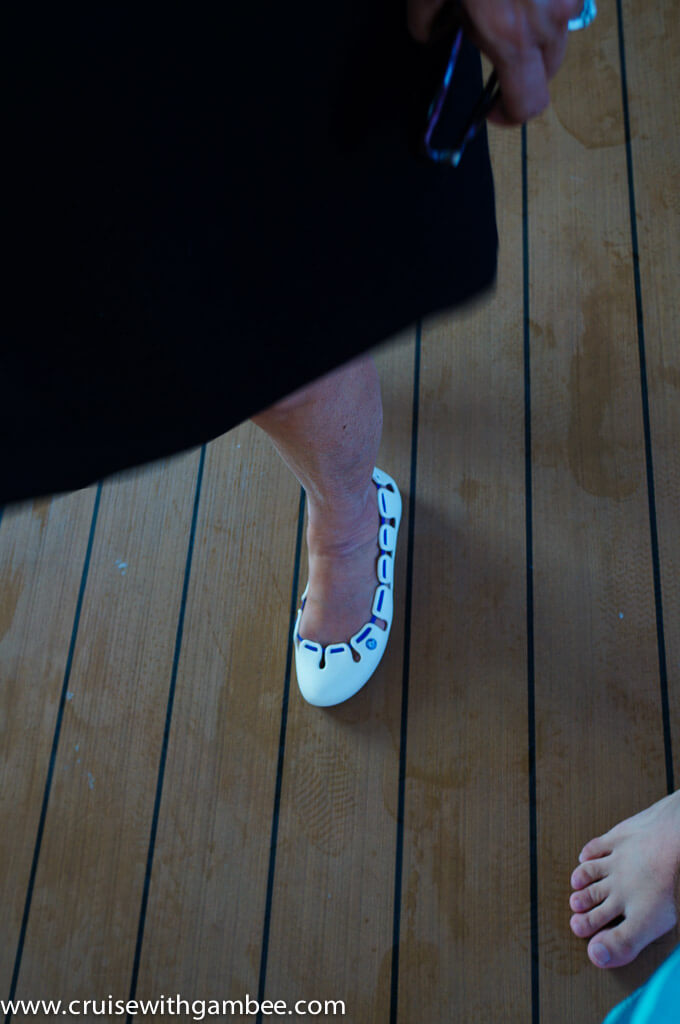 Disney Dream food stations and menu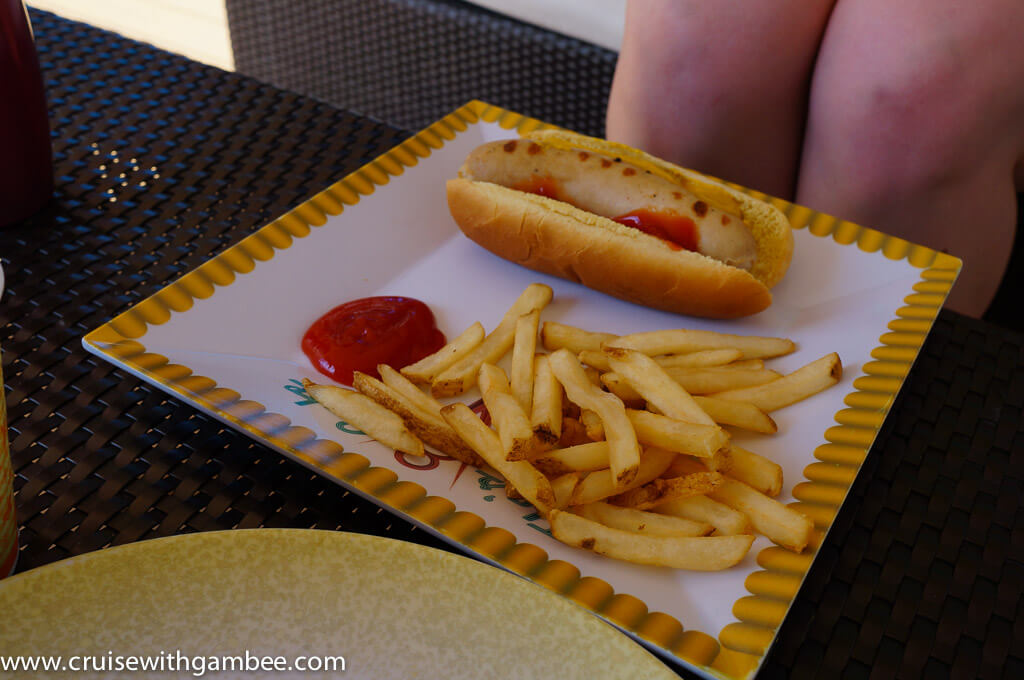 That was a BLT with brie.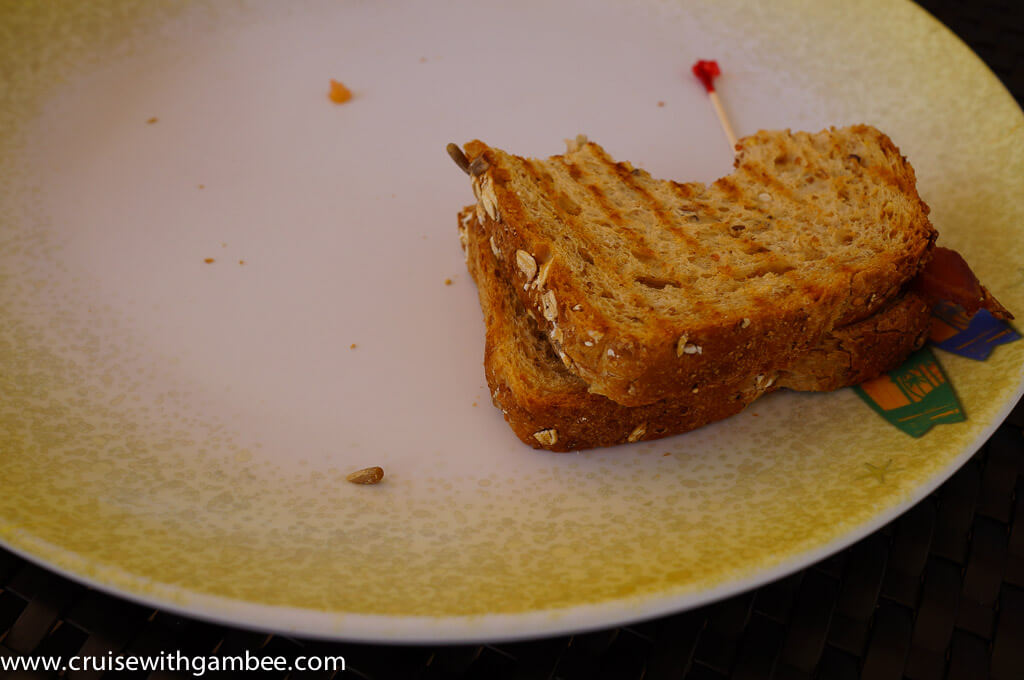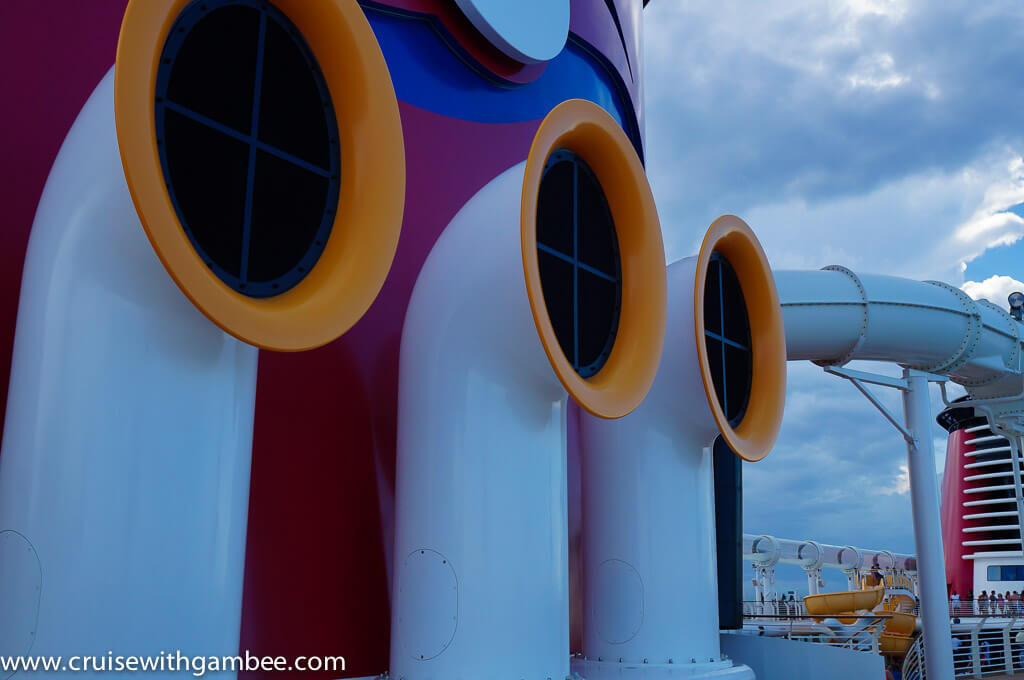 After we finished our food we decided to go for a little walk and finish exploring the ship. The main pool area was packed, and that is pretty much how it remained for the rest of the cruise.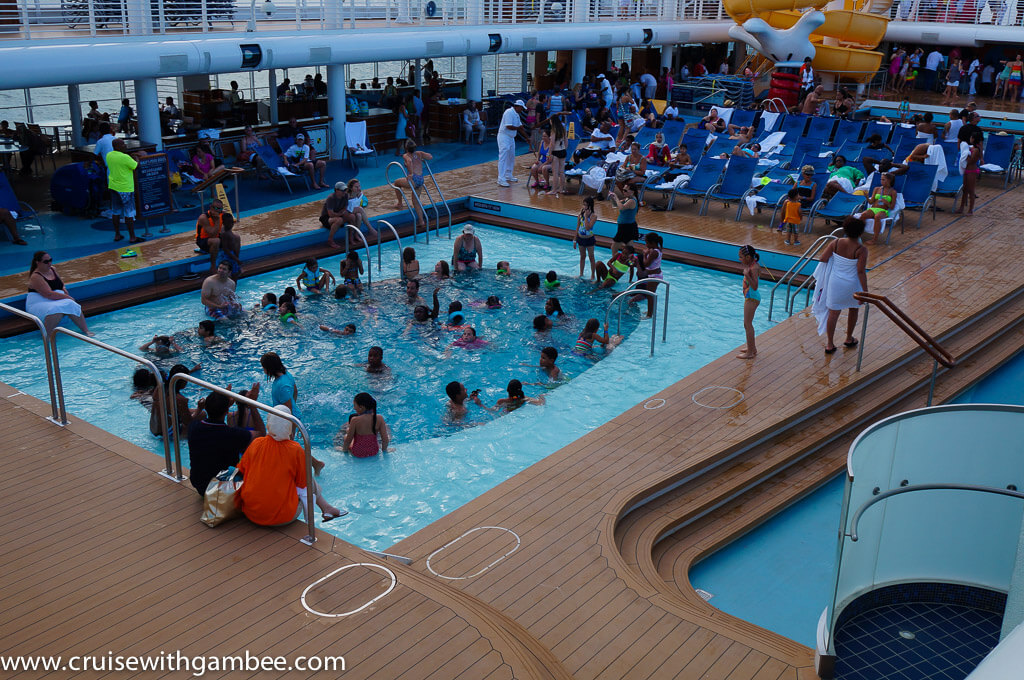 That current line in the Disney Dream aquaduck is over 30 minutes.
As for the Disney Dream Aquaduck, the line averages 30 minutes plain and simple. Granted I never did 30 minutes of line and I think I rode it 3-4 times. There are gaps when you can fully avoid the line. Late at night when the shows are going on is a great time. Also on Castaway Key from about 9am-2pm should be somewhat decent. But don't expect to ride while on Nassau, that was actually our original plan. But we soon found out that about half of the ship had the same idea that we had of staying aboard in Nassau…
So How is it? We all enjoyed it a lot, but I just don't think I would do the 30 minute line for it ever! But overall it is a great addition to a great ship. My mom loved it, because she can only go on rides that have a flotation device in them. They are usually too rough for her skin. They kind of bother me as well to. Needless to say she never went on any slides on Breakaway.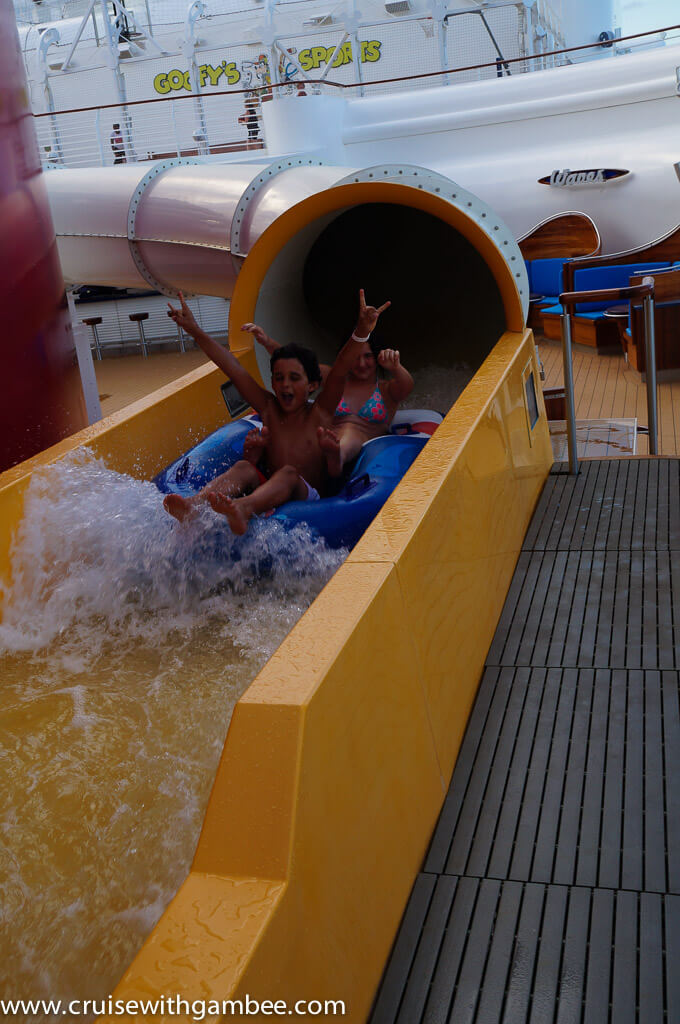 We keep on walking towards the aft of the Disney Dream until we got to the mini golf, foosball and tennis tables. I won on foosball, but I soon realized that I was a complete disaster at mini golf. Both times I lost and Sarah won. We had a lot of fun playing up there. Personally I though that this mini golf looked so much better than any other minigolf on a ship I have ever seen. It is much easier for Disney to create a minigolf with charters that they already own. Although I think NCL should of used the sponge Bob theme on theirs, I am really not sure why they did not. As the RCCL should use the madagascar theme in their ships mini golf.
Disney Dream Table Tennis table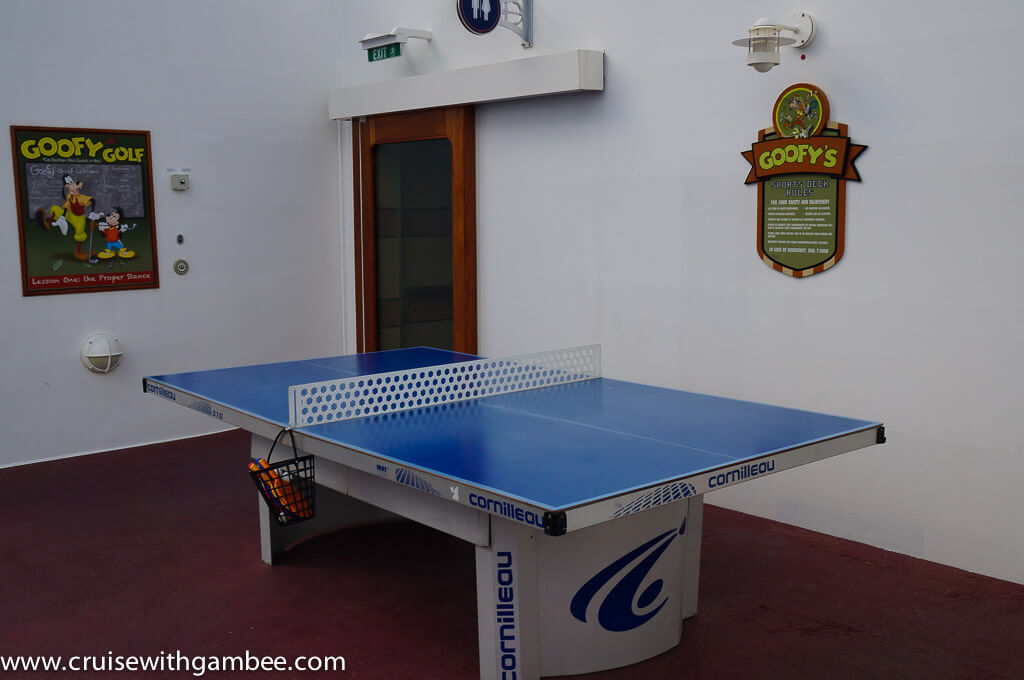 Disney Dream Mini Golf
For more on the Disney Dream go to the next page 🙂