Chapter 8
Day 2
One thing that I did notice about the Disney Dream is that it vibrates a lot when docking early in the morning for the aft cabins. I would dare to say that possibly more than the Norwegian Breakaway, if it was a port intensive itinerary on a longer cruise I might consider not getting an aft cabin. We all woke up to a vibrating ship and this of course was a solid indication that we were arriving to Nassau.
We had no real plans for Nassau as this is not particularly a port that I like that much. My initial train of thought was that most of the passengers would leave the Disney Dream and explore the island, and leave us the ship for ourselves. Well unfortunately that was not the case, it seemed that just like me that was the same thought of the other half of the passengers. I guess that most everyone knows what a crappy port Nassau is and that we all had a better chance at a much more productive day aboard a Disney cruise ship.
So since we had no real plans we were in no rush to do anything per say. So we slowly got up and headed towards the balcony to see what all the commotion was about.
The Carnival Breeze was already docked there and they were testing some of the life boats.
Atlantis on the Bahamas
The Disney Dream is a gorgeous ship, I think everyone stopped and either pointed or got pictures of it. I still do believe that the Carnival Breeze has nice lines, but it is just no match for the Dream.
I think Sarah and my mom showered while I just relaxed on the balcony for a little while. We did have to get off the ship so my mom could call her mom in Colombia and let her know that everything was ok with us. I really did not want to get off the Disney Dream at all, I really hate being approached by all the vendors in Nassau and it was also excruciatingly hot that day. But none the less it had to be done, and I did not want to let her get off alone. The ironic thing is that she will be in Nassau without me in a month aboard the Norwegain Sky, so go figure that one out. But I guess it is out of my control so there is nothing I can there.
At this moment I also want to point out that the Disney Dream had a lot more power outlets than other ships I been on. I think 3 or 4. In addition to that, Disney is not overly focused on turning all the light off your cabin every time you leave. Although we did, but at night when you come back, the lights are on for you and everything nicely setup. I do recall a few times on the Norwegian Breakaway our steward removed the dummy card to cut the power to the room.
I was also very happy with the AC of the Disney Dream room, it was always kept at a very comfortable temperature. I rarely had to play with the settings, and my mom was always comfortable as well. She is always complaining on other ships how cold she is.
We made our way up to the Disney Dream buffet and I took a video and pictures of the food there. A very nice selection,
Here is a short video of the breakfast buffet, just click on the small picture
Disney Dream Breakfast Buffet
The eggs benedict were just so so, everything else was very nice.
Miso soup for breakfast, I would of never thought about that, lol.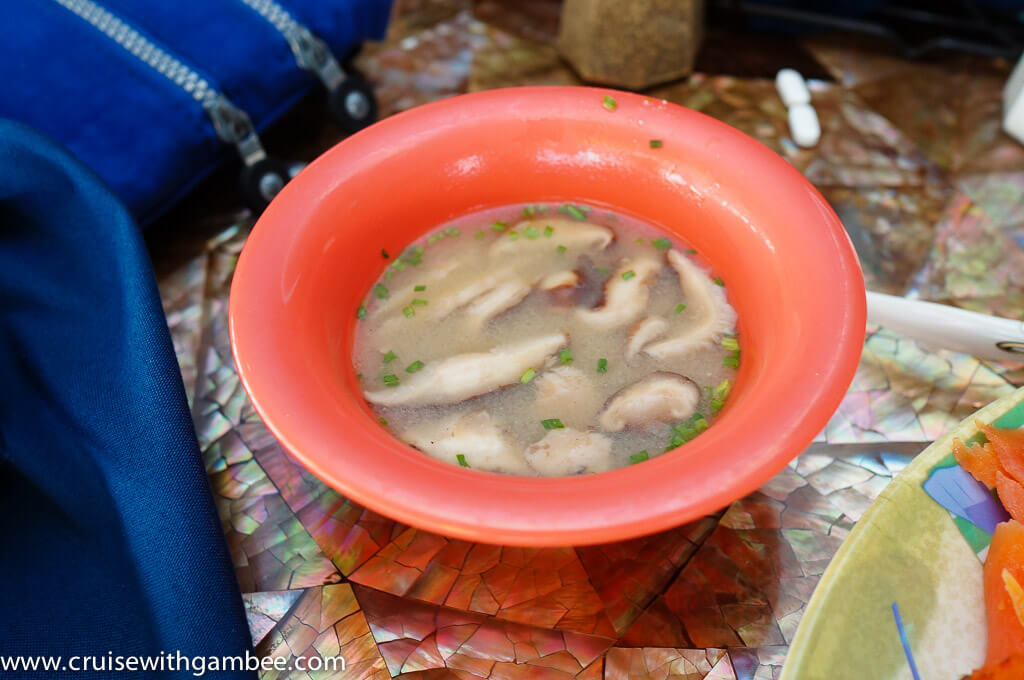 Something that I was not very happy about were the mini itti bitty sofa/juice glasses that they offer in the morning. I always drink a lot of liquids, and I think I could possibly drink about 5 of those per seating. I decided to use the coffee the mugs for all my liquids since they were slightly larger.
After a nice breakfast we made our way to deck 2 to disembark the Disney Dream. As mentioned before mom needed to call my grand mother to check on her. I took a few pictures on the way out.
They have character meet and greets at all times of the day on the Disney Dream.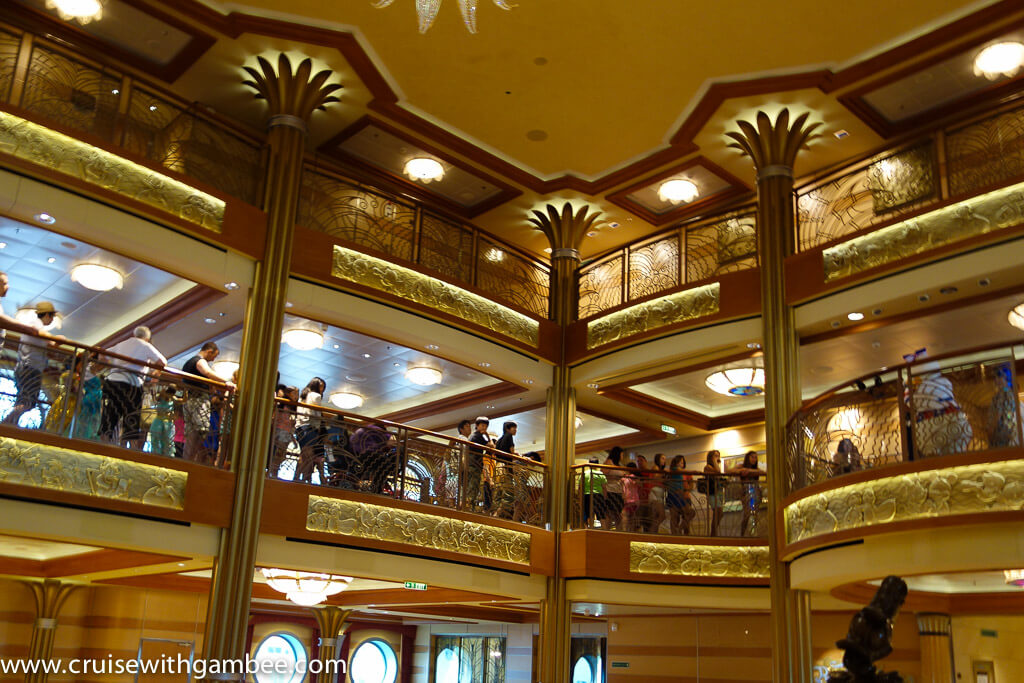 Getting off the Disney Dream is very quick and painless.
The Aquaduck hangs over the side of the Disney Dream.
The buildings in Nassau are falling apart, there is rust everywhere in the structure.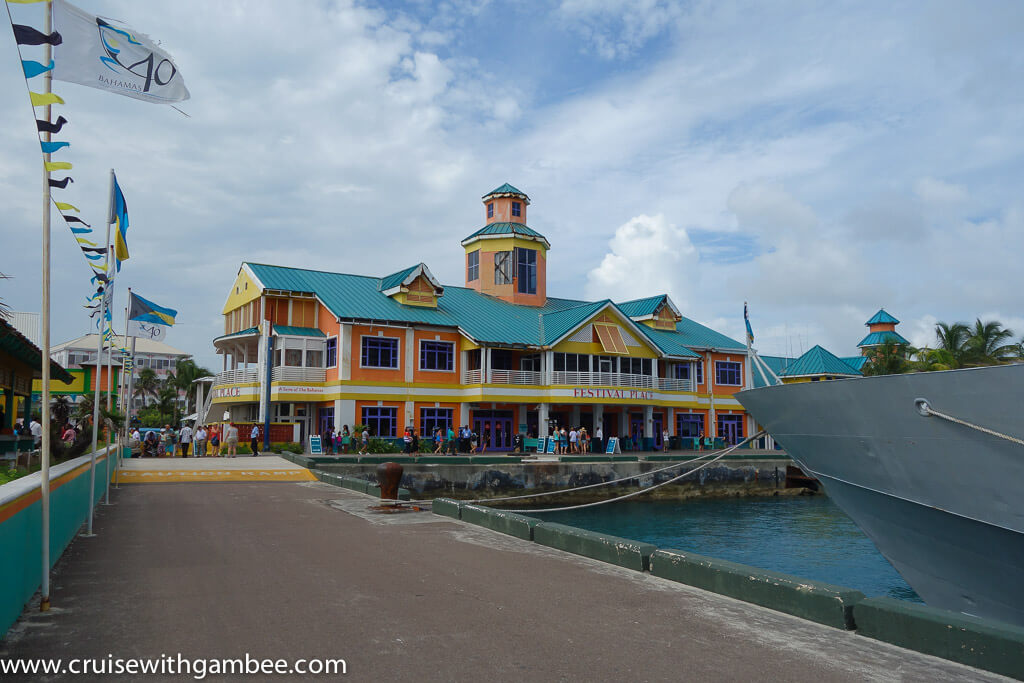 We went looking for the same place that we used the internet on our last time in Nassau. After a few minutes we found it.
There it is, I think the two phone calls cost her a few bucks.
Soon after the two phone calls, we left to board the ship again. On the way there my mom bought a T-shirt for a family member back in Colombia. And we also stopped in the main port building as they have free internet in that area. But for some reason my phone kept dropping the signal, so we quickly made our back into the ship.
I believe those are the regatta sailing vessels, I would love to try that shore excursion one day. It is crazy how tall the masts are.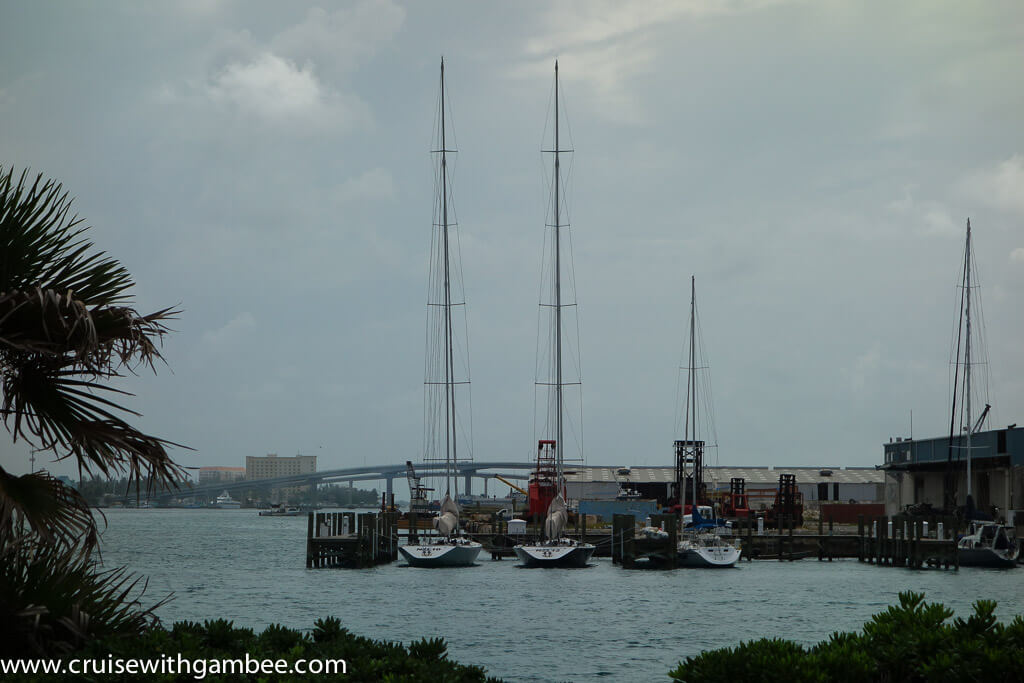 There is our room on the Disney Dream!
Back inside the Disney Dream we went to the room to change to head up to the pool. That day was spent mostly relaxing and drinking by the pool. Well I lie, and also lots of people watching 
.
The following set of pictures were taken with the Olympus underwater camera. I think most of them actually came out really nice, a definite improvement over my old Sony TX20
Here is a short Disney Dream Video of me walking through the pool area to the adult area. You can see how crowded the ship was on a port day.
Later noticed the Carnival Sensation arriving. I am not really sure why it took them so long to get there, maybe the Dream is much faster? But I must say that it was about 2-3 hours later than us. I have to say that I am not a fan of this class of ships, they just look very dated, but I imagine they are anyway. The balconies really look out of place, but I guess it was the only way they managed to add them.
We just relaxed there in the jacuzzi for some time and watched the sensation docking, and then all the tourists getting off the ship. It did not take me long to realize that it was a hot hot day. I rarely use the pools on cruise ships, I find them to be too busy and just not a nice place to relax. But the way the adult pool is done in the Dream is just perfect! It has 3 separate sections, one deep for swimming, another where you can sit and be covered by water, and the shallow spray area. It was a very nice place, I must of spent a lot of this in that pool.
Sorry the lens had sunblock on it, that is why some pictures are cloudy.
They were doing and outside massage.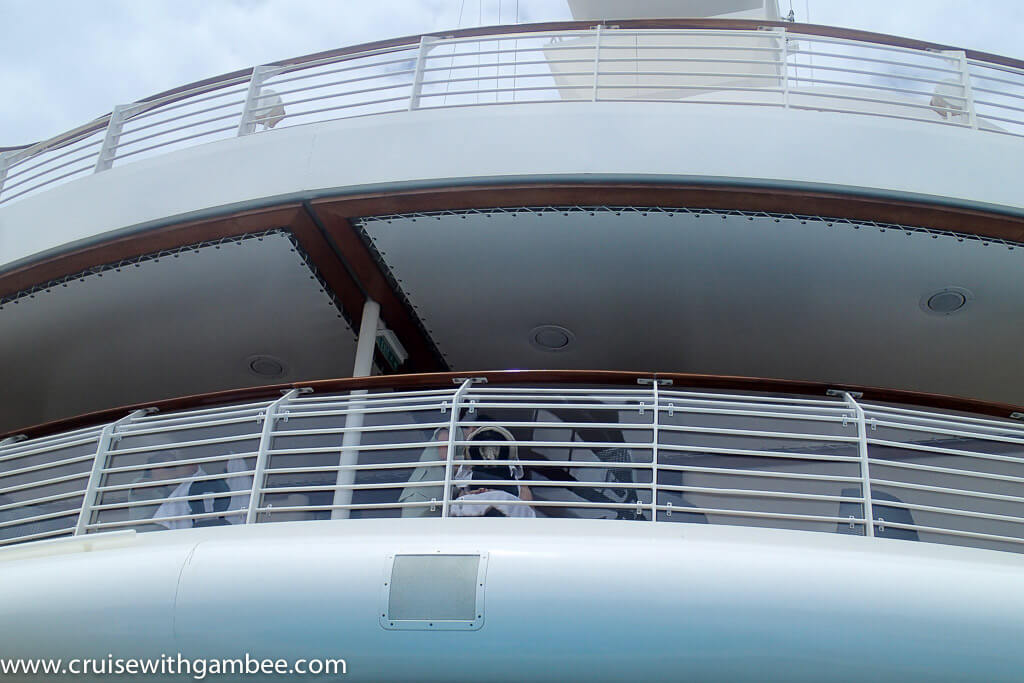 More on the Disney Dream on the Next page 🙂