There are many things to do in Falmouth, Jamaica. Some popular activities include:
Visit the historic town of Falmouth: Falmouth was once a major port for the British sugar industry and there are many well-preserved Georgian buildings in the town, including the Courthouse and the Old Jail.
Go to the beach: there are many beautiful beaches in the area, including Burwood Beach and Chukka Beach.
Take a boat tour: there are several boat tour companies that offer trips to nearby islands, such as Martha Brae and Montego Bay.
Visit the Green Grotto Caves: These limestone caves are located just outside of Falmouth and offer a unique opportunity to explore underground tunnels and see the crystal-clear underground lake.
Take a river rafting trip: The Martha Brae River offers a great opportunity for visitors to take a leisurely rafting trip through the tropical rainforest.
Visit the Good Hope Great House and Estate: it was built in 1755 and it's a well-preserved example of an 18th-century sugar plantation.
Enjoy local cuisine: Falmouth is known for its delicious seafood and traditional Jamaican dishes, such as jerk chicken and ackee and saltfish.
Shopping: There are many craft markets and souvenir shops in Falmouth where you can buy traditional Jamaican crafts, such as pottery and woven goods.
Here are a few of the ship excursions offered by cruise lines in Falmouth Jamaica.
Falmouth, Jamaica self guided walking tour (Photos courtesy of David Walker).
Falmouth, Jamaica taxi rates.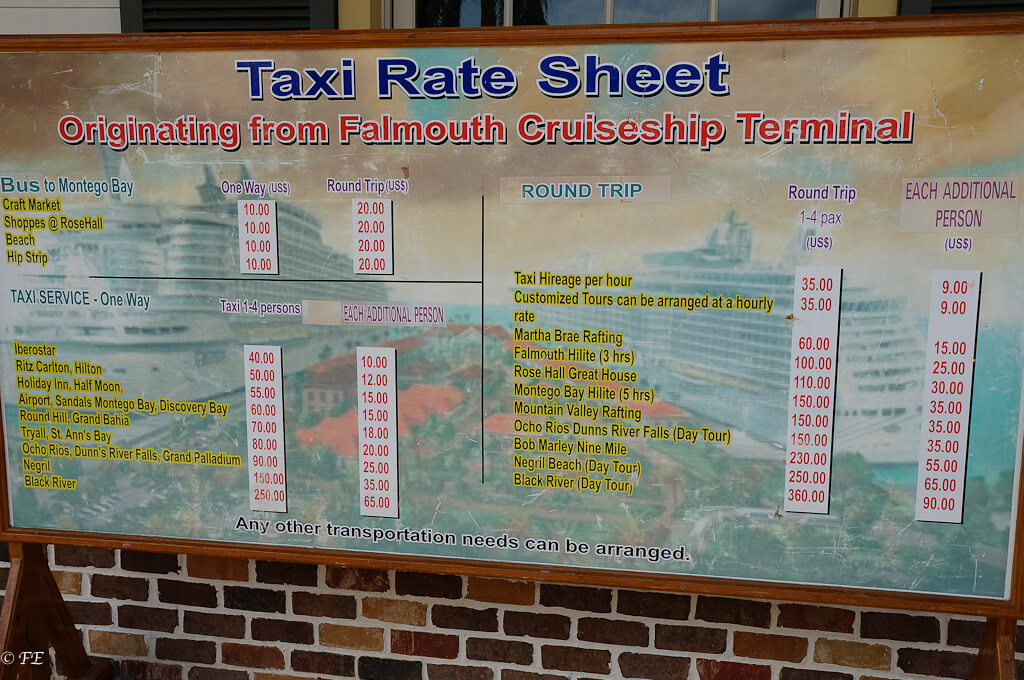 To get more information on Falmouth, Jamaica port photos Click here(Allure Cruise) or Here(Silhouette Cruise).