The sailaway through Puget Sound is most likely the nicest sail out route that I have been on. There is so much going on, and it is non-stop. Not to mention that there are a lot of possibilities to see wild life, although we did not see any that day. All the properties around are gorgeous.
Emerald has been cut free.
Lots of sailboats.
And here she comes!
I was curious at to what that structure was, possibly a telescope?
The pearl traveled close to us, throughout most of the cruise. It is funny, as I sat there and looked at the Pearl, and wondered what the people were up onboard of her. Ironic, most likely the same thing I am doing, lol.
Overall, I think we had the best view of the 3 ships, mainly cause we had the other two on our wake =)
Can't beat that!
I was constantly looking for wildlife, the issue is that I did not know how to do it yet. I guess I was just expecting to see a large whale in front of my eyes, but that is not how it happens, lol, well not usually. When I say wildlife, I mean mainly whales, lol. There were a bunch of seagulls around, but I wanted more =)
It must be amazing to own a sailboat in Seattle, and taking it during the weekend.
Most of you know my love for sailboats. And yes, it is still in my plans to buy one and disconnect from life, lol (neither mom or my husband approve, but its in my plans). Eventually I think I can make it happen, for now my focus unfortunately is on student loans… and of course taking care of mom.
Seattle's skyline in the distance, or whats left of it, lol. It was mostly covered by then.
I went for a little walk to check out the aft pool.
Love how dispersed the crowds are.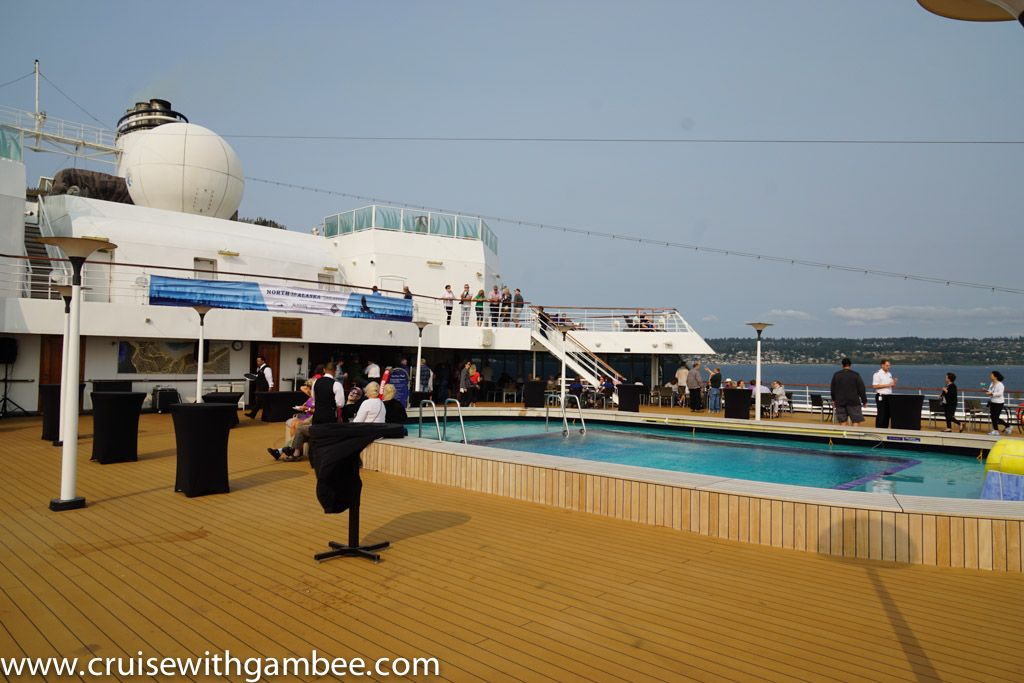 Those are the little stairs to the two secret decks.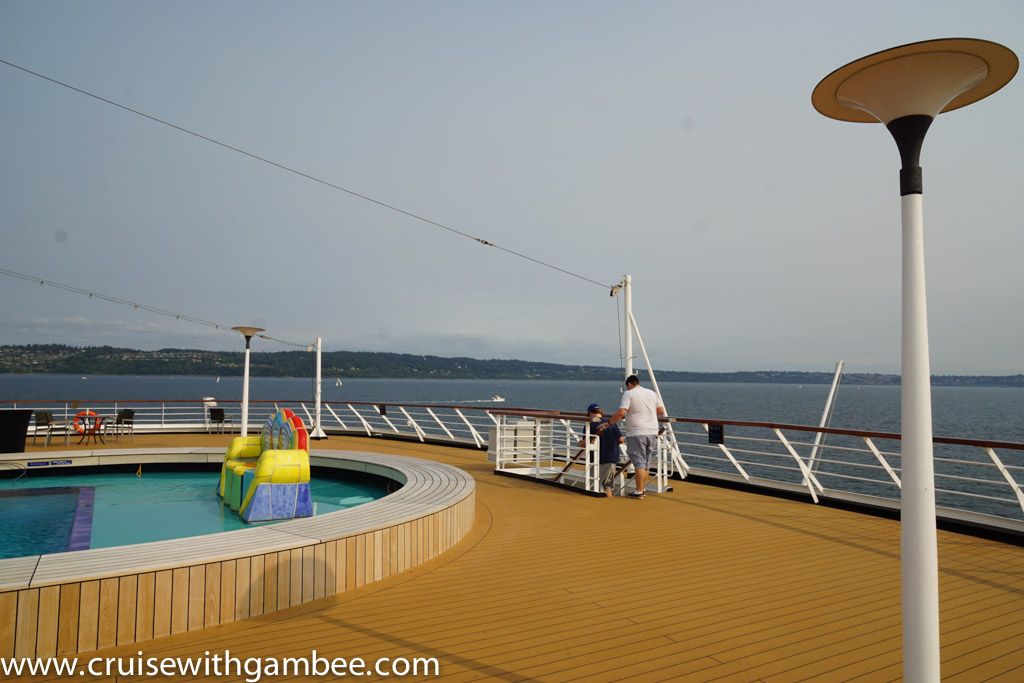 I love that aft pool area.
Remember that top deck that I was talking about? Well, there are two of them, one forward, and one aft. The fwd is normal open deck, and this is the aft one. It seems like it was designed to be a private area for the suites or something, because there was a "do not enter private area" sign there. But to me it looked like it was abandoned, and in dire need of help. I wonder why they did not take care of it when they remodeled the ship. It might be because it is not accessible by elevator, and this ship does tend attract an older crowd.
By the way the crowd was pretty mixed in our cruise, yes it was older than other cruises I've taken, but not by much.
Anyway, here is the (abandoned suite area?)…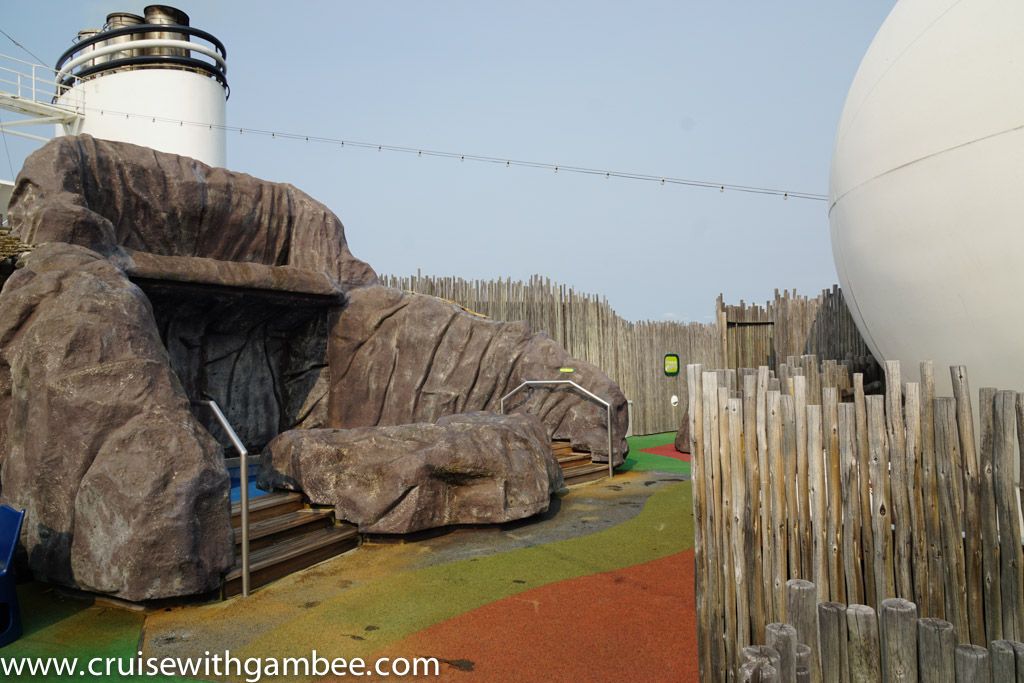 Maybe a kid area, I have no clue, just an odd place.
I don't care for the lack of ocean views, similar to the Haven NCL areas in the courtyard.
Thats not a pool or jacuzzi, its just floor painted blue. My guess is that it was maybe splash zone with a little water fall?
Back in the aft pool
With all your ducks in a row.
Ok lets talk MDR food. I though it was ok – to good, not horrible or anything, I enjoyed everything. But the issue is that it is hard to compare to other cruises, since I don't often go to the MDR. Although, I can say that the last cruise I took was on the Sky, and it blew the Sky's MDR out of the water.
Mom said that the soups had an incredible amount of starch to thicken them up. Soups are her thing, and I will take her word for it. One cool thing about Holland America is that a lot of the offerings of the MDR are offered in the buffet. Once I found that out, I completely stopped going to the MDR. As many know, I hate dressing up and all. So this was an ideal situation for me. That said, HAL was not as picky with outfits as I originally thought they would be. I mean I did have a nice shirt, and tie on Gala night, but no jacket. There was a good variety of attires, of course no shorts, t's or jeans.
Here is our food for that night.
This was prosciutto and arugula with some kind of eggplant/veggie spread. It was good, although I was not expecting that spread.
Ketchikan seafood chowder. Again, soups are not their specialty, if I ate that entire thing I would be bloated for a couple hours easy. I think that muscle was the only seafood in there.
Mom's trout. Which was good, but mom compared it to the one she had the day prior in a bay restaurant in Seattle, and they simply did not compare. This one was lacking flavor, when compared to the other one. The mashed potatoes were super yummy.
Beef stroganoff, I thought it was actually quite tasty.
This was a banana dessert with ice cream. Very tasty, we shared it.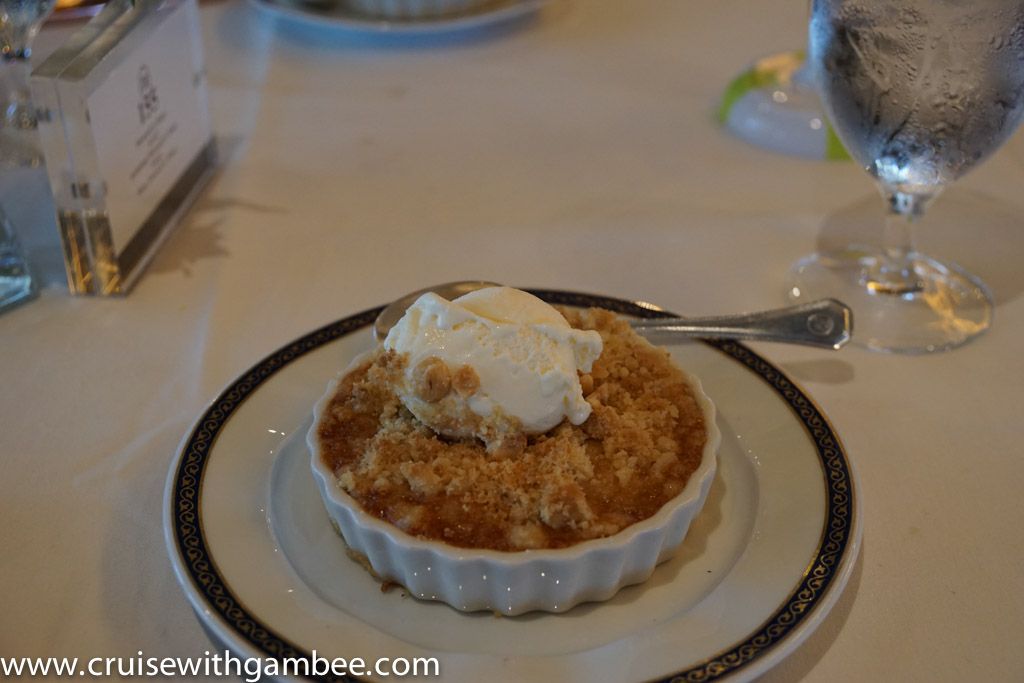 After dinner we went to the jacuzzi to relax a little, after that I went to the room and headed to bed. Mom went see the show, but I think she missed it for whatever reason it was, can't remember. I think she mixed the times up.
And that is it for day one. I guess I forgot to mention that I had pre-purchased two 1 liter bottle of whisky to be delivered in our stateroom, and we brought 3 bottles of wine with us onboard. We really only purchased like 3-4 drinks totals during the cruise, and the stuff we had lasted us till the end. We also brought a 12 pack of cokes for mom, in our carryon with us.
Overall it was an amazing day, and the cruise just getting started.
Day 1, end.
Click here for the next chapter.