Day 2 @ Sea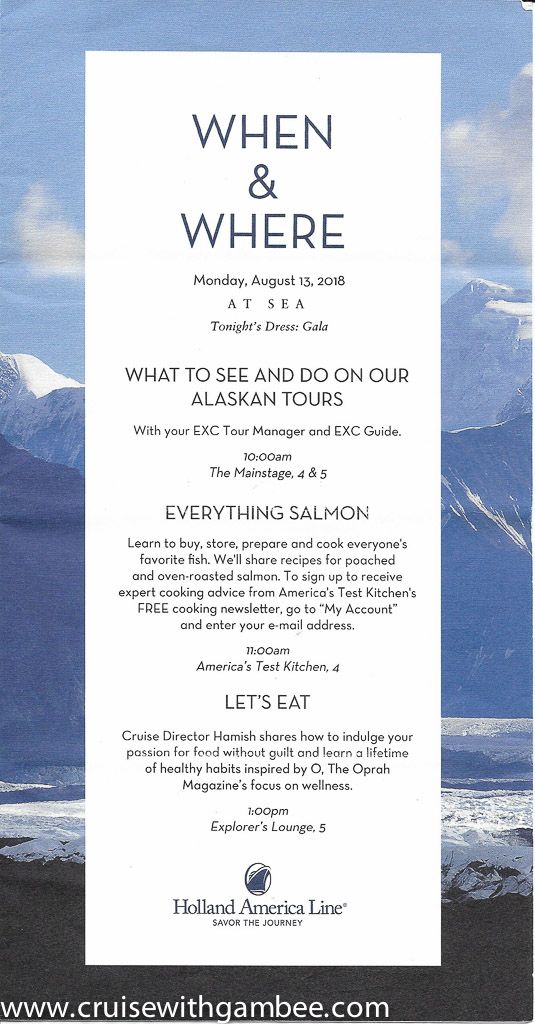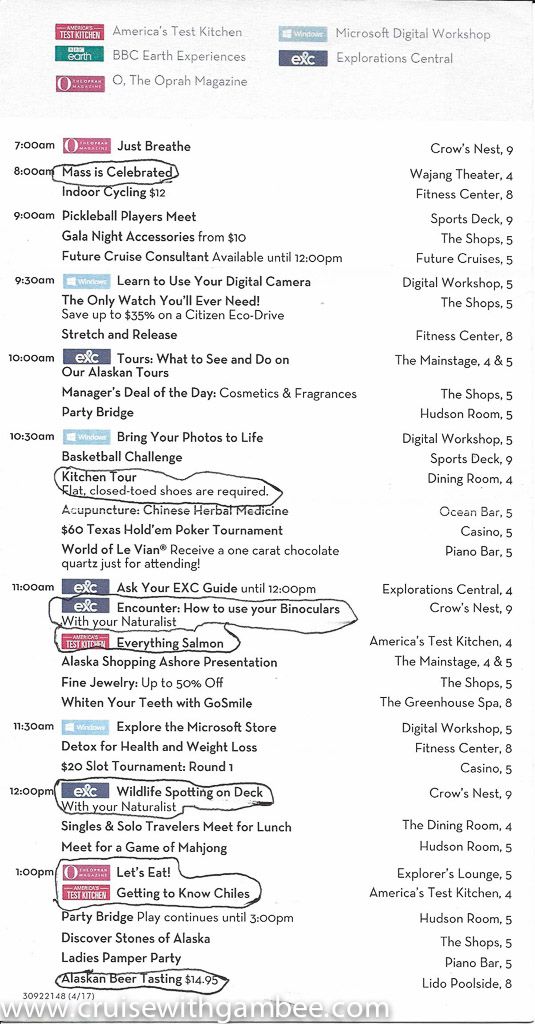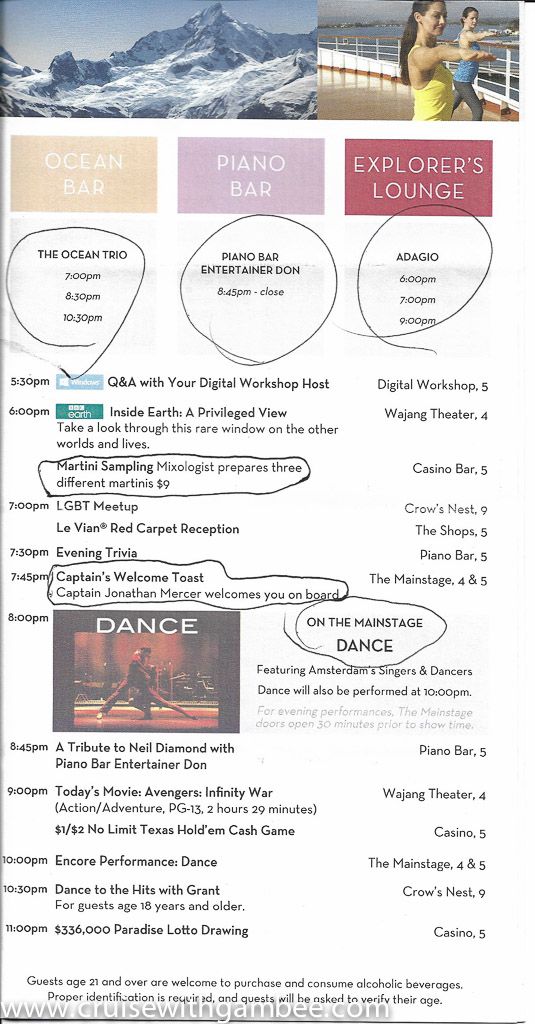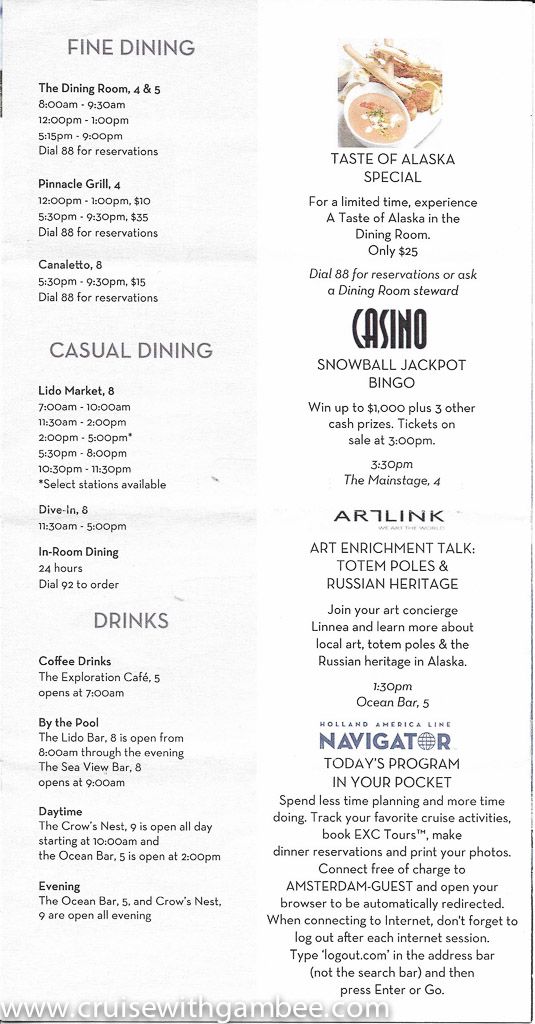 We woke up early, possibly because our internal clocks were still a mess due to the time difference between the east and west coast. But it was ok, we just wanted to get the day started. Mom did her usual and went online to connect with Colombia, which actually worked great because of the time difference, lol. I checked our position, and the activities for the day. One thing that I noticed is that it really never got dark around that latitude, I mean it was dark, but not super dark like in Florida (not counting the light pollution =/).
Anyway, we went for a walk.
The pearl was still with us, but we had lost the Emerald.
It was a little misty, windy, chilly and I was loving it. Keep in mind that August is a very wet month in Alaska, and we had planned accordingly for that. We bought waterproof shoes, umbrellas, bags and other stuff.
It was around 6:00 or so, very few people around. That actually kind of surprised me a little, I was expecting more people to be up and about.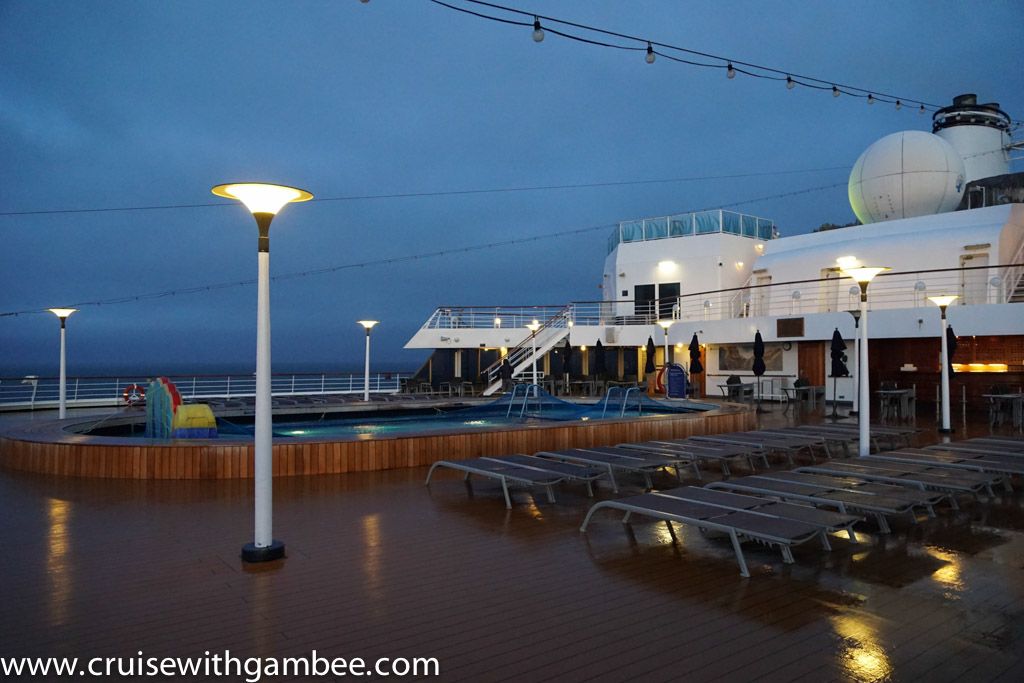 Looking into some nasty weather ahead of us.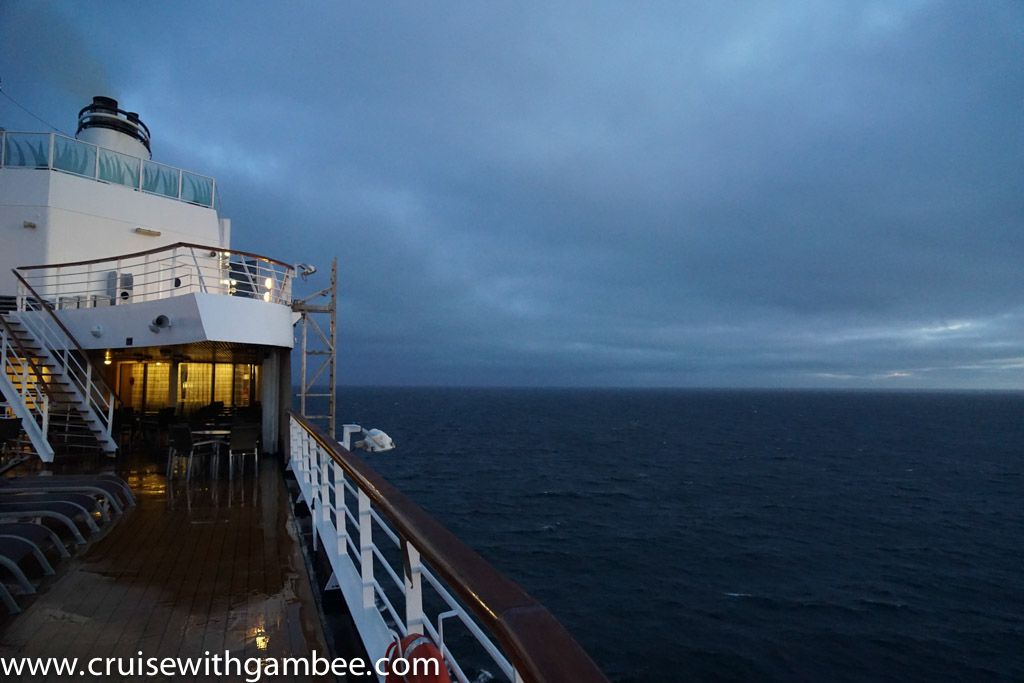 The covered main pool area is really nice. And there is always crew around keeping it nice and clean. I think the pool opens around 9am, and I recall someone complaining as to why it opens so late. Around the windows there are tables and chairs, so you can go get food from the lido and eat out here. Just a lovely area all around.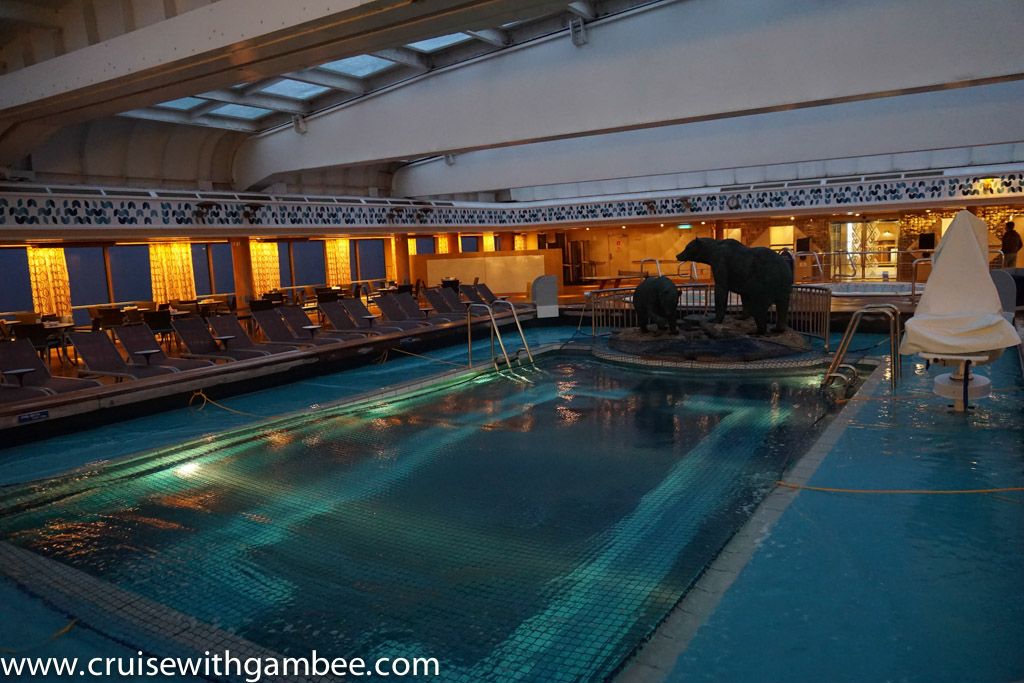 We were just waiting for the lido to open, I wanted some coffee =)
This is the lido bar, with plenty of comfy seating available.
Ok, look all the way at the end, there is like a salad bar? That is actually the taco/nacho station I was talking about. And right behind it is the burger joint window. I think I have more pictures later on. Also, towels flowed freely no need to tie them to your key card like RCCL, Carnival, and NCL (that annoys the crap out of me). I have no desire in stealing any towels, but because of a few rotten apples, we all end up paying with those rules to avoid shrinkage. Anyway, I was happy about that on HAL, makes traveling much more carefree.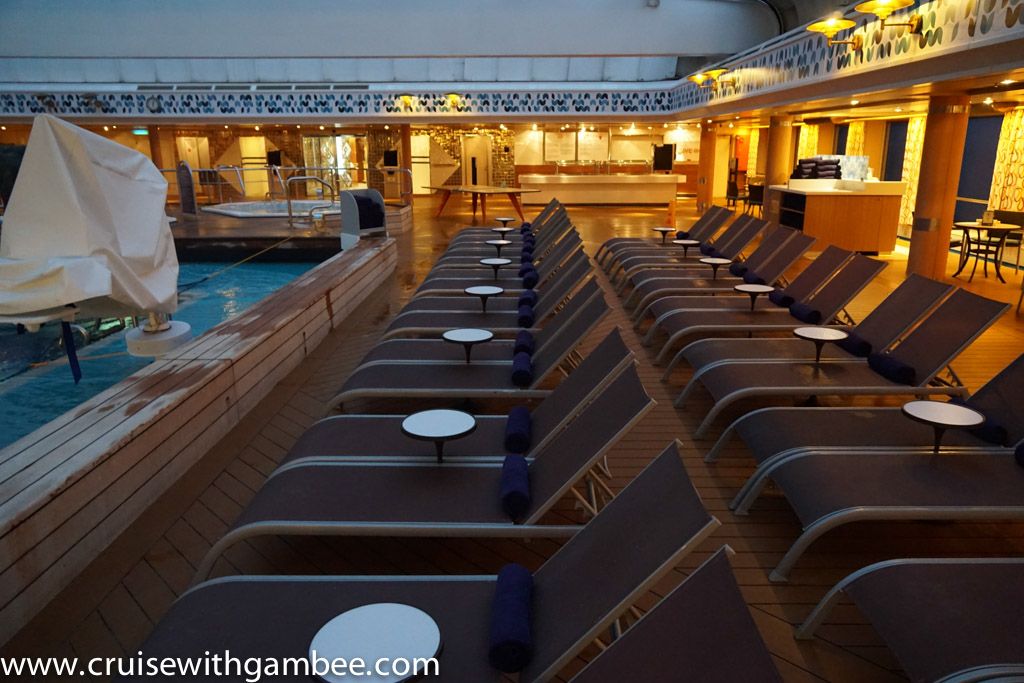 Then we decided to go to the Crow's Nest, it is right above the bridge, and a really nice area just to relax, read a book or nap. I pretty much stayed there from 7am-1130am (with little trips around the ship), took a nap and all. Mom went to mass around 8am, and I just enjoyed myself there. This is prime real estate in this ship (especially those nice yellow large chairs, I think there about 8-10 of them), but it is also very large, I never saw it full. There are a lot of events held here, from wild life talks to parties at night. A very versatile area, and possibly my third favorite one aboard the Amsterdam.
One thing that several people complained about was that metal pillars splitting the glass, the way they folded and split the glass is less than ideal. It really blocked the view and was detrimental for wildlife spotting, forcing people to move around constantly, very annoying. But what can you do, its the ship's design. It really did not bother me that much, mainly because I only went there to take naps, lol.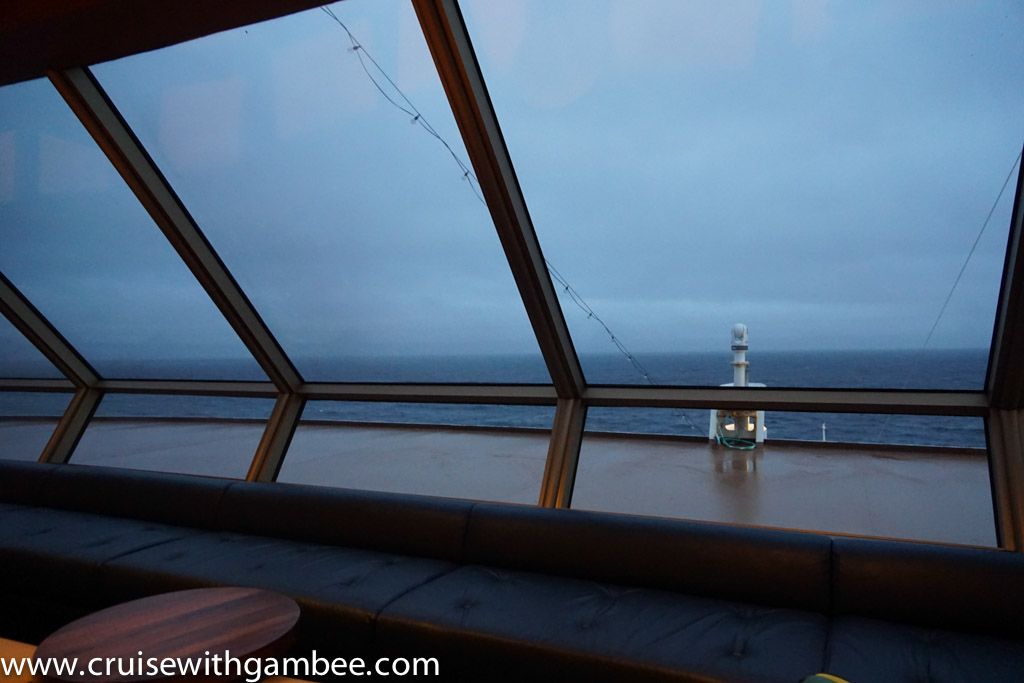 I enjoyed my coffee (which by the way was great) and read the news. They usually have a couple of publications on the ship, for the most part they were neutral, which I appreciated. One from Canada and one US.
They had a gorgeous MS Amsterdam model there. I would love to own a piece like this, just not sure where I would it in our already shrinking apartment, lol.
They also had a navigation screen that even showed other vessels in the area. Pretty cool! We were sailing at a steady 23 knots.
At the time we were waiting for the buffet to open, I do think that open-close times could be better for the lido. They tend to open a little late for our taste, or maybe we were simply waking up too early, who knows.
I guess we headed to the buffet.
I think it was a Carnival ship in the distance. I could barely make her out.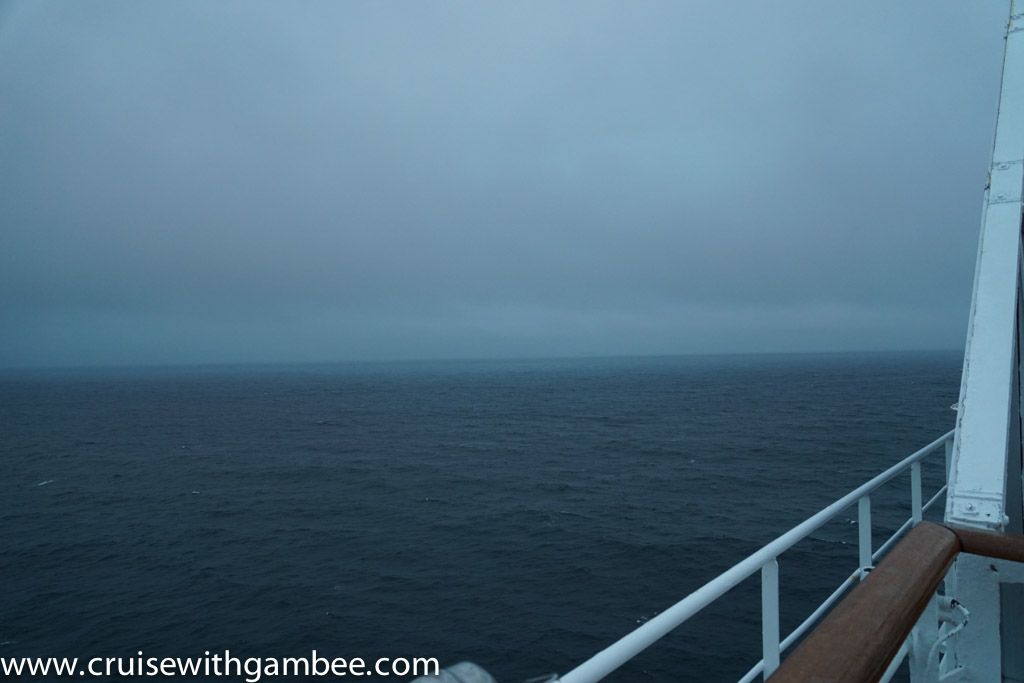 She was way out there.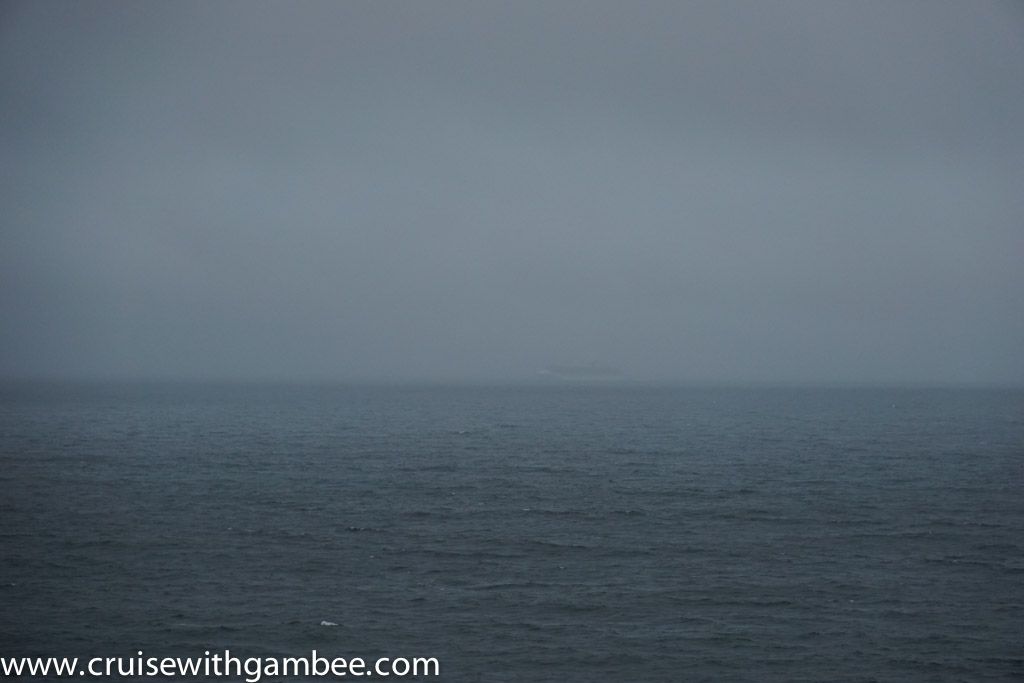 The weather looked better towards the aft than fwd.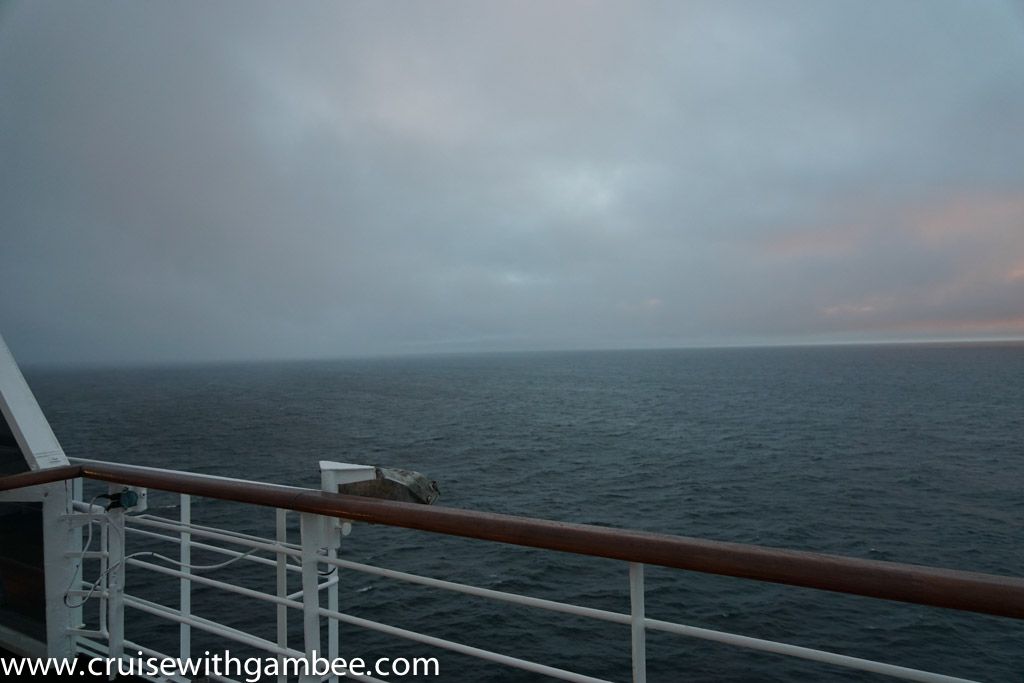 The weather was looking a little gray ahead of us and the ship was gently rocking, I was loving every second of it!!!
I guess the buffet opened at one point. Ok, lets talk about the buffet. This one is unlike any other buffet I have been on a ship, well at least for breakfast. Nearly everything is made to order, and yes it can get busy if you at peak times. But since mom and I always went really early, we never had any issues with crowds. Food for breakfast was good, no complaints there, we enjoyed everything, just kinda wish a little more variety (maybe a Colombian arepa, lol, just kidding). But you could get just about everything that is offered on ships, from french toast to eggs Benedict.
Best part of all, and one that I had yet to experience is that they had servers refiling drinks like every 30 seconds. Usually, on most ships I have to get up and get everything. Here I could sit down, and they would bring everything from included drinks, to liquor. I think they refilled my coffee about 3-4 times each morning, it was AWESOME!!!
Breakfast with a view. Oh yeah, the ship was full of fresh flowers. I completely forgot to mention that during day 1. Mom was really enjoying them, she loves flowers!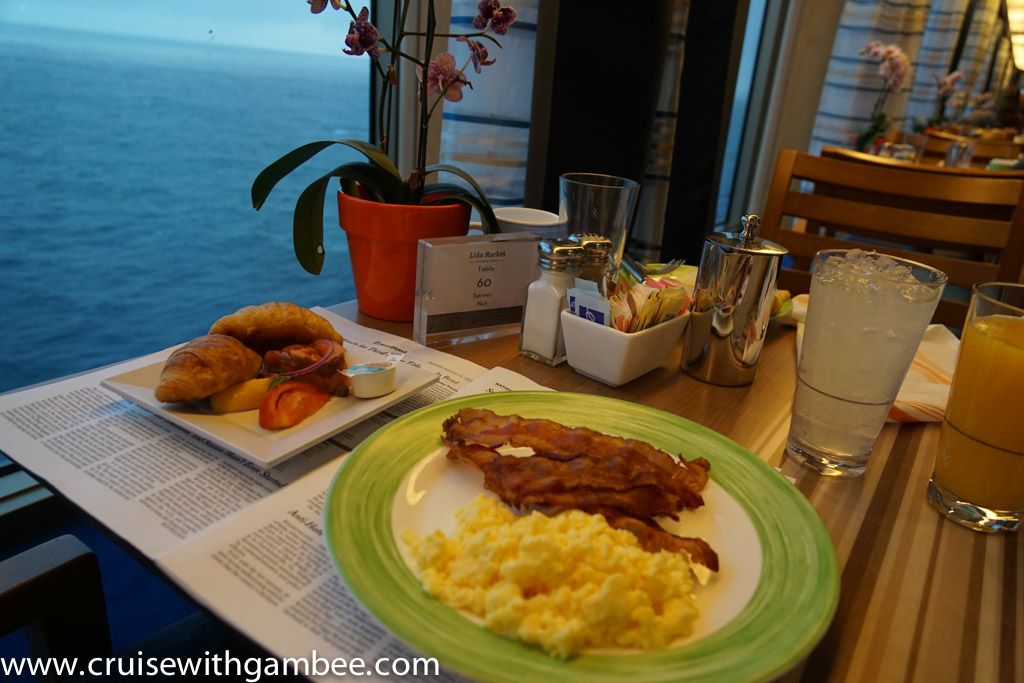 After that, mom went to check out the sales. They had some good deals, and mom actually bought a really pretty cardigan. I wanted to buy a few things, but decided not to, and wait until we got to Alaska. But overall, they had good deals. Oh, yeah, they had a really cute service golden labrador, the owner was also super sweet, nice lady. I try my best not to pet them, they are service animals and that should always be respected.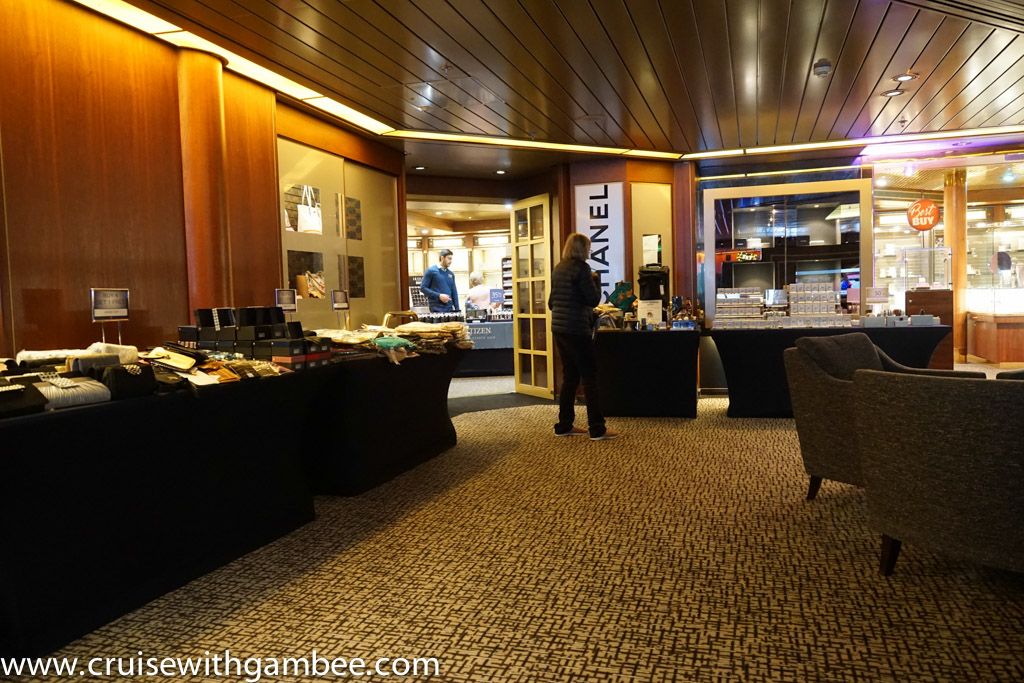 I waited while mom shopped a little. Just loved the decor of the ship, nice, mellow. And I cannot complain if they have photographs of old school sailing vessels =)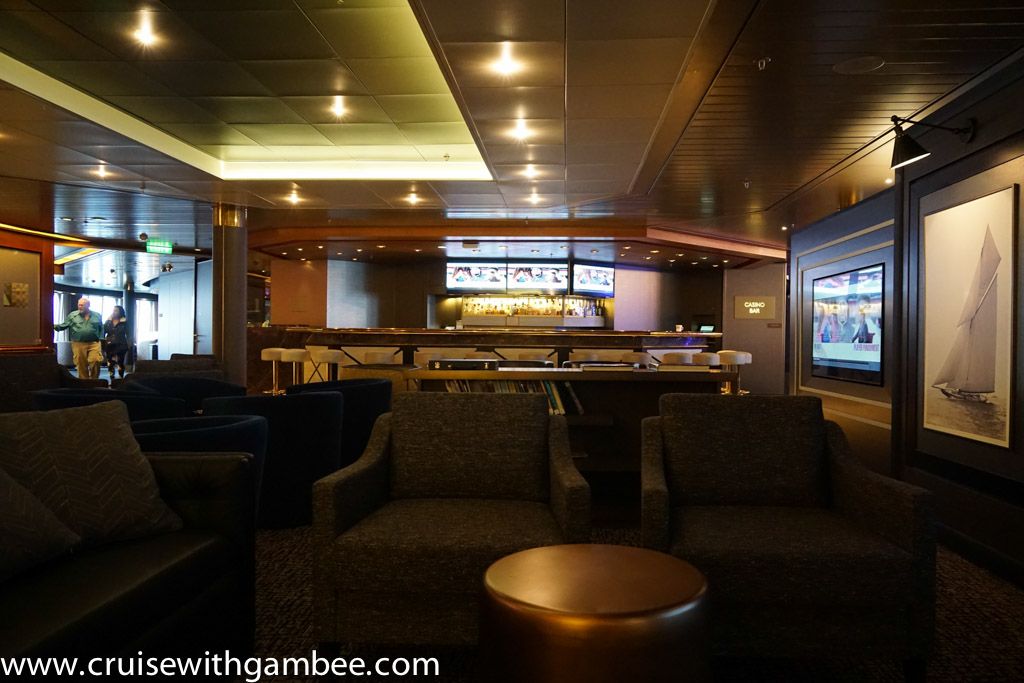 We went back to the Crow's Nest for the "How to use your binoculars" talk.
By the way, the Naturalist was awesome!!! He was home based in Seattle, and he was just a great dude! Easy going, plenty of information to share, and best of all, if he was not sure, he told you straight up. I really appreciate that from people. At one point I asked him something, and he was unsure of the answer. Later on in the cruise, he came to me with the answer. Oh wait, it was about nautical signs, now I remember. Anyway, nice guy. HAL is doing well, great crew. When it came to wild life, My God, he was an encyclopedia! I even told my mom during one of our shore excursions, "The ship's naturalist is way better". I think he had a significant impact with me enjoying that cruise as much as I did. This is the most I have interacted with staff/officer/crew, aside from NCL Escape in Vibe, which we spent most of our time. I simply saw him, and we just started chatting, best of all he was all over the ship.
This is about as busy as I saw the Crow's Nest. Reminder the ship's capacity is set at 1,380 passengers, I guess it is easy to spread the crowds to the point that you feel that there is only a few hundred people aboard. We relaxed there until the ship's naturalist got ready, and set everything up.
Believe it or not the lecture about binoculars was really interesting, and extremely helpful. Who would think that, you figure they are super simple to use. But he went over different methods, and such. And yes, he actually helped me get my binoculars setup dead on for my eyesight. Long story short, binoculars have 2 adjustment points, and it requires you closing one eye in order to set it for the other eye. Sounds simple, but I was not aware. Now I know =)
After the binocular lecture, I went to the room and took a long nap. It's been a while since I was able to take naps, so I really enjoyed that. Not really sure what mom did, I think she also took a nap but in the pool area, but not really sure.
At some point I woke up, and headed up to the burger place to get lunch. It is really cool, you order your burger and give you a buzzer to come back when its ready. It takes around 5-15 minutes, not bad for a juicy fresh made burger. Ok, so to the left is the taco/burrito/Nachos bar, you can just go there get a plate and get your snack. I ate there multiple times, maybe as many as I ate burgers =)
They have two pingpong tables, one on each side of the ship. The kiddos kept them busy, and they also have events as well. As you can see the crowds are just not there, and keep in mind this is a Sea day. Actually, the jacuzzi that is fully empty, is the one that was hot. The one with people in it, was the warm one. You can also see a few kids in the pool having a good time.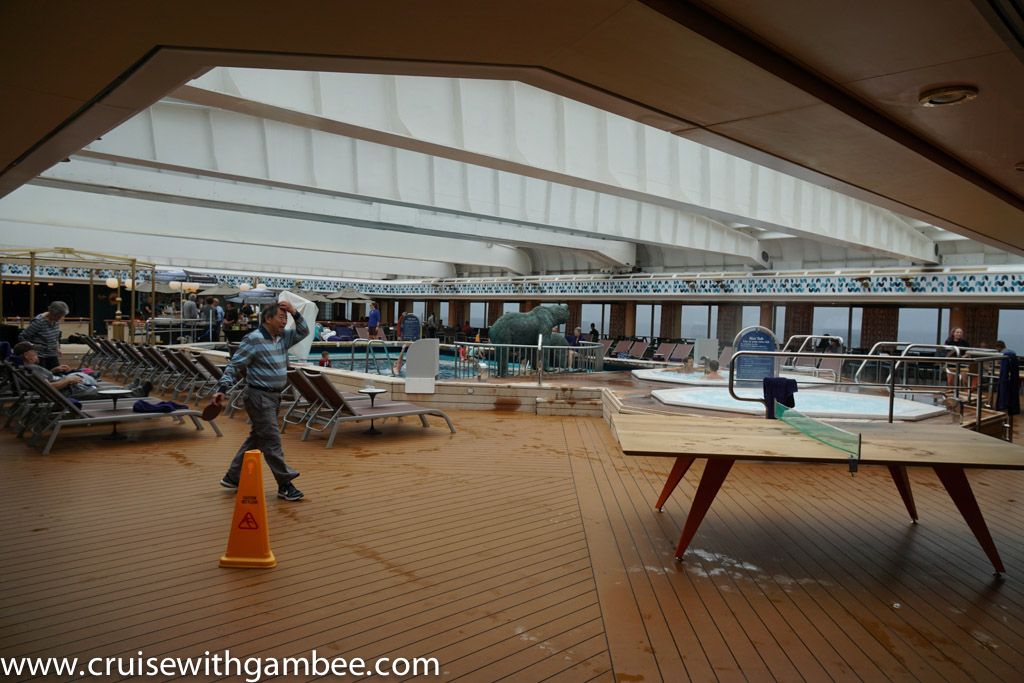 I sat there and ate my burger, which was super yummy!
The pearl nearly passed us at one point, and she was sailing much closer to coast than we were. You can see the mountains in the background, we were actually pretty far out. I wonder why some captains sail close to land vs far from it.
Click here for the next chapter.