Day 4, Hubbard Glacier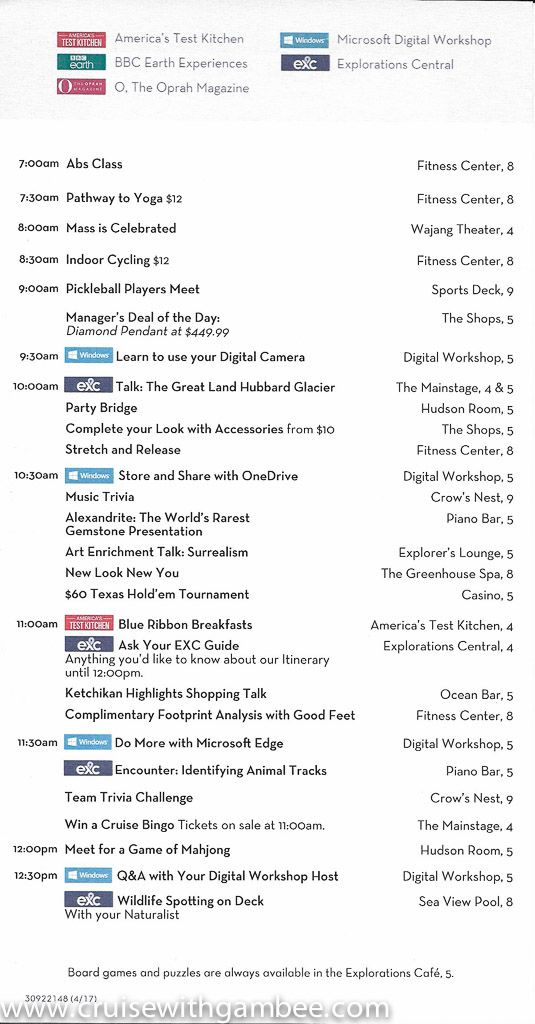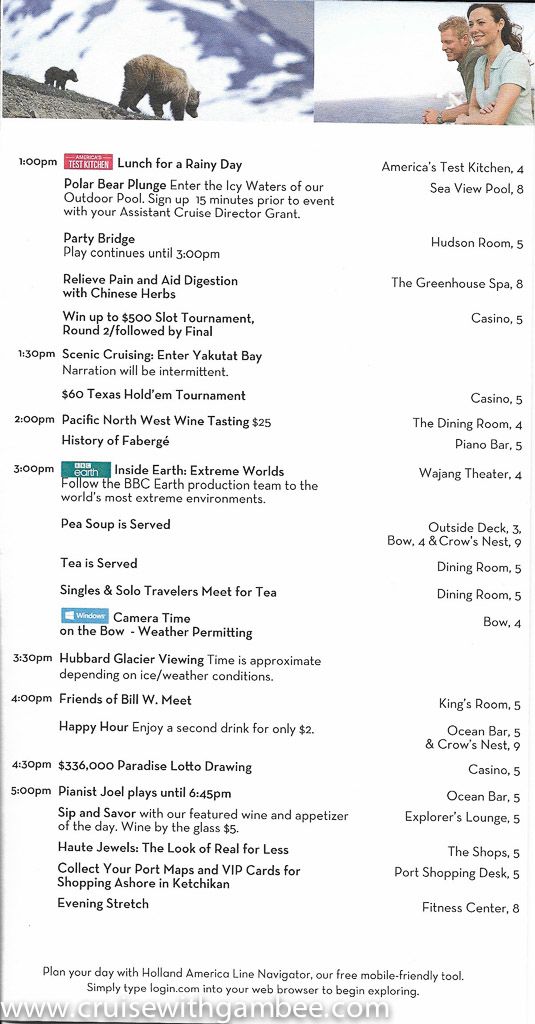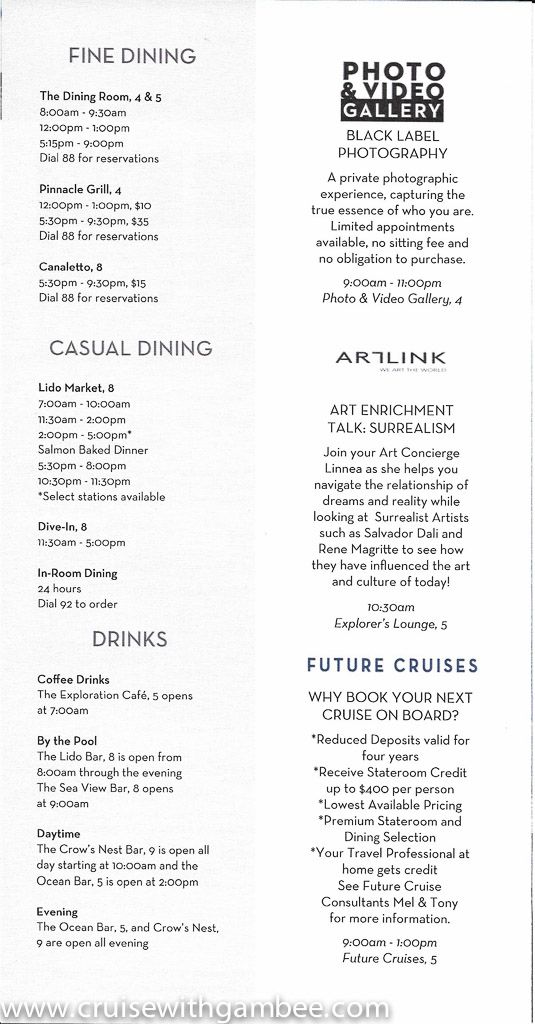 We really did not know what to expect from this day. We knew that a good amount of people (if not most) aboard the ship had booked this cruise in particular just because of today. The word was that Hubbard Glacier was 1k's times better than the other cruises that went to Glacier bay. Hubbard Glacier is one of the few glaciers that is still expanding, unlike the ones on glacier bay.
All we knew, was that it was going to be a day full of fun adventures, and we were ready for them.
Oh wait, I almost forgot. During that night the ship ROCKED AND ROLLED!!!!!! A LOT! By far the most we have ever experienced. I went to the bathroom a couple of times, and hit myself on the walls on the way to the bathroom. When we woke up, the ship was more stable. It was then when my mom told me that she held her urine for a long time due to fear of falling while going to the bathroom. I made a mental note, that if she needs to use the bathroom, she needs to wake up me up no matter what. Holding urine for that long does no good to your body. Other than that, I loved every second of that night. I pretty much rolled from side to side, it was awesome. A few people on the buffet that morning looked pretty bad, they were just there drinking a ton of coffee.
Not really sure at what time I woke up, or what I had for breakfast. But my wild guess is that it was early, and I had eggs Benedict, that seemed to be a fair pattern that I followed most days.
I guess after getting ready we headed to the aft pool, to look for wildlife and just enjoy our time. Mom, as usual freezing, lol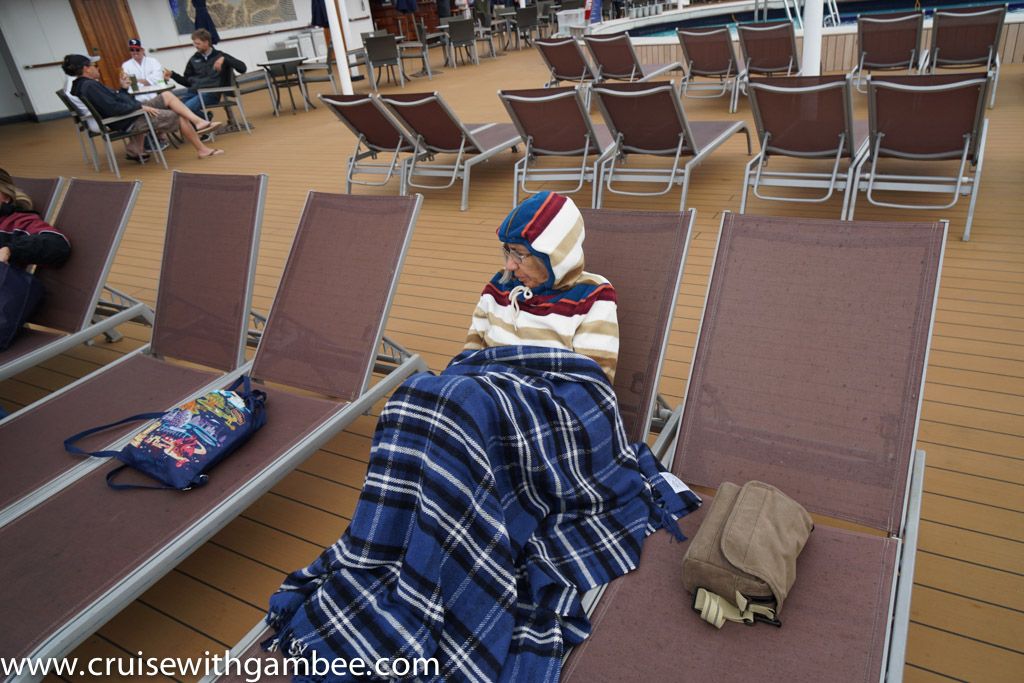 It was rather cloudy, but that water was just incredible. So smooth.
Few people looking for whales. Personally, I did not see a single whale that day.
The naturalists was there helping with the wildlife spottings.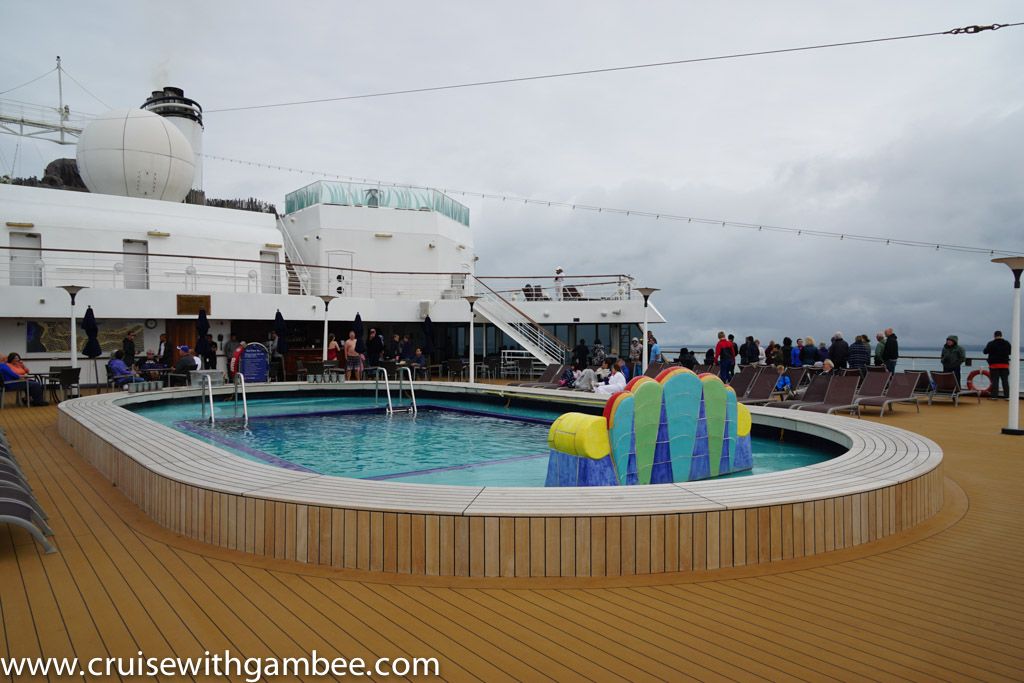 Everyone was getting ready for the Polar bear event. In brief, brave volunteers go in the pool and then get a bunch freezing water dumped into them, and then go in the pool again. Ummmm, yeah, I had no intent of doing such event. But it was fun to watch.
Here are the brave volunteers, you can tell it was pretty cold. A wild guess was around 40-45 f.
Then they all go in the pool, which is actually nice and warm.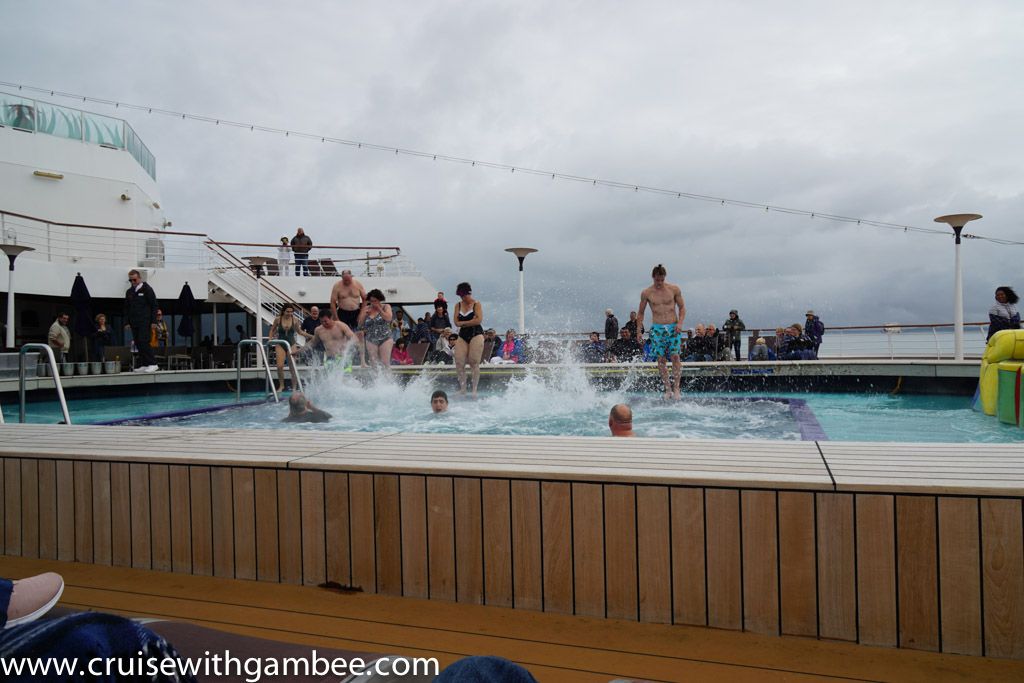 Then the CD goes on and offers a Bottle of champagne (sparkling wine) for the one who goes in the pool fully clothed, sure thing sweetheart… Well, maybe if he offered to pay for my next cruise I would dare going in, lol.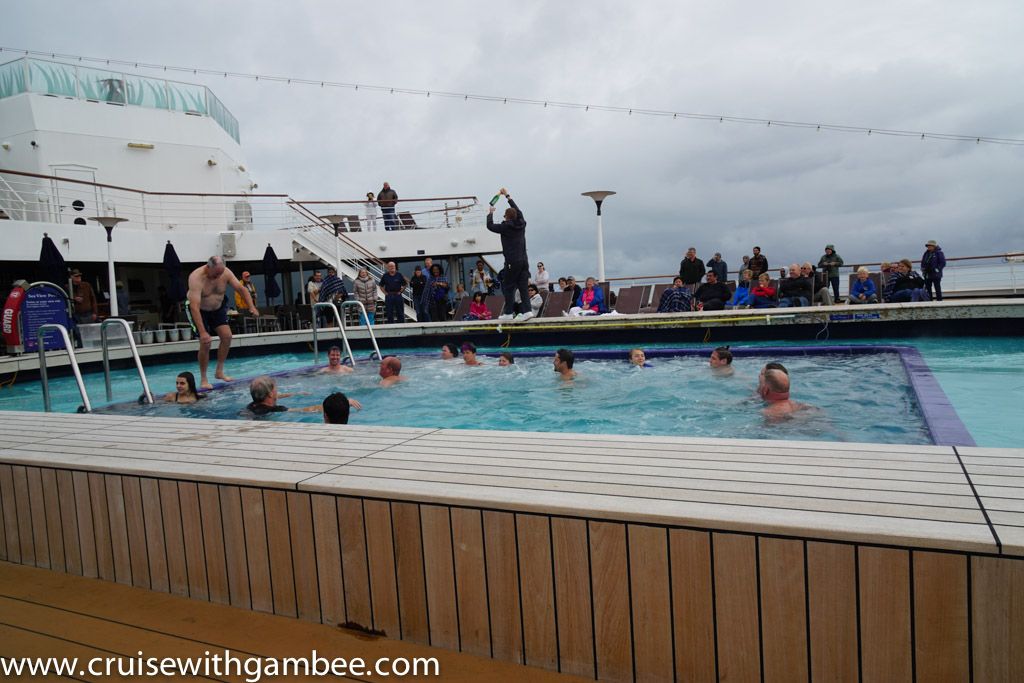 Looking for people, he asked for about 3 minutes.
Here is the brave soul, something tells me he regretted it.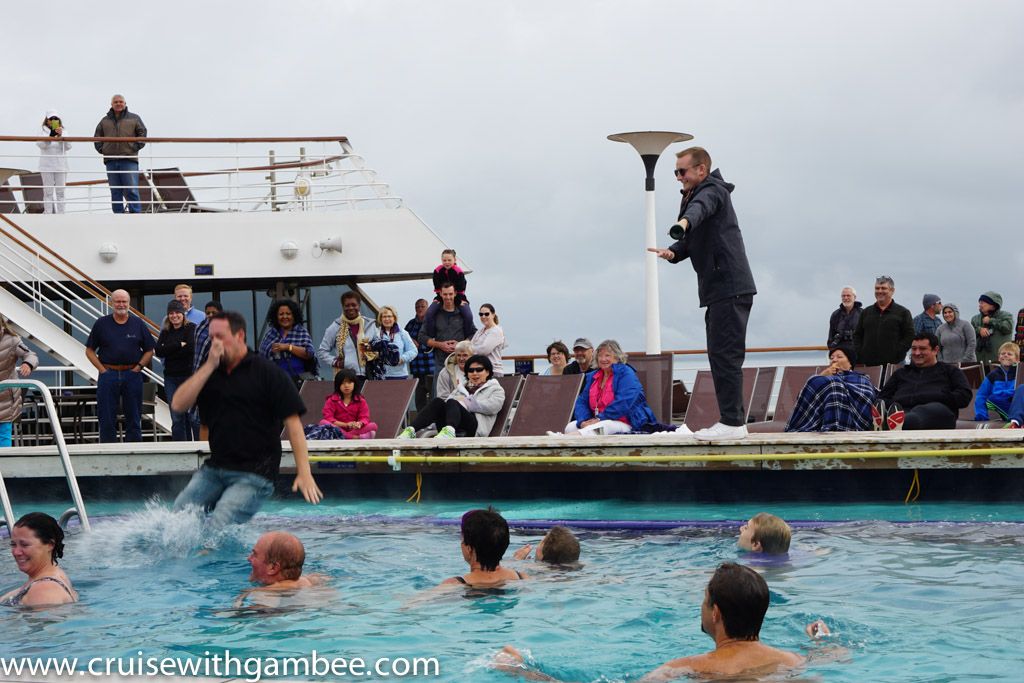 Next part is that they get out of the pool and they sit there for 3 minutes. The funny thing is the guy who was dressed thought he was finished, but nope, his torture was just getting started, lol.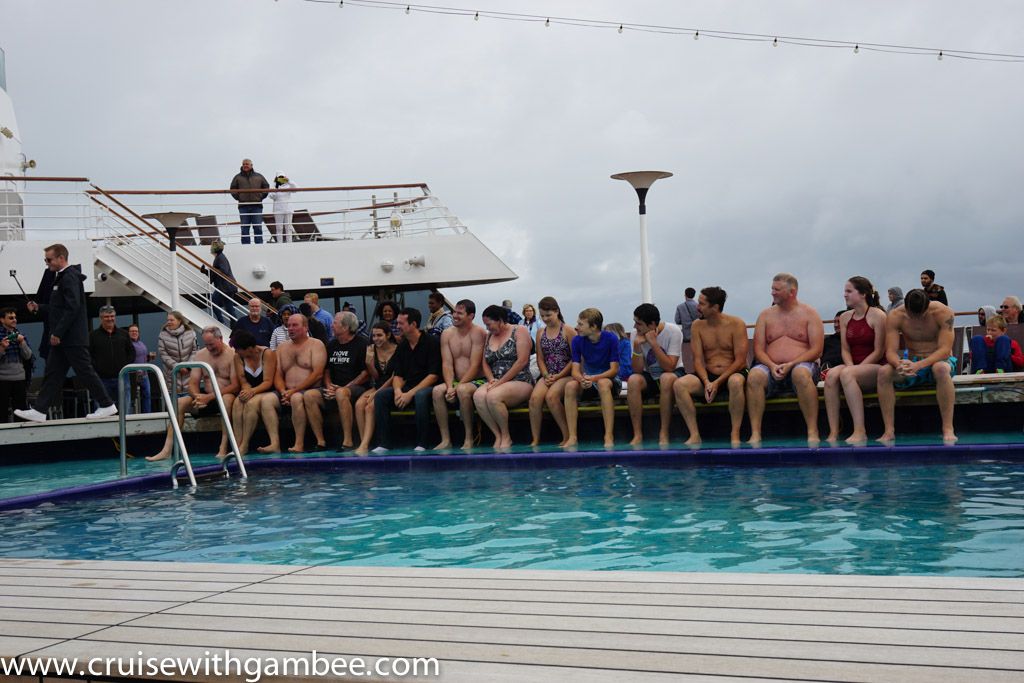 After they sit there, then he comes around and does about 3-4 rounds of ice water over the course of 3-5 minutes. Nope, this is not for me!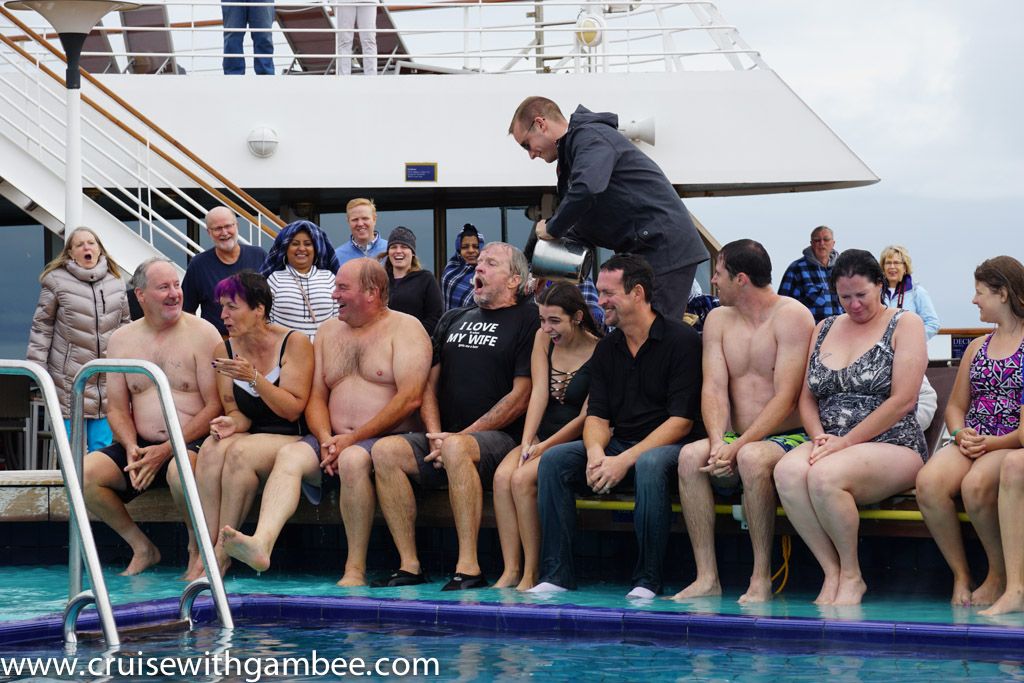 All in good fun.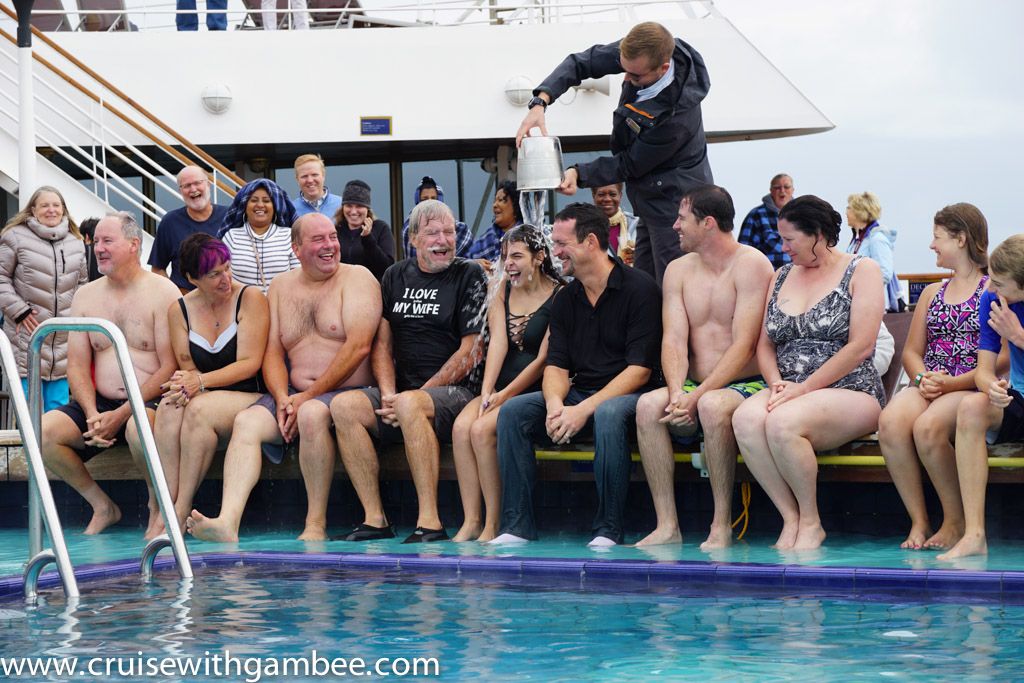 That poor guy bit more than he could eat. I really don't think he expected that he had to participate for the entire event.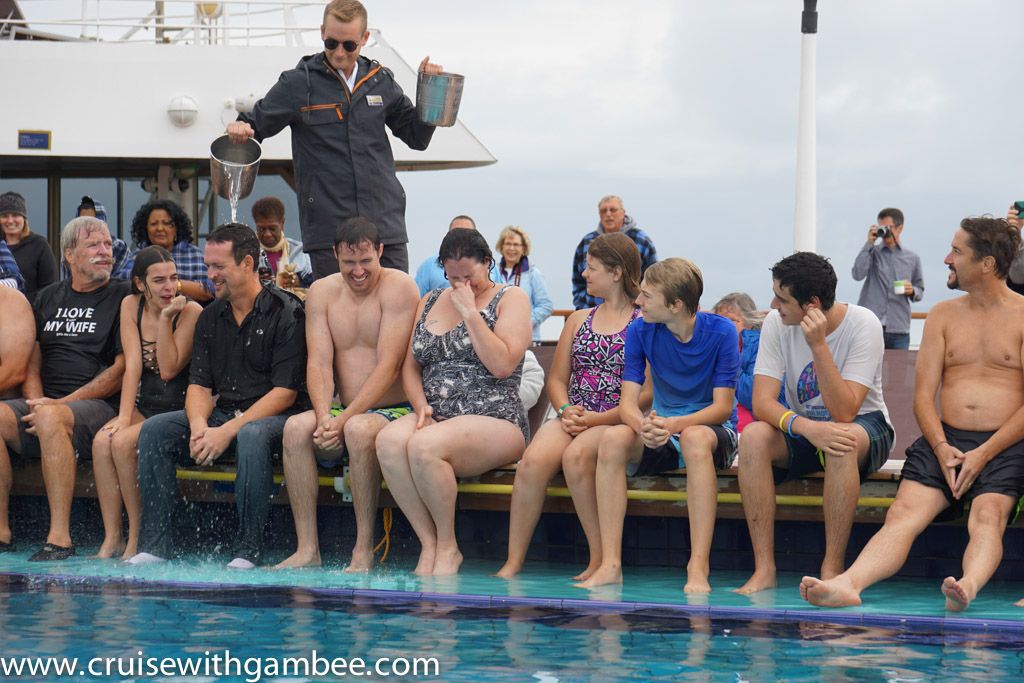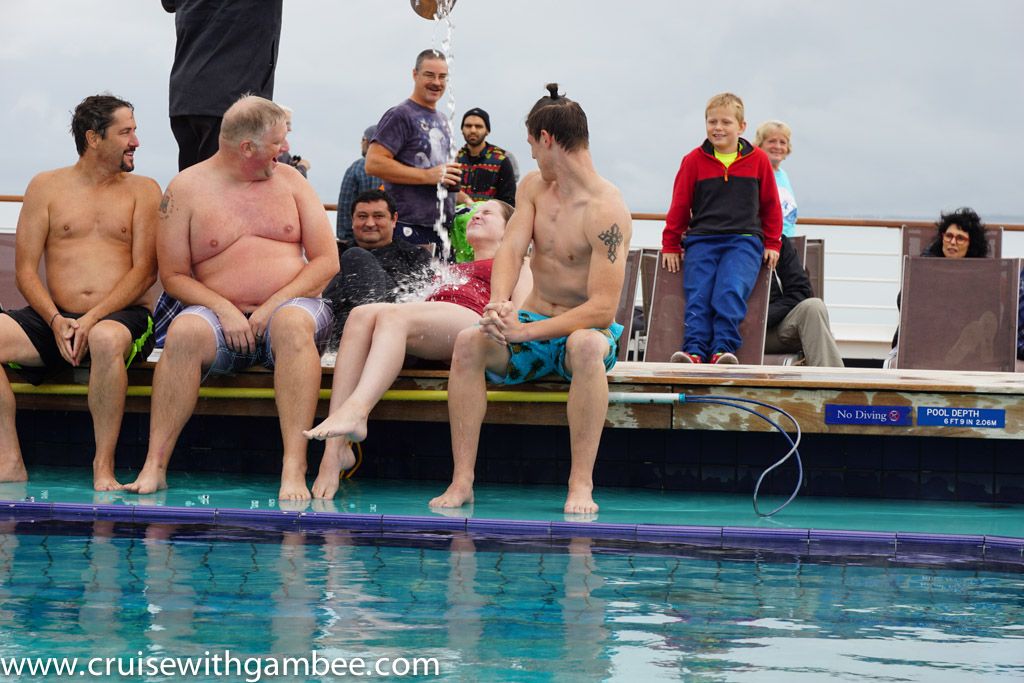 Then they stay outside for a few more minutes, and back in the water they go.
They just chilled there to warm up. Notice all the water near us, well one of them brilliantly cannonballed into the pool, and yes it got us. Mom got mostly spared, it mainly landed on the camera and my jacket. I rushed to dry the camera.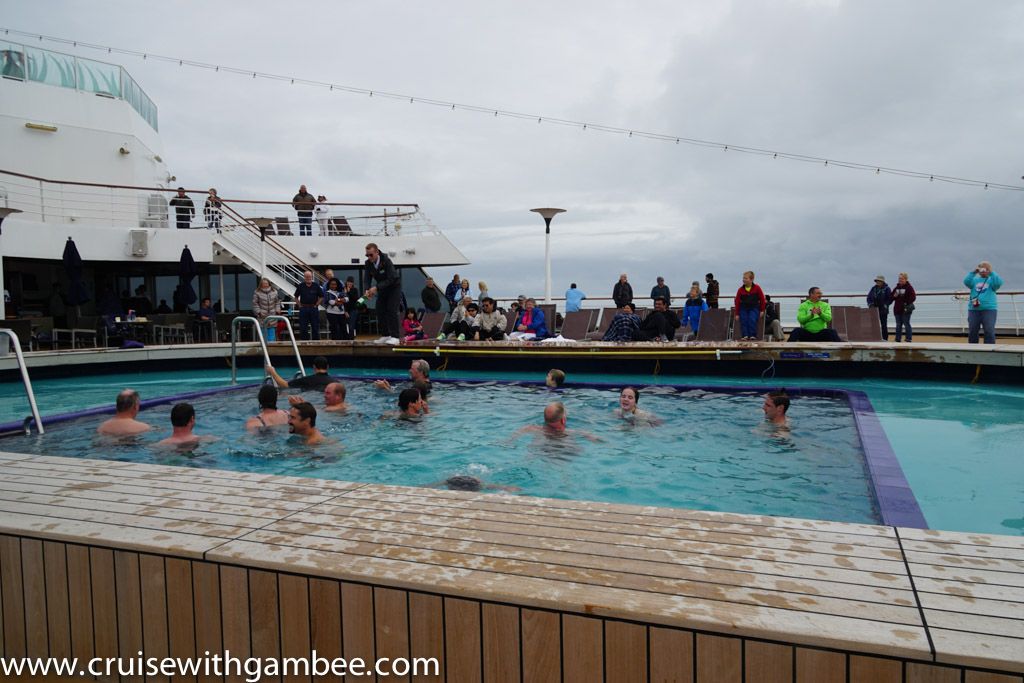 Take your price dude, I hope it is worth the cold you're about to get, lol.
We must of had lunch in the buffet. No pictures, btw, tons of salmon aboard this cruise. It was all sockeye salmon, which tends to be the one that I buy the least. Nothing wrong with it, I just find that it is the driest of all.
At some point we crossed an X ship that was heading south, we were still heading north towards Hubbard.
Love this shot!
It was really foggy, and a few people around us were worried that we would not make it to the glacier. Soon after that, a lady came on the speakers making announcements, and she said, not to worry, they have never missed a glacier viewing this season. The captain would just need to make a slow and careful approach.
The crowds cleared up a little, most people gave up on the whales.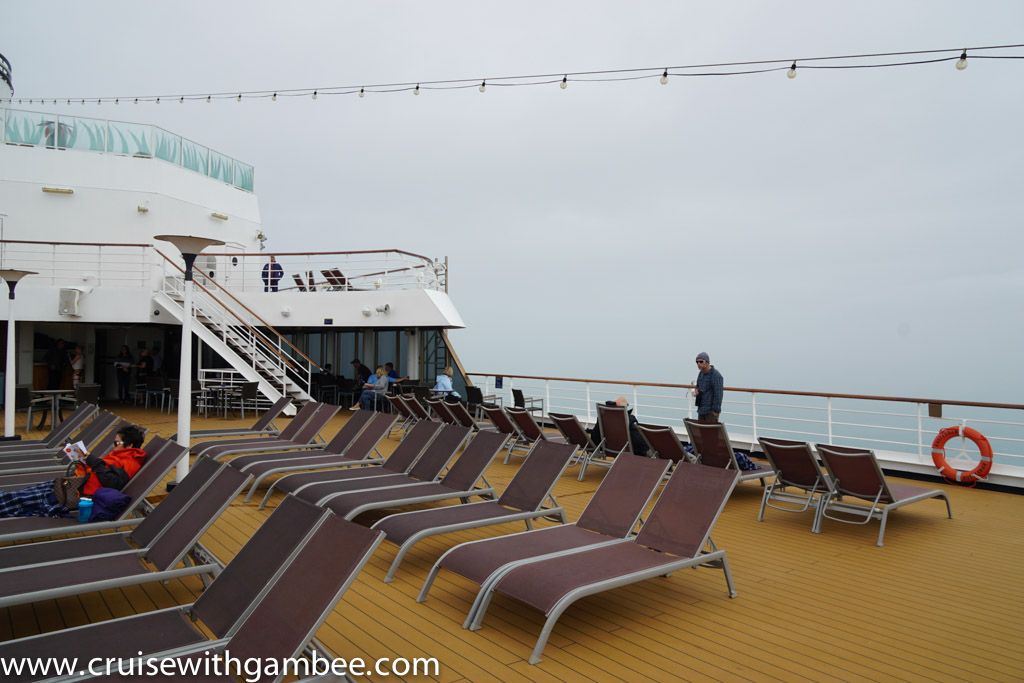 A couple of kids went in the pool.
No kind of weather would move me indoors. Actually, I think that I spent a limited amount of time indoors (aside from our stateroom) during this cruise. It was from the room to outside and back to room to refill my drinks, lol.
A few minutes later she came on the speakers again, and said that the bow of the ship was now open to the public. She also said that it was windy, cold and to plan accordingly. I was super excited, I had never been on the bow of a cruise ship, and this was something that I was highly looking forward to experiencing.
To access the bow you just need to go on the main level of the forward main theater and use a side door that they open for the day. By the time we got there, a few people had already claimed some of the best spots forward.
That guy on shorts was nuts! He spent the entire cruise like that, ports and all. Reminds me of my husband traveling around Asia and Europe, and then getting himself sick, and ends up giving it to me, LoL  =/. Happened twice already.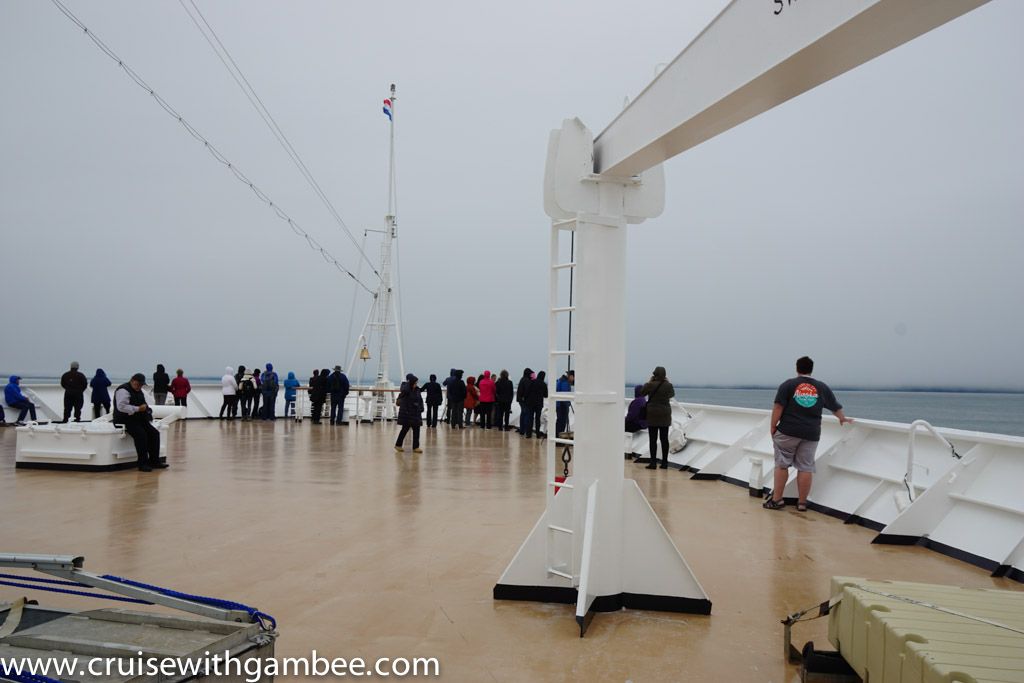 It was a really cool experience! I just had my pink hoodie and jacket.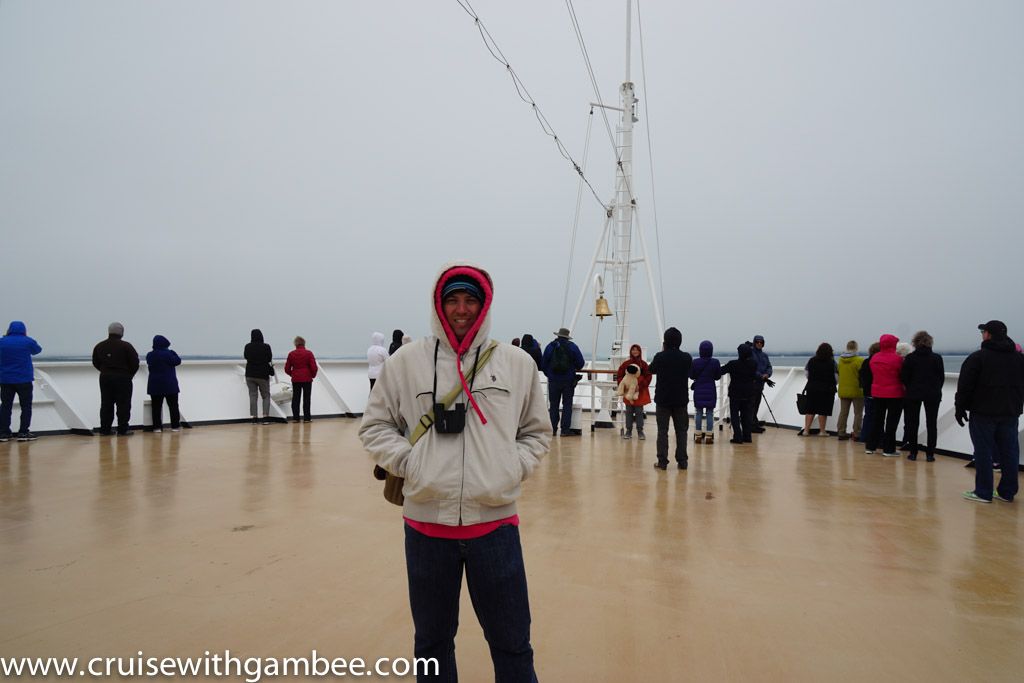 Quick fun fact, that jacket that I have on, has been all over the world. I bought it back in 2009 to go to Europe with my husband (back then boyfriend). Since then it has been all over the US, parts of Europe, Japan, China, Hong Kong, Colombia and now Canada. I absolutely love that jacket! It is super warm and more importantly weather resistant, it also fits my husband (a big plus, since he tends to not bring one), and easy to travel with. After each trip mom brings it to get it dry cleaned, and I can tell you one thing. We have spent much more money dry cleaning it, than what I purchased it for. I am pretty sure, that it was under $50 when I bought it (Burlington Coat Factory, on sale, lol ), yet it is still my favorite jacket when traveling abroad. I still wonder when it will be replaced. Just think about it, the jacket is nearly 10 years old! Mom has tried to replace it multiple times, but she has been unable to make it happen (I reject all the new comers). We shall see what the future brings. It's a Polo by the way, a very, very old Polo, LoL.
Thats the entrance into Hubbard glacier bay, it took us forever to get there. He was going very slow.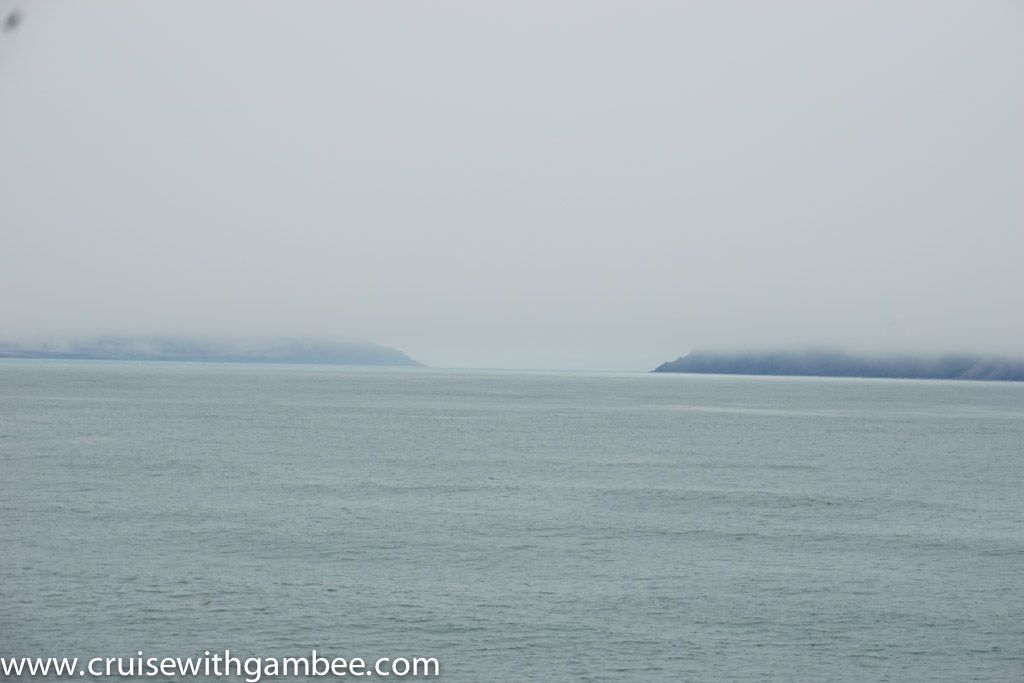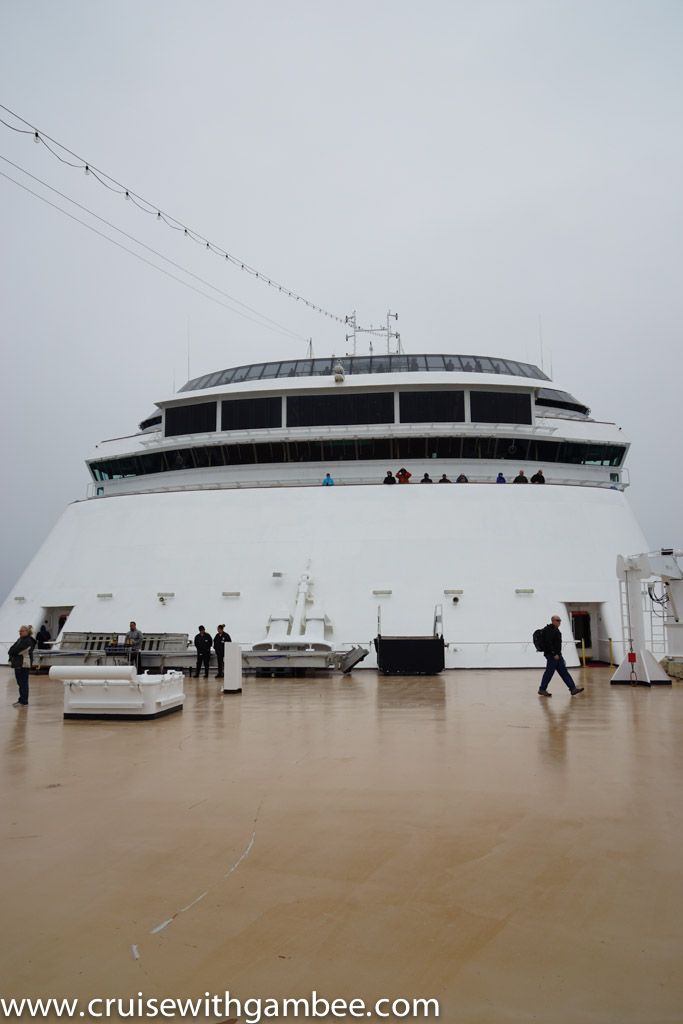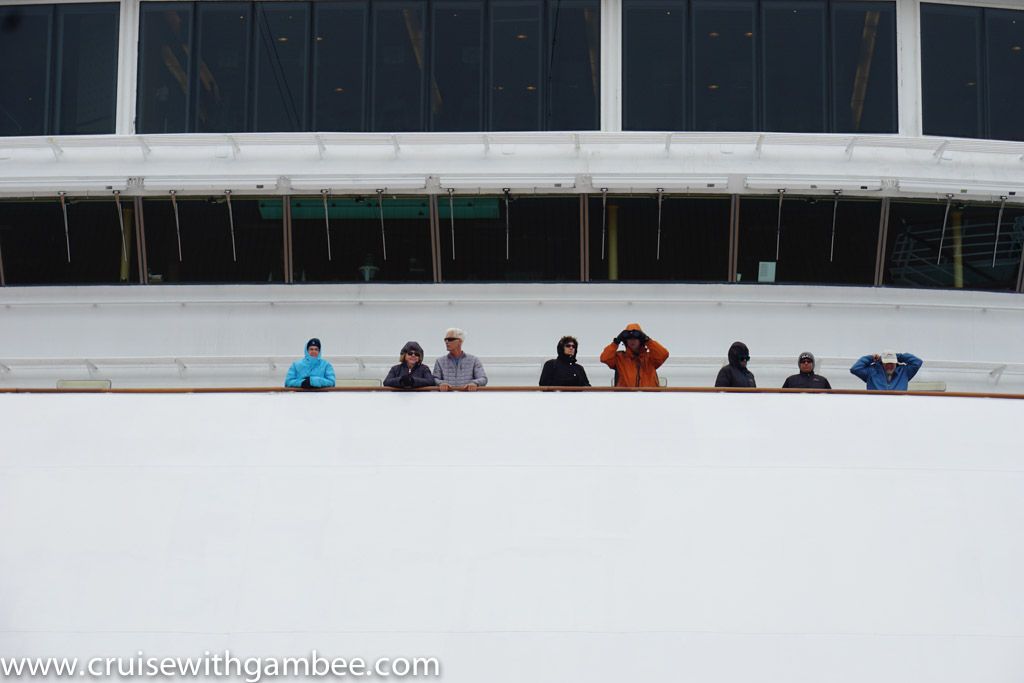 Click here for the next chapter