We were on the water about 2 hours or so, then we headed back to the marina for the next segment of our tour. The following part was to take a bus to Mendenhall glacier. What differs from our shore excursion vs others, is that this is the only company that is allowed to take tourists in the 1 mile hike that offers opportunities to see wild life, and a better view of the glacier.
I was a bit worried about the mile hike for mom, but we had an elderly couple with us, and thus I thought mom would be ok for the hike. Either way, I decided to take all the weight of from her, and put it in my back instead. The hike was not too bad, there was only one incline, and the rest was mostly flat. But what we saw was well worth it.
We first started by a creek, and it had a few salmon in it swimming. Of course I was going crazy over seeing salmon, but what I did not know was that they were about to become very common, lol.
The path through the hike was nicely paved.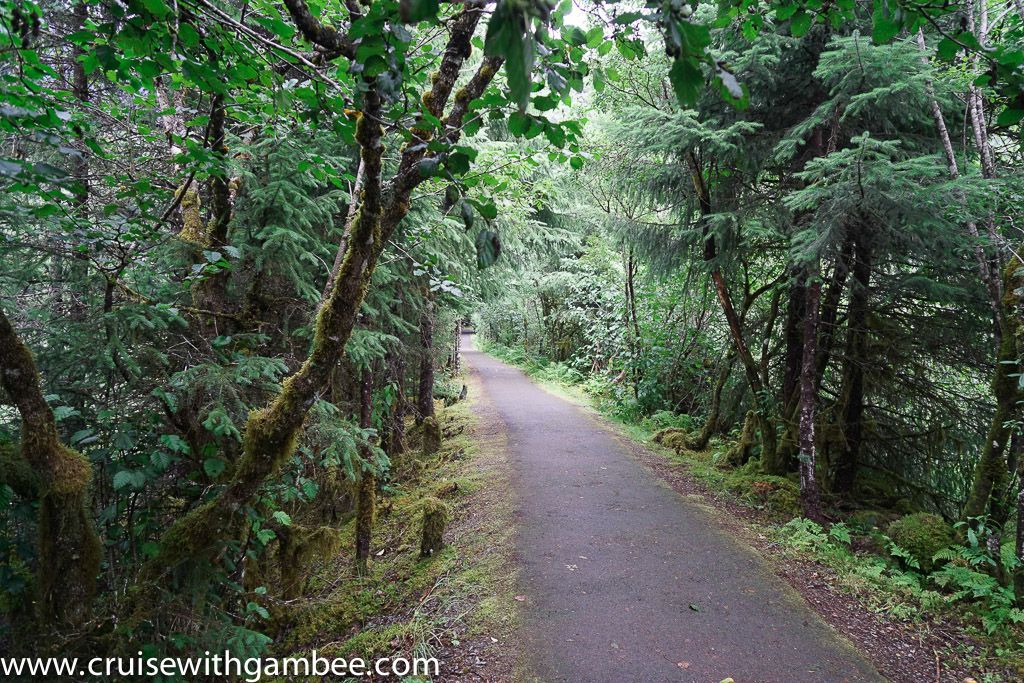 It was a very pleasurable mild hike.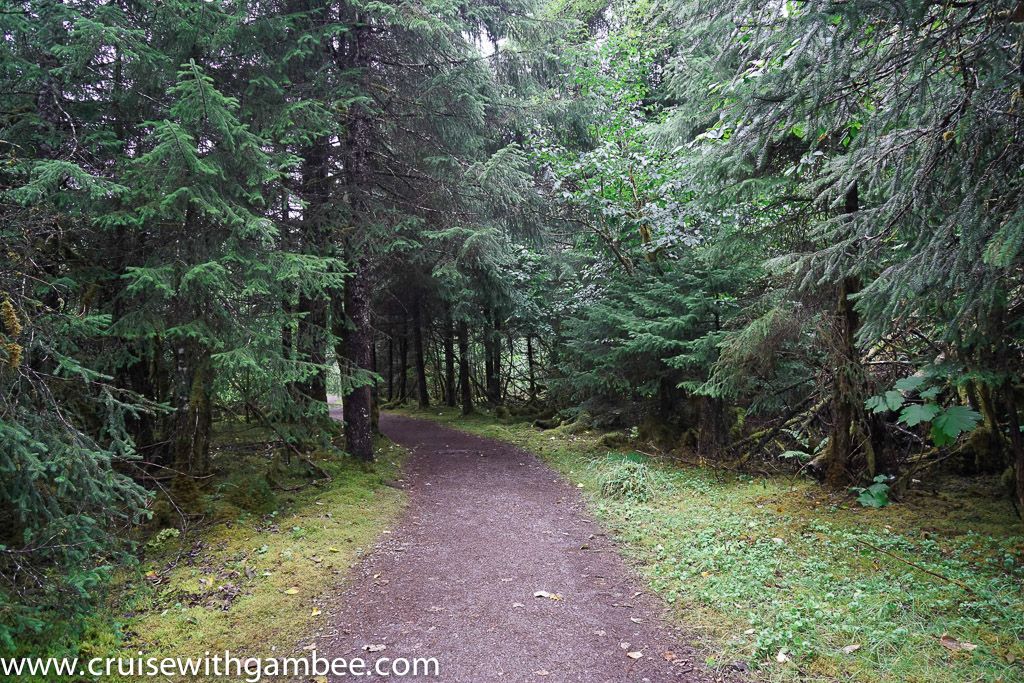 After about 5 minutes of walking, I noticed that our tour guide got really excited. Yet he failed to tell us why he was so happy, we just kept walking towards a little bridge with a few people there. Next thing we get to the bridge and he points to this little guy! Well, not really little, he was pretty large!
Ok, so I am not going to go into the safety of seeing bears in the wild and what not. All I will say is that I felt I was safe, and more importantly I felt that mom was safe. We clearly listened to all of our tour guide instructions, and made sure we followed them to a T.
Anyway, that said. It was incredible! He told us that bear frequented that creek hunting for salmon. She had two cubs, but we could not see the cubs from there. Thus far it was just her hunting. Both mom and I where in complete awe!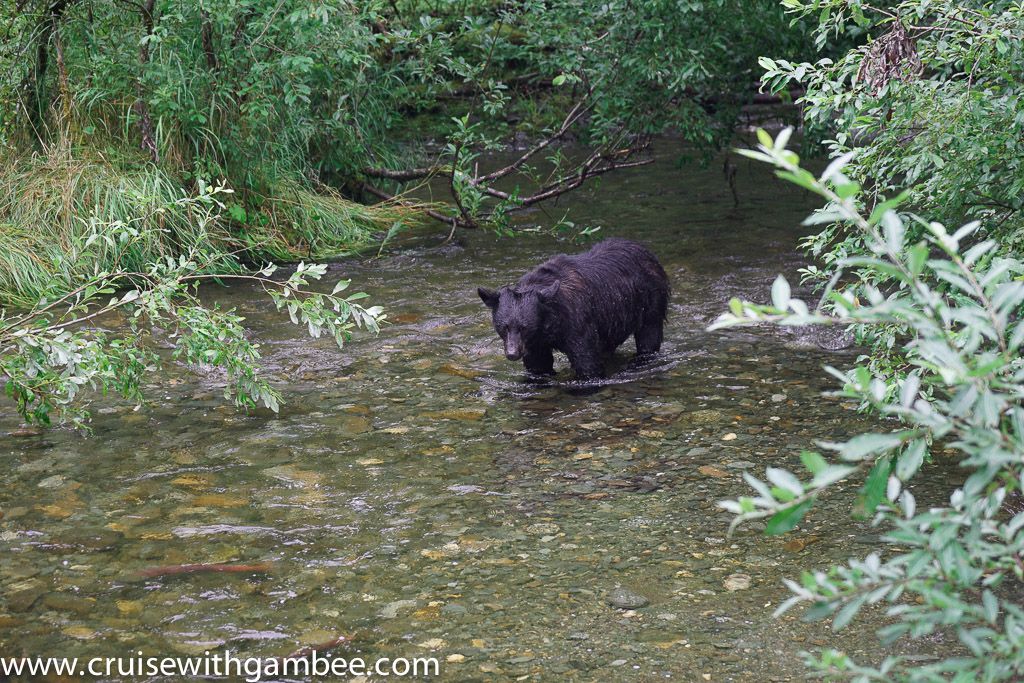 She was very focused.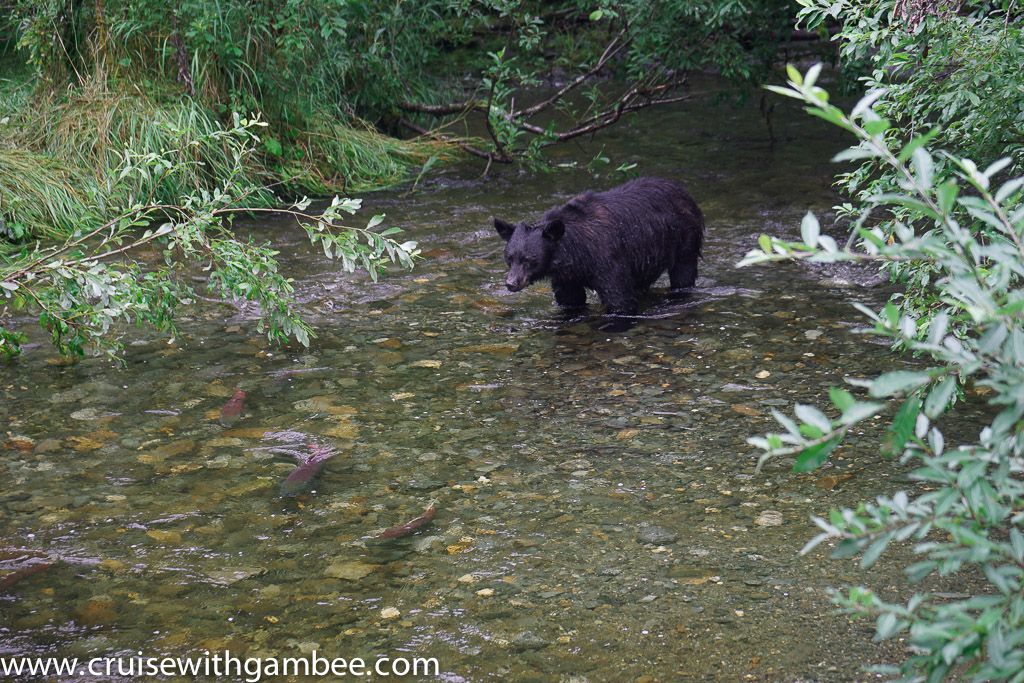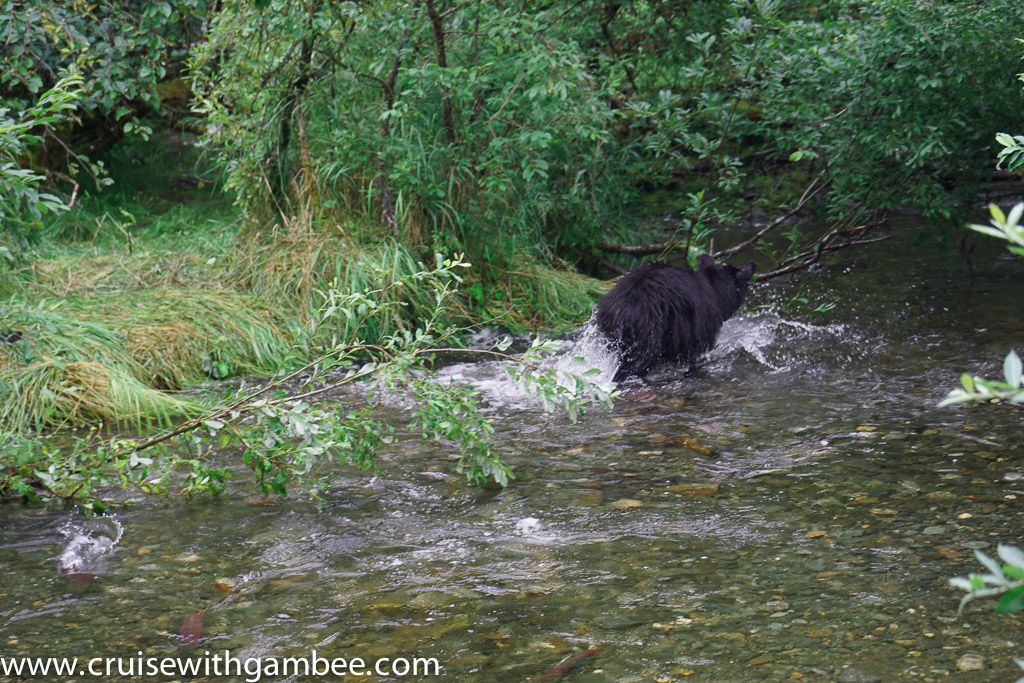 Momma bear really struggled to get salmon, and during the time we were there she could not get any. It is not as easy as one thinks it is.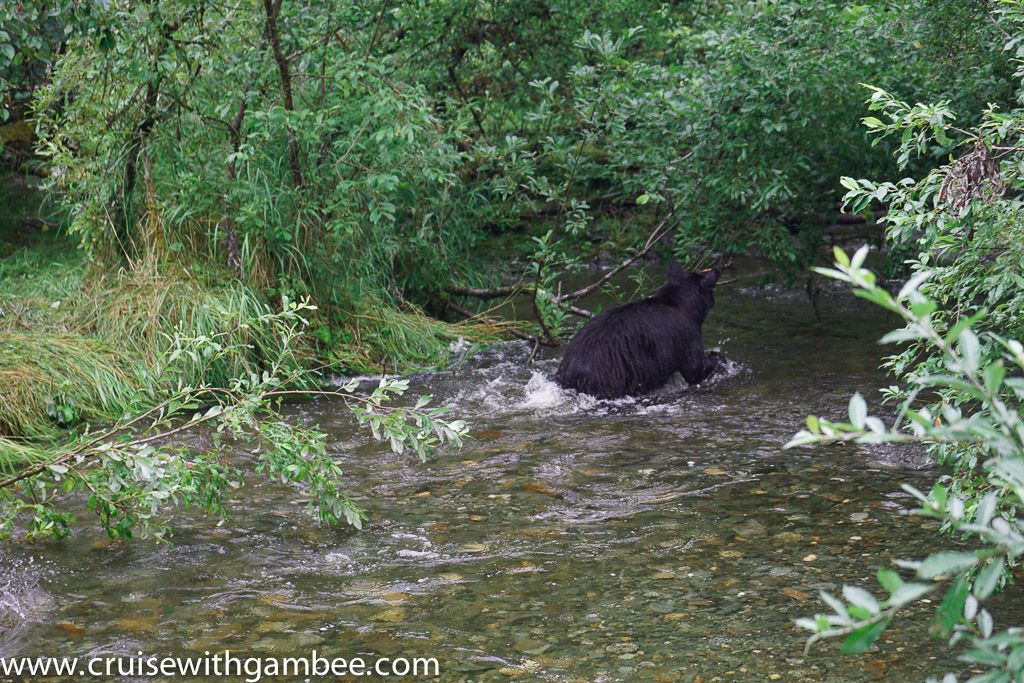 And there were a ton of them in the creek.
And there she goes again!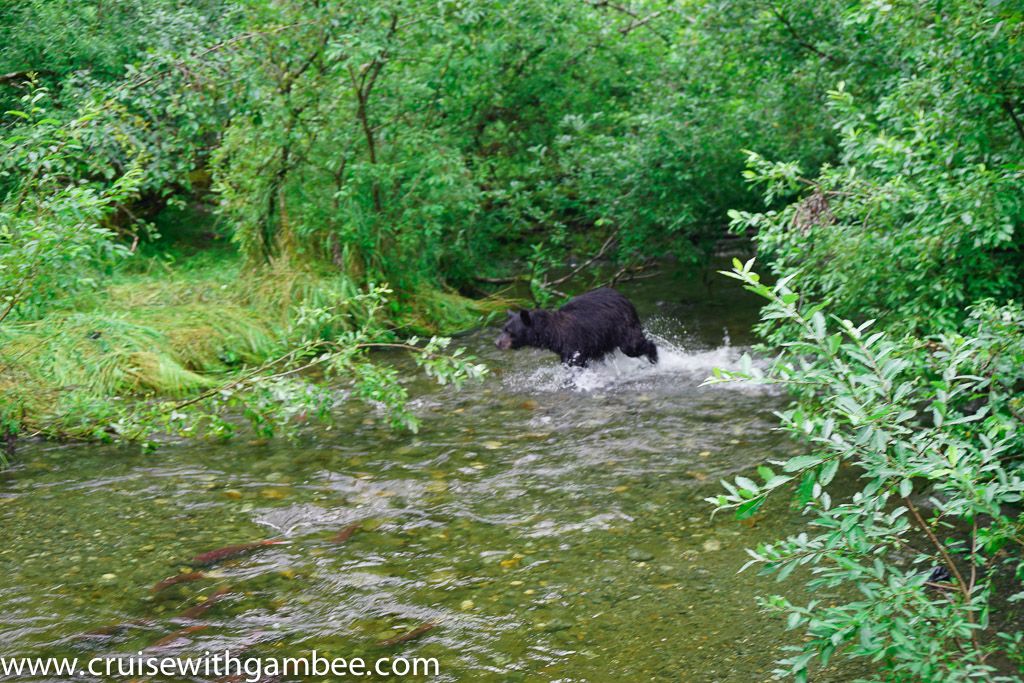 Then our guide told us that he could get us a closer view, but we needed to stay clear of her path if she decided to leave the creek. He pointed out the ways that they travel, and we moved to the new location.
This is when we saw one of the cubs up on a tree, it was incredible! He was incredibly close, but thank God up high in the tree.
But for real, How cute is he?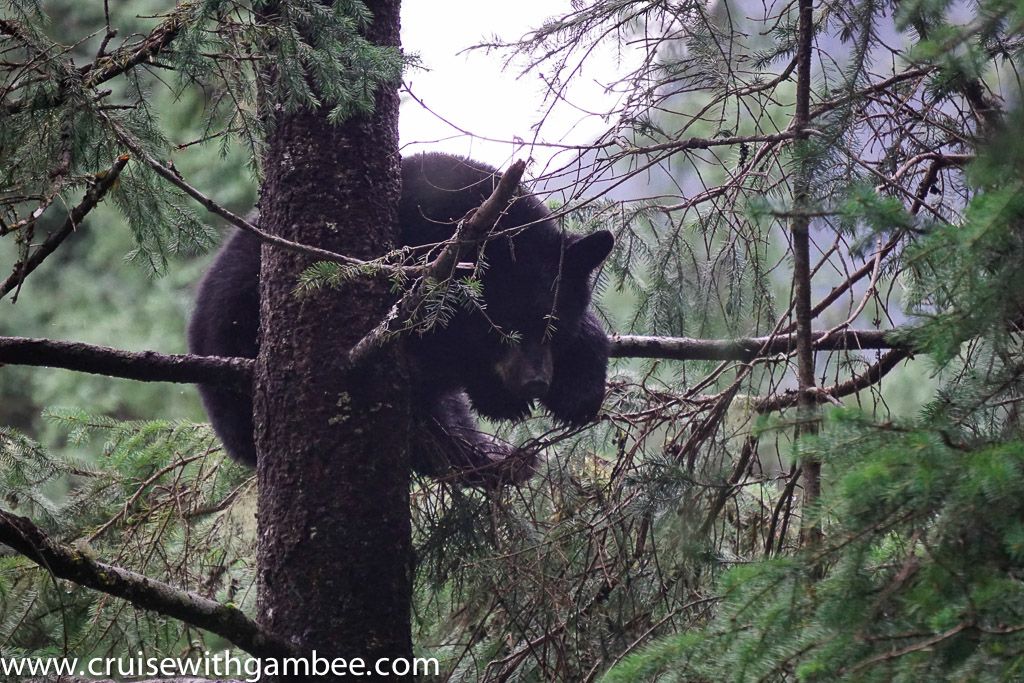 He was simply adorable!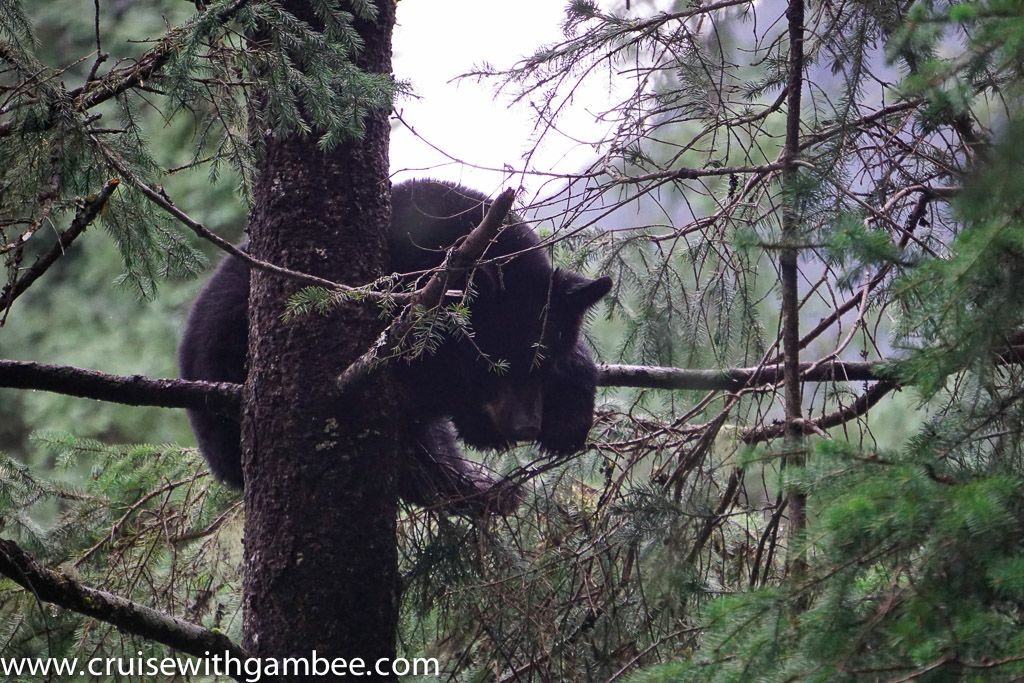 Just chilling there.
And stretching
About 5 minutes later, right after I asked our guide how will he get down from there, this happens!!!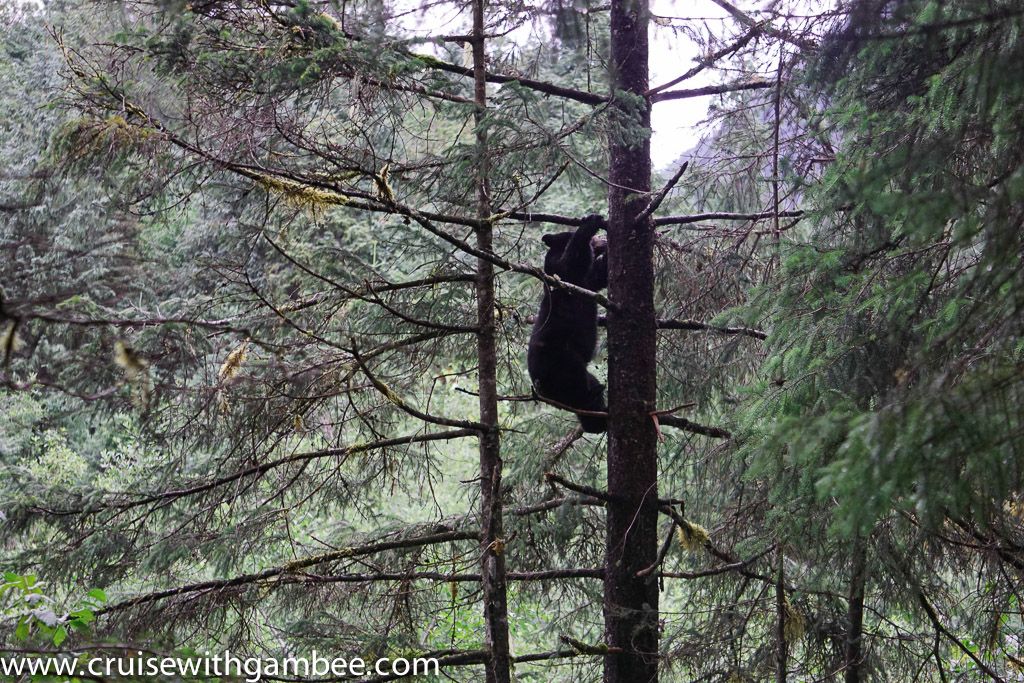 Yours truly in action! If you look exactly parallel to my right hand, you can see mama on the ground with her other cub. Its like a dark patch in-between those trees?
He kept going down.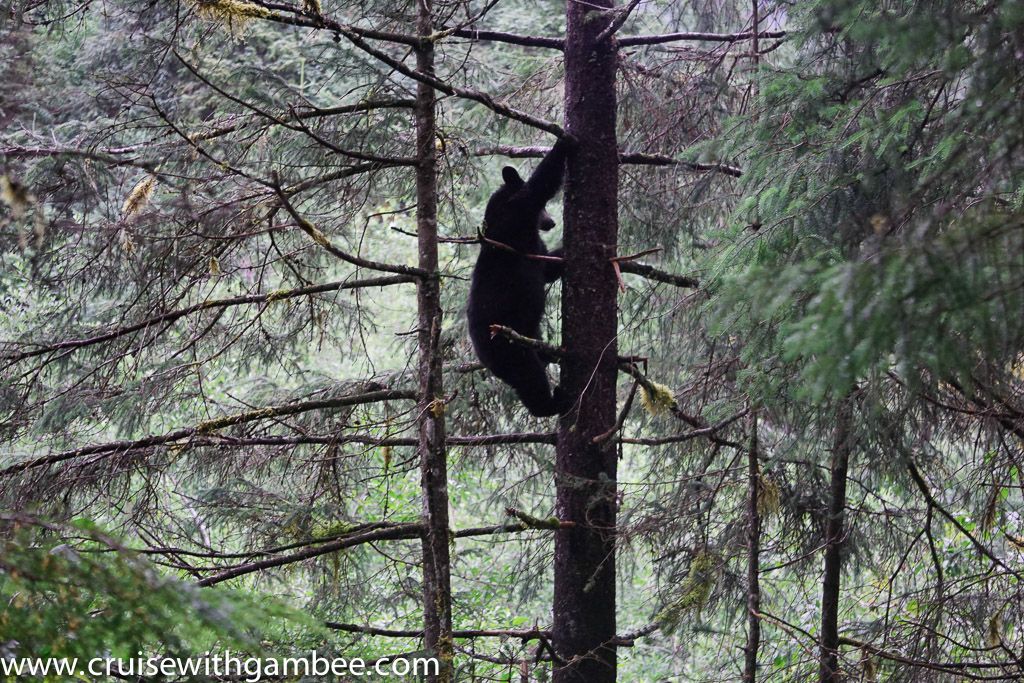 I mean really!!! How lucky did we get? And how adorable is he?
What is really funny, is that mom thought bears were guaranteed on our tour, just like the whales were. The truth is that only about 10% of that tour crosses bears, according to our guide. We got really lucky! And actually neither were the eagles, but eagles are very common in Juneau.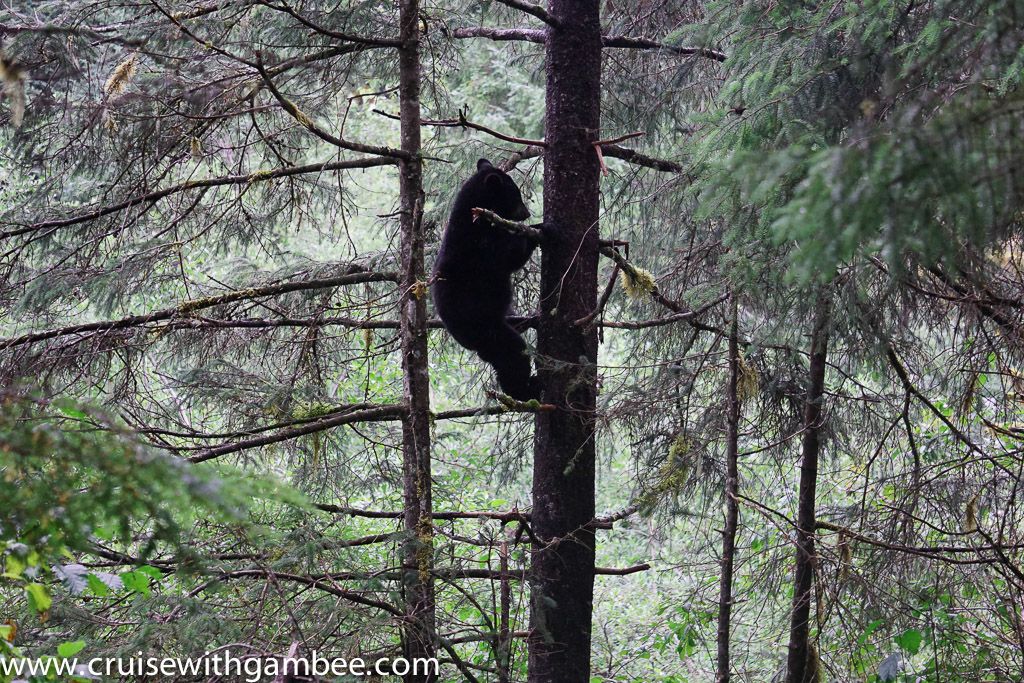 As of that point in time, that cruise was our favorite from our 12 cruises! No questions asked, and it would only get better!
So our guide told us we needed to keep on moving, truth be told, we stayed bear watching about 30+ minutes and that time was not accounted into the tour. But we all agree, that we could rush through the rest, we could not care less about the rest of the tour, lol. By that time that excursion had paid itself 10x's over.
So we kept on going.
I love waterfalls, we saw a few of them, that was an added bonus.
This picture was shot with my camera, but our guide was able to us how to get this same long exposure effect out of the iphone camera. Pretty cool!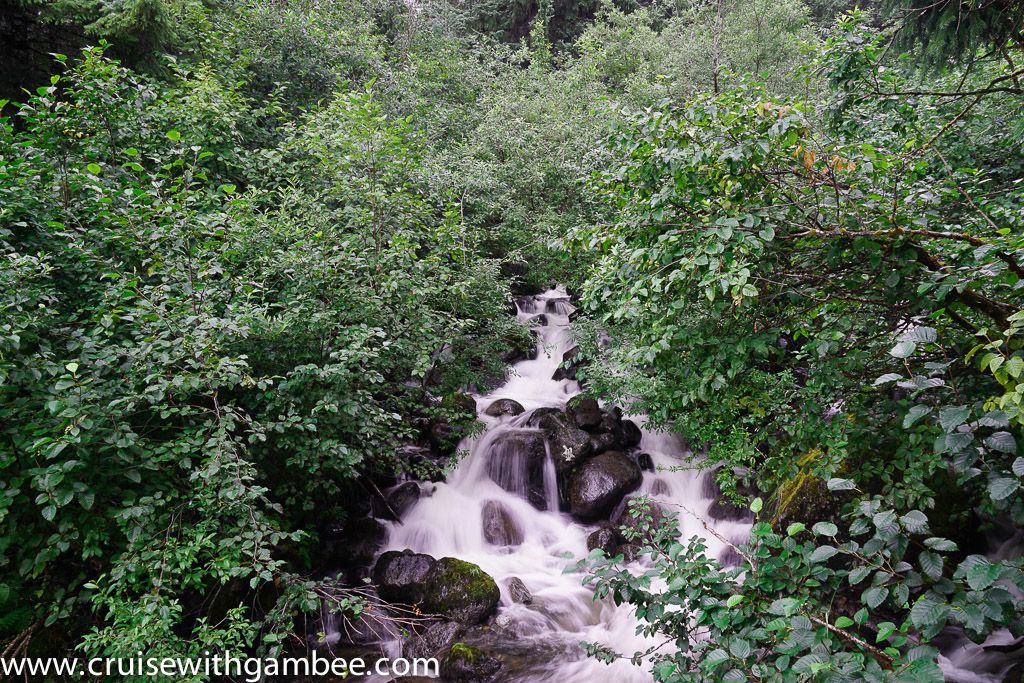 It started raining so mom pulled out her poncho. It was then that my dumb ass realized that I left my umbrella on the bus. Which is a real shame, because I bought that umbrella specifically to cover the camera during that cruise. So the rest of that tour I spent opening and closing my jacket in order to keep the camera safe in between shots. Quite annoying, considering I was supposed to be ready for rain, lol.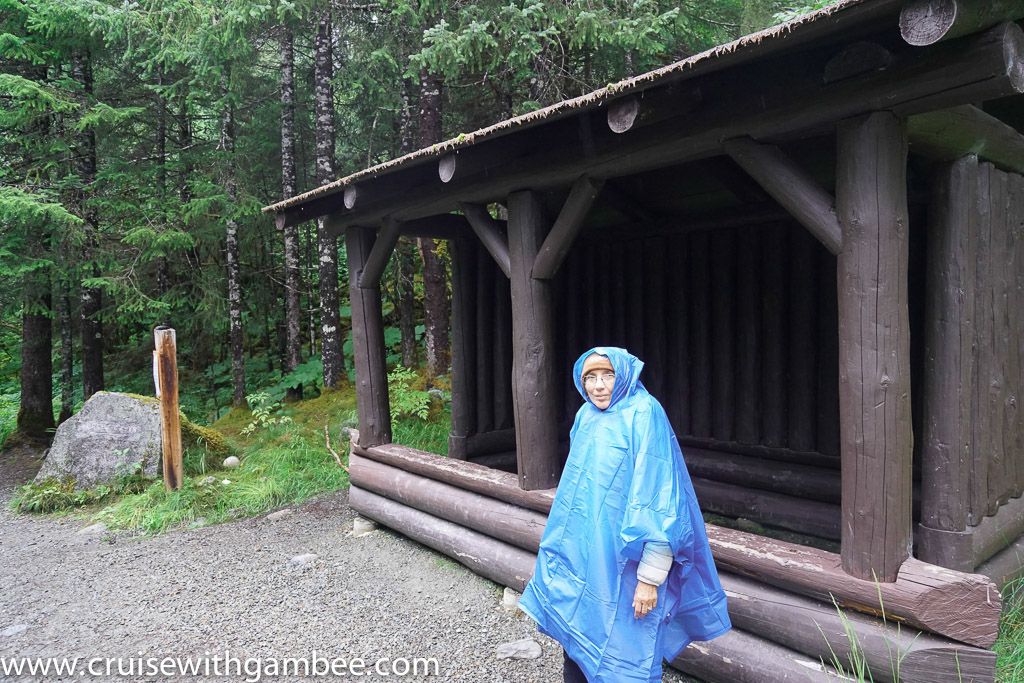 It actually started raining pretty hard, and only mom and another lady were ready for it. The rest of us got soaked, lol
Some smaller waterfalls.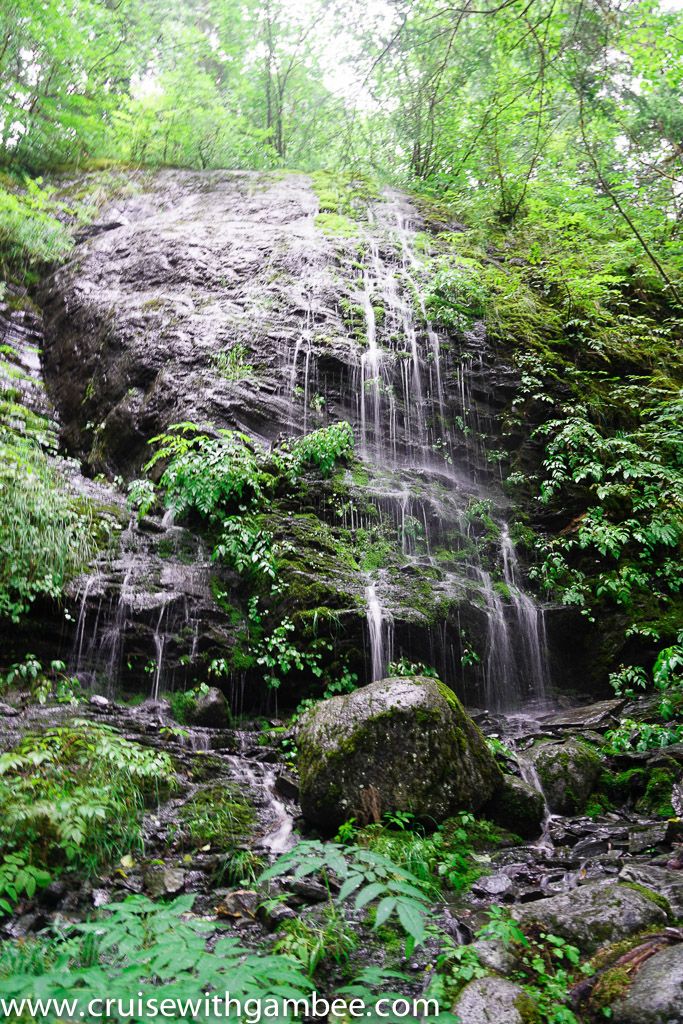 By the time we got to the best Mendenhall Glacier view point, it was pouring. But truth be told, that no one cared at that point. Specially, when we had Hubbard Glacier coming the next day. Those bears did the day!
Sadly this glacier has been shrinking constantly.
I quickly took some photos while trying to cover the camera.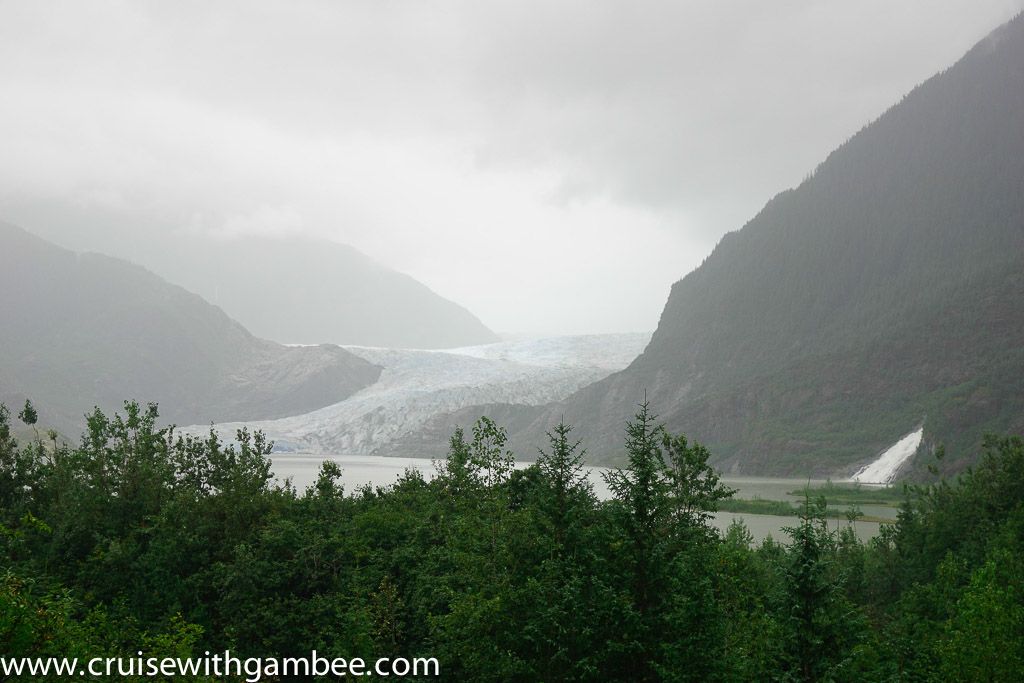 Do you see that little lump on the ground by the water fall? That's a group of people! That trip must me amazing!!!!! Again, I love waterfalls. I thought about changing lens to get a better pict, but decided not to risk it, just too much rain.
Sad looking glacier, specially if you compare it to pictures from back in the day.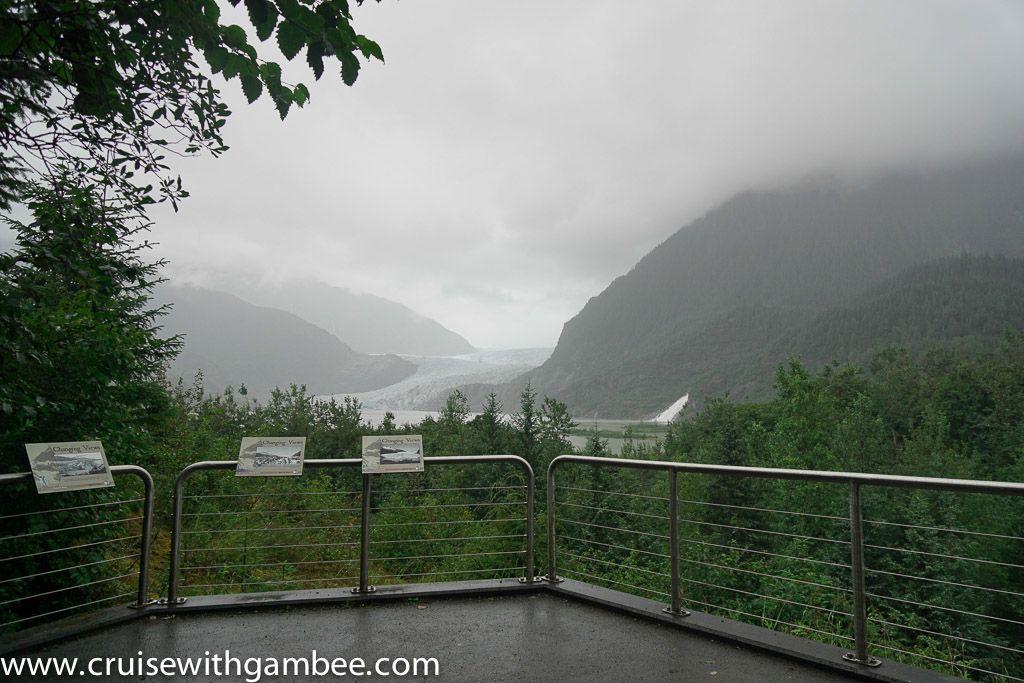 Then we left, and it was a short walk to the main tourist area. We also saw some tiny squirrels running around.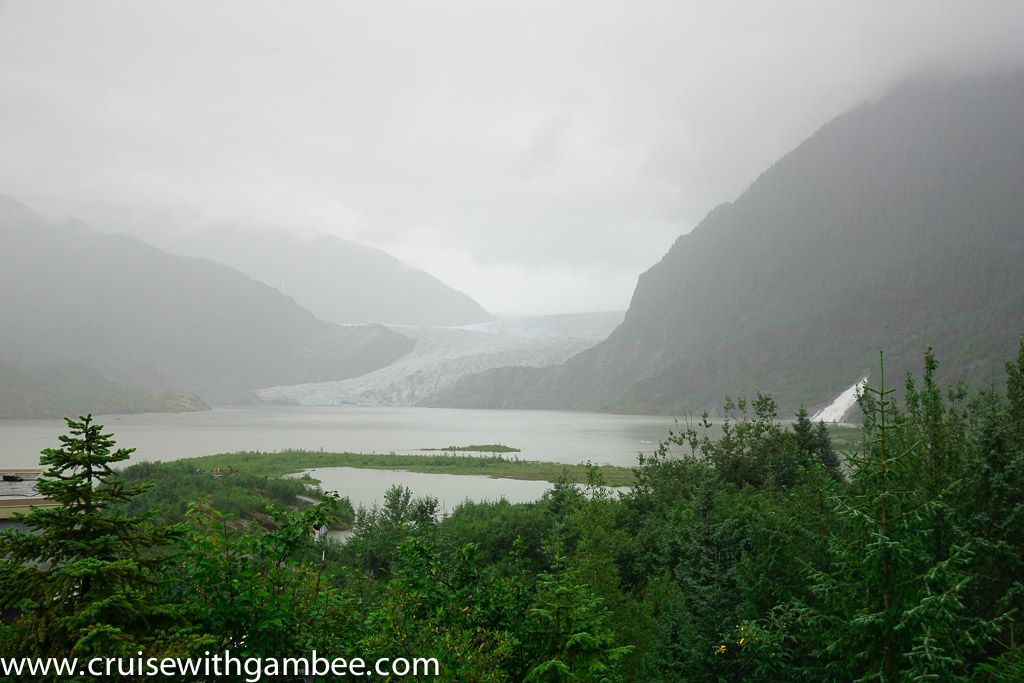 Click here for the next chapter