WoW, BEST SHORE EXCURSION EVER!!!!!!
Zero questions about it, it was simply unreal. At that point I really wondered if the cruise would go downhill from there, but I was very wrong for even thinking that. Because the entire cruise was just incredible!
After Mendenhall glacier we took the bus back to port and since we had about 1:30 before departure we decided to venture into Juneau a little bit. Granted we mainly went into main street which is all touristy, but it was fun none the less. It is right there of the ship, so no need to take busses or anything. Just walk right to main street, and left to the ship.
Mom did a bit of shopping, if I recall correctly, she spent about $100 on souvenirs, lol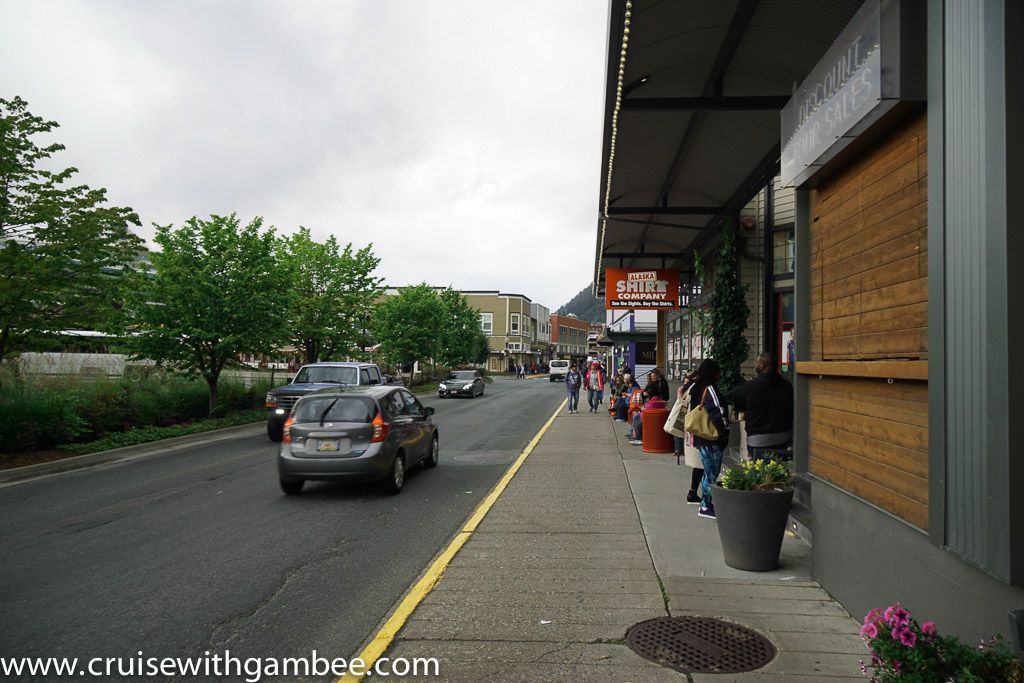 We thought about going on the Tram, but it would be calling it really close to all aboard. So we decided not to do it. As this was the closest that we have been off the ship before our sail away. If you're planing to go on the tram, don't pre-purchase a shore excursion, it is much better to do it on your own time. It is right there by the cruise docks.
The dock was really nice. We just walked around, and bought a few souvenirs.
Inside the Red dog Saloon. And like our tour guide said, the "Red Dog Saloon is in their 6th original location" lol!
The place packed, I actually wanted to get a beer but decided to take a pass after I saw the crowds. They also have their own souvenir store next to the tavern, we went into that one to check it out.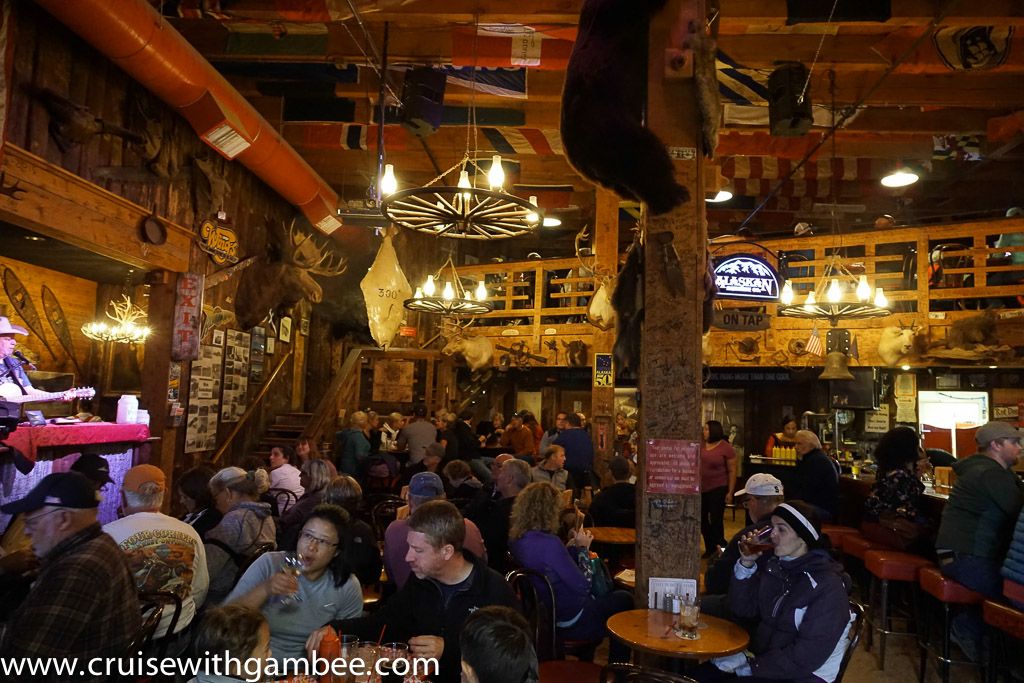 Looking towards main street.
The flowers in Alaska were just incredible (more to come).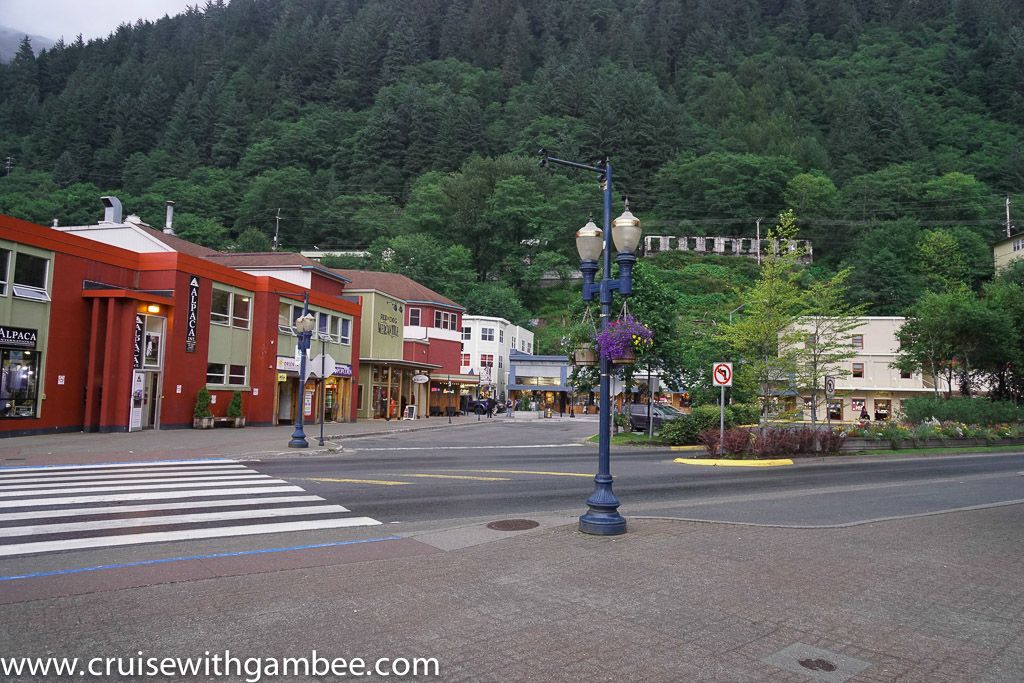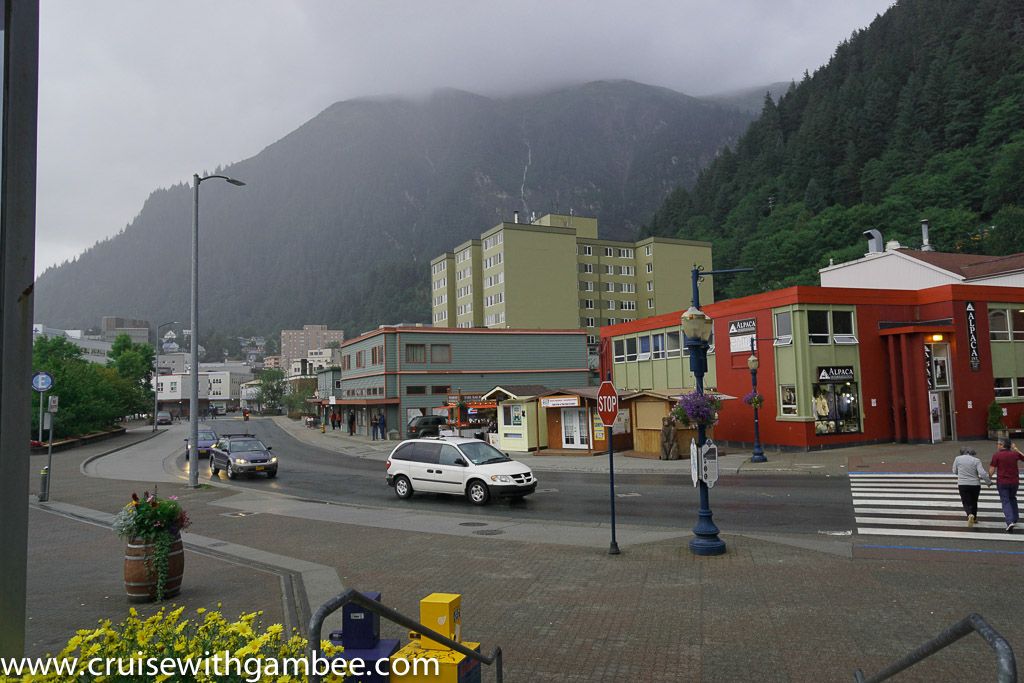 There she is! In all her majesty! It is hard to imagine that someone who is crazy about large ships, would be so impressed by this tiny girl.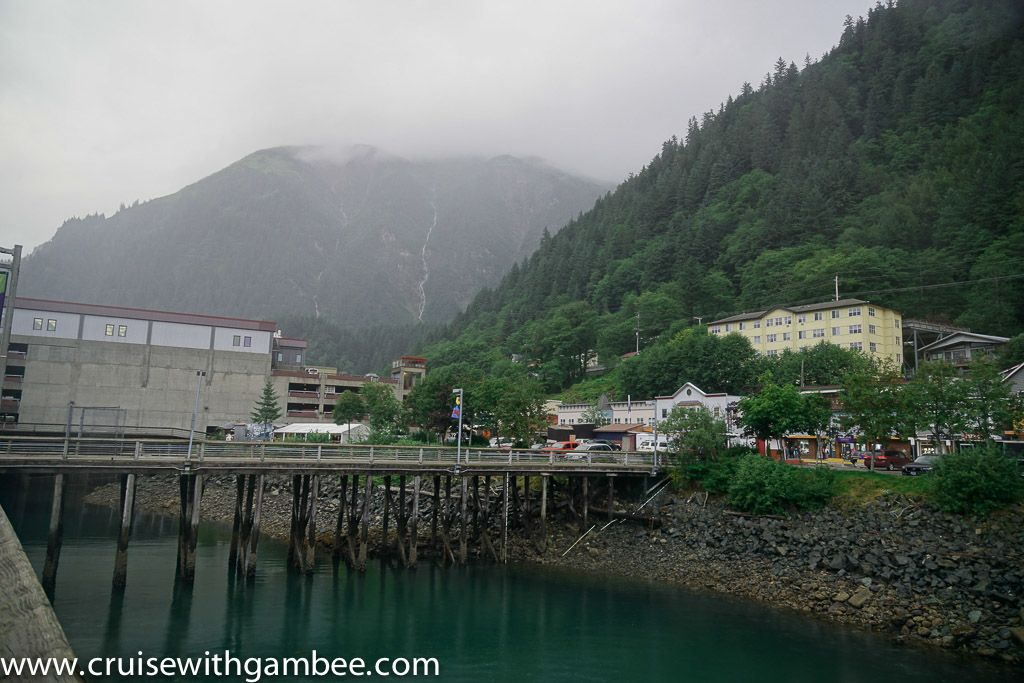 Kinda wish we tried the crab there, but there was no time.
Maybe one day iI will try Seabourn.
The docks are really nice, and very easy to get around.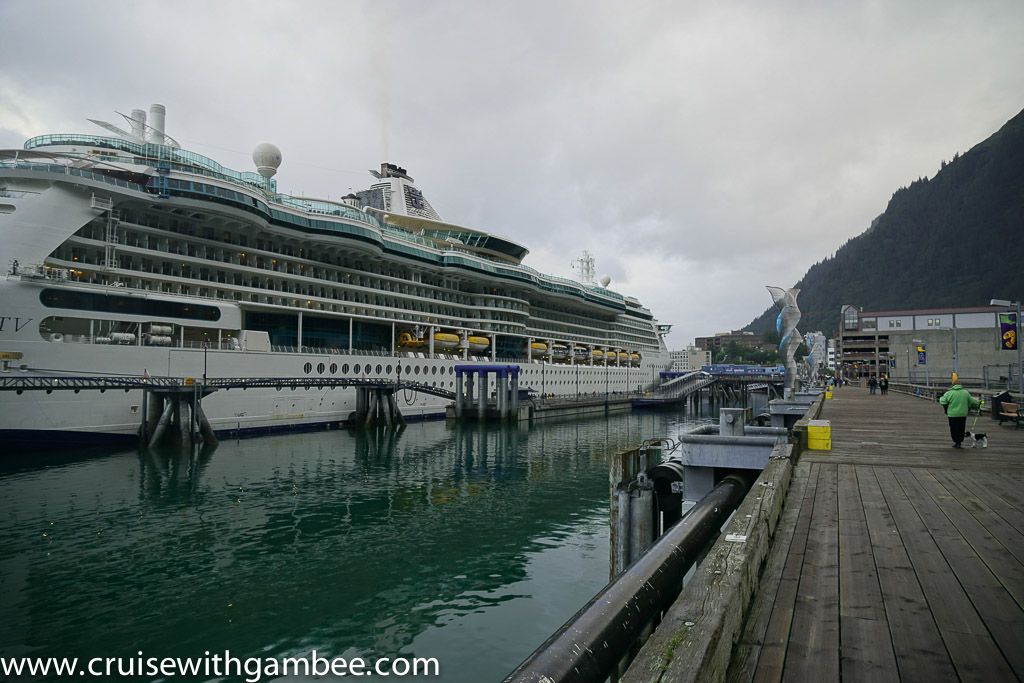 Those swirly towers change colours, they are really cute.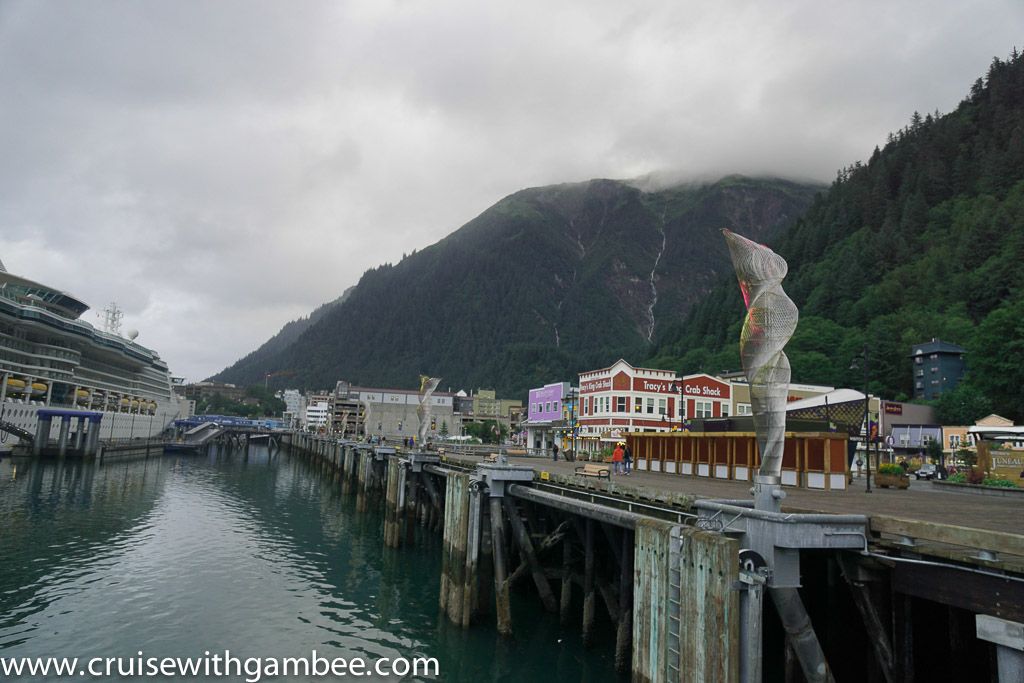 Last pic before we boarded.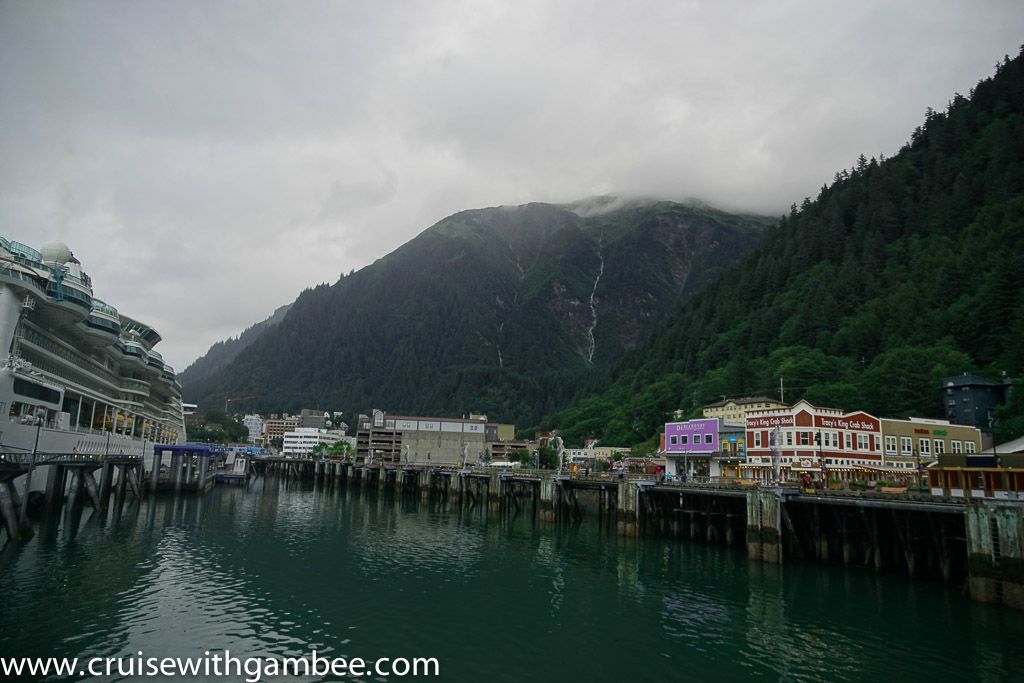 Oh, crap! I just noticed this is Golden Princess, and not Emerald. No wonder why she go there way before us. There are a lot of ships in Alaska in the summer months.
I will be honest and say that I wanted to walk a little more. But I am not sure wether mom was tired or nervous that the ship would leave without us. So I decided to simply board, that way she would be calm and we could continue enjoying the rest of the day.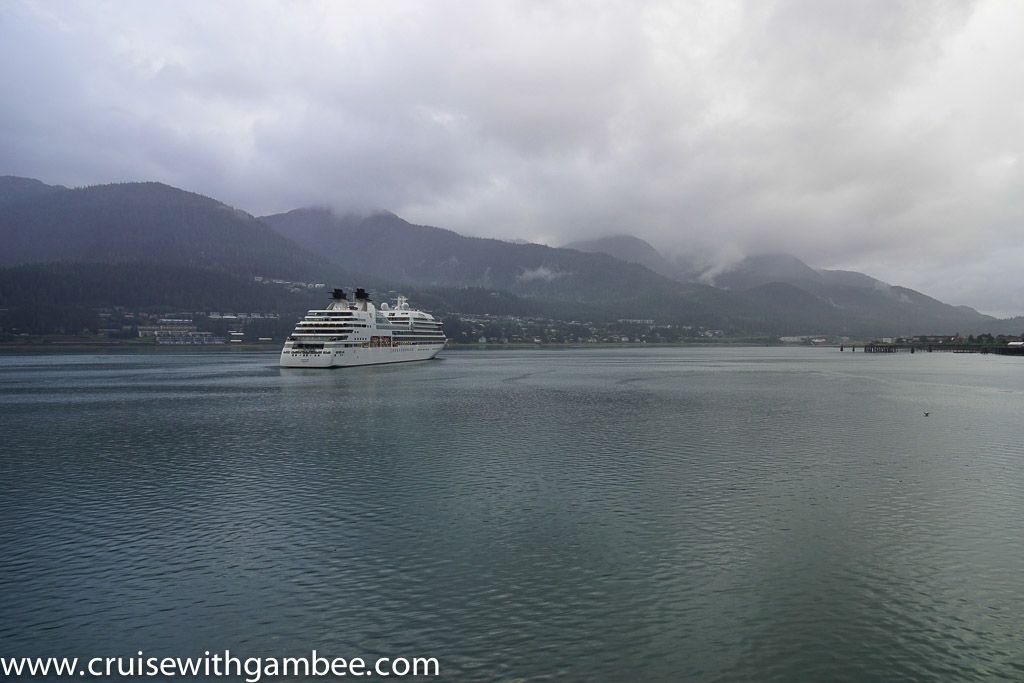 We went to the room and dropped all the souvenirs, then went to the wrap around promenade deck to enjoy the sailaway.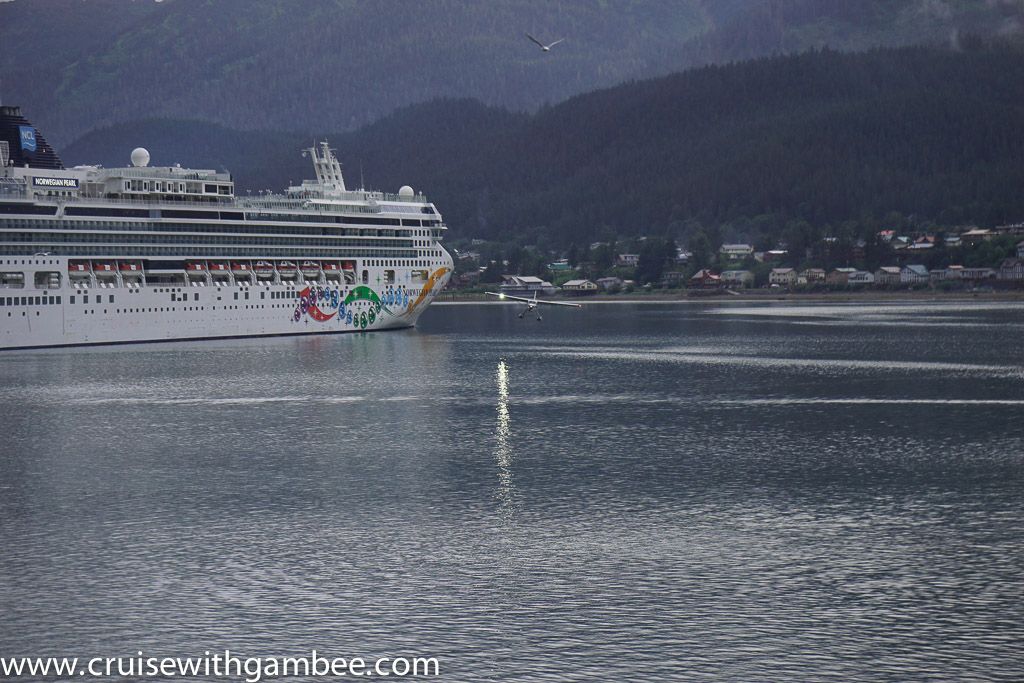 A ton of planes were landing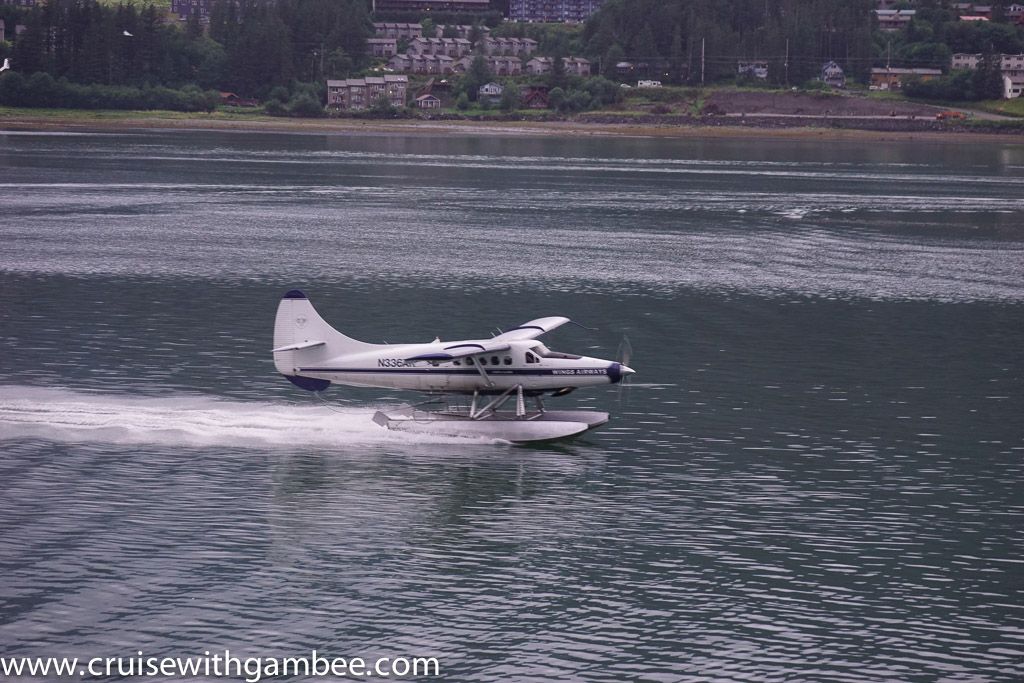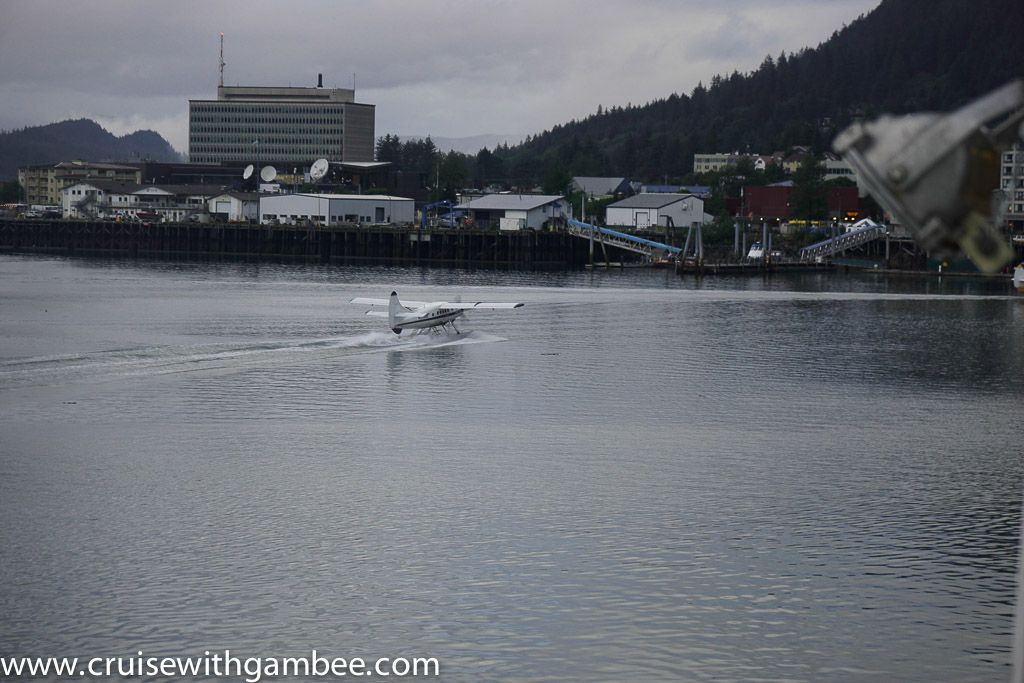 So it was late, I think around 8pm or something. I had zero desire to go to the MDR, and mom was enjoying her time there, if I recall correctly she had managed to establish a voice call, so there was no moving her from there.
So, I told her I would go to the buffet and get us dinner, that way we could enjoy our time outdoors. Let it be said, that the food went cold in seconds after stepping foot outside, but I could not care less. It was tasty and we got to stay outside. And yes, that's my whisky, lol
It was breaded veal, chicken, and some sort of fish. Personally, I enjoyed the appetizers better. They usually have about 4 choices in the buffet, and they are usually the same ones from the MDR. That day we got caprese salad, and grilled veggies.
Gorgeous ship! Much smaller than the Amsterdam.
The pearl finally got a dock when the Bliss left. Again, before you book look at port times, Our ship had great port times.
There is mom, busy on her phone, lol. It was really quiet out there that day. Someone told me it was because people rather be inside were it was warm, whatever reason it was, it worked our way.
Our favorite place!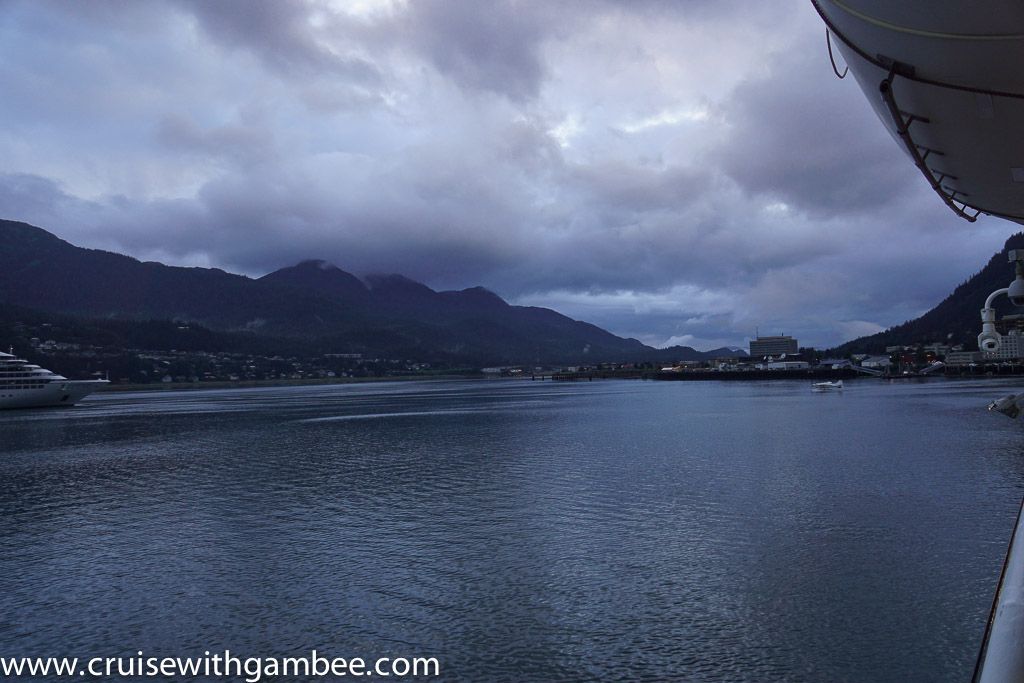 Bird going home after a busy day with tourists
Eventually ship's crew come around and remove the padding on the lounges. Mom and I stayed there, we were able to keep ours.
So long Juneau, until next time! Hopefully it will be soon =)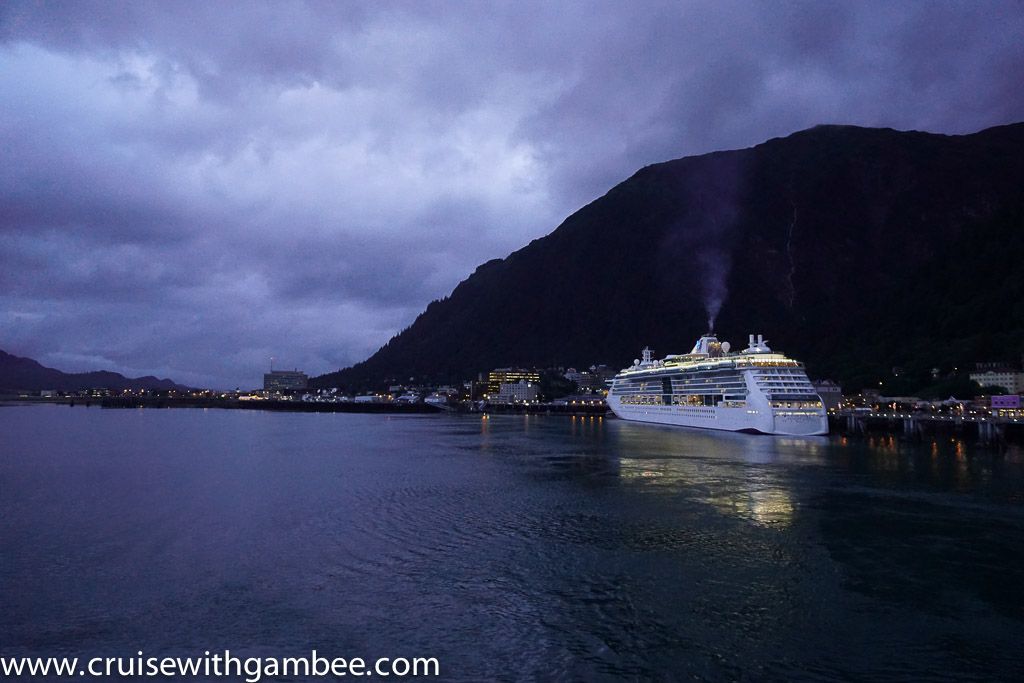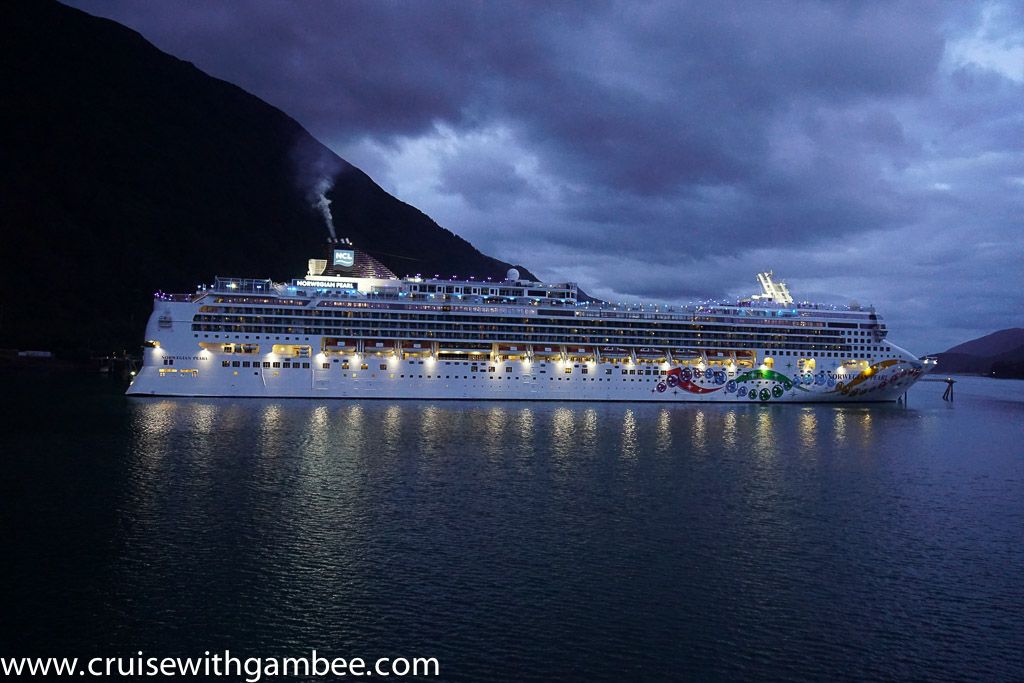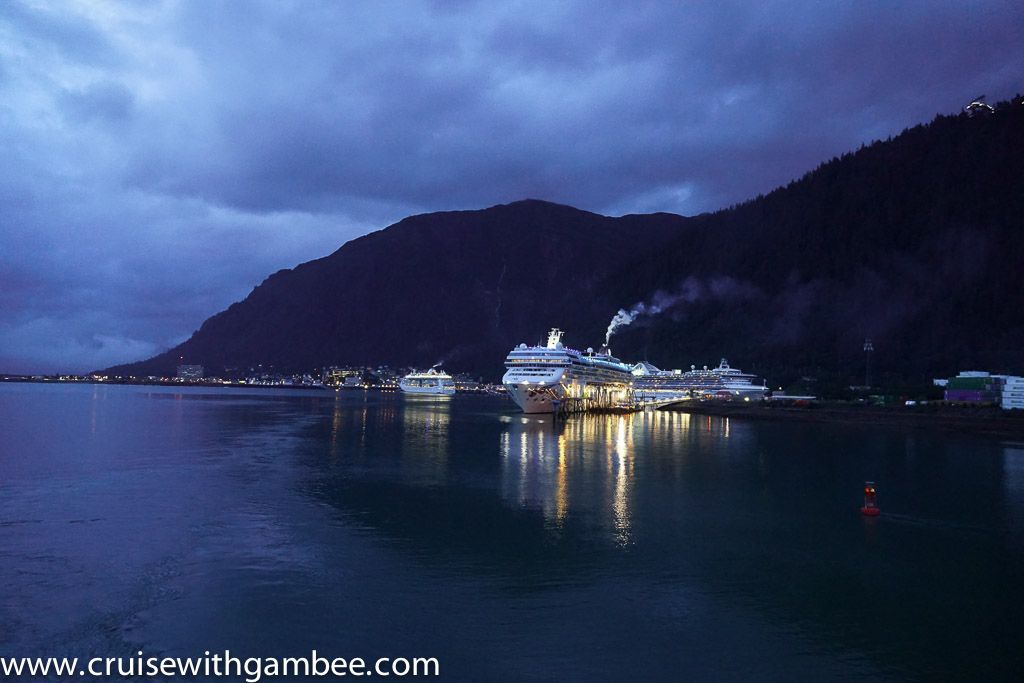 Towards the aft of the ship, the deck changes a little. It feels more enclosed, and the lounges are the same as in the pool, not as comfy.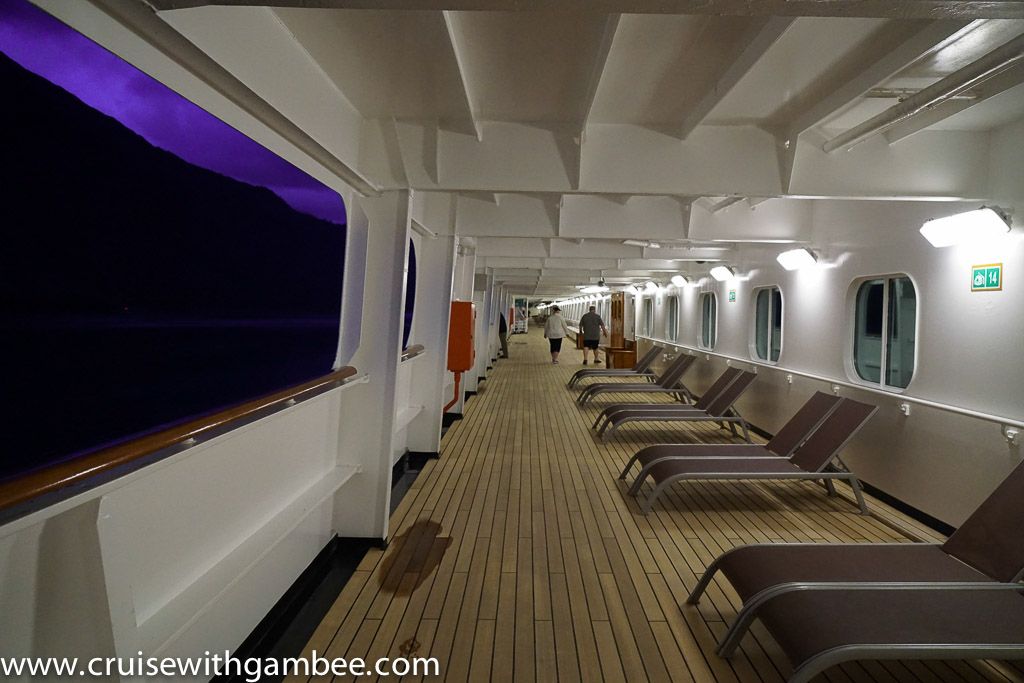 We stayed there to enjoy the scenery (in darkness and all)
Lol, by then I guess mom was freezing! OMG too funny. She refused to leave, so I just kept putting layers over her.
Cute shot.
And a few more layers later!!! Just keep them coming! I kept asking her if she wanted to leave, but she refused. It is hard to get me out of there, I was loving the weather and the scenery.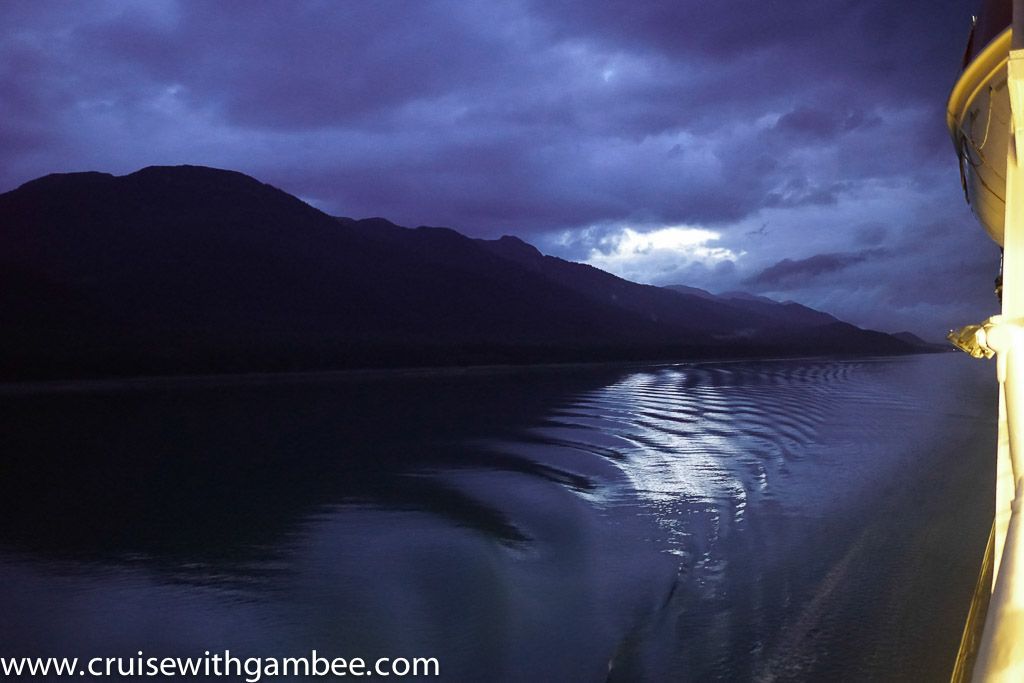 Right before going to bed, I went around the aft pool for a walk.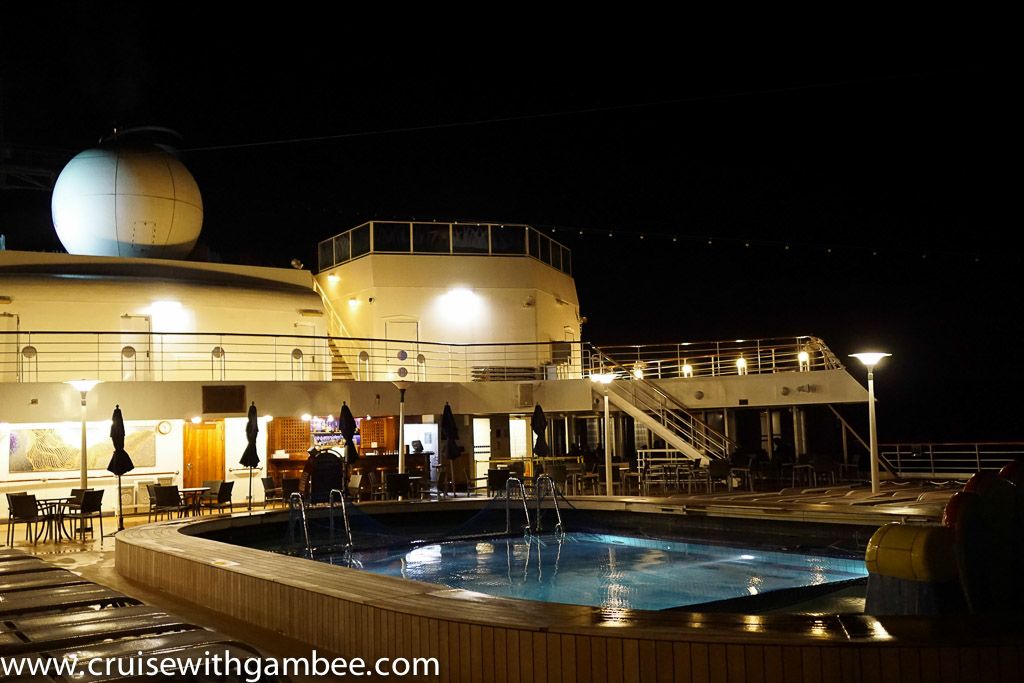 Here is the Tennis court, I believe this is the only shot I have from it.
And with this photo I end Juneau
Incredible Day!!!
Day 3, End.